We use affiliate links. If you buy something through the links on this page, we may earn a commission at no cost to you. Learn more.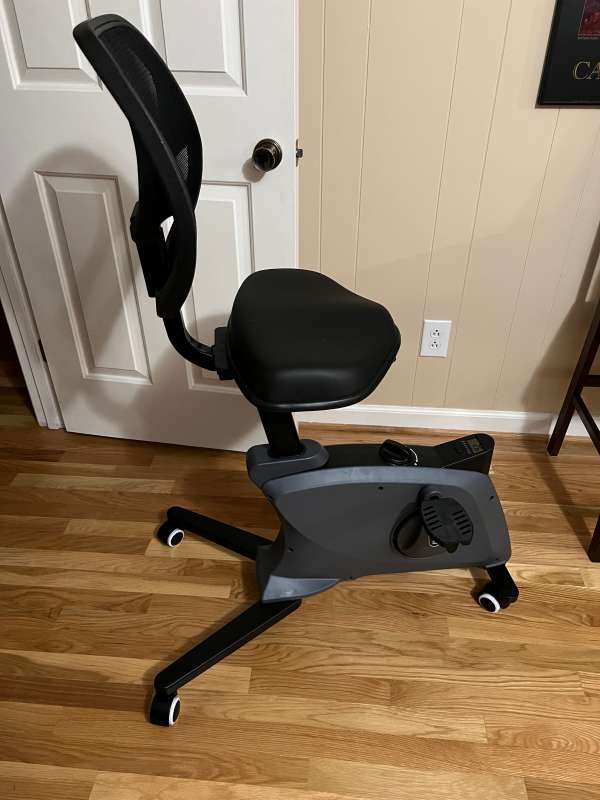 REVIEW – For years, we have been trying to find ways to get exercise while sitting at our desks. There are treadmill desks, cycling pedal footrests, and, ultimately, the cycling chair. I was recently sent the FlexiSpot Sit2Go Pro fitness chair, and have been testing it diligently. Let's see what happened.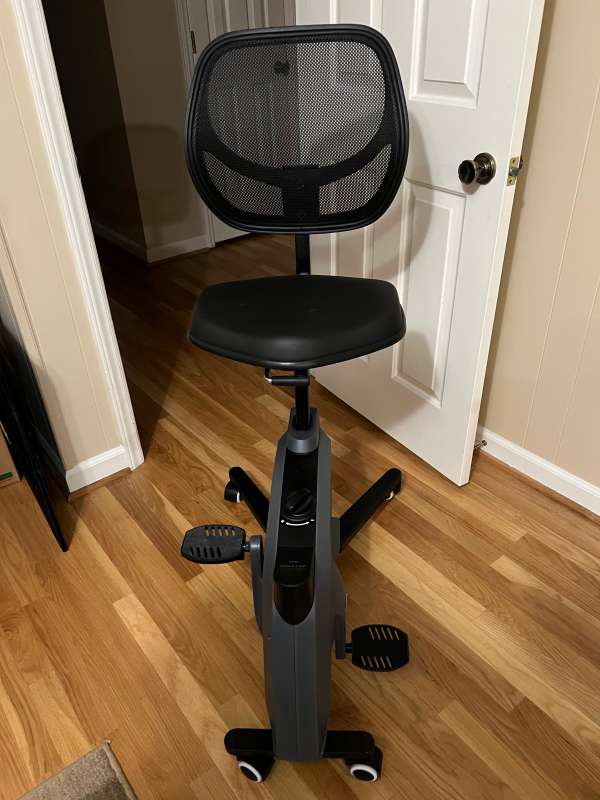 What is it?
The FlexiSpot Sit2Go Pro fitness chair is an office-type chair with an exercise bicycle pedaling function built-in.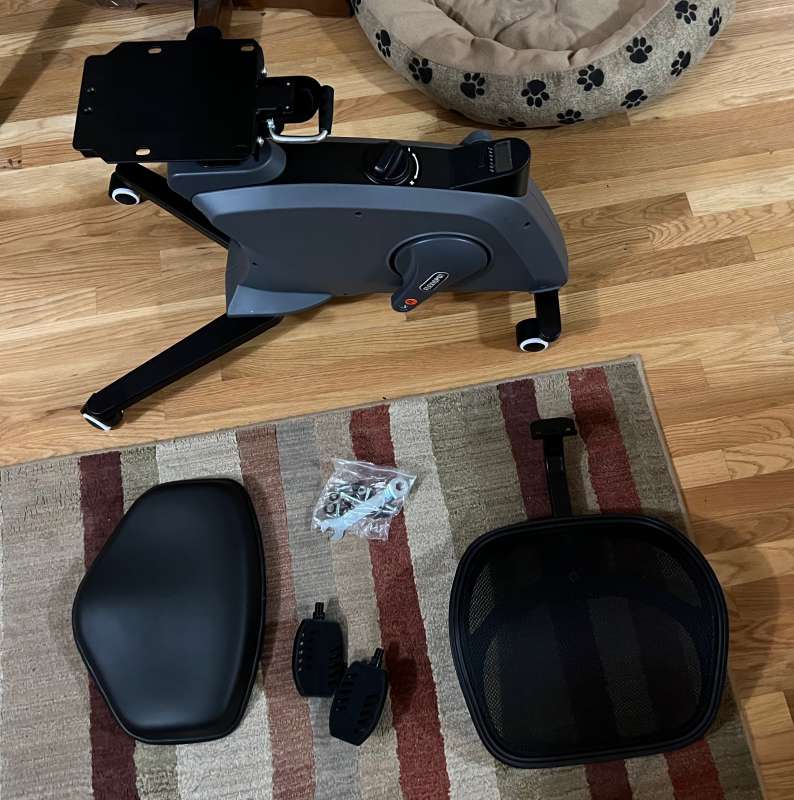 What's in the box?
Just the FlexiSpot Sit2Go Pro fitness chair. You have to assemble it, but it's far easier than any office chair I've ever assembled since all of the cycling part is pre-assembled. You just have to screw on the pedals, the seat, and the seat back and install two AA batteries.
Design and features
From the product website
Breathable Mesh Backrest
Supportive Seat Cushion
Height Adjustable Seat
Setup
Simple setup of attaching seats and pedals. All needed parts and tools are included, except 2 AA batteries for the "fitness monitor".
Performance
There are two ways you can use the FlexiSpot Sit2Go Pro fitness chair: at a desk or standalone. There's a video on the website where a couple uses theirs on the deck in the morning, then roll them indoors to work behind their "partner" desk, then wheel them into the den for watching TV. While each of these use cases is valid, I doubt anyone's going to do something like that every day. But I did find myself moving from one room to another with it, and from desk to desk in the same room. It's easy to move with the casters but doesn't roll a lot with a person's weight on it.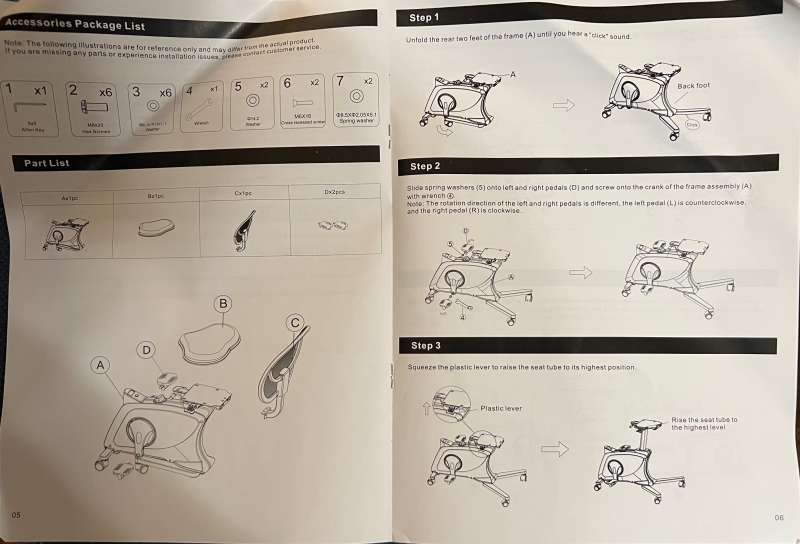 The seat height level adjustment knob is well-placed under your left hip, and the seat position slider is in the front center, at the seat's point. Both function as expected, and neither has any assistance. That means releasing the height adjustment will require lifting it up if you want it raised, and the seat will slam all the way down if you're seated and just pull it.
The more I use the FlexiSpot Sit2Go Pro fitness chair, the more I actually like it. I used to bike into my office several days a week, and have missed that while now working retail over the last decade. Sitting on the Fitness Chair while pedaling limbers up those muscles and makes me want to ride again.
The Sit2Go (S2G) is a nice-looking office-type chair with four wheels and an adjustable seat height. You can also adjust the seat towards or away from the front. There is a read-out that tracks RPMs, distance, calories, etc. Unfortunately, this readout is not backlit, and it is under your desk, between your ankles. Better to trust your Fitbit or Apple Watch.
While the S2G does have a friction adjustment knob, this seems to have little effect on the friction you feel when pedaling, at least in my testing. It may make a little difference in the readout that is showing on the meter, but I could tell no difference between any of the settings.
One thing that I found difficult is when you're using the FlexiSpot Sit2Go Pro fitness chair without a table or desk. There are no handlebars, so, without the safety of a desk, you'll feel like you're going to fall over unless you concentrate on sitting upright or lying back fully. The backrest is breathable and very sturdy, so it will support this, but the cyclist in me freaks out at lying back and pedaling. I do enjoy this kinda randomly when I'm watching a video. I'd feel better leaning back if I had more resistance levels. It just feels like I'm moving my legs around in a circle, not really doing any work, and that frustrates me somewhat. I want to feel like I'm doing something.
If you do have a higher desk, however, it can be quite a nice little break from the normal routine of checking email and writing reports. The seat, as mentioned, does slide forward, but the front of the unit is 12 inches out from the point of the seat at the least, and when you slide the seat back, it's 15 inches ahead of your seat. The point of the seat will probably be about halfway up your thighs, so think about how far that will be under your desk.
I have a bar table that I bought for a standing desk a while back that is 42" tall, and sitting at it, I'm very comfortable typing on my iPad Pro while slowly working my legs. But at a normal height table or desk, I'm leaning over too far to be able to concentrate on either the typing or the cycling. As it is, the cycling is just happening, and I'm typing away.
If you've ever taken a spin class and sat on one of those gym torture devices, this is not the same. For one, there are no handlebars. Second, you don't really lean into that hill during the power ballad. ("Come on, gang! Stand up and power up this hill with me!" Thankfully, Marcie is not at the front, shouting orders either!)
What I like
The bike parts are all pre-assembled
Looks nice, would not be out of place in a professional office
Totally Silent
What I'd change
Fitness monitor needs to be backlit, detachable, or go away.
The seat can't really be over the pedals – they are always a little ahead of your torso
A side handle might make getting on and off easier since there's no handlebar
Final thoughts
When I first started testing the FlexiSpot Sit2Go Pro fitness chair, I came at it like a cyclist: maximum leg extension, weight centered over the sprocket. But the goal isn't getting maximum power from each stroke, it's to keep you moving so that the blood keeps flowing and you stay more alert. That means you can lower the seat and have your knees bent like you're riding a kid's bike and still use it. I actually find it nice to sit and pedal while typing now. But I still use my standing desk. If you lower the seat too much, your knees come up and get in the way of your arms, so typing while pedaling with the seat low is not fun. Be sure to check out our other FlexiSpot reviews.
Price: $349.99
Where to buy: FlexiSpot
Source: The sample of this product was provided by FlexiSpot.