We use affiliate links. If you buy something through the links on this page, we may earn a commission at no cost to you. Learn more.

REVIEW – It's winter, and while I grew up with snow and wind chills, it doesn't mean I will ever get used to it. I prefer jackets of all sorts because coats are thick, annoying, and don't do so swell if you are going to be indoors. What about a jacket that heats up though? Wear Graphene came out with their nice looking GAMMA jacket with a built-in heater for those cold days where you don't want to wear a coat. My cold self had to try it out, and even in Georgia, we managed to get some nice wind chills and below freezing temperatures to truly see how versatile it is.
What is it?
The Wear Graphene GAMMA heated jacket has three heat settings to keep your body warm in the cold.
What's in the box?
Wear Graphene GAMMA heated jacket
Instructions

Design and features
I honestly was quite skeptical when it came to a heated jacket. Not only did I think I would just always require it to be on to stay warm, but I felt it would be uncomfortable when wearing it with the wires and heating pads built-in. I was quite impressed and my mind changed when I pulled the Wear Graphene GAMMA heated jacket out of the box. It was lightweight and when I opened it up to look at it, I couldn't even tell that it had heating elements built-in due to the flexibility of the fabric. My initial reaction was very positive.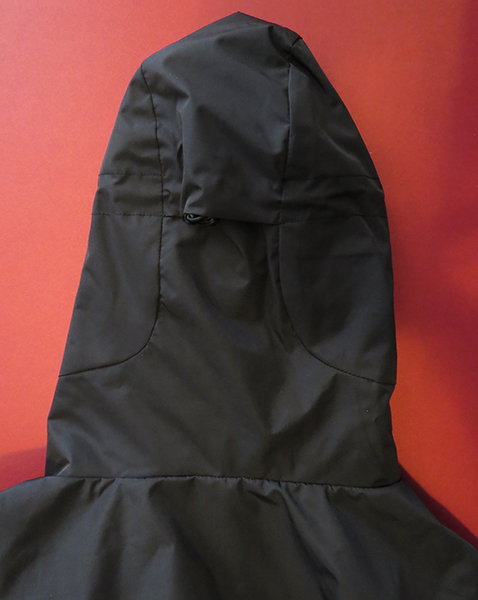 Their sizing is made for guys and gals. Using their sizing system, I was a size S/M. I always worry around the hips when it comes to unisex sizing but luckily I had no issue. It's tighter around the hips than my other jackets, but not in an uncomfortable way. The chest and arm area is loose enough to fit over a sweater without being uncomfortable. The arms fit length wise, and the hand sleeve seems like it will fit most hand sizes. My hands are very thin so it was slightly loose, but once again, not uncomfortable by any means. The hood fit over my head and was not loose which I prefer. When zipped up all the way, the hood did not want to come down. I get annoyed when you have a hood that will fall when zipped up fully.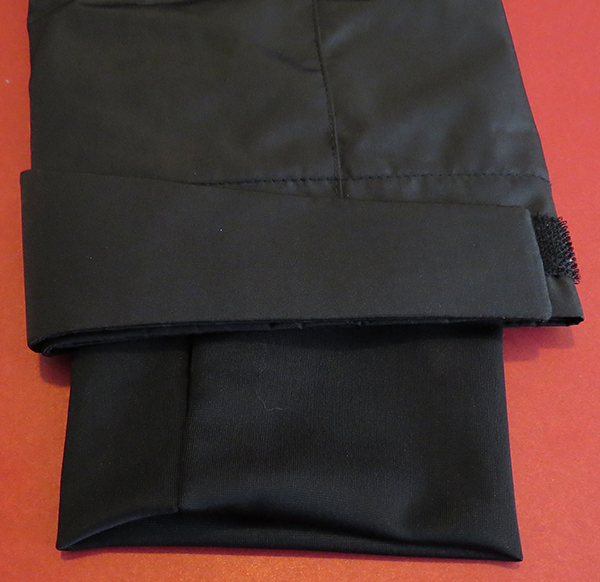 Speaking of zipper, the quality of the zippers, pulls, and velcro straps are very good. The zipper zips smoothly and the velcro straps around the wrist tighten even around my tiny wrists.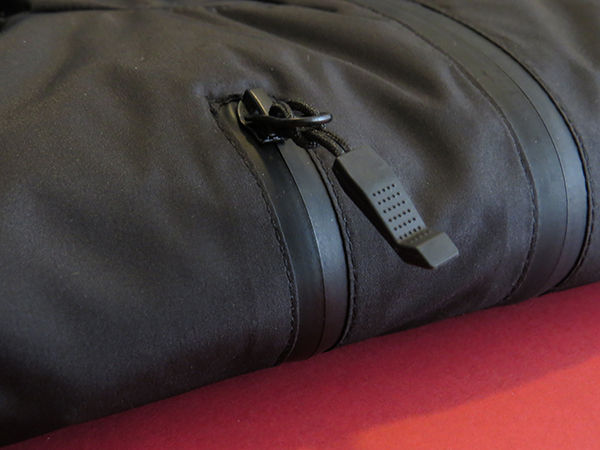 There are ten pockets in total in the Wear Graphene GAMMA heated jacket. Two standard pockets that can be zipped up are near the bottom. Each side along the chest has a zippered pocket as well. The left arm has a small zippered pocket along the shoulder area and the right arm has a small zippered pocket near the wrist. Lastly, there are four pockets on the inside of the jacket, though one is made for holding your power bank and has a USB attachment within.
The GAMMA heated jacket requires a power bank in order to heat the jacket. Unfortunately, they decided not to include one with the jacket which for the cost makes no sense at all. Thankfully, I am a Gadgeteer, so I used a Belkin power bank that I reviewed a few years ago to power the jacket. It fit perfectly in the pocket it is meant for and gave me roughly 50 minutes of powered heat time. About half of it was on high, while the other half was on low.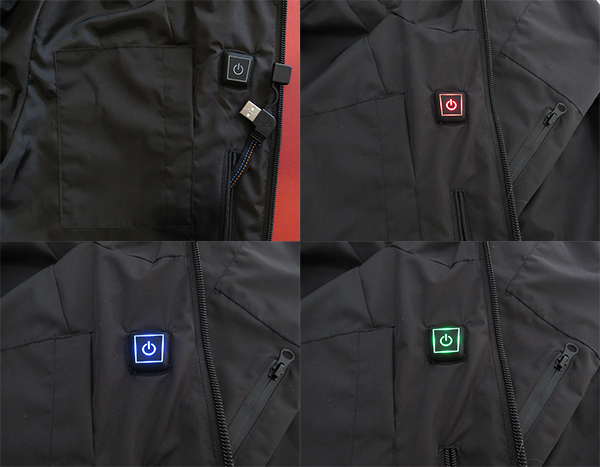 Once you have the power bank plugged in, you push whatever button turns on the power bank and then hold down the button inside of the left side of the jacket. This turns on the power. Once on, you have a choice between red, (high) orange, (medium), and green (low). I actually love the fact that there is a high, medium, and low setting choice. With most 'heated' items, I choose the high setting at first to get it heated up quickly, then move it down to low when I get too warm. This keeps me nice and warm without burning through power at Mach-3.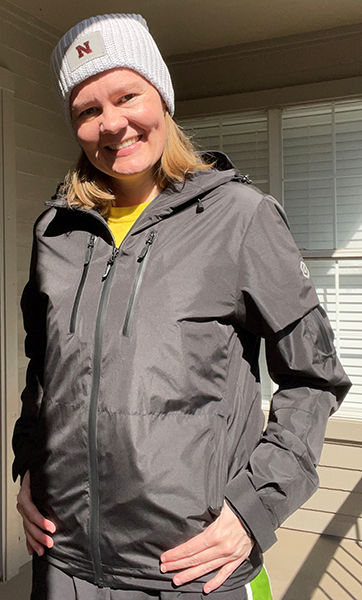 As a jacket in general, the Wear Graphene GAMMA heated jacket works very well. No, it's not made for staying warm in sub-freezing temperatures, but that's what the heating aspect is for. Once you turn on the heat, you can tolerate those sub-freezing temperatures much better. The arms are the only part that still will be cool as the heating elements aren't up in the arms, but your torso stays toasty warm. One thing that I didn't think of when I started using the jacket was how nice it would be to walk around the grocery store or dine in at a restaurant. At the grocery store, I just turned off the heat and it was like wearing a nice jacket on a 45-50 degree day and while at the restaurant I was able to easily just slide the jacket off (or leave it on if it was cool indoors) without having a giant coat to deal with. That to me is a definite perk!
What I like
Stylish and sleek looking.
Fits well around the torso.
It keeps you warm!
What needs to be improved
Needs to come with its own power bank.
Final thoughts
Overall, I was quite impressed with the Wear Graphene GAMMA heated jacket. If the wind chill is a big factor, it might not protect the best, but it's also a jacket and not a coat meant for extra cold temperatures. A slight wind chill with freezing temperatures worked just fine for me with the jacket on high. For the price, I wish it came with its own power bank since they are relatively inexpensive. The GAMMA heated jacket by Wear Graphene may set your pocketbook back a bit but it looks and feels nice, is versatile, and keeps you warm.
Price: $395
Where to buy: Wear Graphene Website
Source: The sample of this product was provided by Wear Graphene.