We use affiliate links. If you buy something through the links on this page, we may earn a commission at no cost to you. Learn more.

REVIEW – The SnapFresh BBT-ZE20BW leaf blower is the lightest blower I've tried. The blowing power and working time from a single charge did not disappoint. Heavier hand-held blowers can be fatiguing either from their weight, the blow-back resistance, or both. The SnapFresh was pleasant to use in that it was not tiring to use.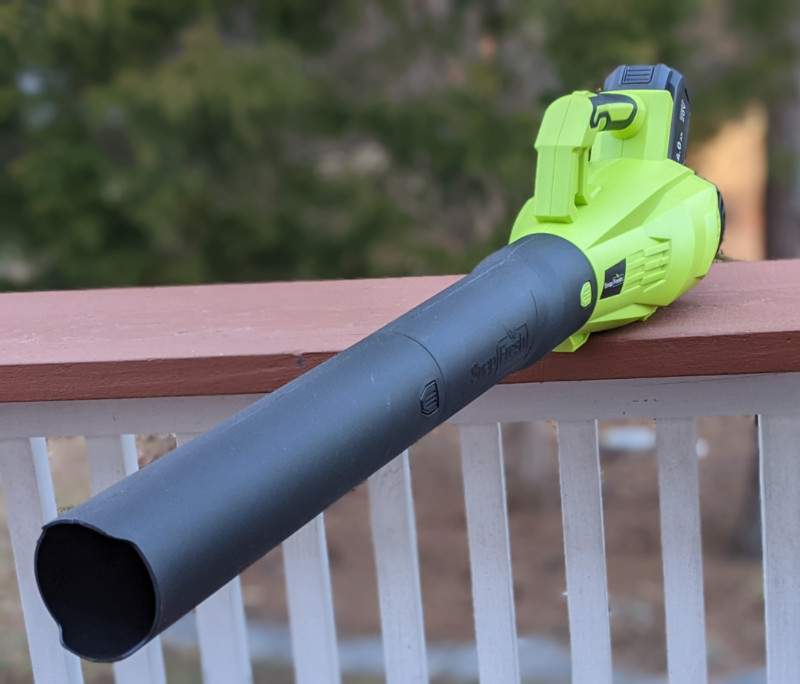 What is it
The SnapFresh BBT-ZE20BW is a lightweight leaf blower with 70 mph and 100 mph blowing air-speeds.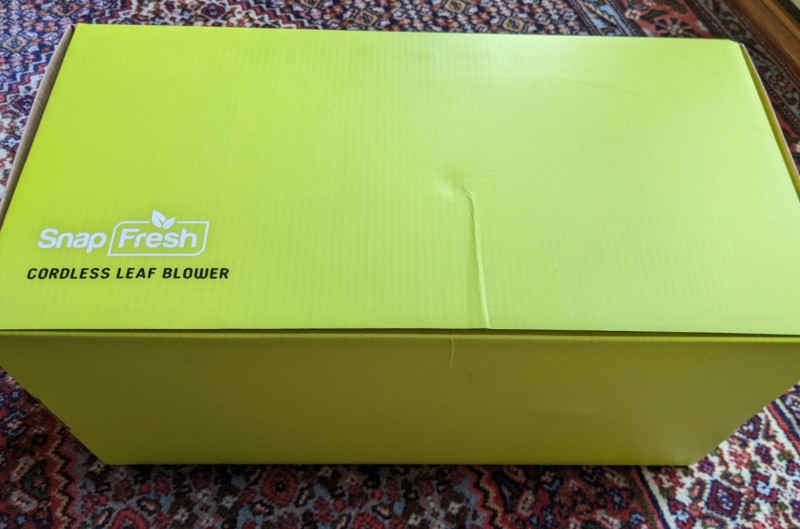 What's in the box
SnapFresh BBT-ZE20BW leaf blower body

Air tube (2 parts)

One 20 V, 4 Ah lithium-ion battery

Charger

Instructions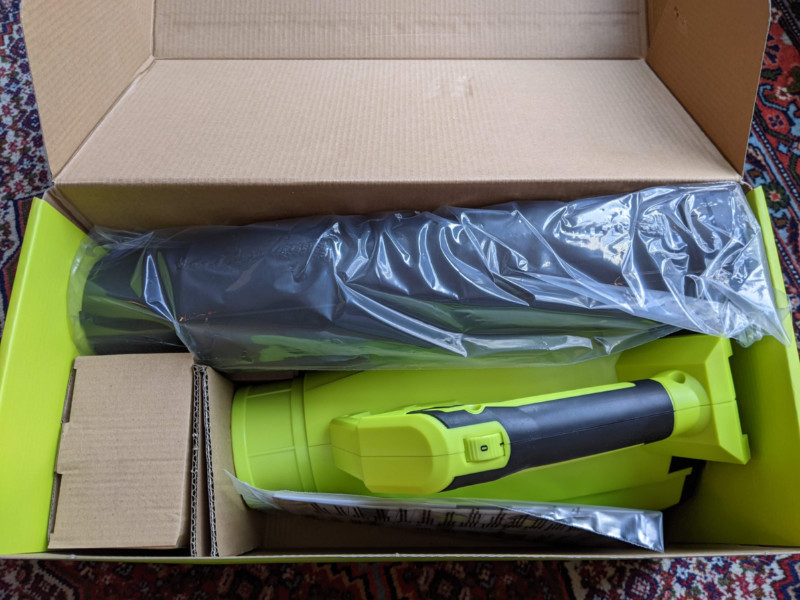 Hardware specs
Weight with battery: 4 lb 11 oz.

Length: 36 inches

420 CFM blowing capacity

100 MPH airspeed claim

20 V, 4 Ah lithium-ion rechargeable battery

Material: Durable plastic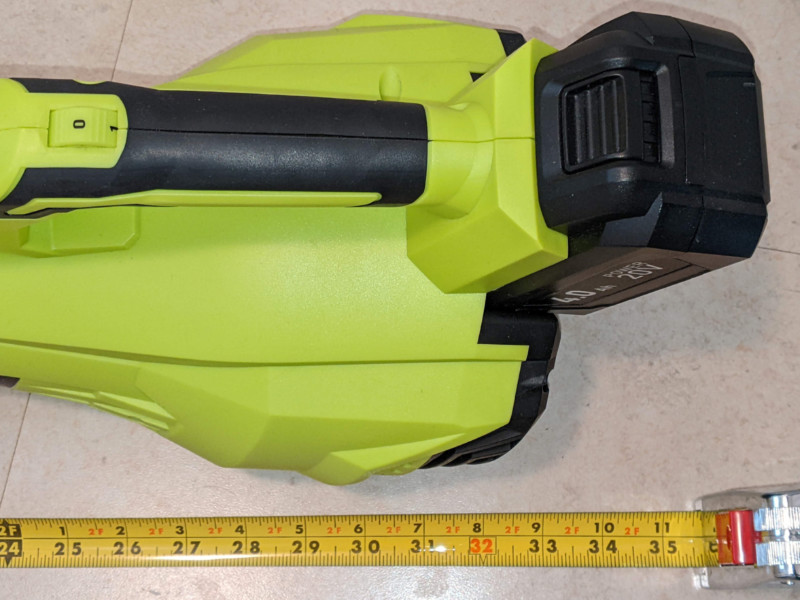 Design and features
 2 hour charge time for a depleted battery

 35 minute working time at the lower motor speed

20 minute working time at the highest motor speed

Two position thumb-wheel switch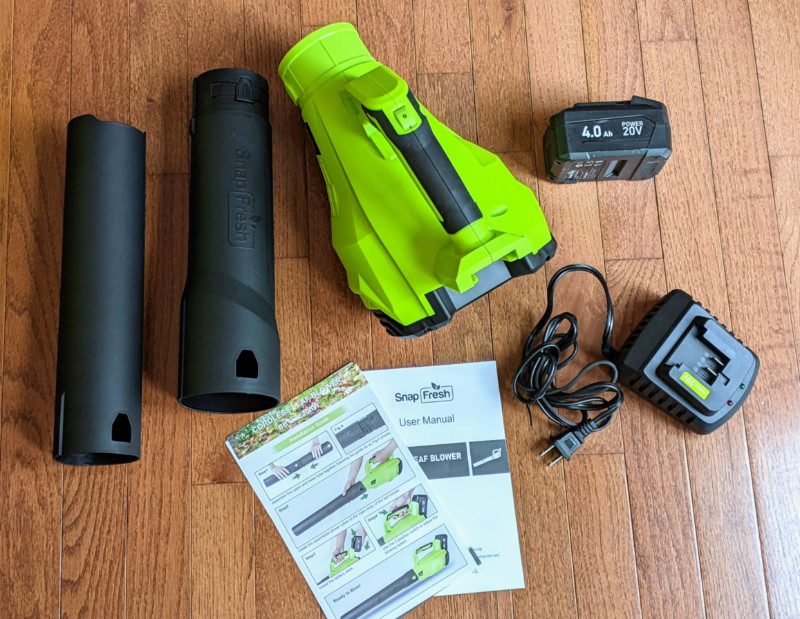 Installation and Setup
The SnapFresh BBT-ZE20BW blower sets up in one minute, once the battery is charged. The device ships with just five pieces in the box. 
The front half of the blower tube is shipped inside the back half of the tube. Separate and attach these two parts together, attach the whole tube to the blower, insert the charged battery into the blower's battery receptacle, and get out there and blow stuff.
Testing and observations
Here in the Mid-Atlantic, we're past leaf blowing season so I was lucky to get powdery snow when it was time to review the SnapFresh blower.
On this particular day, we were to get an inch of snow followed by rain and sleet which makes a beautiful hard crust shell on your car and deck that are hard to remove without warm weather. When this kind of precip is predicted it makes sense to clear snow well before the rain.
Note the second car had been driven the night before.  Early snow that fell on the warm car stuck to the car.
Once this snow melted and the yard dried out, I tried to blow some matted, damp leaves. There wasn't quite enough blowing power from the SnapFresh to move those leaves.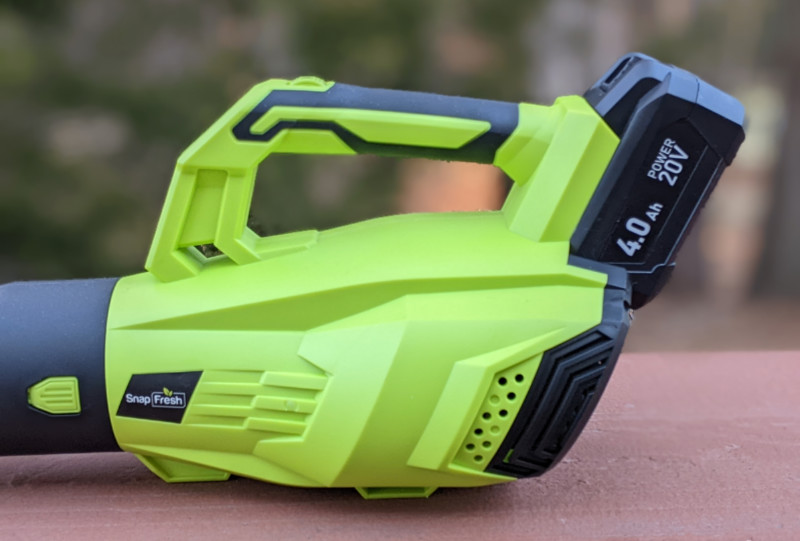 The SnapFresh never caused me to have arm fatigue from its weight or from push-back at the highest blower setting. My larger blower can make for a tired arm.
There is no doubt the SnapFresh cordless leaf blower would have an easy time with grass clippings on driveways, streets and sidewalks. We look forward to after-mowing cleanup with the SnapFresh once Spring comes.
I have a feeling this blower can handle light leaf-blowing off of hard surfaces, and small to medium sized leaves in yards, as long as the leaves are not deeply layered (meaning you should have blown leaves 2 weeks ago).

What I like
Light weight, with good blowing power.

Durable plastic construction. No 'toy' feel. 

Convenient thumb wheel to easily control the two speed motor. 

Relatively quiet operation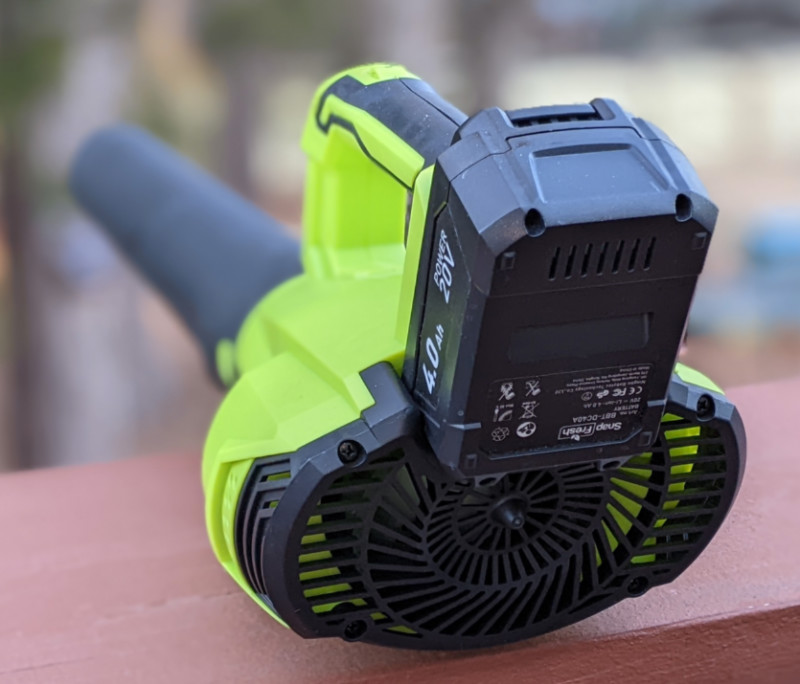 What I'd change
I have an empty complaint list.

Final thoughts
The SnapFresh BBT-ZE20BW blower is a well made, light duty blower. From powdery snow, to sawdust, to mower grass debris, you can expect the SnapFresh to clean up a large area, long before you'll need a recharge. 
Be sure to check out some of our other leaf blower reviews.
Price: $129.99
Where to buy: Amazon
Source: The sample for this review was provided by SnapFresh.