We use affiliate links. If you buy something through the links on this page, we may earn a commission at no cost to you. Learn more.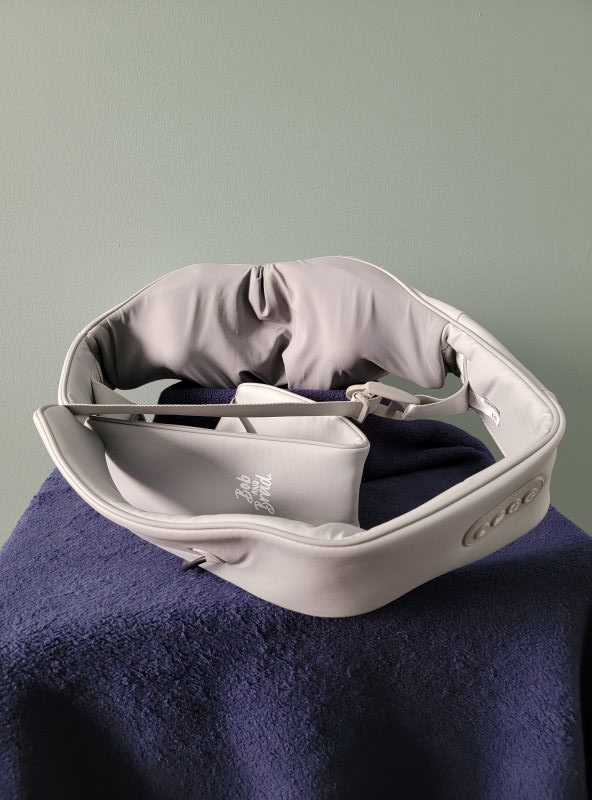 REVIEW – When the two most famous physical therapists on the internet (in their opinion, of course) begin to make at-home help for everyday aches and pain I know I perk up. Approaching the north side of my mid-30's, my body has begun lodging more serious complaints in the form of new aches and pains; the chief complainer among them has been my lower back. Luckily, I only had to travel as far as YouTube to find the most famous physical therapists on the internet, Bob and Brad. They have thrown their hat in the neck massager circuit. This particular style is designed to be held over the shoulders or at any point along your back. Can the Bob and Brad Back and Neck Massager offer some relief to those aches and pains? We're going to find out.
What is it?
The Bob and Brad Back and Neck Massager is, as the name implies, a neck massager. This device is a substantial unit that spans across the shoulders with two motorized nodes that cradle the neck between them. This massager has 2 arm loops on each side to rest arms and adjust for comfort as well as a control panel dictating, speed, direction, and heat.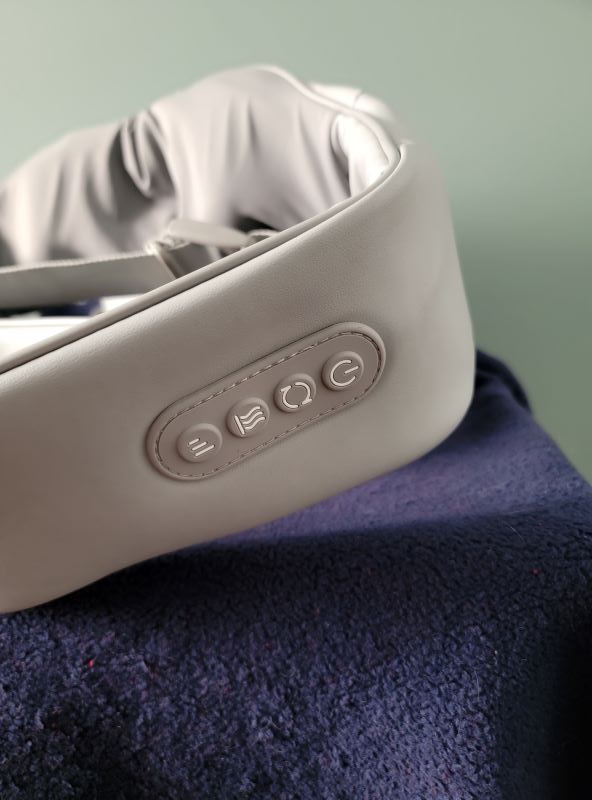 What's in the box?

1 x Bob and Brad Massager
1 x User manual
1 x Car Power Adapter
1 x AC Power Adapter
1 x Carrying Bag

Design and features
– This neck and shoulder massager is comprised of 4 big nodes and 4 small ones, which rotate in opposing directions to imitate a deep tissue massage at 3 different speeds (they in fact do NOT mess around)
– These nodes are very stiff, so the user has to be mindful of pressure while leaning back
– The infrared heat function is a welcome addition, getting up to a very comfortable 104 degrees
– The overall design is a feature in itself. It allows the user to massage six different areas: neck, shoulder, upper back, waist, calves, and thighs. Calves and thighs! An area usually only worked on by a trained professional or a grossly overpriced chair at the mall
– The adjustable arm straps are easy to customize to hold the massager where you want it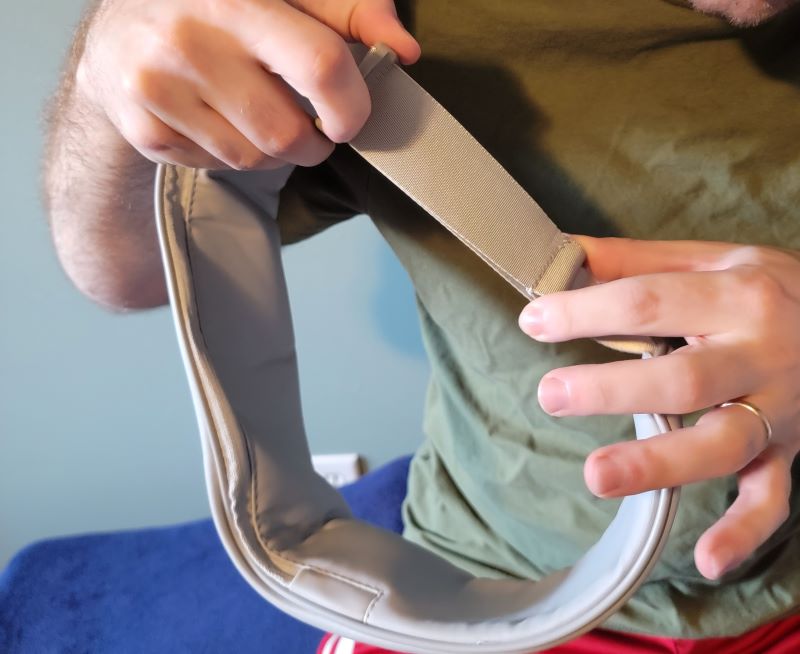 What I like
The power. This piece of equipment isn't your average neck massager; not paying attention to the pressure being exerted on such delicate areas of the anatomy could lead to soreness or pain. On the flip side, by design, this allows the user to really dial it in and use as much pressure as they can handle safely.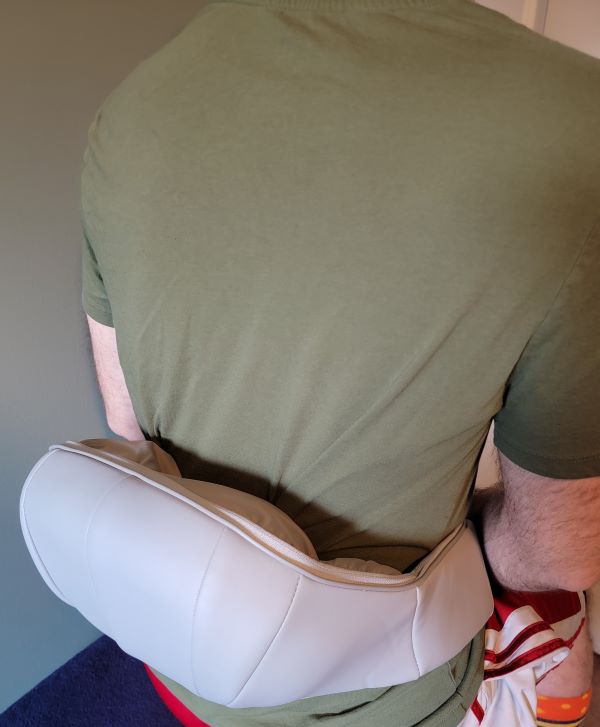 How it feels. As advertised, it is constructed of a, "…skin-friendly elastic fabric…" and PU (polyurethane) leather, which is artificially created from a thermoplastic polymer, so I guess we can call this cruelty-free, again depending on the user's pressure preference of course.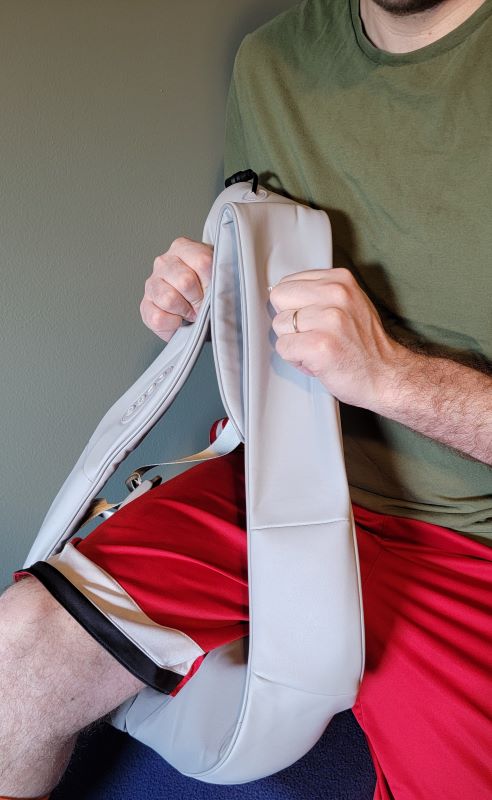 The responsiveness. The buttons are easy to use and placed in a convenient location. When used, the mechanism responds instantly. The heat function is also very quick to come to temperature.
I LOVE the carrying bag. It is so soft, I want it like a pillowcase. 
What I would change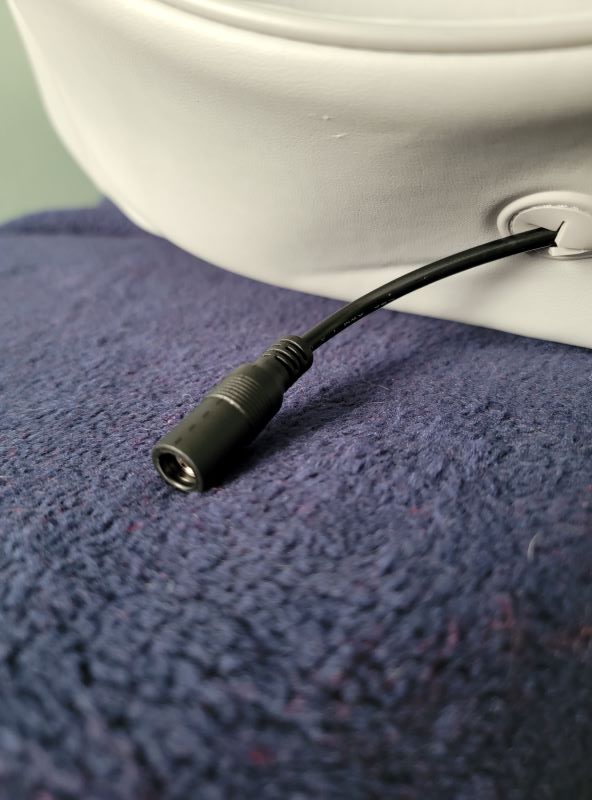 I understand some of the pros may be rooted in the fact that because this unit only works when plugged in, it can afford to have a bigger and/or better motor without all that real estate going to a hefty rechargeable battery. But please Bob and Brad, make this wireless without sacrificing performance. I would love to travel with this or bring it to the beach
Perhaps a vibration function to accompany the deep tissue rollers. Sometimes a girl just doesn't KNEAD a deep tissue massage deep enough to make your soul sore. 
A safety stop for the nodes would be good. I know that sounds a little counter intuitive but both my Partner (the model above- and yes he did pay me to say that)  and I noticed that while we could use it on other parts, for example, our feet, those rolling nodes showed no mercy. If it was there between them- it was getting massaged. Hard. So maybe at a certain point of resistance, the nodes could reverse direction and it wouldn't feel quite so, in a word, ouch. 
Final Thoughts
The Bob and Brad neck massager is a versatile tool to help work out those aches and pains. I will say the pressure is really up to the user but do not get complacent in resting your body parts between these nodes. With that word of caution, this is excellent for all those tension headaches from long days at the computer and I found it really great for calf soreness. It's a fantastic gadget to encourage self-care. 
Price: $59.99
Where to buy: Amazon
Source: The sample for this review was provided by Bob and Brad.