We use affiliate links. If you buy something through the links on this page, we may earn a commission at no cost to you. Learn more.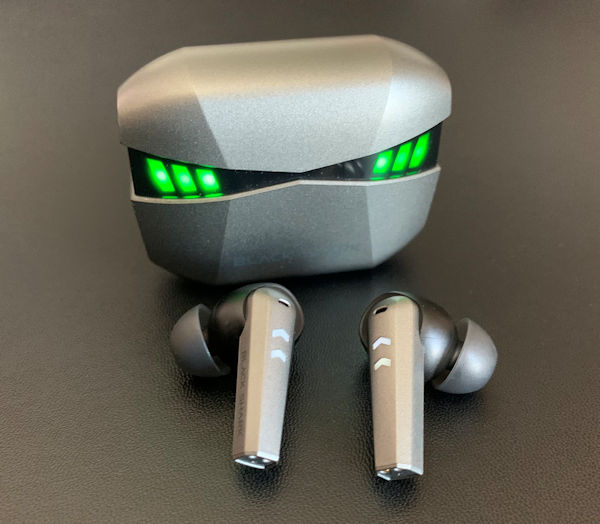 REVIEW – The wireless earbuds market may be one of the most crowded of any consumer electronic product category, with new ones being released every day.  One of the newest is the Black Shark T2 Luficer wireless earbuds.  Let's check them out.
What is it?
The Black Shark T2 Luficer wireless earbuds are a Bluetooth true wireless earbud audio system that includes its own charging case.
What's in the box?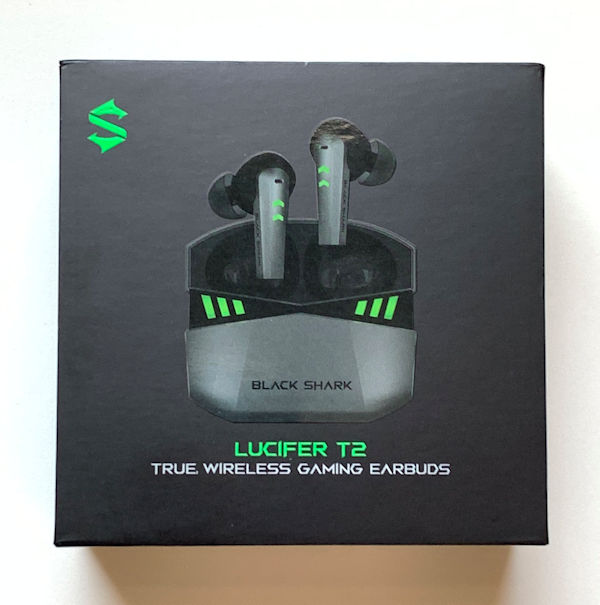 The Black Shark Luficer T2 wireless earbuds' packaging is made from solidly-build paperboard that provides some good protection to its contents.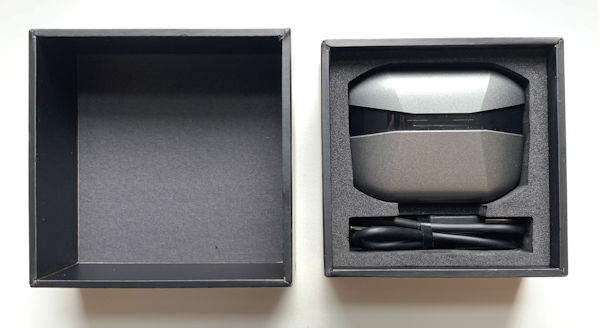 All of the components are carefully protected within their own slots in a dense foam within the box.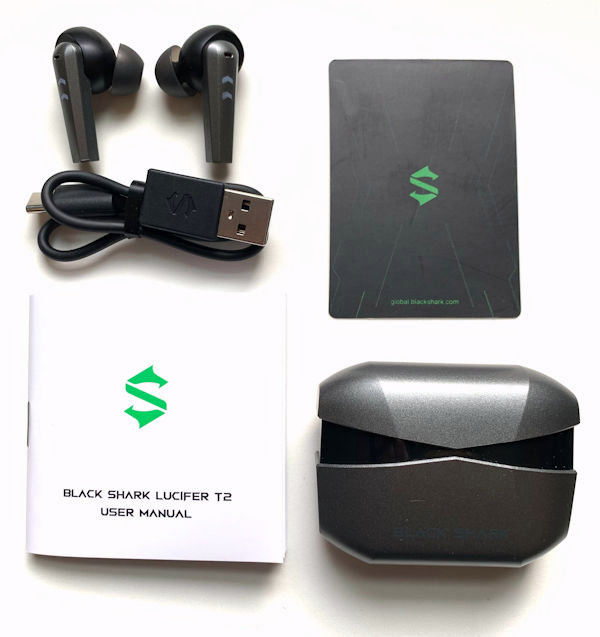 Inside the package were the following items:
Black Shark Luficer T2 wireless  earbuds
Portable charging case
USB-C charging cable
Silicone ear tips in 3 sizes
User Guide
Safety guide
Hardware specs
Black Shark Luficer T2 Wireless  Earbuds
Model: BS-T2
Bluetooth® 5.2
Latency: 45ms
Supported codes: SBC, AAC
Speaker drivers: 10mm x2
Frequency response: 20-20,000 Hz
Microphones: 4 Hyperclear mics
Water-resistance: IPX5
Gaming/music modes
Battery listening time: Up to 5 hours of listening time on the earbuds and up to 20 hours of listening time with the charging case
Range: 10m
Charging: USB-C
Case material: ABS, PC
Cable length: 0.3m
Design and features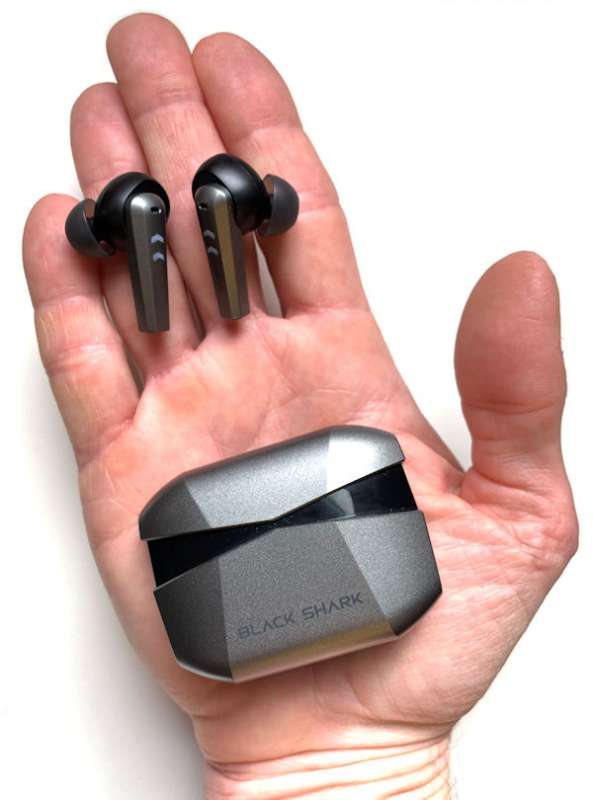 My first impression of this earbud set was that it felt a bit fragile. As in, if I dropped the case from any appreciable height, it would shatter.  However, throughout the review period, I did drop them a couple of times and was relieved to find that they remained intact.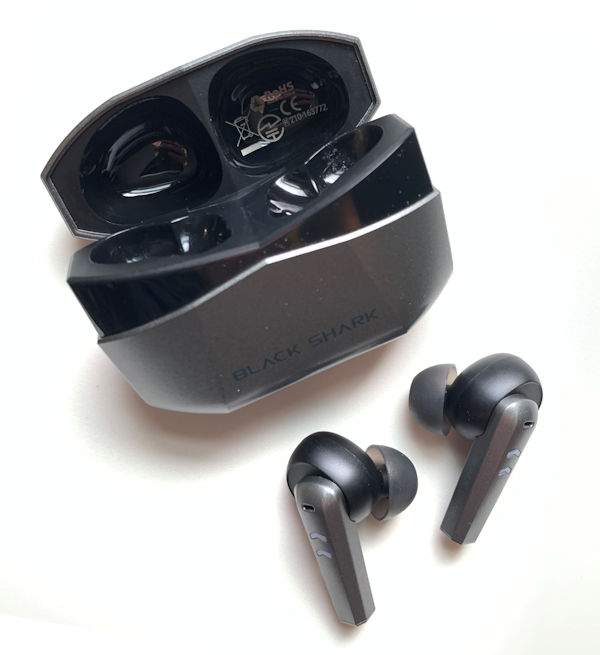 Potential fragility aside, I definitely thought both the earbuds themselves and the charging case looked cool.  Their styling gave them a sort of 80s sci-fi vibe.  This will become even more apparent later, so read on.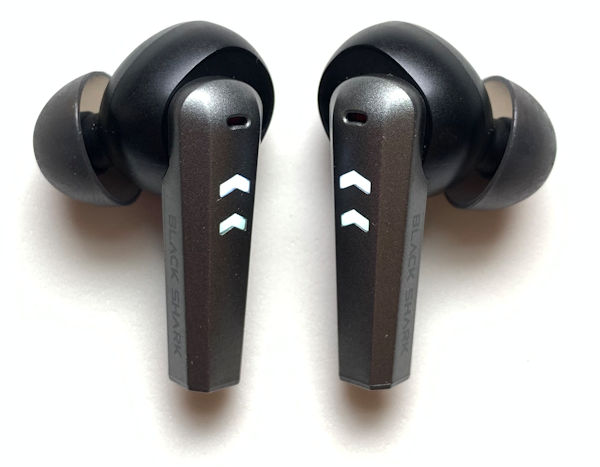 Both the earbuds and the case have a two-tone gunmetal grey and black color scheme.  The earbuds both have two chevron-shaped lights that illuminate or blink depending on the function or mode of the earbuds.  The earbuds have several functions that can be controlled by tapping them.  The functions are listed below.  I often find with earbud touch controls that it takes me some time to get used to their sensitivity, so I need to practice for a while with them until I can get them to work consistently.  However, even after using the earbuds for about a month, I found the touch controls to be quite challenging to use, which was frustrating.
Power On – open the case or press and hold both touch controls for 3 seconds
Power Off – place earbuds in the case and close lid, or press and hold both touch controls for 5 seconds
Play/Pause – double-tap left/right touch control
Next Track – press and hold right touch control 2 for  seconds
Previous Track – press and hold left touch control 2 for  seconds
Answer/End Phone Call – double-tap left/right touch control
Toggle Music Model/Gaming Mode – triple-tap right touch control
Turn Indicators On/Off – quadruple-tap left/right touch control
Voice Assistant – triple-tap left touch control
Clear Paring List – press and hold both touch controls for 1o seconds when earbuds are powered off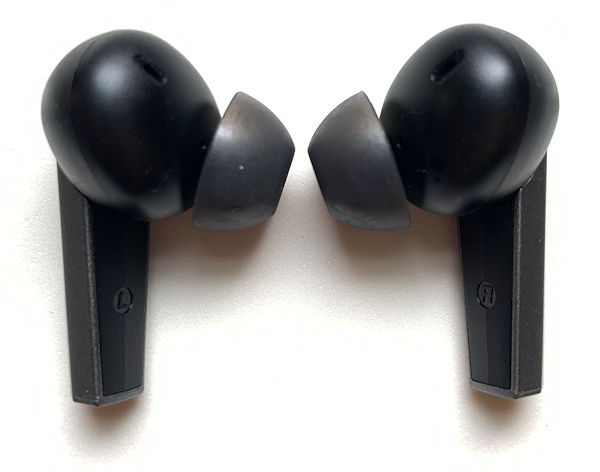 The earbuds have no onboard volume controls, nor a mute function.  The volume can only be controlled via the device you are using with the earbuds.  For me, this is an omission that was a bit frustrating.  I use earbuds to listen to music when I exercise, and I prefer not to have to reach for my phone to adjust the volume level.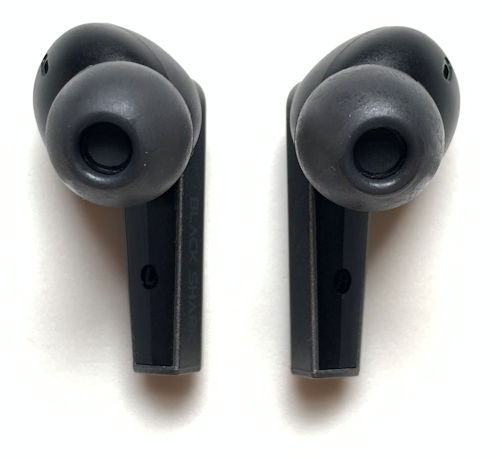 The earbuds have a very compact design and ergonomic shape which I'll discuss further below.   The earbuds include three sizes of silicone tips.  As someone with large ear canals, I'd have preferred them to have perhaps a fourth, larger set of earbuds.  I'll talk more about the fit of the earbuds a bit further down in this review.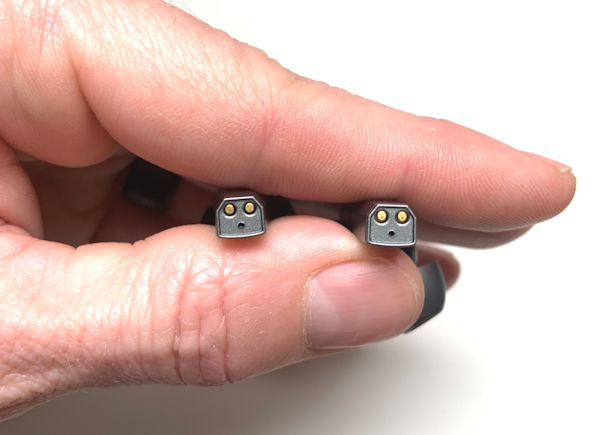 The bottom of each earbud has charging contact points and tiny microphone holes. I'd note here that each earbud is equipped with two microphones intended to provide clearer sound for phone calls, and each earbud can be used individually if desired.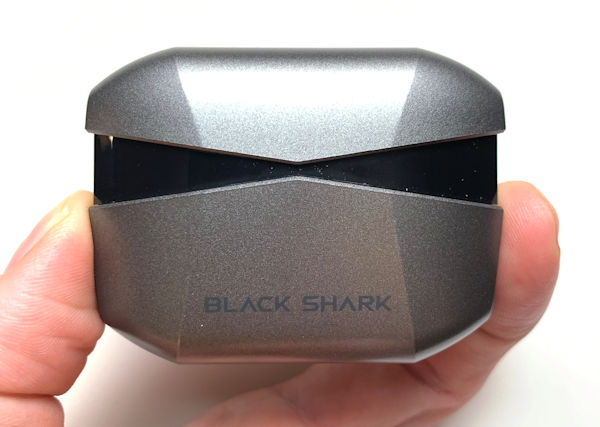 As mentioned above, both the earbuds and their charging case look cool, with a sort of 80s retro sci-fi style.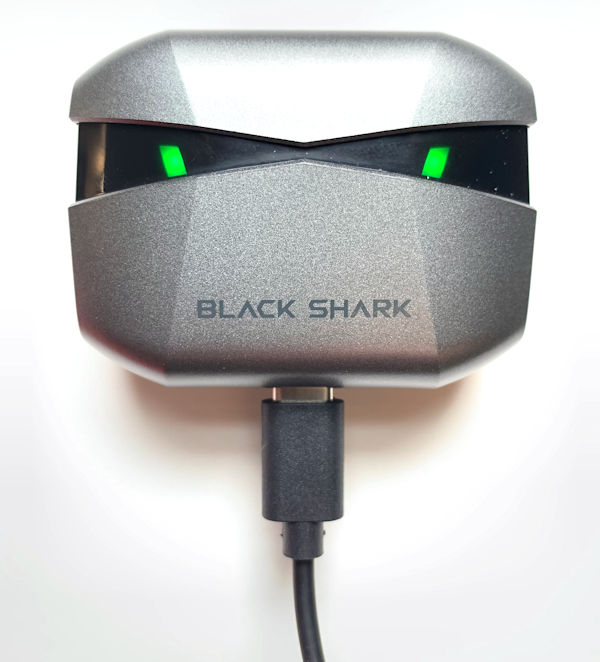 If the case itself didn't look 80s retro sci-fi enough, it has three pairs of green LEDs on its front that serve as battery level indicators.  When the batter is at its lowest level, only two of the green LEDs are lit, which makes the case look uncannily like the face of a Transformer, perhaps a cross between arch-enemies Optimus Prime and Megatron.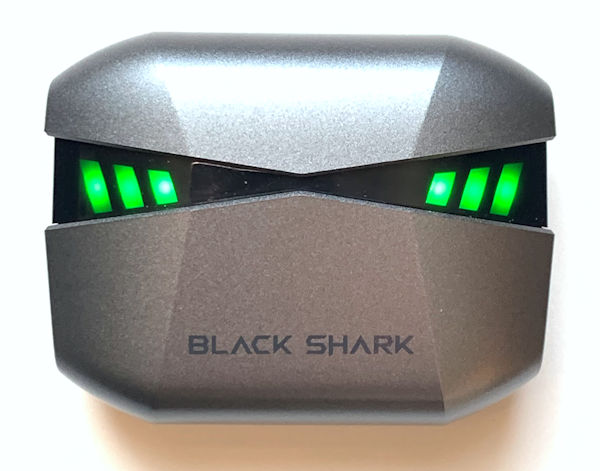 When fully charged, all six of the case's green LEDs are lit,  and the case looks even more sci-fi.  The earbuds themselves provide about 5 hours of use, and the charging case will boost this to about 20 total hours of listening time.  In practice I found this to be accurate.  My daily use of the earbuds consisted of wearing them during a workout for about 1 hour, then using them to listen to a podcast or audiobook for another 30 minutes to an hour.  With the charging case as their booster, the earbuds lasted almost a full week before I had to charge the case again.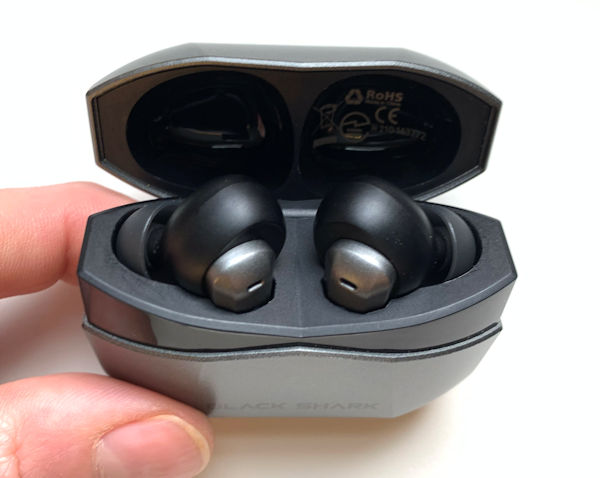 The earbuds nestle perfectly down into the case.  The lid's hinge has a bit of a spring assist that helps it snap into both the open and closed positions.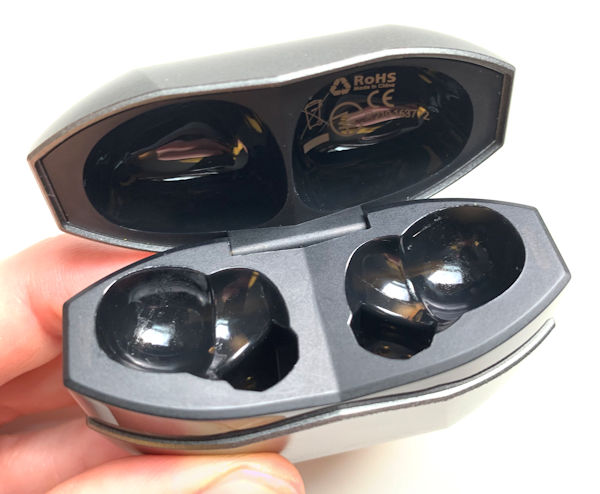 You can barely see them in the pic above, but each cavity has a small magnet gold-colored magnet embedded under the plastic that helps keep the earbuds aligned for charging.  Often with charging cases, I have to wiggle the earbuds a bit to get them to fully seat properly to enable charging, but I didn't have to do this here; then snapped into place every time.
Bluetooth connection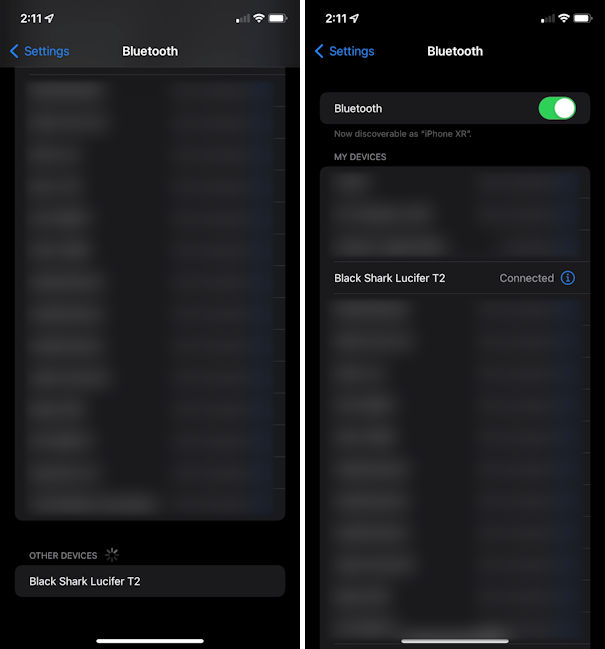 Bluetooth pairing of the earbuds was very straightforward.  I simply opened the lid of the case, then selected "Black Shark Lucifer T2" when it popped up in my iPhone XR's Bluetooth devices lists.
Fit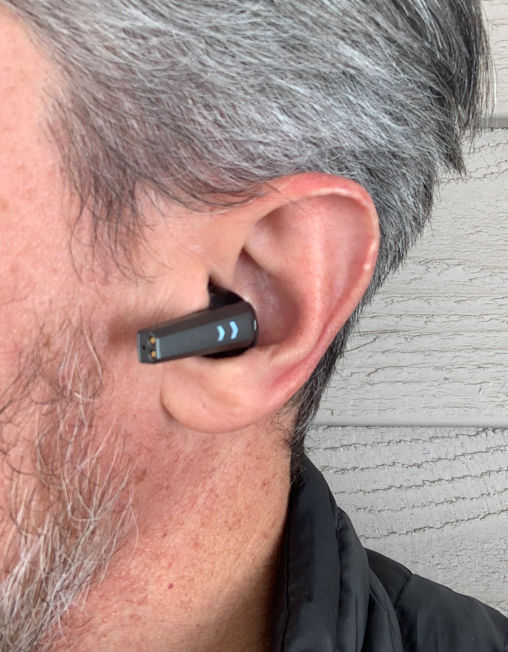 I mentioned earlier in the review that,  as someone with large ear canals who typically needs large ear tips for earbuds to stay secure in my ears, I would have preferred perhaps a fourth larger size.  While the largest size tips held the earbuds in my ears satisfactorily, they constantly felt like they were going to fall out, which was a bit unnerving.  Yet even during intense exercise with a significant amount of sweat dripping into my ears, the earbuds did stay put.  Also, almost every time I wore them, one would fit fine, but I'd have to spend time getting the other in just the right spots that it would both stay in and I could hear sound from it.
When I was able to get both earbuds fitting perfectly, they provided a decent amount of passive ambient noise blocking.  I wore them while vacuuming and a fair amount of ambient noise was blocked.  While wearing these in the room with someone else speaking to me, I almost could not hear the other person.  Finally, the earbuds are also rated to IPX 5 water resistance, which kept them functioning even during my heavy (i.e. sweaty) exercise sessions with no issues.
Sound
The sound of the earbuds is…complicated.  For starters, these earbuds are billed as "gaming" earbuds.  I'm not quite sure what that is supposed to mean.
These earbuds are equipped with the ability to toggle between "Music" mode and "Gaming" mode by triple-tapping either earbud's touch control.  I wasn't sure which mode was supposed to be which, but each did produce a very different sound.  One mode sounded a bit tinnier, with sharp highs and mid-range, but little to no base.  The other mode sounded a bit more muffled, with mostly mid-range and some base, but almost no highs.  Generally speaking, I found the tinnier mode to be better for listening to music and podcasts, and I didn't have much use for the more muffled mode.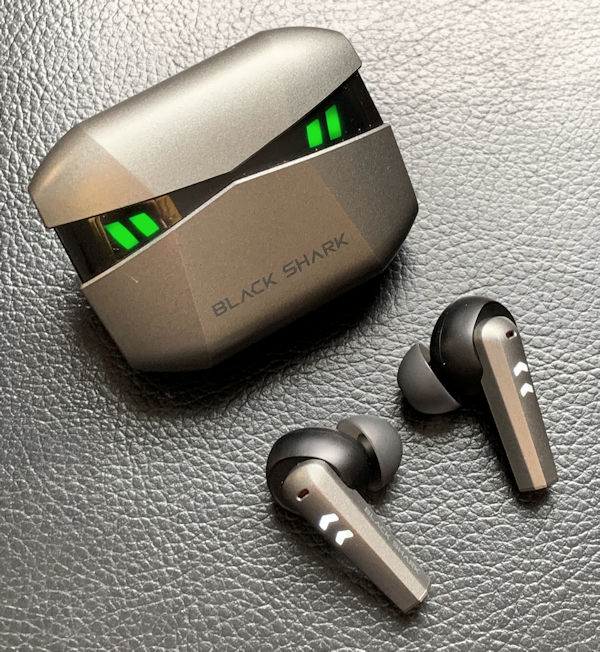 What I like
80s retro sci-fi robot styling
The earbuds and the charging case provide a long combined charge.
What I'd change
Both sound modes leave a bit to be desired, one is a bit tinny, the other is a bit muffled
Add another, large-sized ear tip for people with large ear canals
Adjust the sensitivity of the touch controls to make them less frustrating to use
Final thoughts
I have mixed feelings about the Black Shark Lucifer T2 Wireless Earbuds.  The entire set looks cool retro-tech cool, especially with the multiple LEDs that illuminate on both the earbuds and the case during operation and charging.  However, neither of the two sound modes is particularly impressive, the touch control sensitivity makes them frustratingly inconsistent to use, and while they didn't actually fall out of my ears, they constantly felt like they would.
Price: $39.99
Where to buy: Amazon
Source: The sample of this product was provided by Black Shark.