We use affiliate links. If you buy something through the links on this page, we may earn a commission at no cost to you. Learn more.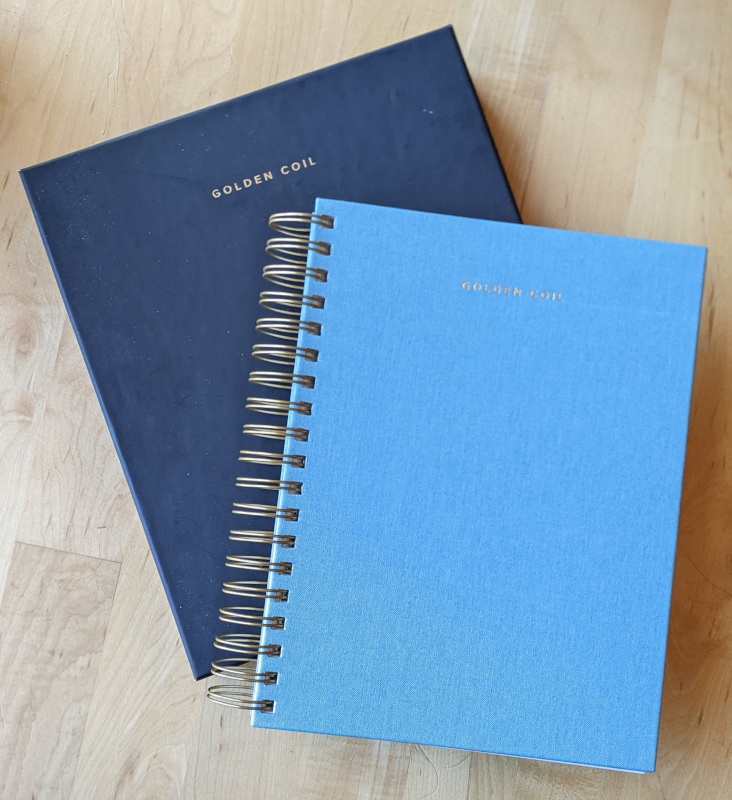 REVIEW – Even though I am a software programmer, I prefer to keep my life organized both digitally and on paper. However, I am very particular with how things are laid out and categorized so finding the right planner is hard for me. Golden Coil's custom planner is perfect for me as it is fully customizable from page layouts to personal dates. It also allows for other pages to be added so it becomes an all encompassing place to write down anything you need to keep track of.
What is it?
The Golden Coil custom planner is a fully customizable planner/notebook that is custom printed for you with provided personal dates and holidays.
What's in the box?
Golden Coil custom planner
Box serves as keepsake storage
Specs
Size: 7.25″ x 9.75″
Thickness: 0.88″ to 1.25″
Paper: 80# Mohawk
Pages: up to 242
Coil: double wire-o binding, 7/8″ to 1 1/4″
Design and Features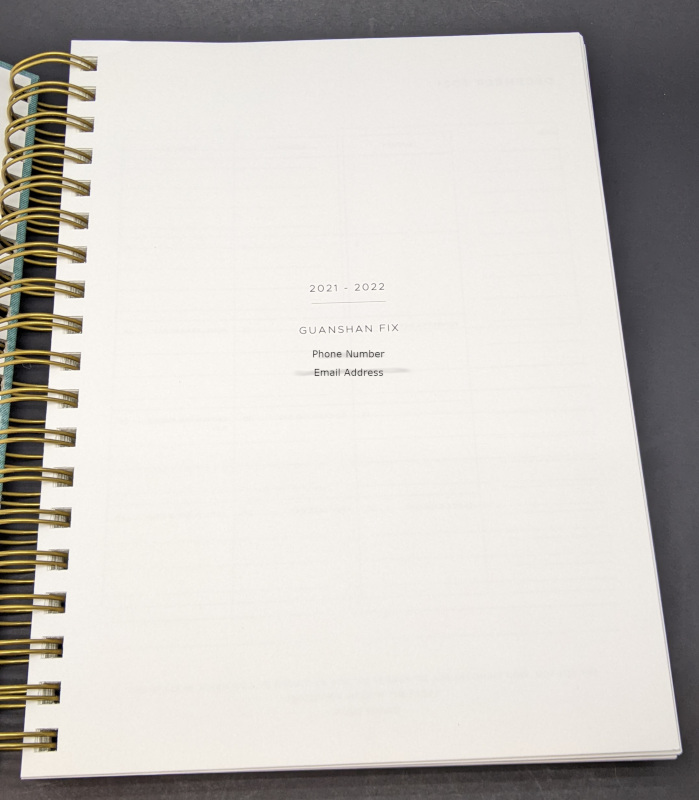 The first page of the planner is an elegant contact page. It lays out what years the planner covers, your name, phone number, email address and allows for a custom personal message to be added. I did not add a message but it would be printed below the email address.
I chose a linen cover but you can choose a designer or leather cover as well. The leather cover is not actually leather but coated paper to provide the same look and feel as leather. The front and back cover are the same with the front cover embossed with Golden Coil in gold. All the covers are nice and thick hard cardboard. This means I think it will hold up to a whole years worth of use and tossing around in a bag.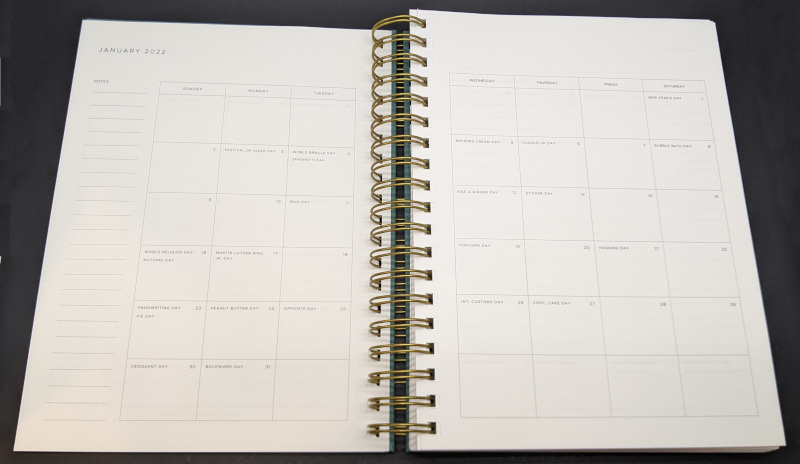 Each month is laid out in a two page monthly view at the beginning of the month's individual pages. Any holidays or personal dates that were added during customization will show up here to give you a quick overview of the month. As you can see in the image above, I chose to include some of the built in holiday collections. Not only do they have the traditional holidays, they have groups for fun, food and best holidays. These include Nacho day, world kindness day and take a hike day.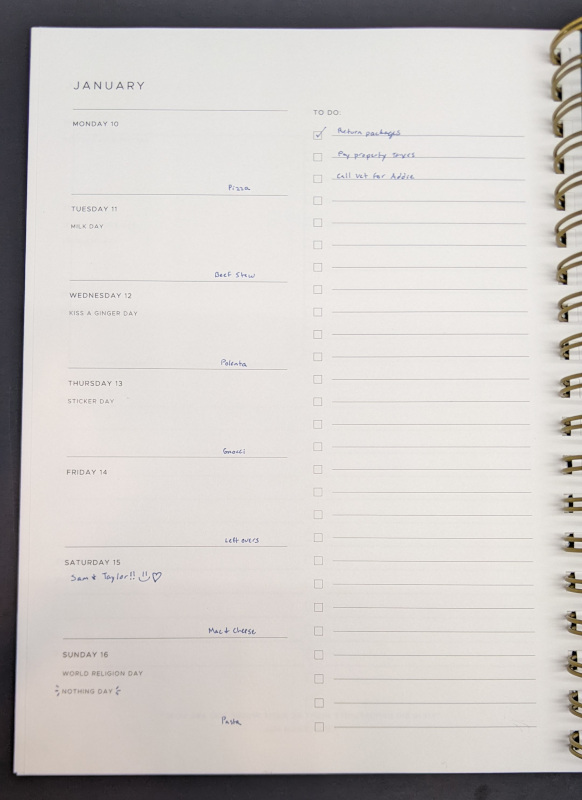 Now the planner gets into it's customization. I personally chose a weekly single page layout with a lined page with an area to doodle and quote on the opposite side. This is just one of many different layouts available. You can choose from a weekly double page layout if you need more space per day or even a daily page layout where each day has it's own page. Within each generic layout, there are multiple different versions for page content. It is impossible to describe each and every option available so if you are interested in seeing more layouts than the one I chose, please visit Golden Coil.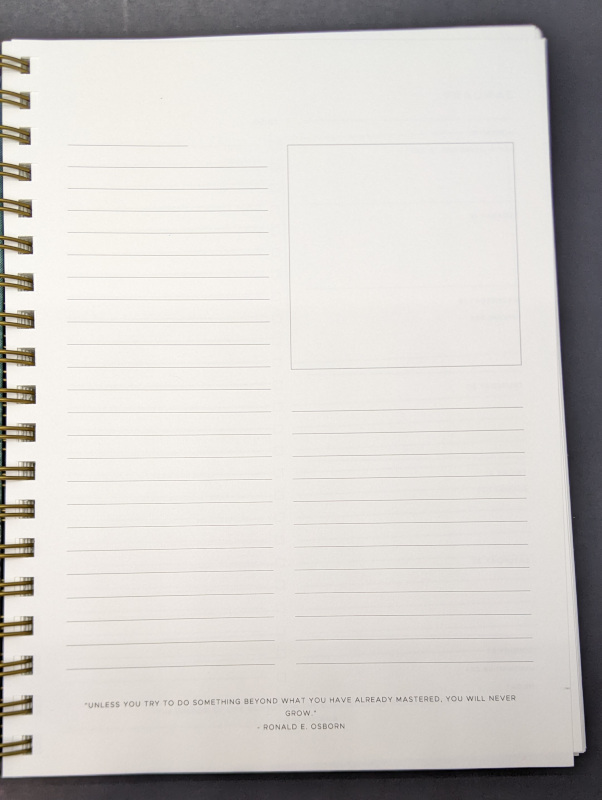 Another fun option is the added quote on the bottom of each of the day/week pages. There are many different categories to choose from for the theme of the quotes. I chose motivational/inspirational but you can choose a category that speaks to you. You also can choose not to have any quotes printed and they will leave that area blank. However, it does not mean that you will get content printed on the page, the area will just remain blank.
The rest of the planner can be filled out with a multitude of different types of pages. I chose to fill the rest of mine out with grid dot paper for note taking but there are many other options. Categories for page layouts range from food and projects to lifestyle and health. You can also customize how many pages of each type of layout you wish to be added your planner. This means you can have a few pages for documenting wellness goals, a few pages for grocery lists and then the rest to be for project planning.
What I like
Feels very elegant
Thick pages
Easy to customize with both personal dates and page layouts
What I'd change
Movable markers for current day and other added pages
Final thoughts
Planners are such personal things not only because of the information they store. People have different techniques for staying organized and that requires different layouts that often times aren't readily available in planers. Golden Coil is the perfect answer for that and allows anyone to customize their planner just how they want it based on how they organize things. I absolutely will be using my planner for the rest of the year and probably will purchase another one for next year.
Price: $68 + pages
Where to buy: Golden Coil
Source: The sample for this review was provided by Golden Coil