We use affiliate links. If you buy something through the links on this page, we may earn a commission at no cost to you. Learn more.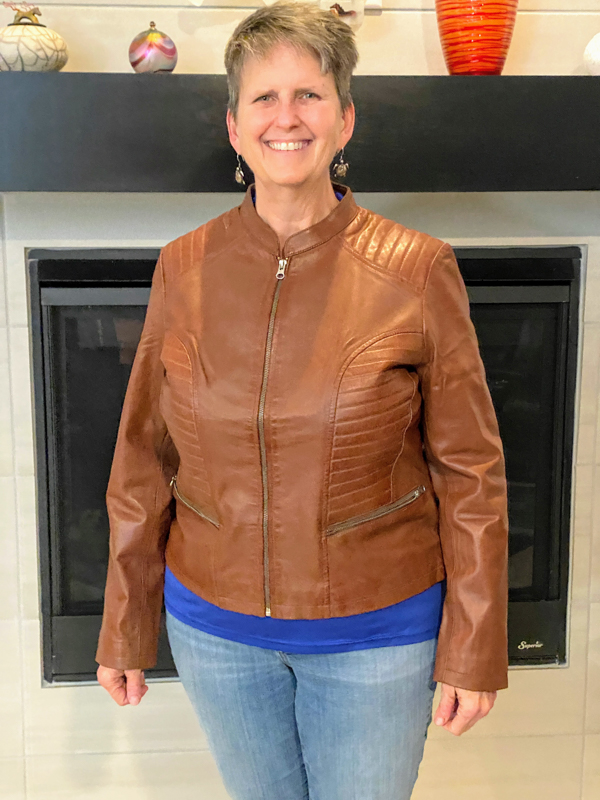 REVIEW – I love the look of leather jackets.  However, where I live in south Texas we have a winter that cannot make up its mind.  One day we are in the '80s, then the next day we have highs in the 40s.  The cold snaps often don't last more than a couple of days and we will have our standard highs in the 60s or so.  Discounting last year's freak 'snowpocolypse' we never get any kind of freezing precipitation.  I have been wanting a lightweight leather jacket for a while.  I also did not want to pay an arm and a leg for it.  When Angel Jackets offered up one of their jackets for review I jumped on it to see if it could meet my criteria.
What is it?
The Angel Jackets Rachel leather jacket is a jacket that is made of 100% lambskin leather.  It does not have any kind of additional thermal lining.  It comes in three colors: cognac which I received, black, and maroon.
What's in the box?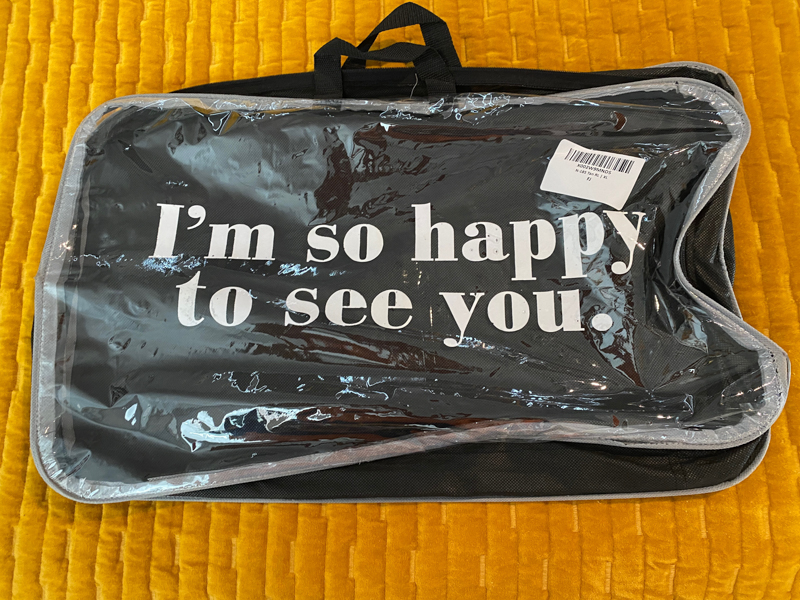 The jacket did not come in a box.  It came in this nice zip-up bag that was in a shipping bag.  The bag had a wire around the edges which helped to hold the jacket in place.  I was so excited to get the jacket I pulled it out of the bag before I remembered I needed to take a picture.  My only complaint with the shipping materials is that the bag is not recyclable and I have no real use for it after taking the jacket out.
Hardware specs
100% Real Lambskin Leather.
Internal fully lined with skin-friendly viscose.
Upright collar with padding details.
Two zipper pockets for carrying traveling items.
Design and features
I took several pictures of the jacket from the front, back, and inside to give you a closer look at the details.  The first picture is of the front of the jacket.  I personally think it has a sporty look with two small (they can hold a small micro wallet that is not much bigger than your credit cards) front pockets.  It has a stand-up collar with ever so slightly padded shoulders.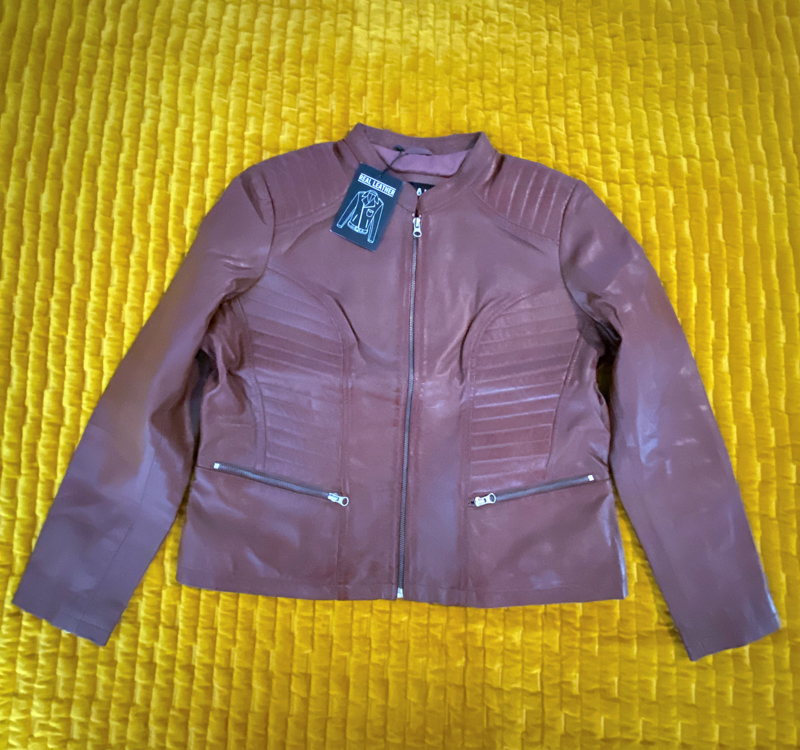 The back of the jacket has more stitching and slightly padded accents.  You can also see that you can adjust the waist in further by using the snap and leather strap on either side.  From the back, you can see that the arms also have zippers at the end.  I was wearing a light polo shirt when I tried it on and found that I did not need to unzip the jacket to put it on.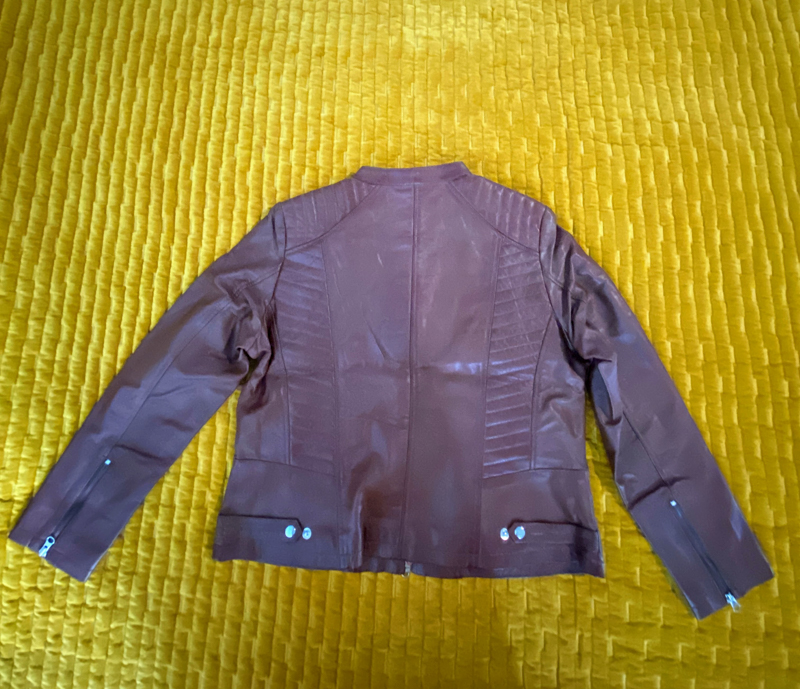 This picture shows a closeup of the padded shoulder area.  It is very slight padding.  I feel it is just enough to give it some texture.  I found no flaws in the stitching anywhere on this jacket.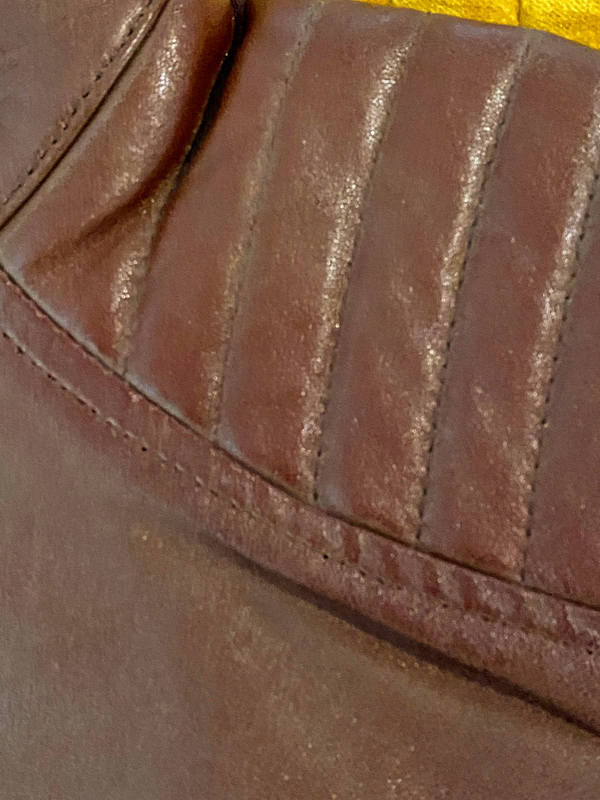 The zippers are not YKK, but I found them to be very sturdy and worked well.  This is a picture of the inside of a pocket on the front of the jacket.  It is just under four and a half inches deep and about seven inches wide.  It is lined with the same material as the inside of the jacket which is kind of a satin feeling material.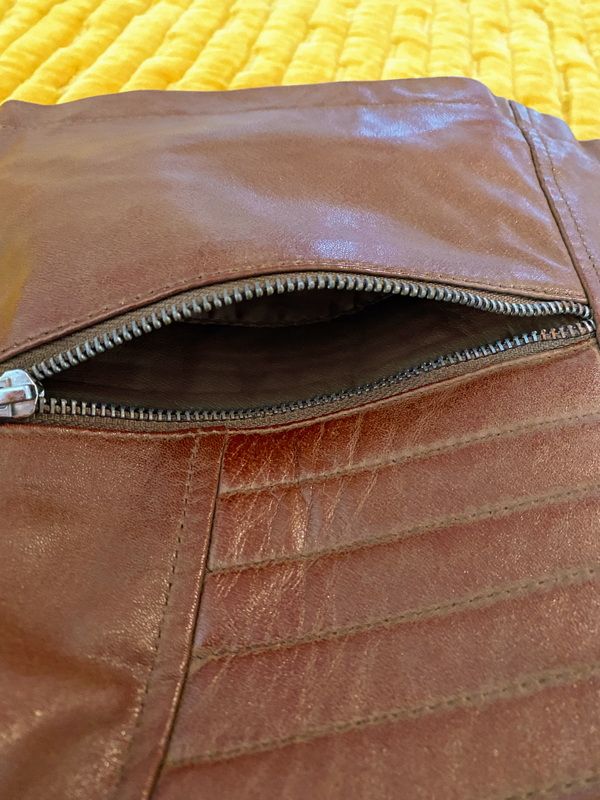 This next picture shows you a closeup of the adjustable snaps.  At this point, they are adjusted to allow for more room at the bottom of the jacket.  When I wore it, I had snapped both straps to the inner snaps.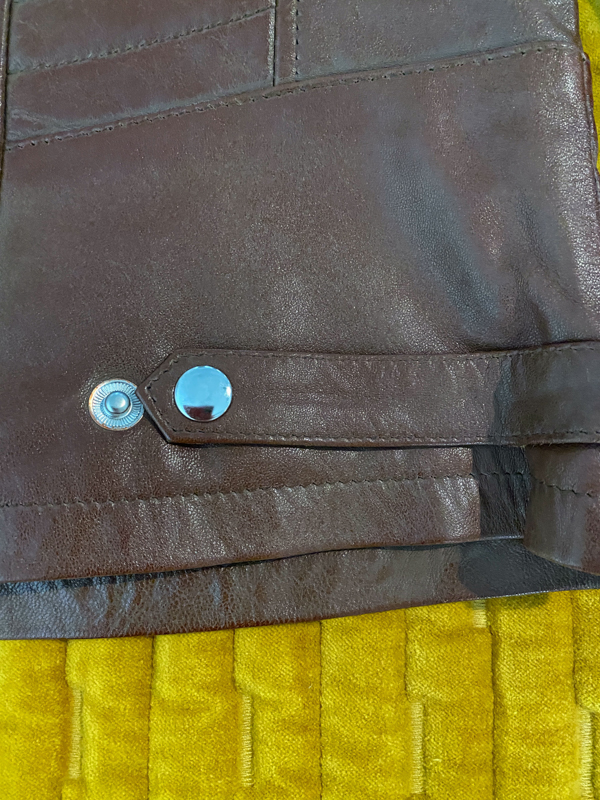 This is a picture of the zipper on the cuff.  Unzipping it reveals a flap of additional leather.  So the zipper does not completely open up the cuff.  I found the sleeves to be wide enough that I never unzipped them.  Even wearing a fleece underneath the jacket did not require me to unzip the sleeves.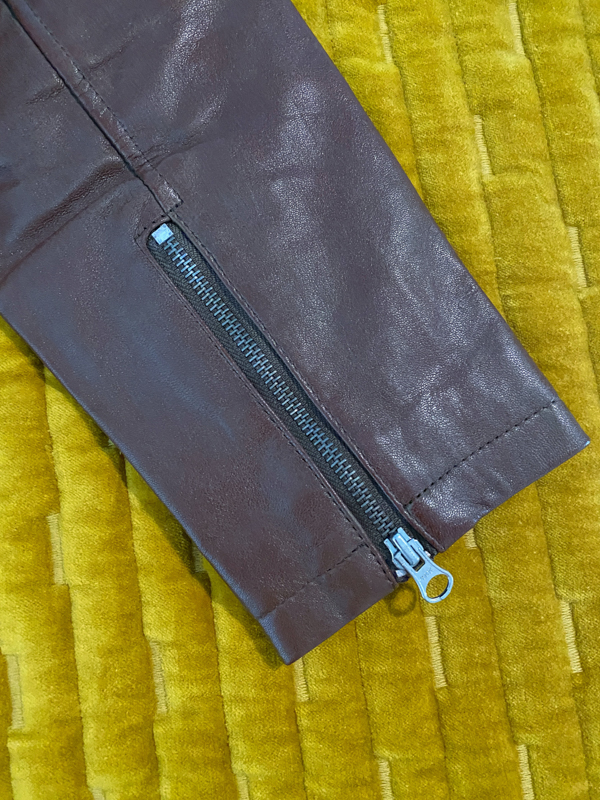 I also took a picture to show you the detail on the back sides of the jacket.  That same type of padding/stitching can be found there.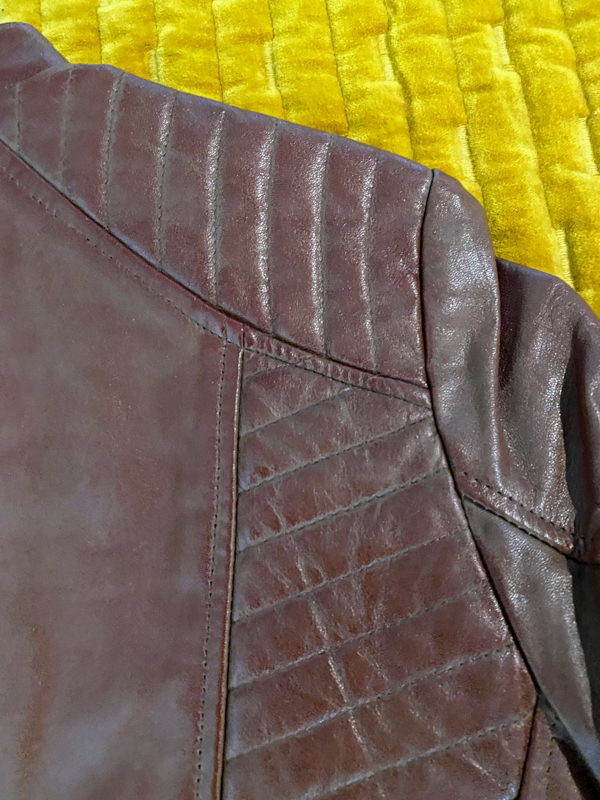 I took a picture of the collar to give you an idea of how thin this jacket is.  This jacket is made of lambskin and not cowhide.  The jacket is super supple and soft.  I never got an overpowering smell of leather that you can get with some jackets.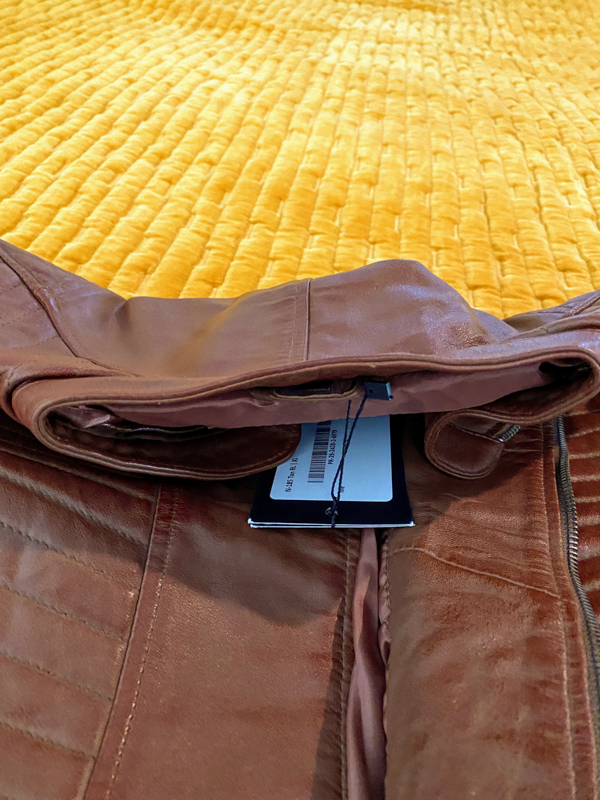 This is a close-up picture of the tag at the top of the inside of the jacket.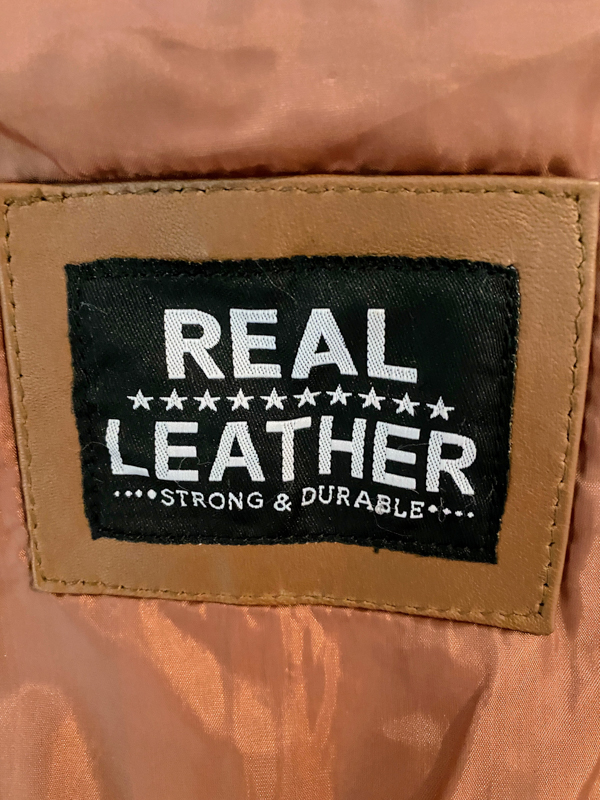 A nice feature of the jacket was an inside pocket for your phone.  I have an iPhone 11 Pro.  I have it in a leather flip case that is holding three credit cards, a medical insurance card, and my ID.  It makes the phone pretty bulky.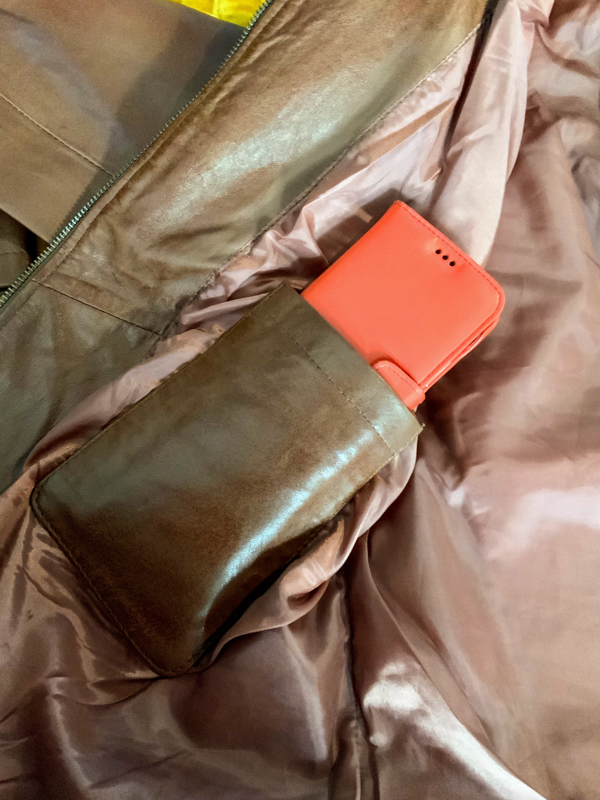 You can see the entire thing fits inside that jacket pocket.  The outside dimensions of the pocket are six inches by four and a half inches.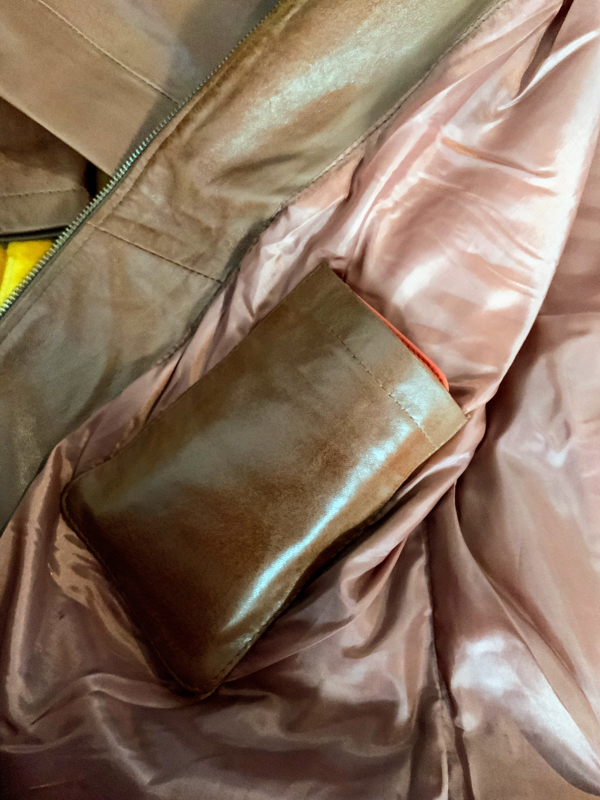 Finally, I took a close-up picture of the inside lining.  You can see how well it is stitched to the leather.  I find the lining very satiny and soft to the touch.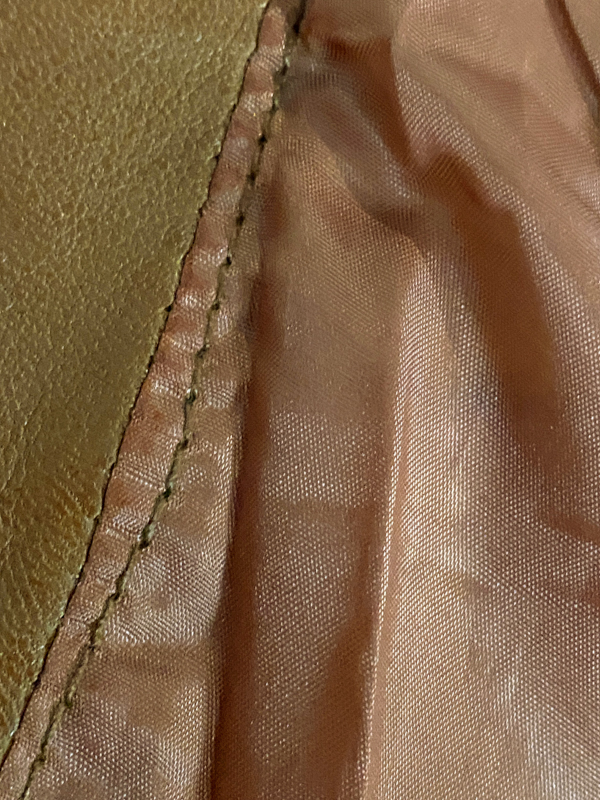 Performance
I really love the fit and feel of this jacket.  I have an XL on.  My only minor complaint is that I wish the sleeves at the end were a bit smaller.  It is possible I could have gone down to a large size, but I plan on wearing this jacket when I have long sleeves and possibly a sweater or fleece on.  In this picture, I only have a very thin polo shirt on.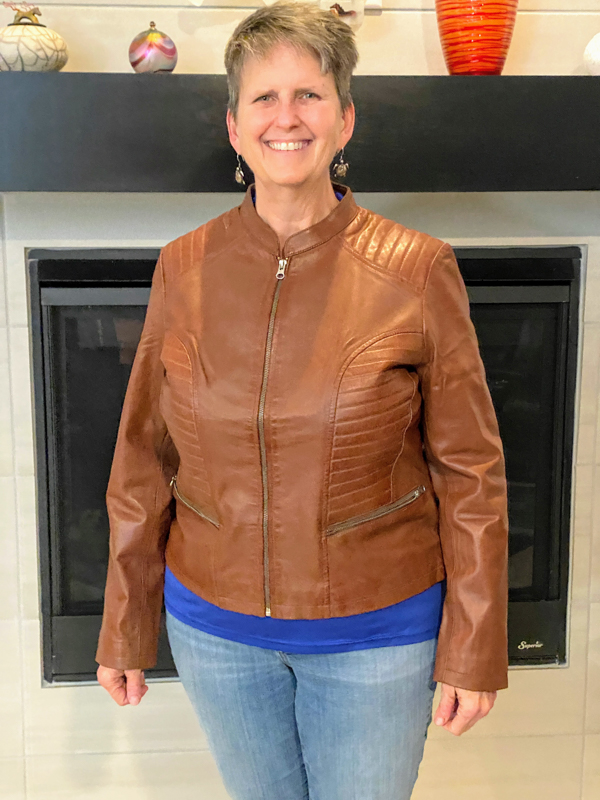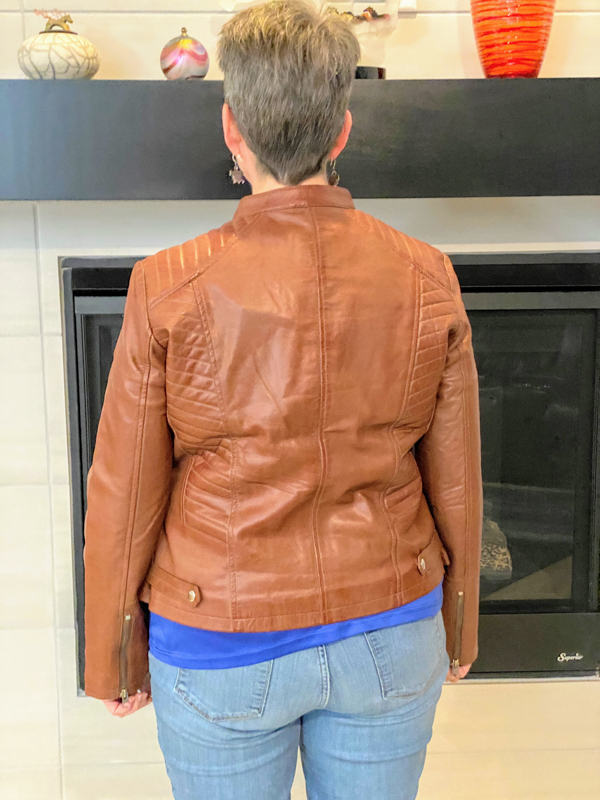 What I like
Very soft and supple jacket
No overwhelming leather smell
Well constructed and has an inside pocket that my phone will fit.
I feel it is well priced for what it is.
This is perfect for a climate that often has only chilly temperatures.  It was not made for freezing weather or sub-zero climates!
What needs to be improved
The sleeves could be a little narrower at the end for my taste.
Final thoughts
I really like the Angel Jacket Rachel jacket and have worn it a couple of times already.  Most likely next year I will see if I can buy a black version of one of their jackets.  They have a ton of designs and styles to choose from for both men and women.
Price: $199
Where to buy: Rachel Women's Cognac Leather Jacket
Source: The sample of this product was provided by Angel Jackets.