We use affiliate links. If you buy something through the links on this page, we may earn a commission at no cost to you. Learn more.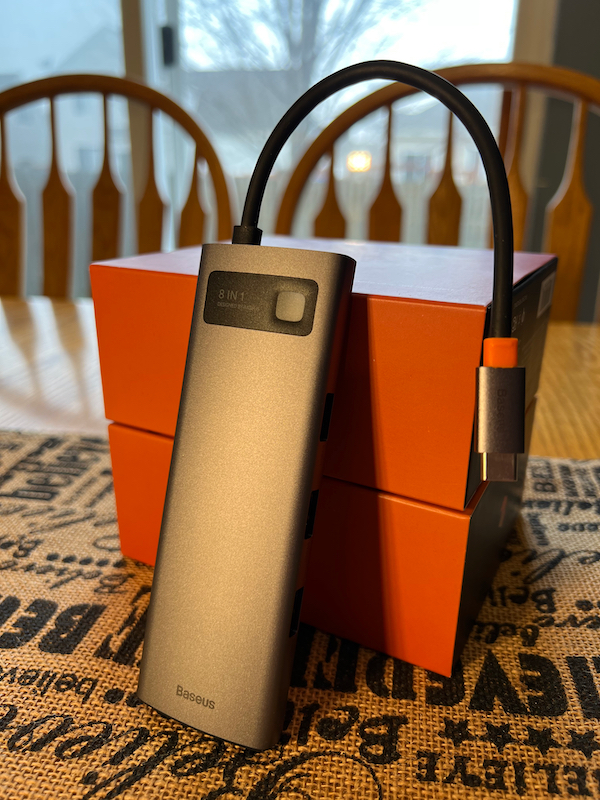 REVIEW – Having the right connections is a necessity for getting work done. If you don't have the right adapter to read a USB drive, to copy files from your camera's memory card, or to connect to a display, you might not be able to get your work done or watch a movie in your down time. This is where a USB-C hub can come in handy. Baseus has an option worth considering in their 8-in-1 USB-C Hub Docking Station.
What is it?
The Baseus 8-in-1 USB-C Hub Docking Station is a dark gray colored aluminum rectangular hub with a permanently attached USB-C cable for plugging in to a USB-C equipped computer, iPad, or a phone that supports USB OTG. It provides an HDMI port, an RJ45 ethernet port, 3x USB 3.0 ports, SD and TF card slots, and a 100W PD USB-C port.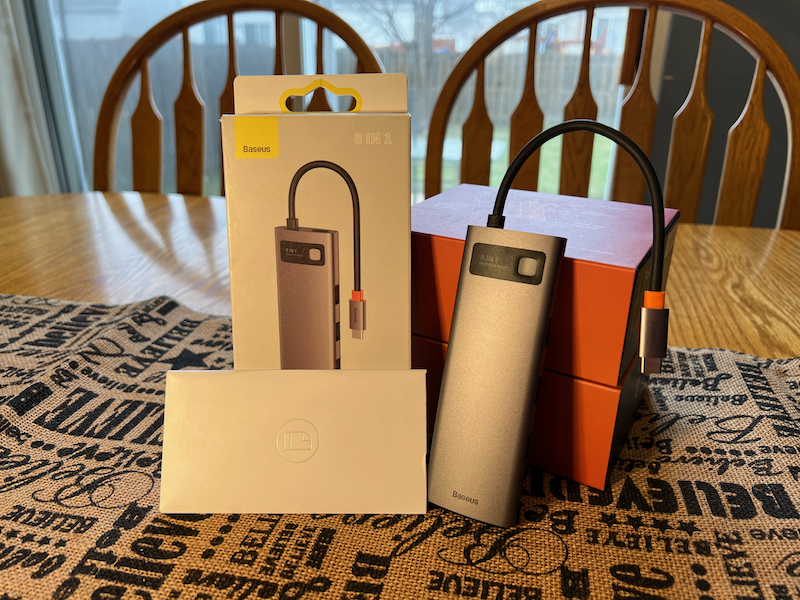 What's in the box?
8-in-1 Hub Docking Station
User Manual
Warranty Card
Sticker Pack
Hardware specs
Material: Aluminum alloy
Craft: Sandblasting and anodizing
Color: Space Gray
Input: Type-C PD port – 5V/9V/14.5V/20V, 5A (Max)
4KHD: Supports [email protected] HD display (Max)
SD/TF port: Supports 480 Mbps data transmission and simultaneous read
RJ45 Network port: Supports 10Mbps, 100Mbps, 1000Mbps
USB 3.0: Supports 5Gbps, and is backward compatible with USB 2.0
Operating System Support: Google Chrome OS, macOS, Windows XP/Vista/7/8/10, Linux
Standby current: <400mA
Voltage: 5V-20V
Applicable devices: Type-C notebooks, mobile phones, Apple MacBook Pro/Air 2016 and newer, other operating systems
Size: 5.18 in. x 1.75 in. x .65 in. (131.5 mm x 44.5mm x 16.5 mm)
Weight: 86.5 ±5g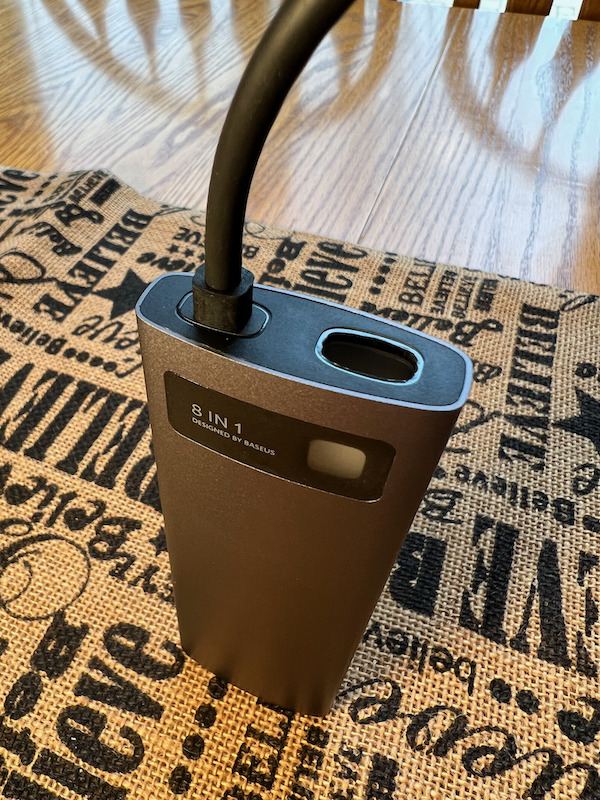 Design and features
The Baseus hub is a small aluminum and plastic device, with a permanently attached USB-C cable. The end where the cable is connected has a small opening for placing the cable inside to protect the USB-C connector. The opposite end has the RJ45 ethernet connector and connection status lights. Along one of the long sides are the USB-C PD input connector, the HDMI port, and the SD and TF card readers. On the other side are the three USB 3.0 connectors.
This device is lightweight and small enough to carry around in a backpack or EDC bag. Having all the connectors you need around at any point is super convenient.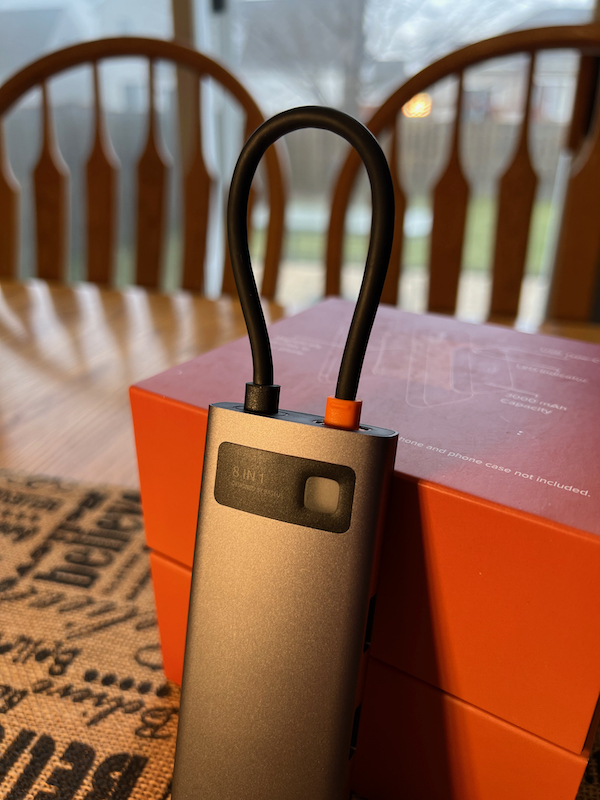 Installation and setup
There's only one step to installation – plug it into your laptop, tablet, or compatible phone. Once plugged in, you're able to read and write to SD or TF cards and USB drives, connect to wired ethernet, or watch video on an external display. There is a blue LED light that comes on when the hub is plugged in and working.
In Use
If your setup requires a second display, or you just want to use a bigger display than the one built-in to your laptop, this is a convenient device to have. For a work from home setup or if you frequently need to take your laptop home, only needing one connection to your device for power, video, data, etc., makes it easy to come and go as necessary.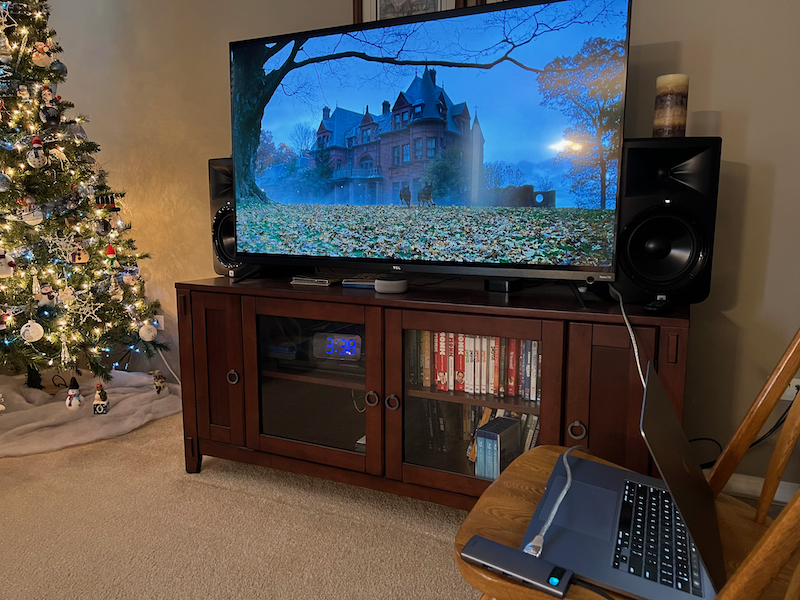 I was able to successfully use this device with my 2019 MacBook Pro, my 2021 iPad Pro, and my Google Pixel 6 phone. The only thing that didn't work with the Pixel was the HDMI output. I've used similar hubs before with a Samsung Galaxy S20 (see review here) but I believe the Pixel 6 doesn't support OTG display output, so I didn't expect it to work. 
I was able to get up to 3840 x 2160 resolution when hooking up to my TV. Unfortunately, this only supports up to a 30 Hz refresh rate at 4K. This would be fine for most movie or TV viewing, but for something with faster action like sports, it would be nice to go up to 60 Hz. For general office work, I don't think the 30 Hz refresh rate is going to be a problem. It comes down to your specific scenario as to whether this device will work for you or not.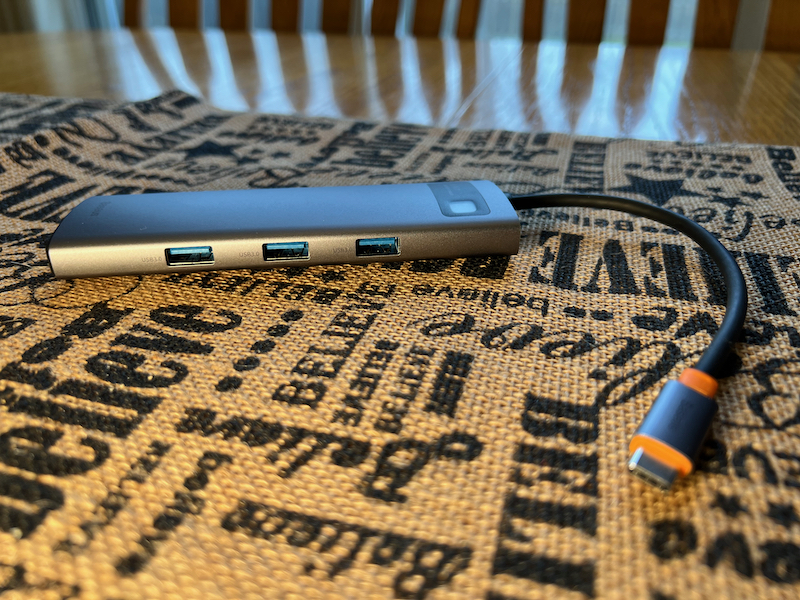 On all the devices I tested this with I was able to easily read and write from flash drives and memory cards with no issues. On the Pixel phone, I could only have one or the other plugged in – if I had a USB drive and a memory card in at the same time I could only see the one I had most recently plugged in. I don't anticipate needing to copy files from one memory device to the other on my Pixel but it's good to know what the limitations are. On all the other devices I tested this with I didn't have any trouble reading or writing to external storage.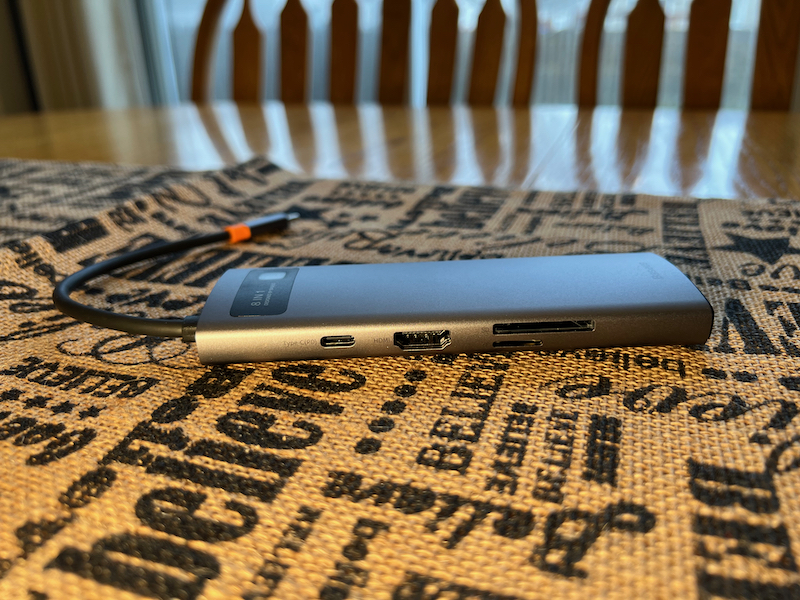 When plugged into my laptop, passing power through this hub, my laptop reported that the input power was 86W compared to the 96W available from the charger, so it uses about 10W of power while passing through power. 
It is possible to use both card readers at the same time. I've worked with other card readers in the past and while they provided multiple card slots I couldn't use both at the same time so copying from one card to another wasn't possible.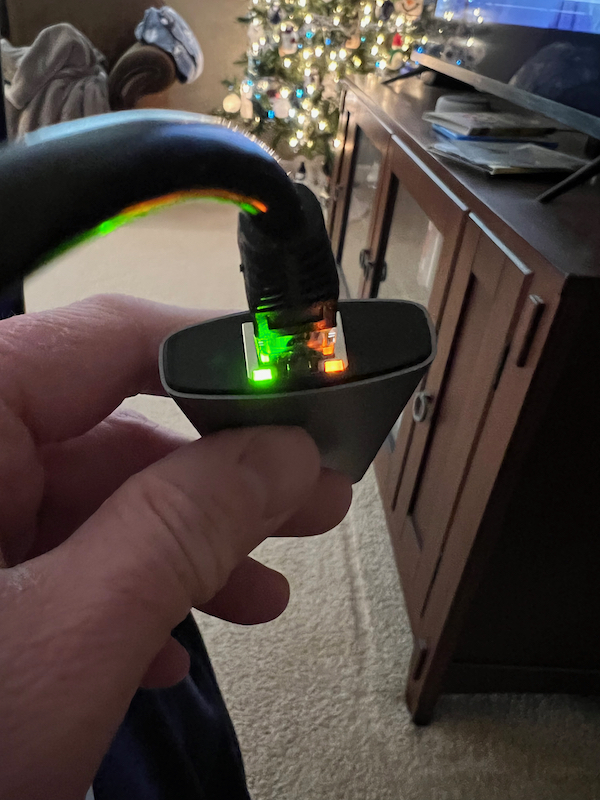 What I like
Many connector options
Pass-through power
Simultaneous use of all connectors in most cases
What I'd change
4K at 60 Hz

 

A headphone jack would be a nice addition
Final thoughts
A device like this has so many potential uses it's impossible to cover them all here, but having so many connectors in a small package means it won't take up much room on your desk and it's convenient for traveling as well.
Price: $56.00
Where to buy: Baseus online store or Amazon
Source: The sample for this review was provided by Baseus.