We use affiliate links. If you buy something through the links on this page, we may earn a commission at no cost to you. Learn more.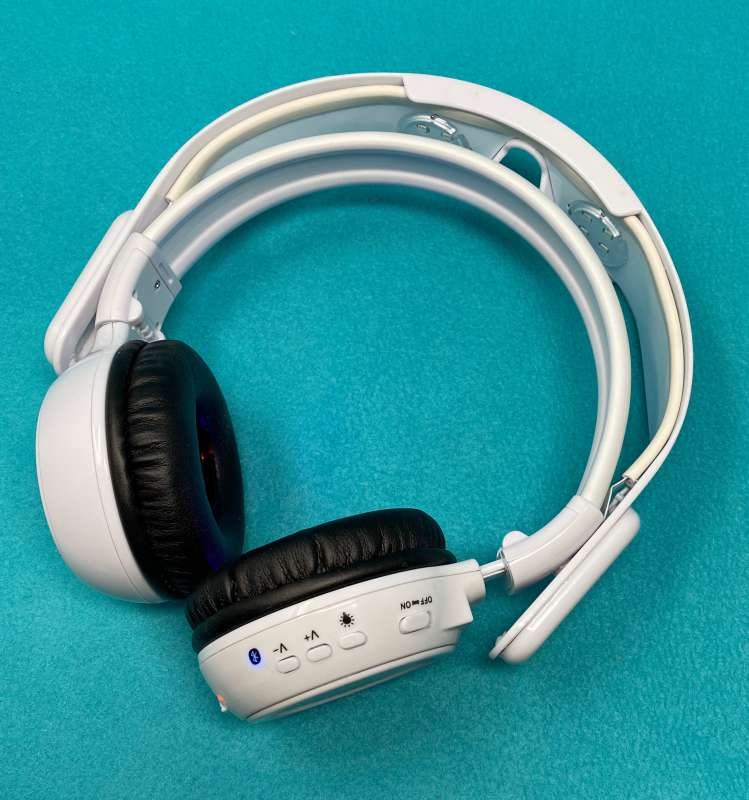 REVIEW – Hacking your brain is almost a cottage industry these days. From meditation apps to headgear with electrodes to audio that uses your hearing's phase detection, there are a lot of companies trying to enrich your life in a solid, real way using their technology. We've covered a good bit of it here at The Gadgeteer, so when BrainTap offered their headset and a subscription to their various packages for us to evaluate, I volunteered. I've been working through the various levels and am ready to report.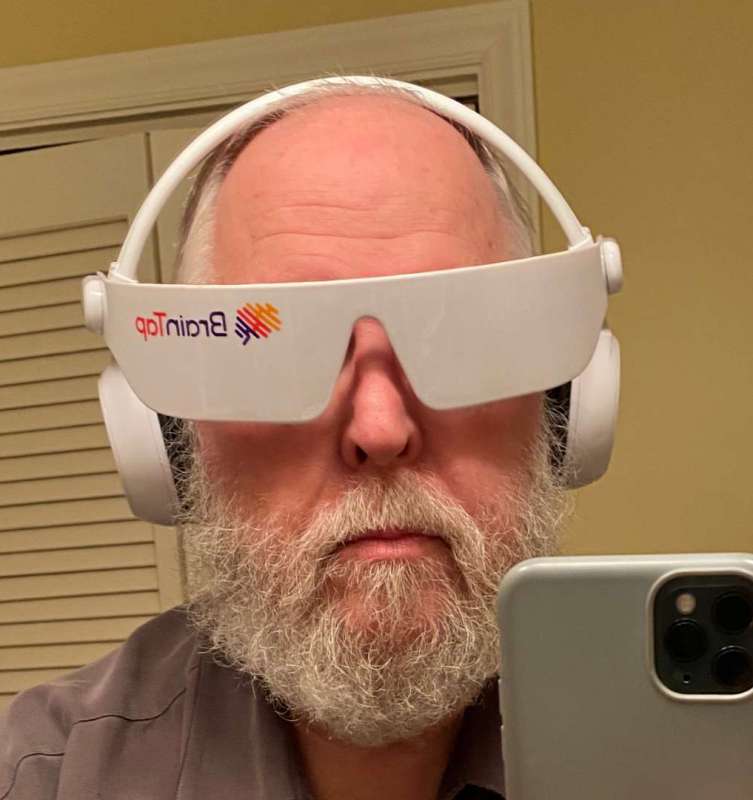 What is it?
BrainTap is a headset that uses a series of guided visualizations incorporated with sounds designed to improve mental health. An optional headset adds lighting effects via a visor with LEDs to the aural component.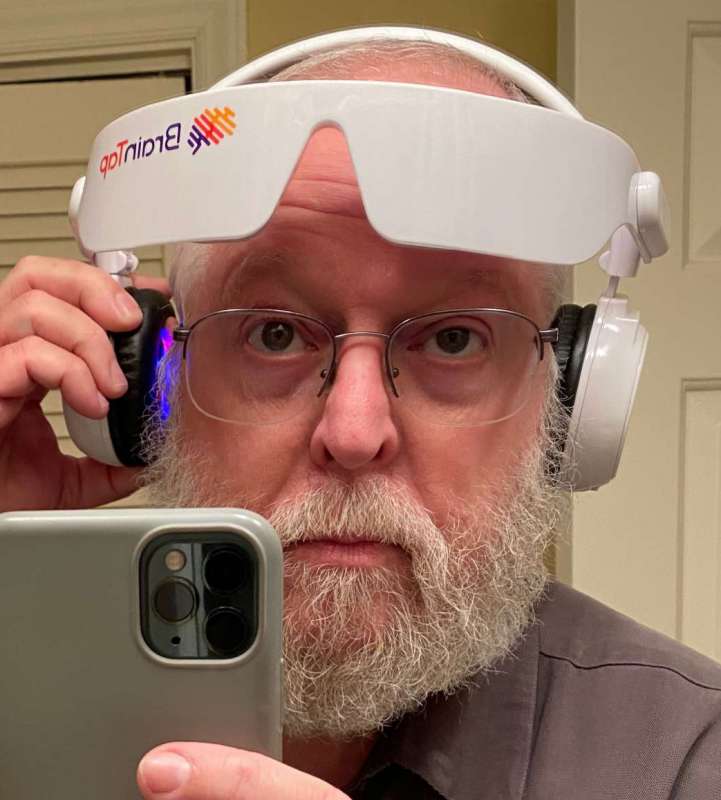 What's in the box?
Travel Case
BrainTap Headgear
Proprietary charging cord
Audio cable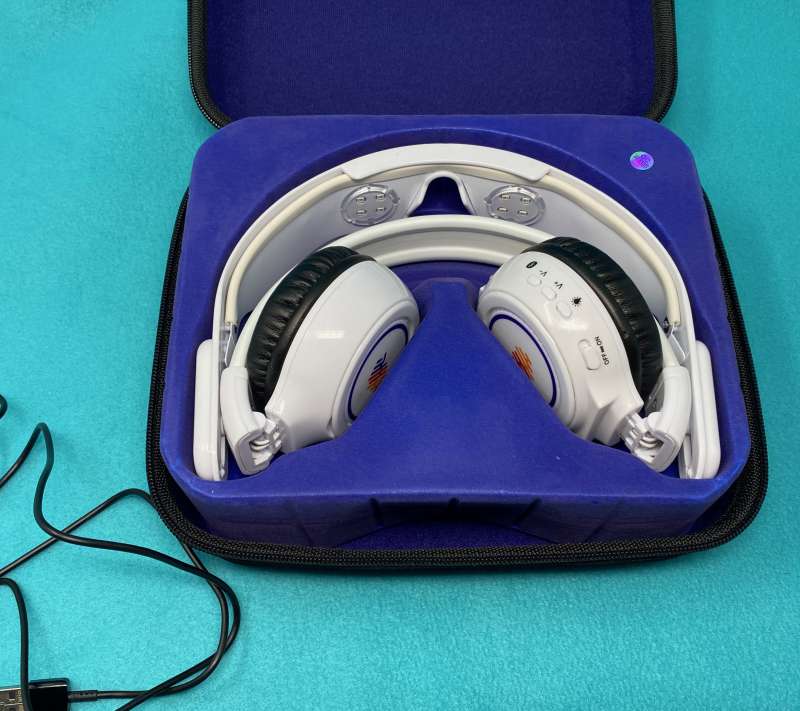 Design and features
BrainTap uses a method called Frequency-following response to develop focus, enhance sleep, and otherwise assist in the betterment of your mental health. This is provided via an app subscription. It can be used with any headphones, but their custom headset provides lighting effects through an LED-enhanced visor that folds over your eyes and LEDs that project into your ear canals.
The headset has two earcups, and like most headsets, one side does most of the heavy lifting regarding plugs and controls. The BrainTap right ear cup has all the normal power/volume/BlueTooth connectivity controls and lights.
Benefits
From company leaflet
Improve Mental Sharpness
Increase Focus & Productivity
Reduce Stress
Boost Energy
Better Sleep
Combat Alzheimer's
Ward off age-related memory loss

Setup
The first thing you have to do with any battery-operated headset is to charge it. I opened the BrainTap headset and picked up one of a half-dozen live USB-C cables on my desk that I use daily and plugged it in. I was expecting a light or something to come on, but nothing happened. No problem, not every piece of hardware has a charging indicator. I checked the startup guide: there should be an LED showing red for not fully charged or green for fully charged. Hmmm… Changed to another of the USB-C cables on my desk. Still nothing. Sent Julie a note, letting her know that there may be an issue with the hardware. Then thought "Why not use their USB-C cable, to see if there is something different with it?" Plugged it in and BAM! Red light! Left it on overnight (it didn't get fully charged in the three hours it sat there while I was at my desk). The next day, the light was green, and everything seemed fine. Here are the two USB-C cables. The white one is from Apple, the black one is from BrainTap. I was not able to make any other cable charge this unit – only the one from BrainTap.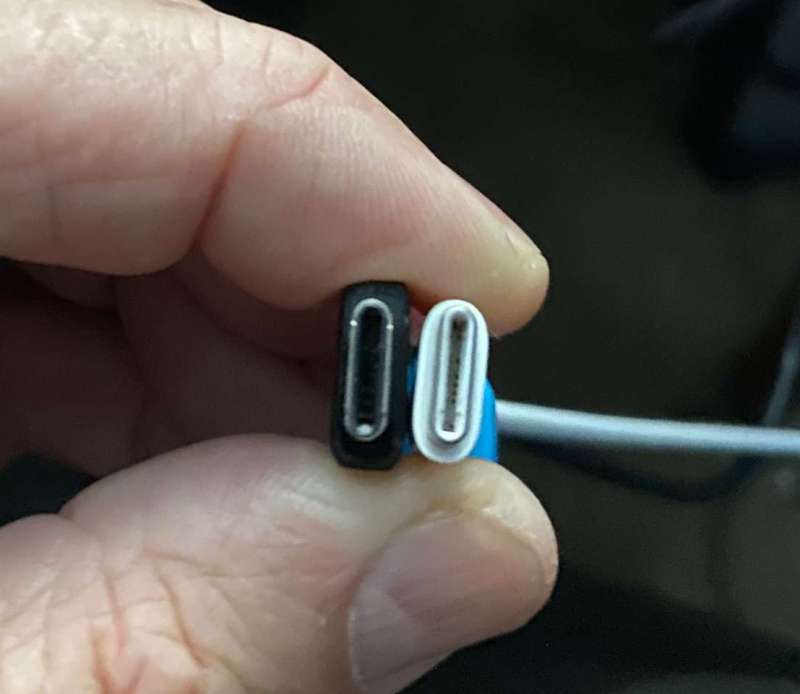 I was excited to give this program a try. When it was assigned, I immediately created an account and downloaded the app. This introduced the first frustration. The app is very limited with regard to input. I could not copy the password I created on the website and paste it into the app. I sent a password change notification message to my email, but this also did not allow integration with the iOS password database or even just copying a saved password and pasting it into the field provided. I sent in a support message, and a few days later, got a response that my password has been reset. No mention of whether or not pasting into the login page was going to be added or was an aberration.
I used their created password and was finally able to enter the app. The first thing I had to do was register my iPhone. There is a device ID number for my iPhone. I'm not sure where the number was taken from or if it is just randomly generated, but I was never asked if it was OK to grab identifying information from my hardware, which is a violation of Apple's privacy policy. You can have two devices registered to an account at a time.
I then wanted to go through the 16-minute introductory message. I turned it on and got about four minutes into it when my dog wanted to go out. I paused the program and let him out, came back to my iPhone, and went back into the program. There is no way to get back into any area of the program, other than the start. I had to listen to the first four minutes again. So you're forced to listen to each lesson in one sitting. You can listen multiple times, but you can't pause and re-enter any session.
Sessions have to be downloaded before you can listen. (I like that, actually, so that you don't get surprised halfway through a session and then cannot finish it because you're not in a good wifi area.) When you download the sessions, however, they are placed in a queue that is not available to see or edit. If you put the first bundle into your queue, then see something further down the list that you'd like to do immediately, like the 8-minute BrainTap Journey in "Stress-Free Me", you have to wait for all those other modules to finish downloading. Irritating, but not something you'll see after you have all your programs downloaded. The sessions are about the size of similar length podcasts – not horrible if you have the storage, but be aware of this if you want to get a lot of them downloaded for a trip or ongoing use.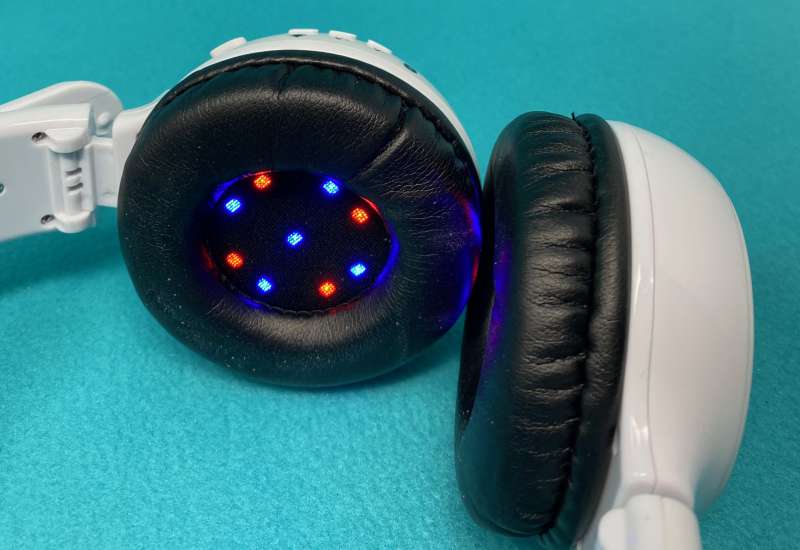 The addition of the headset required no changes within the app. It connects just like any other Bluetooth headset, and suddenly there are LEDs flashing in the ear cups and through your eyelids. The audio is the same as with standard headphones or earbuds.
Performance
I'm going to divide my thoughts here into two categories: programming and hardware. From the programming side, the sessions cover a wide array of mental and physical-psycho-social areas that we are learning to hone and fortify with such sound and light therapy. I'm still using this daily, but a 30-day review window only can go so far. To date, I've not noticed any ill effects ("First, do no harm."), which is nice. I'm not sure of any positive effects, but I'm hopeful. Maybe that's a positive side effect of the "Worry-Free Me" pathway – who's to say. But it's available without investing in the hardware if you're interested.
On the hardware side, several things jump out as you use the device. First, for a $600+ set of headphones, aural isolation/noise-cancellation is table stakes. The BrainTap has none. You can't use this on a plane, because the noise from the aircraft would drown out the background processing. I tested this several times in my company break room, where folks on lunch and receiving merchandise and preparing items for shipping can create quite a loud environment. The background noise made usage less effective, I felt. When using noise-canceling earbuds, the audio was more immersive. (Another thing to mention about using this in public places – folks will ask you what this thing on your head is. Be prepared to pause and answer questions, or make a sign that says "Brain Experiment in process" or similar to ward off the curious.)
Also on the hardware side, the fit and finish of the plastics left a lot to be desired. There are several fairly sharp edges along the visor, and the area where the visor's LED panel connects to the front piece is totally open, inviting dust and other ingresses. Foam or some sort of sealing/cushioning material along this area would go a long way. There are also several wire channels that are exposed, which make things easy for construction, but detract from the overall impact of durable medical equipment.
Despite all the little niggles in setup, the program performs very much as expected. Using only headphones/earbuds, you hear sounds with stereo-enhanced effects and music. There may be a single voice guiding you through a meditation or visualization, or you may hear several overlapping voices speaking at once. I never found this irritating or anxiety-producing, but others that I talked to about it did. I don't think they did the requisite relaxation during the first part of the session to allow multiple inputs to speak to them on this level. It's quite different from most "motivational" tapes or podcasts. If you're not using the headset, a sleep mask may help you block out room lights and such.
Using the headset is easy enough, but it is a bit large and bulky. Packed in its case, it is larger than any over-the-ear headphones I've ever used. I have tested or borrowed probably a dozen different models over the years, and this case is the largest.
What I like
Seems to cover a lot of areas where folks want help
Sound is professionally produced
What I'd change
Cannot paste credentials into the app
Cannot easily pause and restart sessions
USB-C cable is not standard, no info on how to replace
Headphones are not comfortable or sound-isolating
Final thoughts
I am terrified of trying on expensive headgear like Sony QuietComfort or Apple AirPods Max, because I don't have $400-$600 in my budget for these items, and I know if I tried them, I'd be hooked. That was not the reaction I had to the BrainTap headset. I appreciate the added nature of the LED therapy, but the hardware just doesn't seem to measure up to the price being asked.
The audio program seemed nice enough, but most of the sessions require a dedicated time of 20 minutes or longer. I am continuing to use the sessions, but have not noticed huge changes to my stress levels or weight wellness in the last 30 days.
Price: $647.00 for the headset. Audio sessions cost between $9.99 per month for one area bundle or $29.99 per month for all six bundles.
Where to buy: Your device's App Store sells the programs and bundle subscriptions. (iOS or GooglePlay device needed for program playback (Not on the macOS App Store, nor was there mention of Windows or Linux versions.) The headset can be purchased through the company webstore.
Source: The sample of this product was provided by BrainTap