We use affiliate links. If you buy something through the links on this page, we may earn a commission at no cost to you. Learn more.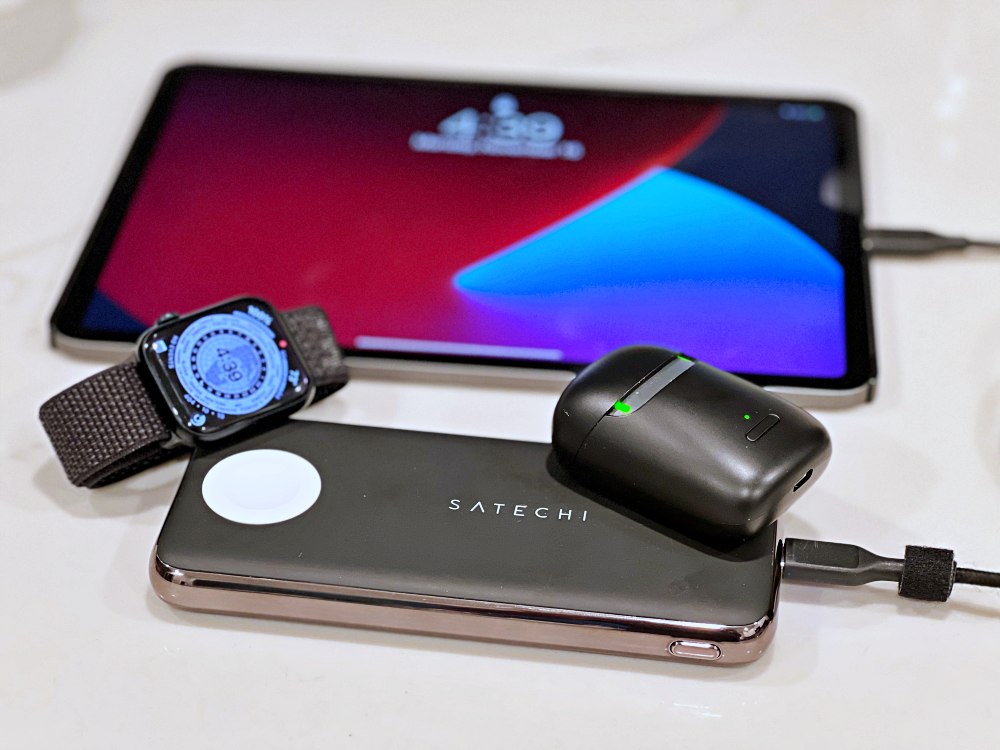 REVIEW – What's your travel kit look like? Is it a rat's nest of all the different cables and adapters you need or have you found that magic solution we're all looking for? Satechi might just have a contender here depending on what you're looking for. Battery? Check. USB-C and USB-A? Check. Qi wireless? Check. Apple Watch? Check. That's 4 checks and the resulting name origin. Let's see if the Satechi Quatro Wireless Power Bank is as good as it looks on a spec sheet.
What is it?
Satechi's Quatro Wireless Power Bank is a portable battery with four ways, to charge devices. Choose from USB-C, USB-A Qi wireless or Apple Watch. When it's time to recharge the Quatro, the USB-C doubles as the input port for connecting the included cable to a power supply.
What's in the box?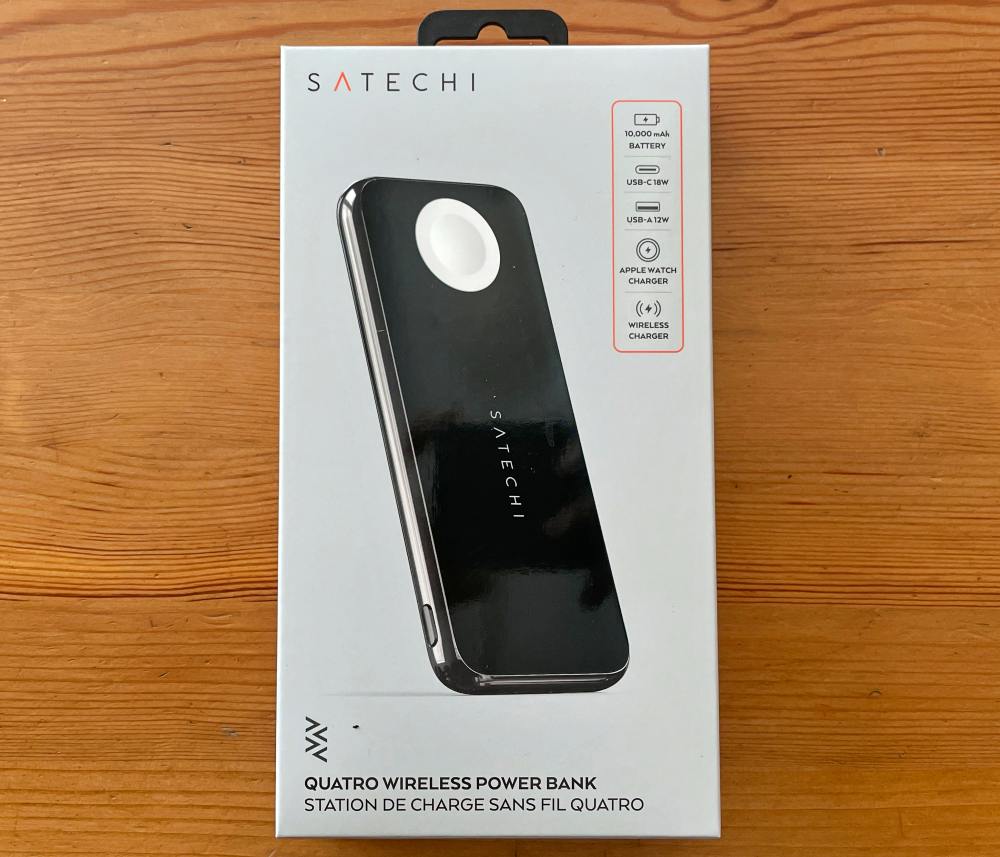 Satechi Quatro Wireless Power Bank
USB-C Charging Cable
Quick Start Guide
Hardware specs
Battery: 10,000mAh
Power Input: Max of 18W via USB-C port and included USB-C cable rated to 60W
Power Output: USB-C (18W), USB-A (12W), Qi Pad (5W), Apple Watch (2.5W)
Recommendation: Only charge up to three devices at a time
Dimensions: 6.4 x 2.9 x 0.7 inches , 0.58 lbs
Warranty: 1 year Manufacture warranty
Design and features
The Satechi Quatro Wireless Power Bank is a powerhouse of a battery packed into a very comfortable shape to hold. No sharp corners here, just generous curves on the edges.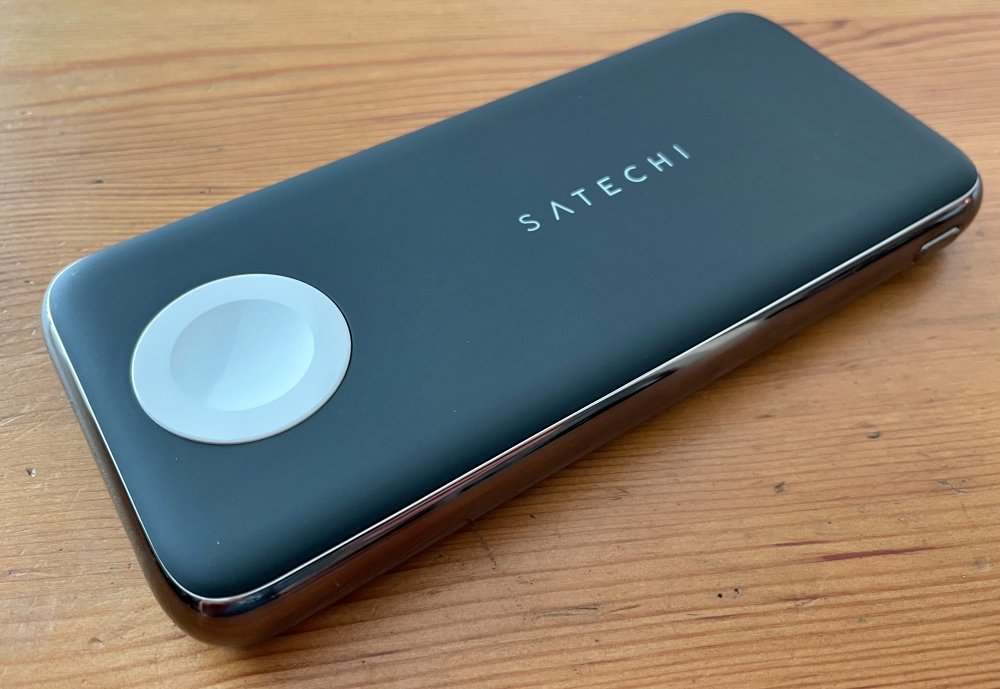 Size wise, it's slightly longer than and iPhone 13 and depending on the case you run, only marginally thicker. Convenience is the name of the game here as the device easily tackles charging an Apple Watch, a Qi device as well was devices from its USB-C or USB-A ports.
Four LED's show the charge level on the Quatro, an oval LED shows mode and a single button (around the left corner) is all the control that's needed.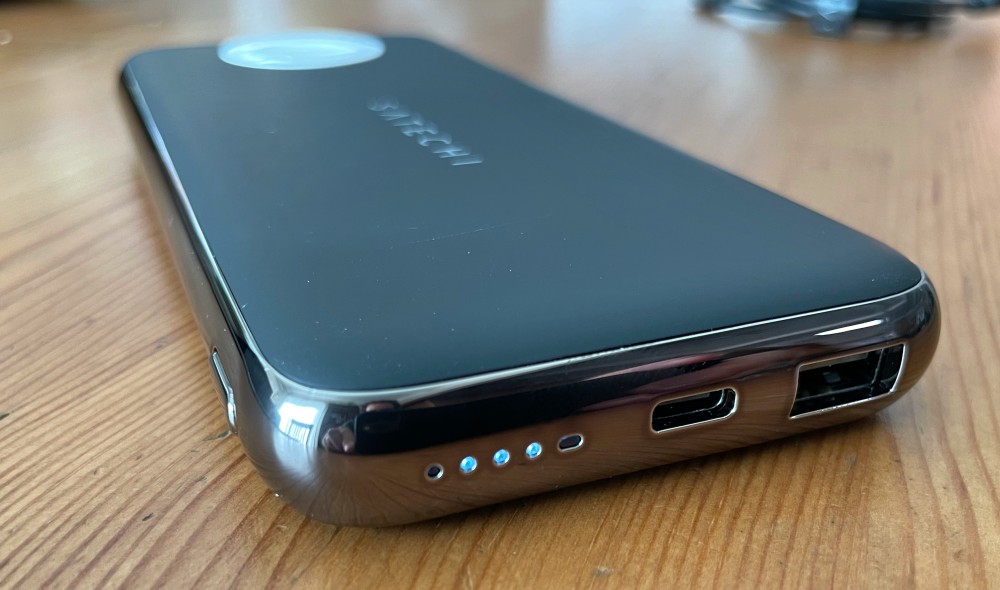 Setup
You know the drill. Open the box, plug in the included cable into a USB-C power supply. Max input is 18W so use an adapter with at least that much power for the shortest charge time.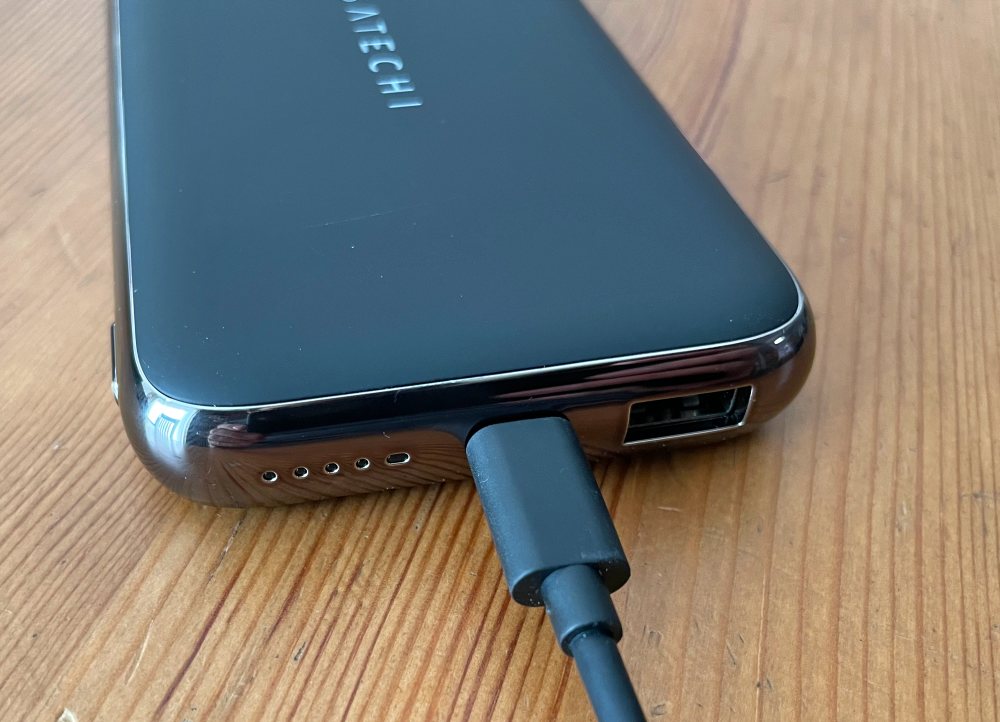 To charge USB-C or USB-A devices, connect your device to the relevant port and press the power button once on the Quatro.
To charge an Apple Watch, or a Qi device, press the power button once to turn on the Satechi Quatro Wireless Power Bank, then double press the button to turn on these two charging methods. A blue LED will illuminate at the far right of the LED strip. Place your Apple Watch on the white watch module, or a Qi device on the SATECHI logo to begin charging.
To power down, press and hold the button.
Performance
The Quatro showed up on my doorstep about a day before I had to take a two day trip for some rapid fire house hunting. It was a perfect opportunity to travel lightly as I was only planning on a single backpack. I charged up the Quatro and then tossed it in my bag hoping I didn't run into any issues as I wasn't bringing a backup but figured I could always charge my phone in the rental car if needed. From a weight standpoint, the Quatro is 269g which is only about 65g heavier than my iPhone 13 Pro without a case, so pretty manageable
Surprise number one. The Jeep Wrangler I ended up with did not have any kind of USB port. After getting to the hotel, I topped off my phone with a USB-C to Lightning cable from the Quatro and went to bed.
If you run any Apple Watch then you're quite familiar with needing to charge daily. My Apple Watch 4 was barely hanging on in the morning. I dropped it on the Quatro and let it charge while I went and had breakfast with my son who was helping with the house hunt. About an hour later we took off for some house tours and my watch was now around 50% charged.
Throughout the day my phone drained, as it does and I was able to charge it up a bit a couple of times with the Satechi Quatro Wireless Power Bank and then get my watch up to 100% and even top up my hearing aids on the Qi charger before going to bed. The second day was similar except for not needing to charge the watch again before flying home. All in all I was able to get this trip in without having to use a wall outlet the entire time. I even had power left in the Quatro. Pretty great experience.
Not long after getting home my new Apple Watch 7 arrived. It's not a huge upgrade over a 6 I'm assuming, but over my previous 4 it's a nice jump. In particular the faster charging is much appreciated, and it's where the timing of Satechi's Quatro is unfortunate. The watch module on the Quatro is limited to 2.5W so it cannot magically charge any watch including the new 7 any faster. If you want to charge it at increased speeds you'll need to bring the new cable that shipped with the watch and connect it to the USB-C port. This is a drag and reduces the built-in watch charger to a downtime charger, not a quick refill before the next activity.
One thing that's weird is that there's some discrepancy on the product specs between the sample I received and even their website. The website claims the battery is 10,000mAh. Here's the printed information on the back of my device…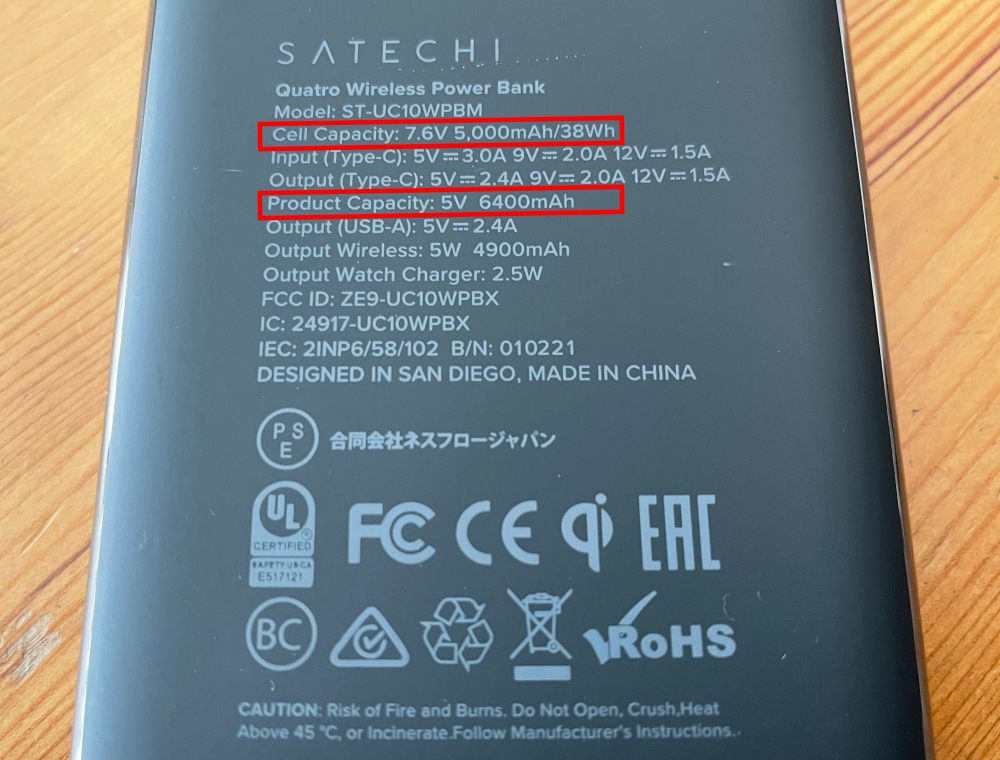 Here's the same image on the back of the device in their marketing photo…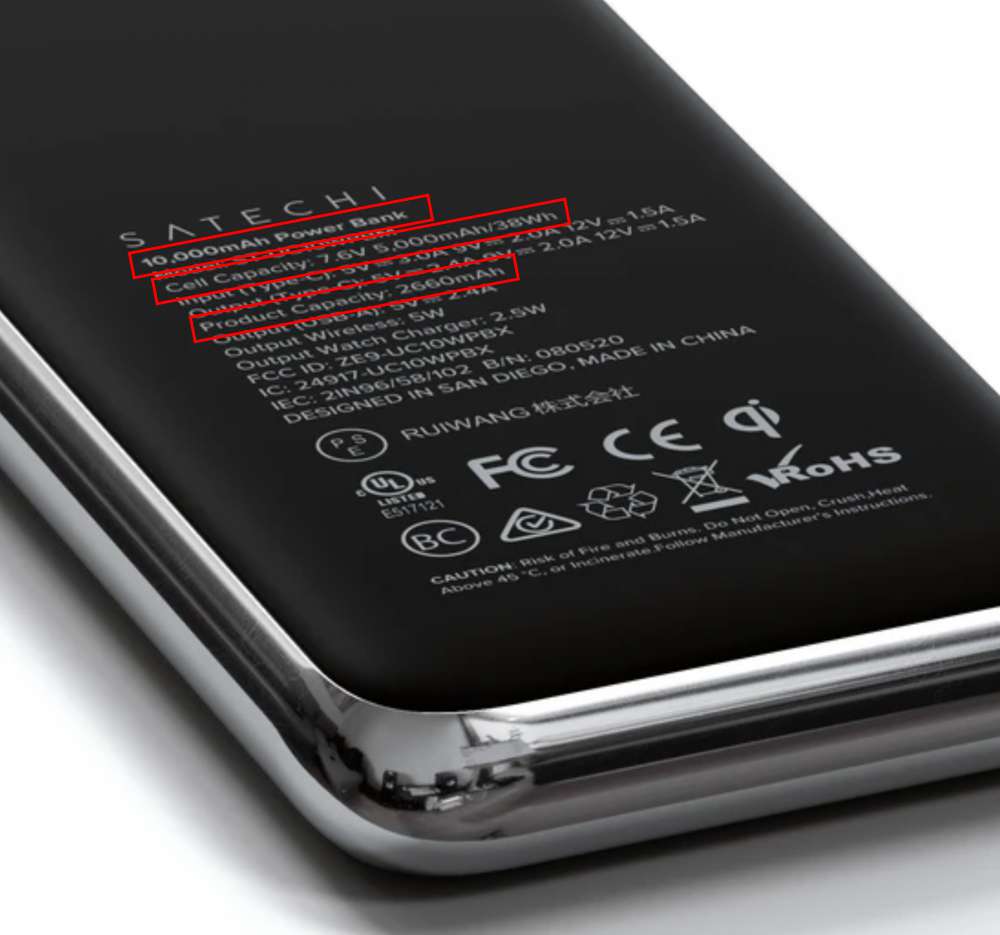 Which is it? 10,000mAh, 6400mAh, 5000mAh or 2660mAh? I'm not sure how product capacity could exceed the cell capacity so that's strange indeed. I've sent a question to their customer service to see if I can get an answer. I'll let you all know when I hear back.
Other than that quibble, this is a very capable battery pack. A couple other quick things to note….
If you have a closed loop band on your Apple Watch that isn't elastic, or the strap connectors insert into the watch at an angle you might have to remove the strap to charge.
The black finish on the top and bottom of the Quatro really picks up oils from your fingers. Get used to polishing.
I find it odd that they use the Satechi Logo as the center point for the Qi charger. Good for location, bad for branding as it's covered if you're using it.
What I like
Multifunction USB-C, USB-A, Qi and Apple Watch charger
Great form factor that feels good to hold and is easy to use
Integrated Qi and Apple Watch chargers ready to go
What I'd change
Improve speed on Apple Watch charger
Soft-touch black finish is a fingerprint magnet
Clear specifications as to true mAh capacity
Final thoughts
If you are looking for a very solid battery pack with USB-C, USB-A and Qi capabilities, the Satechi Quatro Wireless Power Bank has it in spades. If you're running an Apple Watch 6 or older, the watch charger works well. If you have a new Apple Watch 7 then you're already speed spoiled and will need to bring your cable along anyway for speedy charging. Hopefully Satechi can make a running change here and update the unit for faster speeds on the Apple Watch.
Price: $99.99
Where to buy: Amazon
Source: The sample of this product was provided by Satechi