We use affiliate links. If you buy something through the links on this page, we may earn a commission at no cost to you. Learn more.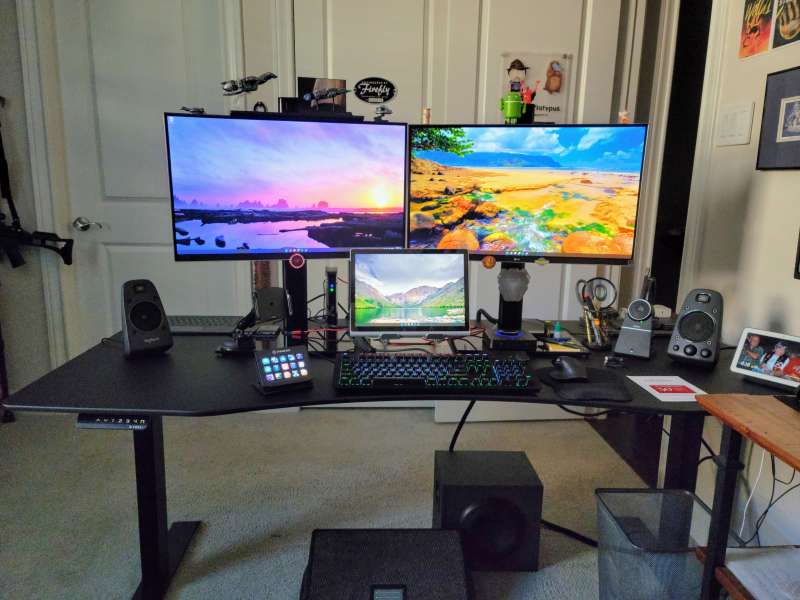 REVIEW – The pursuit of the perfect desk has been at the front of my mind since the pandemic halted my work travel.  I've tried a few different types, everything from minimalist to traditional to a dining room table.  For one reason or another, each has come up short – minimalist generally equals not much there, traditional styles can be stuffy and dated, and the dining room table was just flat out a weird idea.  I want something big enough to hold all my stuff (and I have a lot of stuff) yet isn't so big that it takes over the entire office.  And along came the opportunity to review the third iteration of the ElementDesk standing desk from Vorii. Here's hoping I get closer to my vision of perfection…
What is it?
The Vorii ElementDesk v3 standing desk is an MDF laminate sit/stand desk with 2 motors, making it capable of lifting up to 390 lbs.  It comes in 2 sizes – a traditional 55×28 inch and a larger 71×32 inch footprint.  The top is available in matte black, white or walnut, and the legs come in either matte black, white or silver-gray.  In December there will be a fourth option for the legs/stand, light blue.  If you have your own desktop you would like to use, you can order the legs/stand separately.
My desk is the larger size in all matte black.
Assembly
The Vorii ElementDesk v3 standing desk arrived on two separate days in two boxes via FedEx.  The first box to arrive was the desktop and initially, I was concerned about the size.  I had measured multiple times and the 71×32 inch desktop should fit perfectly.  Judging by the box size, though, I was no longer sure.  I learned my fear was unfounded when I opened the box – Vorii packs their products very well to prevent damage in transit, so there were layers of protection that makes the desk appear larger.  That same protection was evident in the second box which arrived 2 days later and contained all of the frame and leg components.
The most time-consuming task in setting up the new desk was by far the removal of the old desk.  Undoing all of the hacks I had made to the desk and then finding suitable places to store my equipment during the transition took the better part of a day.  You never know how many wires run all over from your computer to monitors, speakers, storage and more until you have to take them all out.  Seriously, I had enough cable to adequately restrain a soccer team (not that I have anything against any soccer team).
Vorii prints on the boxes as well as in the assembly manual that you will need 2 people to assemble, a fact which made me appreciate the lone FedEx driver who delivered the boxes.  There are two points in the process where a second person is required: getting the boxes into the house and after assembly, standing up the desk.  Believe them when they say that.
I began by laying out all the parts on the carpeted floor of my office.  Here is one of two motor units that attach to the bottom of the desk: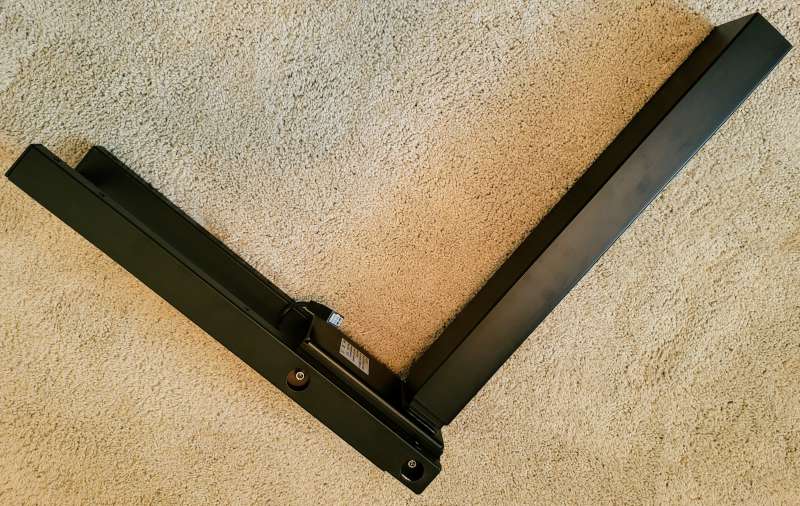 Next, the braces for the motor units, the motor controller, legs and balancing feet: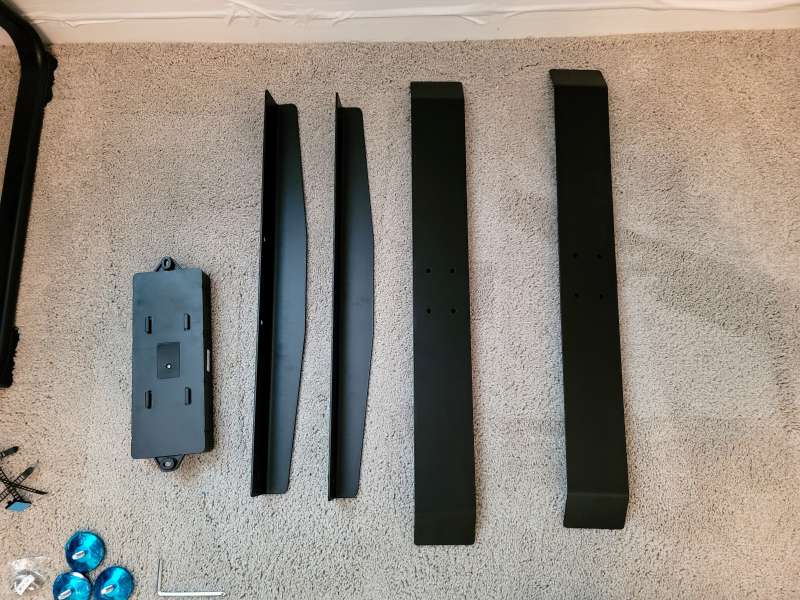 Then there are the stabilizing bars that run between the two motor units, the control pad and cables, plus a cover for all the wires (more on that in a second):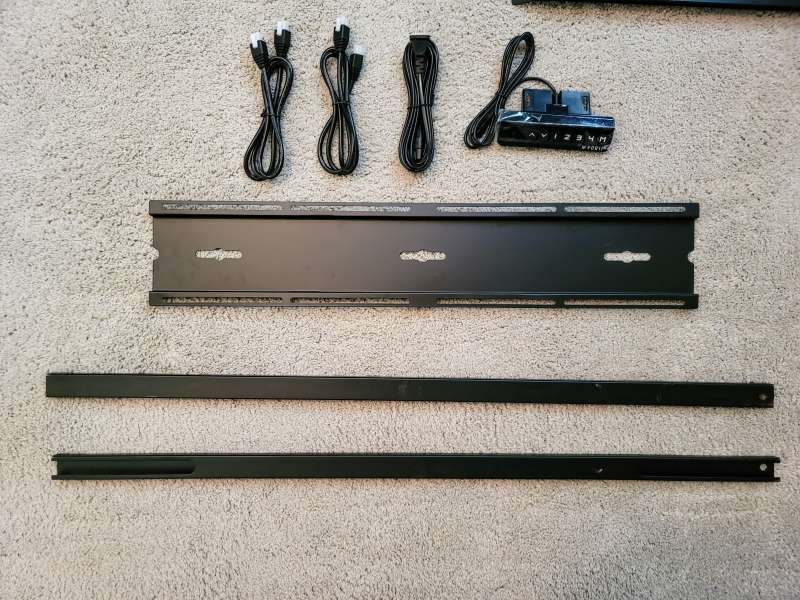 The braces attached to the motor units and ready to be attached to the Vorii ElementDesk v3 standing desk – total time so far (after laying out all the pieces), 10 minutes.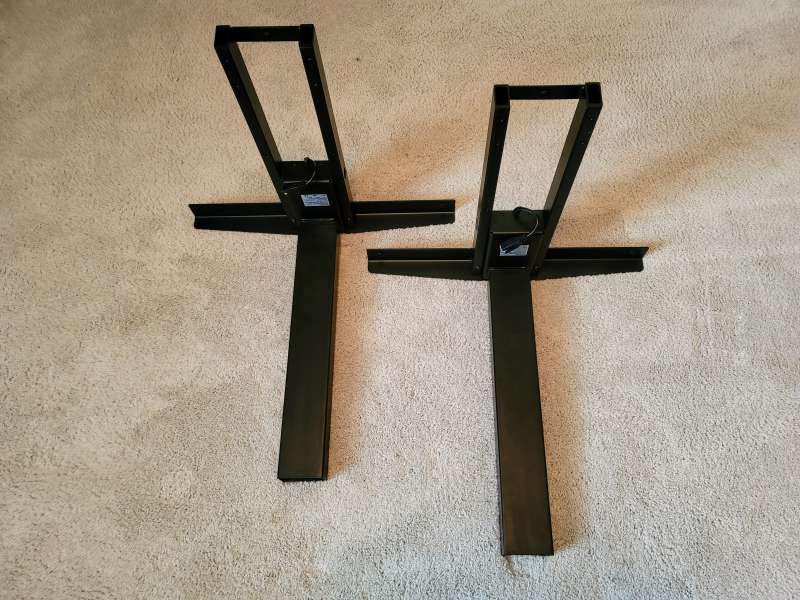 The desk bottom side up with the legs connected and ready for the motor controller, control panel, legs and feet.  I am just a little over 20 minutes into the build.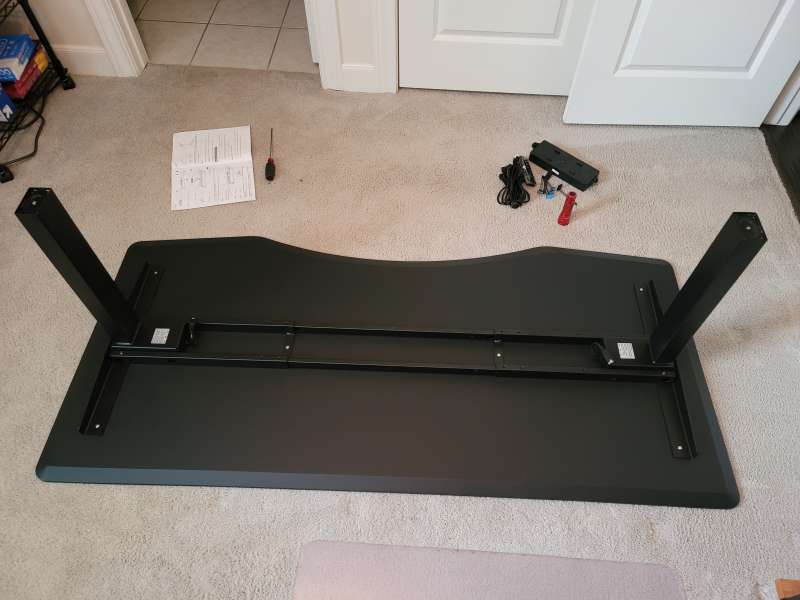 This is where I ran into the one and only snag in the process.  The instructions say that when attaching the wire cover you should use 12 supplied screws.  The problem?  The wire cover is nowhere near long enough on its own to cover the entire underside.  I thought maybe I was missing a piece or that I had an incorrect piece, so I searched through the boxes again to be sure.  No longer wire cover.  I assume this was because of the desk size – perhaps the smaller desk would allow all 12 screws.  The only way I could make this work was with 4 screws.  While I had the desk upside down, I also added a cable raceway to manage all those cables, power bricks and such.  Yeah, I could have painted it black to match the desk, but I'm fundamentally lazy and if someone gets under the desk and comments, that's their issue.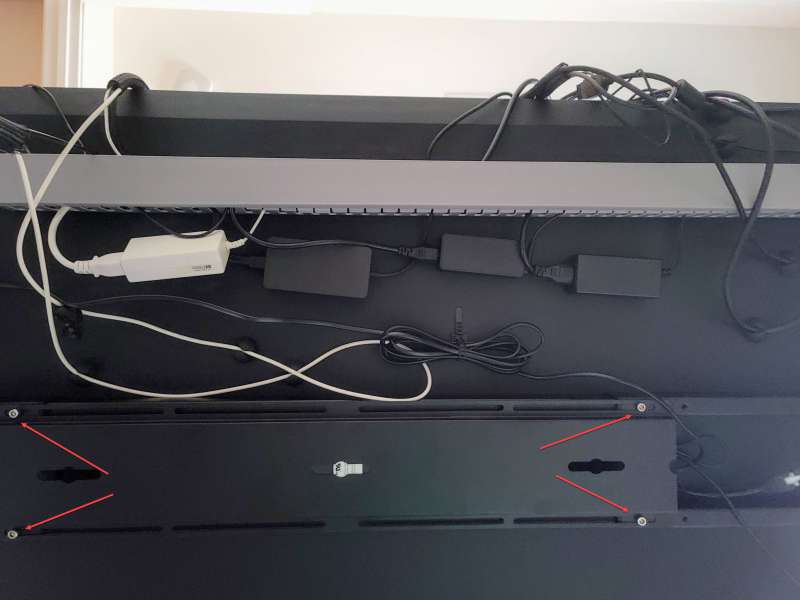 The missing screws don't affect the Vorii ElementDesk v3 standing desk in any way structurally or aesthetically.  It's just that the instructions are specific about the number of screws, so being rather literally minded, I had to see if I was missing anything.
With the screw detour, I was about 45 minutes into the assembly.  I attached the legs and the feet, got my wife to help flip it right-side up, and voila!  The finished product: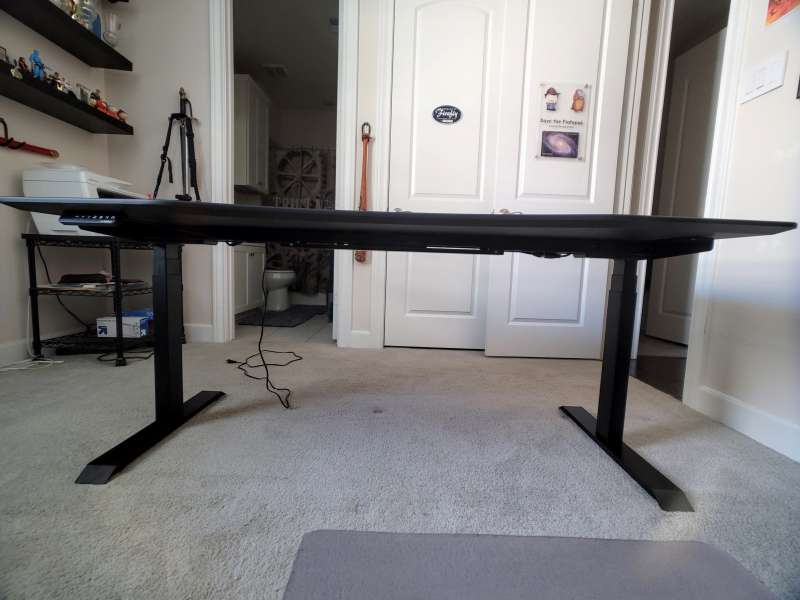 No extra parts (aside from 8 unnecessary screws), looking good and ready for action in less than an hour.
How does it work?
Once upright, the first thing to do is calibrate the lift motors.  Simply push the down arrow until the desk is at its lowest position.  Release the button and then press it for a second or two.  Done.  Adjust the height to a comfortable sitting position and put that in the first (of four) memory slots.  Raise the desk to the perfect standing height and store that in memory, too.  Finally, I am ready to begin assembling the command and control station that is my desktop.
Flash forward a little over two weeks.  Aside from 3 days in Seattle, I have spent literally every day at the Vorii ElementDesk v3 standing desk.  Weekdays that comes out to about 9.5 hours on average.  Weekends, maybe 2 or 3 hours total.  I've spent some time here.  My thoughts?
I freaking love the Vorii ElementDesk v3 standing desk.
This is my first personal sit/stand desk (back in the olden days when people went outside their house to work, I had one – but never inside my house).  For some time now, I have had recurring lower back pain.  Recently (and weirdly), my right foot would be noticeably swollen at the end of the workday.  I chalked that up to age and too many hours at my desk (see previous paragraph).  Now, though, I spend the morning sitting and then just after lunch I stand for the afternoon.  And in these two weeks, my lower back pain is almost gone and my foot doesn't swell any longer.
OK, to be fair, that's probably the benefit of a sit/stand desk.  What is it about the Vorii ElementDesk v3 standing desk particularly that has hit the spot?  One word: legacy.  As in this is a VERY well made piece of furniture that, with care, is something my kids can fight over wanting after I am gone.  The time and care Vorii has taken in not only crafting a fine piece of furniture but also clear and concise instructions on how to put it together (or take it apart if you need to move) show in every aspect of the experience.  The motor is super quiet (the last one I had at that far away office sounded like the Concorde preparing for takeoff) and the anti-collision system has on more than one occasion prevented me from tearing my DAKBoard display off the wall next to my desk.
Let's talk for a moment about the size of the desk.  71×32 sounds huge, especially given that a lot of other desks out there come up 10 or more inches short of this one.  I'm fortunate enough to have a dedicated home office space that is 10×12 feet and this desk fits very comfortably in that space.  My previous desk was 60×30 but it actually felt much larger than this does in relationship to the room.  Even standing, the room somehow feels more open.  Plus with the additional space, I now have room on my desk for additional things – like office supplies, a pencil cup, my headphones and still not feel crowded.
There are some quirks, though.  First is the underside of the desk – around the entire desk there is about 1 inch of an upslope.  The picture below illustrates that.  Why it is important is that it could make it difficult to use a monitor arm (or two) because a clamp could not get a level grip on the bottom of the desk.  Vorii sells both a single and dual arm for the desk, but in case you already have an investment in this equipment, be prepared to buy them again.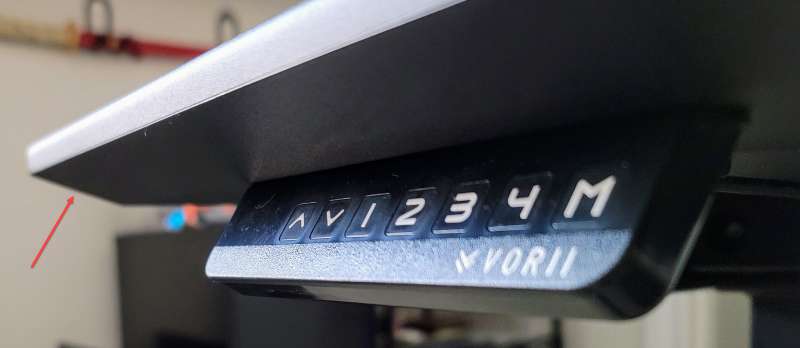 Second is the lack of options for cord management.  What I mean by that is offering a desktop that has a cord drop through which you could send cables on the desktop down below rather than off an edge.  I know I could get a grommet and drill a hole myself, but the truth is nothing I could do would be of the same quality as produced at the factory, and additionally I would be concerned that drilling could cause the laminate top to splinter or chip where I drilled the hole.  This is a great looking desk, and I want to to do nothing that would sully its beauty.
There is one last thing to talk about: the price.  The Vorii ElementDesk v3 standing desk isn't a cheap desk that you could buy from the company named after a South American river or our friends from Scandinavia.  At the risk of repeating myself, this is a fine piece of furniture and you are going to pay a fair price for that.  In the case of my configuration, that fair price is $995.  Here's the thing, though – if you need a desk, you have choices.  Let's say you are a carpenter – how far would you get in your career if you constantly buy cheap hammers that last about a year vs. buying the best you can afford because it is an investment in your career.  That's how it is with me and my desk.  It is an instrumental part of what I do and I would not have any problem laying out the money to have the best.  It is the difference between being constantly reminded that you have a less than optimal setup vs. not even thinking about it because everything you need is at your fingertips.
By the way, here's what the Vorii ElementDesk v3 standing desk looks like with all my gear set up.  Now you know why it is important to me.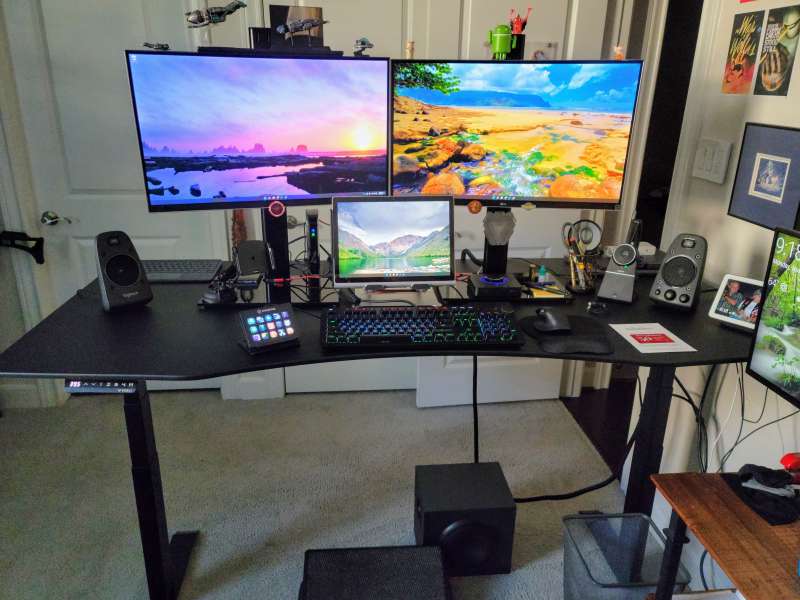 What I like
The quality that goes into everything from the desktop to the instructions on how to assemble it
Options – size, color and more – means you can make this your own
I feel better after just two weeks of use, so health benefits
What I'd change
Flat edges, not beveled
Adjust the instructions so literalists like me don't lose time looking for places to put 8 additional screws
Final thoughts
I've written code my entire adult life.  Almost exclusively for the last 24 years I've done that away from a traditional office environment, frequently in my own home.  I've owned many desks in that time.  Not a single one of them has ever made me oblivious to their existence the way the Vorii ElementDesk v3 standing desk has in the last couple of weeks.  It just works for me, I have breathing room and thanks to the sit/stand feature, I am feeling better.  My frame of mind at the end of my workday is better because I have the real estate now to spread out and change my workflow to something that is better for me.  I'm sorry to be gushing so much about a desk, but for me the Vorii ElementDesk v3 standing desk has been transformative in all the right ways.  You can ask most desks for at least that, but you probably wouldn't get it.
Price: $785 for the 55×28 configuration, $995 for the 71×32 configuration
Where to buy: Directly from Vorii
Source: The sample for this product was provided by Vorii