We use affiliate links. If you buy something through the links on this page, we may earn a commission at no cost to you. Learn more.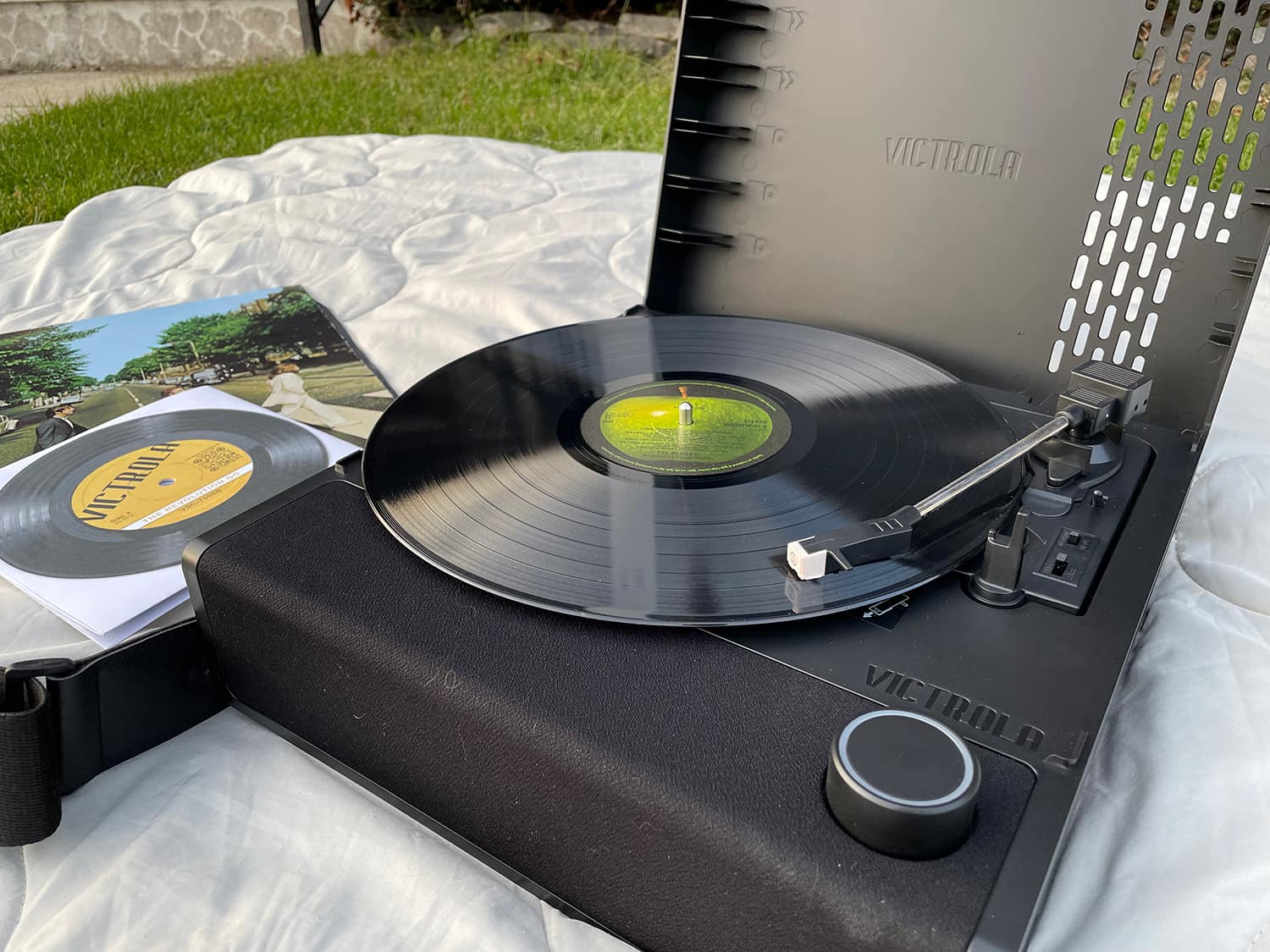 REVIEW – Victrola joins the ranks of "Worlds Firsts" again by injecting their deep history with vinyl into a 21st century device: the Revolution GO Portable Rechargeable Record Player. Let's give it a turn!
What is it?
The Victrola Revolution GO is a portable, rechargeable battery powered record player, capable of playing all manner of vinyl records through its integrated speaker, as well as connect via Bluetooth to stream to other speakers or play audio from a tethered device.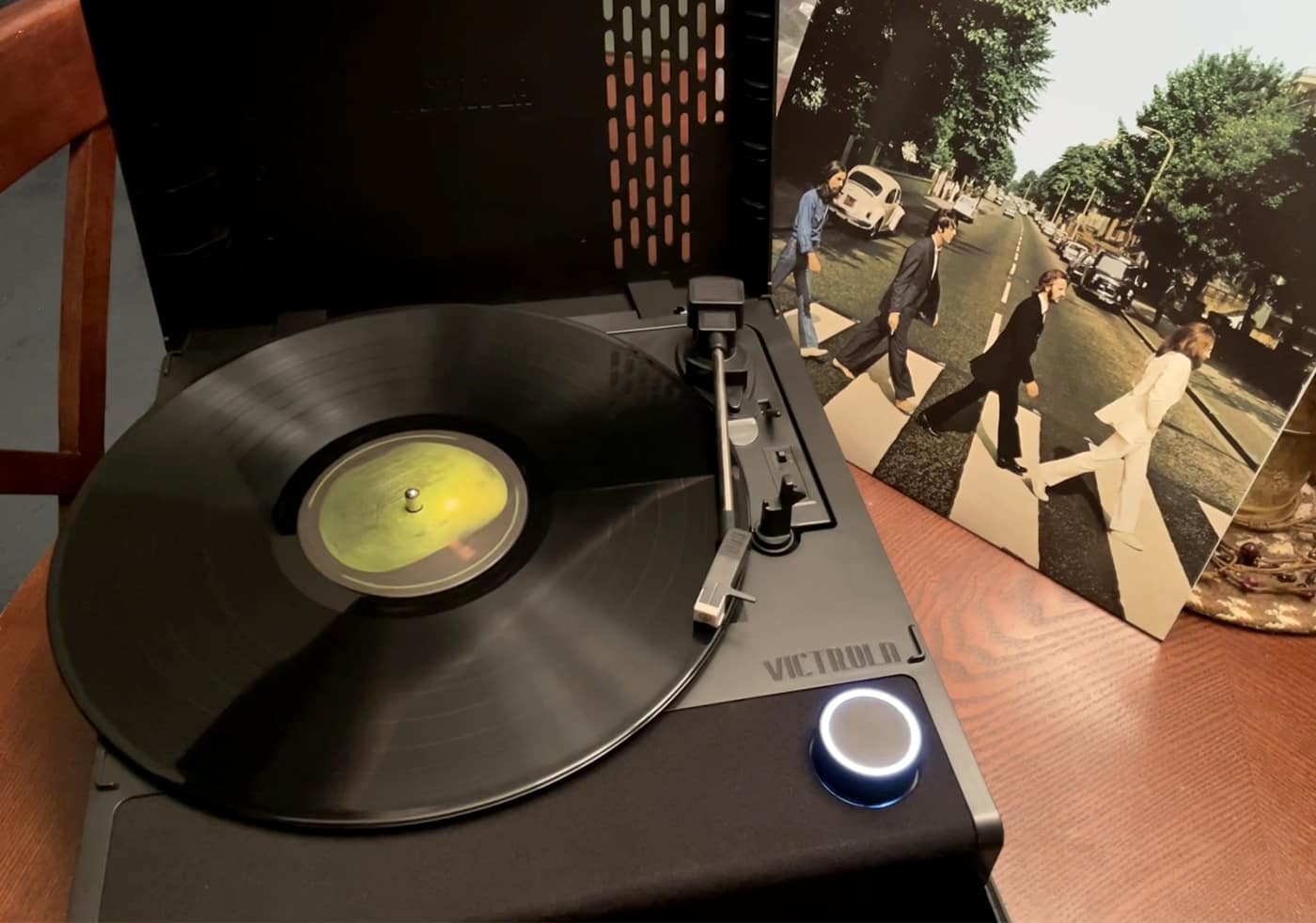 What's in the box?
Revolution GO record player
AC adapter charging plug
Guitar Strap
Slipmat
45 RPM Adapter
Instruction Manual
Hardware specs
Rechargeable battery lasts up to 12 hours
Built-in Bluetooth stereo speaker
Vinyl Stream™ technology allows you to stream your record to an external Bluetooth speaker
Detachable guitar strap and retractable handle
Removable lid doubles as a vinyl stand for up to 5 records
1/8" headphone jack
RCA out for connecting to your home stereo
Illuminated knob control with built in voice confirmation
3-speed turntable
Design and features
The Revolution GO is the first Bluetooth-enabled, rechargeable battery-imbued record player. As such, it's just about the most lightweight, feature-rich and portable player you can get.
As far as looks go, the GO is pretty basic, with black plastic on nearly every surface. It keeps the player sleek and durable, with the most interesting aspect of the device being the large LED-wreathed volume knob that doubles as the power button.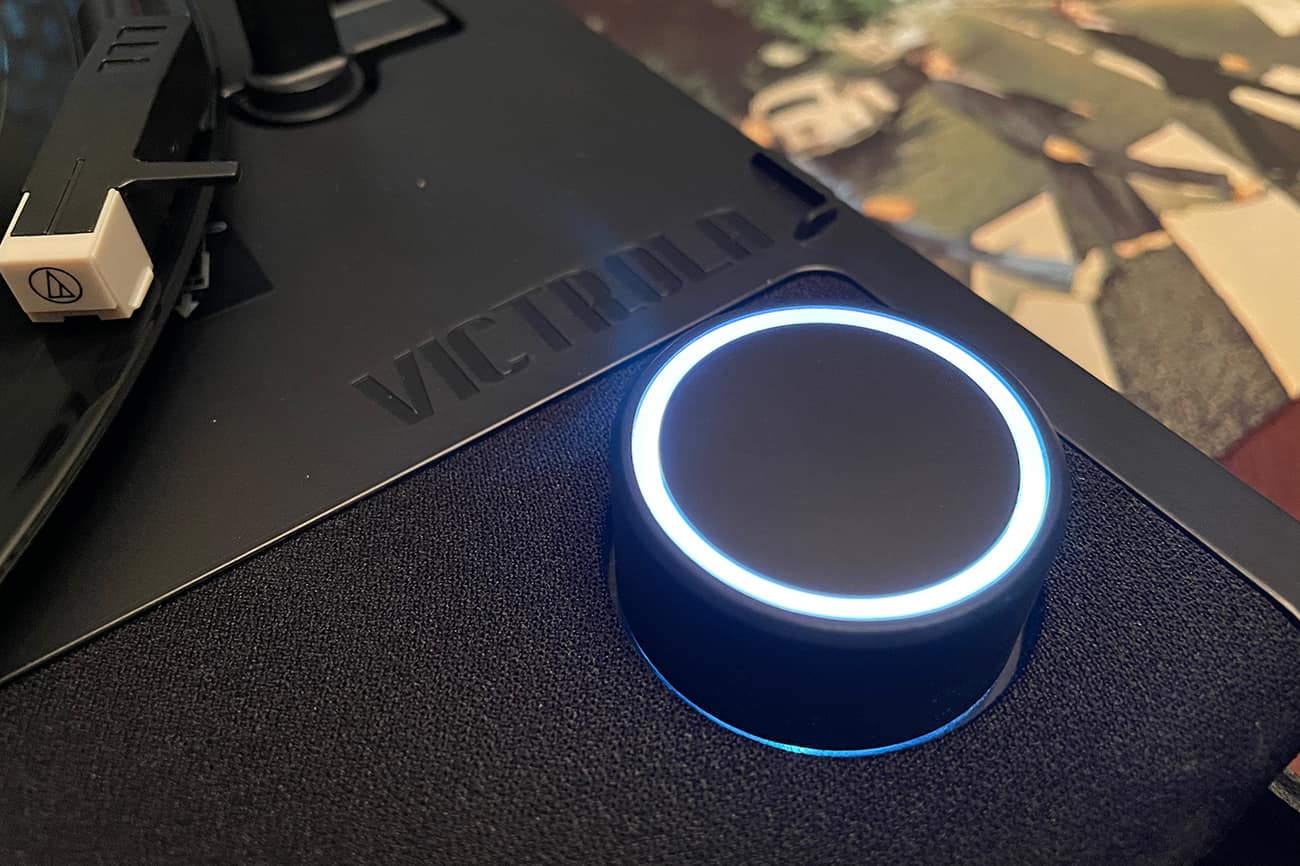 Whether plugged in or running on the rechargeable battery, the operation is the same. Press and hold the large volume knob to turn it on, and press the knob to change playback modes.
The Revolution GO has several modes: standard record player, Bluetooth speaker mode, and streaming record mode, where you can use the record player and stream the sound to a separate (and presumably larger) Bluetooth speaker.
It also includes a 1/8" headphone port for private listening and and RCA output for attaching larger speakers.
The lid is detachable and can be used for displaying your records, accommodating several single and double albums.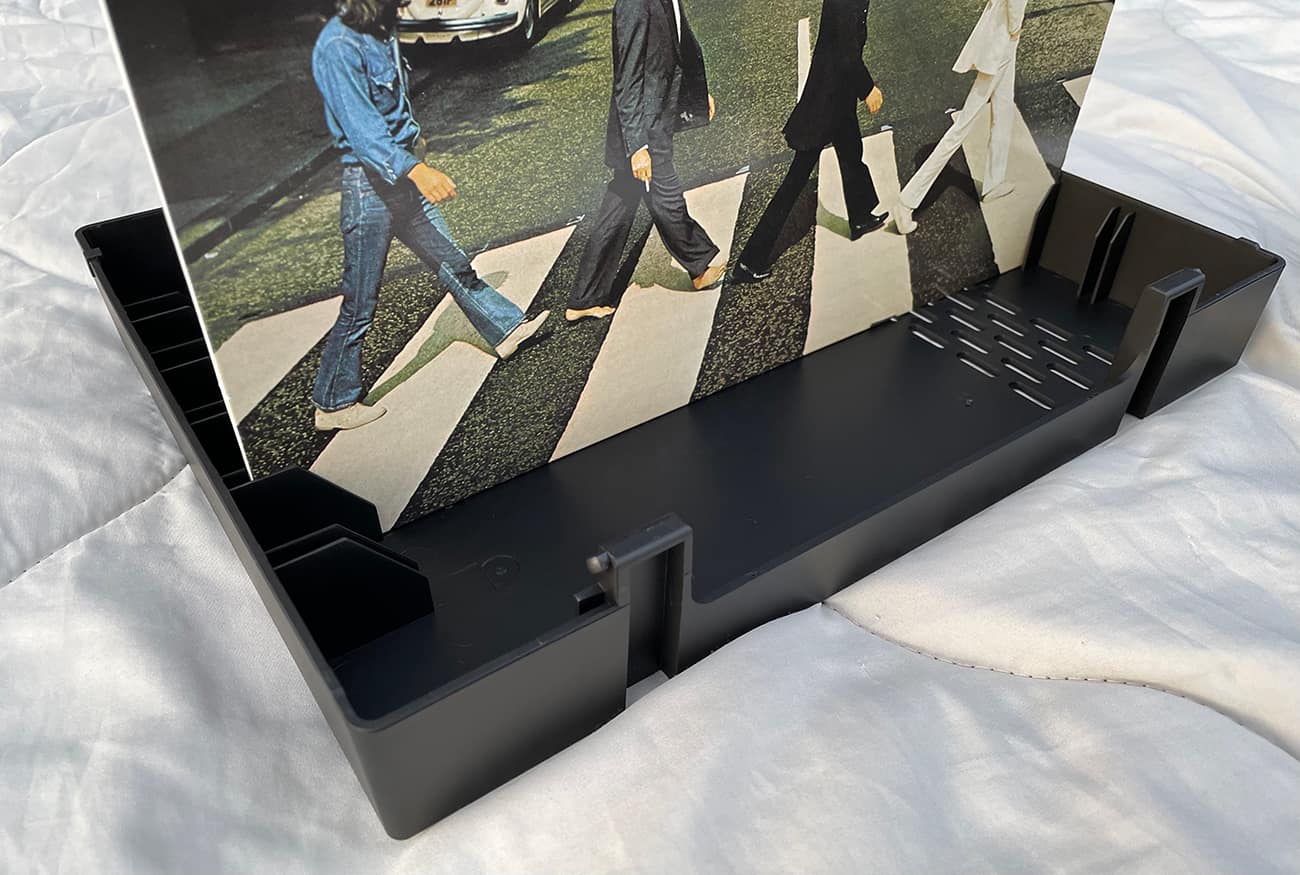 Most notably, the Revolution GO has an integrated speaker and rechargeable battery for truly portable vinyl album playback. This integrated speaker sounds great and is plenty loud. It handles both record playing and Bluetooth-connected devices quite well. I would put the sound quality among other portable Bluetooth speakers I've heard, lacking a bit on the lower bass end of the spectrum.
I had a few albums to use for testing out playback, and they sounded nice, particularly the remastered Beatles Abbey Road that my wife picked up recently. There's a certain cathartic experience of putting on an album without any skipping, repeating or shuffling. You just throw on one artists vision of how their art should be enjoyed, with the small break of flipping the record over.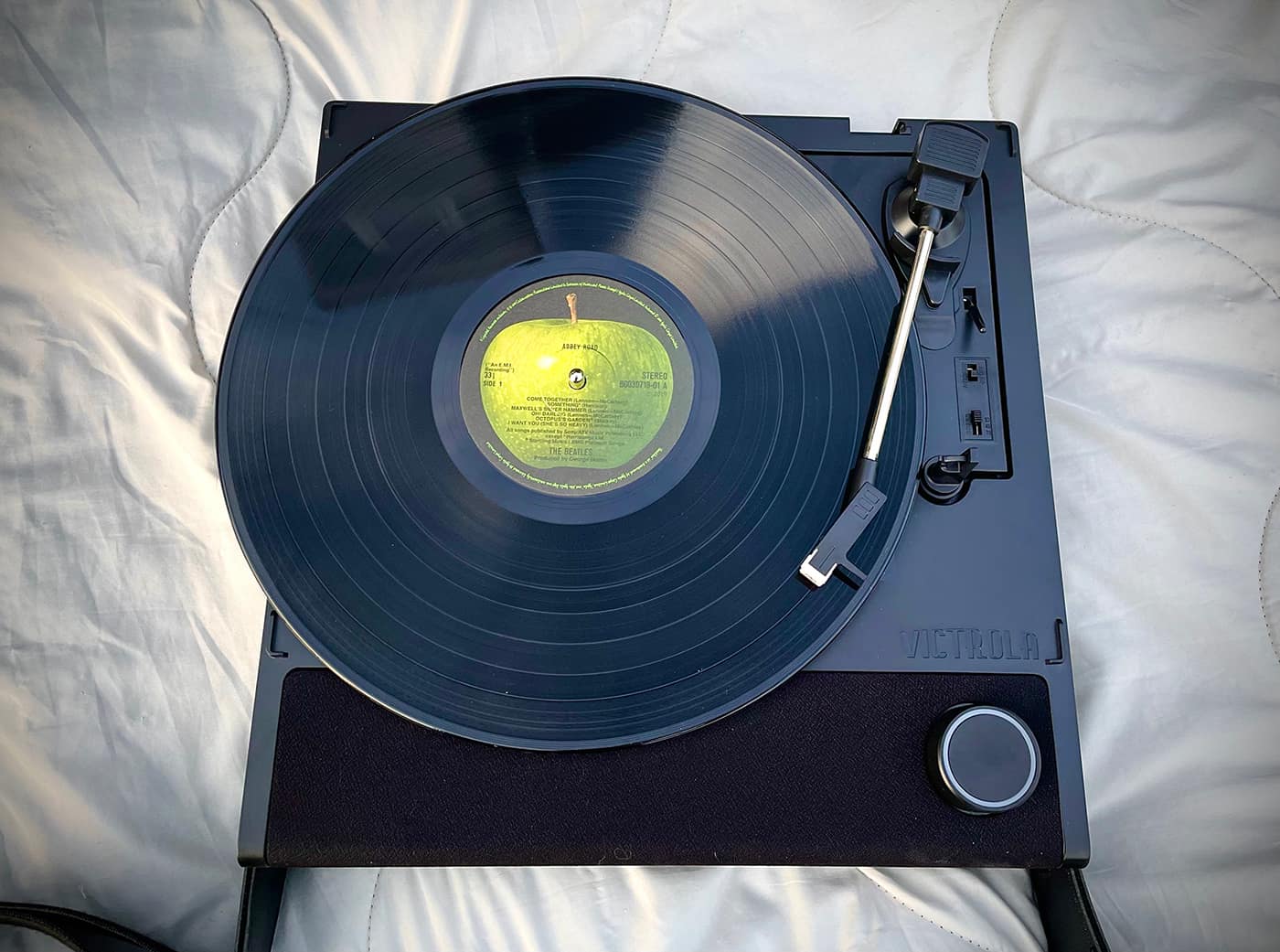 The GO's record playing features seem pretty standard. There's a lever for gently resting the arm and needle onto the spinning record. There are the standard 3 speeds for the different record sizes (I didn't have any 45s or 78s for testing, but those options are there.) And the needle is easily replaceable in the event it wears out, which is nice.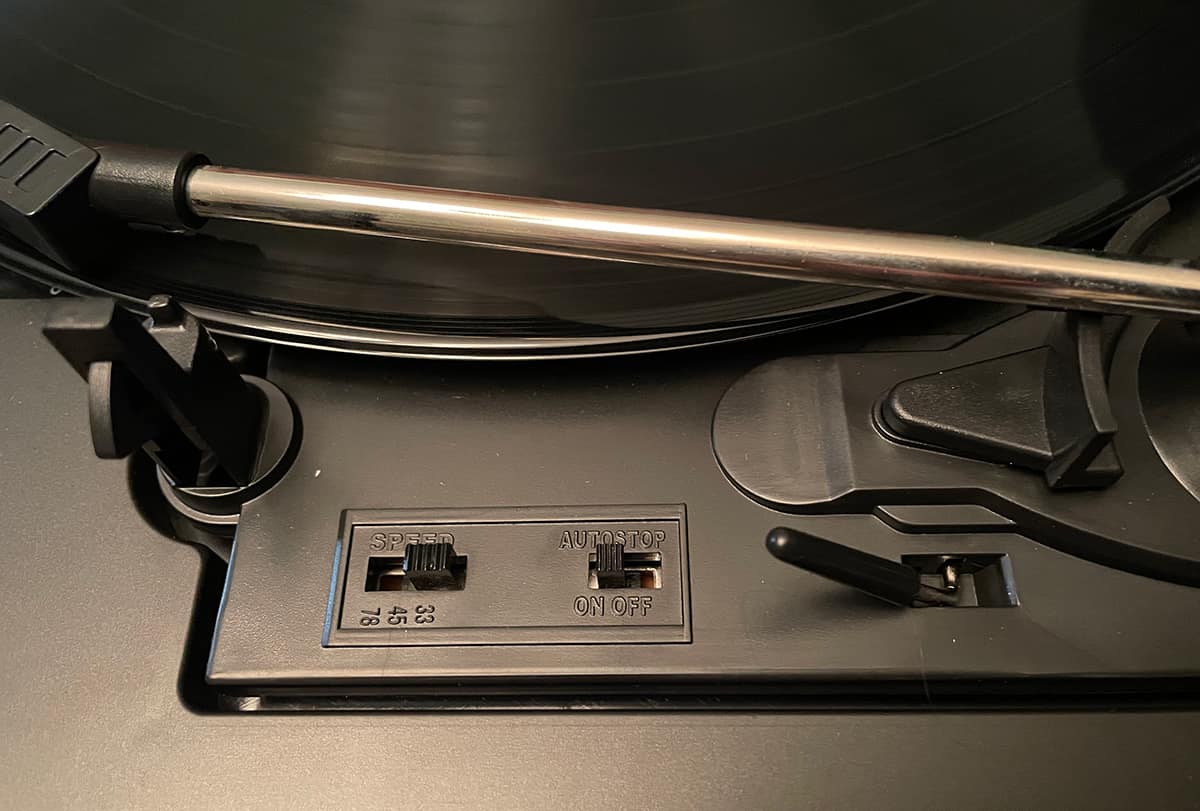 The addition of a rechargeable battery that powers the GO's features is unique. You can move the player all around the house, out back, or on your tailgate, as well as use it as a portable Bluetooth speaker.
However, after a short while, the novelty of a portable record player started to wear off, and I merely saw it as a large plastic box that plays large plastic circles.
Despite all the features of the Revolution GO that take record-playing into the 21st century, there's still the nagging question of why something like this exists. And really, that's the entire conceit of this device: the idea that one would lug this 1-pound rechargeable record player on a guitar strap — along with a collection of vinyls — deep into the woods to listen to some Eagles or Rachmaninoff amongst the woodland creatures.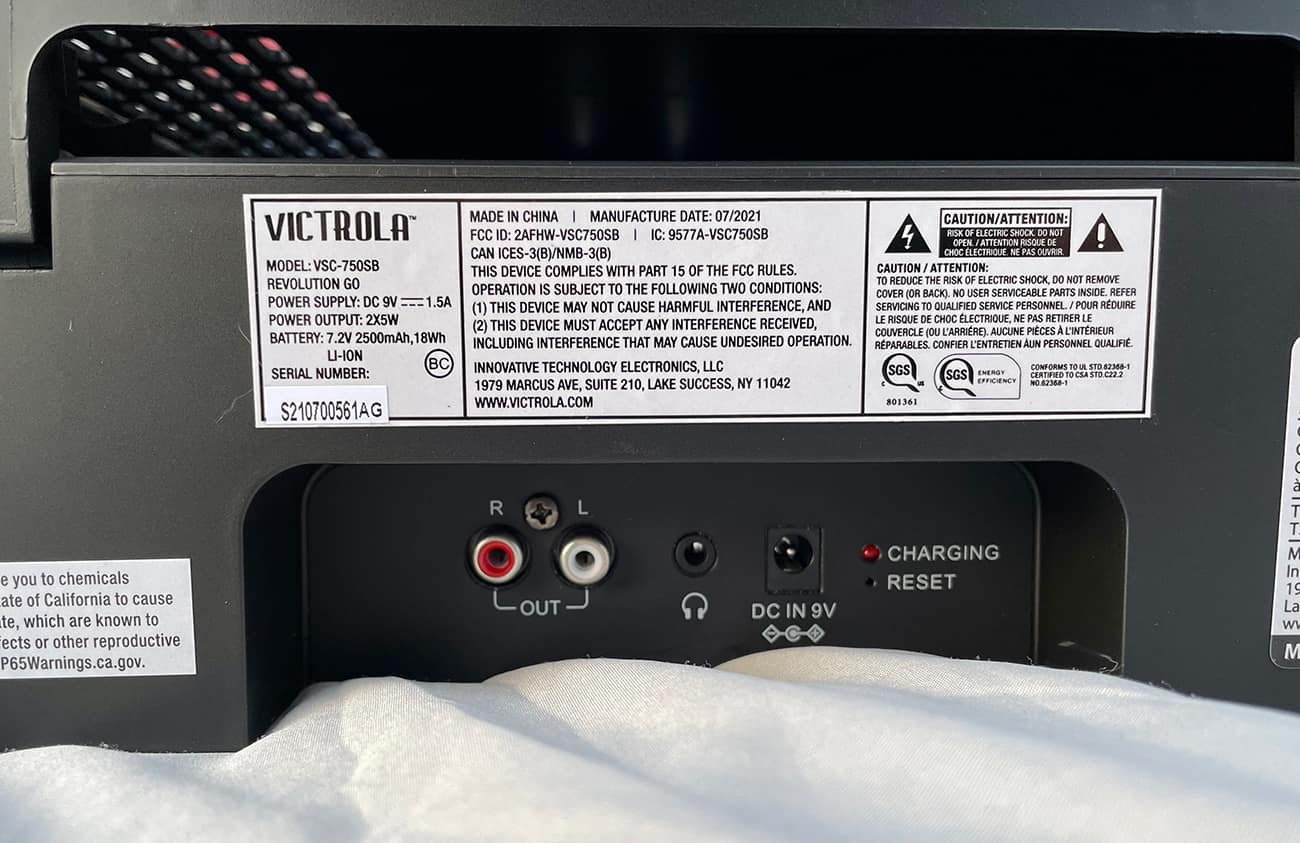 Personally, I'd be more apt to keeping this player rooted in place and plugged in on a shelf or entertainment center next to a stack of albums, and perhaps occasionallymoving it to a back patio or someone's barbecue party. And that's okay! I know in my very bones that there are people who would gladly take this thing hiking or camping and blare some Beatles while chilling by a fire. Absolutely nothing wrong with that.
Look, I like old stuff. I wear a watch that needs winded from if I go too long without wearing it. I dig mechanical keyboards that are extra clicky like 1980s Apple IIe's. I wear Chuck Taylors and watch Twilight Zone and code to Mozart.
But I also love progress.
To me, carrying the Revolution GO along with you would feel like doing something just for the sake of doing it, especially when one could easily download a bunch of songs to their phone and simply slip the speaker end into a Solo cup and leave it untouched for an hour and very nearly get the full effect of playing an LP.
What I like
Bluetooth integration adds a lot of value and usability
Nice, portable unit, certainly works for a campsite or picnic
Sound from the integrated speaker is quite good
Replaceable needle
What needs to be improved
This feels like a novelty more than anything, when you can get a stay-at-home version for half the price
Final thoughts
Honestly, I like a lot about the Revolution GO as a standalone record player, and even like the concept of being able to take it just about anywhere, but I can't truly imagine myself lugging an entire record player — and records! — with me on a hike, picnic or beach day.
It's certainly a novelty. One of those twee, luddite hipster type things, like writing on a manual typewriter at a coffee shop in staunch defiance of the march of technological progress. It's a small niche that Victrola is catering to, here, but for them, I think this is a very nice piece of kit that will get a lot of use.
Price: $199.99
Where to buy: You can purchase the Revolution GO directly from Victrola's website or from Amazon.
Source: The sample of this product was provided by Victrola.