We use affiliate links. If you buy something through the links on this page, we may earn a commission at no cost to you. Learn more.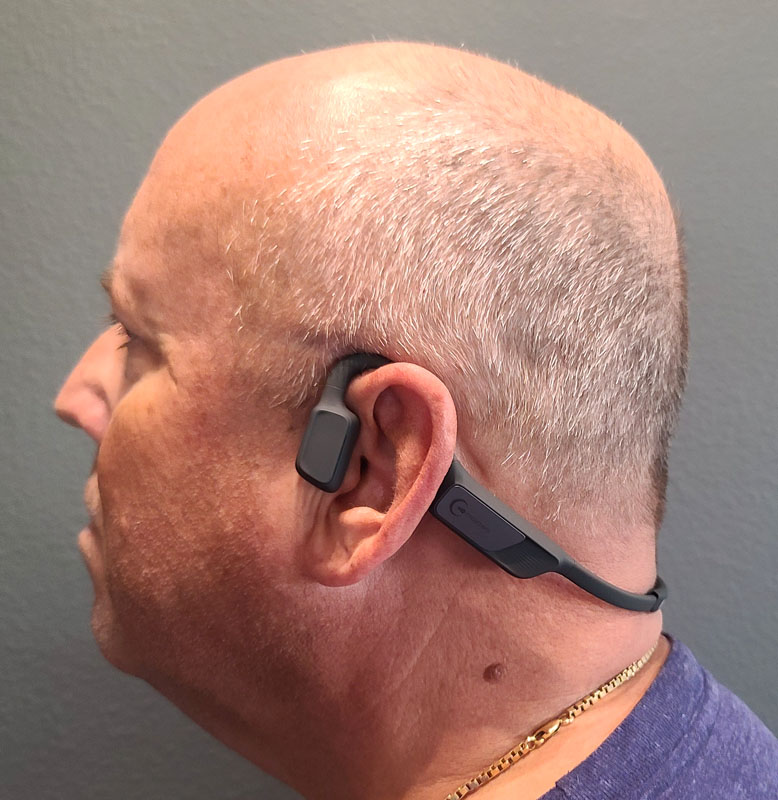 REVIEW – I've been searching for the perfect headphones or earbuds.  My overly-sensitive ears typically reject earbuds, although I've tested some "acceptable" ones.  I had the opportunity to test something different – bone conduction headphones.  I've never tried anything like this, so let's give a listen and see if this is the holy grail of headphones for me.
What is it?
The Mojo1 headphones are bone conduction headphones.  What does that mean? Traditional headphones and earbuds transmit sound waves through the air to your eardrums.  This air-traveling sound can also be heard by others that may be nearby.  Bone conduction works by leveraging the bones in your head and jaw as the transmission medium to deliver the sound directly to your inner ear.  This means that to others, these are essentially silent, even when you're rocking your jams.
What's in the box?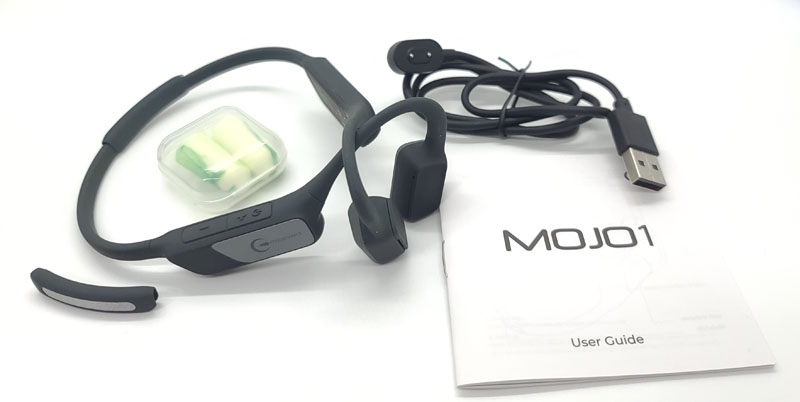 Mojo1 headset
USB-A charging cable with magnetic attachment
Alula reflector (two – one attached to the back strap and one extra)
Earplugs
User guide
Hardware specs
Weight: about 34g with alula reflector
Material: glass-filled nylon
Speaker: bone conduction speaker
Bluetooth

Frequency: 2.4GHz
Range: >=10m
Output power: >=3dB
Version: Bluetooth 5.0
Protocol: A2DP 1.3, HFP(Hands-free Profile), AVRCP 1.5

Power and Battery

Endurance >= 8 hours
Charging time: <=80 minutes
Battery type: Lithium battery
Power supply: 5V⎓500mA
Capacity: 150mAh
Charging voltage: 5±0.25V
Standby time: power off automatically when not connected for three minutes

Splash, water, and dust resistance: ingress protection rating: IP67
Microphone impedance: 8.0 ohm±20%
Microphone sensitivity: -36dB
Design and features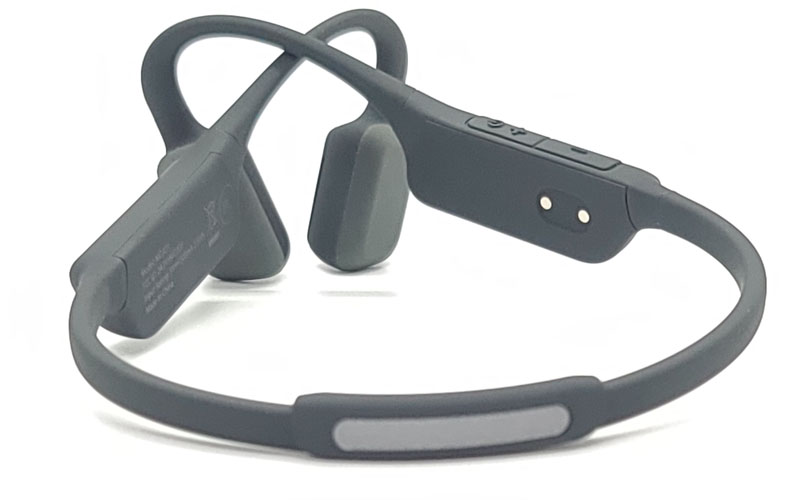 The headphones resemble other headphones with a behind-the-head connecting band.  In the photo above, you can see the "Alula" safety device.  It is just a reflector that slips over the back band, improving your visibility when walking away from a vehicle.  Fancy name, simple purpose.
The big visible difference between the Mojo1 and other headphones is that there are no earbuds or actual ear-covering headphone cans.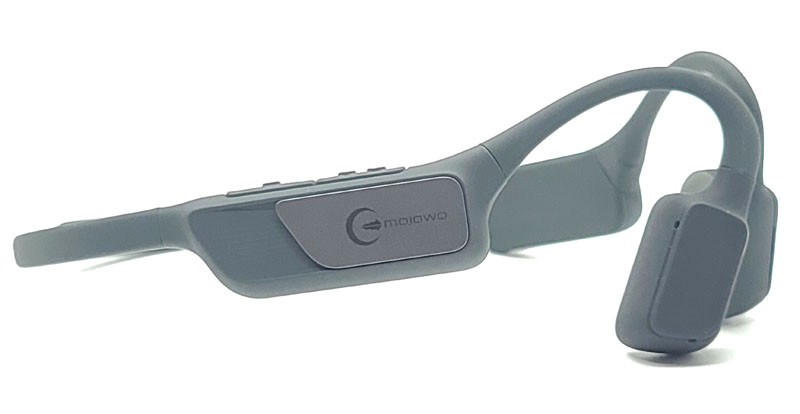 At the ear-ends of the device, we see a pair of transducers that rest against your head in front of the opening to your ears.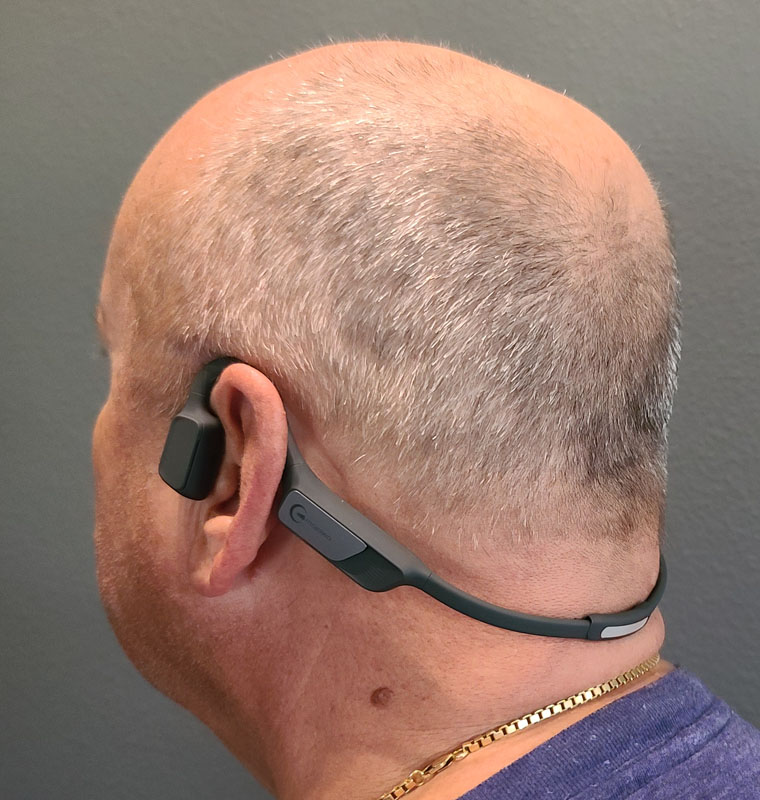 This is where the magic happens.  They aren't speakers but rather transducers that transmit vibrations to the bones in your head and jaw.  These bones then transmit those vibrations directly into your inner ear, making them nearly silent to others.
In the photo above, you can see the multi-function button on the transducer in front of my left ear.   Here's a side view: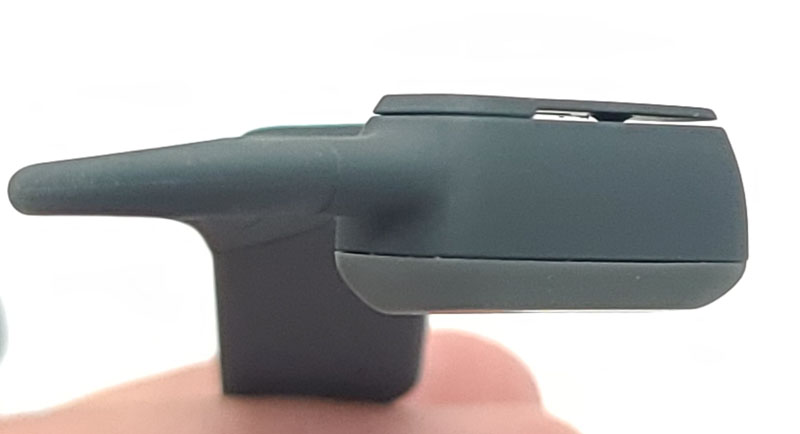 You can see how the plate is raised slightly so pressing it will push the button.  Here's everything that button does:
Music

Play/Pause music – Click 1x
Skip to the next track – Click 2x
Back to the previous track – Click 3x

Calls

Answer a call – Click 1x
Decline an incoming call – Press and hold the button for 2 seconds
Cancel an outgoing call – Click 1x
Hang up a call – Click 1x
There are more advanced functions as well for switching between calls and placing calls on hold.  Pressing the button for two seconds can also invoke your voice assistant on your device.  This didn't work for Alexa on my Samsung Galaxy S20 Ultra.  Pressing for two seconds did play the recognition sound, but Alexa wouldn't wake up until I unlocked my phone.  Weird.
The tech info is printed on the back of the wide pod behind my left ear.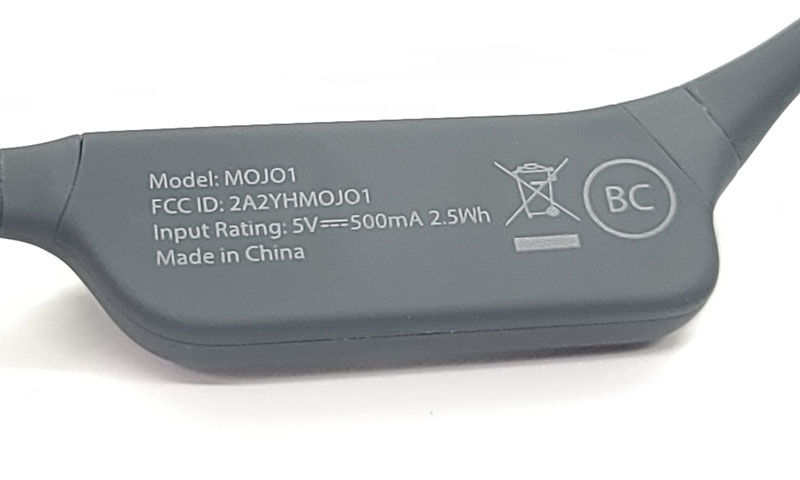 The pod on the opposite has the other physical buttons along the top.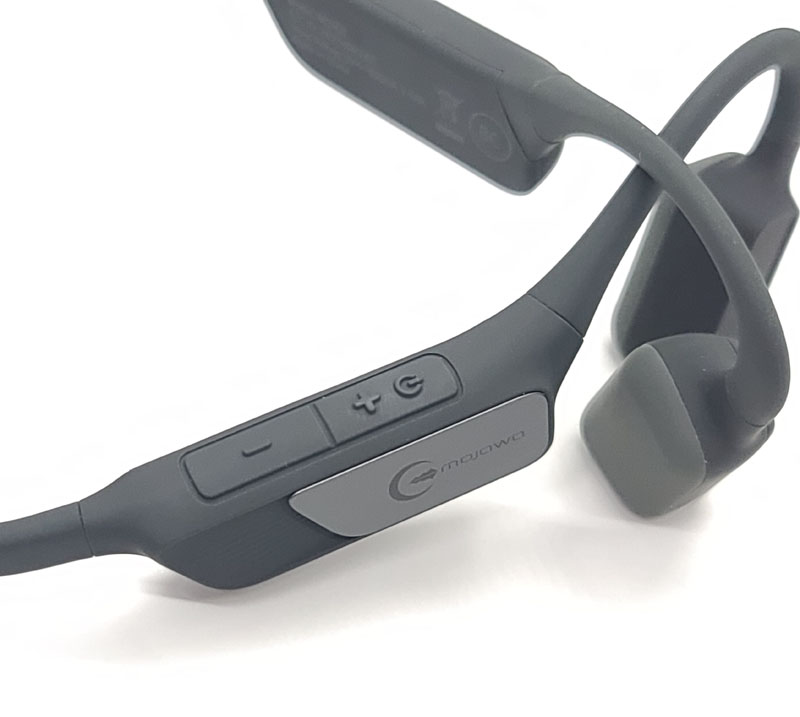 There are three physical buttons – power, volume up, and volume down.  Just behind the metal plate on this side, they hid the status LED.
It lights up red during the power-off cycles.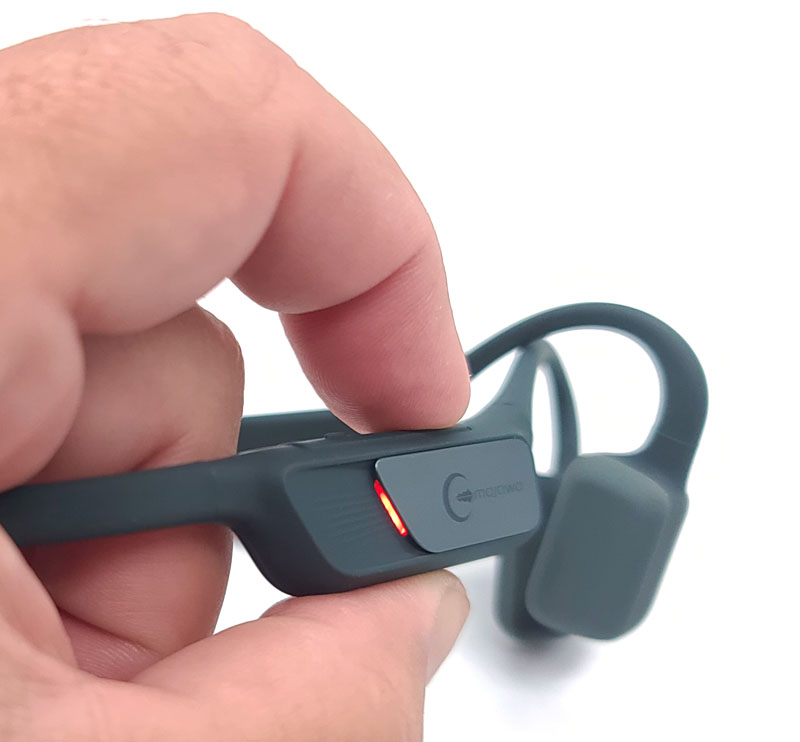 When pairing, it flashes blue/red.  When connected to your Bluetooth device, it flashes blue and then turns off.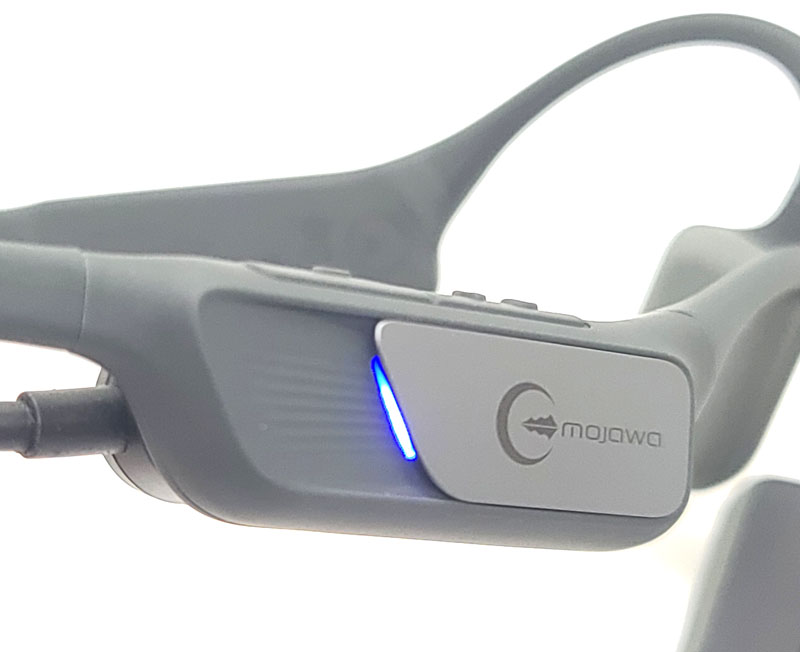 The magnetic charging connector is on the back of this pod.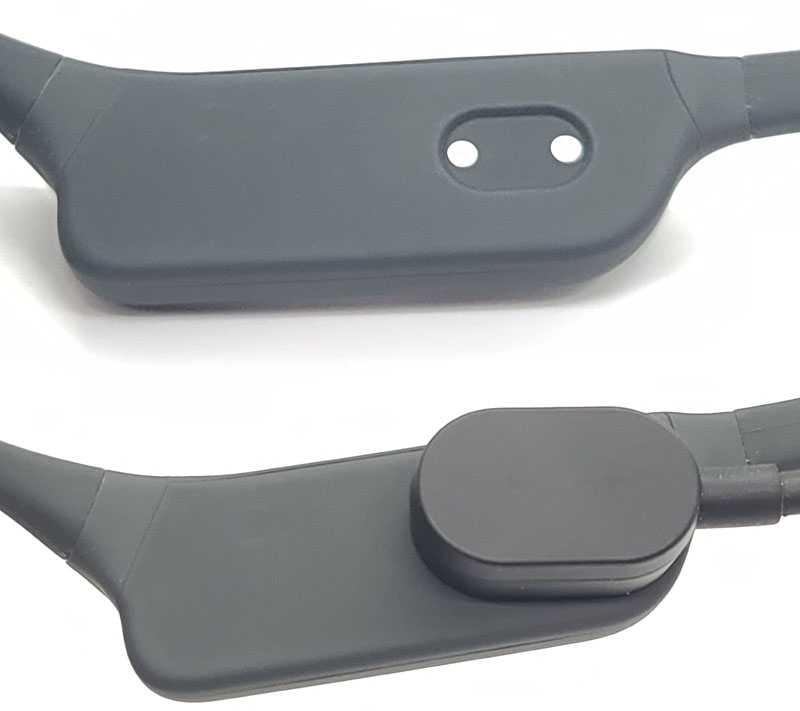 The charging cord snaps in place.  The LED flashes blue during charging and then glows solid blue once charged.
Setup
First, charge the headphones.  Once charged, Bluetooth pairing is straightforward.  Press the power button for four seconds to enter pairing mode and then pair with your music source.
Performance
With no actual speakers, how good can these sound?  Crappy, right?  To my surprise, no!  The Mojo1 headphones sounded good.  If I am going to be critical, they lack a little of the highs that I can hear in in-the-ear earbuds.  On the bass side, they deliver a good level of bass.  One slight distraction for me is that the transducers vibrate slightly, especially when there is a good level of bass in the music, and I can feel that on the surface of my ears. It's not a deal-breaker, just something to get used to.
While wearing them, I experimented by moving them or touching them to see how the sound changed with contact against my head.  I noticed that when I pressed slightly on the transducer, especially on my right side, the volume in that ear increased significantly.  I wish that the headphones fit ever so slightly tighter on my head than they do. Moving my head around, even shaking my head somewhat violently, didn't affect the sound quality. I don't particularly like behind-the-neck style headphones, but these seem to work.  They still do bind slightly, especially if I look up, but overall, the band isn't much of a bother.
I had my wife wear them and listen to music.  Even with putting my head right next to hers, I could barely hear what she was listening to.  That means that the Mojo1 headphones would be great for when you want to listen to music without bothering others. At louder volumes, the sound leakage does get louder, but it never is much.
I tried making several phone calls using the Mojo1s.  Incoming and outgoing call quality was terrific.  I did try my golf cart test, and like anything with a microphone, wind noise made the calls impossible.  As I've stated before, that's probably an unfair test.
I also tested them in a noisy environment.  Even with loud ambient sound, the transducers did a great job routing the music into my inner ear, allowing me to enjoy it.  I found that pretty surprising.  I'm looking forward to testing these on an airplane.
I can see how these would be great workout headphones.  They are extremely secure and nothing is in or covering your ears. If you're an outdoor walker/runner, by keeping your ears open, you can remain aware of your surroundings and hear things like cars and bike horns while still enjoying your audio content.
What I like
Very comfortable
Surprisingly good sound quality
Good battery life
What I'd change
A very slightly tighter fit would be nice
I'm not a fan of proprietary charging connectors
I'd like the voice assistant to work
Final thoughts
I didn't expect to be impressed with the Mojo1 headset but was I wrong.  While its sound quality might not wow audiophiles, these aren't designed to be audiophile listening devices.  They are designed to use when you want your ears open to ambient sounds while still enjoying your music, podcast, or whatever you want to listen to. Adding in terrific call sound quality, and for me, the Mojawa Mojo1 bone conduction headset is a winner.
Price: $139.99
Where to buy: Amazon; also available direct from Mojawa for $159
Source: The sample of this product was provided by Mojawa.