We use affiliate links. If you buy something through the links on this page, we may earn a commission at no cost to you. Learn more.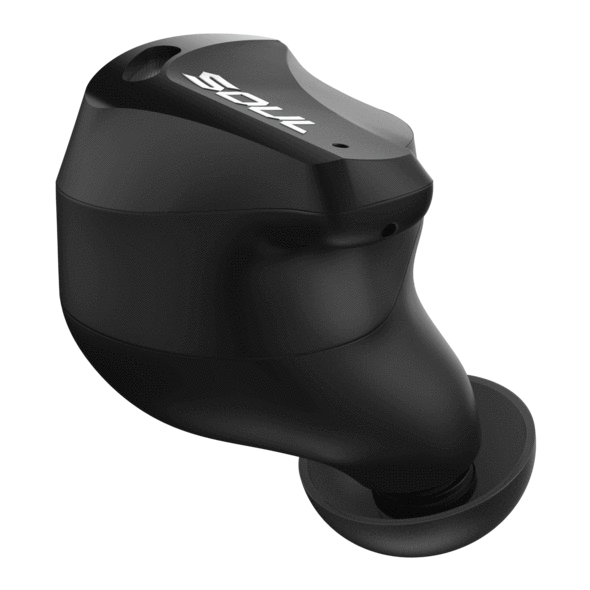 REVIEW – The Soul Emotion Pro ANC earbuds – 'Designed for calls. Made for music.' That's the marketing claim, but do these earbuds live up to it? One of our Gadgeteer reviewers is looking for the best earbuds the planet Earth has to offer. Could Garry's search be over? I'll describe where the Soul Emotion Pros do well and whether they come up short.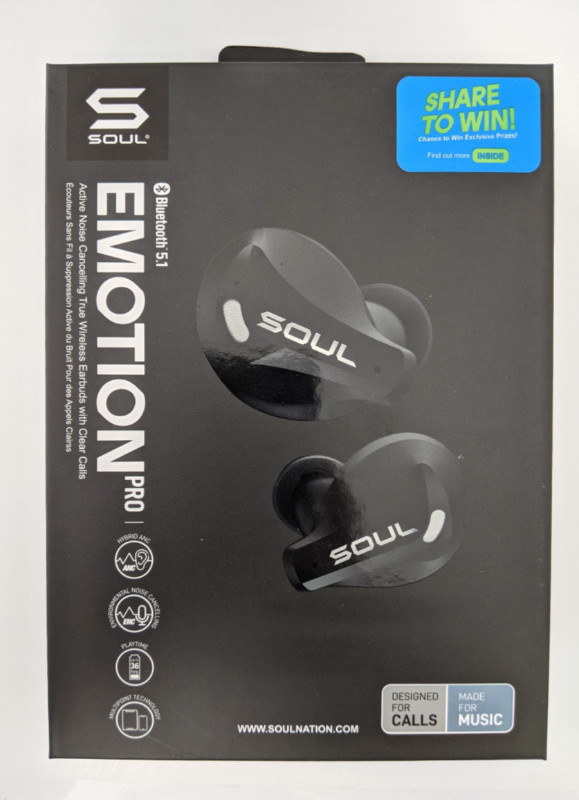 What is it
The Soul Emotion Pro ANC true wireless earbuds are a set of two rechargeable Bluetooth earbuds.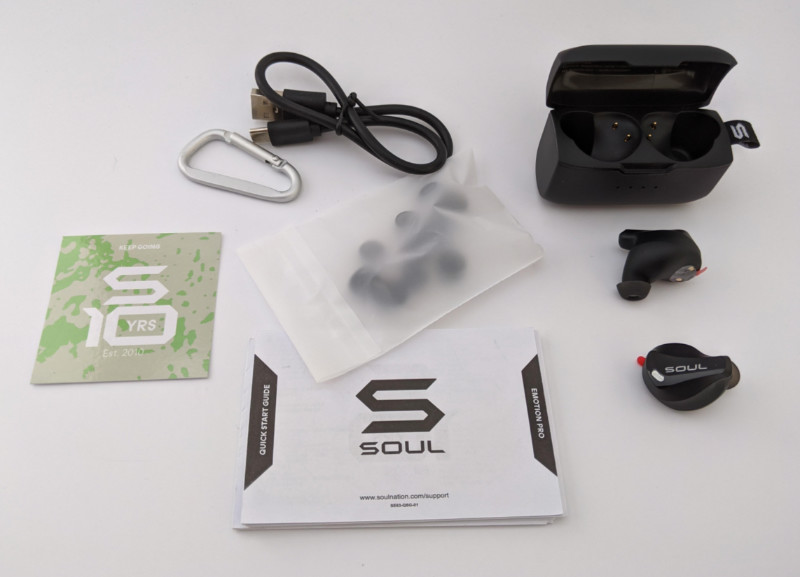 What's in the box
Emotion Pro earbuds
Charging case
3 sizes each, of two styles of ear tips. (12 total ear tips)
USB C charging cable
Carabiner for case carrying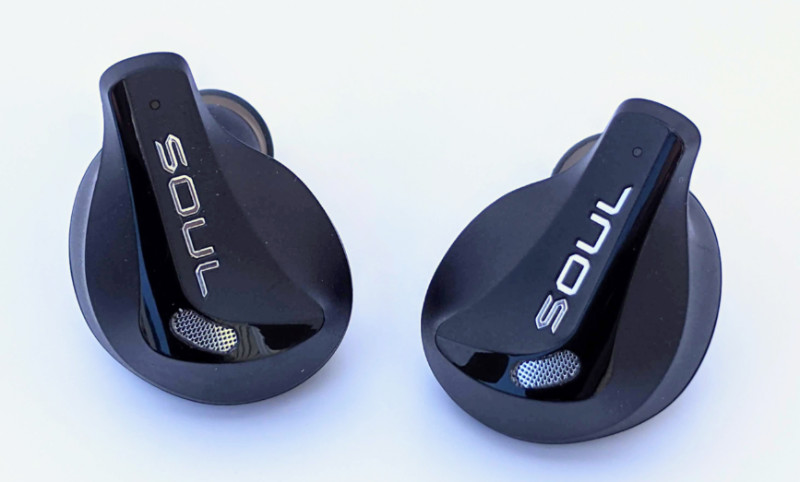 Hardware specs
Hybrid Automatic Noise Cancelling ['Hybrid' is not defined at the Soul website or Amazon description]
Low latency
IPX5 sweat resistant
AAC codec
3 microphones on each earbud
Wireless charging enabled
Bluetooth version: 5.1
Bluetooth range: 10 meters
Bluetooth profiles: HFP, A2DP, AVRCP
Sensitivity: 90 +- 3 dB
Impedance: 32 ohms
Frequency response: 20 – 20KHz
Speaker diameter: 10mm
Dimensions: Earbuds: 27.85 x 20.61 x 24.7mm.   Charging Case: 60 x 27 x 41.36mm
Earbud weight, each: .2 ounce
Charging case weight, empty: 1.1 ounce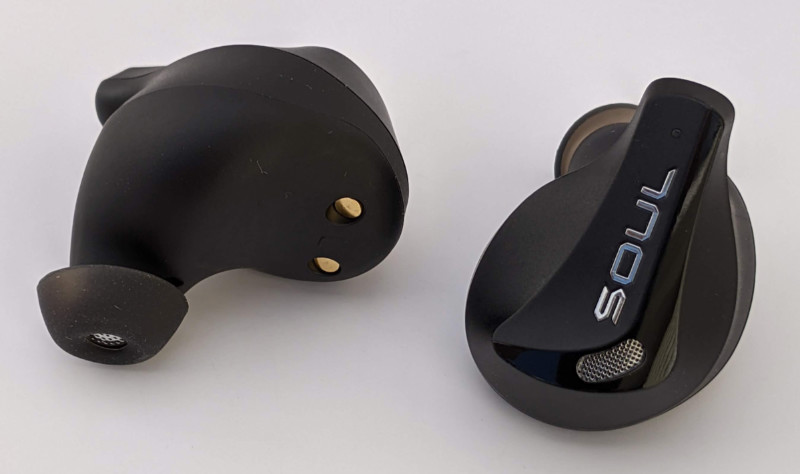 Design and features
Active Noise Cancellation
Audio transparency mode (allows pass through of environmental sounds)
Multipoint connection
Personalization app (for EQ setting)
28 hour operation with ANC on (using recharging case as needed)
36 hour operation with ANC off (using recharging case as needed)
Charging case has wireless charging capability
Case has a USB C charging port
Control settings on earbuds or via phone app
1 hour of playback with 15 minutes in the charger case.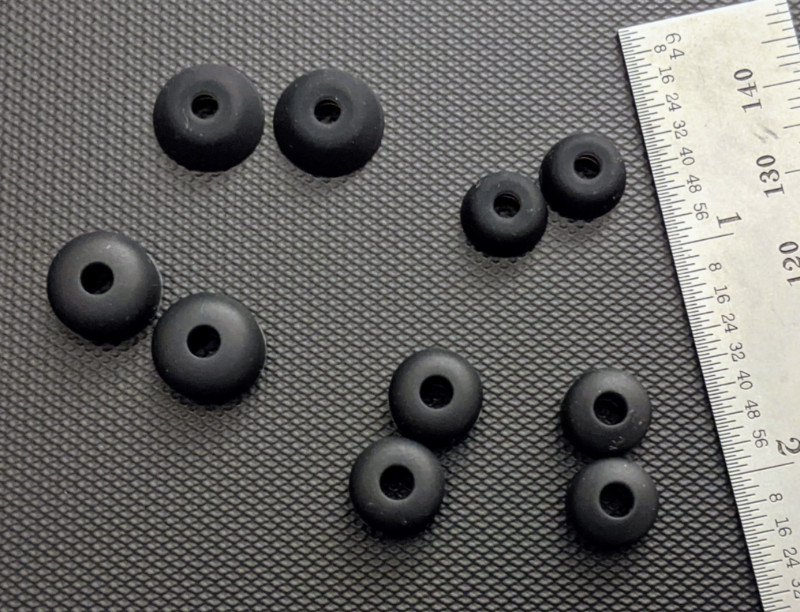 Installation and Setup
The Soul Emotion Pro earbuds go to pairing mode when they are removed from their charging case. They tend to say 'Pairing' each time I take them out of the case, but they seamlessly connect with my phone automatically and 'Connected' is said by the AI voice.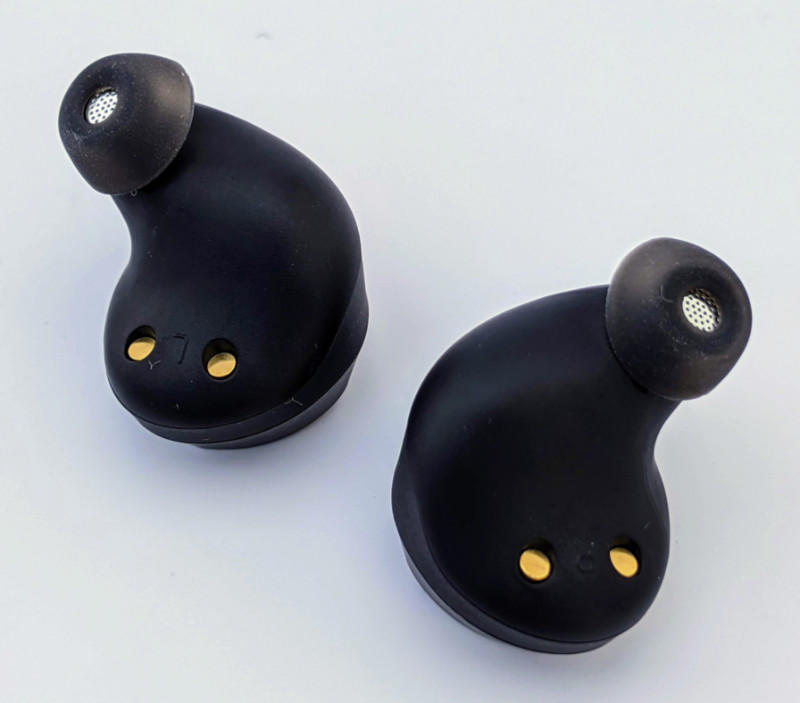 Testing and observations
PAIRING
I've had several earbuds I've had to 'Forget' and re-pair multiple times in a week. I never had to do that with the Soul Emotion Pros.
FIT
Maybe my ear anatomy is different from others, but I doubt it. The earbuds at their farthest point at the tip rested on the inner surface of my ear canal. Put your index finger in your ear. Humor me? That part of the ear canal that stops your finger, that's the surface the earbuds contacted. The sound didn't get blocked so there was no reduction of volume from the fit, but the buds might have 'seated' better and been more comfortable if they didn't touch my ear canal.
HANDLING
My fingers had to get used to accurately handling the buds. Due to the cut of the bud's angles they seemed difficult to handle securely until I got the hang of it with practice.
CONTROLS
Both earbuds should be used full time because the left bud does volume control and the right earbud controls answering and ending calls. I accidentally hung up on a couple of callers by simply adjusting the right earbud, and my fingers were not touching the control area of the bud.
ANC
I'd call the automatic noise cancellation offered by the Soul Emotion Pro earbuds to be 'basic'. You could not count on these earbuds for hearing protection from external noise levels. We have a loud exhaust fan in one of our bathrooms. I'll even go there (pun) for product testing! The fan was still noisy with ANC on, but clearly at a reduced level. With ANC off the fan noise seemed a bit amplified, probably due to the external microphones transmitting the sound directly into my ears.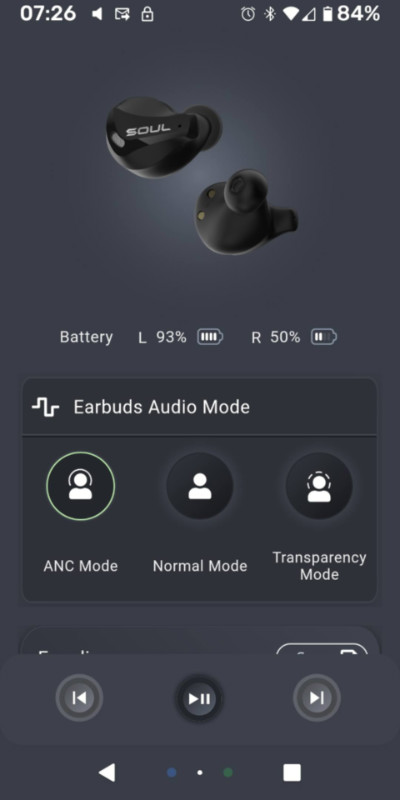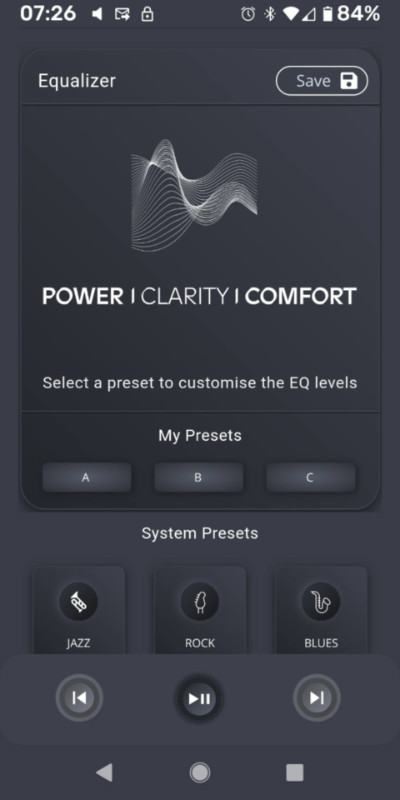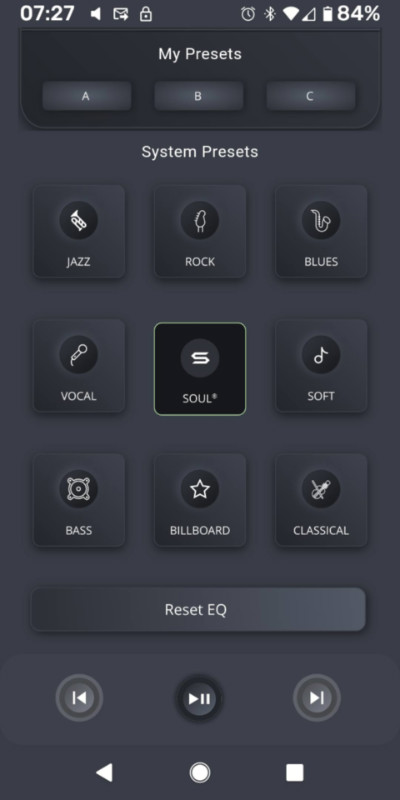 APP SOUND ADJUSTMENTS
The 'Soul' setting probably doesn't necessarily mean that music genre. For me, it was a pretty well balanced sound setting for most music styles. In 'Soul' mode, midrange and highs sounded best. Bass guitar was present and sounded ok, but the kick drum was almost missing when playing some songs in 'Soul' mode.
While listening to some light rock music the 'Rock' mode mainly enhanced the highs vs. 'Soul' mode.
'Blues' setting seemed to only increase the overall music playback volume.
'Classical' setting seemed to muddy and decrease the levels of all frequencies of sound. It sounded as if I had a small amount of cotton in my ears, then placed the earbuds in for listening. Yuk. I think the 'Soul' mode handled the range of classical instruments better than did the 'Classical' setting. A full orchestra has a full range of music frequencies that should be appreciated.
'Bass' mode did increase low frequency tones but on some songs it muddied the highs like snare, cymbals, high hat, etc.
I probably will not use the Classical mode for any music style.
The beauty of the Soul app is being able to control not only the music style settings song per song if you wanted to, but the app also has all the controls the earpieces do, and could be more reliable than 'tap, oops, try again' with the earbuds.
MULTIPOINT CONNECTIVITY
I was testing a phone for an upcoming review here, so I always had two phones with me for several weeks.  I paired the Soul Emotion Pros to both phones.  If I was listening to a podcast on phone A and a phone call came to phone B, phone A stopped playback and phone B's ringer came through the Soul earbuds and I could take the call through them. This feature worked perfectly, as advertised.
A practical use case would be using the Soul Emotion Pros on a laptop Zoom call and a phone call or text message comes to your phone. You can dismiss, or take the call through the Soul Pros and you'll hear the text alert tone (if you use one) through them as well.
PHONE CALL QUALITY
With the exception of hanging up on a couple of callers by trying to adjust the earbuds in my ear, the audio quality was great (I heard people fine) and microphone quality was good (people said I sounded fine.)  When I compared the earbuds to my phone alone on phone calls with some patient family members, the phone was reported to transmit my voice sound better. When using the Soul Emotion Pros my voice quality was said to be 'not bad'.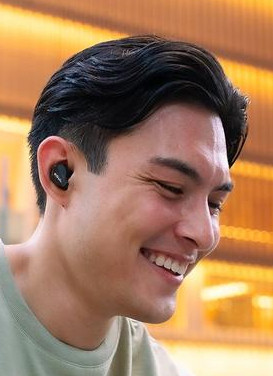 What I like
The Soul Emotion Pros were great for podcast streaming, live radio and phone / online conferences.
Battery life of the earbuds and the case was great.
The charging case held its own charge very well. It topped off the earbuds several times before needing to be charged.
Pretty good bass response. 'Ok' for casual music listening.
It's great to have an app for adjusting earbud preferences and performance
Multipoint functionality was flawless.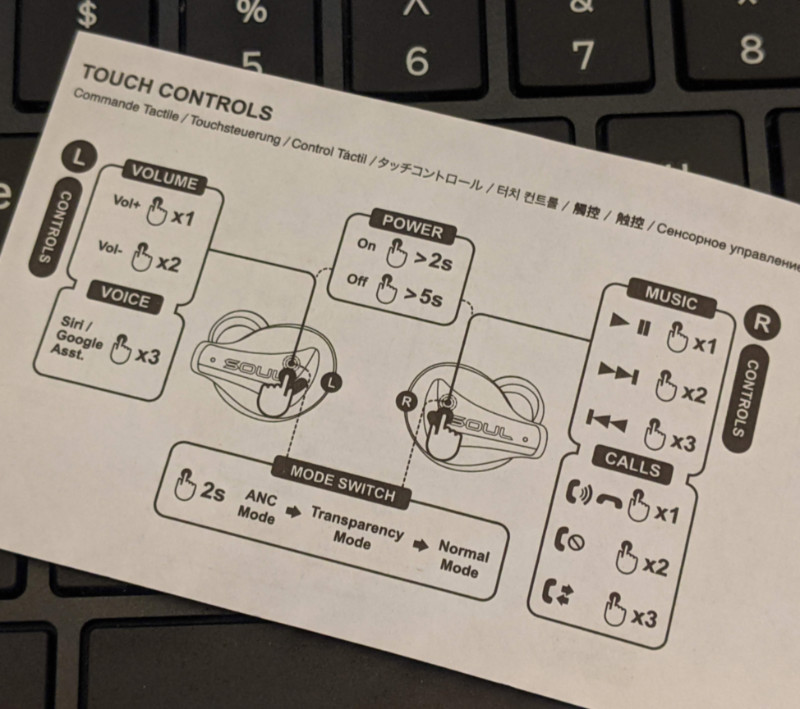 What I'd change
The control taps are not always accepted by the earbuds.
The control taps do not always trigger the desired action.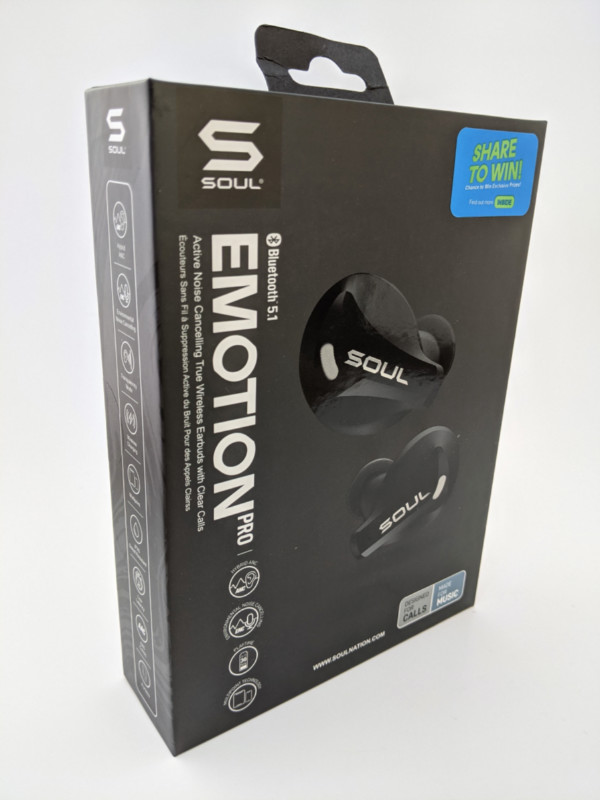 Final thoughts
The Soul Emotion Pro Earbuds are excellent for voice and pretty good for music. I got to like them more over time while listening to various music styles. If you're a casual music or podcast listener and want earbuds for when you're doing chores, working out, on video conferences, walking, or around the house, these might be a good match. If you're looking for high-end, accurate music reproduction, keep watching Gadgeteer reviews as we continue the search. But I rate the Soul Emotion Pro earbuds as pretty darn good overall.
Price: $129.99
Where to buy: Amazon
Source: The sample for this review was provided by Soul.