We use affiliate links. If you buy something through the links on this page, we may earn a commission at no cost to you. Learn more.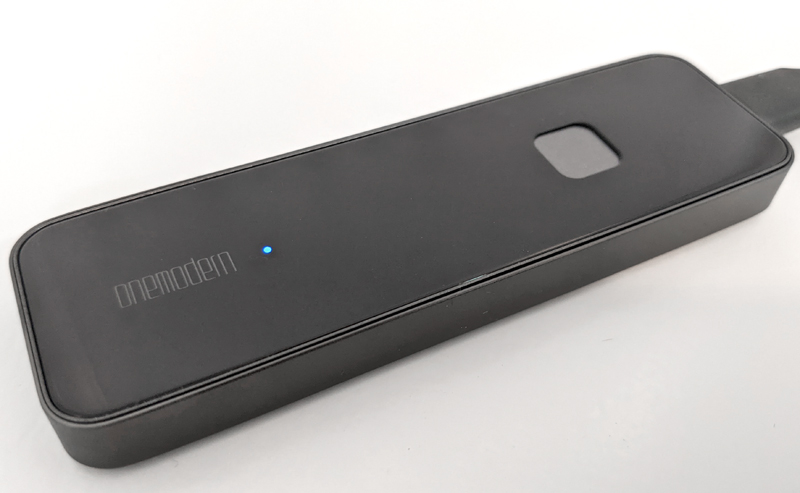 REVIEW – I have a cadre of portable backup drives that I use on a regular basis.  Most of them are your standard sized backup drive about the size of a man's regular sized wallet. In the past I have experienced computers that just died and I lost all the files on the harddrive. So I am pretty consistent in backing up my important files on a regular basis, to multiple backup drives. I also have some things automatically backing up to the cloud, just for good measure. So I am always looking for efficient and easy ways to back things up. The less I have to do to make it happen, the more likely it will happen. And the biggest hassle to me is having to backup my phone. I use an Android phone, so much of the data on my phone is backed up to the Google cloud automatically.  But the OneModern S8 SSD purports to make this even easier, especially with mobile phones, so I decided to give this Kickstarter product a review to see how it measures up to other solutions.
What is it?
A portable 500GB SSD drive with built-in fingerprint encryption.
What's in the box?
S8 SSD
12 inch USB-C to USB-C cable
Leatherette carry pouch with magnetic closure
Quick Start guide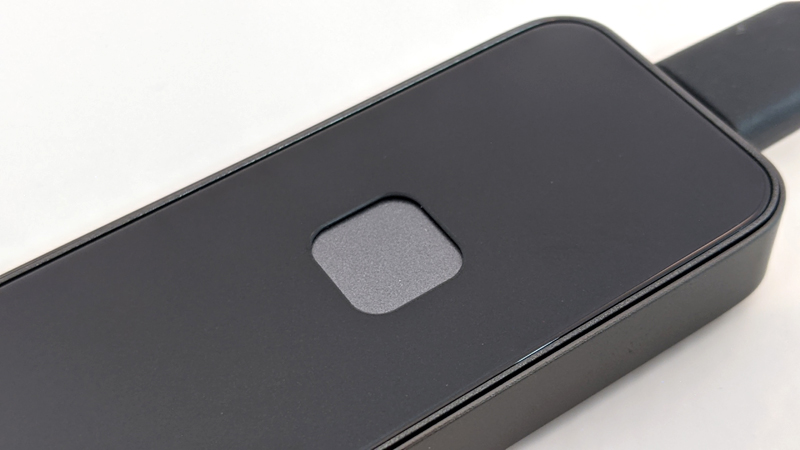 Hardware Specifications
Storage capacity: 500GB
Compatibility: Android, Windows, Mac, PlayStation 4/5, Smart TVs, and iOS/iPad with the data transmission cable (not included)
Size: 4 in x 1.2 in x .4 in
Weight: 1.2 oz
Read/write speed:  540mb/s
Interface: Type USB-C 3.1, M2SATA
Materials: aluminum alloy, tempered glass, and plastic
Security:  AES 256-bit encryption, with fingerprint identification
Installation
By following the instructions in the quick start guide, I downloaded the Android app using the QR Code in the guide and installed it. I set up the fingerprint identification and password, and it went smoothly. When I plugged it up to my Windows computer I navigated to the folder for Windows and ran the installer, which also ran smoothly.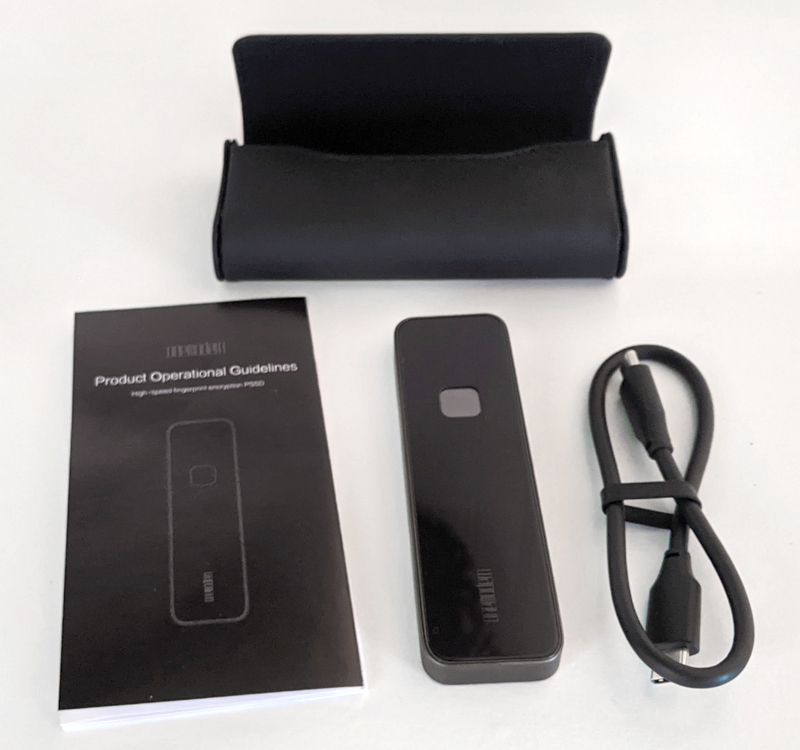 Features and Performance
When you hold the S8 in your hand, it feels premium. The aluminum alloy around the edges and the tempered glass on the front and back feel nice. The rounded corners and the .4 inch thickness makes it nice and slim and easy to pocket. It also comes with a nice leatherette pouch with a magnetic close that holds the S8 and the USB-C cable. There is only 1 port on the S8, a USB-C port, on the end of the unit.  And there is a blue indicator light on the front to let you know it is on and functioning when in use. The fingerprint sensor is on the top, but the blue indicator light, and it is slightly recessed so that it is easy to feel without having to look at it.  The sensor also works flawlessly and it has always recognized my fingerprint the first time.
You can specify up to 10 fingerprints for use with the S8, which means you can use it with teams of people who can then share the drive. The interface with the Android app is pretty clean and intuitive. When you connect the S8 to your phone it auto-launches the OneModern app and you have to either use your fingerprint to open it up, or type the password that you set during installation. Here is the main screen for the app: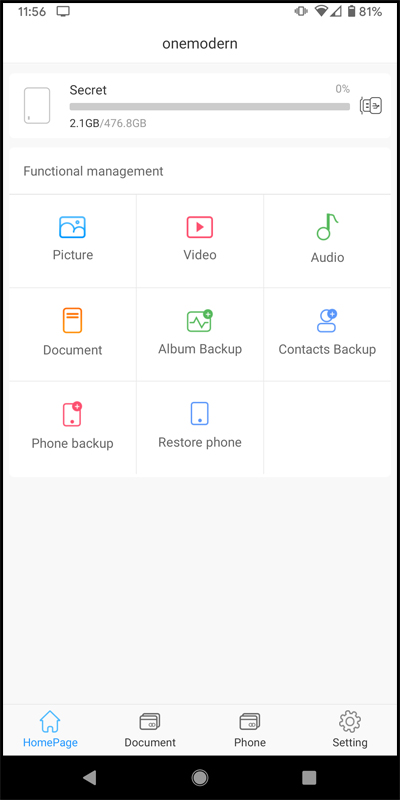 Like pretty much every backup software, you can choose to auto-backup what you want when the software loads, or you can manually initiate the backup when you want. The backup process backed up my contacts, photos, videos, and files. Or so I thought.  The strange thing is that my photos and videos were only backed up to May 2019.  So roughly 2 ½ years of content was backed up, and I can't figure out why except that the app is not functioning properly.  Or maybe it is functioning as designed, which is not acceptable from my perspective. I want all my thousands of photos backed up, not just the past 2.5 years.  Frustrating.  I also tried to get help from the folks who are running the Kickstarter campaign via the Kickstarter website and via email, with no response.  Again, frustrating. That doesn't give me confidence that if I have trouble in the future that I will be able to get help.
The Windows application that loads when you connect it to your laptop is typical of most backup software programs, except that it asked for my fingerprint.  You can set it to auto-backup whatever folders you specify, or you can initiate the backup manually. The backup software worked as I would expect and I didn't have any problems. Here are screenshots of the desktop software when you first start it up and then when the main screen loads: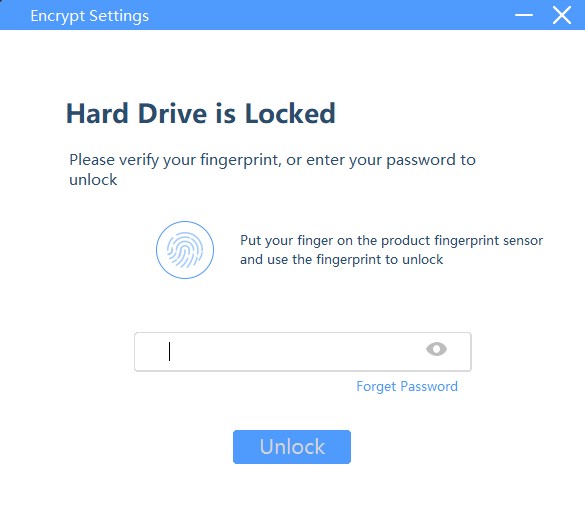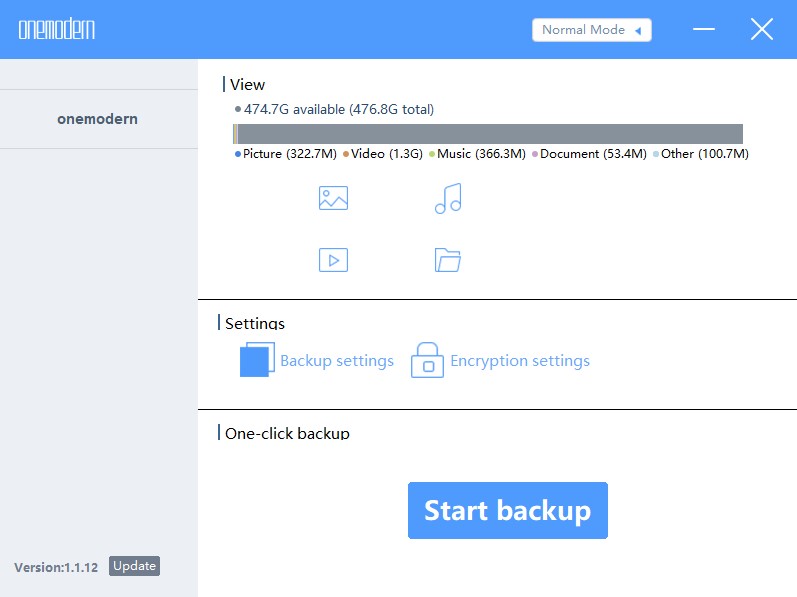 What I like
Excellent design and build that feels premium
Fingerprint encryption worked flawlessly
Carrying case is handy
What I would change
The Android app doesn't appear to be ready-for-primetime yet.
Tech support is non-existent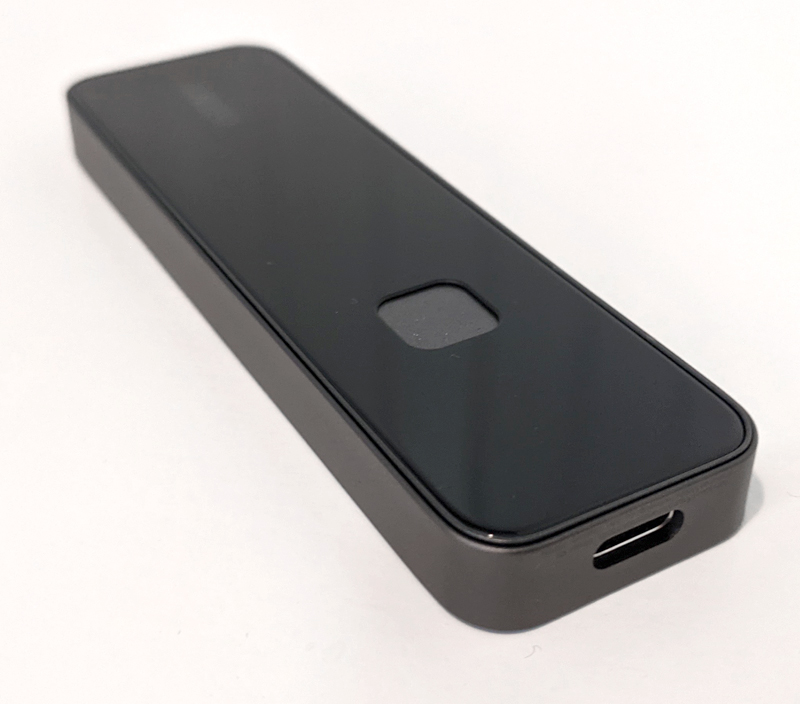 Final thoughts
I want to love this device.  I do. The fingerprint encryption works flawlessly and builds confidence that your data is safe. It feels like a premium device. The backup software works as designed and is customizable to backup what you want, when you want it. But the Android app has bugs that are frustrating, and I can't get anyone from OneModern to respond to me to see if there is an updated app or something that I can do.  If I had more confidence in the Android app that it would indeed backup my entire phone then I would wholeheartedly endorse the S8. But there are other products out there that provide a backup solution that can be directly compared to the S8, and OneModern even lists 2 of them on their Kickstarter page that have pretty much the same specs. I just can't recommend the S8.
Where to buy: Here is their Kickstarter page: https://www.kickstarter.com/projects/onemodern/onemodern-your-ultimate-fingerprint-touch-portable-ssd/
Source: The sample of this product was provided by OneModern.