We use affiliate links. If you buy something through the links on this page, we may earn a commission at no cost to you. Learn more.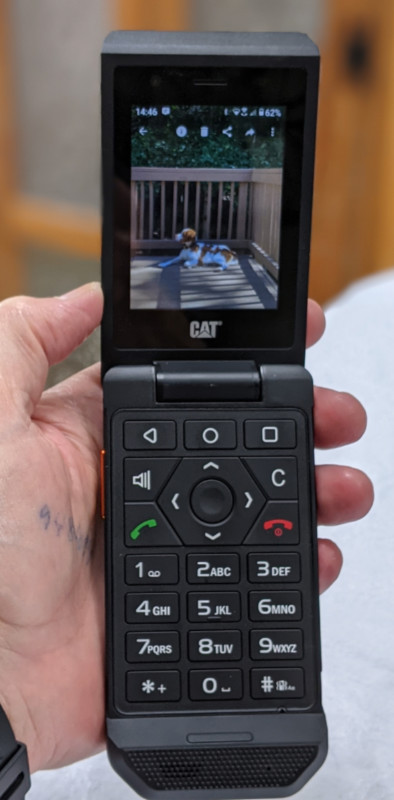 REVIEW: The CAT S22 Flip phone from T-Mobile is a hunky half-pounder, but not as old-school as you might expect at first glance. The 'top half' of the phone is a very functional smartphone, but through a fairly small screen. I'll describe how I put it through its paces, and if it's capable enough to replace a real smartphone.
What is it
The CAT S22 Flip cell phone is a T-Mobile exclusive device that is a flip-phone but also a smartphone running Android 11 'Go' version.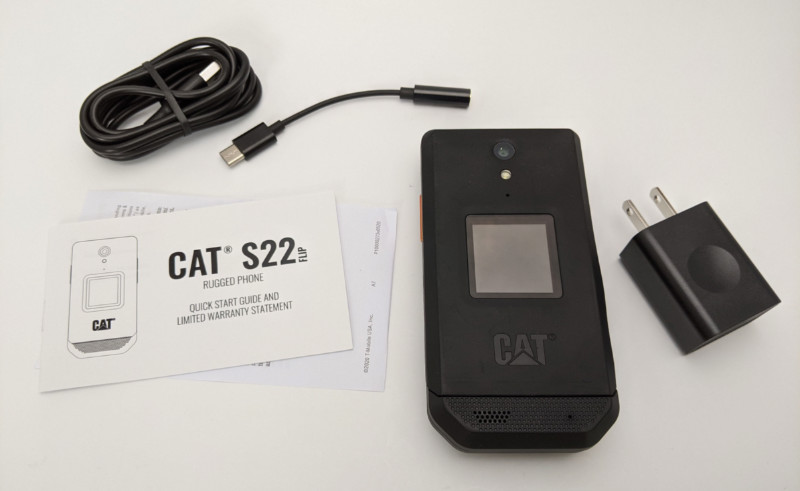 What's in the box
CAT® S22 Flip smartphone

US charger

Warranty Terms & Conditions

USB Cable

USB Type-C to ⅛" audio jack converter

T-Mobile SIM (In-box)  [Not present in the review model.]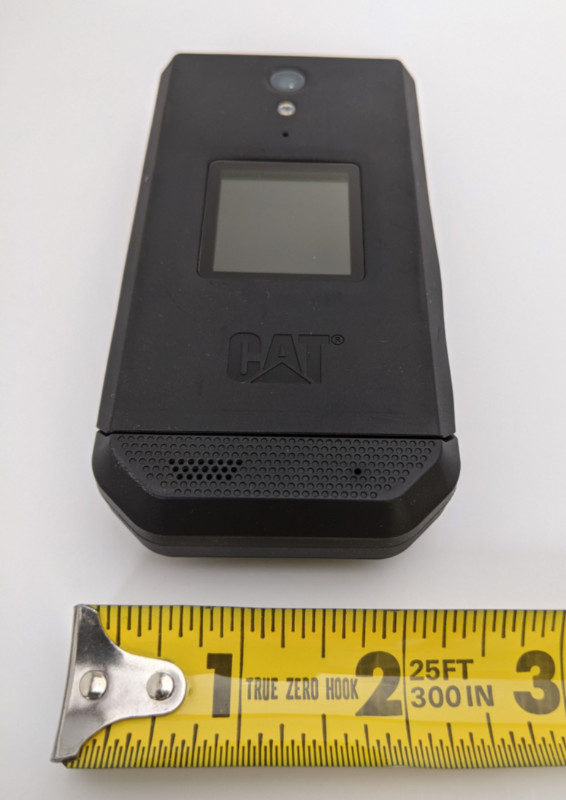 Hardware specs
Camera: 5MP rear, 2MP front.

Screen: 2.8" VGA.

Operational times: 12 hours talk, 13 days standby.

Measurements: Height: (open) 4.7", Thickness: .9", Width: 2.4"

Weight: 8 ounces

Wireless technology: 4G LTE

IP68 Sand, dust and dirt resistant. MIL-SPEC 810H temperature extreme survivability, vibration and tumble tested.

Drop tested up to 6ft onto steel with multiple drops onto every side and corner.

Vibration, sand, salt mist and pressure resistant.

Fully waterproof and submersible; scrub with soaps and disinfectants. Tested in 5 feet of water for 35 minutes.

Bleach resistant. Bleach wipe tested with 3000 cycles.

Chemical resistant, Alcohol abrasion test with 100 cycles, Real world chemical susceptibility, sanitizer friendly.

Non-Incendive, Class I, Division 2, Group A-D, T4.

Battery: 2,000mAh removable lithium-ion battery.

Display

:

High performance internal and external display protected by Corning® Gorilla® Glass 5.

Super-bright display optimized for outdoor visibility. Internal display works with wet hands while wearing gloves.

Camera: 5MP + 2MP camera with Flash.

Operating System: Android 11 (Go Edition) Play Store, Google Maps, Google Assistant Go, Find My Device.

Connectivity: Bluetooth 4.2. Wi-Fi 2.4GHz. USB-C. Nano SIM. Mobile Hotspot (up to 4 connections).

Charging: USB-C

Memory: 2GB RAM

Storage: 16GB ROM, up to 128GB Expandable Storage (microSD™).

Warranty: 2-years.

Enterprise ready: EEM/MDM support. Android app ecosystem.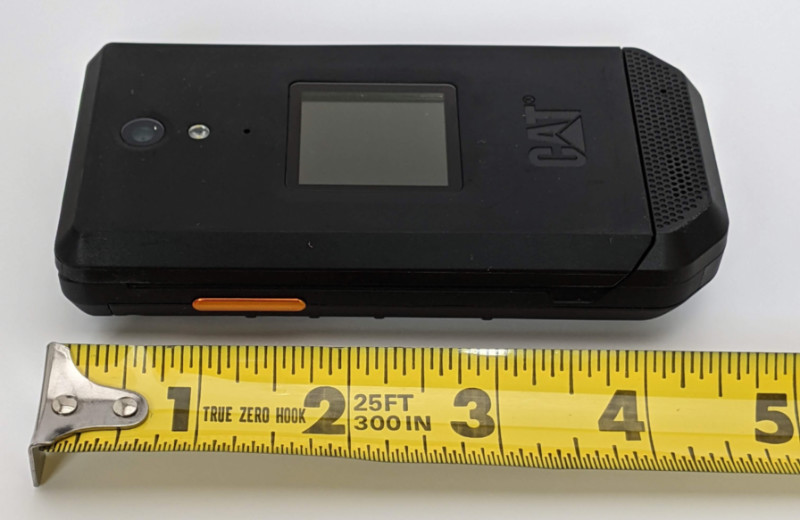 Design and features
CAT makes it no secret – this is mainly a phone. It's geared towards any outdoorsy types or working people who might drop the phone in the mud, bounce it on concrete, need to use it in the rain or snow, or any other scenarios you can imagine where a tough, heavy, abuse resistant phone could be beneficial. While the S22 smartphone features and the Android 11 Go version are very complete and work just like our slab-style smartphones, the S22 is a phone that does smart-phonely things, whereas our traditional smartphones are mini-computers that also make phone calls and take photos.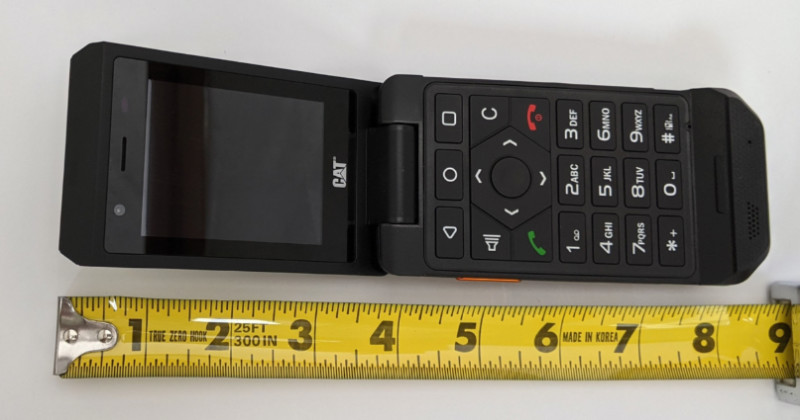 Never miss one of our posts again. Sent MON, WED, and FRI with the latest gadget reviews and news!
The phone number button pad of the S22 is completely sealed. If the charging port cover is fully seated, the phone is fine not only for lengthy splashes but for an occasional underwater drop. There should be no problem taking this phone in the shower if you want. I put mine away from direct water flow but hey, people -always- return my calls when I'm in the shower. (How DO they know?) I may as well be ready!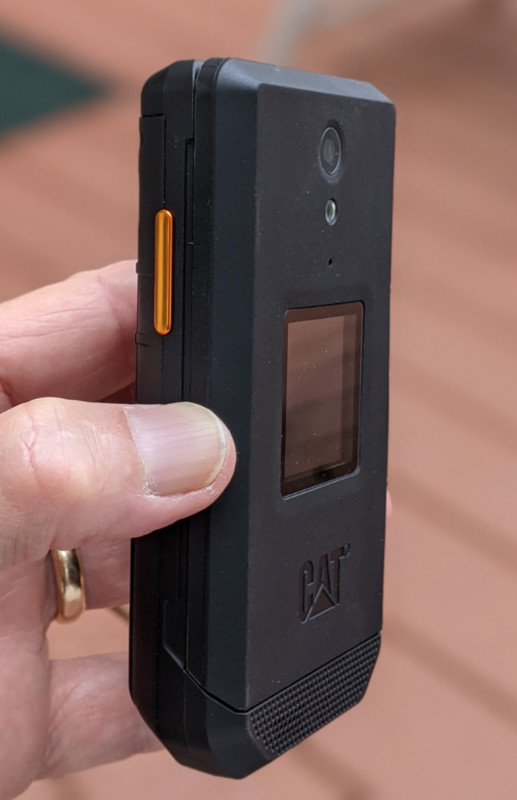 There's a programmable key (the orange metal one) that can be set for push-to-talk (app required?) or it can invoke any app via a long or double-press per your choice of the setting. The options for the 'Programmable key' are in the main Android Settings. I set the key to start Google Assistant because the phone is not designed for Assistant's standard 'Hey Google' voice activation.
Installation and Setup
T-Mobile required an in-person store visit because the CAT S22 will work on no other carrier and the phone requires a physical SIM card. I chose a pre-paid plan for $15 per month for 2.5 GB data which suited me fine for the 4 week review period. 
I griped on a T-Mobile survey about the $10 charge for the SIM. In my humble, yet accurate opinion, when a cell company is gaining a new customer starting new service, the SIM should be free or reimbursed on the next bill. Some other carriers do that and it's a nice welcome gesture at almost no cost to the carrier. 
I know pre-paid customers are treated as a lower class by several of the carriers so I took it like a man, but I like the prepaid services for several reasons. My SSN wasn't needed to activate new prepaid service. I didn't use my full legal name. An ID was not required to set up new prepaid service. So with the next data breach I have zero worries. 
Charging from a very low battery is not fast with the S22, but I've seen slower. From 50% capacity to 100% it took 1:45. At least it's a USB C charging port and a cable is included.
Google has made setting up a new phone a painless process. I chose to set up the phone from a previous backup of my main phone. The Google system prepared to install all my settings, apps and even the wallpaper on the CAT S22, just as they are on my Google Pixel 3a XL. I chose to pare down the apps due to the 16GB storage on the S22 and setup was completed within about ½ hour.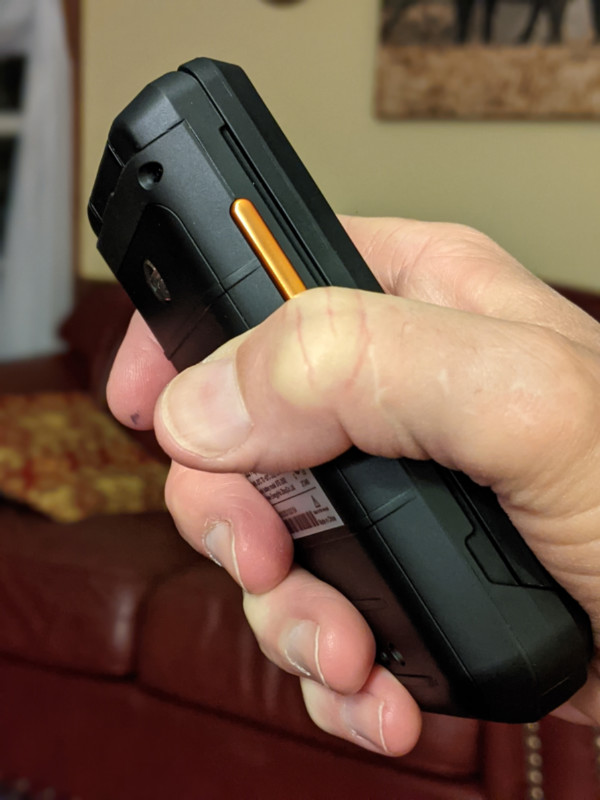 Testing and observations
I set my main phone to forward incoming calls to the CAT S22 and used an app to forward texts. This allowed me to make the S22 my main phone for several days.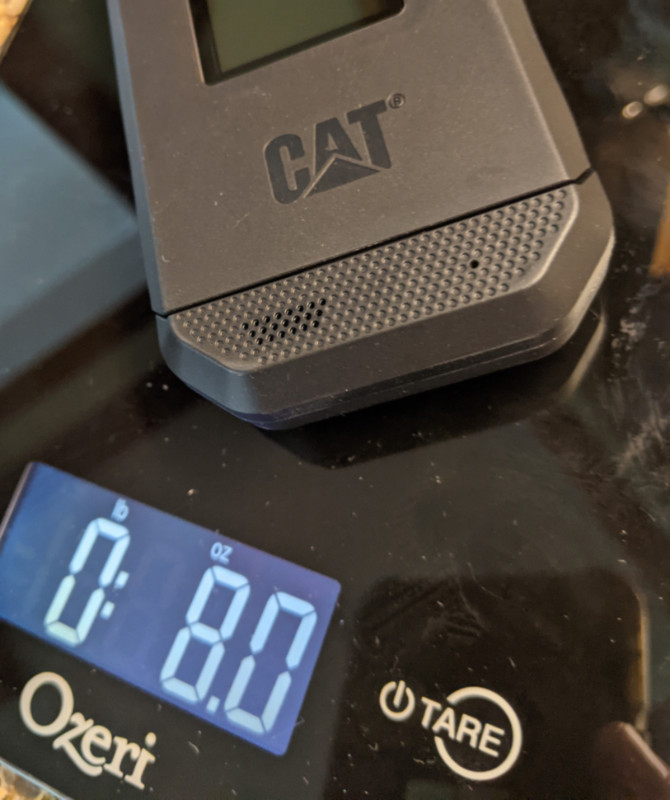 SIZE AND WEIGHT
The phone feels heavy, but is only a half ounce heavier than my Pixel 3a XL wearing a case. The concentrated form factor must account for the heavy feel. Yeah, it's heavy.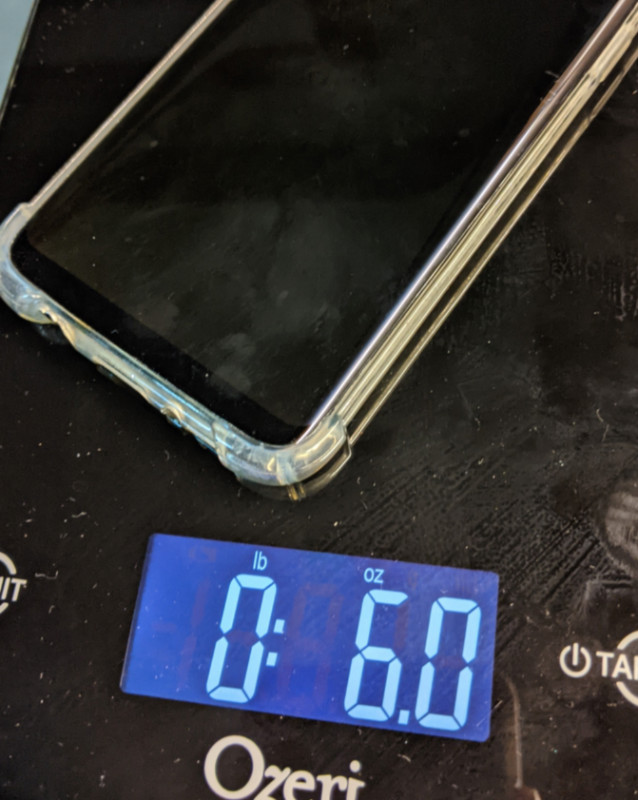 For comparison, the Samsung S8 is six ounces with a case on it.  
Pocketing the phone was not completely comfortable and made quite an impression. The phone really shows in a pants pocket. At almost one inch thick I went looking for old phone belt holsters I used back in the flip phone era. Finding none that fit the S22, I was stuck with pocket carry. Sometimes I'd leave the phone in the car instead of carrying it in dress pants.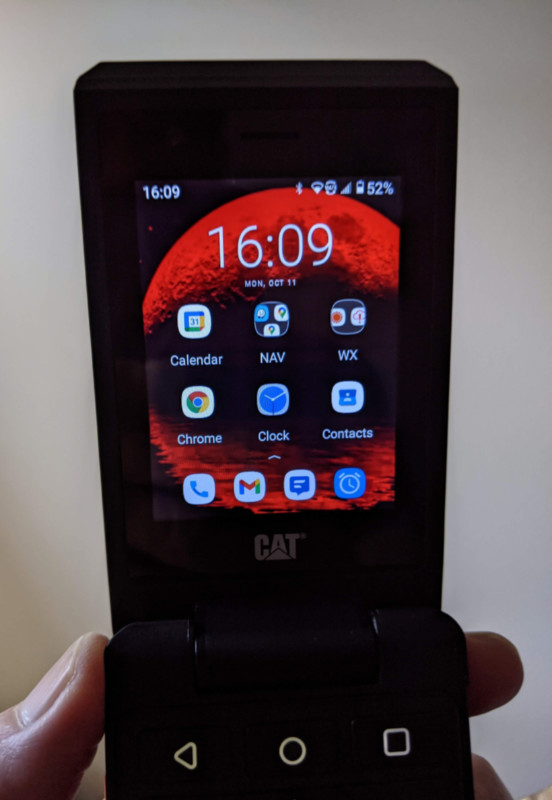 SCREEN
I found the screen to be fine for the basics (calling, texting, checking a location on Maps, setting reminders, etc.) but some tasks just need a full-sized smartphone. One would not want to read a book or edit a spreadsheet on this phone. 
For the sake of science, I completed a long application to do volunteer tutoring with a local organization. I mean, I really am volunteering with the organization but it's the application where I 'took one for the team'.  Ugh. I think I need a stronger glasses prescription after that. But I got it done with the S22!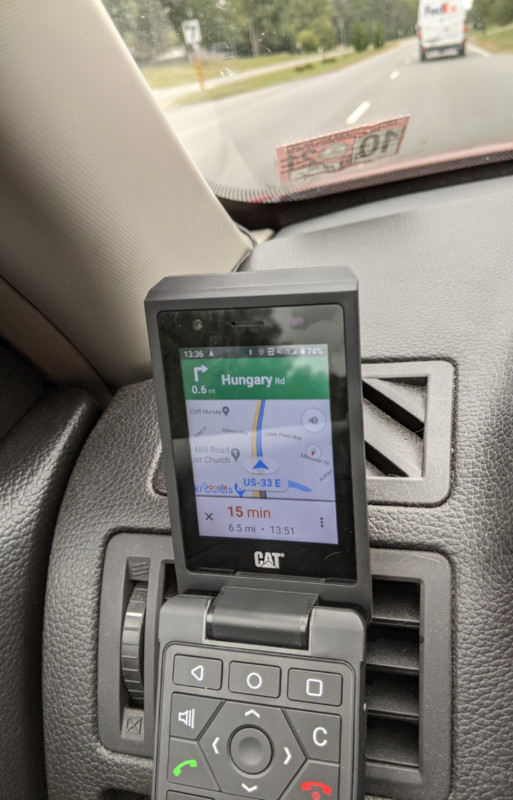 GPS
While the S22 does implement fully functional GPS with the Waze app or Google Maps Go, I think the screen size is inadequate for GPS viewing while driving. Not much of the GPS app map can show on such a small screen.  And think about your eyes changing from viewing the road through the windshield to suddenly zooming in to the small-screen GPS. That seemed to make a long drive a bit more tiring for me. The audio from both these GPS apps during driving was very clear, which helps, but I'll prefer the traditional smartphone size for my normal GPS assisted trips.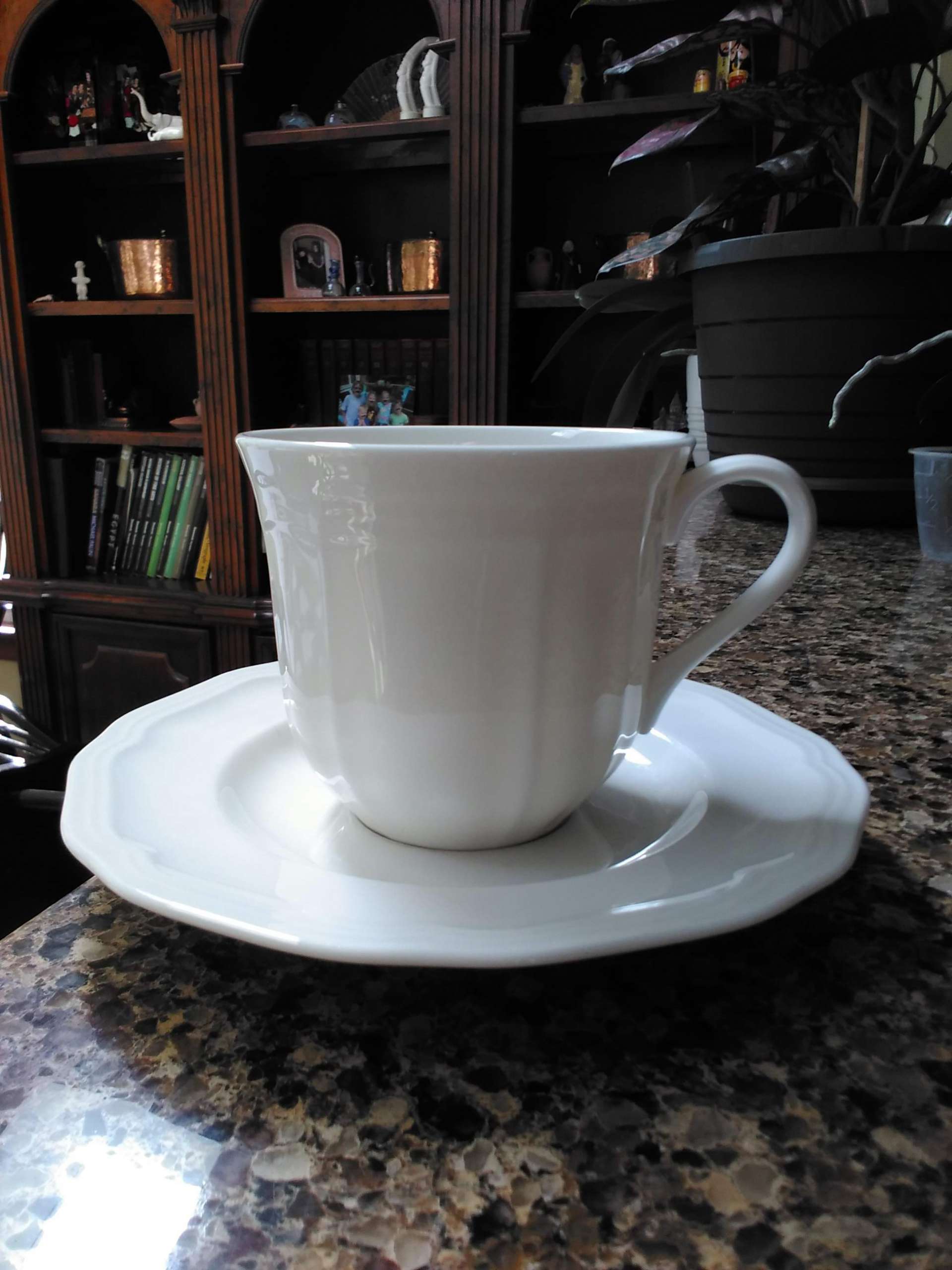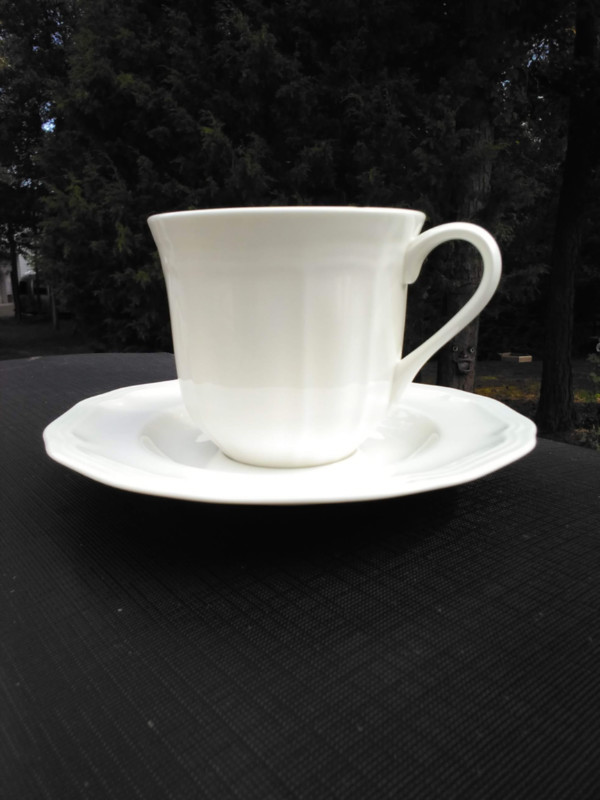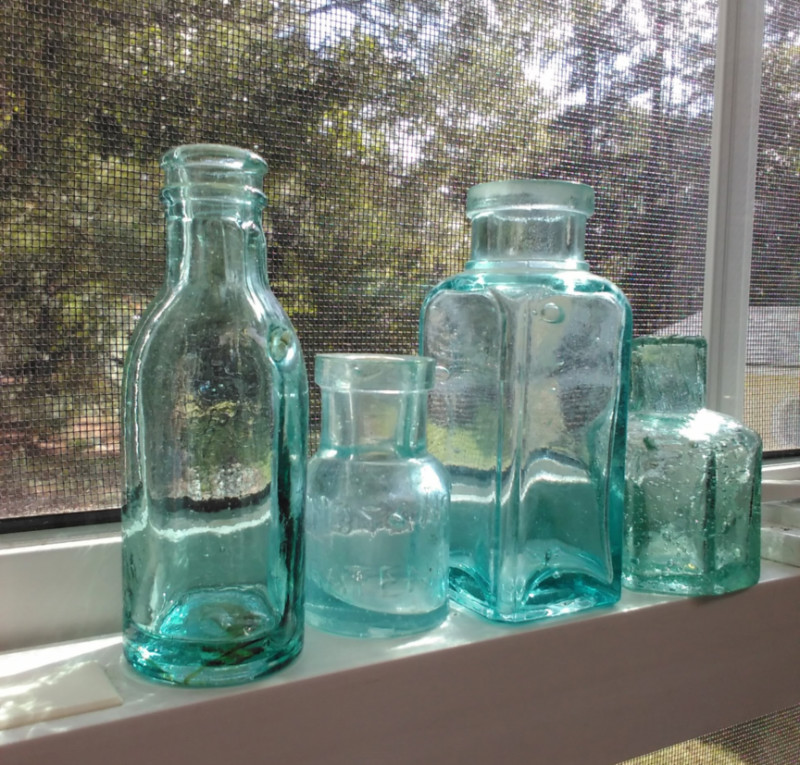 CAMERA
With the S22 camera you can forget sharp low light pictures. Well lit photos aren't too bad but you may have to forget sharp indoor pictures unless you're in bright lighting. You'll need a super-steady hand and shoot the pic before your second coffee.
AUDIO ISSUES 
Phone calls through the ear speaker are very well implemented on the S22. All of the people I called said I was very clear and those with whom I spoke were also clear to me via the ear speaker.
'On-hold' audio and phone call audio yielded distortion when I used the S22 speakerphone function. It was as if the audio was over-driving the speaker. I call it audio 'splatter'. In contrast, I played YouTube music and streamed talk radio right after a splattery 'on-hold' call and the music sounded perfectly clear, albeit in mono. (There is one speaker for speakerphone audio.) Streaming live radio, podcasts or online music always sounded great over the speaker with no distortion at all. Why phone call audio through the speaker is distorted is a mystery that CAT needs to sort out.
The audio on speakerphone calls was louder than I preferred but couldn't be lowered below a certain point. The volume adjustment range was broader during calls using the built-in ear speaker.
CALLS WITH PHONE CLOSED?
I wish the phone could be closed and sustain a phone call for a long call or during a long period on hold. The full user manual doesn't speak to this issue. Calls on speaker end when the phone is folded closed. There was no setting that addressed this issue. I contacted CAT support and they confirmed it is not an available feature. This would be a useful future update. Streaming content worked fine with the phone closed.
T-MOBILE ONLY?
Thinking this would be an excellent backup phone I called my carrier (AT&T) and provided the IMEI number to see if the phone would work on their network. AT&T says it is not compatible. So it really does seem to be a T-Mobile exclusive. And the S22 is carrier locked so it just won't work on other networks. 
From looking at the spec details the S22 operates on the main AT&T frequencies as well as T-Mo's, but if a carrier says a phone won't work on their system, debate is futile.
FM RADIO
There is an FM radio in the CAT S22. It requires the use of an included dongle with a USB-C plug on one end and a ⅛" audio jack on the other. The FM radio worked for me only on strong FM stations. The big AM news/talk station in my town simulcasts on an FM frequency that is strong enough to be received indoors by two medium quality portable radios I have, but the CAT S22 wouldn't clearly receive that frequency indoors.
BLUETOOTH VS. FM RADIO
While the phone pairs with Bluetooth audio devices for phone calls and listening to streamed audio, it is not possible to listen to the FM radio with a Bluetooth device. The ear plug wire is necessary to serve as the FM radio antenna. Moving the earplug wire while trying to hear weak stations sometimes made a station clearer.  
APPS I DOWNLOADED
Since I set up the phone from the latest Android backup of my regular phone, I slam forgot to check what Android apps came pre-loaded on the S22. Penalty flag on me. But downloading apps with Google Play (which is definitely pre-loaded) is quick and easy if you're in a strong Wifi zone.
I added these apps and am only using 8GB of the available 16GB of storage:
Waze (GPS)
Gmail
Google Maps Go
Google Calendar
Google Clock
Google Contacts
Textra
Missed Notifications
Simplest Reminder Pro
Accuweather
Severe Weather!
Simplenote
Google Photos
Audacy
iHeart Radio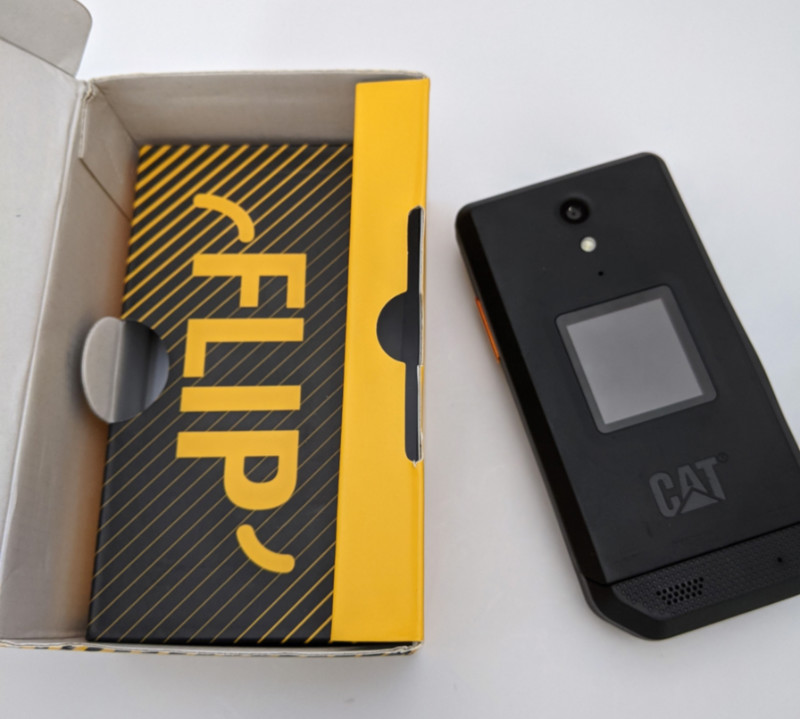 What I like
Call clarity (both directions) was excellent.

Battery life was fine for the S22. At least a full day of smartphone plus phone call use could be expected and maybe more, depending on use patterns.

I never dunked or dropped the phone – but I knew I could have.  
What I'd change
The Quick Start guide in the box is nearly useless. It has almost no useful text about setting up or using the phone. I obtained the full manual from CAT Support. That document should ship with the phone.

Distorted speakerphone audio during calls was a negative surprise.

The phone felt heavy in the pocket. Belt holsters may be more comfortable.

I wish the phone were lighter.

The phone should be available to more carriers, unless the manufacturer is satisfied with limited sales.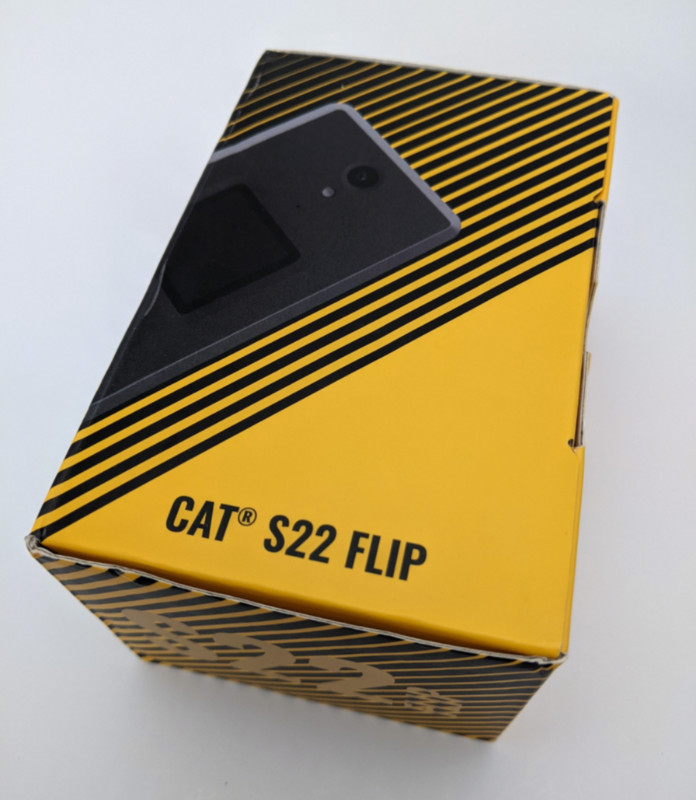 Final thoughts
The CAT S22 smartphone is for a very specific user. If you need a tough, durable phone mainly for phone calls, and would benefit from small-screen smartphone features, and you know that T-Mobile service will work for you, you could consider the CAT S22 phone. It looks like it can take a fair amount of abuse that would brick a standard smartphone.
Update 12/27/21
I contacted CAT support once the device passed the 6 month point with no security update. Support told me I had a prototype device that would not receive any security or OS updates. The company had not disclosed that we would be sent a prototype device to review.
Price: $234
Where to buy: T-Mobile
Source: The sample for this review was provided by CAT.