We use affiliate links. If you buy something through the links on this page, we may earn a commission at no cost to you. Learn more.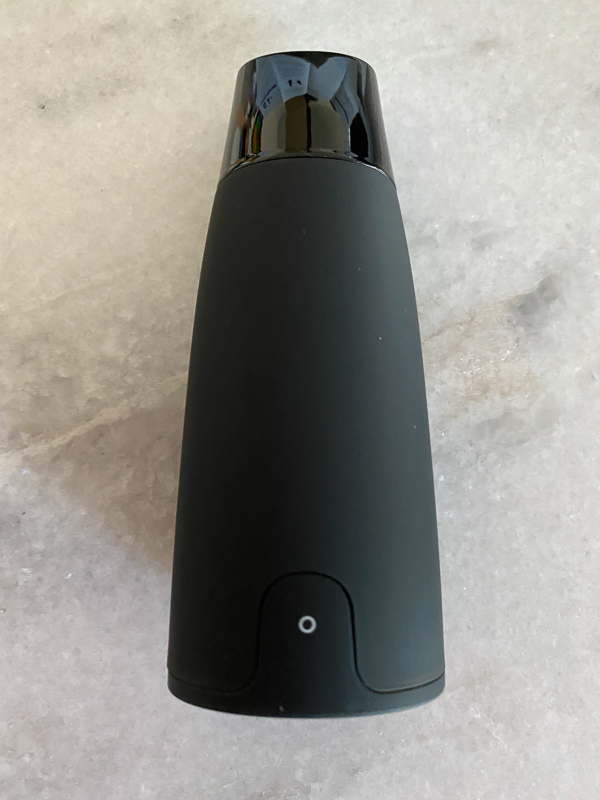 REVIEW -Like many people, this past year of staying and working at home has allowed me to put on a few extra pounds.  I was on my way to losing them by mainly working out (strength training and cardio on a spin cycle) when I broke my wrist.  That was about the same time the opportunity to review the Lumen Metabolism Tracker came to The Gadgeteer.  I have never really watched what I eat except to put it in my mouth.  I am not a fan of diets, especially diets that remove certain food items completely from them.  Now that I was not able to work out as hard as I could before,  I decided to review it in order to see if it could somehow make me more conscientious about my diet along with maintaining some form of exercise to keep on with my weight loss.  Let's see if it worked and if I managed to lose any weight.
What is it?
The Lumen is an electronic breath analyzer that connects to an app on your phone to measure the amount of CO2 in your breath.  That allows you to know when your body is burning either carbs or fat for energy.  Knowing what your body is burning and what can trigger fat burning vs carb burning teaches you how to eat, exercise, sleep and fast for healthy weight loss.
What's in the box?
The Lumen came in a very nice box.  Simple and elegant.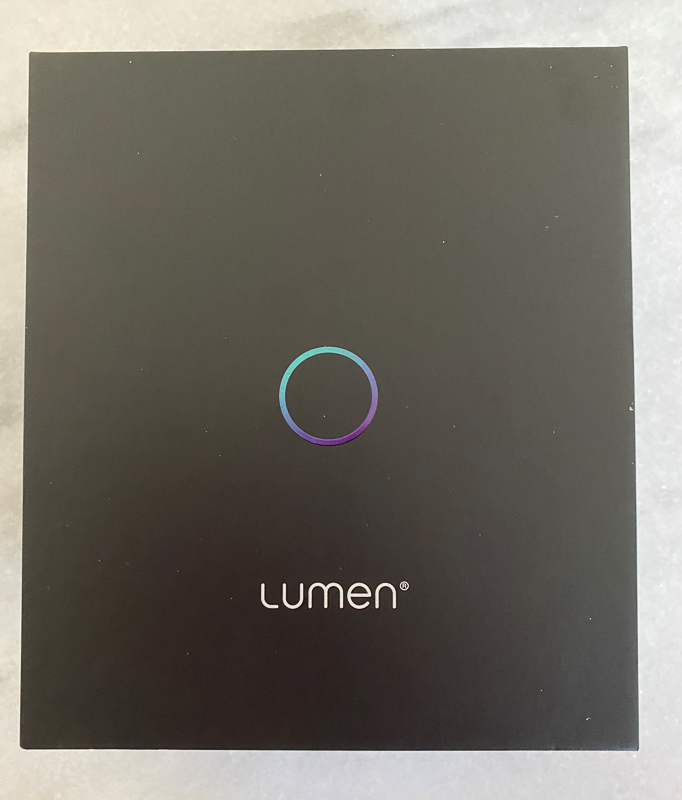 Opening the box revealed the Lumen with the charging stand and cable packaged below.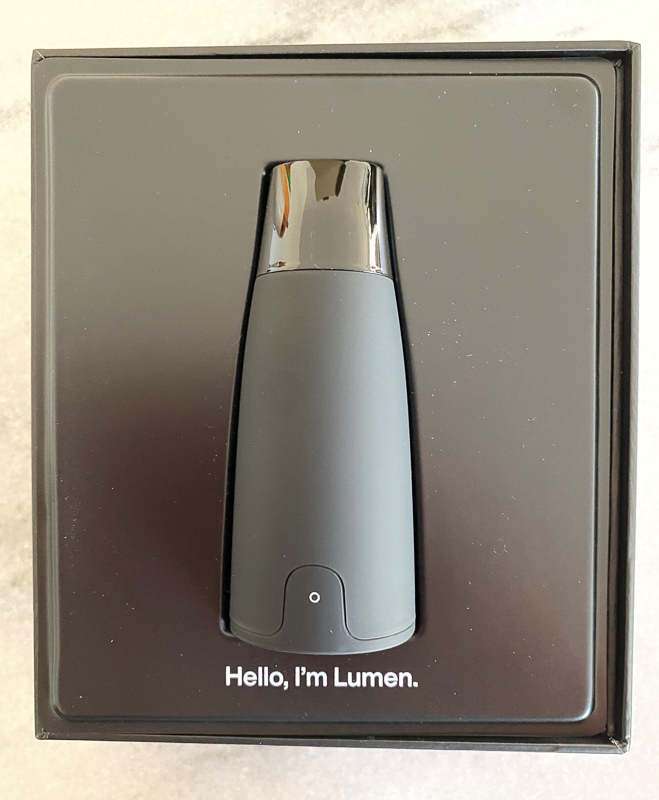 The following items were inside the box.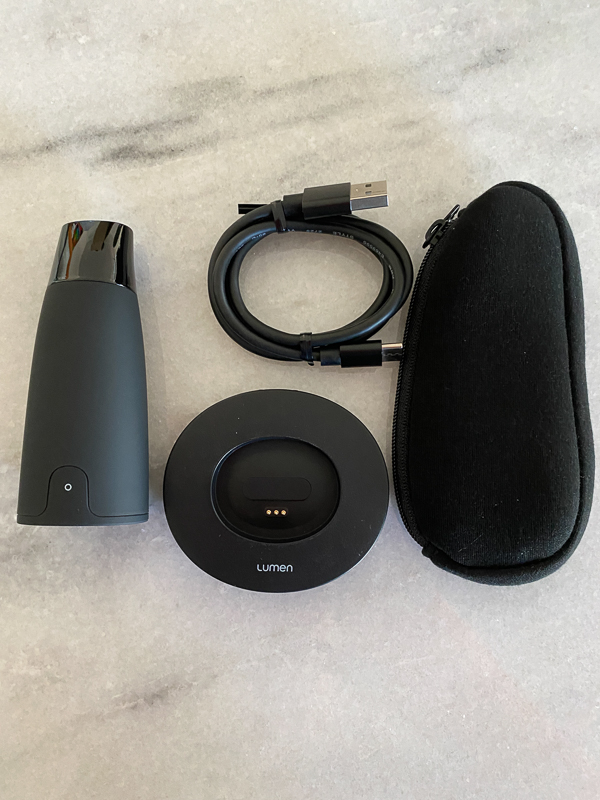 Lumen
Charging cable with micro-usb
Charging stand
Zippered travel pouch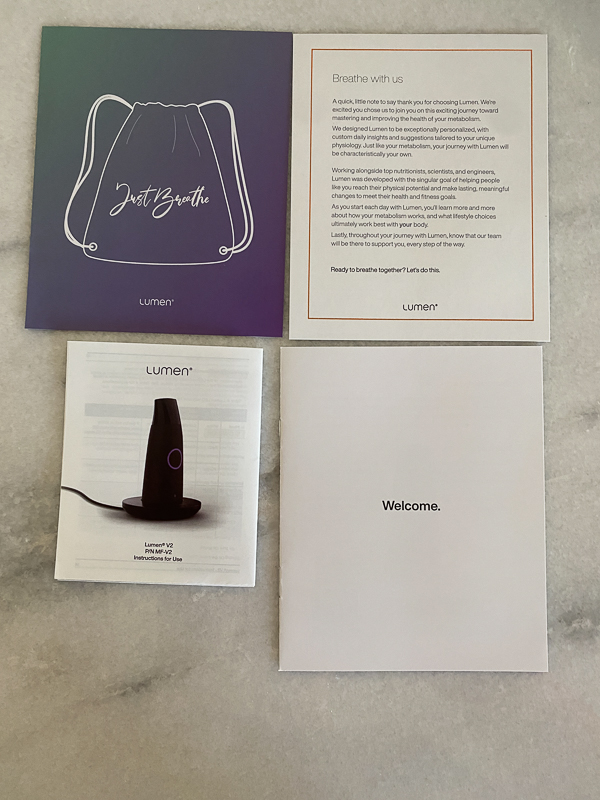 Just breathe card with an ask to share your story on Facebook and Instagram to win a swag bag full of goodies
A thank you card for purchasing the Lumen and why they developed the device
Instruction fold out showing the parts of the Lumen and how to load the app and charge the device
Welcome pamplet also showing how to get started and more detailed info about how the device tracks and provides daily feedback
Setup
The picture below is of the Lumen.  It is only four inches tall and an inch and a half wide at its base.  There is a removable metal magnetic cap at the top where you breathe into the device and a power button on the bottom where you see the white circle.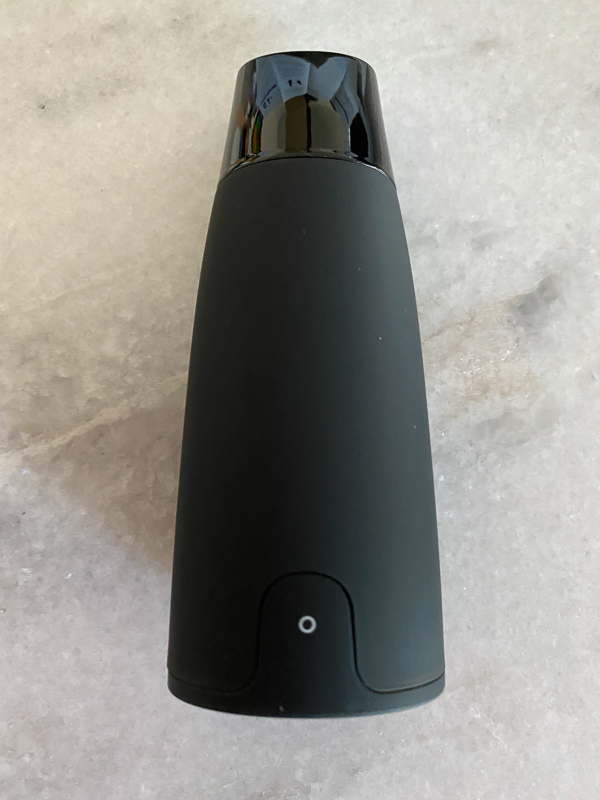 This next picture is of the bottom of the Lumen.  You can see the three charging connectors and a mesh area.  This is where the air you breathe in and out of the Lumen comes and goes into the device.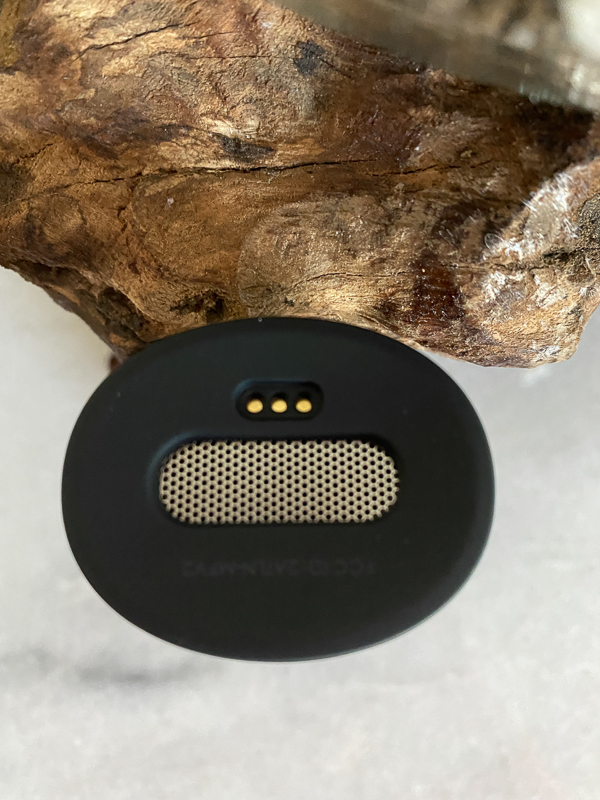 This next picture shows where I took the cap off the Lumen and show the breathing tube.  The tube itself is metal.  As I stated earlier, the cap is metal and attaches to the main body of the Lumen via magnets that I could not see in the cap or the body of the device.  It does give a satisfying snap/click when it goes in place.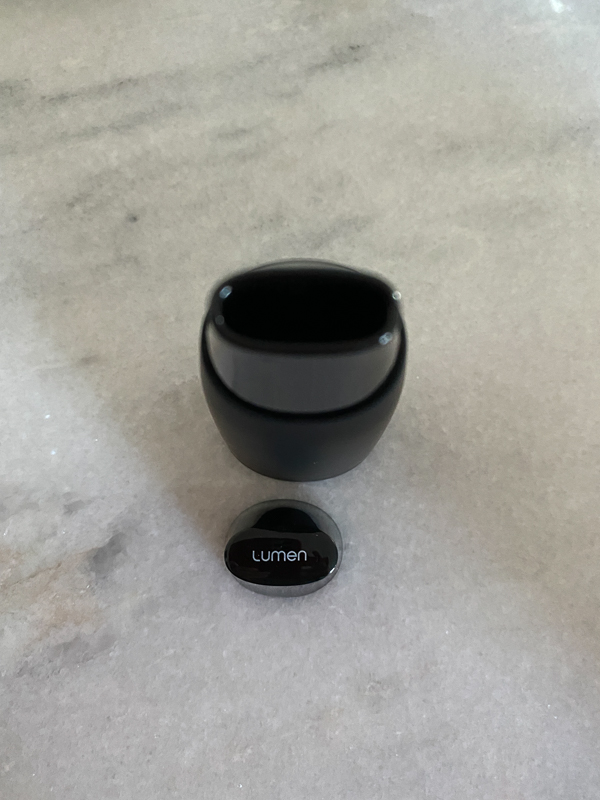 Next I have a close up of the charging base.  It is nice and small being only three inches wide and two and a half inches deep.  It is weighted along with having a rubber ring on the bottom.  It stayed in place nicely wherever I placed it.  You can also see the three charging pins that match up with the pins on the Lumen.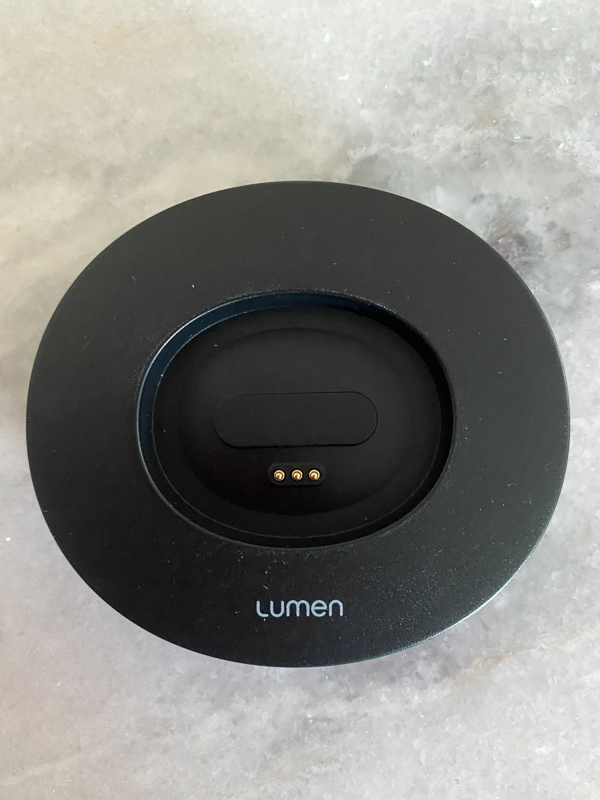 Placing the Lumen on the charger, a ring lights up and pulses this purple color while it charges.  It is all very elegant and clean looking.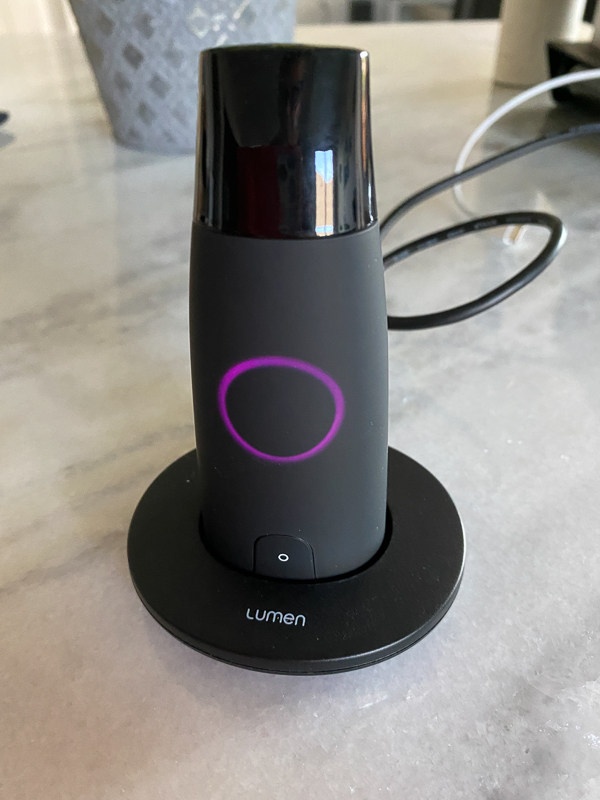 Once charging is complete, the ring will glow green.  I have used the Lumen now 3-5 times a day for 3 weeks and it is just now showing 60% charge.  If you have it fully charged, you should not have to take the charger with you unless you are gone for a long time or use it many more times during the day than I did.  Which is easy to do.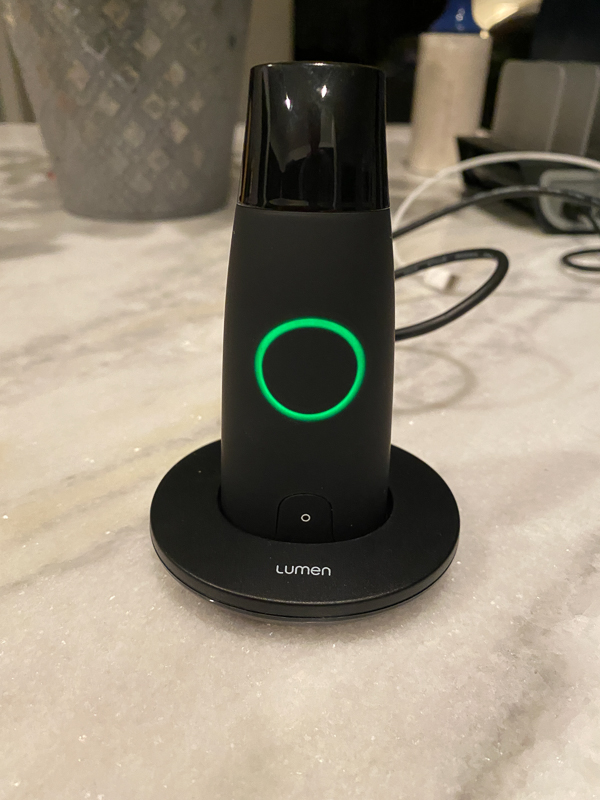 The first thing I did while the device was charging was to load up the Lumen app on my iPhone 11 Pro.  They have an app that works on both Apple and Android operating systems.  The screen shots below show you the steps I went through to set up the device to my needs.  It asks you why you want to use the Lumen and to pick a track.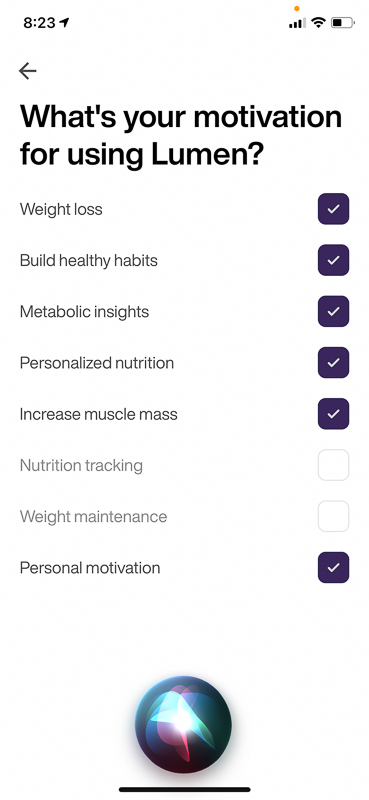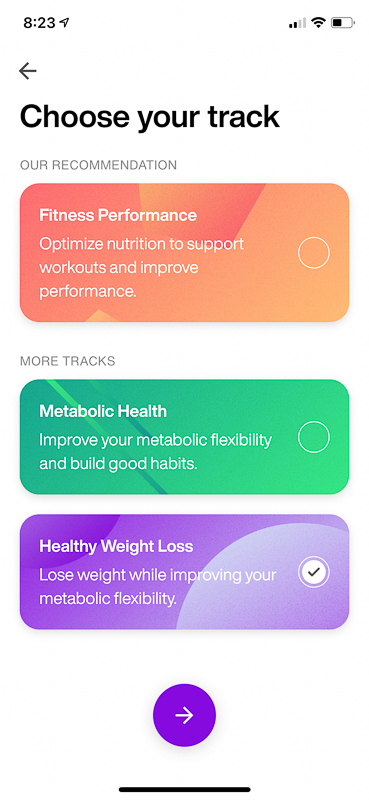 It then reviewed what I picked and took me through the steps of measuring my breath and see what I was burning for fuel.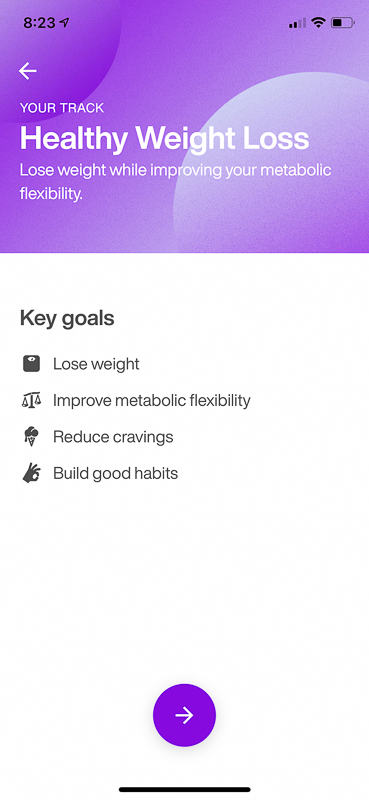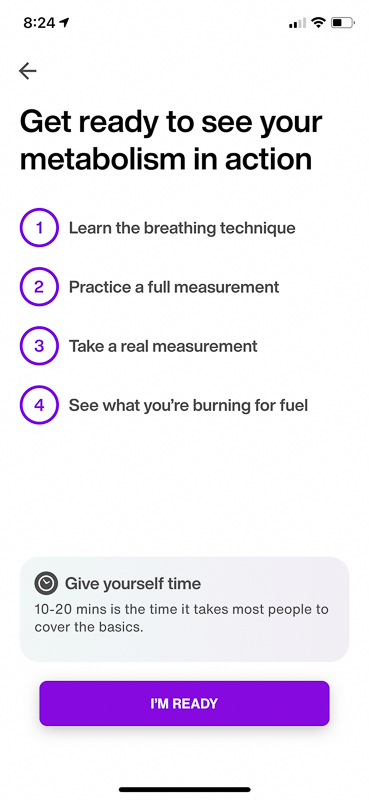 When inhaling there is a series of circles that get wider and change color until the outside circle is lit and the color is green.  It allows you to take a really full and deep breath.  They recommend first that you be sitting down and be relaxed.  If you just finished working out or getting your heart rate up at all it will ask you to rest anywhere from a minute to 3 minutes before taking the breath.  It knew what my heart rate was, because I allowed the app to connect to the fitness data on my Apple watch.  You also want to take a couple of calming deep breaths before taking the one big breath through the Lumen.  You can feel some resistance as you inhale and exhale.  Once you are done inhaling, you hold your breath for 10 seconds to allow the air to mix properly inside you.
When you exhale, there is a bar with a ball that moves left and right inside it.  Your goal is to exhale with just enough pressure to stay in the middle grey area.  This ensures you don't blow out your breath too hard.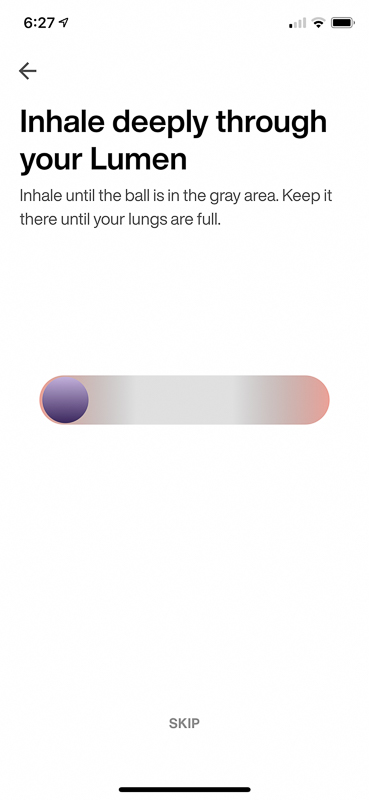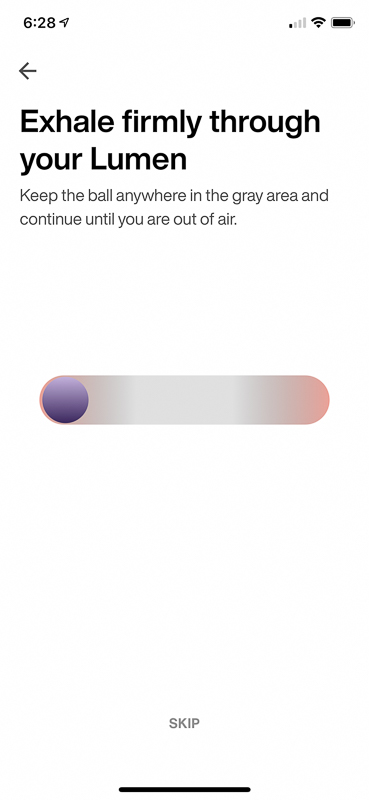 The left picture below is a better picture of the circle as you breath in.  The next screen is telling you the importance of your first breath test in the morning.  If you only do one a day, this is the one you want.   It sets your daily nutrition plan and lets you know how well your body has shifted from carb to fat burning.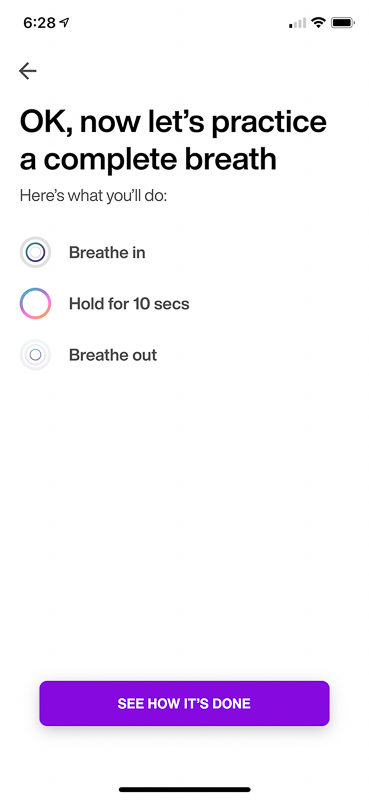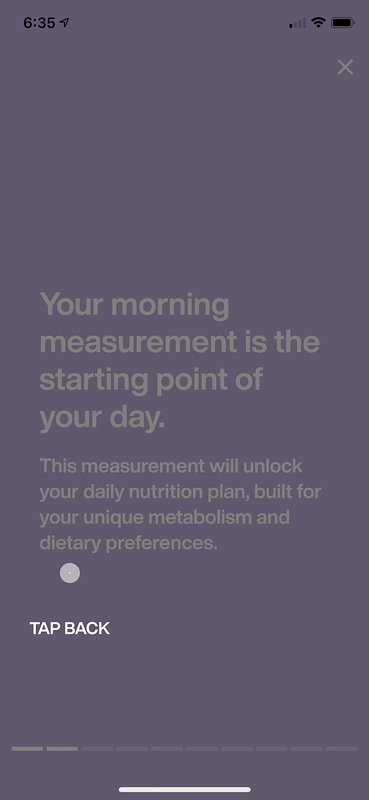 This was my first real measurement I took the next morning.  I was at level 3 and burning both carbs and fat.  The next screen shows you all of the times you should take measurements so you can get an idea of how your body switches from burning fat or carbs.  You can also set a custom time and name it if you have a special moment you want to measure.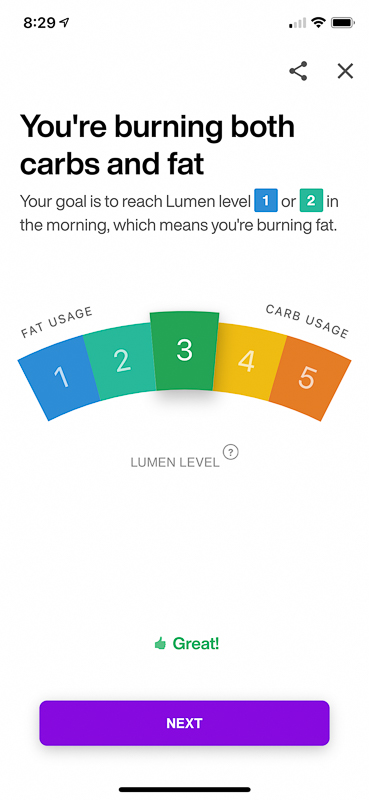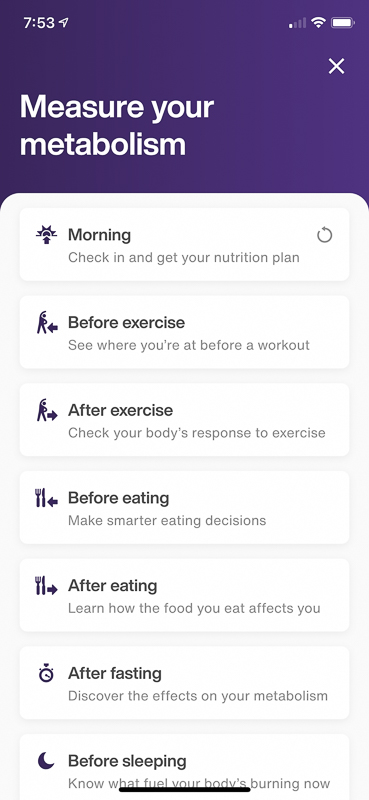 Performance
When I was setting myself up in the app, it asked me for my exercise routine.  At that time with my broken wrist, I committed to walking three times a day for 20 minutes.  I did this inside the house.  Walking outside in the Texas heat with a cast sucks!  Each morning I was presented with the screen below asking how my day went.  I recorded my sleep, fasting time from the last time I ate the day before to the first time I will eat today.  It also asked how many carb servings I ate yesterday.  I love that I do not have to give up carbs.  I watch them more closely now and can tell a difference.  It also asks me if I did the three walks I said I will and I have the opportunity to add more workouts if they took place.  It took the steps and floors climbed from my watch.  I wish it would also just grab the workouts from my watch.  You can see initially I was a pretty big fail on the old carb watching!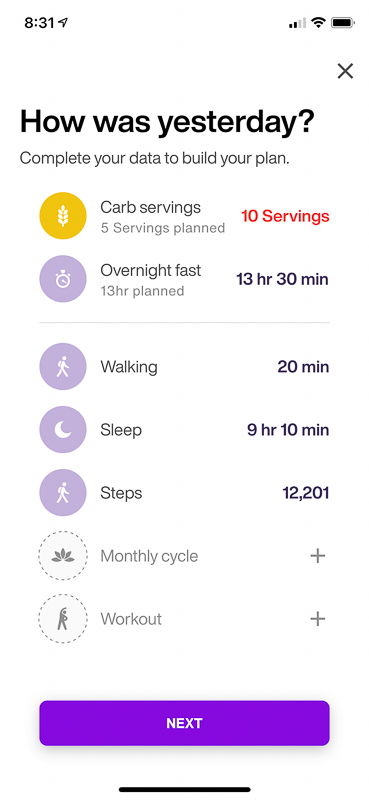 It then gave me my nutrition plan for the day and showed me that I have three walks planned for the day.   Most of my days are only five servings of carbs per day.  A serving of carbs is 15 grams not counting any fiber or sugar alcohols.  Clicking on the 'follow my nutrition plan' brings up a whole new screen of helpful tips and places to go in their FAQ area to get your questions answered.  I know a future modification to their app is to add a food tracking capability.  They recommend weighing food, several food tracking apps, food logs, and how to read nutrition labels.
The screen below is showing a 'boost' day.  One day a week you are allowed more carbs than normal.  This is to keep your body from getting acclimated to a routine.  I love boost days!!!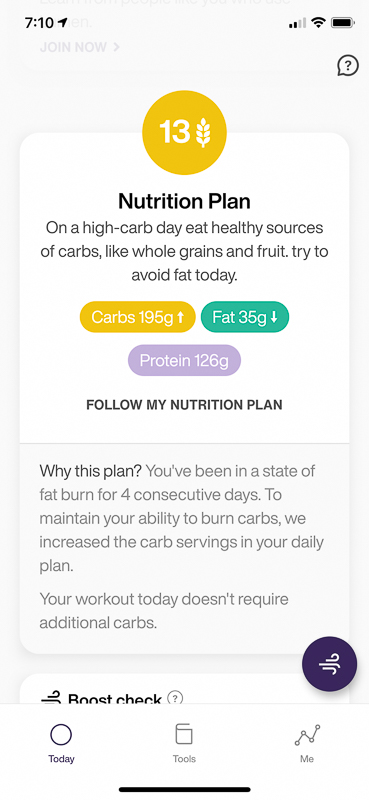 At the end of the week, you are shown a recap showing what you were burning at the beginning of each day.  I now know why Saturday started off as a level three.  It was mainly due to me eating a dessert of ice cream around 8 pm.  I have found that if I stop eating before 7 pm and do not have a meal until 9 am the next morning, I can be in a fat-burning stage.  I also usually get one of my walks in during that high-fat burning time period.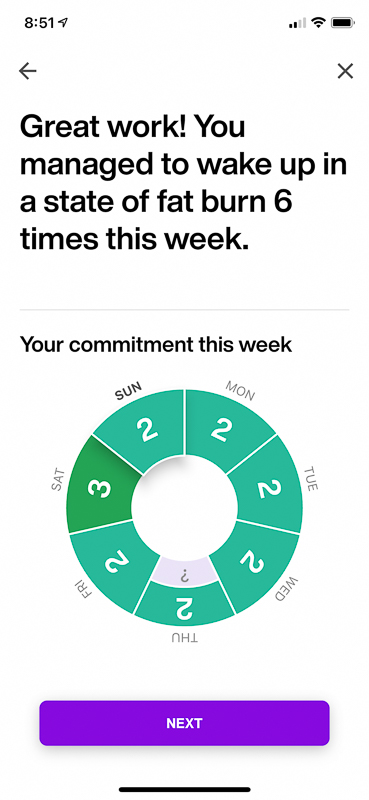 At the end of each week, I also get an email recapping my stats for the week.  It has the circle above showing my fat-burning stage each morning.  It also has graphs showing how many hours of sleep each day I received along with one for my fasting, steps, and carb servings.  It compares to last week and tells me if I did better or worse.   The app, emails, and notifications all do a great job of making me more aware of how well I am taking care of my body.
The picture below shows the almost four weeks I have been using the Lumen.  You can see where I started out in a more fat/carb combo of burning and have now managed to be in a fat-burning stage almost every morning now.  I am much more aware of what I am eating and when I eat.   I am a sucker for desserts and I find that if I can manage to skip them, I can lose weight like I am supposed to.  That along with a good fast the night before really helps me start the day off burning fat.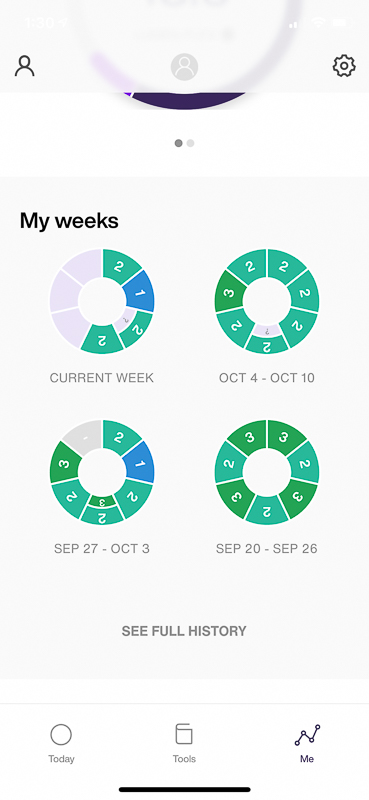 Another thing the Lumen does is give you a Flex score.  The Flex score is measured on a scale of 0-21 and indicates how flexible your metabolism is.  I did not receive my first Flex score until I was two weeks into using the Lumen.  It looks at the fat burn, carb burn, and body check.  Body check looks at your body clock and sees how it is in sync with your daily lifestyle.  I am currently at 13.5 which is up 12.5% from my first score.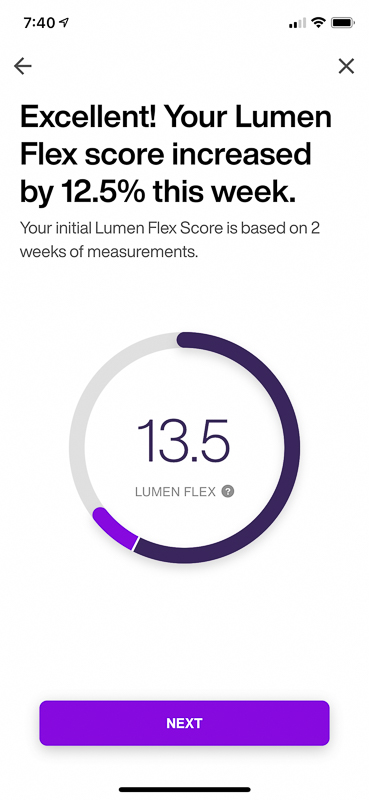 What I like
Well built, elegant, small, and portable
Holds a charge for a long time
The app is awesome.  There are so many tips and helpful videos in the app.  It also gives you so many ways to track your breaths.   It is very customizable.
Lots of encouraging and helpful tip emails.
What needs to be improved
It would be awesome if it had food tracking built into the app.
It would also be great if it were to pick up my workouts from the Apple watch.
I am not sure since I don't sleep with the watch on, but if it could get sleep tracking info from the watch that would be awesome.
Final thoughts
I have really enjoyed using the Lumen.  It has taught me a lot about how my body works when it comes to fat/carb burning.  Having this info allowed me to make what I consider some minor lifestyle changes and made me more aware of what I was eating every day.  I think it allows you to make better choices than just starving yourself on some fad diet or giving up some food item like carbs completely.  In the almost four weeks I have been using the Lumen, I have lost about 4 lbs.  What is more important to me is that my clothes are fitting much better.  Once my wrist gets better and I can start weight training again, I feel I will make more progress faster.
Price: $249 for a 6-month track on the app and renews monthly at $19, $299 for a 12-month track and renews annually, $349 for an 18-month track and renews annually
Where to buy: Lumen
Source: The sample of this product was provided by Lumen.