We use affiliate links. If you buy something through the links on this page, we may earn a commission at no cost to you. Learn more.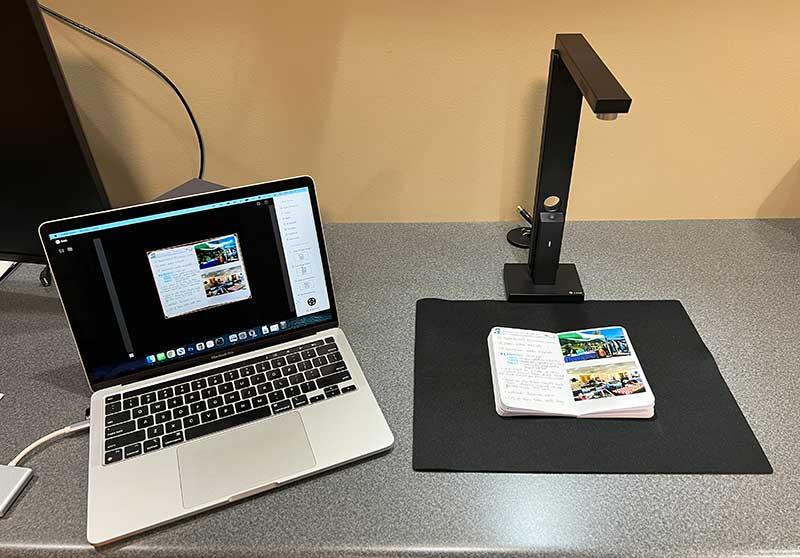 CROWDFUNDING REVIEW – I remember having a flatbed scanner back in the day. It was always a pain to scan a large document because it had to be done one page at a time and if the pages were printed on both sides… well, ugh. These days, if I need to scan a document, I'll do it with my phone, but again, I wouldn't want to do that if the document was more than a page or two in length. Can you imagine how much "fun" it would be as a student who might need to scan multiple pages of reference material? Well, that's where a scanner like the CZUR Lens Pro can make things much easier. This portable scanner can go with you to the library or anywhere you might need to scan multi-page documents quickly. Let's check it out.
What is it?
The CZUR Lens Pro is a portable scanner that you can use to quickly scan books and documents. It's currently seeking funding on Indiegogo.
Hardware specs
Sensor: CMOS
Resolution: 12 MP, 330DPI
Scan speed: <= 1 sec
Output format: JPG, PDF, Searchable PDF, Word, Excel, MJPG
Image resolution: 3968 x 2976
Image color: 24bit
What's in the box?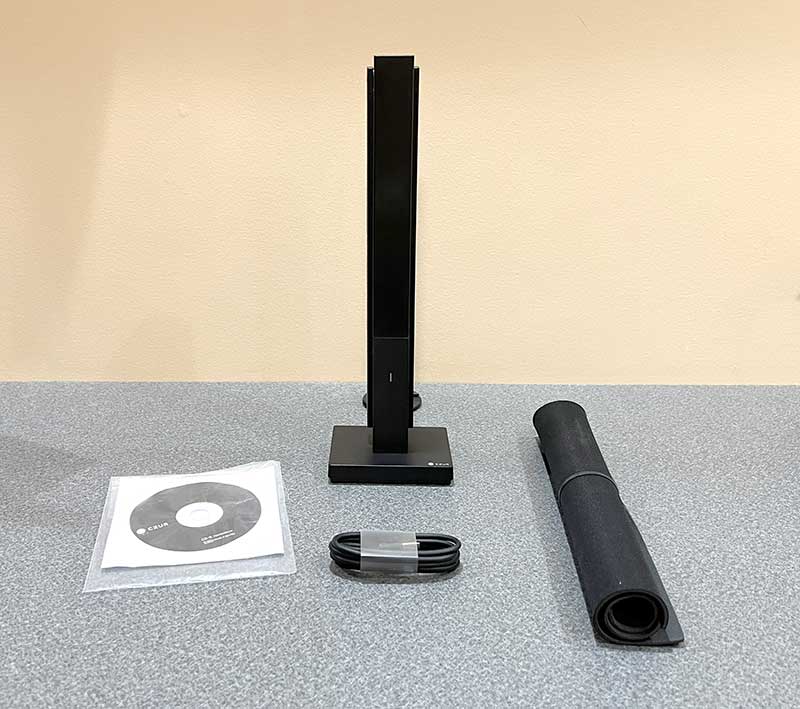 CZUR Lens Pro scanner
Black work mat
USB power cable
CD
Manual
Design and features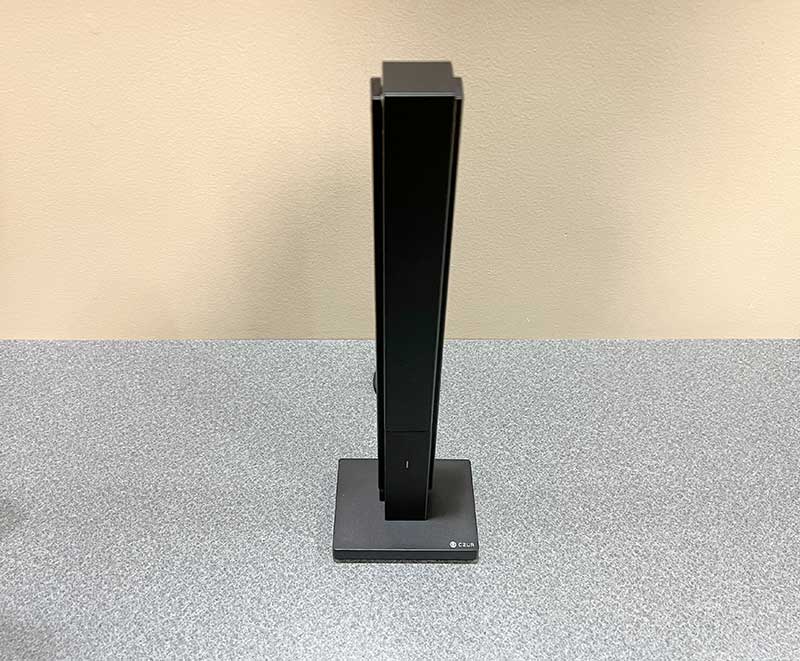 Compared to those flatbed scanners from years ago, the CZUR Lens Pro is positively svelt. It won't take up much room on your desk because it folds up when it's not being used. Add in the fact that it doesn't require a power cable or power brick and it is even small enough to carry with you in a backpack.
The CZUR has a 105mm x 78.5mm sized base that has a power button on the front of the folding camera arm.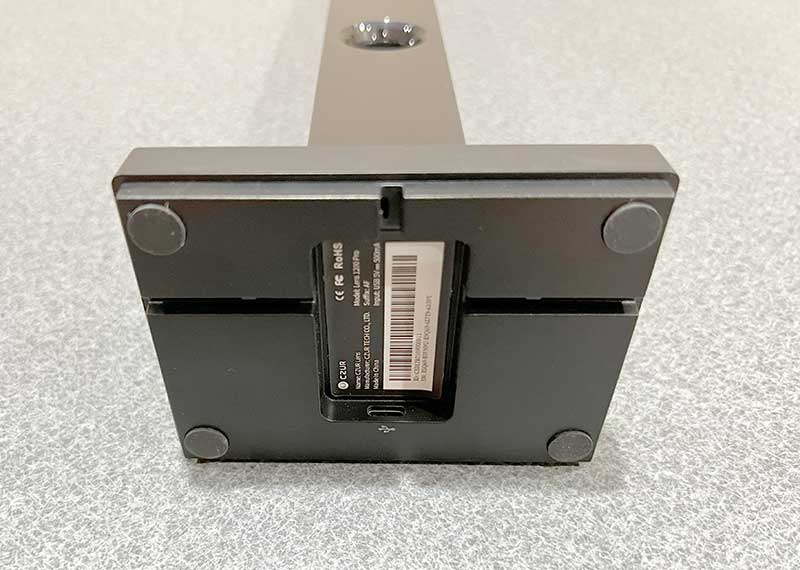 The base has a USB-C port on the bottom for power.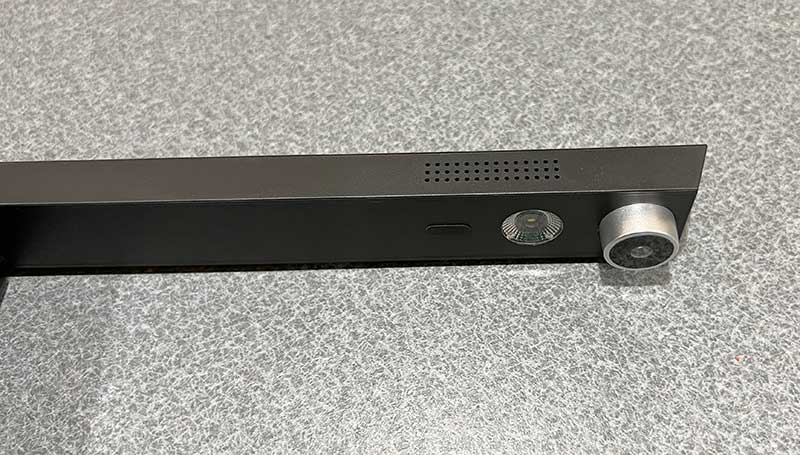 There's a camera and lamp.
The black rubber mat comes with the CZUR Lens Pro. It's designed to be placed in front of the scanner and is used as the scanning surface.
Ready, set, scan!
Before you can use the CZUR Lens Pro document scanner to scan a document, you'll need to install the scanning software. There are two apps. There's the CZUR Lens app for scanning and there's the CZUR Camera app that is used to turn the CZUR Lens Pro into a video camera. More about that in a bit.
With the scanner connected to your Mac or PC via the included (or any USB-C) cable, and the Lens software loaded, it's time to scan.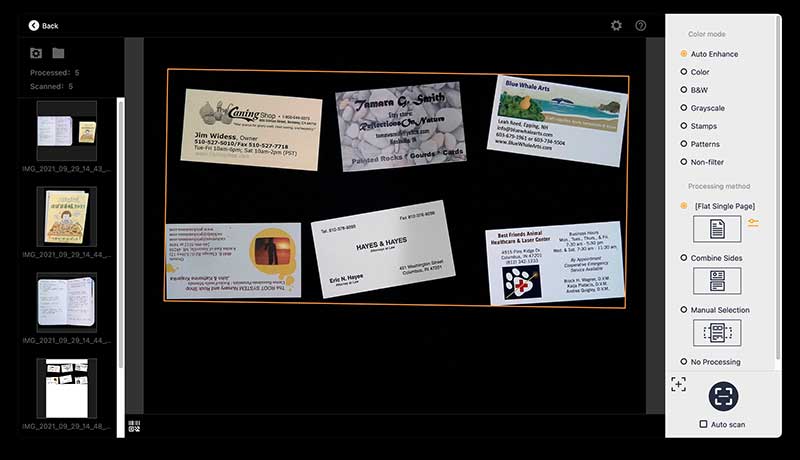 The document or items that you want to scan are placed on the black work mat. The mat's color makes it easier for the software to detect the document's edges.
In the example above, I placed 6 business cards on the mat and scanned them. The result was one image containing all 6 cards. Not really all that useful right?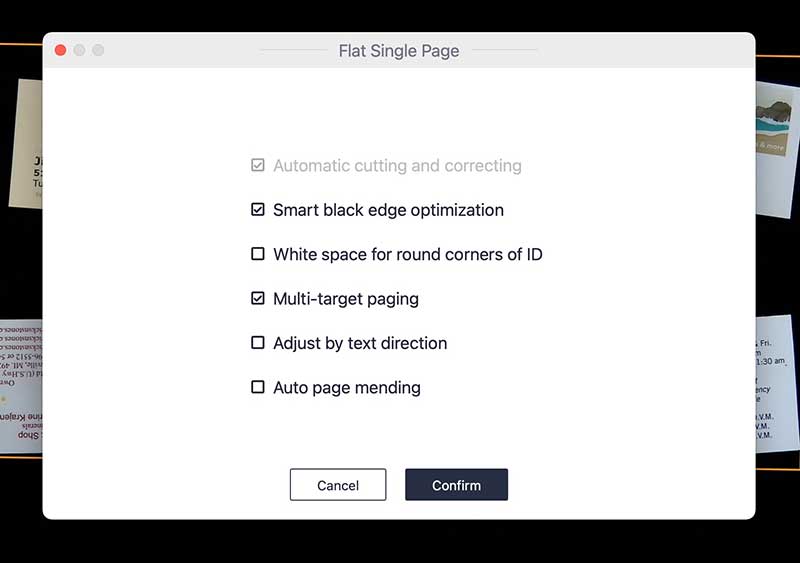 With a quick tick of the Multi-target paging box, that all changes…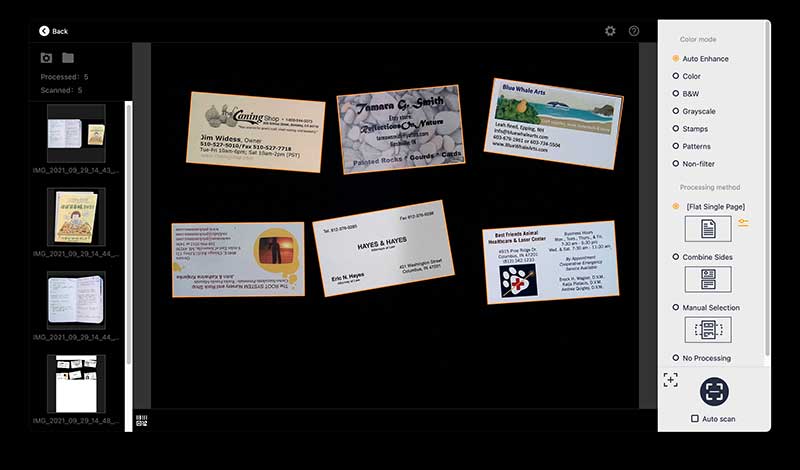 With that feature enabled, the scanner detects each individual card and when the auto-scan button is clicked in the software, individual images are created. Cool!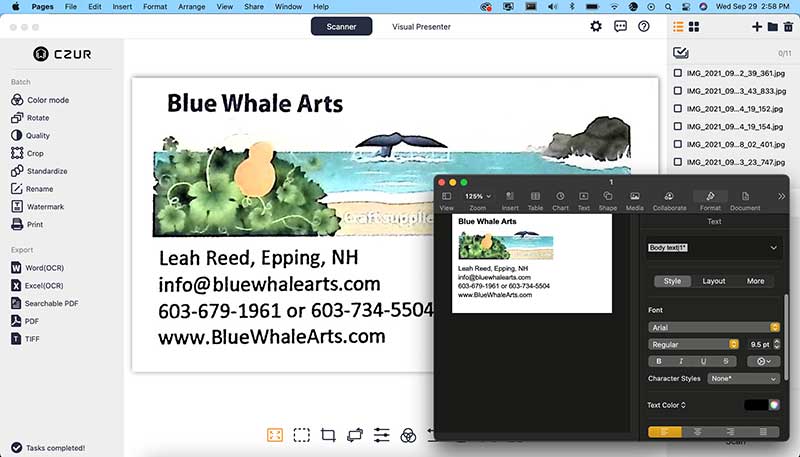 But it gets better. The software also has an OCR (Optical Character Recognition) feature. When you do an OCR scan, it can save the file as a scannable PDF, or a DOCX. I scanned one of the business cards as a DOCX file and the result was a file that I could select and copy the text.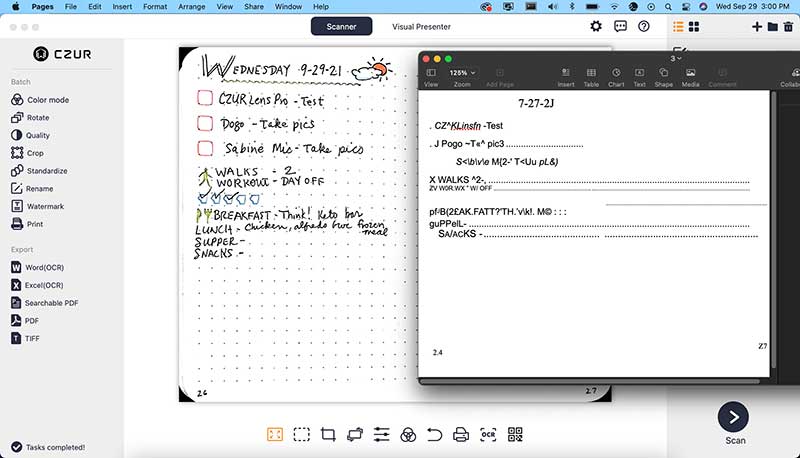 I tried the same thing with a handwritten document and the results weren't so good as you can see above. The OCR feature pulled out a couple of words but that's it. Google Keep does a much better OCR than the CRUZ software.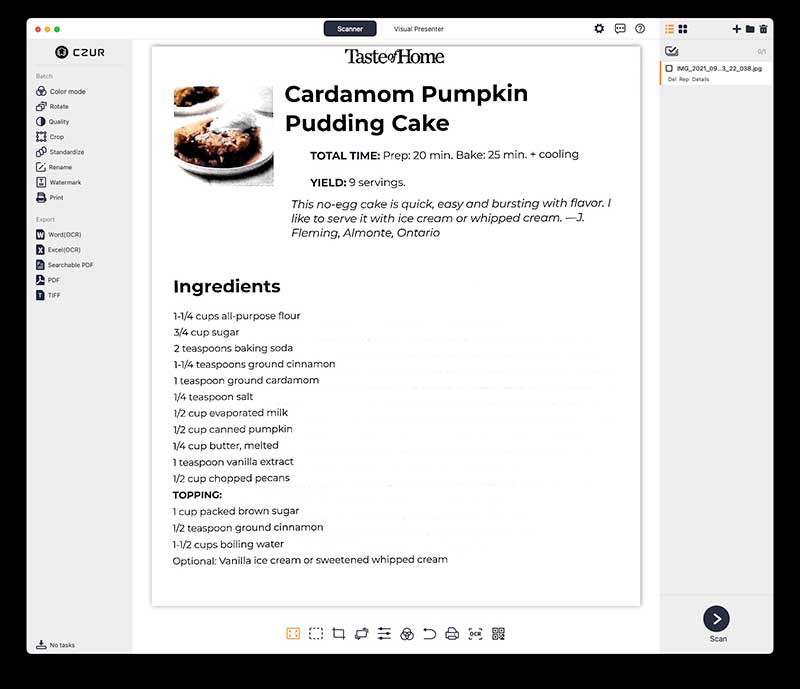 As a document scanner, the CZUR Lens Pro does a really good job. It can even "repair" a page with a torn corner to make it look whole again.
But wait, there's more!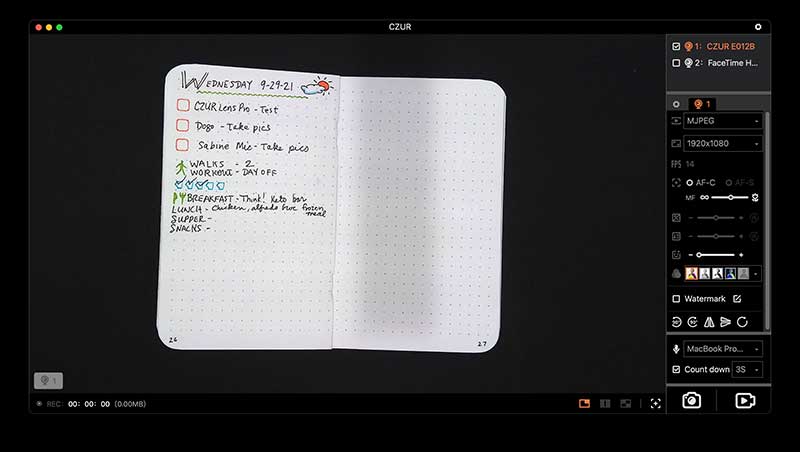 There's also the CZUR Camera app which lets you use the CZUR Lens Pro document scanner as a web cam or video camera.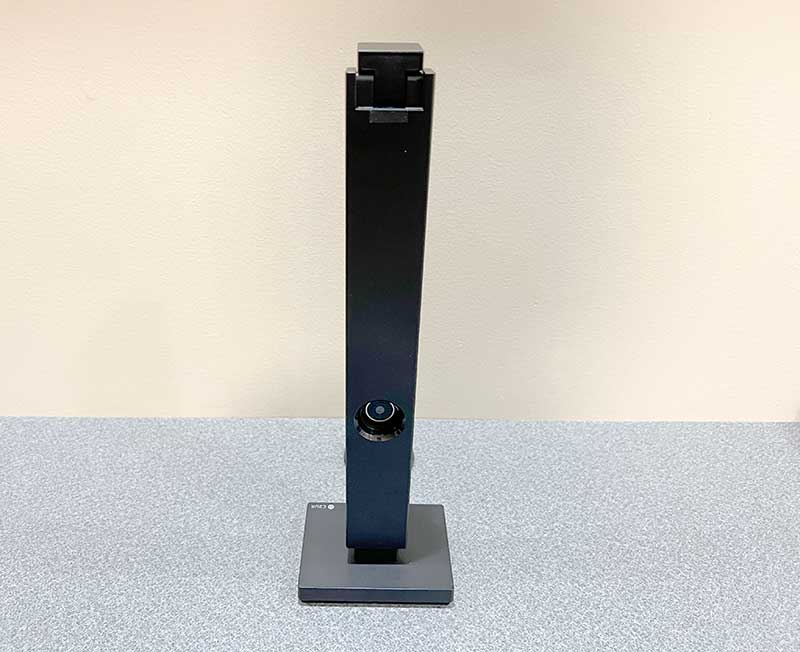 The CZUR Lens Pro portable scanner can also be used as a task lamp and a webcam. The task lamp feature is self-explanatory, since pressing the power button will turn on the scanner's light. But a webcam? Yes, notice how there's a hole in the camera arm support. This hole matches with the camera so you can rotate the support on the base and when connected to your computer, it will function as a webcam with a built-in microphone. You will need to put the CZUR up on a box or something to raise the camera's height. Here's a quick video demonstrating the video capture quality. Hint… it's not very good.
You'll notice some wavy lines in the background of the first clip. Not sure what is causing that.
What I like
Portable
Fast scanning
Software straightens and flattens pages
Can also be used as a webcam and lamp
What I'd change
Improve the video capture and microphone quality
Final thoughts
As a lightweight document scanner that folds for easy transport, the CZUR Lens Pro is a useful mobile gadget with some great scanning features. If you want it to double as a webcam, it can, but don't get too excited about using it for Zoom meetings because the video capture quality and microphone quality leave a lot to be desired. With a price tag of $79, I don't have any problems recommending this document scanner for people who need a mobile scanner or need to record DIY top-down type video with picture in picture.
Price: $79.00 (shipping due December 2021)
Where to buy: Indiegogo
Source: The sample for this review was provided by CZUR.