We use affiliate links. If you buy something through the links on this page, we may earn a commission at no cost to you. Learn more.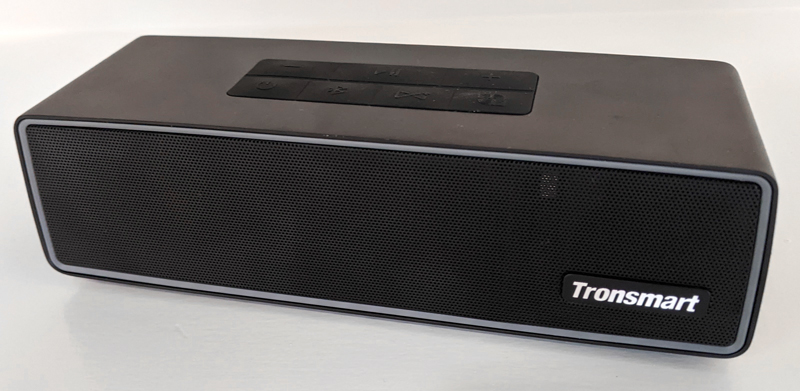 REVIEW – I have owned a lot of Bluetooth speakers in my life, and most of them are gone.  After repeated use and carrying them around in backpacks, briefcases, suitcases, cars, and more, they get banged up, worn out, or more likely than not the battery just won't hold a charge anymore. And most of them are made from cheap plastic with maybe some rubberized coating around it somewhere. But the $69.99 30W Tronsmart Studio Bluetooth Speaker intrigued me for several interesting features.  Let's see how it measured up.
What is it?
The Tronsmart Studio is a portable Bluetooth speaker with several standout features like app syncing with equalizer, intelligent voice assistant, and syncing audio with up to 100 speakers.
What's in the box?
Tronsmart Studio Bluetooth Speaker
USB C cable, 24 inches
Aux cable, 24 inches
User manual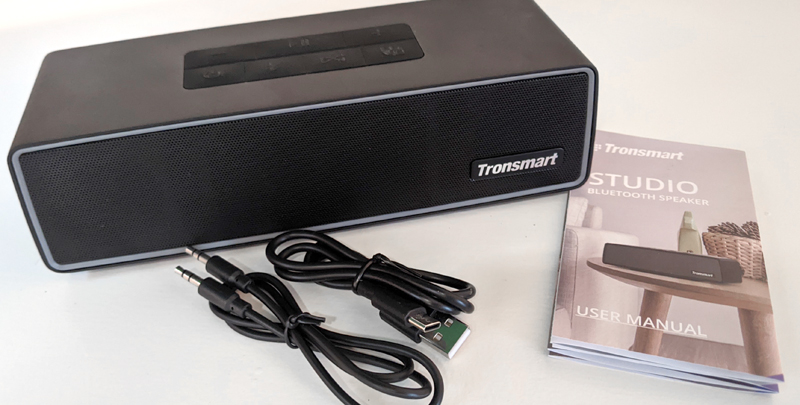 And here are the specifications from Tronsmart:
Colors:  Black
Technology:   SoundPulse®
Material:  Aluminum
Power:   30W RMS
Bluetooth Version:  5.0
Bluetooth Compatibility: A2DP/AVRCP, HFP
Transmission Distance: Up to 10m/32.8ft (Open Area)
Water Resistant:  IPX4
Power Supply:  DC 5V/2A via Type-C Port
Battery Capacity: 7V/2500mAh*2
Play Time:  Up to 15 Hours (on a 50% Volume)
Standby:  About 24 Months
Charging Time:  About 3 – 3.5 Hours
Frequency Range:  20Hz – 20KHz
Dimension:  13 x 2.76 x 2.28 inches
Net Weight: 3 lbs
Design and features
First let me speak to the build quality of the Tronsmart.  The outer shell is a brushed solid metal aluminum with rounded corners on the sides to make it easy to hold.  It feels very solid in your hand and the size is about the size of a 6 inch sub sandwich.  You can easily fit this into a backpack, glove compartment, suitcase, center console, etc.  The buttons on the top are rubberized with raised symbols on them so that you can tell which button you are pressing by the feel.  And that is a good thing because my only qualm with the Tronsmart Studio is that the buttons on top are just too dark for my old eyes to clearly see.  And I do wish the raised symbols on the buttons were more raised.  The typical lighting inside my house just isn't bright enough for me to clearly see the buttons, and I have to be in bright sunlight outside to be able to tell which button is which.  Having said that, it isn't a big enough issue for me to turn up my nose at the Tronsmart Studio. The buttons you'll find are for Volume up/down and advancing back and forth between tracks, power, Bluetooth, play/pause, Broadcast mode (more on that later), and a button to answer phone calls/activate voice assistant/ SoundPulse® (more on that later). There are also several colored indicator lights on top between the buttons where you can tell how much power is left, if Bluetooth is on, etc.
The Studio has a metal mesh speaker on both the front and back of the unit, so sound actually goes out the front and the back, which is one of the great features of this speaker.  Plus, the metal mesh means you won't accidently puncture a cloth mesh covering like some speakers.  On the bottom of the unit you'll see a nicely sized rubberized foot that covers about half the bottom of the speaker and keeps it from scratching whatever surface you place it on.
On the back, you'll see the USB-C charging port, the Aux port, and a micro SD card slot for side loading your music if you want.  I popped in my 16 GB micro SD card with music, pressed the Bluetooth button on top to switch over to the SD card and it played like a charm! It is also IPX4 rated, which means it can withstand water splashing, rain, sweating, moisture, etc.  You can't completely submerge the Studio in water though.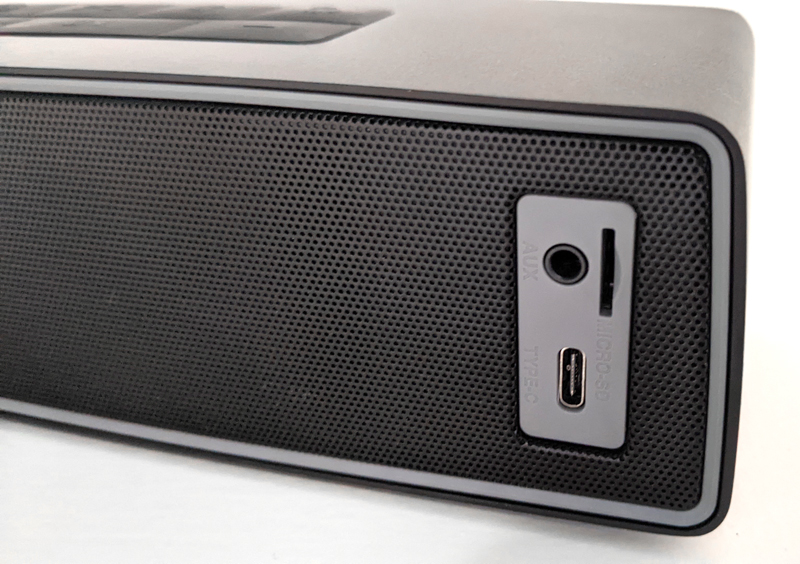 Tronsmart has an app for their products which works great. You connect to your phone/tablet via Bluetooth and then the app recognizes it pretty quick.  Once you are in the app you can do a few things.  You can power the Studio off.  You can check the battery level.  And you can switch the equalizer among 8 different modes: Default, SoundPulse®, Deep Base, 3D, Hi-Fi, Classical, Vocal, and Rock.  Here is a screenshot: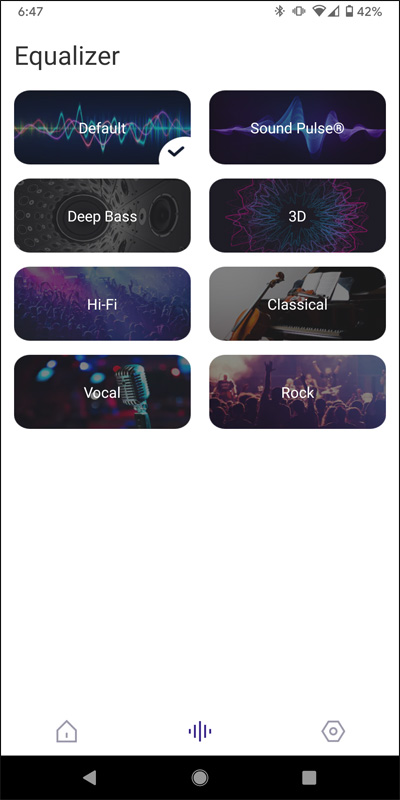 Honestly, I have tried all the modes more than once and I just found myself staying with SoundPulse® because the sound quality is just head and shoulders above all the other modes. So I can hear you now: what is SoundPulse®? Tronsmart says it is their "patented algorithm, an upgraded version of DSP technology which works alongside a customized chip and large power chamber. With this combination of advanced engineering and sophisticated software, Tronsmart SoundPulse® technology delivers more balanced, more detailed, and more defined audio."  Sounds like a bunch of marketing mumbo jumbo, but I gotta say, whatever it is I love it. The sound is just amazing even when I turn it up all the way.  It never distorts and I honestly can't play it with the volume all the way up because it is just really loud.  I do however, from time to time, switch over to the Deep Base mode because it really does a good job of showing off the base in a song that has a lot of that.
Performance
For you audio geeks out there, the Studio comes with 1 woofer and 2 tweeters, along with 4 passive radiators.  I had to look up what a passive radiator was (don't be hating!) and basically for those among us who don't know either, it allows a smaller speaker to produce lower frequencies of sound than they otherwise would be able to.  I can attest that the Deep Base mode does provide some really nice deep sounds and it is very good for the size of this speaker.
The battery life is stated to be 15 hours at 50% volume, and that is just about right.  On the Studio, 50% volume is honestly pretty loud so I usually don't run it that loud.  So I have yet to use it all day and it dies. Now, how long will this battery hold a charge long-term? That's the big question for me, but we shall see. They say it takes 3.5 hrs to charge the 5,000 mAh battery in the Studio via USB-C, but I usually charge it overnight. So while this may seem like a long time to some people to charge it, that really isn't an issue for me.
I will mention one of the much touted features of this speaker, which is what Tronsmart calls their patented "TuneConn" feature that allows you to connect up to 100 speakers together to play music. On the Studio, as I have mentioned before, you'll find a button on the top for "Broadcast", which is the button that is used to connect multiple Tronsmart Studios together to utilize this "TuneComm" feature.  I wasn't able to test this since I only have 1 speaker, so I'll just have to take their word on that. I can't imagine a scenario where I would need 100 speakers but maybe I am just not thinking big enough.  I would love to see a video from Tronsmart where they demonstrate this though.  Tronsmart, are you there?
Finally, one of the buttons activates your phone's assistant (in my case, Google) when you hold it down.  I tested this on the Tronsmart Studio Bluetooth Speaker and it worked great, although I just speak to my phone and my assistant activates, so I don't use that button feature on the Studio.
What I like
Great equalizer choices in the app
Amazing sound
Solid build
Great price
All day battery life
What I would change
Easier to read buttons on the top
Final thoughts
For the price of $69.99 I would buy numerous Tronsmart Studio Bluetooth Speakers.  The portable size, the amazing sound, the corresponding app, the great battery life, and the solid build are worth the price. And if the TuneConn feature works as advertised and you can connect multiple Studios together to place all around your room, well that is just the cherry on top of the sundae for me.  This is a great gift for anyone who likes music on the go and I highly recommend it!
Price: $69.99
Where to buy: Amazon
Source: The sample of this product was provided by Tronsmart.