We use affiliate links. If you buy something through the links on this page, we may earn a commission at no cost to you. Learn more.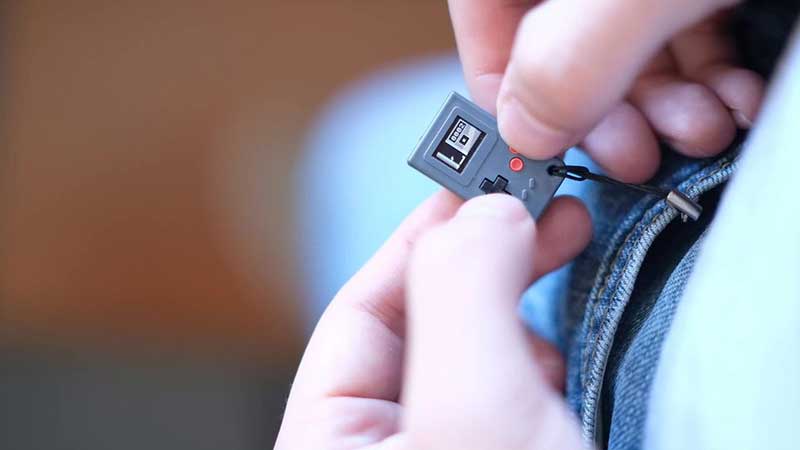 CROWDFUNDING NEWS – Who needs a Nintendo Switch when you can have a gaming console that fits on your keychain and is no bigger than your thumb. It's Thumby and wow is it tiny!
What is it?
The TinyCircuits Thumby is seriously small at 1.2" x 0.7" x 0.3" (29.5mm x 18mm x 8.5mm). But it has an actual working 72×40 pixel OLED monochrome display, a buzzer for audio, a 4-way D-Pad, two control buttons, and it comes with 5 pre-loaded games including a tiny version of Tetris.
Why do I like it?
Thumby is built around the Raspberry Pi RP2040 processor, has a USB rechargeable battery, and you can program your own games for it using Arduino IDE or Micro Python!
They sent me a pre-production sample and it's just as small as it looks in the photos. Being so small it's not a gaming console that you'll find yourself playing with all that much because the buttons are so tiny that you have to use your fingernails to press them.
Thumby is definitely a novelty but that's what makes it fun. When someone sees it on your keychain, they will think it's just a charm until you blow their mind when you show them that it really works!
Where can I find more info?
The Thumby campaign ends on 10/28/21 and they are working towards their funding goal of $15,000. You can pre-order a Thumby starting at early bird pricing of $9 and regular pricing of $19. After the Thumby campaign ends, rewards are estimated to be delivered in February 2022 (early bird rewards will be here by Christmas 2021). Visit their Kickstarter page for all the details.