We use affiliate links. If you buy something through the links on this page, we may earn a commission at no cost to you. Learn more.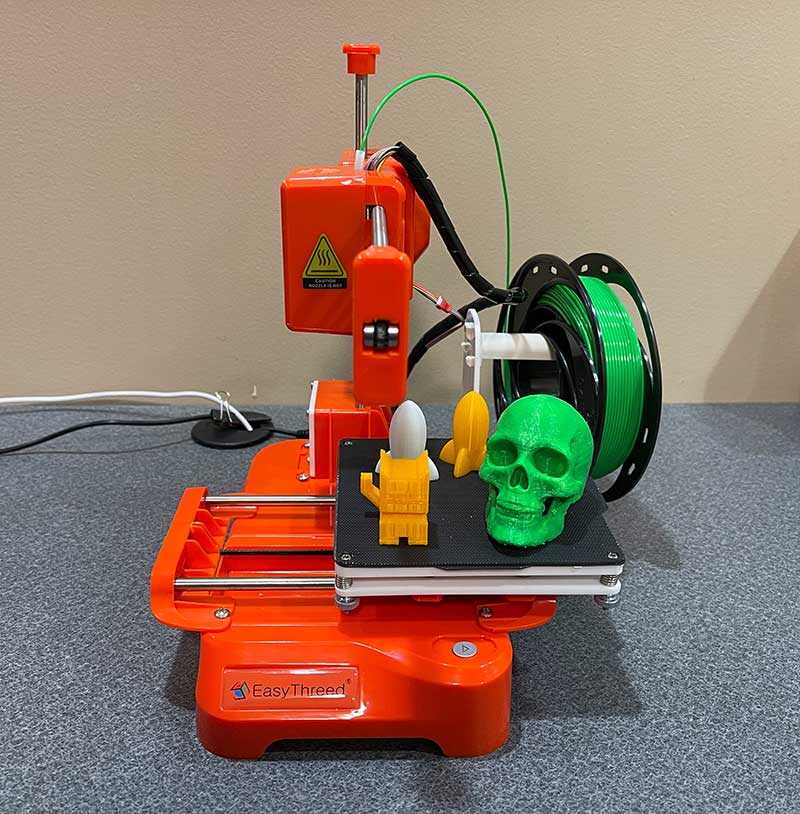 REVIEW – 3D printers are no longer just for people who know how to use CAD programs to create 3D models and they are no longer for people who have 1000's of dollars to spend. 3D printers are now available for everyone even a newbie who only has $100 to spend. What kind of 3D printer can you get for less than $100? That's what I'm going to find out today when I show you the Easythreed K7 mini 3D printer. Let's check it out.
What is it?
The Easythreed K7 mini 3D printer from MadetheBest is a very small 3D printer that is priced at less than $100.
What's in the box?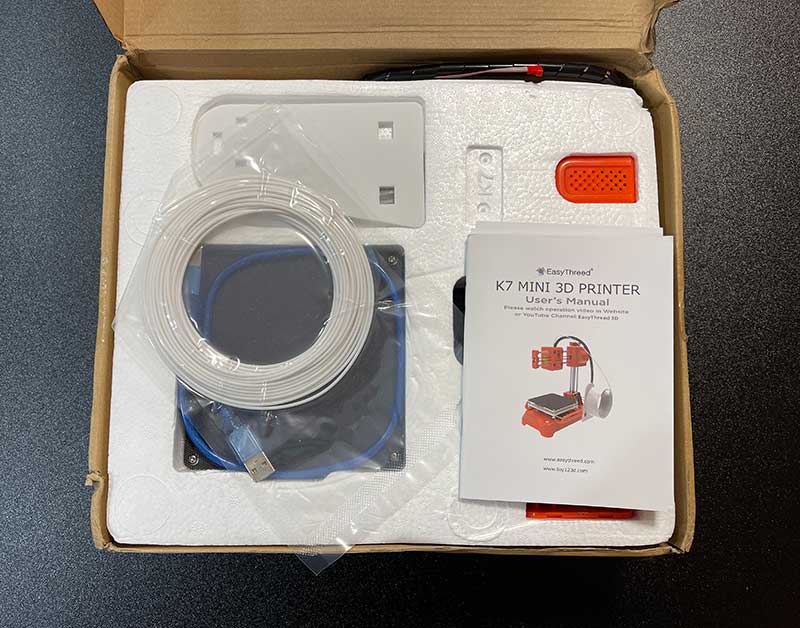 Easythreed K7 mini 3D printer
A small amount of white PLA 1.75mm filament
USB host cable
USB drive with manuals, instructional videos, slicing software, and 2 sample GCODE models
User manual
Hardware specifications
Print Technology: FDM
Building Size: 100X100X100mm
Number of Nozzles : 1
Nozzle Diameter: 0.4 mm
Layer Thickness: 0.1-0.4 mm
Printing Filament: PLA
Diameter of Filament: 1.75 mm
Printing Accuracy: 0.1-0.2 mm
Slicer Software: Easyware K7, CURA, Simplify3D
Extruder Temperature: 180-230℃
Print Speed: 10-40 mm/s
FilaFormat: Input:.Stl/obj, output:.gcode
Power: 12V, 30W
Machine Size: 175x235x270mm
Some assembly is required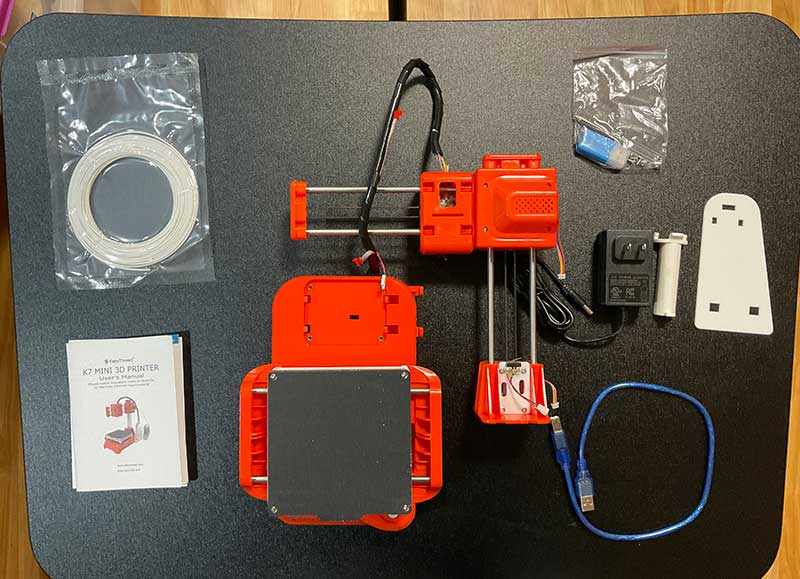 You will have to put together the printer but don't worry because it's quick and easy. There are just two main parts. There's the base with the print bed and the nozzle mechanism which snaps into the base.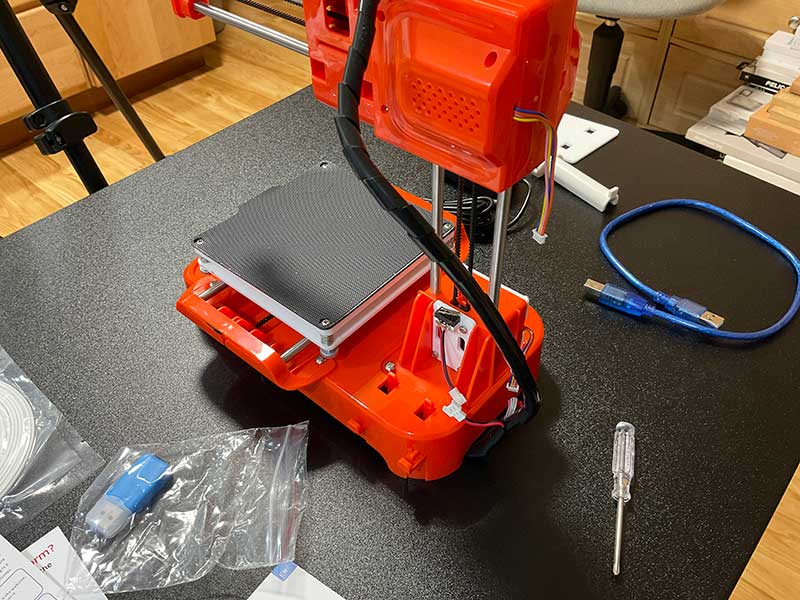 From there you just connect several small plugs and secure the nozzle mechanism with 4 screws.
Then you snap on the filament holder and you're all set!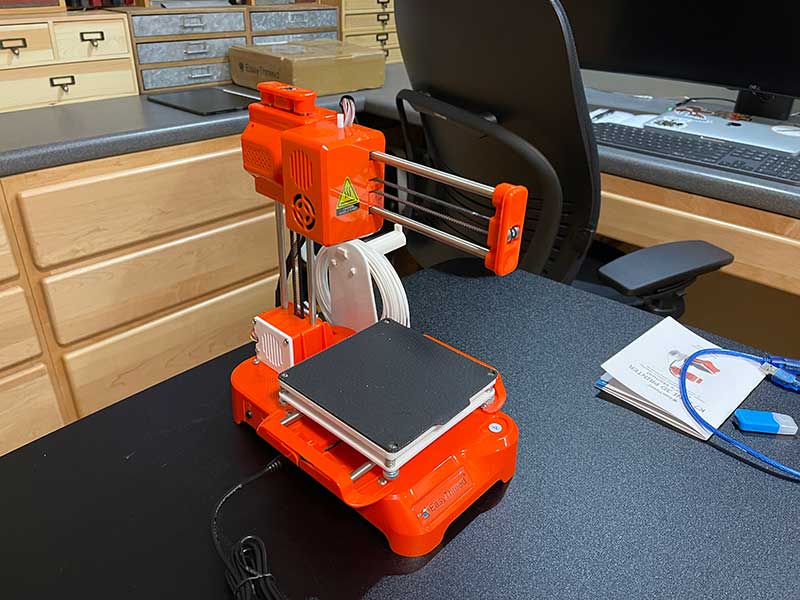 You can watch me put the Easythreed K7 3D printer together in my demo video below.
Design and features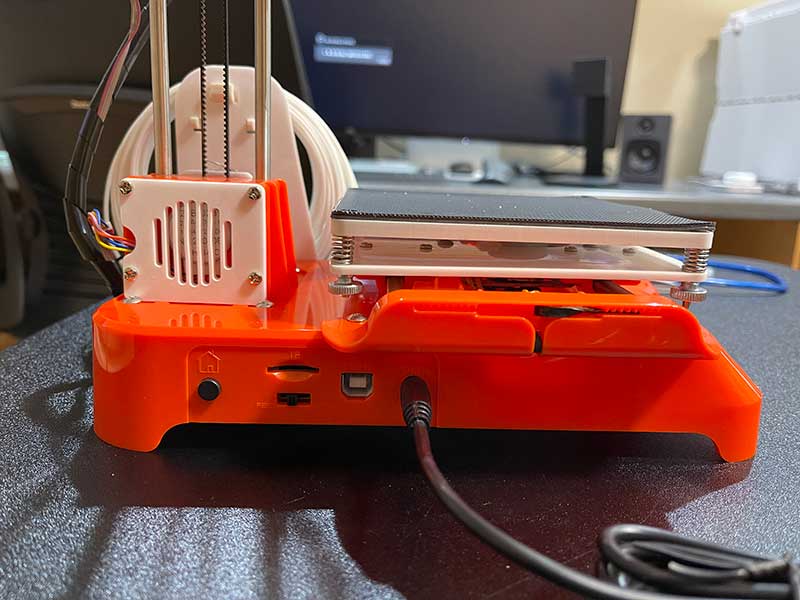 On the left side of the Easythreed K7 3D printer, you'll find a Home button that moves the printing nozzle to the back left corner of the print bed. On this side of the printer, you will also find a microSD card slot, feed mode selector switch, USB host port, and power connector.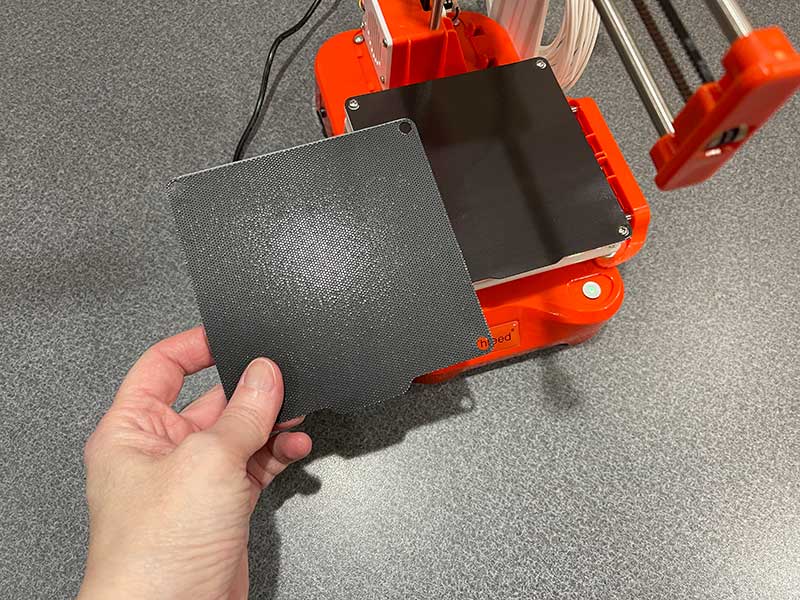 The opposite side of the K7 does not have any buttons or ports but the front of the printer has a Print/Pause button.
You'll notice that I didn't mention a power switch. That's because there isn't one! Yeah, what the heck right? In order to turn the printer off, you have to yank out the power cord. Not exactly an elegant solution.
Calibration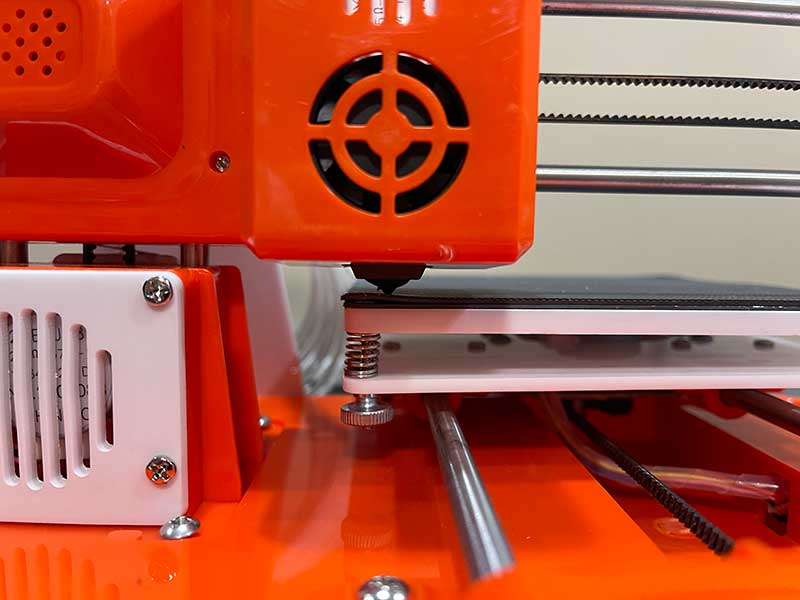 Before you can print your first 3D model, you will need to calibrate the printer.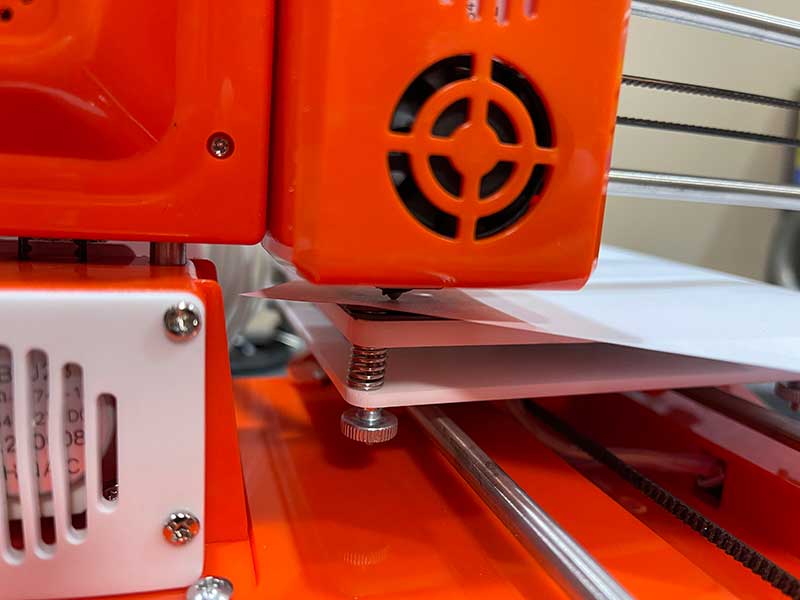 To do this, you use the four corner screws below the print bed to lower and raise the bed so that a sheet of paper can just fit between the print nozzle and print bed surface. You have to do this for all four corners.
Let's make our first print!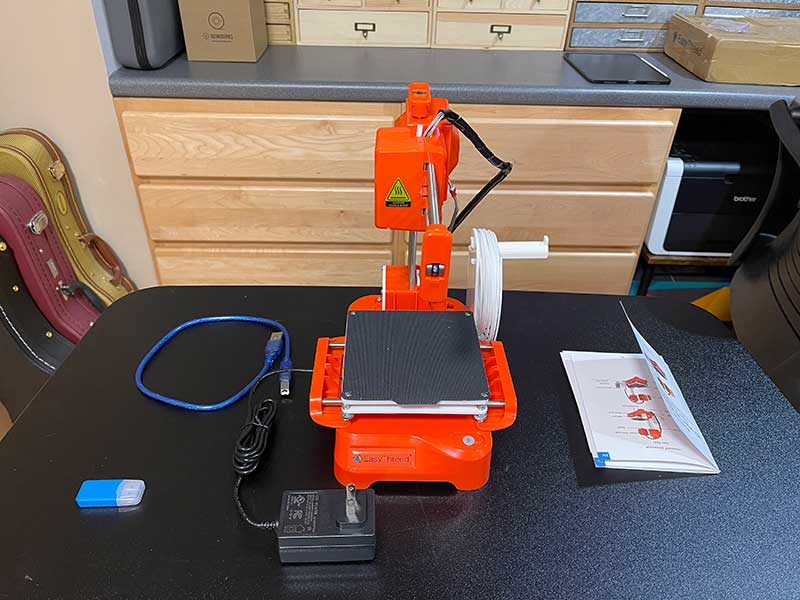 A USB card reader with a microSD card is included with the Easythreed K7 3D printer. This card has manuals, instructional videos, slicing software, and 2 sample g-code 3D model files. What is g-code? G-code is the computer language that tells a 3D printer how to control the nozzle movement to print a 3D model.
The K7 3D printer can only print g-code files. If you want to print other 3D models and search the net for free models you'll find a lot of STL files. STL stands for Standard Tessellation Language or STereoLithography. This type of file is in a format that describes the surface geometry of a 3D object. More about STL files later…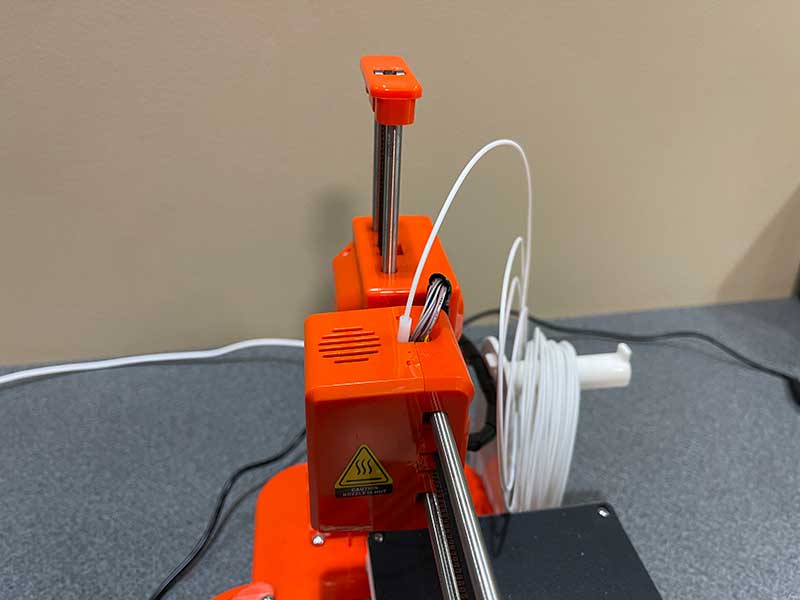 To load the filament, you place it on the spool holder, feed one end of the filament into the printer, make sure the feed switch is set to FEED, and plug in the power cord. The printer nozzle will heat up and within a minute or so, and you'll be able to start pushing the filament into the printer. When you see melted filament coming out of the nozzle above the print bed, you're ready to start printing.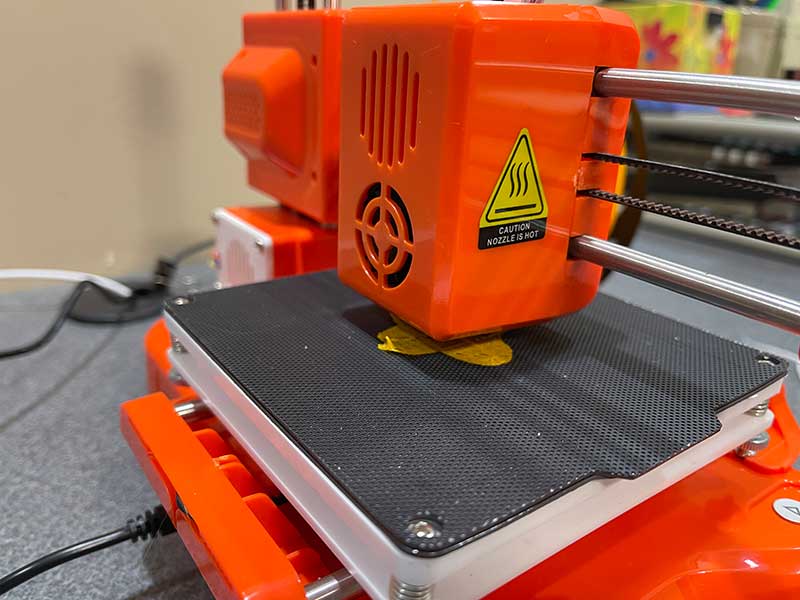 With a g-code file stored on the microSD card and the card inserted into the printer, you flip the feed switch to the center position and press the "play" button on the front of the printer. A minute or two later the printer will start printing.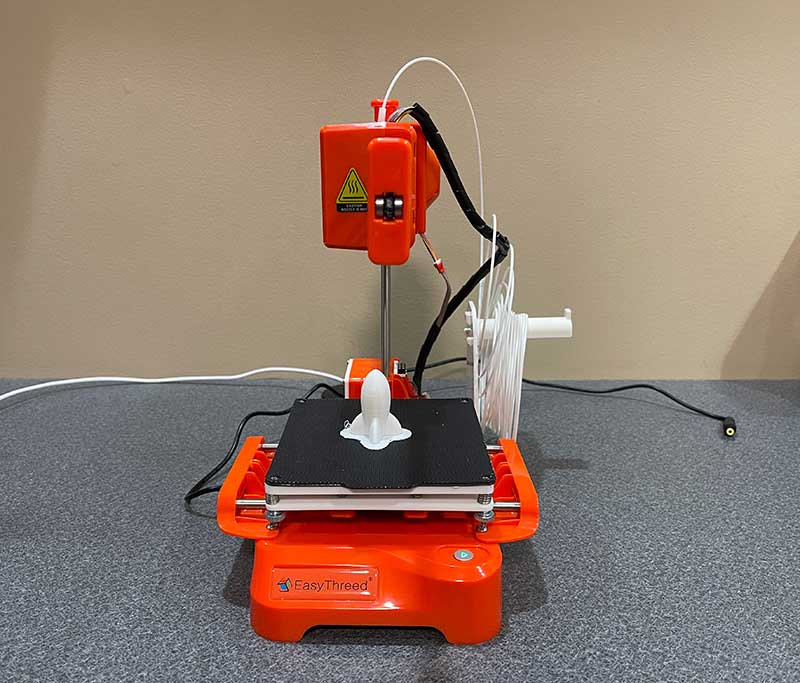 The first thing it will do is print a "raft" which is a base for the print.
When printing is finished, the nozzle will lift and you can remove the magnetic print bed and peel off the print. The raft breaks away from the bottom of the print revealing the 3D model.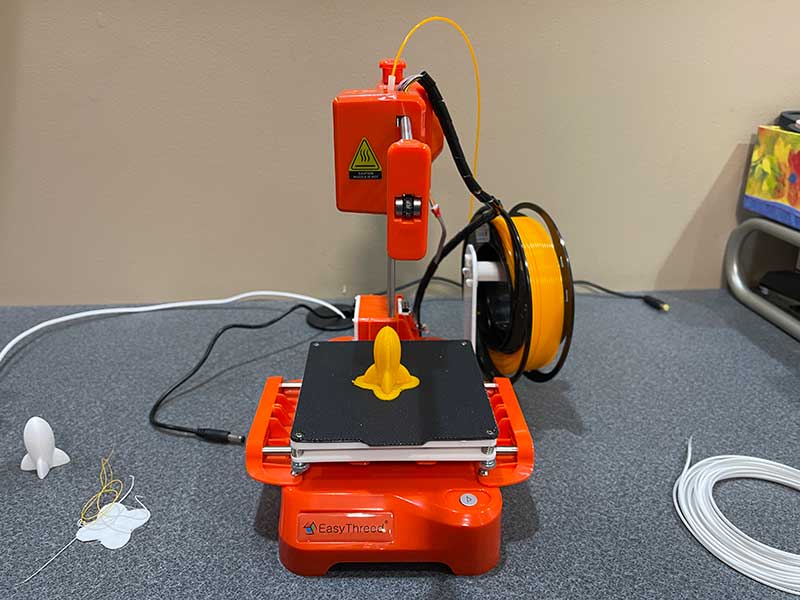 The time it takes to print a 3D model is dependant on the size of the print. Some models like this little rocket can take 30 minutes or so.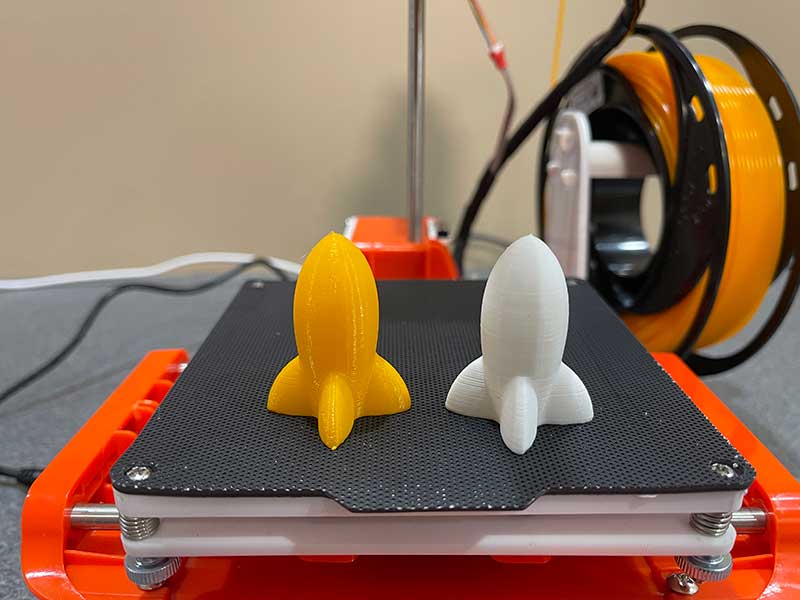 The Easythreed K7 3D printer comes with a small amount of white filament, but I wanted to try some other colors so I purchased a box of 4 spools from Amazon.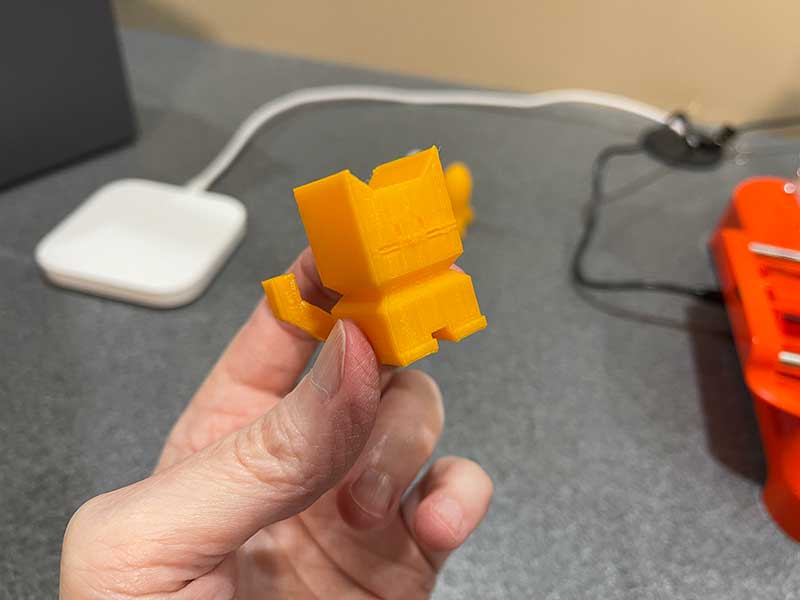 Here's the other g-code model from the included micro SD card printed in orange filament.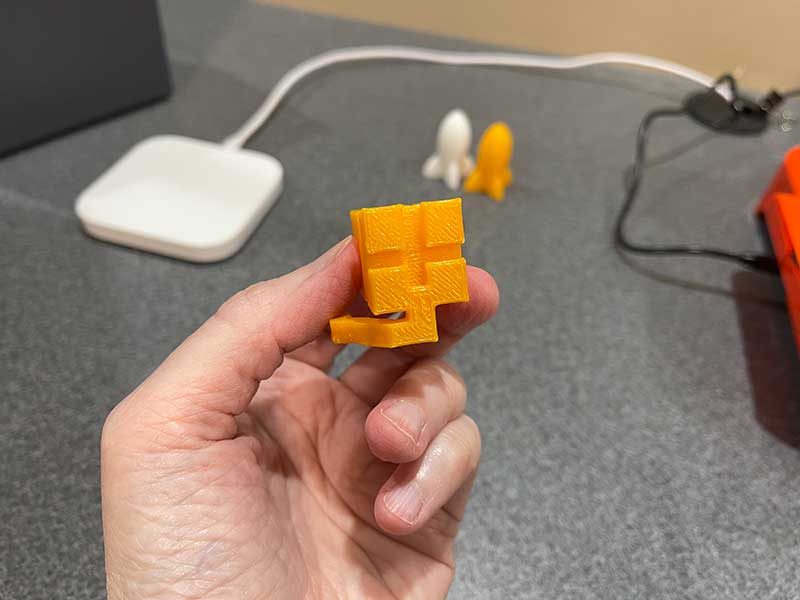 With two successful prints under my belt, I was feeling like a 3D printing guru and decided it was time to branch out and find other g-code models. Remember, Google is your friend. I ended up on Thingverse.com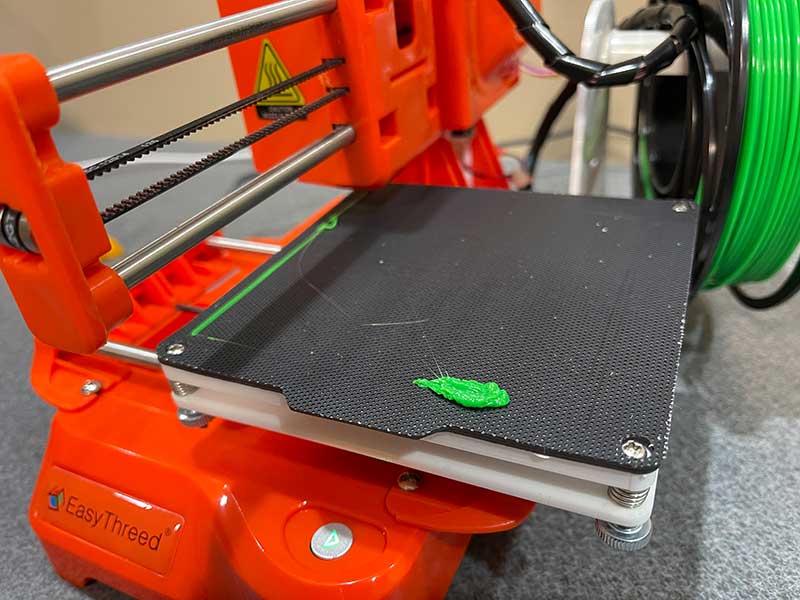 I found a model file, loaded it on the microSD card and… this happened. The print nozzle went from the home position to the front and sat there making a blob. Ok, I'm not a guru after all… <sad>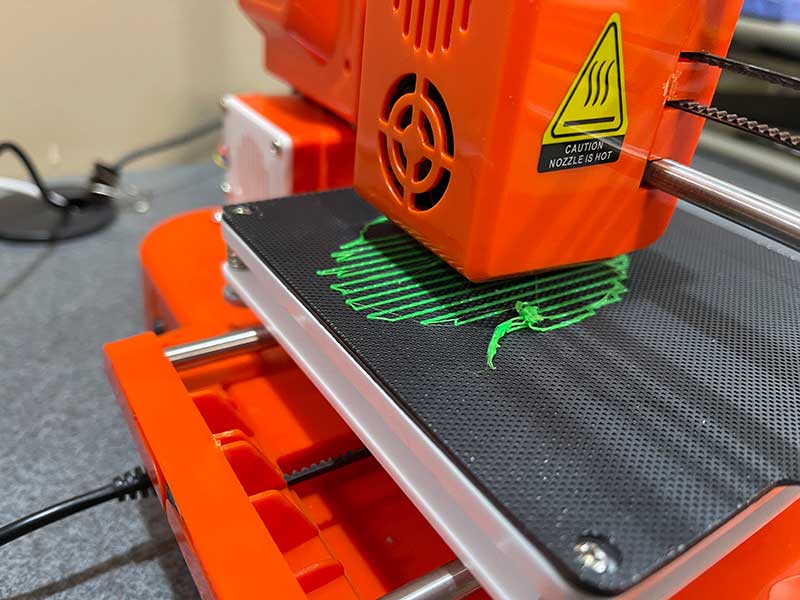 I don't give up so I found another model file and tried again.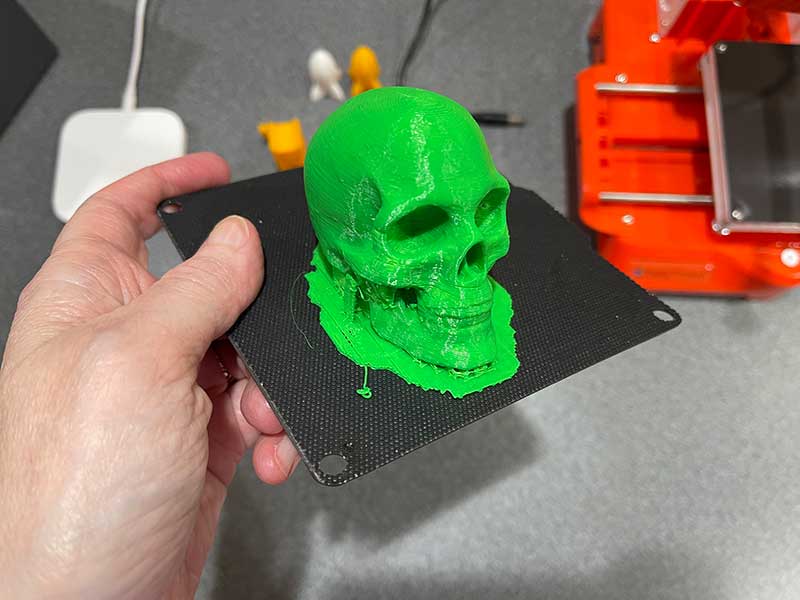 This will be great in a few weeks for Halloween! This print was also my first experience with the supports that some models have that help the printer span voids. You can see a small support under the skull's cheek bone. There was more under the back of the skull. I had to use needle-nose pliers to remove the extra material.
For my next test, I decided to really flex my 3D printing powers and slice up an STL file to turn it into a g-code file. Remember, the K7 can only print g-code files and most of the 3D models that you find on the net are STL files. How do you convert them? You have to use slicing software. Luckily, Easythreed provides two programs for Windows and Mac on the included microSD card. There's Cura and Easyware. The Cura software would not run on my M1 MacBook so I downloaded and installed the latest version.
My plan was to print Benchy, which is a small boat that is the equivalent of programming "hello world" for 3D printers.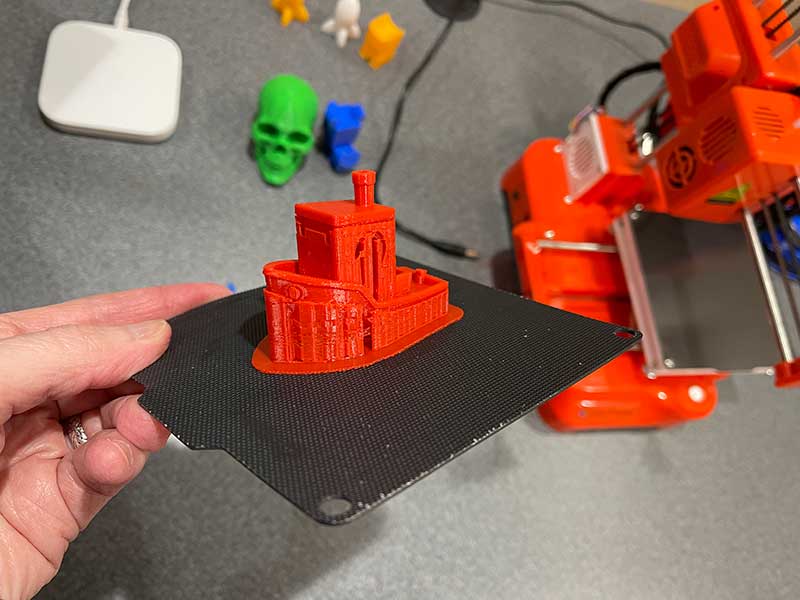 I downloaded the Benchy STL file and sliced it with Cura and printed it… Hmmm…. look at all that extra material.
Even after pulling the outside stuff off, the interior of the boat's cabin was solid material that I could not remove.
Back to the drawing board…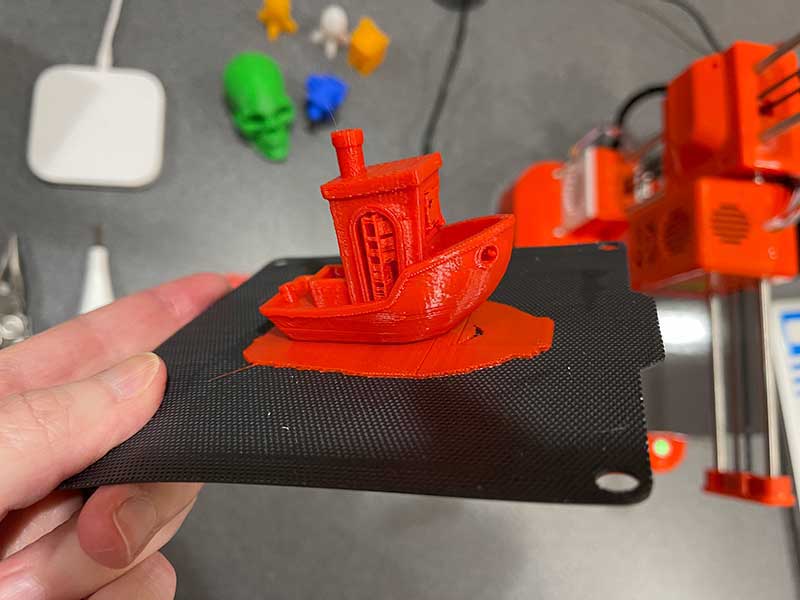 I took the same STL file and used Easyware to slice it into a g-code file and this was the resulting print. Looks a lot better!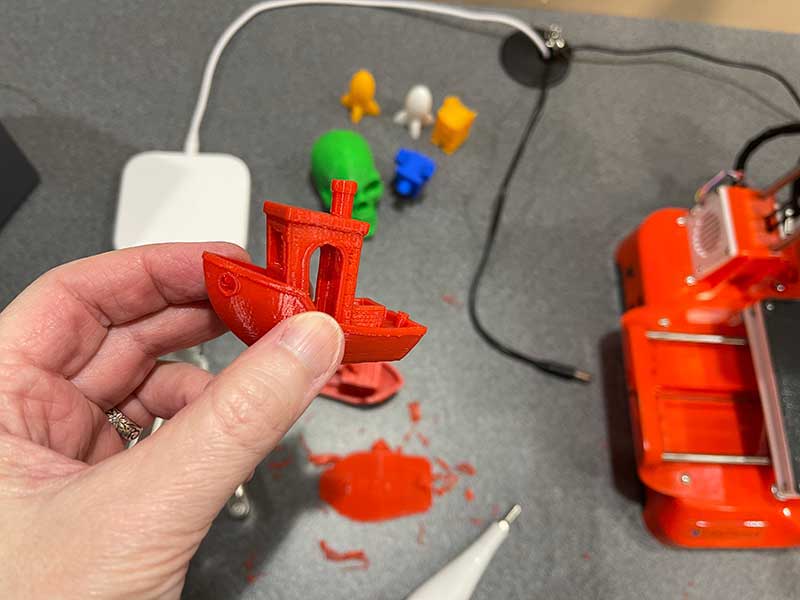 After removing the supports and raft. Yay!
Now it was time to create my own model from scratch!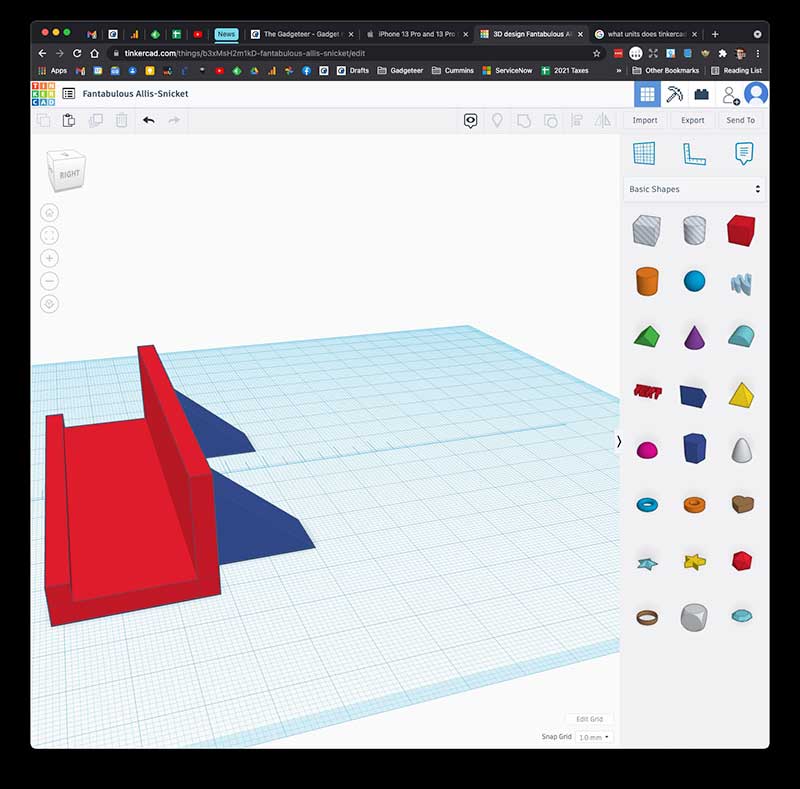 Using a free online app called Tinkercad, I created a… Ummm… it was supposed to be a phone stand. Hey, cut me some slack, I'm not a CAD person (yet). The software provides you with a variety of shapes that you can stretch, shrink, and rotate to create objects.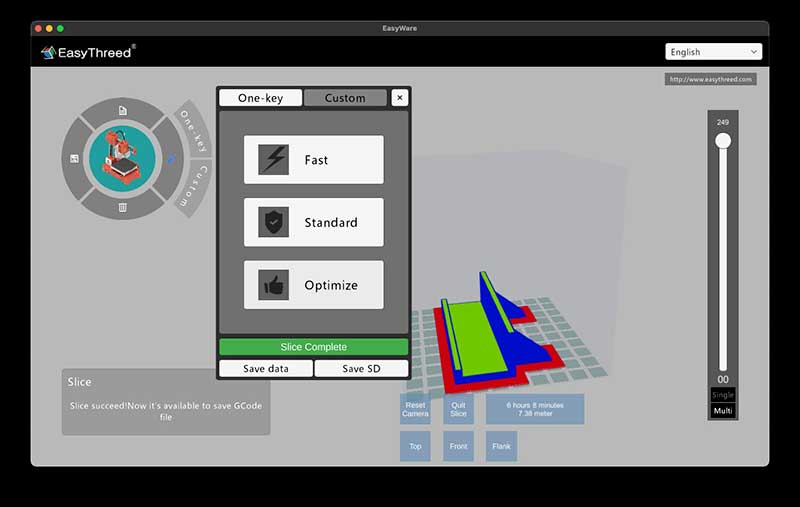 Then when you're done modeling, you export from Tinkercad to an STL file and then use slicing software (I used Easyware again) to create a .gcode file.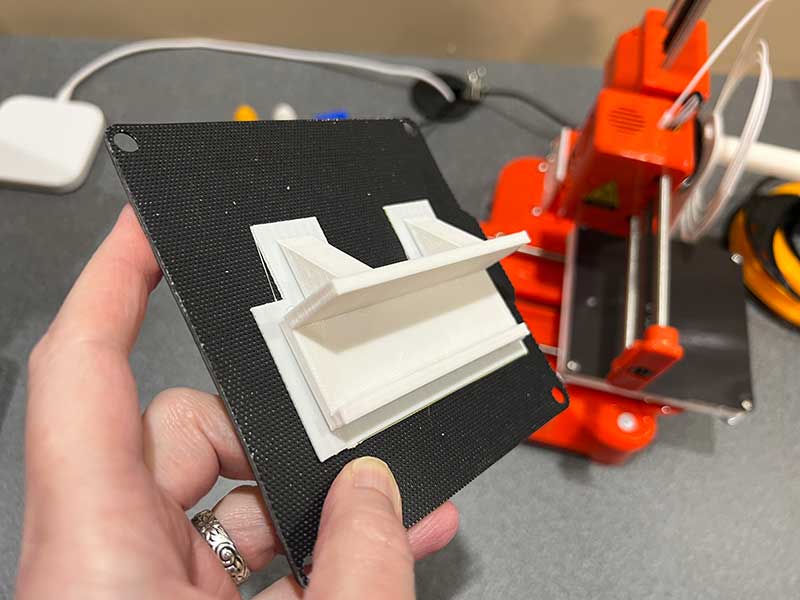 And there it is! My model was a successful print, but it wasn't a successful phone stand because the front edge wasn't tall enough to keep my phone from slipping out. Oh well. I'll try again at some point because experimenting is what makes 3D printing such fun.
See it in action
What I like
The price
It's portable!
Easy to use for a beginner
What I'd change
Final thoughts
I didn't know what to expect when I accepted the offer to review the Easythreed K7 mini 3D printer. As a complete novice, I figured a 3D printer for kids would be a good place for me to start and it was! Assembling the printer was simple, and printing wasn't difficult once I figured out which slicing software to use. Am I a 3D printing master now? Ha! Far from it. But this sub $100 3D printer has sparked an interest in this hobby and I can't wait to try a "real" 3D printer. But until then, if you're looking for an inexpensive and easy way to try out 3D printing without spending a lot of money and head-scratching, I can recommend the Easythreed K7 mini 3D printer.
Price: $99.99
Where to buy: MadeTheBest (use ETK7 to bring the price to $85.99 – expires 10/14/21)
Source: The sample for this review was provided by MadeTheBest.