We use affiliate links. If you buy something through the links on this page, we may earn a commission at no cost to you. Learn more.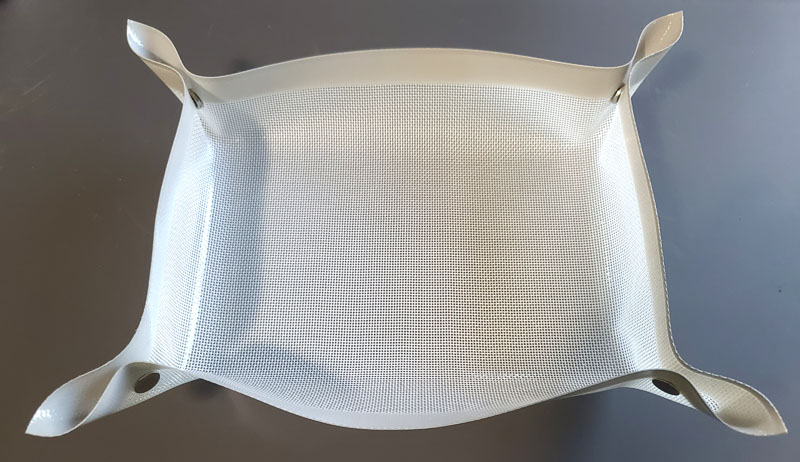 REVIEW – What's the worst part of baking messy things?  The cleanup, of course.  Silicone baking sheets can minimize the mess, but since they're flat, the goo can still leak and bake onto your pan. Grand Fusion Housewares, a maker of all kinds of home goods, introduced a twist on the silicone baking sheet. Let's take a look and see if it deserves space in your kitchen.
What is it?
This is a silicone baking mat designed to fit a half cookie sheet.  It is designed to snap together to form a leak-proof bowl/pan design.
What's in the box?
The only thing in the box is the mat.
Hardware specs
Dimensions: 11.8″ x 15.75″ (half-sheet pan size)
Weight: About 5 ounces
Construction: BPA-free 100% food-grade silicone with metal snaps
Temperature rating: up to 450-degrees Fahrenheit
Microwave safe: Yes
Design and features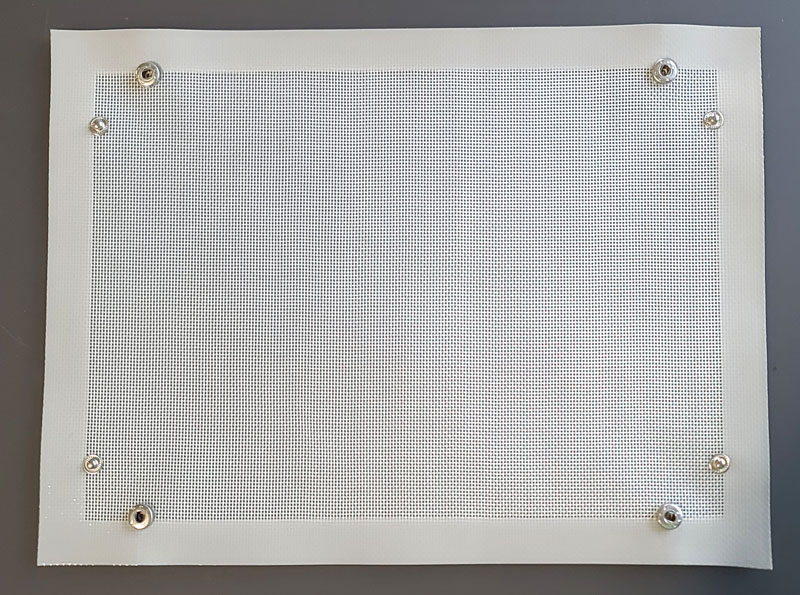 If you've ever seen a silicone baking sheet, then you know what this looks like.  I'm not going to focus on using it as a baking sheet as there are a zillion silicone baking sheets out there and they all do the same thing.  What makes this one different are the snaps in the corner.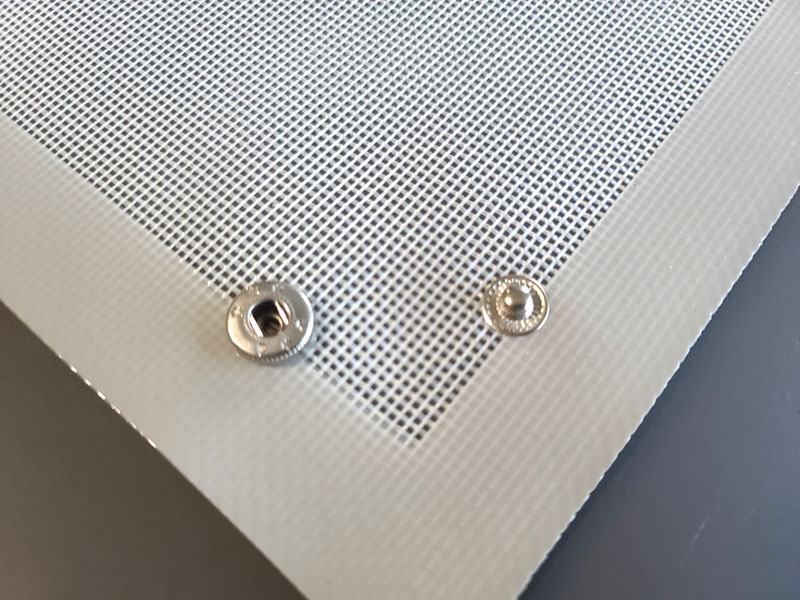 By pressing the snap together, you form a tulip-like corner.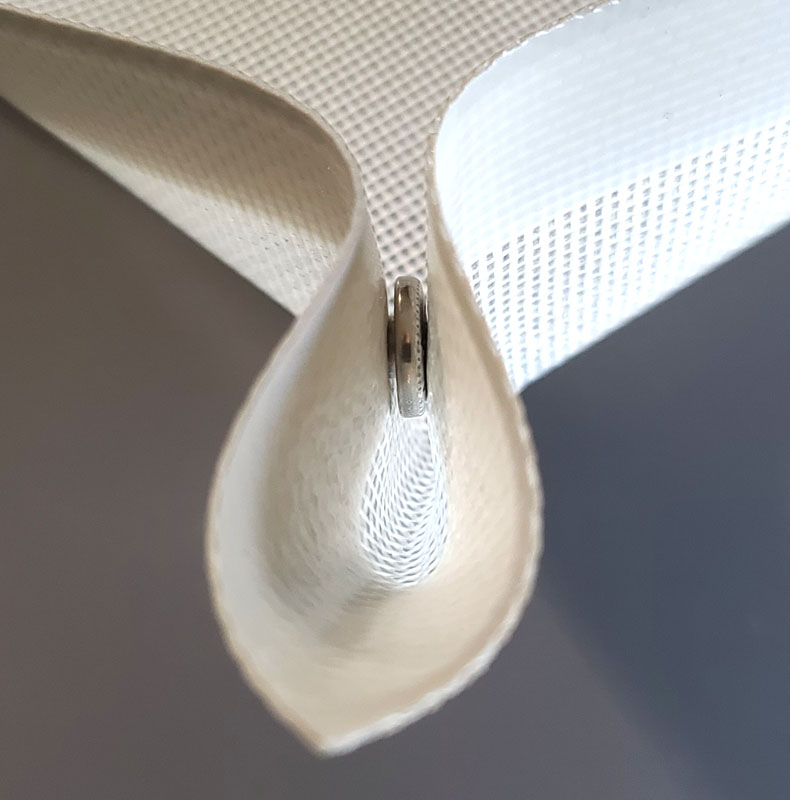 Setup
To use the sheet as a leak-proof pan, you work your way around, corner to corner.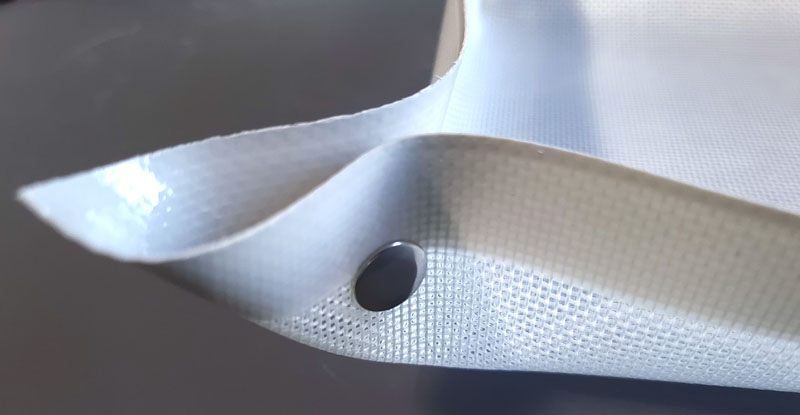 And, when you're done, you have a leak-proof silicone baking pan of sorts.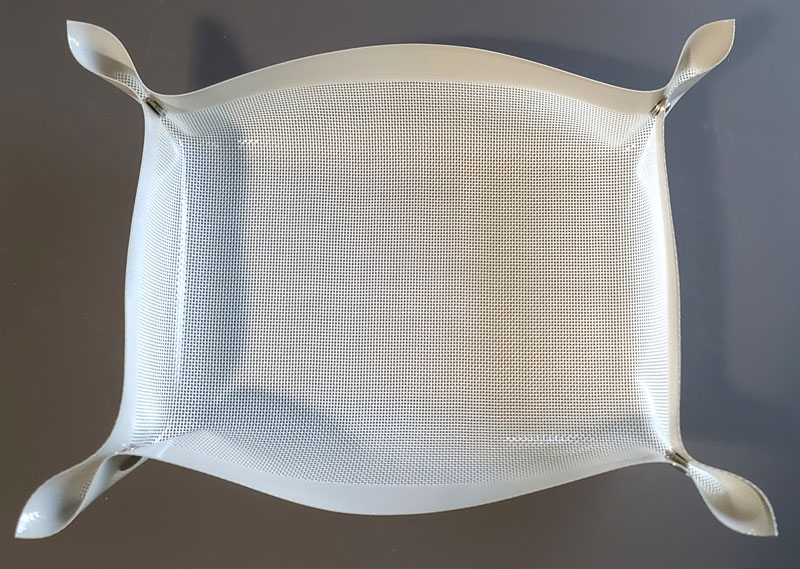 This is now ready to bake something messy while keeping your baking pan squeaky-clean.
Performance
The first thing I noticed was a claim on the box that the mat is microwave-safe.  Hmm…with metal snaps?  I was skeptical.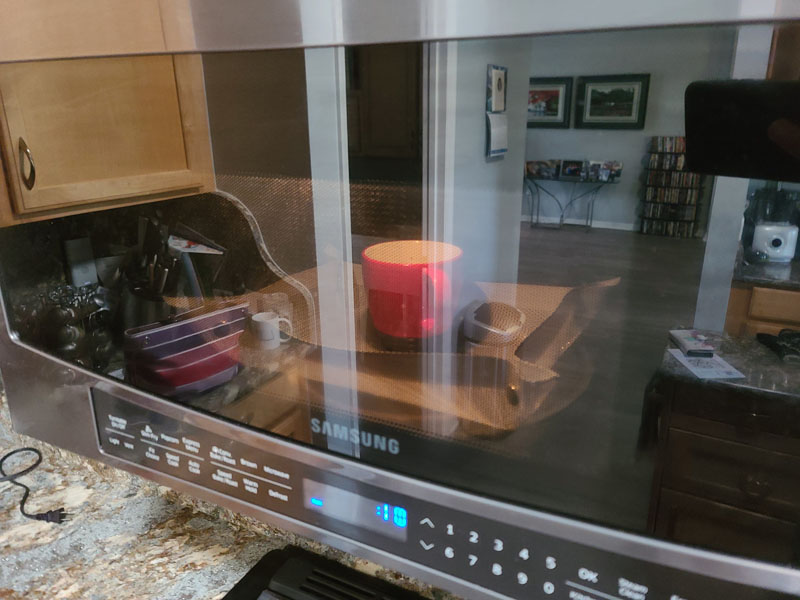 I tossed it in the microwave and put a mug filled with water in the center.  Much to my surprise, the water heated up and the snaps presented no issues. So far, so good.  But…Amazon's website claims it is not microwave-safe?  Who should I believe?  After talking with Grand Fusion, it turns out they intended to make the snaps microwave-safe, but it didn't work out so they went with regular old snaps that cannot be used in the microwave.  For whatever reason, I got lucky.  What about the box and its safety claim?  Some early ones went out to press and social media folks in the original packaging.  That explains my box.  Grand Fusion updated the production boxes that will go out from Amazon.  In the final analysis, this is not designed for use in the microwave.
Let's cook something messy.
I whipped up some meatloaf, complete with a gooey, slimy ketchup-mustard-brown sugar glaze.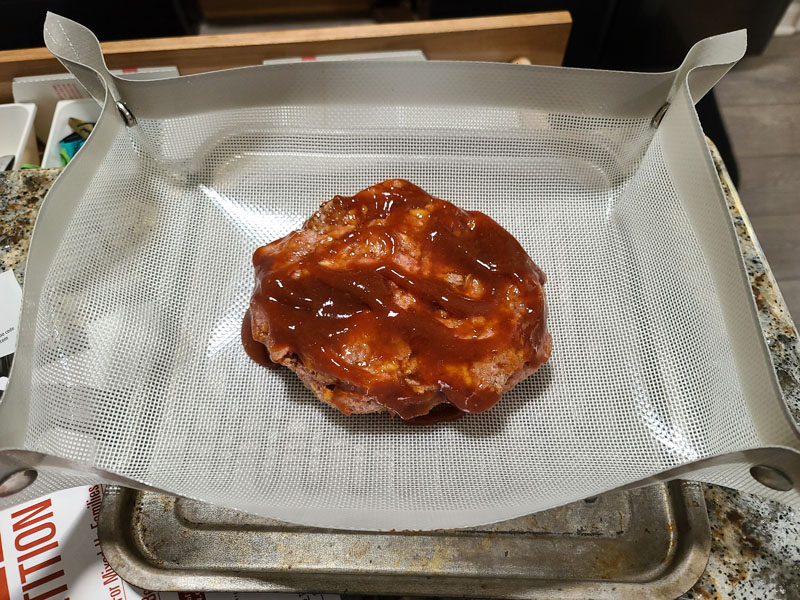 I plopped it on a baking tray and slid it into the Gourmia GTF7600. I would not be happy cleaning the pan after an hour at 350-degrees if the meatloaf was just on the pan.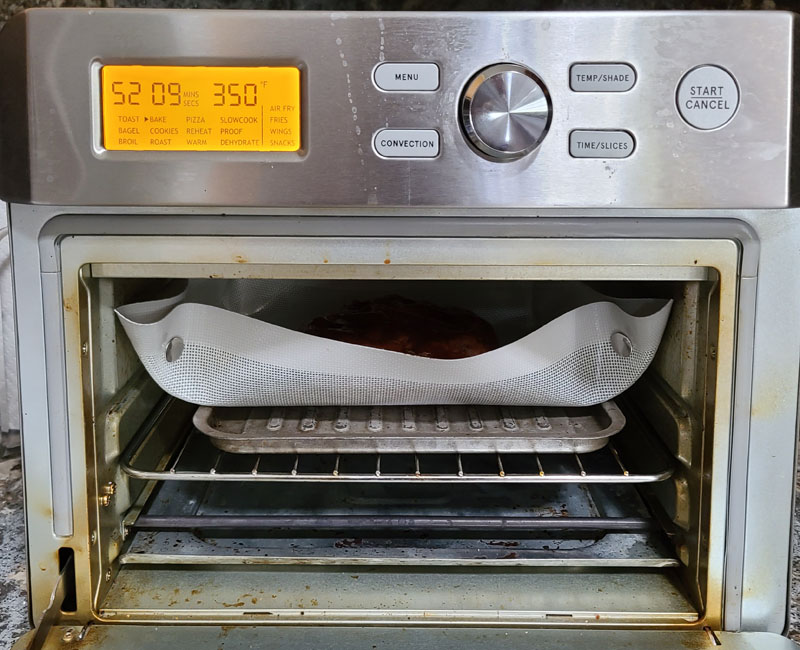 Let's see how the baking mat worked out.  Here it is after an hour in the oven.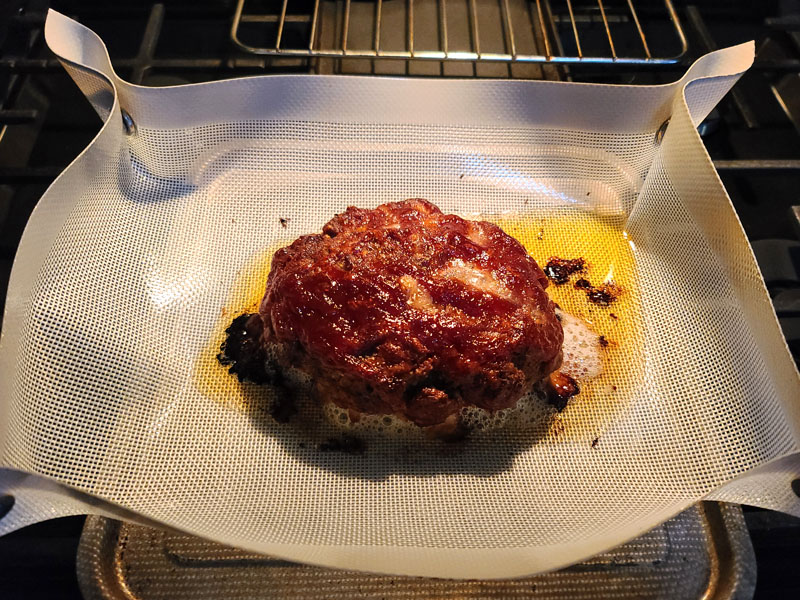 Peaking under the mat shows that the pan is as clean as it was when it went into the oven.  Woo!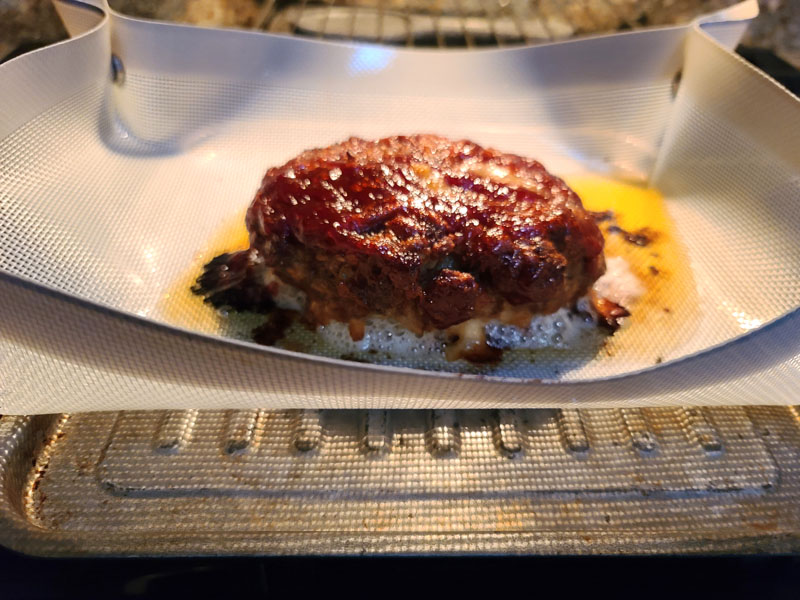 After removing the meatloaf, I dropped the mat into the sink.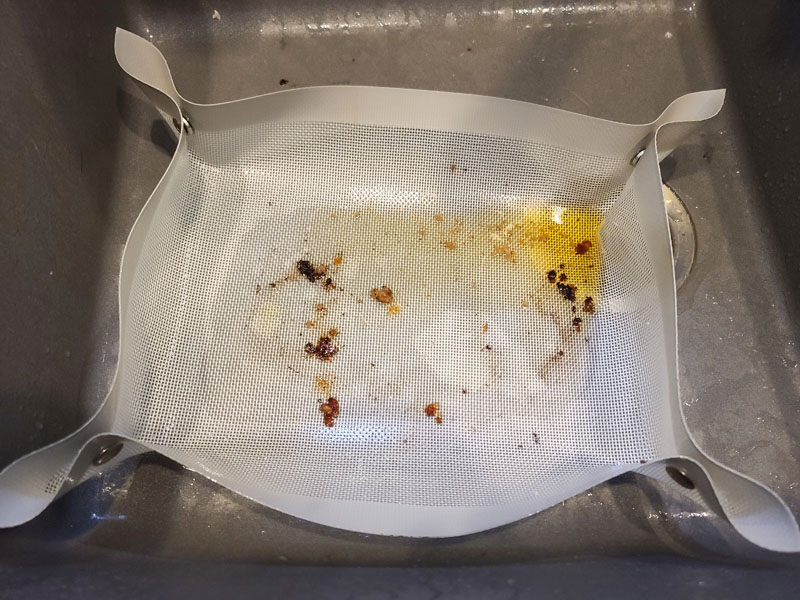 After unsnapping the corners, everything rinsed right off.  I gave it a quick scrub with the Goodpapa K1 spin scrubber for good measure and let it dry. The cleanup was simple.  Nice!
One other feature of the mat is its color or more correctly lack of color.  The mat is semi-transparent.  If you're the creative type and want to bake something into a design, perhaps like a pretzel, you could draw the design and place the mat on top of it as a see-through stencil.
What I like
Leak-proof design
Easy to clean
Sized right for a small oven
What I'd change
Getting a microwave-safe snap would be a plus
Final thoughts
Silicone baking mats are great as they clean up easily and don't impart any flavor into your food.  This new mat from Grand Fusion Housewares is a nice improvement, serving as both a half-sheet baking mat and a leak-proof bowl/pan. I can definitely recommend it.
Price: $14.99
Where to buy: Amazon; $19.99 from Grand Fusion Housewares
Source: The sample of this product was provided by Grand Fusion Housewares.