We use affiliate links. If you buy something through the links on this page, we may earn a commission at no cost to you. Learn more.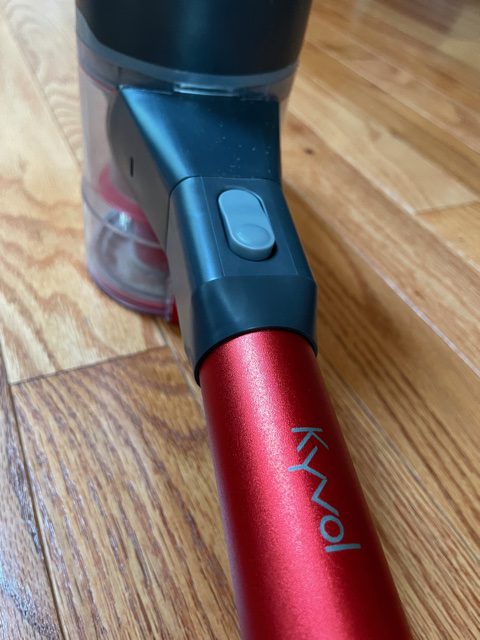 REVIEW – Clean Freaks Unite! Most of the time, my home is ship-shape. I enjoy keeping it orderly and scrubbed, but that's not always possible with my furry friends and active family. Always in need of a quick cleanup, I jumped at the opportunity to give the Kyvol V20 cordless stick vacuum a few laps around my domicile.
What is it?
The Kyvol V20 cordless vacuum is a battery-operated, motorized sweeper with large and small agitating brush heads and crevice tools for cleaning indoor floors and surfaces.

Hardware Specs:
300W brushless motor
Up to 25KPa suction
Motorized LED head
40-Minutes run time
2500mAh Samsung detachable battery pack
Two section levels
Includes floor and furniture motorized heads, brush and crevice tools
Four-Stage cyclone vacuum
HEPA filter
What's in the Box?
Kyvol V20 vacuum
Battery pack
Wall charger
Wall mount, anchors, and screws
Motorized floor brush head
Mini motorized brush head
Crevice nozzle
2-in-1 brush head
Spare HEPA filter
Instruction manual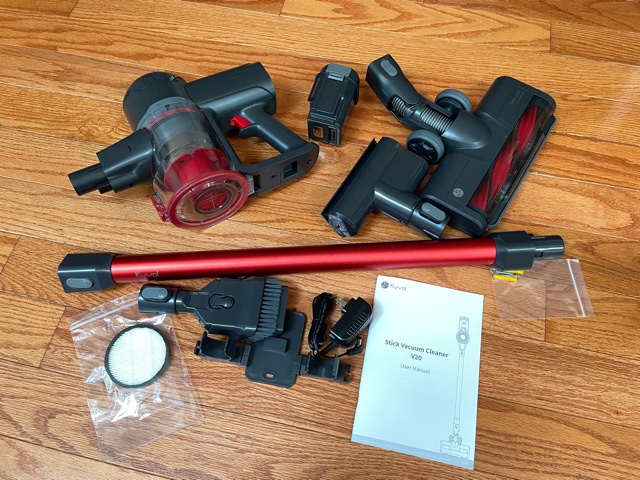 Design and Features:
The Kyvol V20 vacuum comes well-packed and protected to ensure it arrives on your doorstep in pristine condition.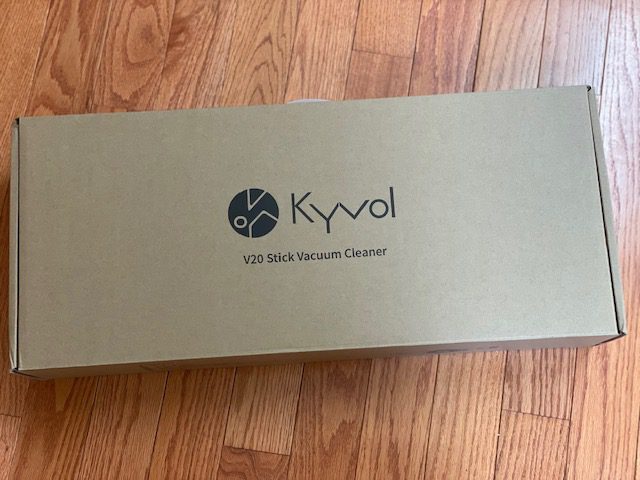 The first step was charging the battery, a four-hour process. As the vacuum charges, three blue LEDs show status, eventually turning solid when charging is complete.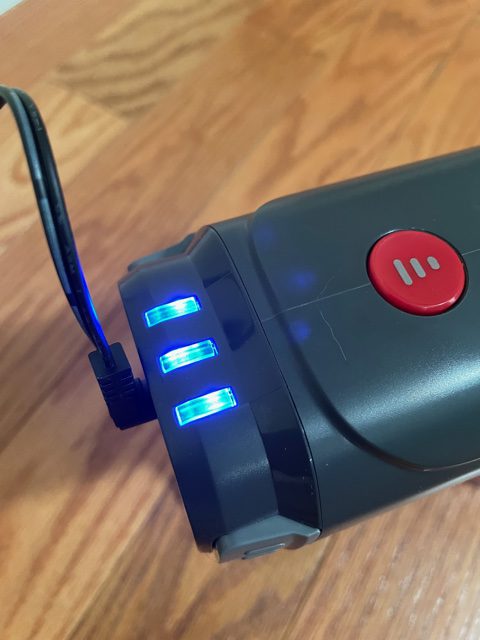 The charger is a 26.5-volt, 500mA wall-wart transformer. The vacuum end plugs into a coax-style socket on the top.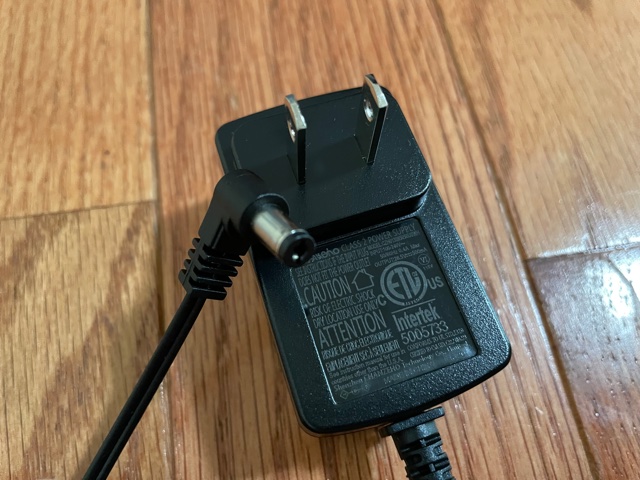 I would have preferred a charger that connects when the Kyvol V20 vacuum is placed into the wall charger, but this design is simple and gets the job done.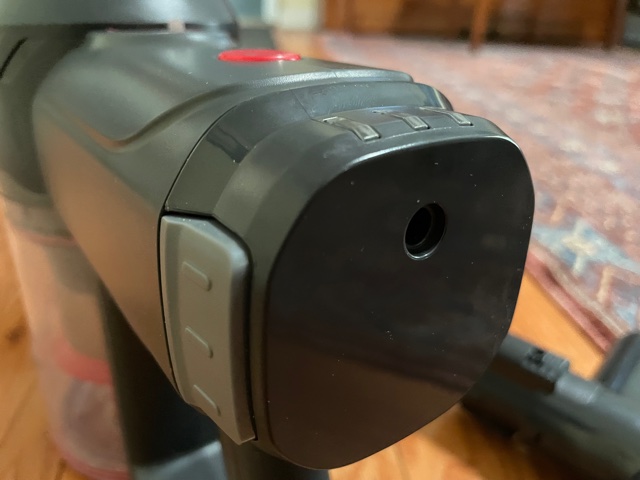 The battery is detachable and can be charged independently of the vacuum, a great feature! If your vacuuming needs are greater than 40 minutes, replacements can be purchased. Battery life is accurate. I measured 45 minutes of run time on carpet and bare floors.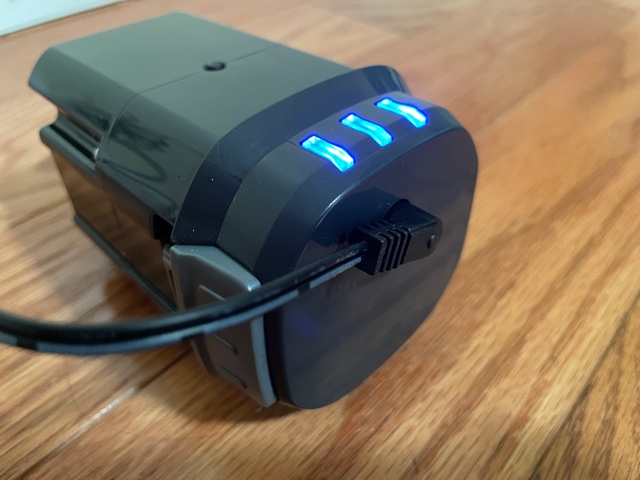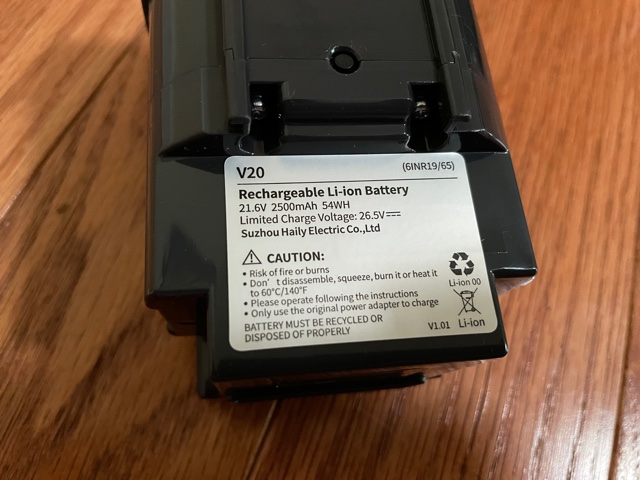 Assembly is intuitive and made even easier with well-written instructions from the manual.
The Kyvol V20 motor is activated with the pull of a trigger. The vacuum defaults to the lower power setting. Toggling between the lower and higher modes is done with a pushbutton atop the vacuum assembly.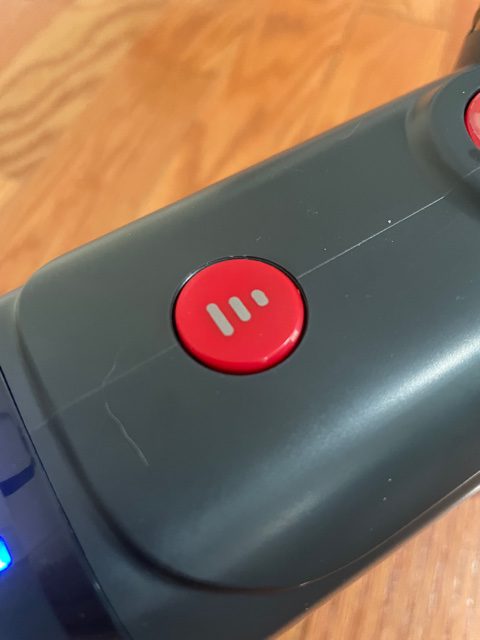 Even on the higher setting, the V20 is surprisingly quiet and suction was great.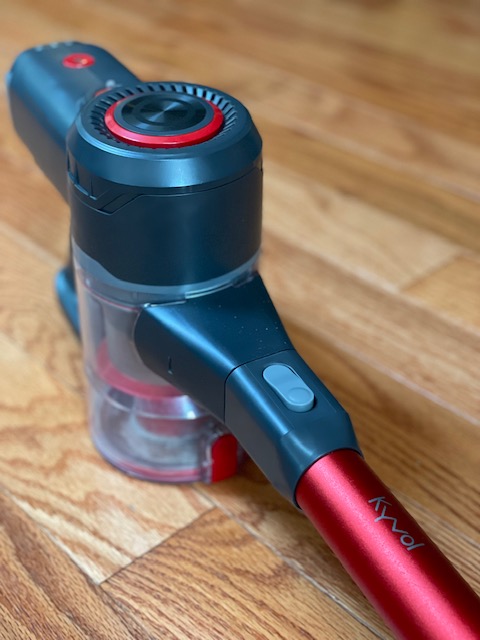 I was impressed with the amount of kitty and bunny hair, cracker crumbs, and wayward kibble that whirled around in the dust bin after the first spin around the carpet.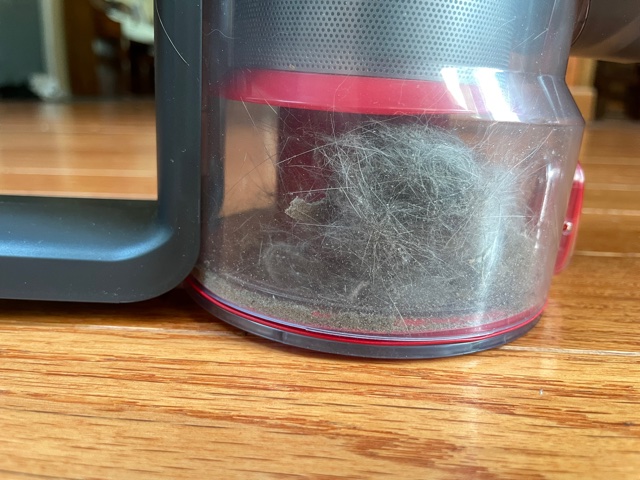 Long hairs and threads might get wrapped up around the motorized beater bar in the vacuum head, but I had no trouble freeing them with a pair of scissors.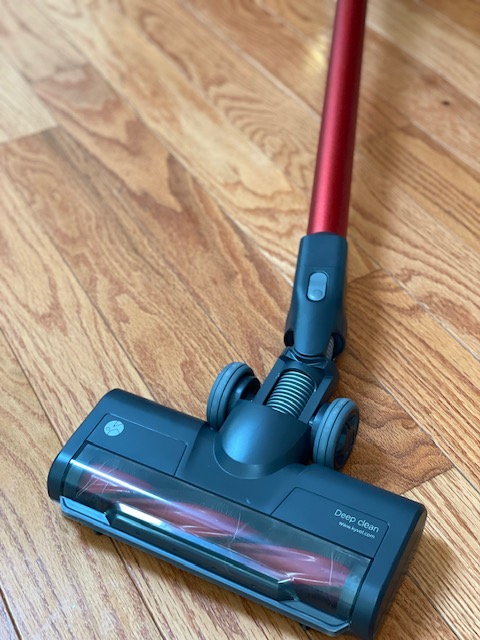 The dust enclosure pops open to release debris into any convenient waste bin. There are no bags or need to touch the dusty interior of the vacuum unless there is a need to clean the dust bin more deeply.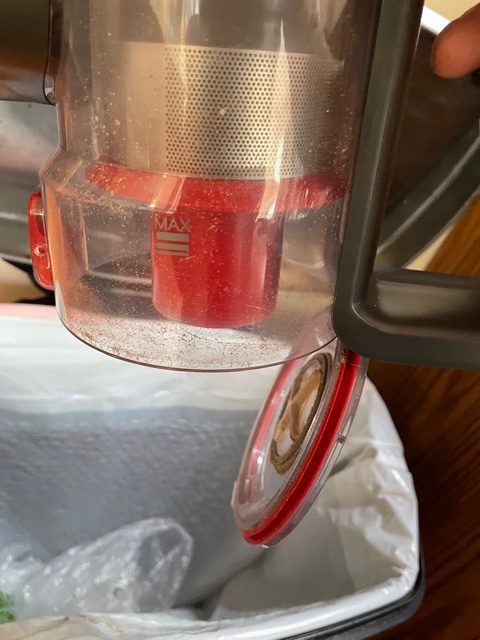 Kyvol's design makes it simple to completely disassemble.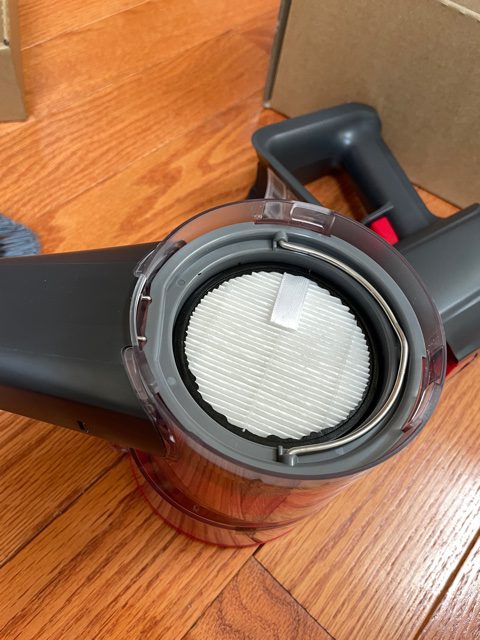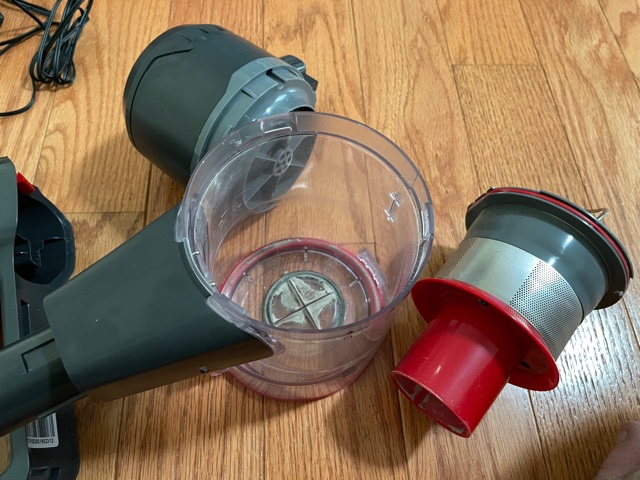 The larger motorized head is equipped with LEDs to illuminate those hard-to-see corners. I wish all vacuums had headlights!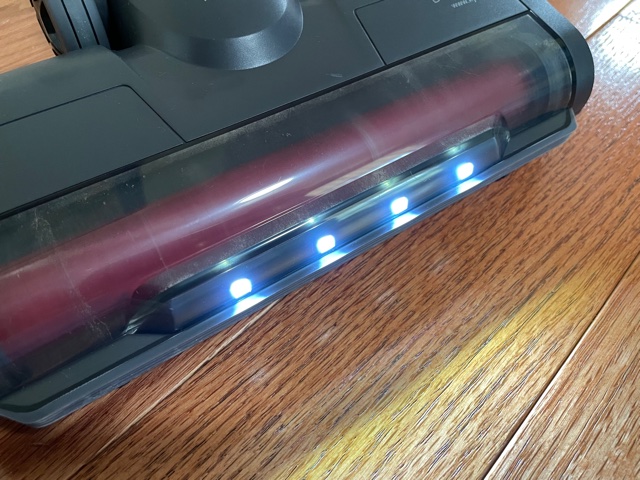 The mini motorized head is ideal for cleaning chairs, curtains, and carpets!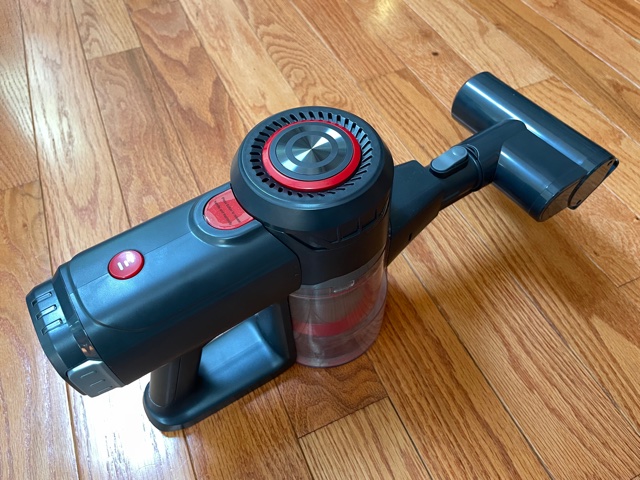 The head is equipped with an interesting swivel that allows for optimal cleaning angles, another nice feature!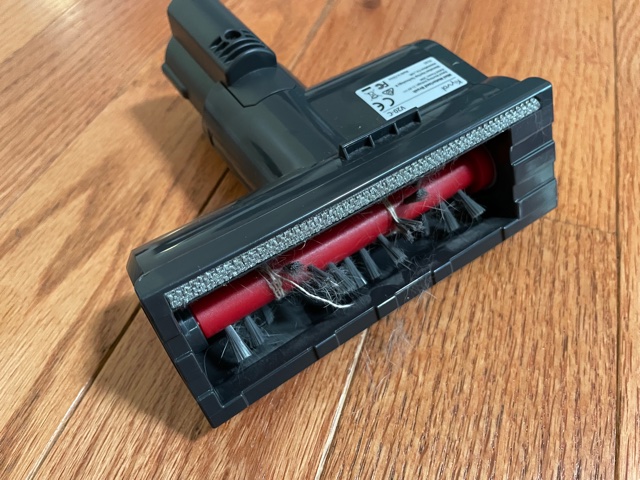 Also included are a 2-in-1 brush tool and crevice nozzle. Both are useful in poking around couch cushions and subduing the occasional spider that mistakenly chooses my bedroom as its sanctuary – fat chance arachnid invader! The V20 is here to save me!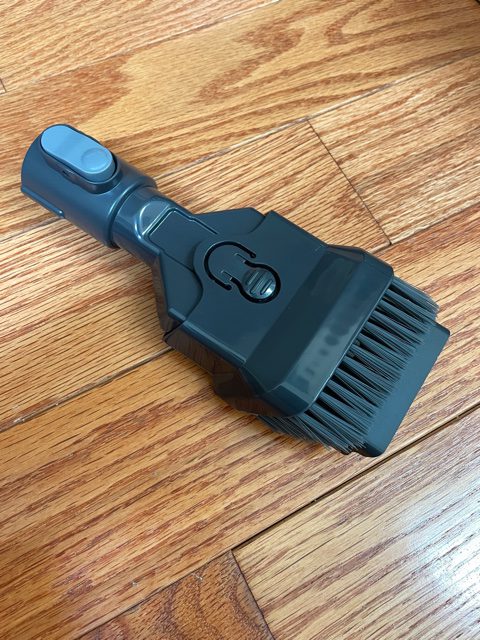 What I Like
Removable batteries that can be charged independently of the vacuum
A mini motorized brush head is included
What I Would Change
Add a charger integrated into the wall mount
Final Thoughts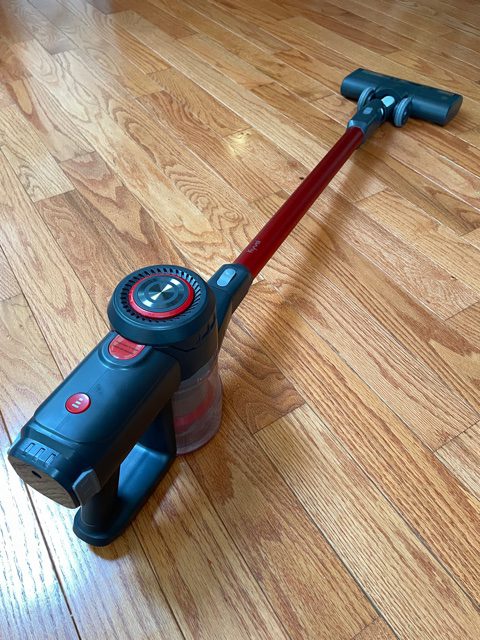 I love "grab and go" stick vacuums for fast cleanup and the Kyvol V20 does not disappoint. With two motorized heads, removable batteries, abundant suction, long battery life, and easy disassembly, the Kyvol V20 is a winner in my book!
Price: $144.49
Where to buy: Walmart
Source: Sample for this review was provided by Kyvol.