We use affiliate links. If you buy something through the links on this page, we may earn a commission at no cost to you. Learn more.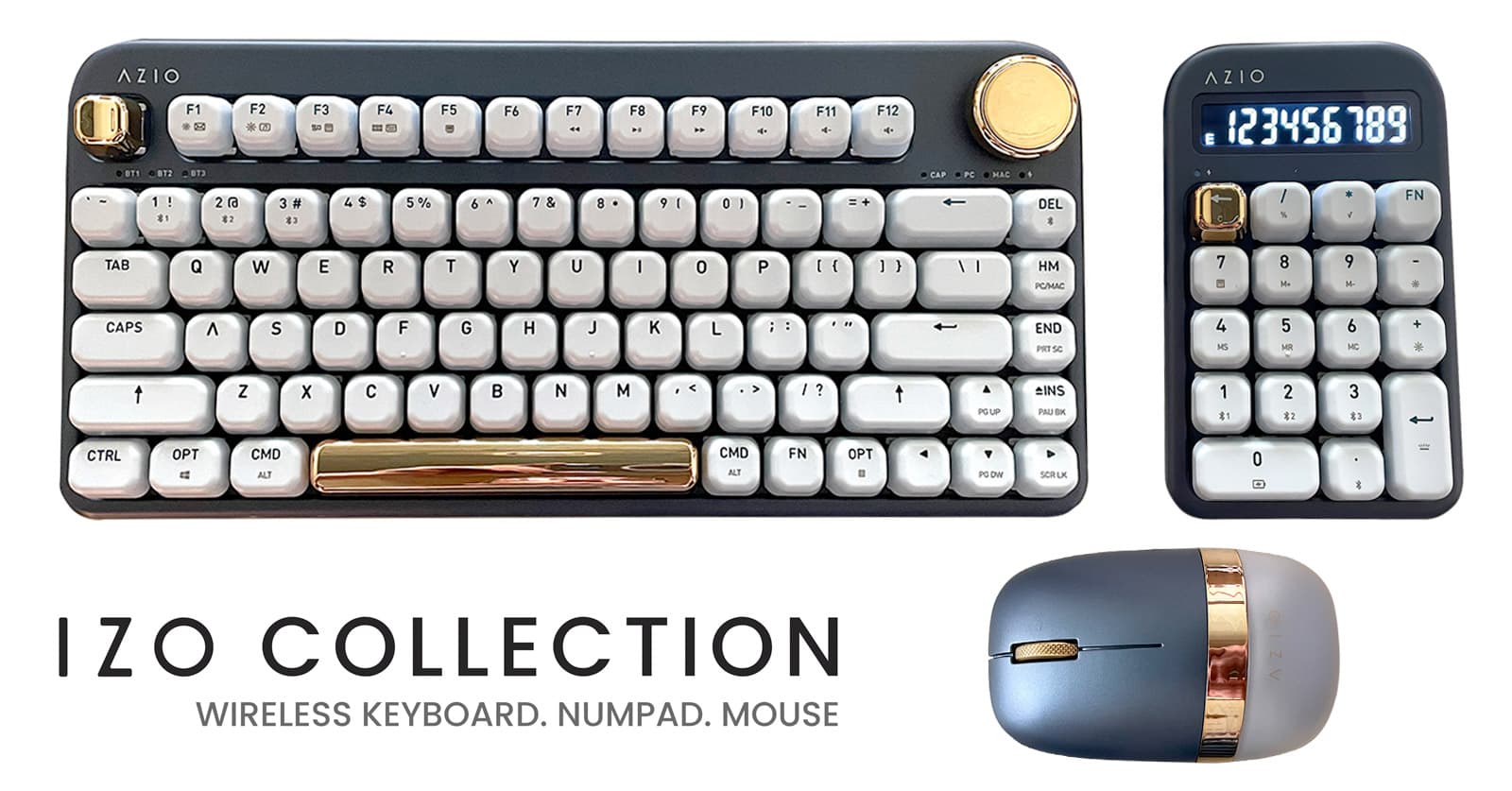 CROWDFUNDING REVIEW – The financial barrier of entry into the world of mechanical keyboards can be high, but it doesn't have to be that way. AZIO's IZO Collection — consisting of a wireless keyboard and number pad and wireless mouse — is affordable, feature-rich and stylish.
What is it?
The AZIO IZO is a collection of stylish input devices, consisting of dual wired/wireless connection mechanical keyboard, a wired/wireless number pad, and Bluetooth/RF mouse, all of which are available in multiple colors. Currently 100% backed on Kickstarter, the IZO collection is set to be funded on July 8, 2021, and begin shipping to backers in September, 2021.

What's in the box?
I received the full AZIO IZO Collection to review, consisting of the mechanical keyboard, mechanical number pad, and wireless mouse. The contents of each are below:

IZO Mechanical Keyboard
IZO Keyboard
6′ USB Type-C cable
Additional white-color space bar and ESC keys to replace the installed gold-color keys
keycap puller
user guide

IZO Mechanical Numberpad
IZO Numberpad
6′ USB Type-C cable
user guide

IZO Wireless Mouse
IZO Mouse
USB Type-C cable
user guide
Hardware specs
Again, since I received the full IZO Collection, the hardware specs for each item are listed below.
IZO Keyboard
Gateron Blue mechanical switches (very clicky and loud)
Non-fading PBT double shot keycaps for high contrast
rounded, edge-less keys
21 backlight modes
White backlight color (hue will vary based on color set, i.e. the Blue Iris color emits an indigo-colored backlight, but the White Blossom set would display a more amber-colored backlight)
matte color paint and reflective gold finish
dual control knob for media, volume and backlight adjustment
compatible with Mac or PC
Bluetooth & USB interface
Connect and switch between up to 3 Bluetooth devices
USB Type-C charging/input
5,000mAh battery
320mm x 150mm x 42mm (12.6 x 5.9 x 1.7 in)
1.8lbs / 793g
6-keys rollover
IZO Numberpad
Bluetooth & USB backlit mechanical number pad
Can be used as a standalone calculator
Backlit LCD number display
Gateron Blue mechanical switches
Matching matte color compliments the keyboard
Non-fading PBT double shot keycaps for high contrast
Reflective gold backspace key (no alternative white key)
1,000mAh battery
92mm x 150mm x 42mm
0.49lb / 221g
IZO Wireless Mouse
Bluetooth & 2.4GHz RF interface
Includes RF adapter stored in the bottom of the mouse
3 buttons (scroll wheel clicks down)
Translucent frost design
Matching gold and matte color to compliment the keyboard and number pad
USB Type-C charging
PixArt PAW 3212 optical sensor
DPI settings at 1000, 1600, or 2400 dpi
104mm x 64mm x 39mm
0.19lbs / 88g
Design and features
Having received the full IZO Collection, it makes sense to break up the review into its individual pieces, starting with the Keyboard.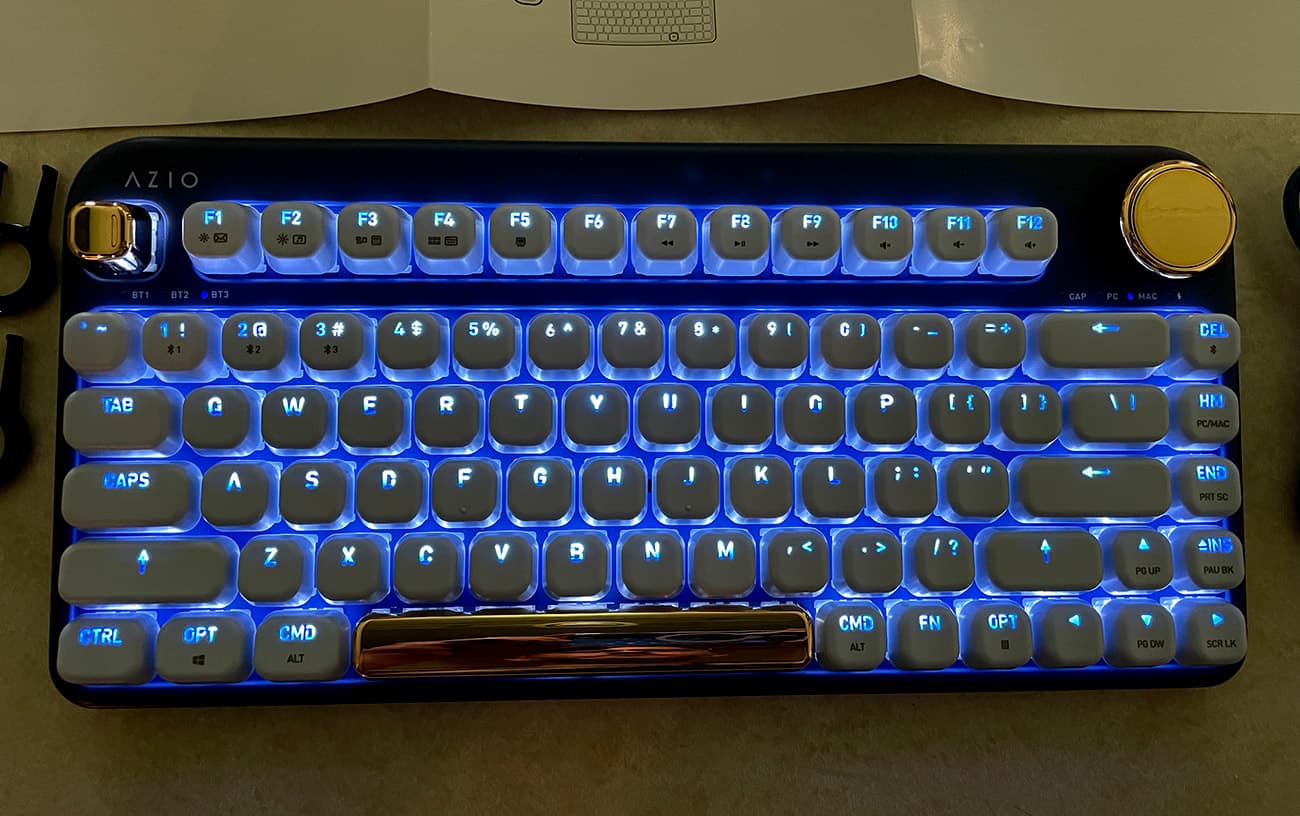 The IZO Keyboard is a combination wired USB-C and Bluetooth mechanical keyboard. There is a switch on the top side of the keyboard that powers it on and toggles between wired and wireless connections. It can be paired with up to 3 devices and quickly swapped between them with a keypress.
I appreciate the style they're going for… there isn't a sharp corner to be found anywhere on the keyboard. The keys themselves are uniquely rounded on the tops and sides. To me, they're reminiscent of a typewriter, and they're imminently comfortable. I very quickly fell in love with the responsiveness of the Gateron Blue switches. There's something just right about the travel and actuation point where the key press is recognized.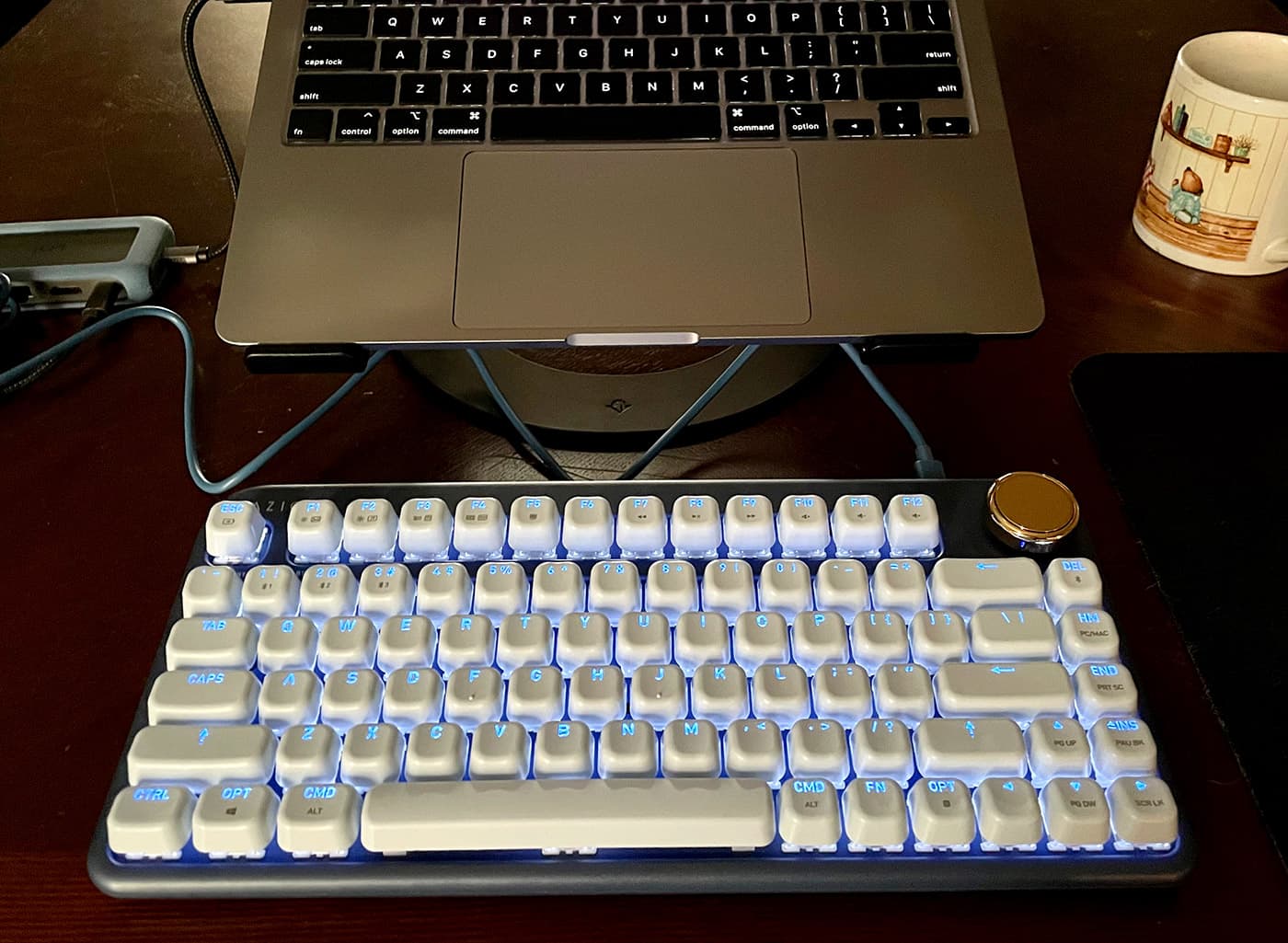 It couldn't be more different from the built-in MacBook Pro's keyboard, which has a key travel of about two millimeters. It took a couple days to get used to having to press the keys down that far, but each keystroke felt so deliberate. The tactile and audible feedback is something I wasn't sure about, but seemed to fade into the background after a few moments.
I'm sure if I still had an office-mate, they might disagree, which is absolutely something to consider before diving into the world of mechanical keyboards. They do make quieter (and still tactile) types of switches, but the switches on the IZO are not removable. I tried to pry one loose and it seems to be quite embedded.
AZIO put a lot of thoughtfulness in their attempt to make it OS-agnostic. There is a quick switch between PC/Mac, which essentially swaps the CMD/Opt keys. Printed on each key is an icon or word that explains what it does when the function (FN) key is held down, such as switching between the paired Bluetooth devices, adjusting brightness and volume, or media controls.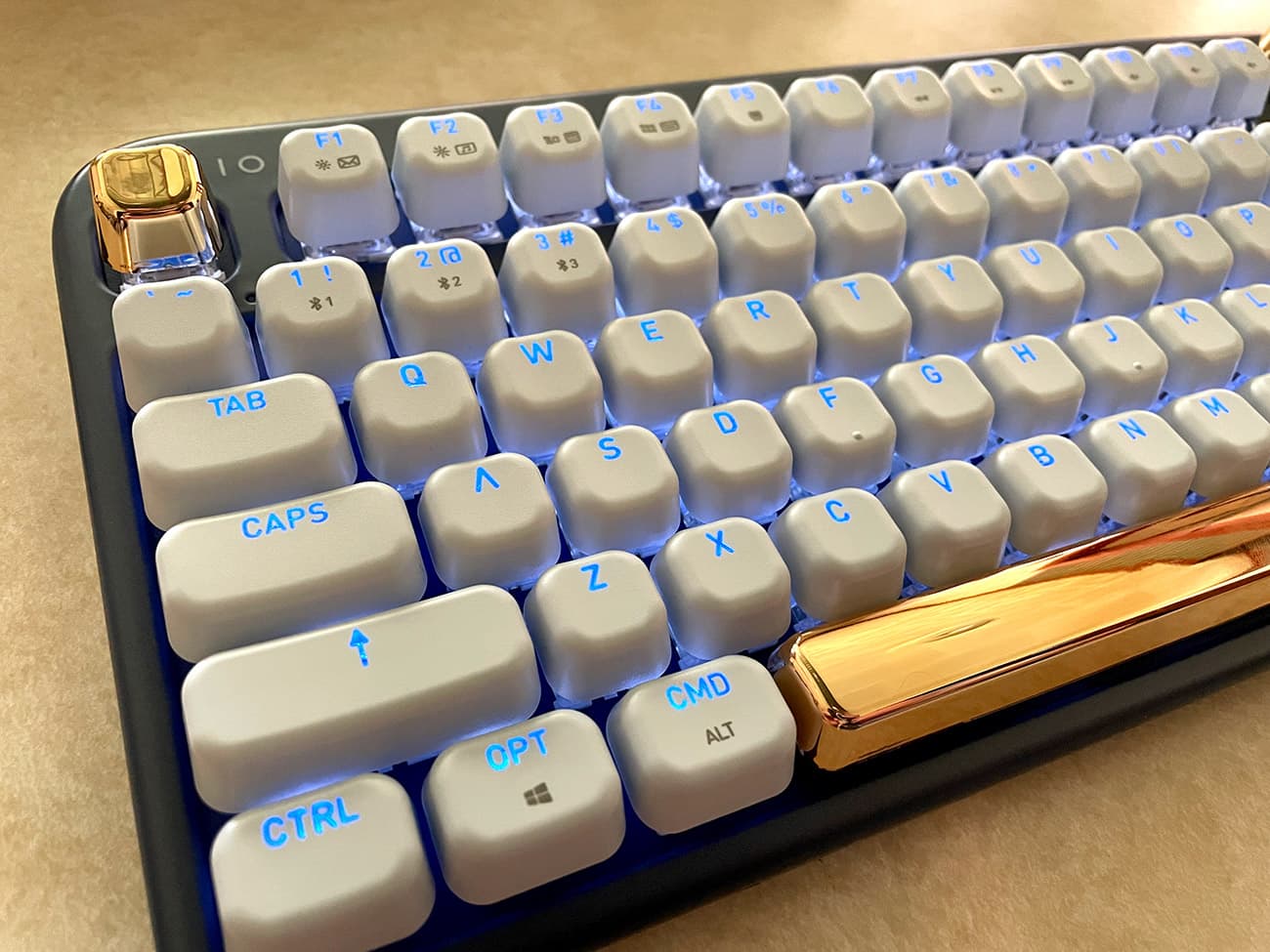 One neat design function of the IZO is the "double shot keycaps" which essentially creates the illusion of solid printing on the keys when the backlight is off, perfect for well-lit areas, and allows light to shine through cleanly when the backlight is turned on. It's a neat effect, though if you have nearly any light source nearby, you almost have to turn the backlight off to read the keys unless they're turned up to a high brightness.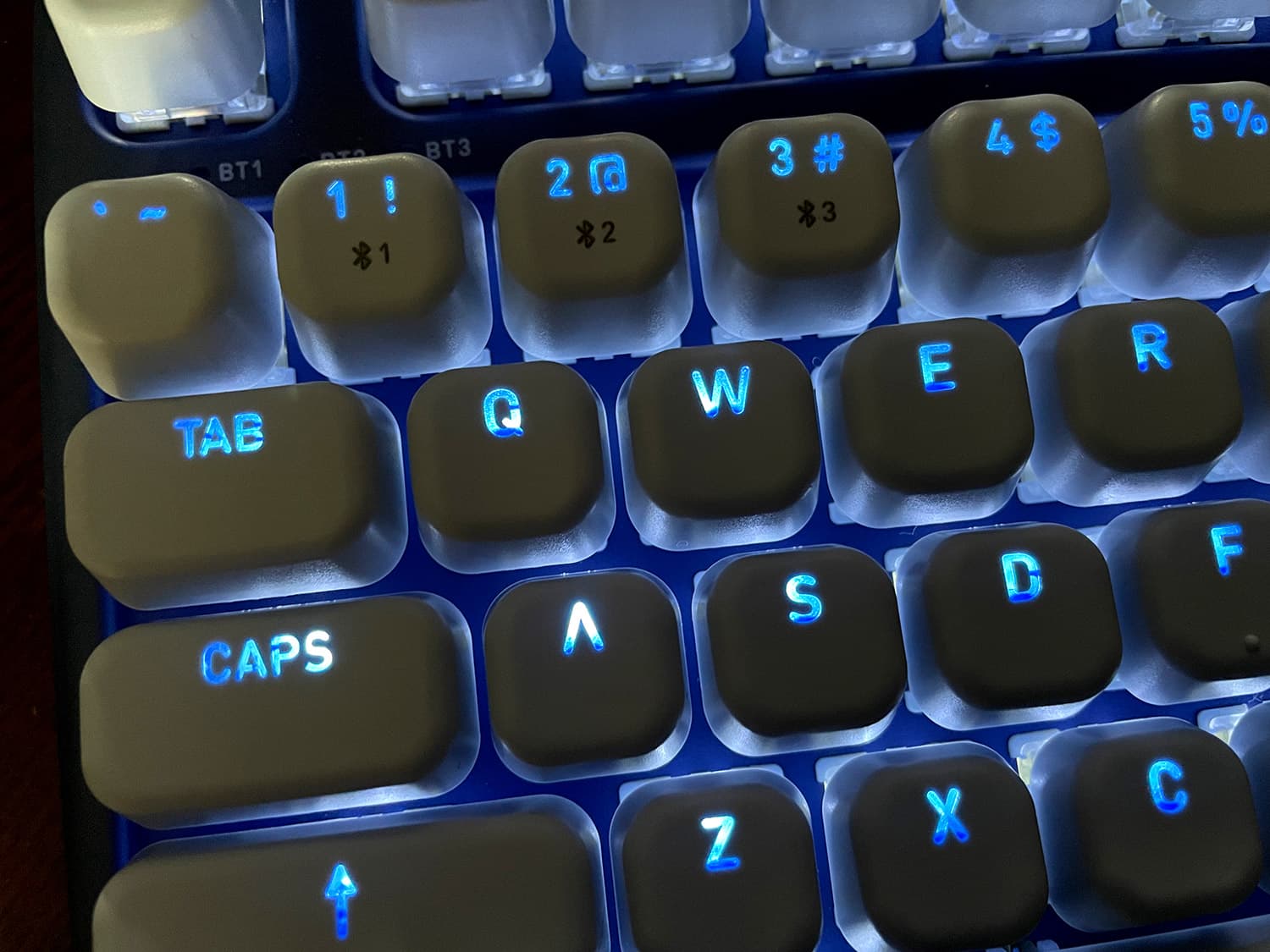 There was perhaps only one divisive style choice with the entire IZO Collection, and that's the inclusion of the shiny, gold accents. Thankfully, they did include replacement keys for the keyboard and ESC key, for the keyboard at least. I didn't like the texture of the shiny gold space bar… it's too different from the rest of the keys and felt smoother and somewhat stickier against my fingers than the white space bar.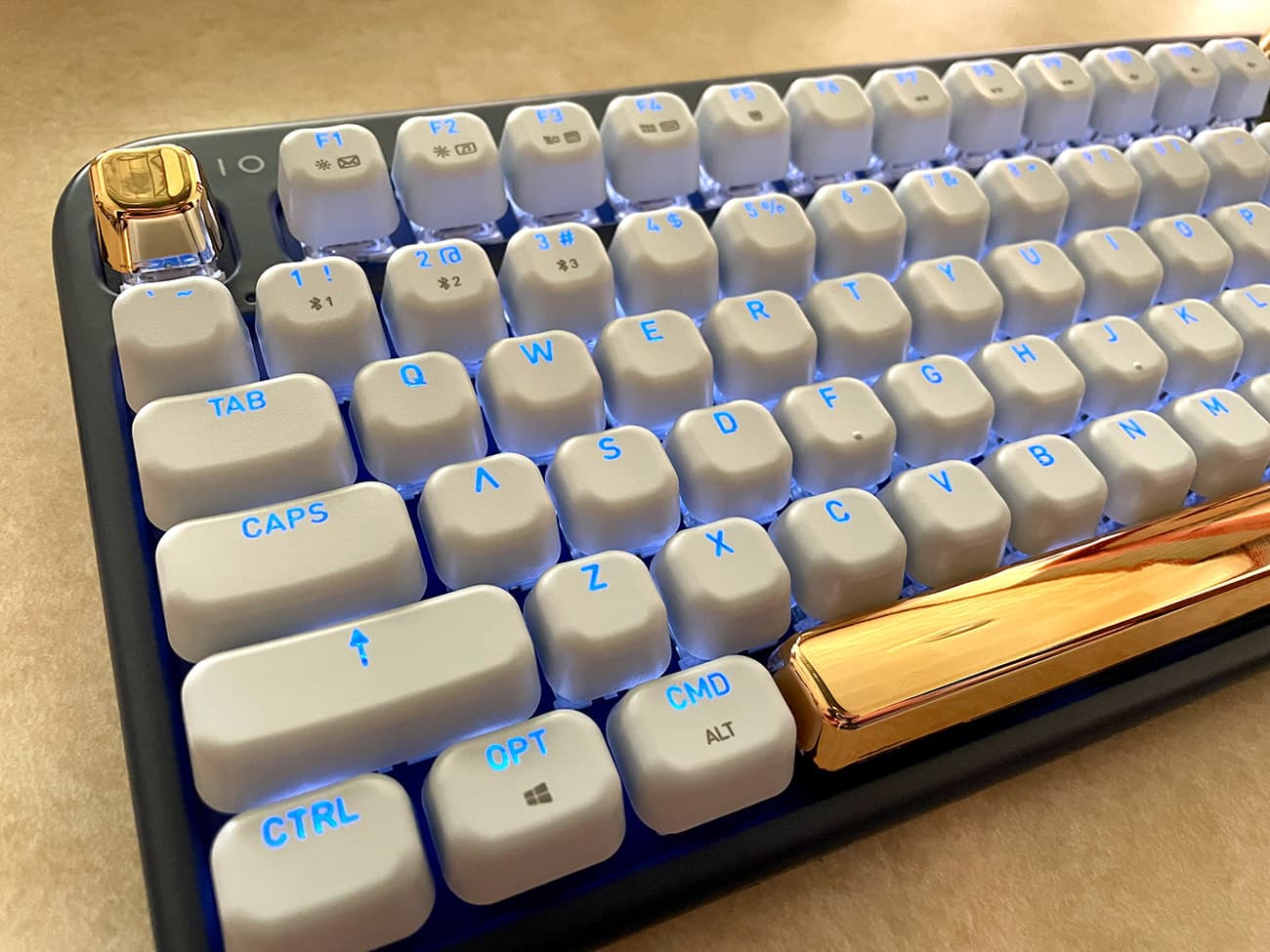 I really dig the rest of the IZO Keyboard's design, though I'm stuck with the giant gold knob on the top corner of the keyboard. It catches the overhead lighting in my dining room depending on how I shift my body, which is a shame because I otherwise really like that knob. Turning it acts as a volume knob, and pressing it in mutes/unmutes. I love that. And holding down the FN key and turning the knob changes the brightness of the keyboard's backlight. Pressing the knob in while holding the FN key cycles between the backlight settings, most of which are super-distracting novelties, like a splash of light spreading from each keypress, or streaks of light cascading across the entire keyboard. But I guess that's possibly half the fun of owning a mechanical keyboard these days.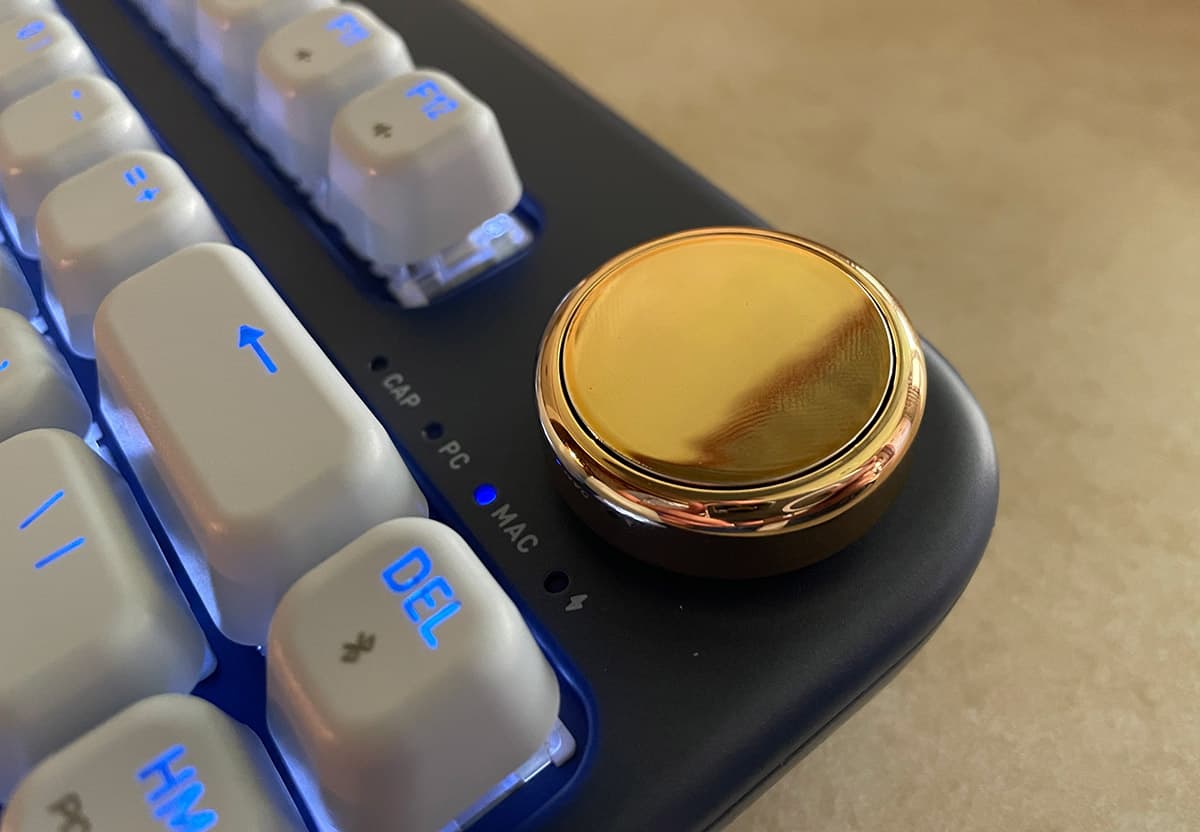 Strangely enough, holding down OPT and rotating the knob launches the OS Sound Settings. No clue why.
It's worth mentioning that the keyboard weighs in at nearly 2 pounds, so it doesn't budge when typing. That's fantastic.
One thing that I noticed while using the keyboard for extended typing (like right now as I write this review) is the possible need for a wrist pad, as the keys are high enough to put strain on your wrists.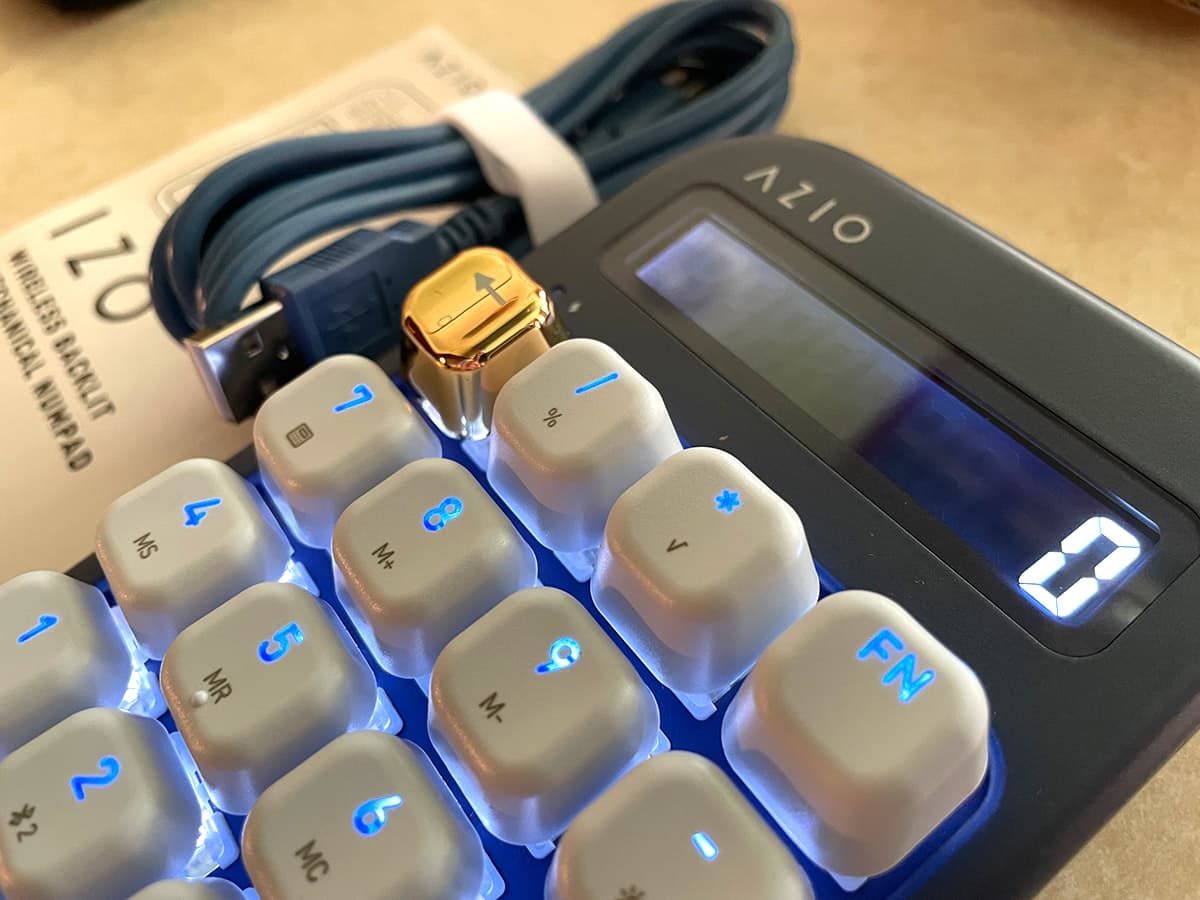 For those who require or like to use the number pad (which has been enjoying a slow death in Apple-land over the past 20 years) the IZO Collection includes a combination wired/wireless Numberpad. The Numberpad shares many of the same attributes of the Keyboard, such as the clicky Gateron Blue switches, backlight and gold accent.
My wife is a bank teller and uses a number pad pretty much all day, and is an absolute whiz at math operations on that thing. It pairs perfectly with the Keyboard. PLUS. Get this… there's a backlit LCD display on the top of the number pad that allows it to function as a standalone calculator! I'd keep this thing on my desk just for those sweet, sweet clicky calculations.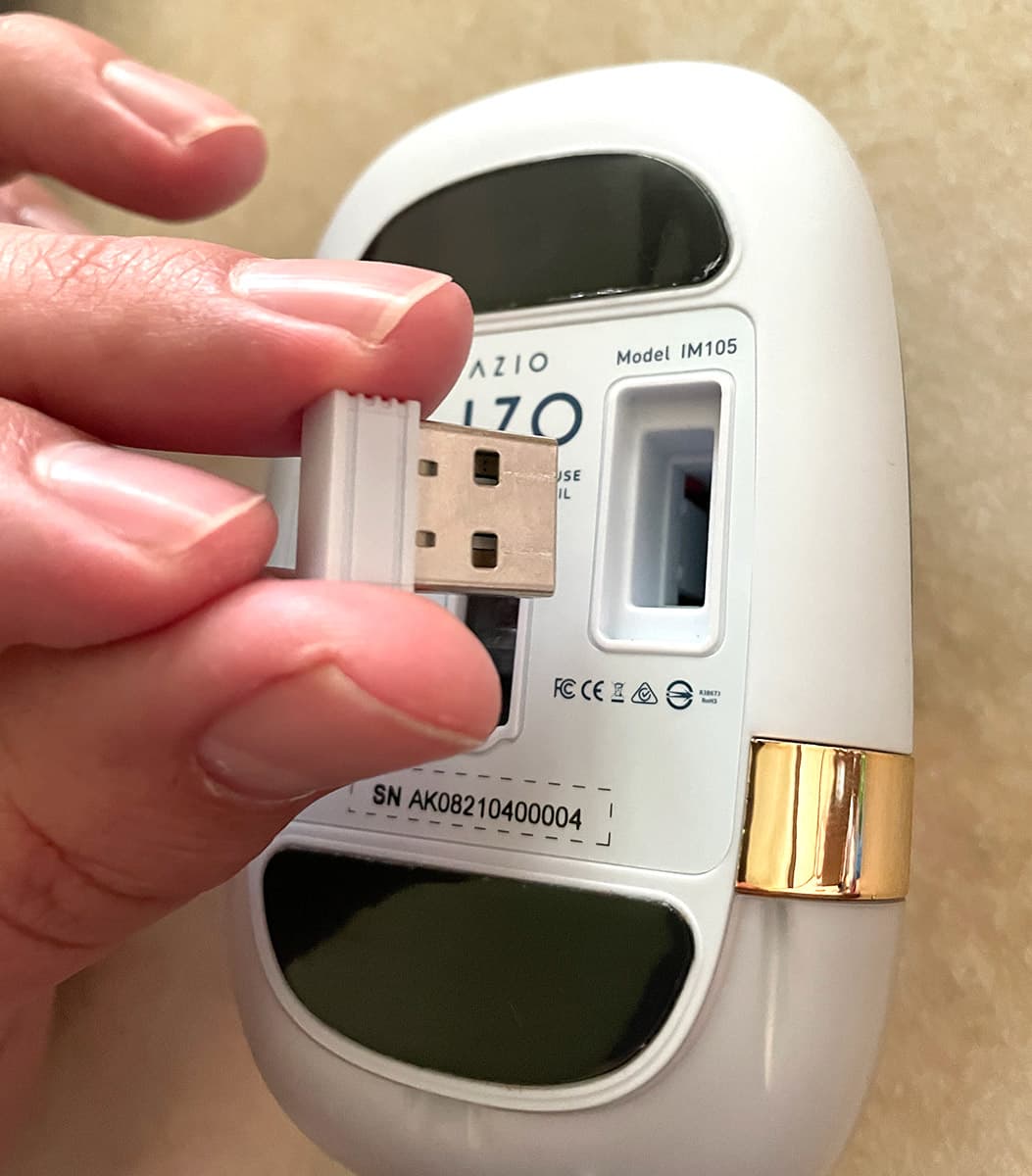 Rounding out the IZO Collection is their combination Bluetooth/RF Mouse. This was probably the least favorite of the collection. I used it for maybe 5 minutes just to see if I could get used to the size and just couldn't do it. I'm pretty used to larger Logitech mice that have impeccable ergonomics, so handling AZIO's diminutive mouse was pretty rough.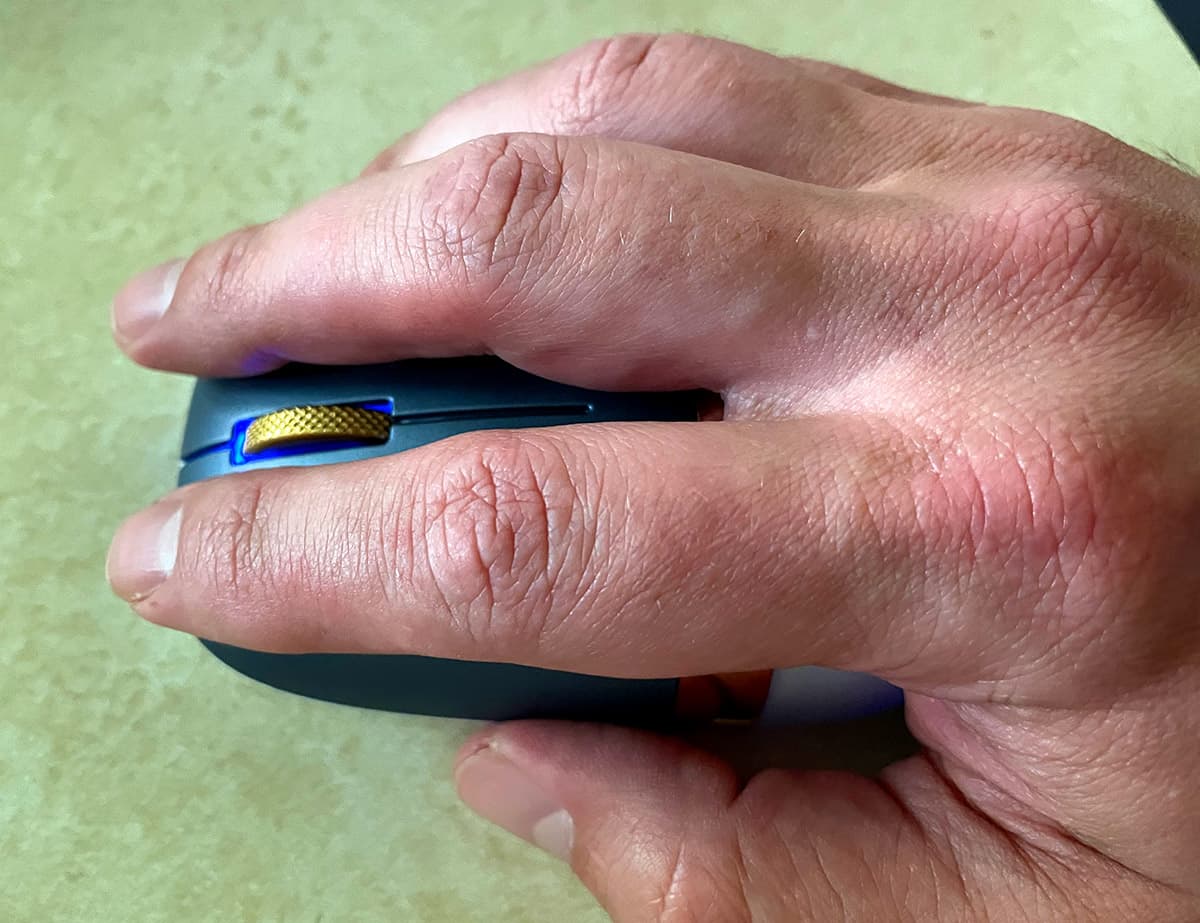 I do like the fact that it has a combination of wireless functionality, able to be paired over Bluetooth or a built-in RF USB dongle. There is a button on the bottom that adjusts the DPI, essentially the speed of the mouse cursor, between three speeds. The mouse also matches the aesthetic of the IZO Collection, with matching color, gold accent (ehh…) and translucent white plastic. It would be fine in a pinch, but was too small to be comfortable in my hands.
What I like
Love the responsiveness and travel (and even the clickyness) of the keys
Heavy keyboard + number pad feel almost cemented in place
Bluetooth fast-switch between 3 devices is extremely useful
Standalone calculator mode on the number pad is actually super fun
All-rounded design is unique and comfortable for typing at length
Great contrast with the key backlight
Media knob is actually quite useful for quick volume/mute
What needs to be improved
Touch typing has a decent learning curve
Most of the backlight options are gimmicky at best
Mouse is a bit small, would probably work for a travel mouse, but it wasn't very comfortable
Although I love them, Gateron-Blue switches are quite loud and might disturb coworkers or anyone within its considerable earshot
Switches are not swappable with other types
Keys are quite high and you will likely need a wrist pad
Gold accents are a style that might be a turn-off for some
Very minor, but I wish the keyboard would remember PC/Mac setting when powered on
Final thoughts
My overall impression of the IZO Collection was positive. The Keyboard is by far the crown jewel of the collection, an interesting, comfortable, feature-rich and inexpensive foray into the world of mechanical keyboards. It utilizes what I think are one of the best types of switches for typing, provided you won't disturb anyone (including yourself) with the clicky keys. The option to complete the collection with a number pad and mouse is a nice option, but I'd have to recommend giving the mouse a miss.
Price: Available on Kickstarter, the IZO Keyboard is $80, while the Numberpad is available at a standalone or add-on price of $40. The IZO Mouse is available as an add-on at $30.
Where to buy: At the time of writing, the AZIO IZO Collection is only available on Kickstarter, and will be full-backed and funded on July 8, 2021, and will ship to backers in September, 2021.
The collection is available in Baroque Rose (a dark wine red) Blue Iris (steel blue) and White Blossom (white with golden yellow keys). Each set has the same smooth reflective gold spacebar/ESC/knob color.
Source: The sample of this product was provided by AZIO.