We use affiliate links. If you buy something through the links on this page, we may earn a commission at no cost to you. Learn more.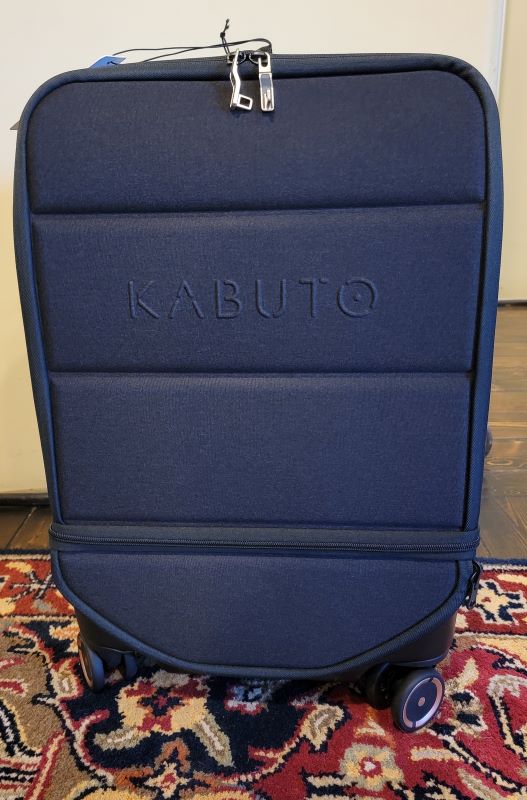 REVIEW – I have something of an almost diagnosable mania for luggage and backpacks. I guess it's because I feel like the right travelling gear can really make or break your travel days. When Kabuto offered up a premium carry-on to review right before my family vacation, I was all over it!
What is it?
The Kabuto carry-on suitcase is a premium carry-on smart suitcase that expands in a unique way and features biometric security and USB charging ports.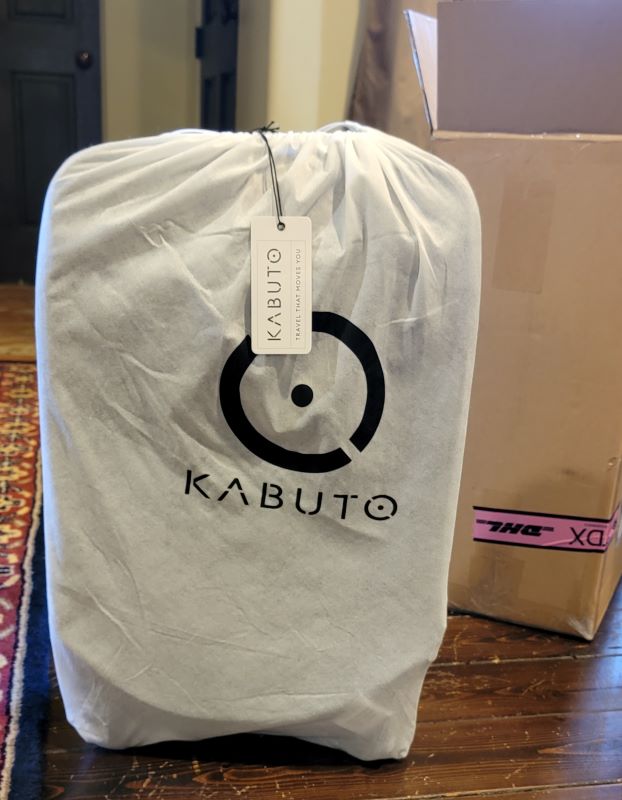 What's in the box?
The Kabuto carry-on suitcase in a dust bag.  Inside the suitcase you'll find a zipper panel that can be removed or used for flatter things that you don't want getting lost and a quick-start guide to program the biometrics.   The Kabuto people also threw in a BUNCH of accessories that are available on their site, like a luggage scale, a rain cover, two packing cubes, and an add-a-bag elastic strap, so I'll be talking about those too.
Design and features
First let me say that the Kabuto carry-on suitcase is super high quality and looks like it!  It's sleek, it's classy, and it glides silently across the floor like an S-Class Mercedes.  Probably because like an S-Class Mercedes, it has real tires for wheels, not plastic round hunks that are on the rest of my suitcases.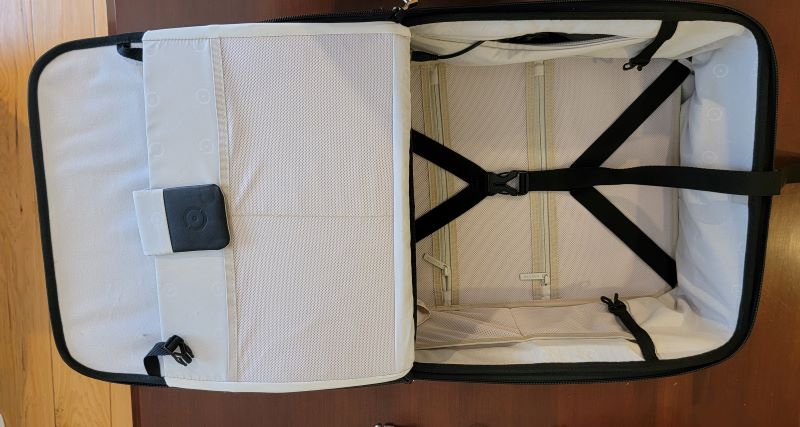 The Kabuto carry-on suitcase has an unusual design that involves and upper main compartment that accommodates the packing cubes that they sent.  They gave me one that pretty much takes up most of the main section, and they gave me an interesting compression cube as well, in case I wanted to expand the bag and use both.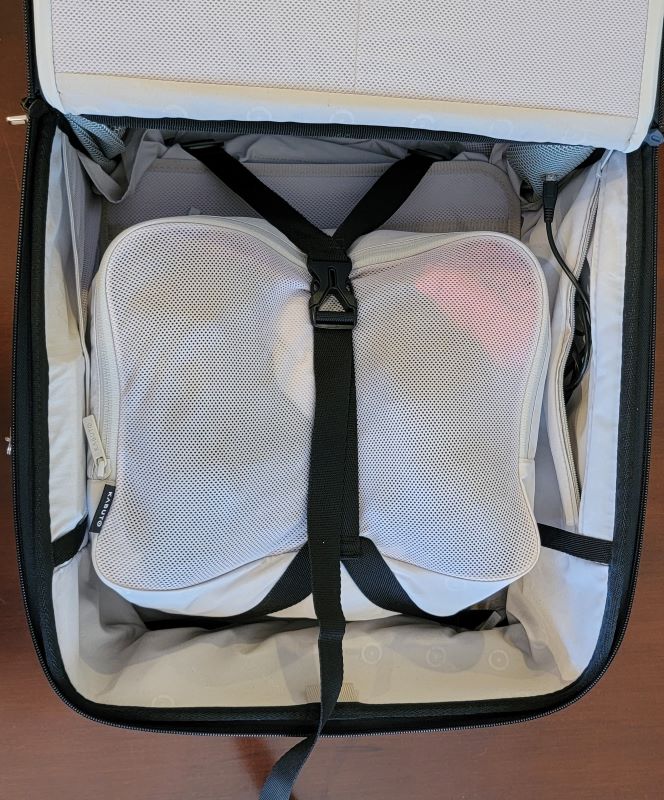 The bottom compartment is smaller and you could use it for dirty laundry, shoes, or I imagine anything that you were worried could break because it is protected on the bottom by the wheel platform and the top by the upper section.  I used it for my toiletries on this trip.  There is a mesh panel that separates it from the main compartment, so even if you are using it exclusively for shoes, you need shoe bags because dirt from shoes could migrate to the main compartment.  There is a way to unzip the two compartments to make them one big area as well.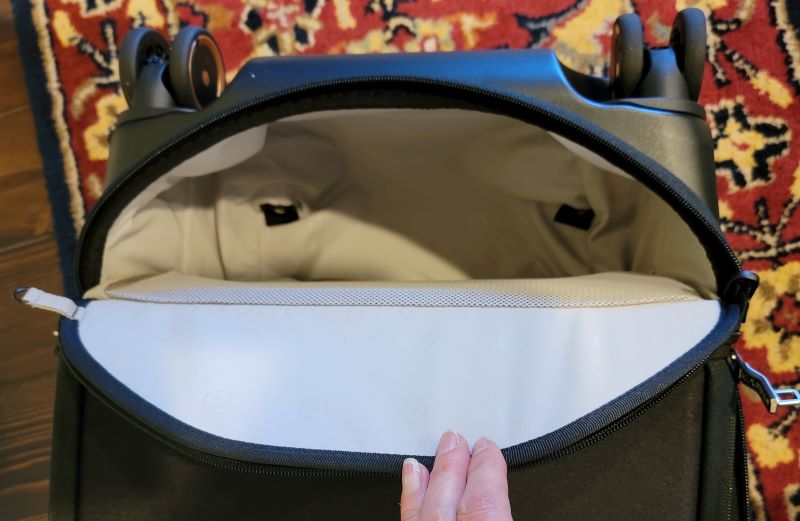 I could give an entire TED talk on packing efficiently because years of travelling with my husband (who hates checking bags) have honed my packing and cramming skills.  The trip we were on was 10 days and we were not checking any bags.  I was able to fit 14 tops and 7 bottoms (pants and skirts), one dress, a spare pair of shoes, and all of the spackle and tackle that is part of my beauty regimen.  Yes, it was a full bag, but it certainly didn't look over-stuffed when I was attempting to appear cool and collected at the airport (with middling success).  I like that.  Even if I'm bringing the kitchen sink, I still like to look like I'm packing light at the airport.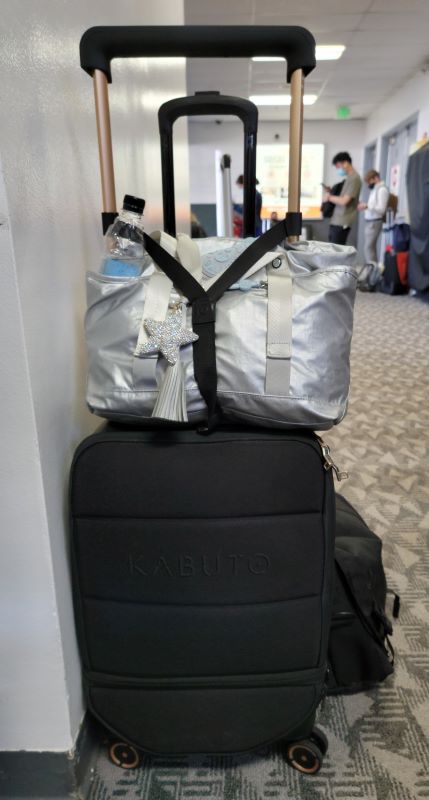 Some of the things I really liked about the bag were the outside design.  The Kabuto carry-on suitcase is very classy looking and sleek.  The top "grab" handle is flat, as is the extendable handle you would use for rolling.   The extendable handle collapses into the top of the bag to create a flat surface that makes that area perfect for anything that you'd normally use a short table for (like propping up your laptop or resting your coffee on).  I used it as an ottoman during a super long delay in Baltimore (so long we had to de-plane and re-plane).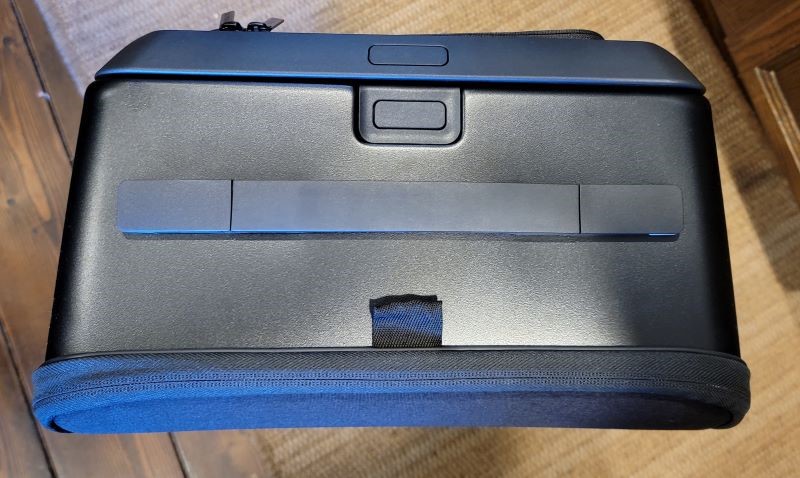 The bag is also light.  It weighs less than five pounds when empty, which is a real factor for me when I buy a carry on.  Nothing bugs me more than having a bag that weighs a lot before I put my things in it, and I'm forever reminded of that every time I heft it into an overhead compartment.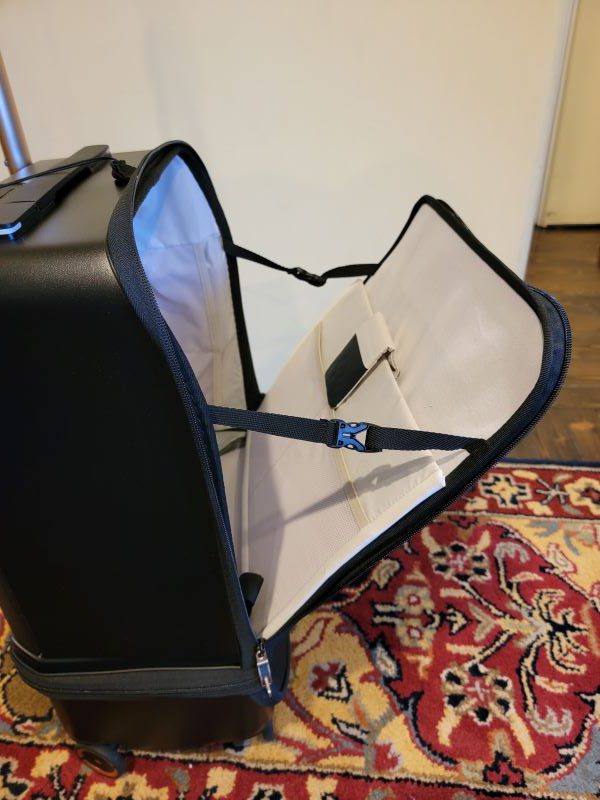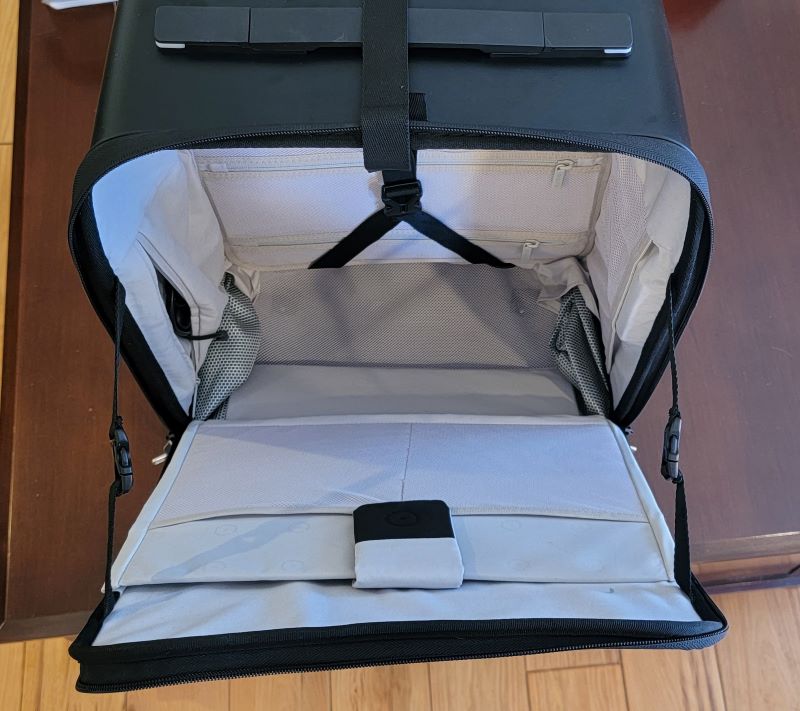 I must confess that initially I wasn't a fan of the non-standard handle width (it's about a foot wide vs. a standard handle at about six inches) just because so many under-the-seat bags come with the strap designed to slide onto the handle of the standard carry on.  However, the Kabuto people sent a Y shaped elastic add-a-bag strap that slips onto the handles and a hooks on the top of the bag so that you can achieve that same effect but with ANY bag, strap or no strap.  I decided after seeing how nice this worked that maybe this was a superior solution.  The one caution I have, though, is that you could potentially lose that strap if you leave it on the bag when you're not using it.  It fell off once for me in the back of an Uber. My advice is that if you do buy a Kabuto, buy that strap too.  It's just nice to have.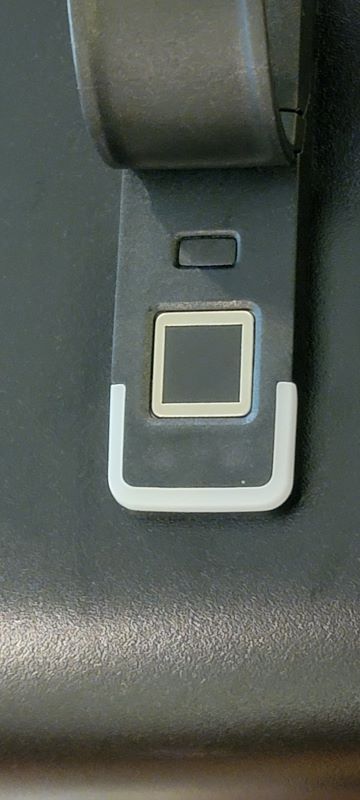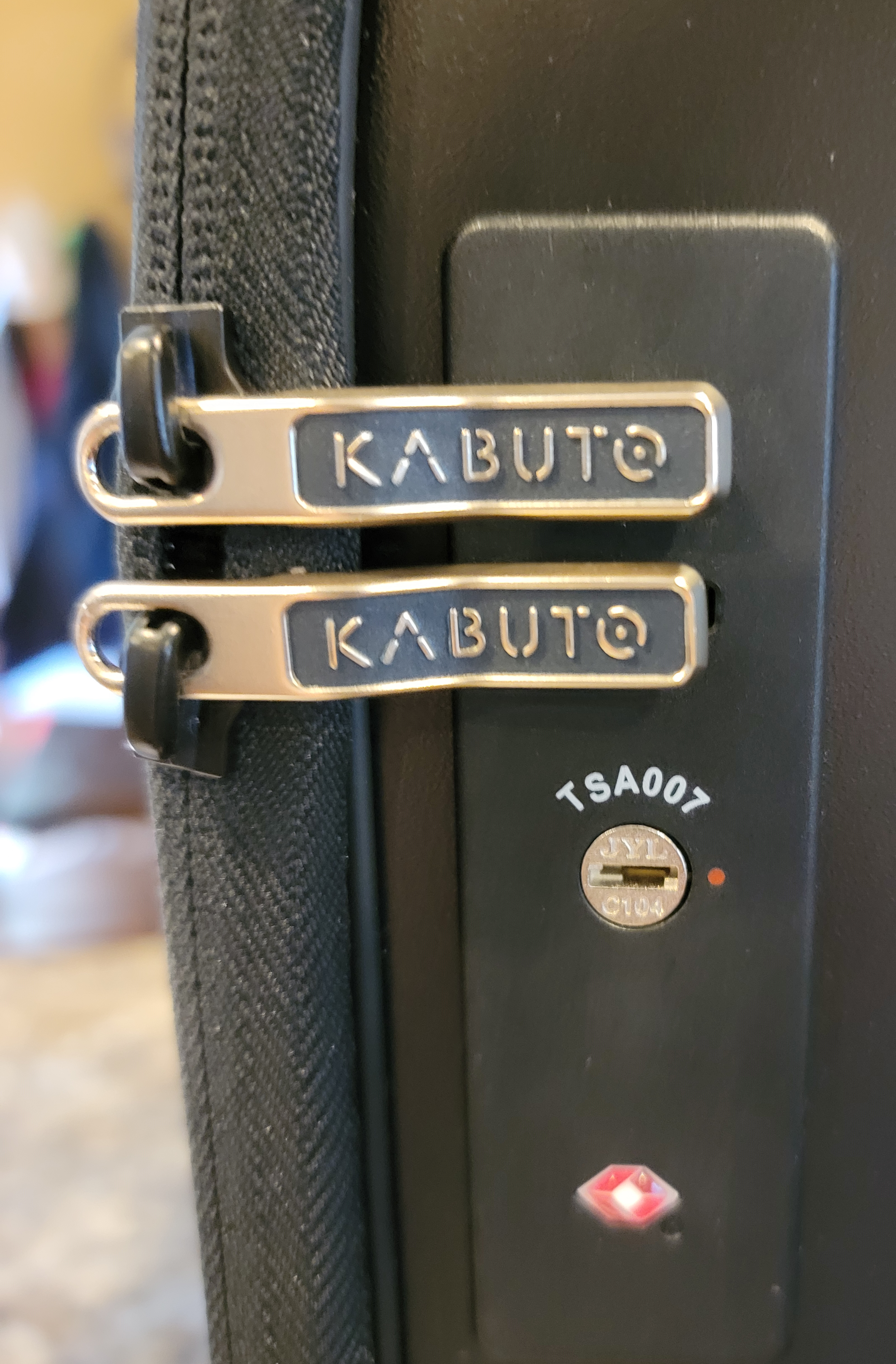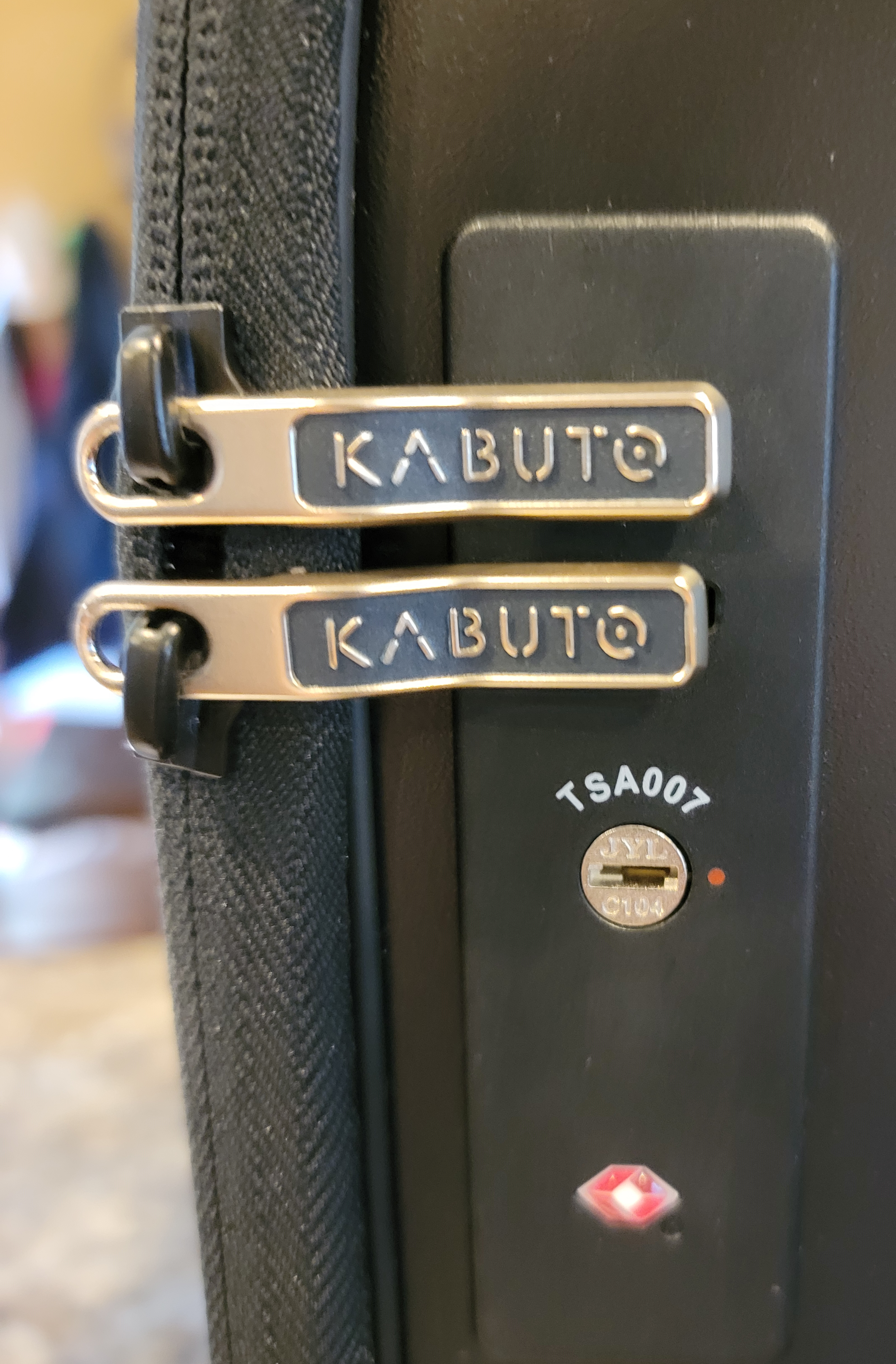 Probably the most gadget-y part of the Kabuto is the biometric security feature.  Built into the top of the bag adjacent to the grab handle are two flaps that look like they are part of the handle.  Lift one flap and you'll find a fingerprint reader.  This reader will unlock your bag like you're James Bond on a secret mission.  Is it that awesome?  Well, it works fine and it's cool, but personally, that's not a function I need very much. If I'm using it as a carry on, the bag is with me, and I don't think that anyone could unzip my bag and swipe things while it's right next to me. (Maybe I'm jinxing myself by saying that?)  If I check the bag, I have to remove the battery pack inside the bag that powers the reader so the biometrics won't work.  Either way, you need to carry a key somewhere on your body (just in case).  I guess it's a convenience factor if you're checking your bag at a hotel desk and you're worried.  I never travel with anything that exciting, so for me it's not critical.  If more than one person in your household is using the bag with that feature enabled, though, the reader does store up to 10 fingerprints so you can all feel like a secret agent when unpacking.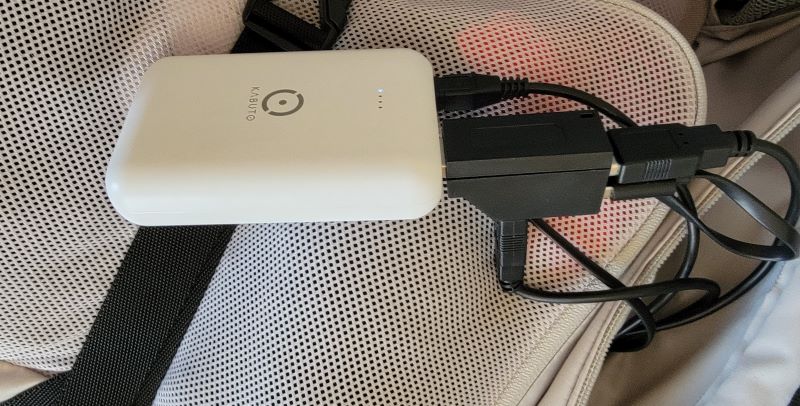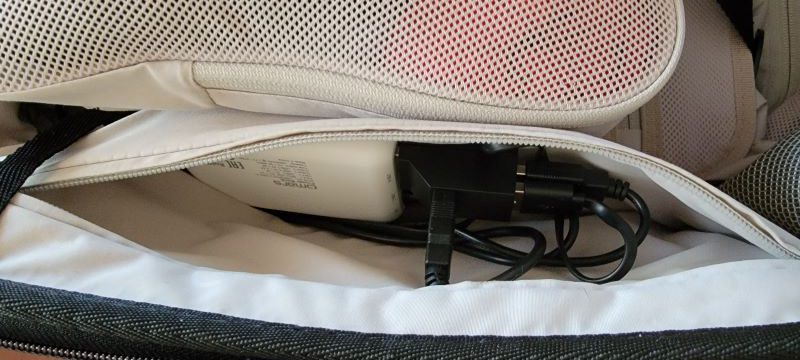 The other flap on the side of the grab handle is far more useful to me: it features two USB ports that are powered by the same 10,000 mAh battery pack  that powers the biometric reader.  You can plug in and recharge while you are hanging out at the gate, and that's something I used several times during the trip.  The one criticism I have of the design is that the cords that plug into the pack are bulky and seem like they could be streamlined.  If it was a normal piece of luggage, I probably wouldn't notice, but in a bag where the design is so detailed and clearly planned, this felt like an afterthought.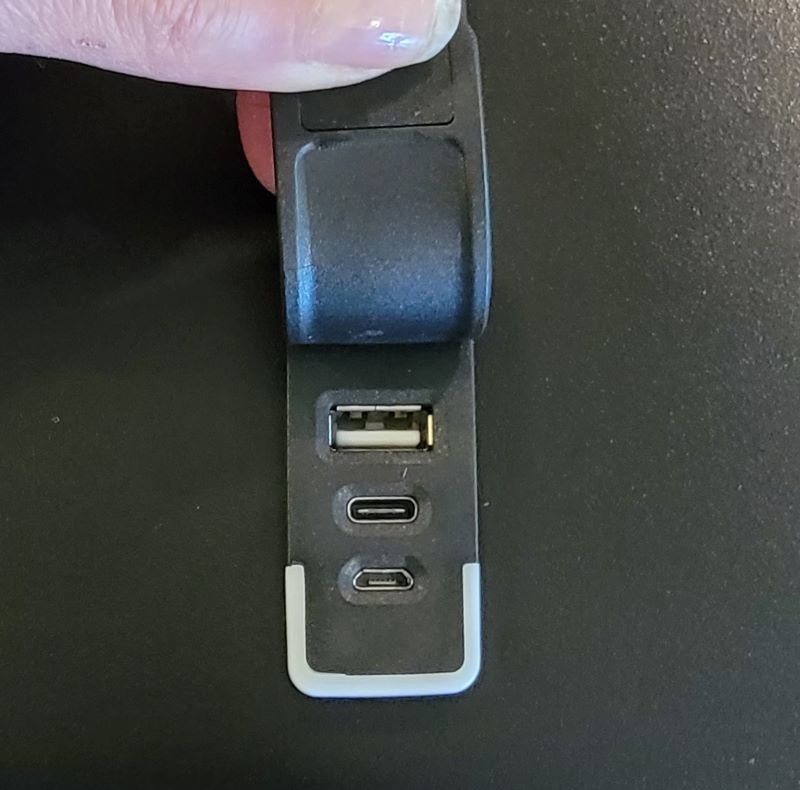 The Kabuto carry-on suitcase also features a very cool removable back pocket that fits between the handle on the back.  It is made to hold travel papers, a tablet or small laptop, cables, etc. It cleverly integrates a USB-C cable that enables your tablet to charge from the battery pack inside the suitcase while the pocket is attached to the the bag.    It unzips flat for security and it could fit in a seat back pocket nicely.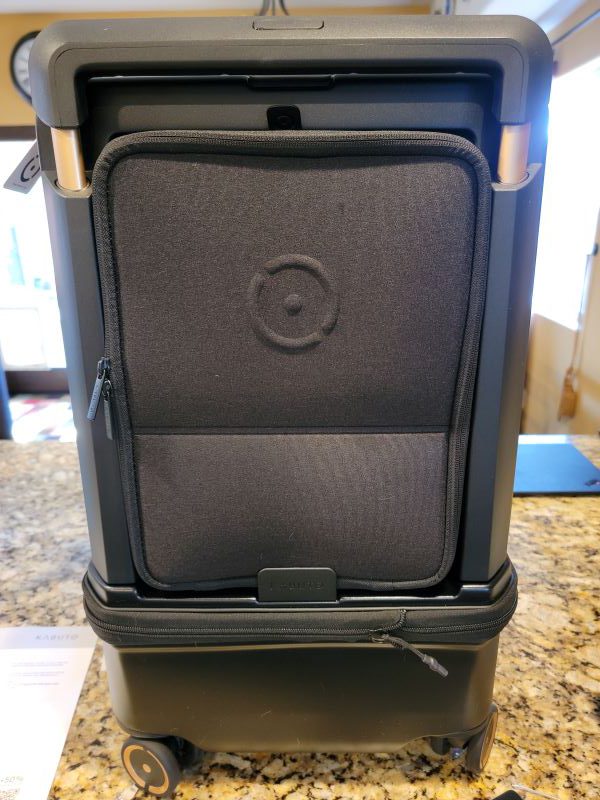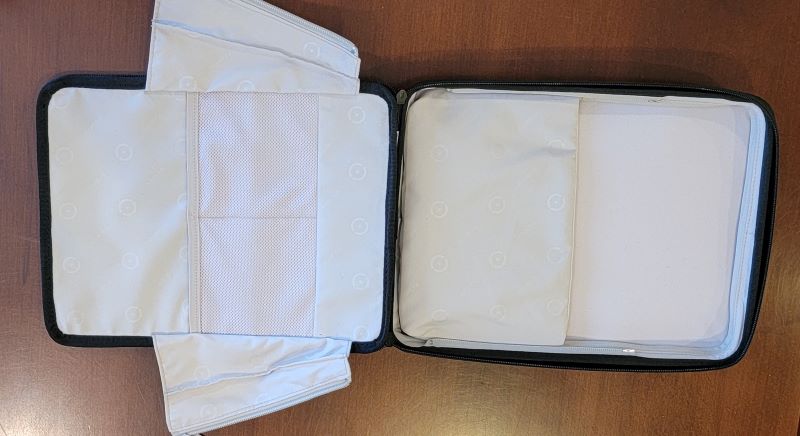 So let's talk about the most unusual feature of this bag:  it expands, but in a very unique way:  it gets taller, not wider.  Between the lower compartment and the main compartment is a zipper.  Unzip it, pull up on the grab handle and press the button next to it and the bag grows taller.  This gives you 50% more space, and that came in VERY handy on our vacation after a trip to the Nike store (part of my Ted talk on packing will include a whole segment on shoes and how they will sink your packing plan).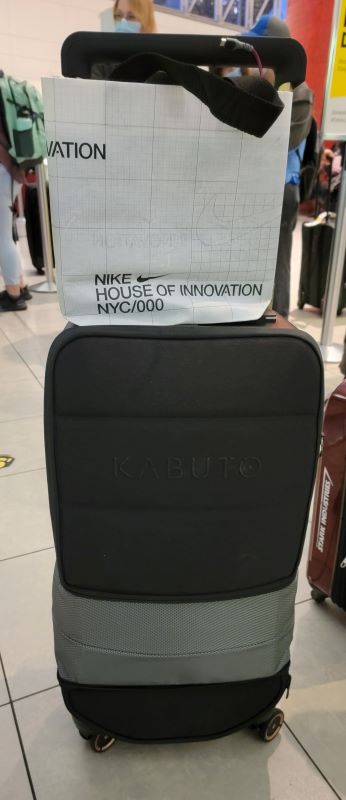 With the expansion, I could no longer use the bag as a carry on, which meant I had to check it (and Pierre had to suck it up).  I was glad to do it because I wanted to see how it would survive the experience.  The fabric that is used for the expansion isn't the same as the rest of the exterior fabric, (I imagine because it has to be less bulky) and I wondered if it would be more easily damaged.   The bag came through with a couple of scuffs  that I easily buffed right off, so either I wound up with exceptionally gentle bag handlers (like those exist) or the bag is really well made.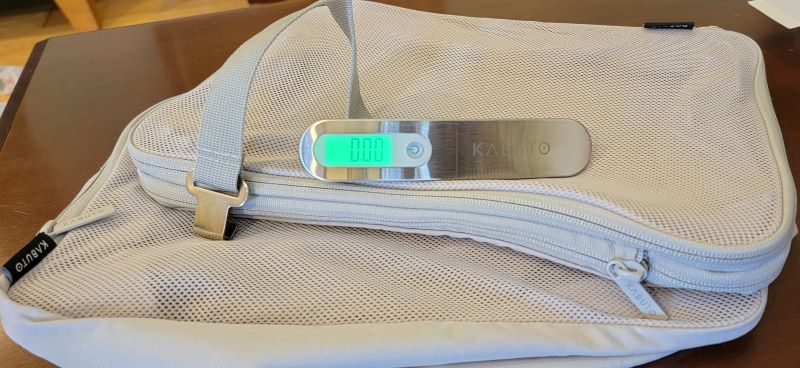 One of the other accessories that Kabuto sent was a luggage scale.  It's a nice, portable size that weighs your bag in both pounds and kilos.  Since I rarely check a bag I don't need to worry about weight most of the time, but I liked this one because it's light and easy to use.  They also sent a nylon bag that is a rain cover for the luggage, but it could be used for dirty laundry or any number of things on the road.  I liked the design of it because you could easily hook it onto a clothes hanger and use it like a hamper.   If, like me, you are bedbug phobic, I always try to keep everything off the floor that I can as a precaution so this was a nice accessory to have as well.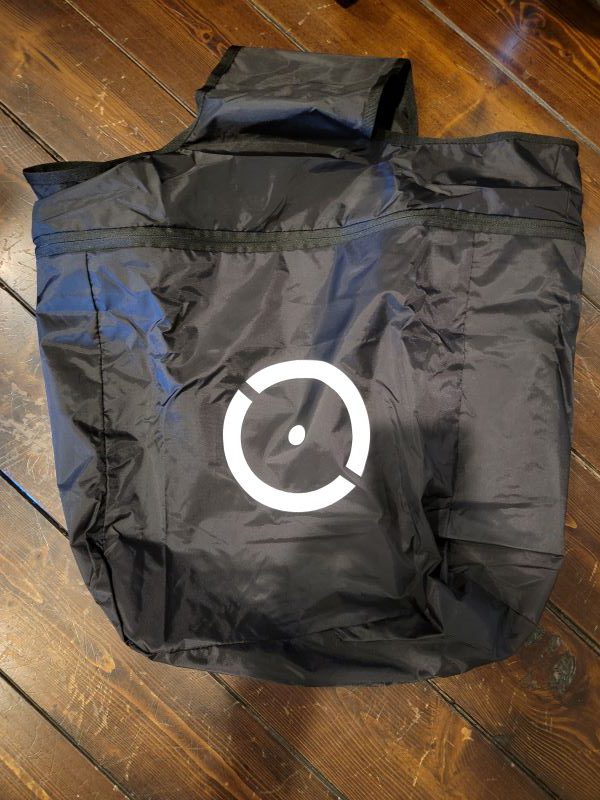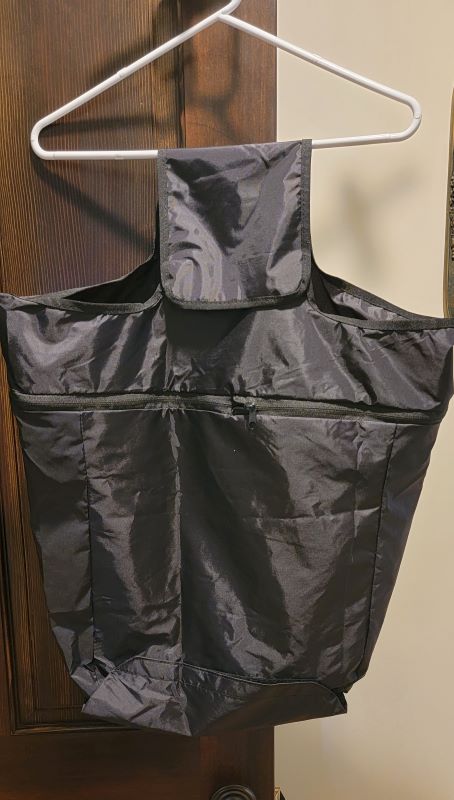 This bag started as a crowdfunded project and it's great to see that they stuck to their plan and delivered such a high quality item. It's a pricey bag at over $400, but it is a premium piece of luggage with a lifetime warranty.  A similarly sized designer bag could cost twice as much, so I think it's fair given the features and flexibility of this bag.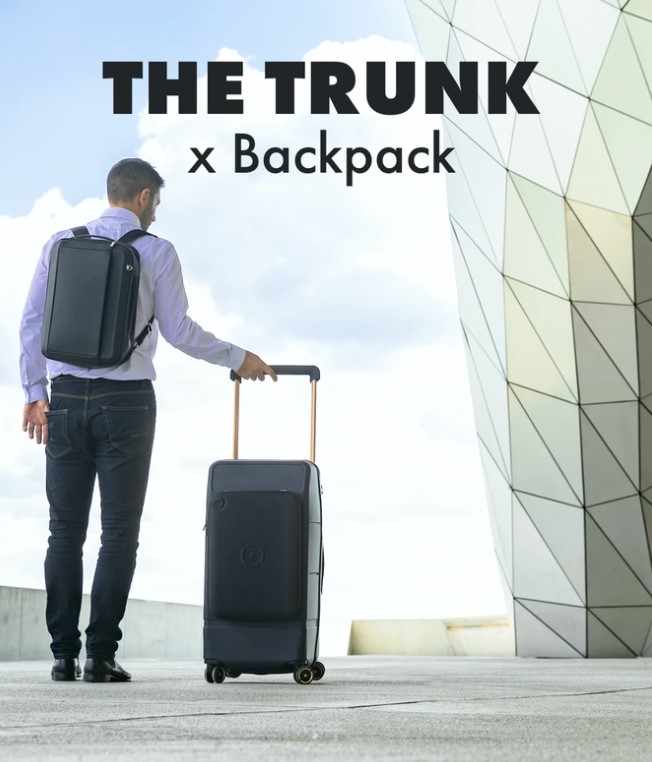 If you're saying (as I am) "That's a cool carry on but I need a full size bag for longer trips," Kabuto has just launched another Kickstarter for their newest bags:  The Kabuto Trunk and Backpack.  This bag also features a biometric lock that is TSA approved and two really cool accessories:  a removable front pocket and optional backpack that attaches to the Trunk.  I'm pretty excited about it because it features a modular interior and a rugged polycarbonate exterior that is made from the same material that Tumi uses.   The expandable backpack also looks really nice – it's made by the same factory that manufactures Montblanc and Dior bags – and is convertible to be used as a backpack or as a briefcase.  These bags would complete your luggage set, be perfect for business travel, and they come in several colors.
What I like
Quality
Style
Flexibility
Silent smooth wheels
What I'd Change
The battery pack with cords is kind of a bulky tangle.
Final thoughts
The Kabuto carry-on suitcase is a great bag to travel with.  It has many innovative, useful features and I look forward to using it on many more trips!
Price: $416.03
Where to buy: Kabuto
Source: The sample for this article was provided by Kabuto