We use affiliate links. If you buy something through the links on this page, we may earn a commission at no cost to you. Learn more.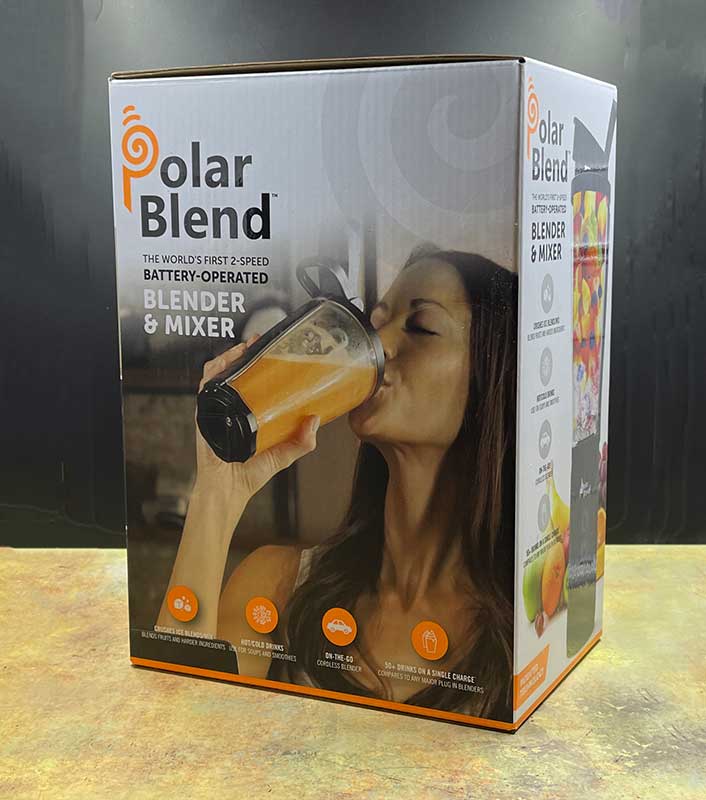 REVIEW – How would you like a 2-speed blender/mixer that you can use to make a protein shake or smoothie after you hit the gym, or take with you when you travel? No, I'm not talking about taking a full-sized Vitamix or Nutri Bullet. Those blenders are great, but they share one thing that keeps them from being 100% portable, and that's a cord. Today I want to show you the Polar Blend portable 2-speed blender and mixer which is powered by a rechargeable battery. Let's take a look.
What is it?
The Polar Blend is a portable cordless blender and mixer that has 2-speed and a rechargeable battery.
What's in the box?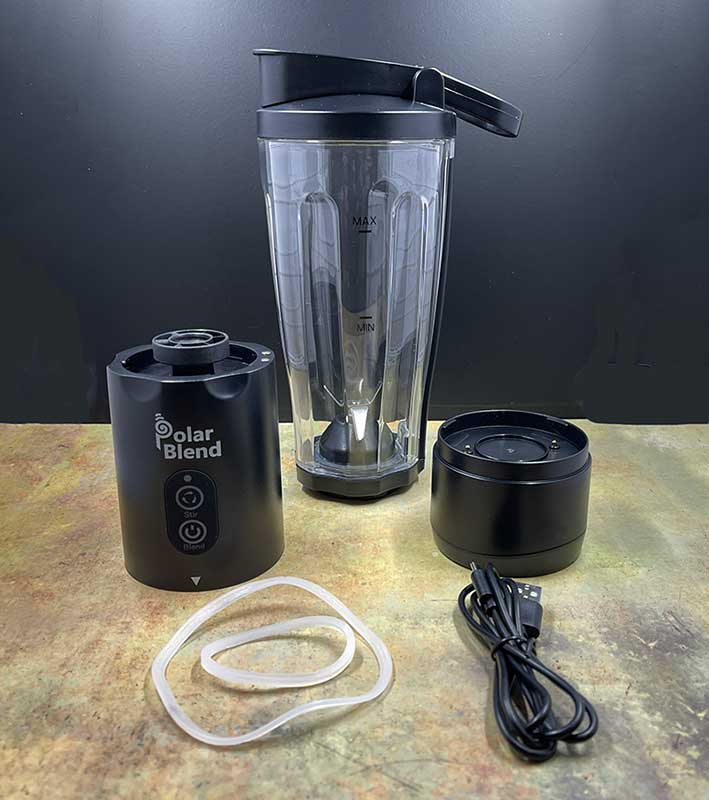 Polar Blend blender & mixer
Blending base
Charging base
USB-C charging cable
2 extra gaskets
Recipe and user guide
Design and features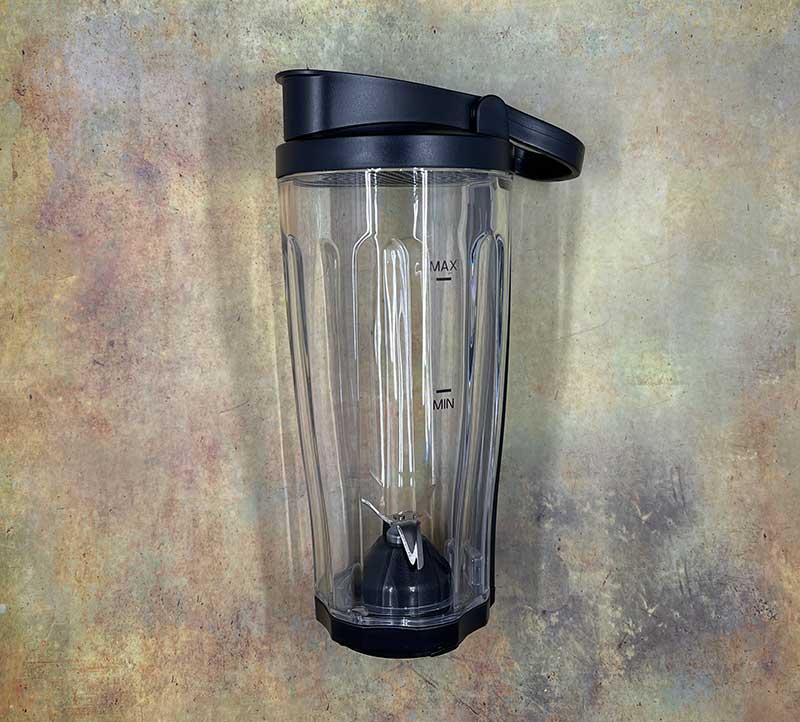 The Polar Blend is a modular blender & mixer. There's the 24oz BPA-BPS-free Tritan cup with the lid on top that has a convenient carry handle and a flip-up spout so that you can drink right from the cup.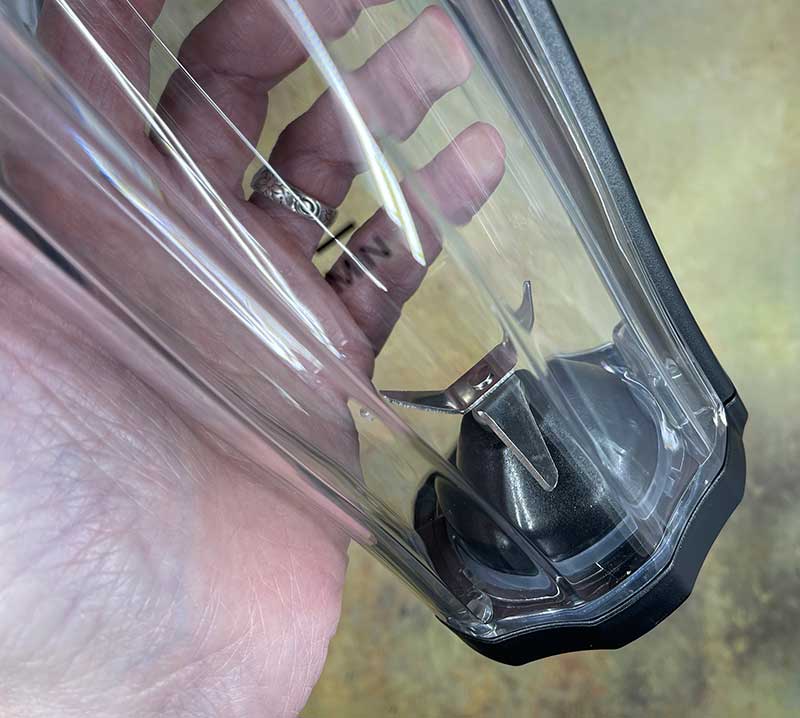 At the bottom of the cup, you'll find a removable stainless steel blade assembly.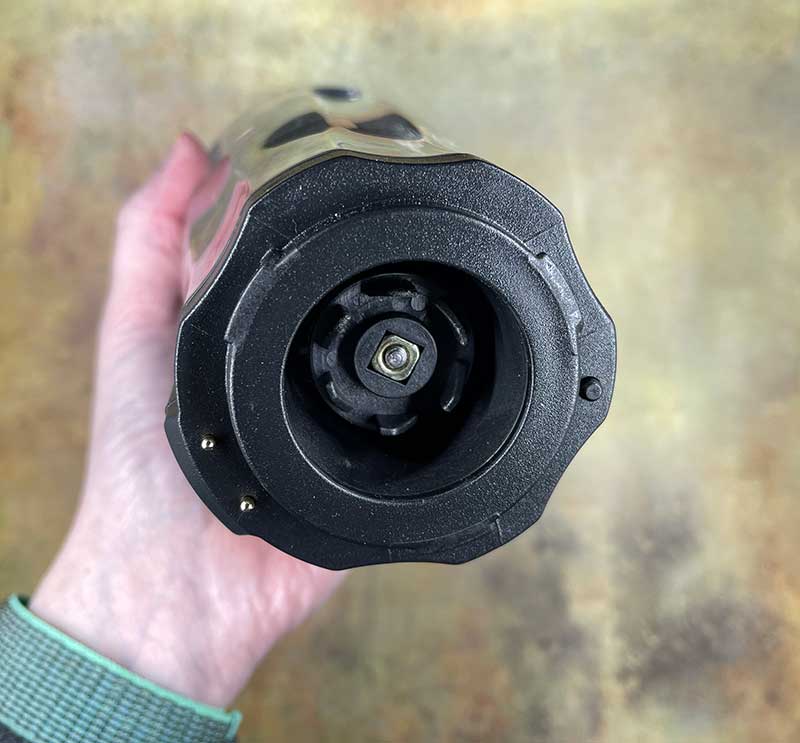 The bottom of the blade assembly has electrical contact points for the motor base.
Never miss one of our posts again. Sent MON, WED, and FRI with the latest gadget reviews and news!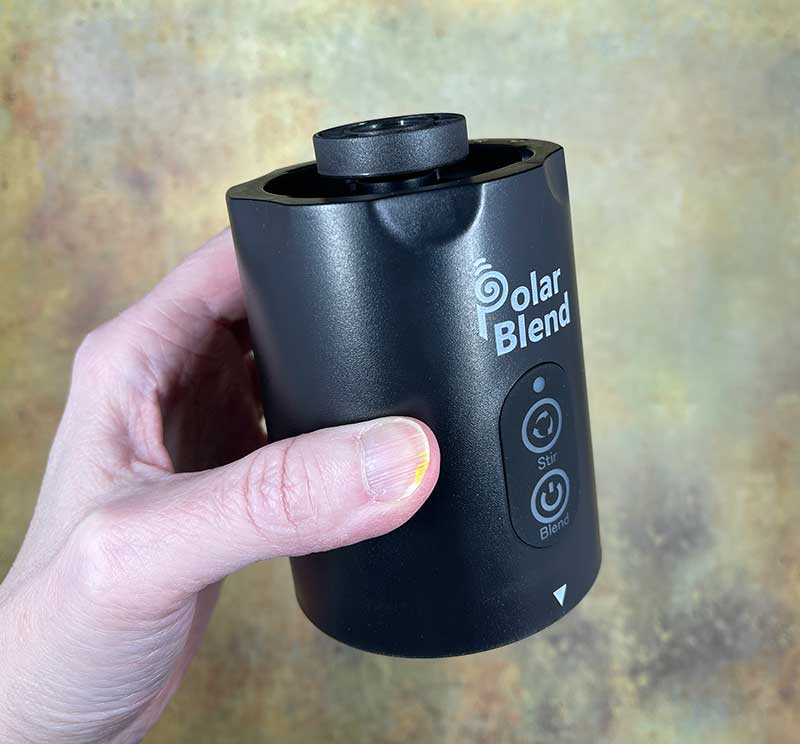 The motor base has the gear for the blade at the top and on the front is a status LED and two control buttons that are marked Stir and Blend. Can you guess what they do? 😉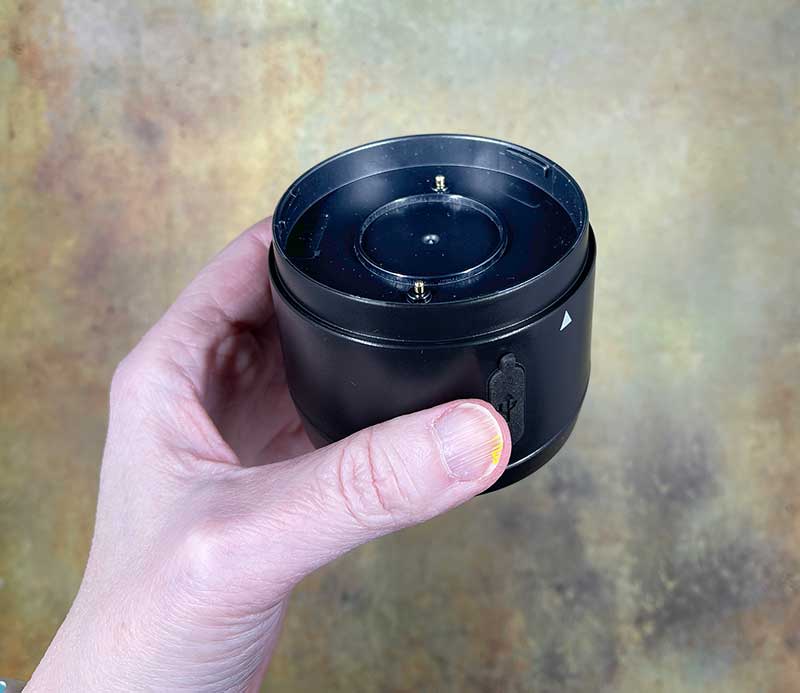 To use the Polar Blend, you first have to charge it and that is done by attaching the battery charging base which has a USB-C port on the side.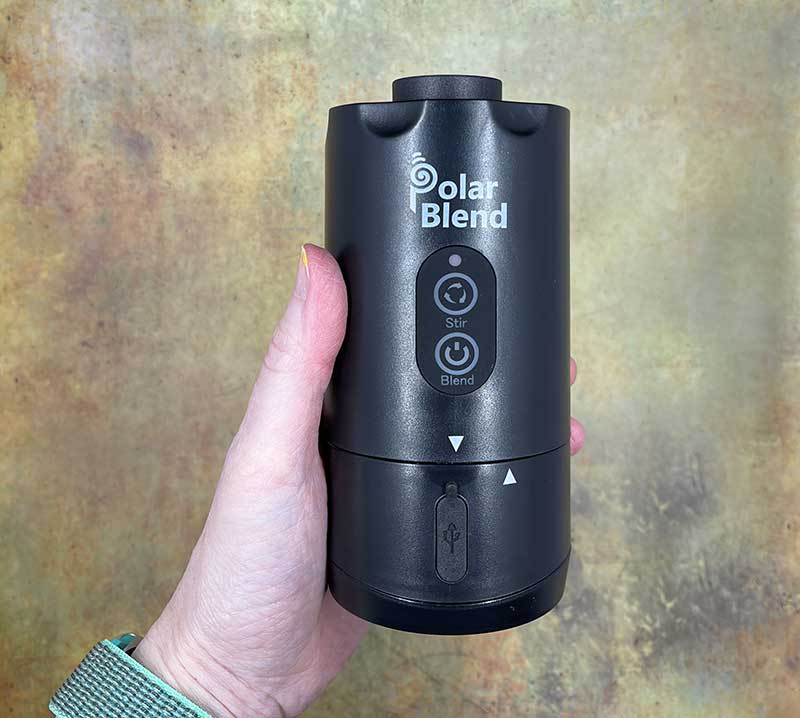 To charge the motor base's battery, you attach the battery charging base to the bottom of it.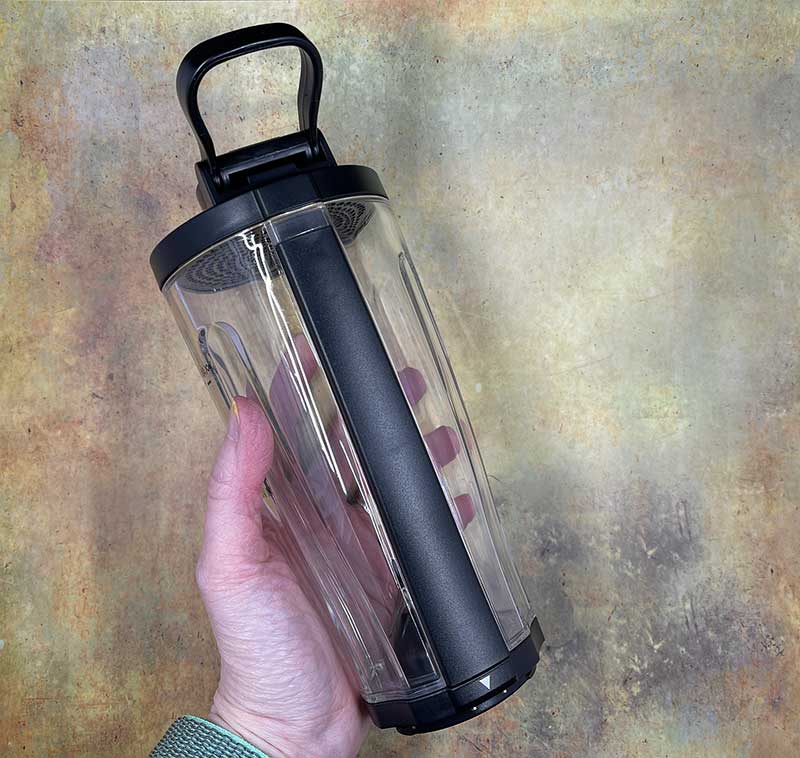 And then the motor base with the battery charging base can be attached to the cup.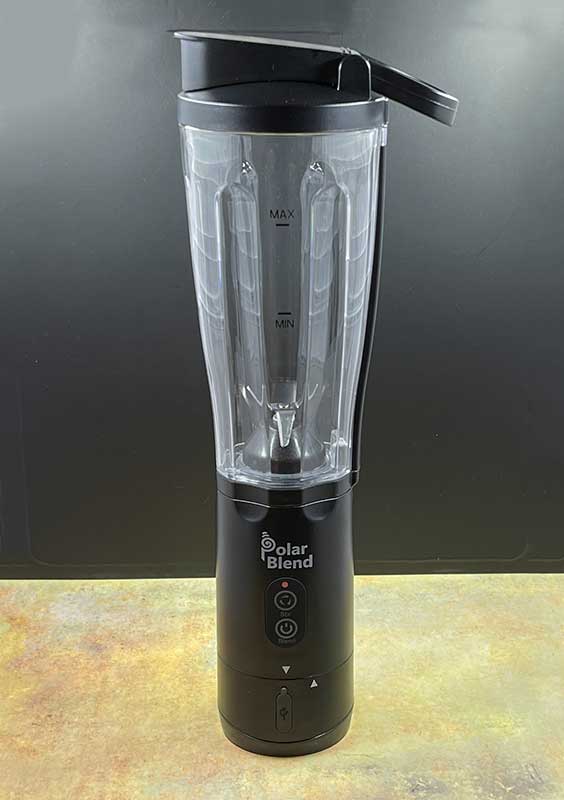 Here's the fully assembled Polar Blend blender & mixer. Yes, it's pretty tall. And the narrow base can make it feel a bit tippy, so it's advised that you hold on to the base when the blender blending.
Note that you can use the Polar Blend without the battery charging base attached to the bottom of the motor base, but when you use it this way, the power isn't as strong and is really only limited to mixing items and not blending items. For example, you would not be able to blend ice or frozen fruits without attaching the battery charging base. But you could mix up a powdered protein shake with just the motor base attached to the bottom of the cup.
See it in action
I immediately noticed some issues with the Polar Blend – notably, the lid and spout. I found it incredibly difficult to open the spout. At first, I was just trying to flip it open as I do with regular shaker/blender bottles that I use, but I wasn't able to do so. I finally read the directions (shock!) and found that you're supposed to pinch the sides and it will pop open, but that didn't help either. I finally gave up and just removed the lid altogether after making my smoothies. I won't say that everyone will have the same issues with the lid because I will admit that I do have some issues with my right hand. I have the start of arthritis or an RSI thumb and wrist which causes me problems sometimes. That said, I gave it my better half to see if she'd have the same problems even though she doesn't the same issues that I do and she complained about the lid too. Just something to consider if you think you might want to buy this device.
I also noticed that the Polar Blend doesn't blend as well as Blendjet 2 blender which I reviewed not long ago. The Polar Blend doesn't completely liquify frozen fruits like the strawberries that I showed in the video above. The resulting smoothie wasn't as "smooth" as I would like. There were little bits of berries in the drinks I've made as well as seeds that weren't pulverized.
What I like
Portable
Rechargeable
2 speeds
What I'd change
Add an easier to open spout
Stronger motor or better blades
Final thoughts
I have a full-sized Ninja blender that I keep in my basement utility room because it just takes up too much space on my kitchen counter. When it comes to making smoothies, it's a beast and works great. But it can't go with me to the gym or when I travel like the Polar Blend blender and mixer can.
I found that the Polar Blend is a good blender that has 2 speeds and a rechargeable battery. If you plan to use it with frozen fruits, you probably won't be all that impressed with it, but if you need a portable blender for soft fruits and powders, this one is an affordable choice.
Price: $69.99
Where to buy: Amazon
Source: The sample for this review was provided by Polar Blend.