We use affiliate links. If you buy something through the links on this page, we may earn a commission at no cost to you. Learn more.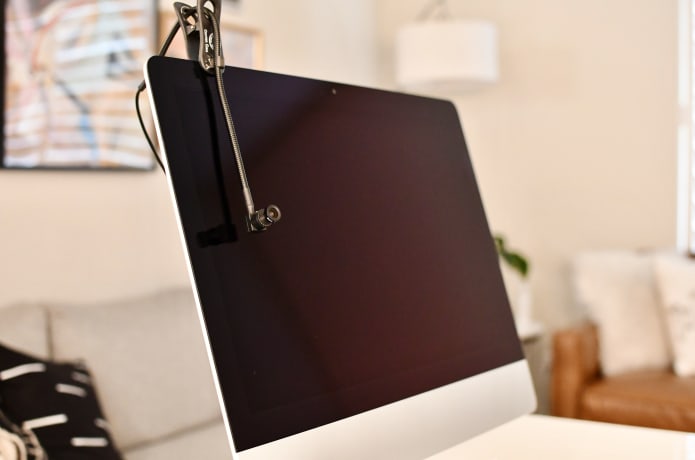 CROWDFUNDING NEWS – For those of us who can't stop looking at our screens while we videoconference, there is a new webcam available that will either drive you crazy or be a game-changer that makes you look awesome online.
Center Cam is a small camera that you can position in the middle of your monitor.  It's small – smaller than a dime – so it doesn't obscure much of your screen (and hopefully doesn't drive you crazy).   The idea is that you will be better able to pay attention to nonverbal cues while you conference online because your attention isn't split between looking at the camera and looking at everyone else in the conference.  It also makes it look like you're looking right at the people you're talking to, and allows you to use your computer like a teleprompter.
The camera hangs from a flexible cable that clips to the top of your screen and moves out of the way when you don't need it.  They also offer a tiny light ring that is designed to attach to the clip.
The design is upgradable to different kinds of lenses that the company plans to make available in the future.  They offer a one-year warranty and expect to ship in May, although they are running a couple of weeks behind due to the chipset shortage that is affecting manufacturers.
You can pre-order one through their Indiegogo INDEMAND page for $95. Shipping is estimated for this month.
Update: Read our Center Cam review.