We use affiliate links. If you buy something through the links on this page, we may earn a commission at no cost to you. Learn more.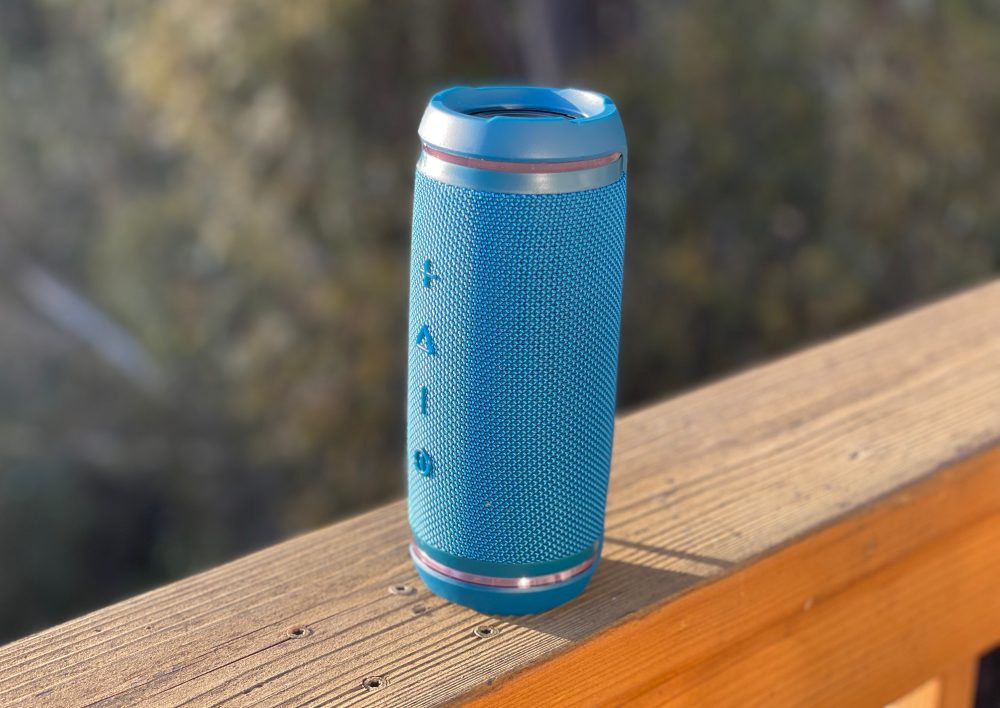 REVIEW – Sometimes your phone or laptop audio doesn't cut it. You don't need anything massive; just something that sounds bigger. Headphones are great, but not very social. Enter the Bluetooth speaker. It seems like they're everywhere, in all shapes and sizes and available from a lot of different brands. Treblab's a relatively new company (founded in 2015) but audio is all they do. Their HD77 is aimed at the outdoors with a rugged design and a good dose of water resistance. Here come the details.
What is it?
Treblab's HD77 is a cylindrical Bluetooth speaker, roughly the size of a water bottle, that puts out some quality audio complete with tactile playback controls and rugged good looks. It's available in Blue or Black.
What's in the box?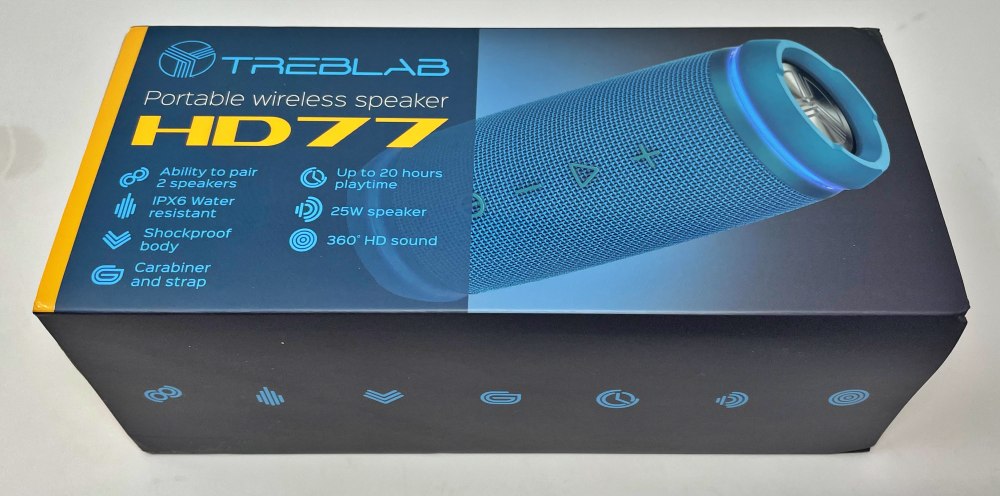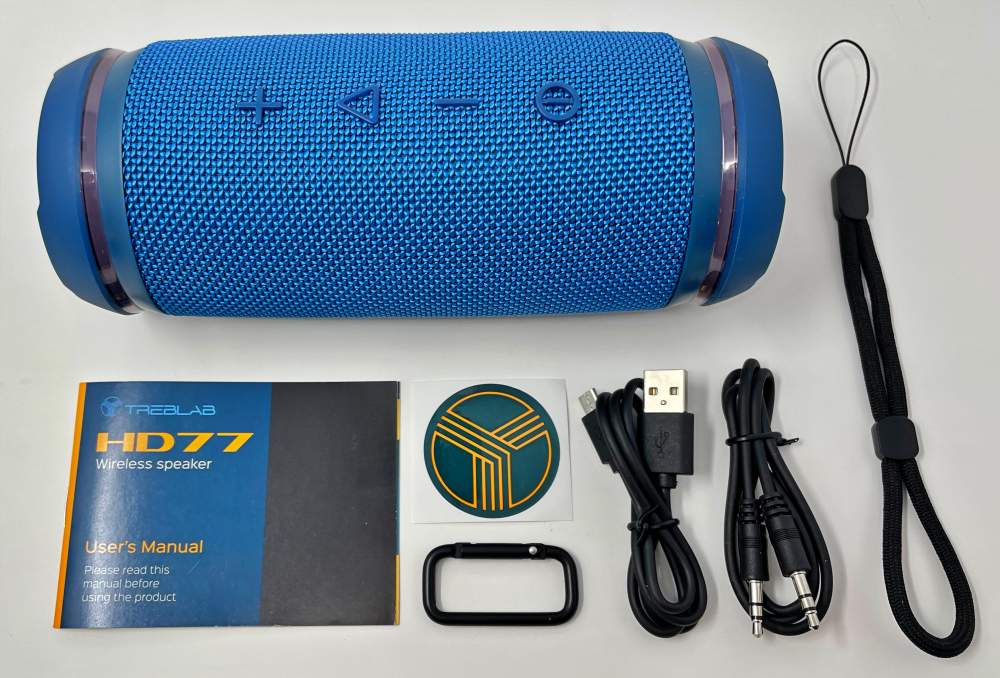 HD77 Speaker
Charging cable
Aux cable
Wrist lanyard
Carabiner
Sticker
User manual
Hardware specs
Playtime: Up to 20 hours
Charging: 5.0V / 0.5-2A Input | 4 hours
Bluetooth: v4.2
Controls: 4 multi-function buttons (On/Off/BT-Aux toggle, Volume-/Previous, Play/Pause/Calls, Volume+/Next)
Microphone: Supports phone calls
Battery: Rechargeable Li-Ion, 2600 mAh 7.4v
Ports: Micro-USB for charging, 3.5mm jack for Aux input
Range: 33ft / 10m
Freq. Response: 80Hz – 16kHz
Output Power: 12.5w x 2
Water Resistance: IPX6
Dimensions: 186 x 78 x 78 mm, 620 g / 7.3 x 3 x 3 in, 1.37 lb
Design and features
The HD77's most notable visual features are its cylindrical shape, its oversize playback controls and the LED rings at each end.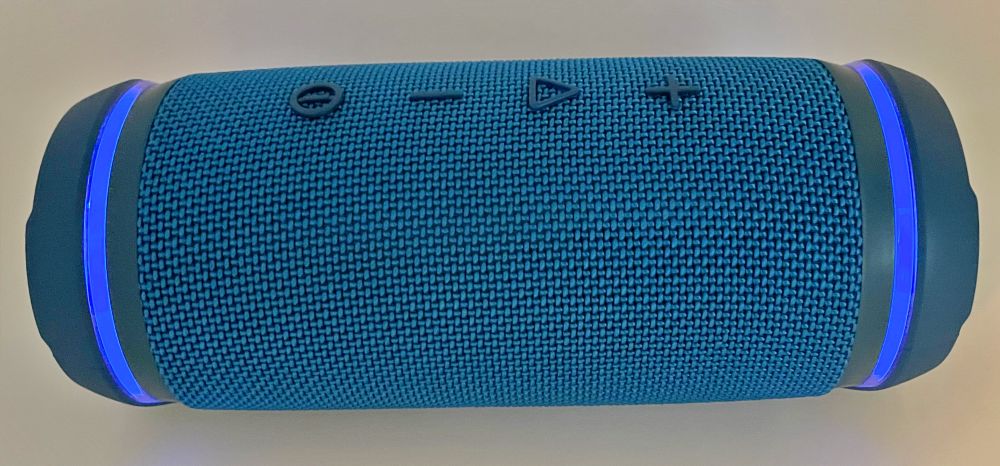 The internal speakers behind the fabric cast audio in all directions so it sounds good from any position. It also sports recessed dual subwoofers on each end that like to move (as they should) during use.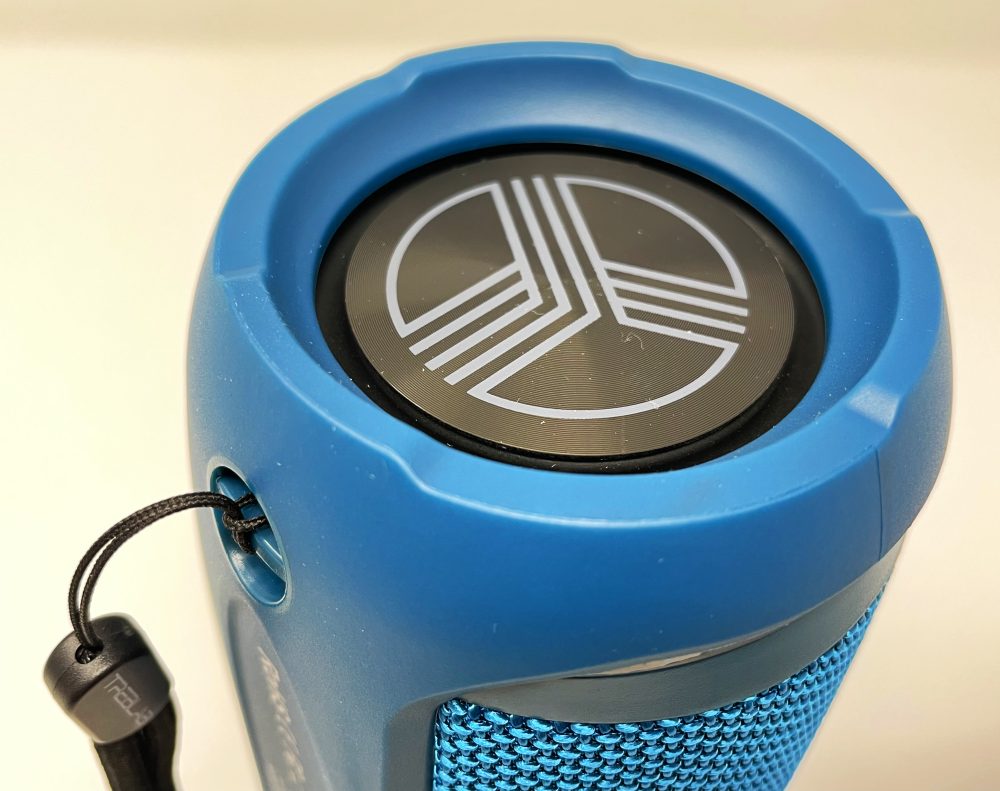 The rugged fabric cover is flanked by robust bumpers on each end connected by a spine that serves as a bottom. The IPX6 water resistance rating for protection in most environments including rain and snow means this can go anywhere.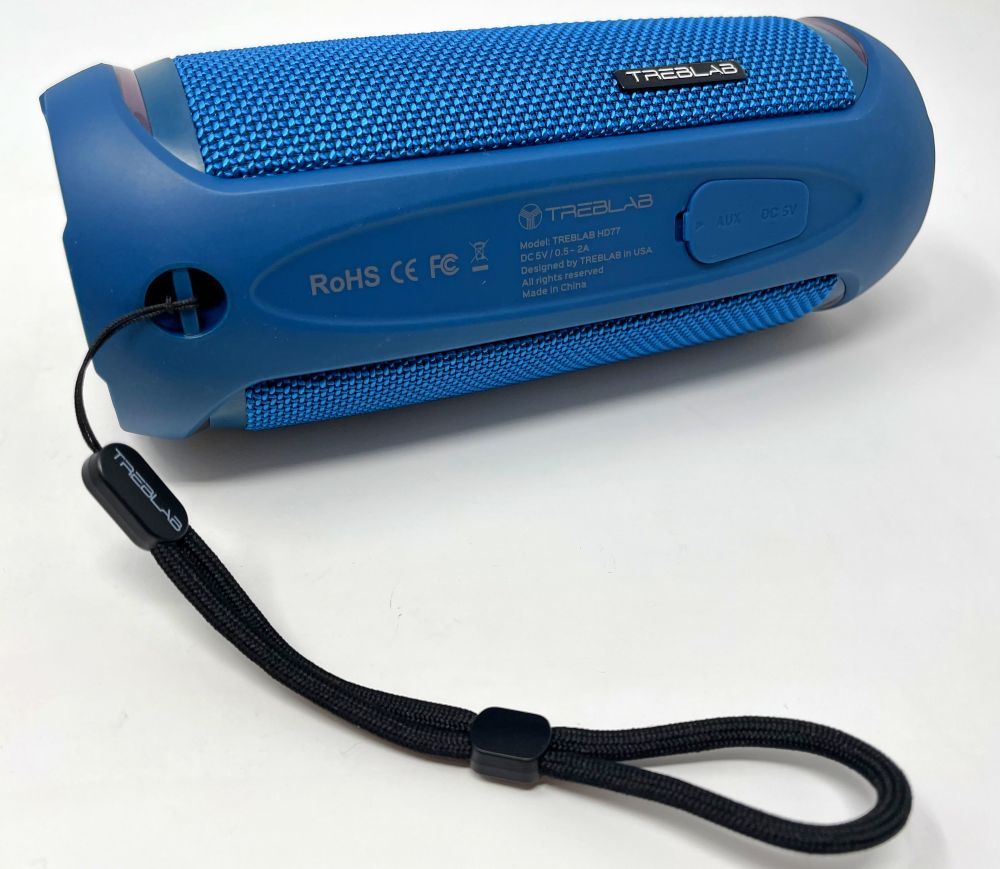 The underside provides a flat spot for use on the table and also hides the charging and aux jack under a moisture-proof seal.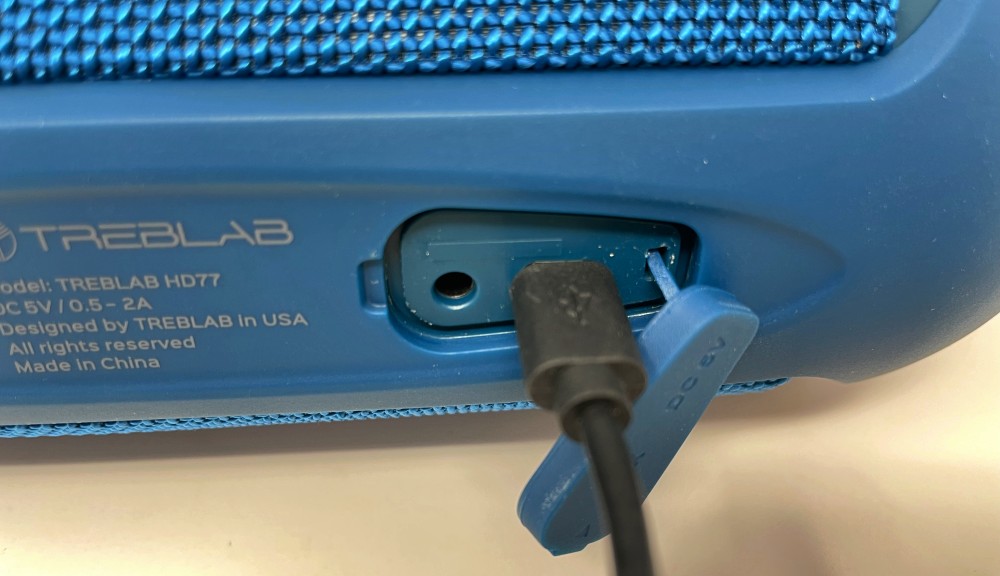 Setup
Once extracted from the box, you'll want to plug in the included charging cable to your favorite power source and top off the internal battery. It will take two hours at most if the battery is completely depleted.
BT Pairing: Press and hold the power button for 3 seconds to power up and enter pairing mode (the LED rings will flash blue). On your phone enter BT settings and choose Treblab HD77. Keep your phone close during pairing and if necessary enter 0000 (I didn't need this). When paired the LEDs will turn a solid blue. It automatically re-connects each time you power up and will remember up to 8 paired devices. Make sure to disconnect from a currently paired device to pair with a new one.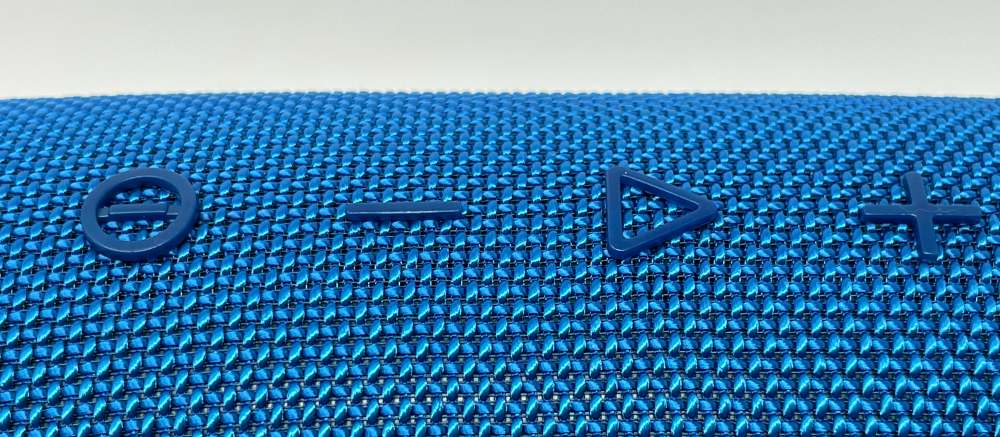 Playback Control: When playing audio through HD77, here's how the controls work…
Play Button: Press to pause and resume playback.
Volume + Button: Press to increase volume 1 level, or press-and-hold for 2 sec. to skip to next track.
Volume – Button: Press to decrease volume 1 level, or press-and-hold for 2 sec. to rewind.
Power Button: Press-and-hold for 5 seconds and LEDs will turn red as it powers off.
Call Handling: All functions use the play button…
Answer/end call: Press PLAY button.
Reject call: Press-and-hold PLAY button for 2 sec.
Redial: Press-and-hold PLAY button for 3 sec.
Aux Input: Here's what you need to know about using the aux input…
Power Button: While HD77 is on, press to switch between BT (Blue LEDs) and aux input (Green LEDs).
Volume: Use the +/- buttons to control the volume
Other Controls: Pause, track control and phone functions are not supported over the aux connection.
Performance
Overall the HD77 is easy to use and sounds really good. Watching the subwoofers move is entrancing and you'll find yourself turning the volume up on the speaker on purpose. It's capable of room-filling sound (depending on the room obviously) and to make the most of it you need to know that the HD77's volume control is independent of your paired device. If you'll be using the speaker's controls, set your phone to 3/4 volume or so and then make adjustments on the speaker. If you'll be DJ'ing from the phone, do the reverse. Main thing to note is that if it feels like you can't get enough volume, one of the two volume controls is likely super low.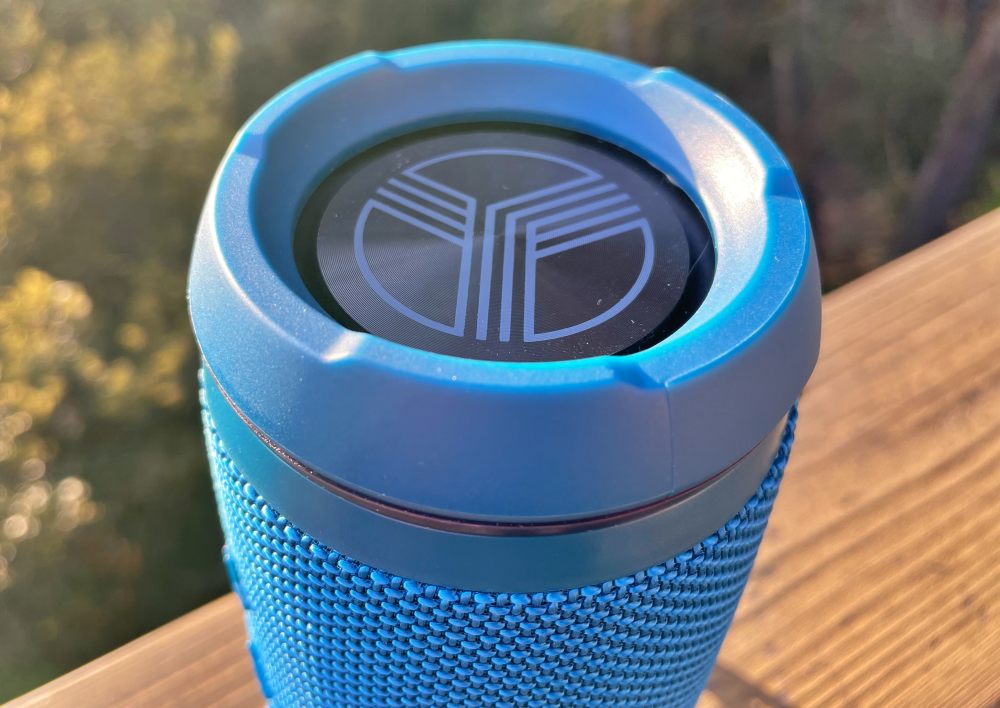 The cylindrical shape lends itself well to standing on either end and the protective bumpers were designed with that in mind. There are three raised sections of the perimeter that allow air to pass if standing on an end. I'm glad they did this as I ended up standing it on end more often than not. The flat spot on the one side is pretty small and easy to bump off resulting in the speaker starting to roll. It's also where the charging port (micro USB instead of a USB-C) and aux connector are so if you're using either of those you can't rest it on the flat spot anyway.
We had it connected to a projector with the aux cable out on the deck recently for a movie night. It performed admirably and more than once we were wondered if we might be too loud for the neighbors. Not bad for a device this size.
While it is capable of taking a phone call, it's not something you'll likely want to do. The inbound voice sounds really good as you might expect, but you'll end up repeating yourself as the microphone does not seem to let you come through clear. There's nothing indicating where the mic is, so it's hard to troubleshoot how to sound better. I was told I sounded like I was in a car, and not in a good way. I don't think this is a deal breaker as it's not likely this is high on the feature want list for active portable speakers.
Finally the overall build is really sturdy. Between the fabric, the end bumpers and even the wrist strap and tether point, the HD77 feels like it should be able to handle just about anything you can toss at it, or maybe even toss it at.
What I like
Size and robust build quality
Audio quality of music playback
Oversized controls
What I'd change
Location of aux and charging ports (why micro and not USB-C?)
Better microphone (and make location visible to user)
Final thoughts
The Treblab HD77 is a great all-purpose wireless speaker. It's big enough to have some solid sound with good bass response and yet small enough to easily fit in a backpack or even the water bottle pocket for quick access. The controls are easy to operate due to their shapes and oversized, raised presence on the speaker. If you're looking for a speaker for phone calls, this is not it. Otherwise, there's plenty to like.
Price: $79.97 (on sale for $65 at time of writing)
Where to buy: Amazon
Source: The sample of this product was provided by Treblab