We use affiliate links. If you buy something through the links on this page, we may earn a commission at no cost to you. Learn more.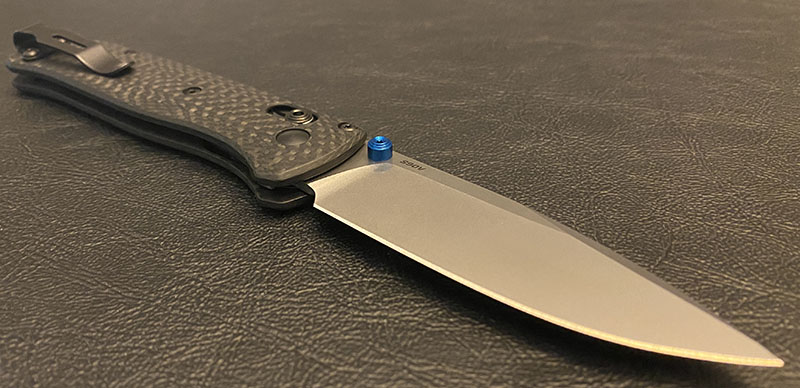 REVIEW – For those of you who don't know much, if anything about the Benchmade Bugout series, it is their attempt to create the perfect EDC pocketknife. The series has been around for years and has quite the cult following. So much so, there are a bunch of aftermarket components available to upgrade your Bugout if you so desire. Well, seems like Benchmade read the writing on the wall, said "hold my beer" and have recently released their own in-house high-end version of their popular knife: the 535-3. Let's check it out. 

What is it?
The Benchmade 535-3 Bugout is an ultra-lightweight, premium folding pocketknife. The 535-3 is the latest iteration in Benchmade's Bugout series featuring an upgraded S90V 'Super Steel" blade and milled carbon fiber handle.
Hardware specs
BLADE LENGTH – 3.24" | 8.23cm
BLADE THICKNESS – 0.09" | 2.286mm
BLADE STEEL – CPM-S90V (59-61 HRC)
BLADE STYLE – Drop-point
LENGTH OPEN – 7.46" | 18.95cm
LENGTH CLOSED – 4.22" | 10.72cm
WEIGHT – 2.02oz | 57.27g
HANDLE THICKNESS – 0.41" | 10.46mm
HANDLE MATERIAL – Carbon Fiber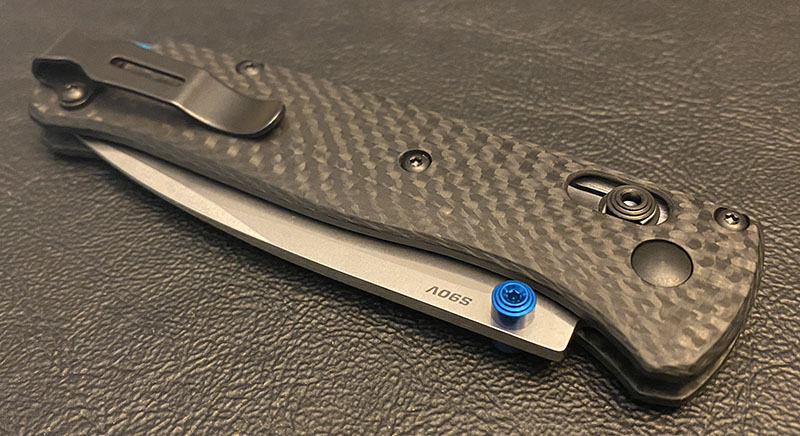 Design and features
The Bugout series is designed to be the ideal EDC knife…tough yet lightweight, not too big but large enough for most day warrior tasks, extremely reliable yet tech-gorgeous, etc. You get my point 😉 . And I have to say, the 535-3 Bugout checks all of those boxes. 

In design and functionally, the 535-3 is a modern pocketknife in every way. With an open/total length of 7.44 inches and weighing just 2 ounces, this Bugout variant would fit nicely into almost any gear bag. 

Material quality is what truly sets this version apart from the rest of the Bugout series (and many other knives). The 535-3 Bugout features a premium CPM-S90V stainless (super) steel blade. At 3.24″ (82mm) inches, the drop-point blade is a good length, very sharp, and extremely pointy as you would expect. The S90V "super steel" has a 59-61 HRC hardness rating, engineered to hold its edge and sharpness. 

As you can see, the blade is well centered between the scales (sides of the handles). 

The handle is very nicely finished, well-sized, and feels great to hold. The handle is 4.22 inches long and approximately an inch wide. 

The handle is made from a milled carbon fiber held together with blackened steel bolts. The carbon fiber has a satin finish and chamfered edges giving the handle a smooth grip in the hand. The belt clip has a "Mini Deep-Carry" style with a "Reversible Tip-Up" orientation. The clip is ambidextrous and can be attached to either side of the handle. 

The handle is 0.41 inches thick with both aluminum and steel spacers. Benchmade has used their signature blue as accent coloring on the thumbstuds and aluminum lanyard hard-point. The Benchmade Blue definitely goes well with the matte carbon fiber handle and stainless steel blade.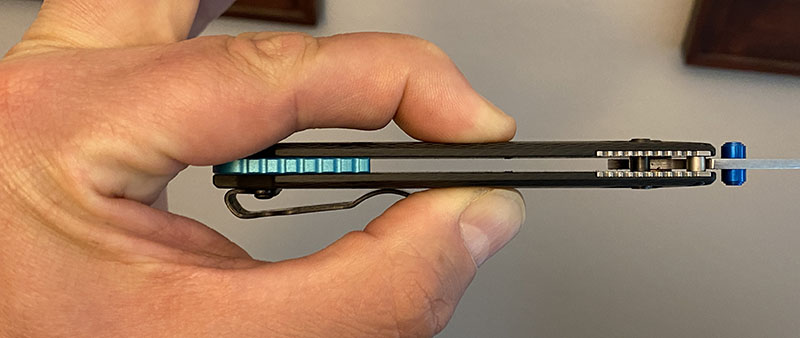 The carbon fiber scales are very stiff with little to no flex in them (aka rock-solid).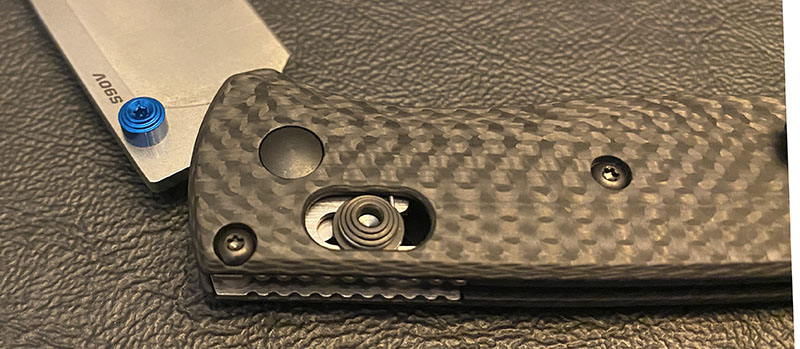 The Bugout series has Benchmade's AXIS assisted locking technology engineered into the handle.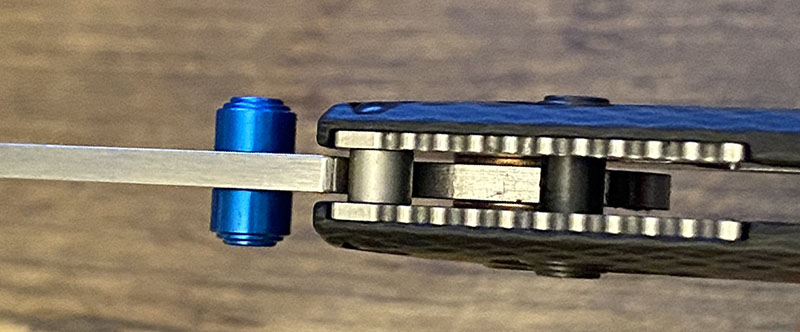 This lock mechanism works very well and definitely ensures the blade locks into the open position and helps keep the blade closed when not in use.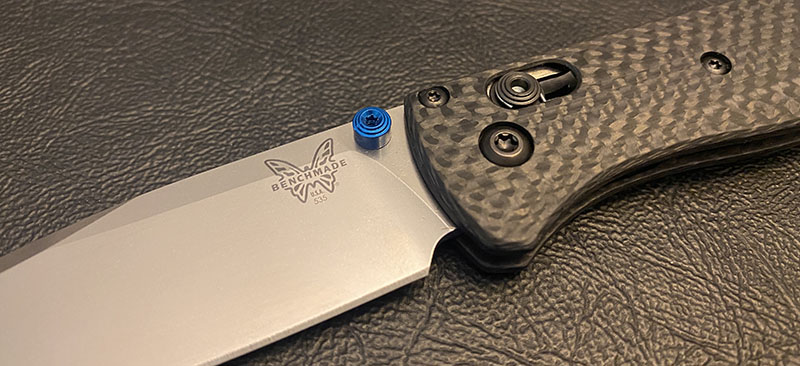 The AXIS lock mechanism secures the blade into the open position with zero blade movement and almost no chance of the blade accidentally closing. Initially, to close the blade, it took two hands though the action loosens up as the pivot assembly breaks in. To release the blade, you must pull back the release bar with one hand and either reverse flip or manually rotate the blade into the handle/closed position. Both movements are smooth and easy to do once you get used to the motion.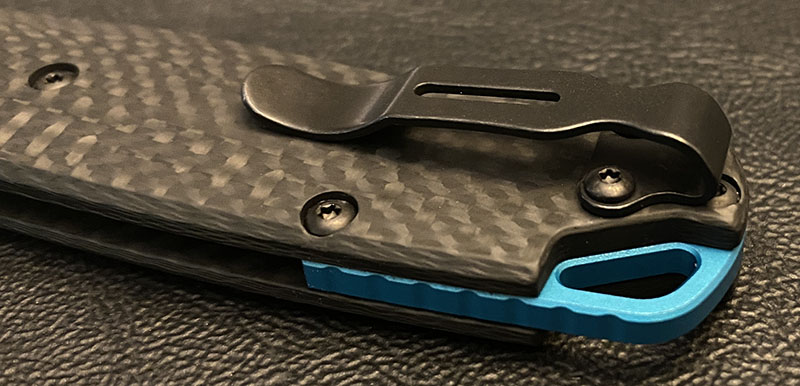 In addition to the belt clip, the non-business end of the Bugout has a lanyard hard-point for attaching whatever you wish to the knife. This aluminum backspacer/connection point is an upgrade from previous Bugouts, that have the lanyard hole machined into the handle itself. 

Performance
In addition to being very well engineered and made from premium materials, the 535-3 Bugout makes for an excellent general purpose cutting tool and addition to your EDC gear. As I mentioned above, this lightweight pocketknife weighs in at a mere 2 ounces, adding little burden to your gear bag.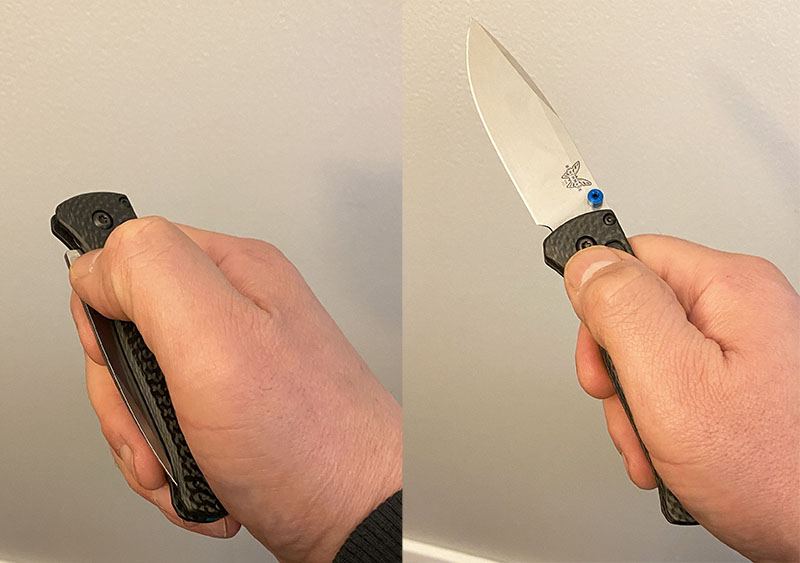 In addition to the pivot assembly needing to break-in a little, the thumb-stud flip motion itself took me a bit to get used to as well. Over the past few weeks of use, both have gotten easier as I have been using the 535-3 as (more or less) a fidget spinner, opening and closing it as I sit thru my daily conference calls. I know some of you are questioning why I just didn't loosen the pivot point bolt. Point blank, I didn't want to, hoping that with time the knife would develop the perfect resistance on its own. In the end, it has…
The knife works as you would expect. The blade is wickedly sharp and the knife as a whole is built to last many years/decades, if not a lifetime. Add in the fact Benchmade backs their knives with a lifetime limited warranty and free blade sharpening, the Bugout should last you a very long time. 
What I like
Very well made from high-quality materials
Excellent engineering
Lightweight, EDC design
Zero wiggle/blade movement when deployed
Extremely sharp
Ambidextrous belt clip
Classic blue highlights
Lifetime sharpening and warranty
What needs to be improved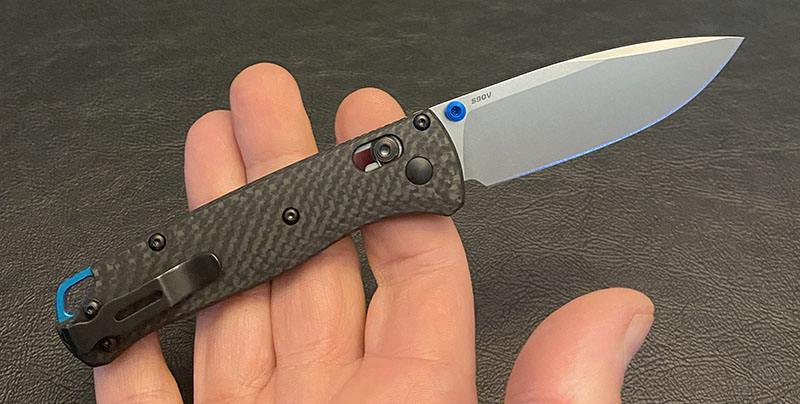 Final thoughts
While a bit on the expensive side, Benchmade's latest Bugout folding pocketknife is engineered to definitely up your EDC game and IMO, you're getting what you pay for. In addition to its good looks, the 535-3's material and build quality are excellent. At 2 ounces and 4.2 inches, this flip folder goes well in any gear bag, adding little bulk or weight to your overall carry. My only real debate is do I carry it in my Carhartt pants pocket everywhere I go or leave it safely stashed in my gear bag for those rare moments I leave the house 😉 .
Price: $300
Where to buy: available directly from Benchmade also check them out on Amazon
Source: The sample of this product was provided by Benchmade.