We use affiliate links. If you buy something through the links on this page, we may earn a commission at no cost to you. Learn more.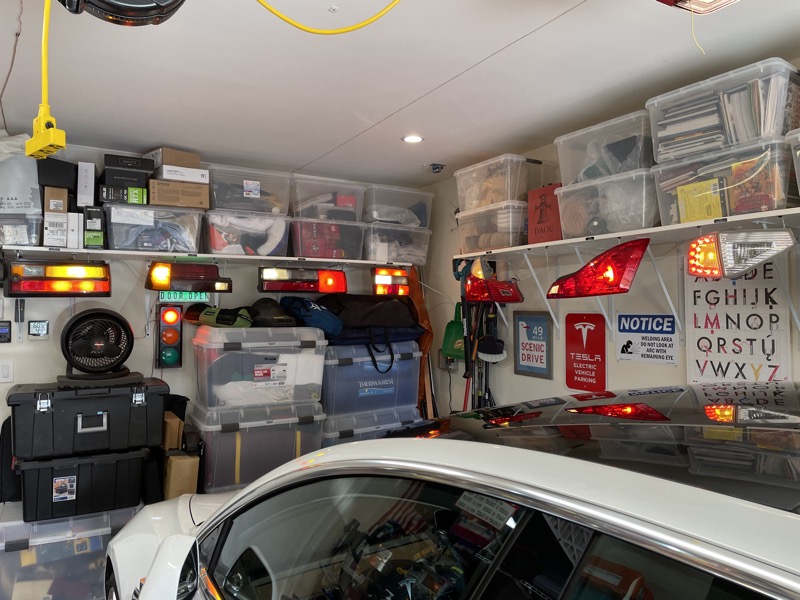 ARTICLE – For years I had this idea to decorate my garage with all the tail lights of all the cars I've owned. Not the originals, of course, but junkyard specials, eBay finds, etc. I finally had some free time over the holidays so I finally assembled my collection and wired it up for some random light fun.
The cars I've owned
First things first: In order, they are:
1985 Honda Accord LX hatchback
1986 Toyota Corolla GT-S sedan
1993 Ford Mustang LX 5.0 hatchback
1996 Volvo 850 Turbo sedan
2008 Infiniti M45S
2011 Infiniti G37S
2013 Subaru WRX STI hatchback
I'm currently driving a 2019 Tesla Model 3 so if/when that goes, I'll add a tail light at that time.
Getting the tail lights
Since I don't have any convenient junkyards in San Francisco, I resorted to eBay- which was much easier during the pandemic. Many lights were easy. The Toyota Corolla GT-S tail lights were difficult. The one I got was in rough shape and I had to build my own bulb housing. I opted to get reproduction Mustang tail lights as they were fairly inexpensive and in much better shape than some of the others I found.
Hardware Controller
Retrofitting bulbs with modern LEDs was easy. Controlling them in a random manner was a little harder.
Yes, I could have built many 555 timers or some microcontroller (Raspberry pi, etc) but I wanted something prebuilt and easy… and I wanted it to work. My solution was in a railroad/hobby traffic light controller I found on Amazon for $27.99.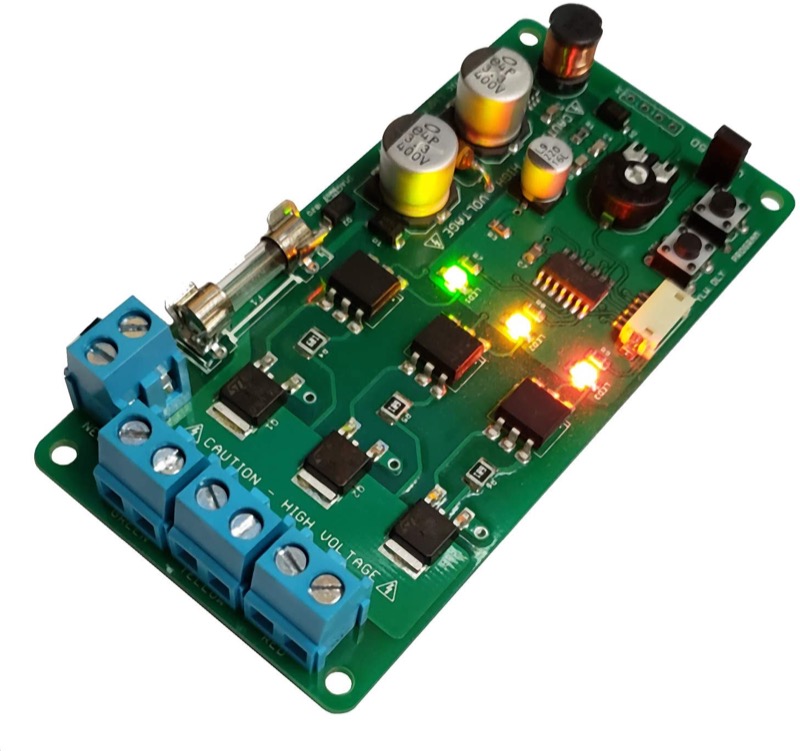 I realized that most tail lights have three kinds of lights: Brake, Turn and Reverse. To make the light up in a random manner, this controller had dozens of built-in patterns. Take a look at some: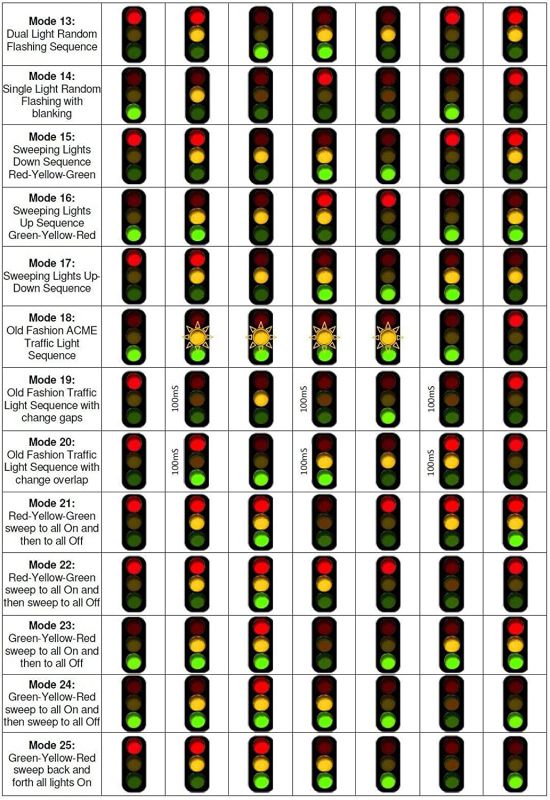 All I had to do was assign one light to Red, another to Yellow, and a 3rd to Green.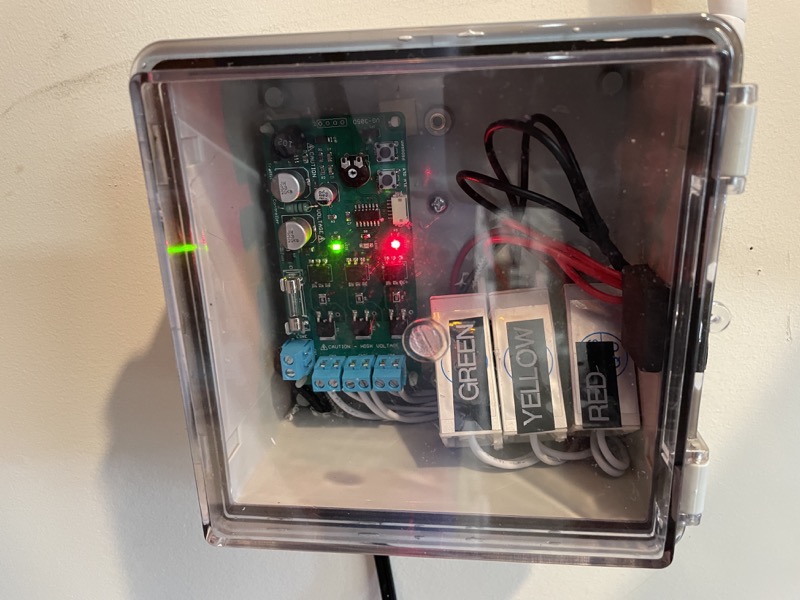 Because the controller is powered from line voltage (120VAC), I had to step the outputs to something the tail light bulbs could use. Each transformer is labeled with a "color" and sends 12VDC to the taillights. This controller is not for you if you're not comfortable working with high voltage.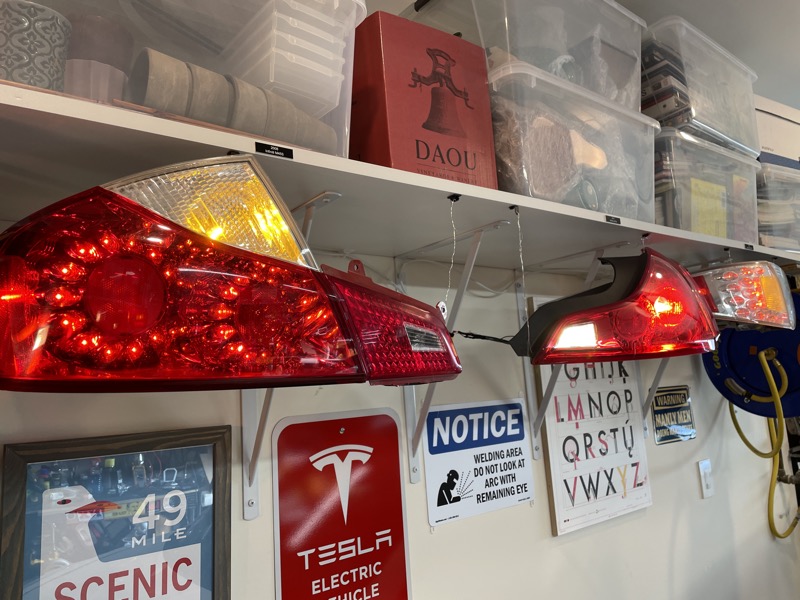 The three color "circuits" were daisy-chained to each tail light assembly, and each color was randomly wired to Brake, Reverse or Turn to enhance the randomness of the light sequence.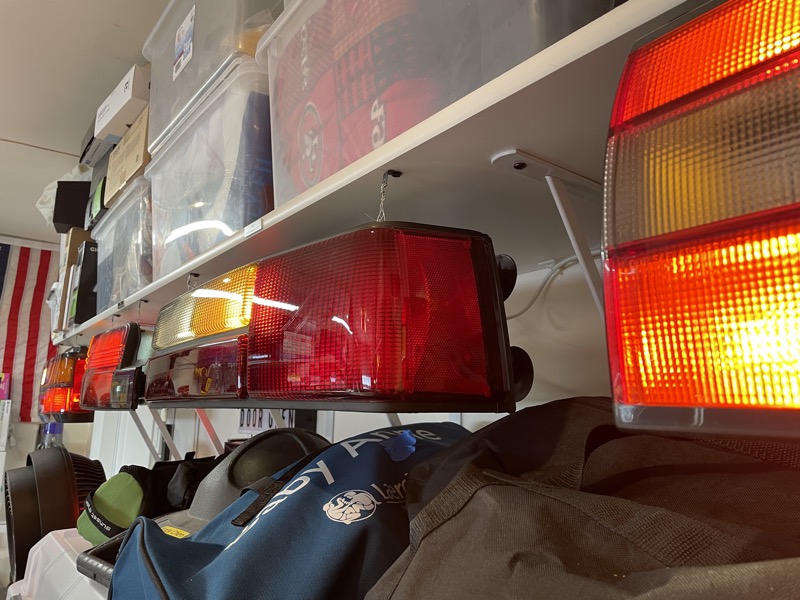 Labels
Since this was sort of my Man-Cave "art" display, I went to Etsy and had some small engraved labels made, naming each tail light.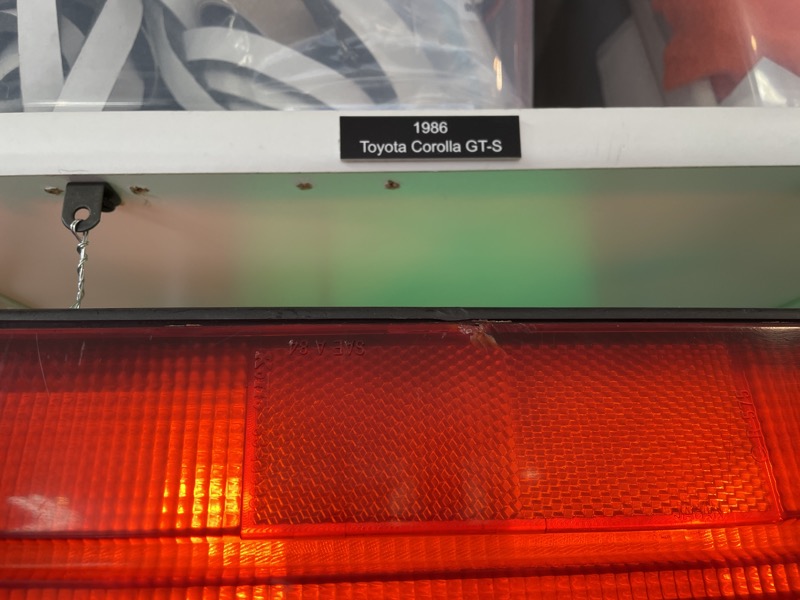 How does it look?
The entire system only turns on if the garage door light senses motion inside, so it doesn't run 24/7. When it's on, this is what it looks like (video has no audio):
Controller price: $27.99
Where to buy: Amazon
Source: I purchased all the products mentioned in this review with my own funds.