We use affiliate links. If you buy something through the links on this page, we may earn a commission at no cost to you. Learn more.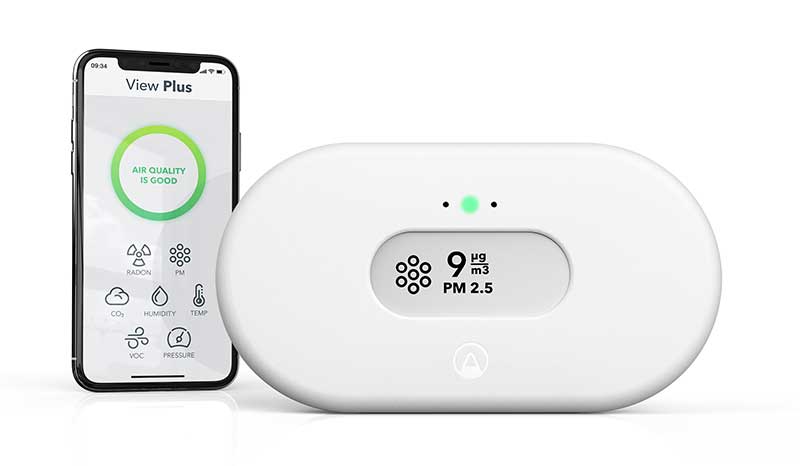 NEWS – Airthings is the maker of the Airthings Wave Plus indoor air quality monitor with radon detection. This gadget alerted me of dangerous radon levels in my home and potentially saved me and my spouse from getting lung cancer from the invisible odorless gas. Airthings newest smart air quality monitoring device is the View Plus.
The View Plus is the first Airthings device that monitors for particulate matter (PM) that can detect two size ranges (PM2.5 and PM1).
PM detection is a new addition to Airthings' range of product capabilities and will provide a level of insight into air quality at home. The term "particulate matter" describes microscopic particles in the air, which can include anything from dust and pollen to pollutants emitted from car exhaust, industrial activity, wood-burning stoves, smoke from wildfires, cooking, cigarette smoke, and pets, and more. While invisible to the naked eye, the impact of PM on our health can be colossal – it can irritate lungs, agitate pre-existing conditions such as asthma, and can even contribute to serious illnesses, such as heart attacks and coronary artery disease. The only way to combat PM in the air is to gain awareness of its presence and take informed action; which is where View Plus can help. The product features a built-in particle sensor that can detect PM2.5 and PM1, and provide users with continuous access to data, as well as notifications to alert about changes in the air.
In addition to monitoring PM, the new View Plus device can also monitor radon, CO2, humidity, airborne chemicals (VOC), temperature, air pressure, and even outdoor air quality.
Unlike the Airthings Wave Plus indoor air quality monitor with radon detector, the Airthings Wave Smart Radon Detector, and the Airthings Wave Mini Smart Indoor Air Quality Monitor which I have reviewed, the View Plus has a built-in display that provides important information at a glance instead of requiring you to use an app on your phone (which by the way, you can also do). The View Plus retains the wave feature that shows a color-coded indicator when you pass your hand in front of the device.
View Plus currently available for a pre-0rder price of $269 until the end of March at Airthings.com. The product will start shipping to customers this June for $299.