We use affiliate links. If you buy something through the links on this page, we may earn a commission at no cost to you. Learn more.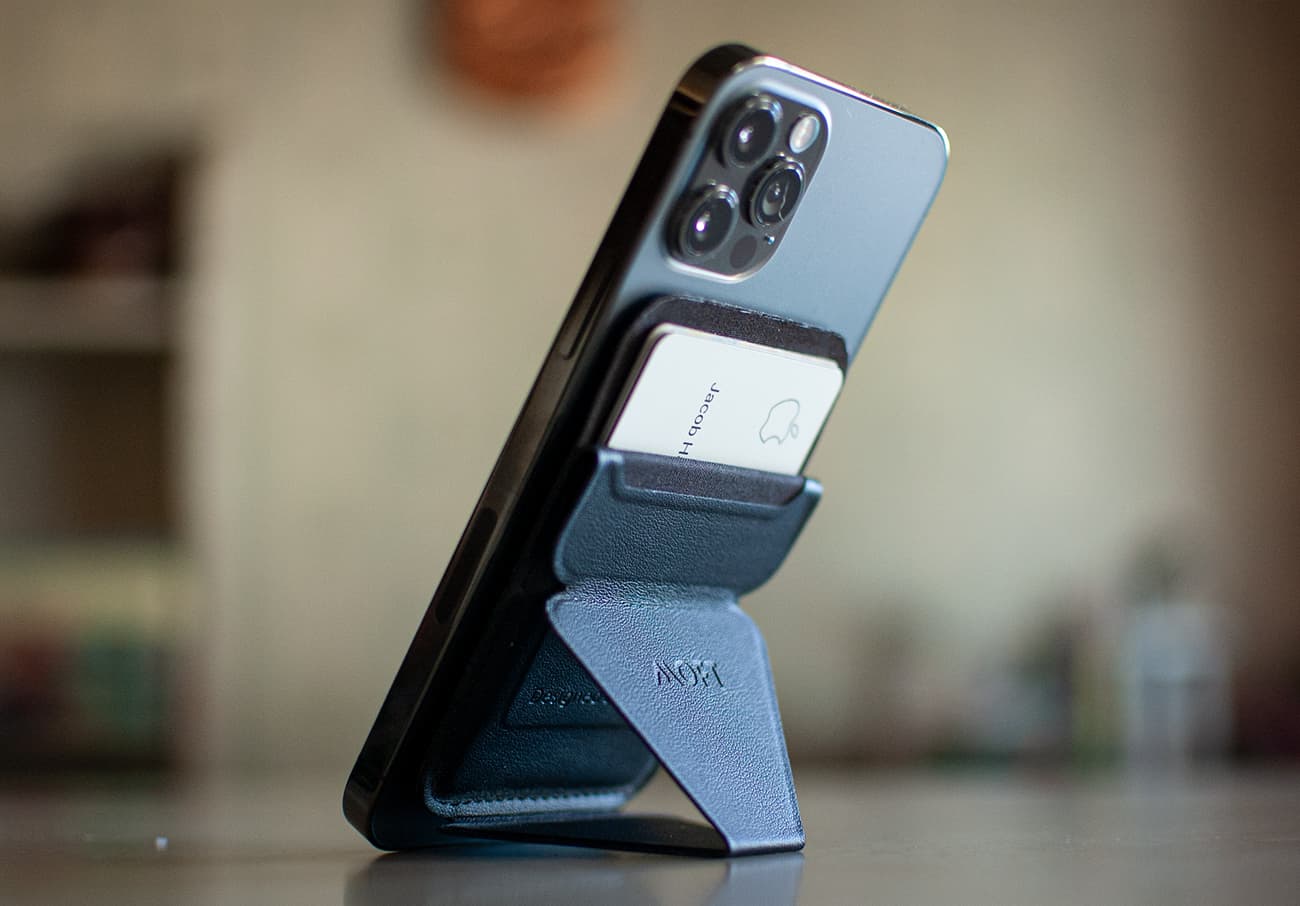 REVIEW – I've been a fan of the phone/wallet combination ever since the iPhone 4 and my thick, leather book-type case. Now, with MOFT's Snap-on Wallet and the iPhone 12's built-in magnet technology, wallet cases can now attached directly to the phone itself.
What is it?
The MOFT Snap-on Wallet is a thin, MagSafe-compatible card holder that magnetically connects to the back of Apple's iPhone 12 series of phones. It can hold up to 3 credit cards and folds to create a stand for your phone.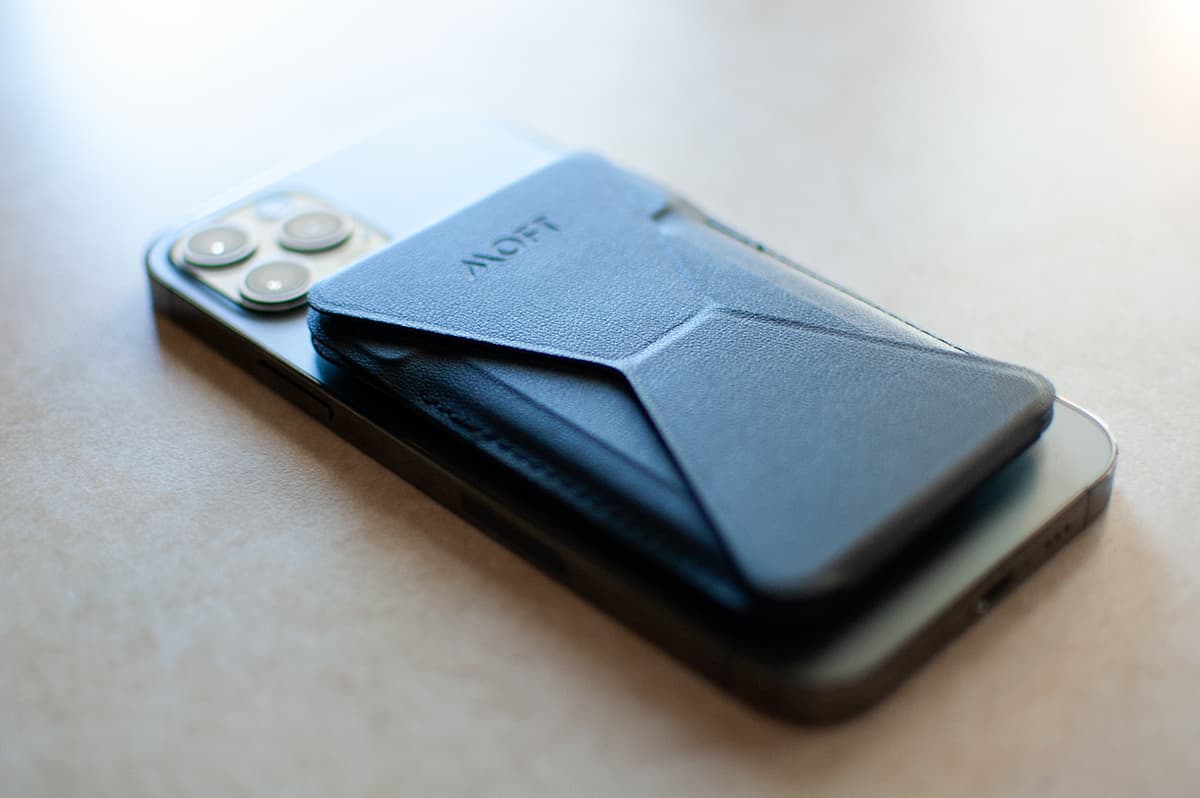 Hardware specs
compatible with iPhone 12 series and MagSafe compatible phones
5mm thin
soft vegan leather
4 color choices

Design and features
When Apple announced that they were embedding magnets into the back of the iPhone 12 for the sole purpose of magnetic accessories, I was excited at the possibility of being able to pop a slim wallet onto the back of my phone. Especially in a way that didn't require a bulky case or adhesive.
It didn't take long for third-party products to become available, like MOFT's Snap-on Wallet and Stand. Being a long-standing fan of that all-in-one wallet/phone package, I couldn't wait to give the Snap-on Wallet a try.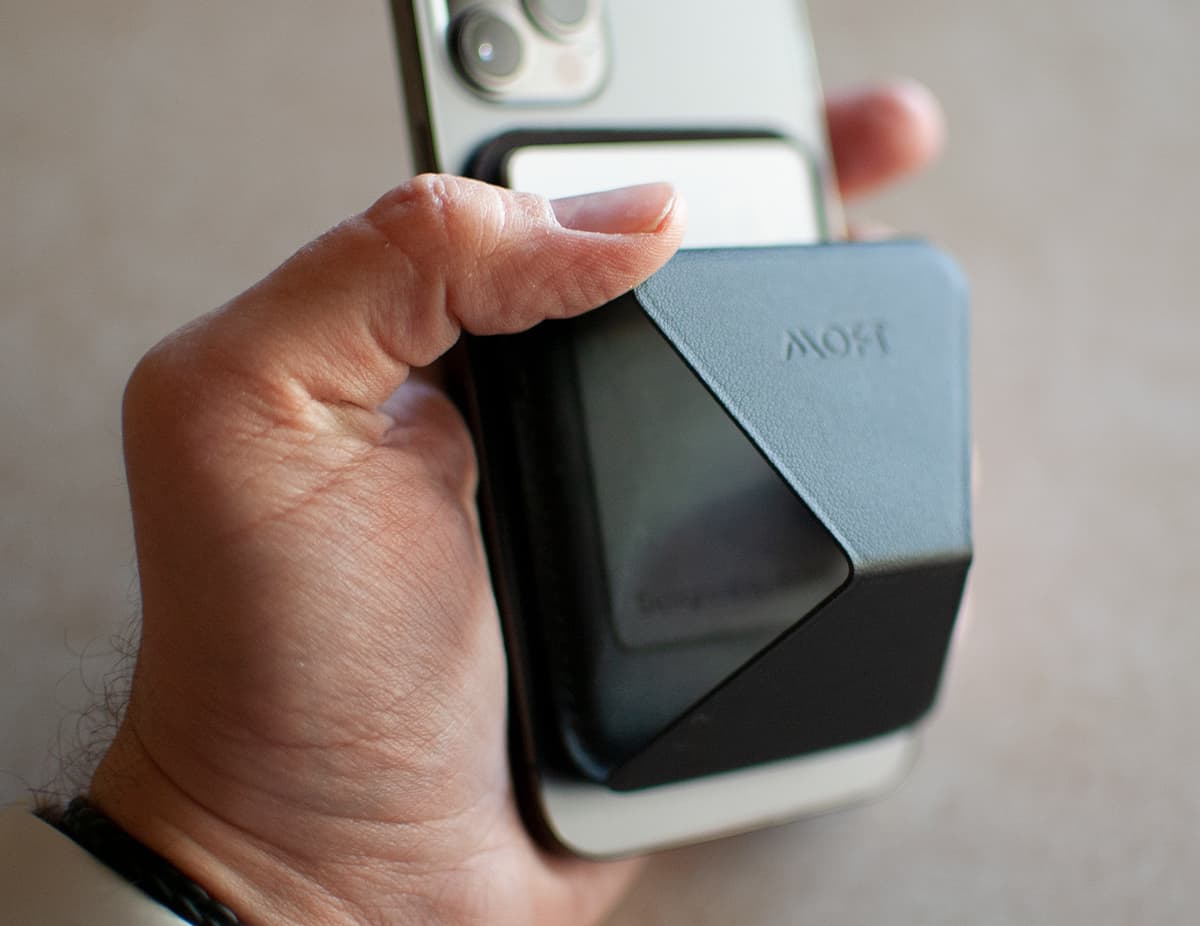 The Wallet is made from smooth, vegan leather, which is a welcome choice for those who aren't a fan of cowhide. The material wraps around the entire case, so there isn't a separate texture on the back, just more of the same. The construction is solid and I like the fine stitching on the sides of the case. I believe it's machine stitched, but it looks clean and seems very strong, to me.
The front of the Wallet has a folded envelope origami sort of look to it. It's quite unique. One tug on the top of the Wallet folds the stand down into a locked position and exposes the wallet area. There is a small magnetic area that keeps the stand in an upright position, so it does offer a bit of resistance to being folded out.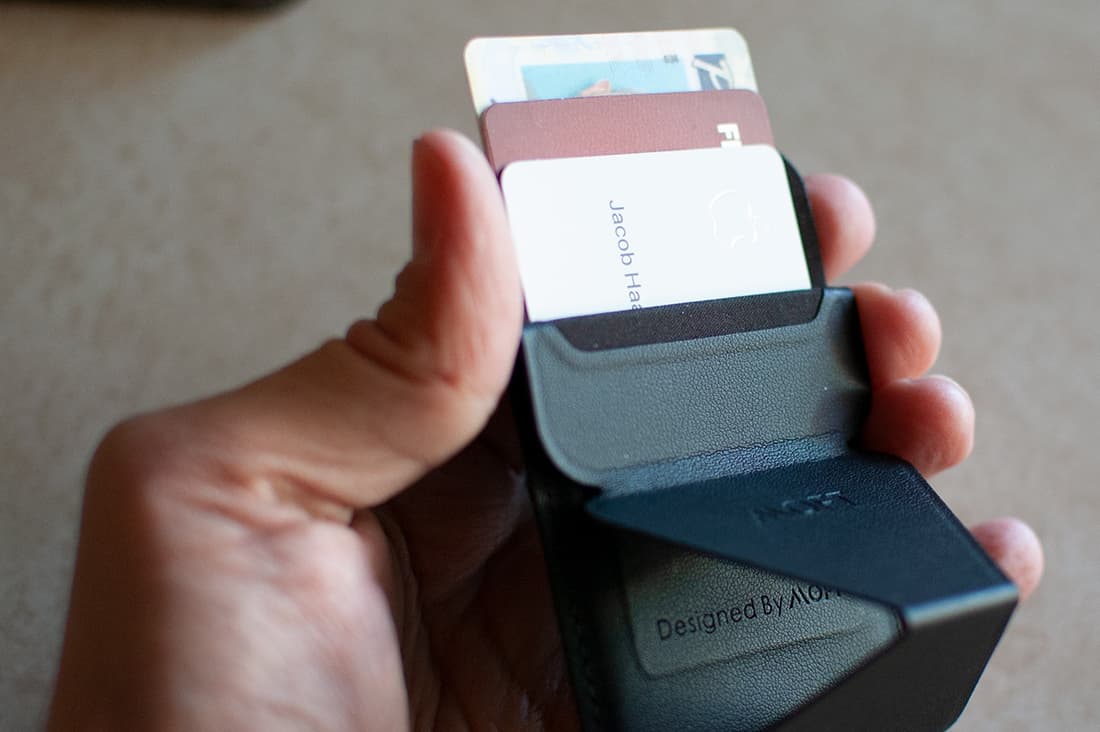 The wallet compartment itself can fit up to 3 credit/ID cards, so if you're the kind of person who needs to carry a bunch of keycards, IDs, transportation passes and credit cards with you, that might be an instant turn-off.
I'm a big fan of minimal every-day-carry… I really only need to carry 2 credit cards and my license. Everything else I might need, like membership cards, medical cards, stuff like that, is in a separate card holder in my car. So a 3-card limit is just perfect.
Fitting 3 cards in the compartment is pretty tight. The area does loosen up over time, making it a bit easier to get the cards out. I think that since one of the cards was an Apple Card, with it's thick aluminum construction, that it may have been a bit thicker overall than 3 normal credit cards. At the very least, you don't have to worry about them falling out.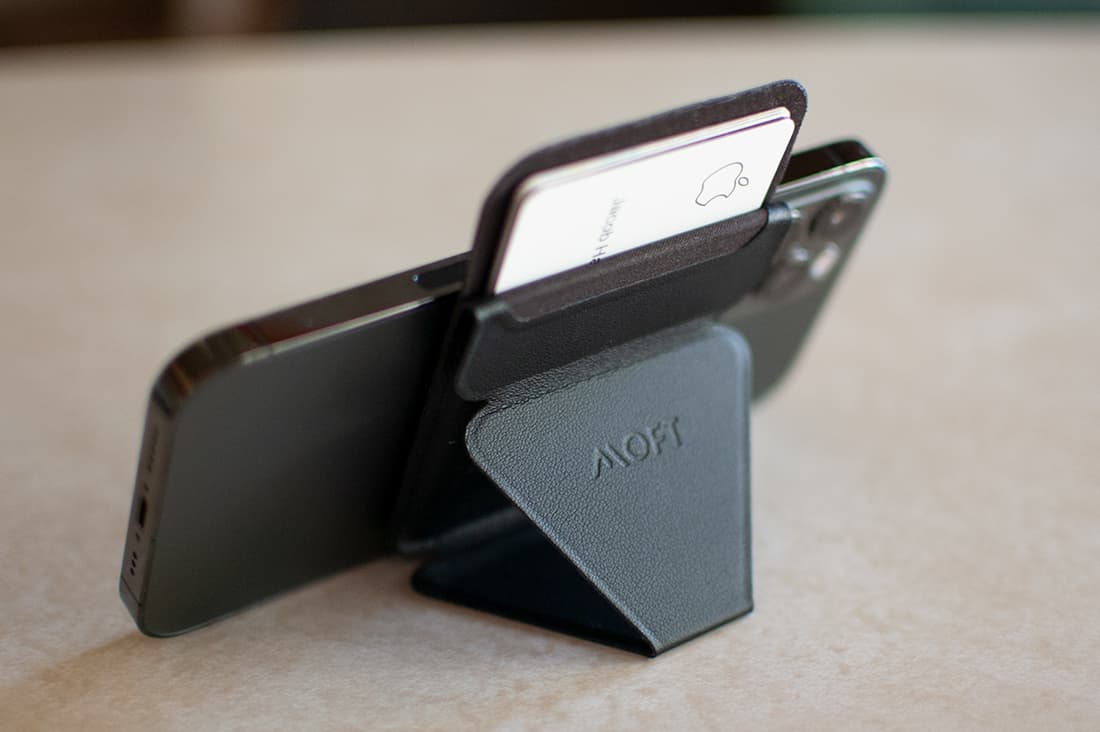 I thought the inclusion of a folding stand was a curious choice, at first. I wasn't sure how much use I would get out of it, but once I started using it — propping my phone at an angle next to my laptop — I love that feature. And it can be used in either portrait or landscape mode.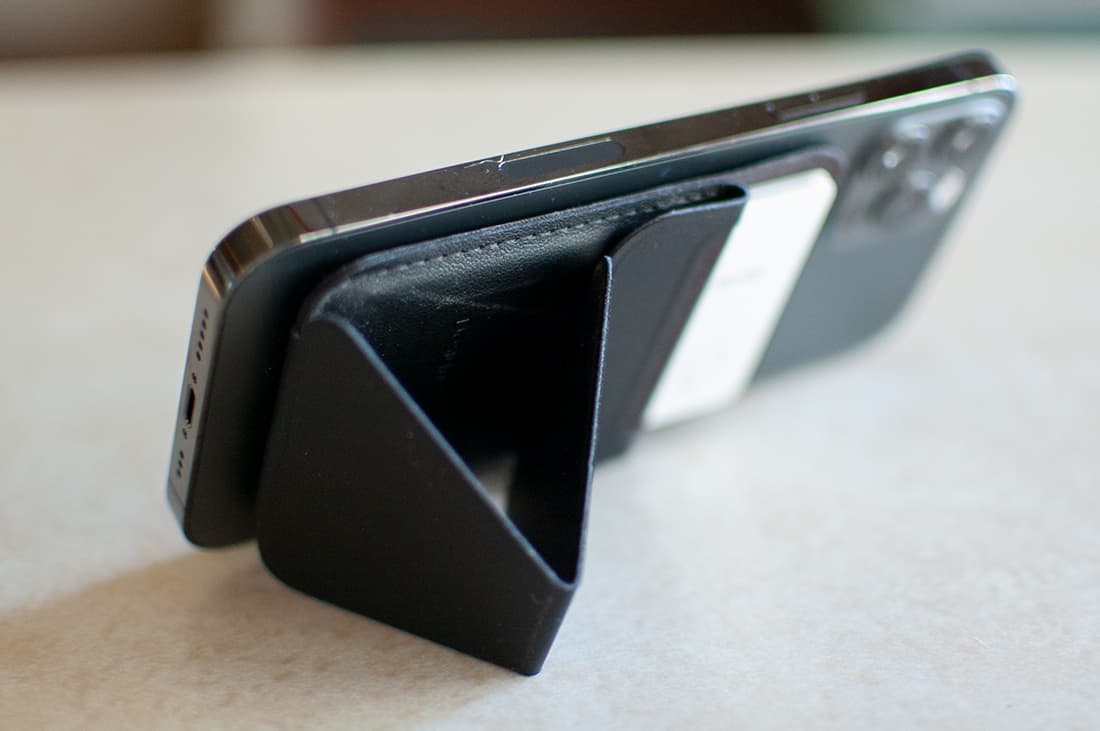 MOFT provided me with one of their Magnetic Sticky Pads as well. This is a small, adhesive-backed magnet that you can place pretty much anywhere… next to your bathroom mirror, in your car or on exercise equipment. The Snap-on Wallet forms a strong, instant magnetic bond with the Sticky Pad, allowing your phone to cling to any surface.
Again, this was a feature that I was skeptical if I would use a lot, but in practice it's brilliant. I chose to place the sticky pad on the front of my car's stereo unit, which was about the only flat surface I could find inside my old Elantra.
After fixing the sticky pad in place, the Snap-on Wallet holds firm. I didn't notice any slipping and my phone certainly didn't fall off the magnetic pad. In fact the magnetic connection between the sticky pad and the wallet is way stronger than the connection between the wallet and the phone.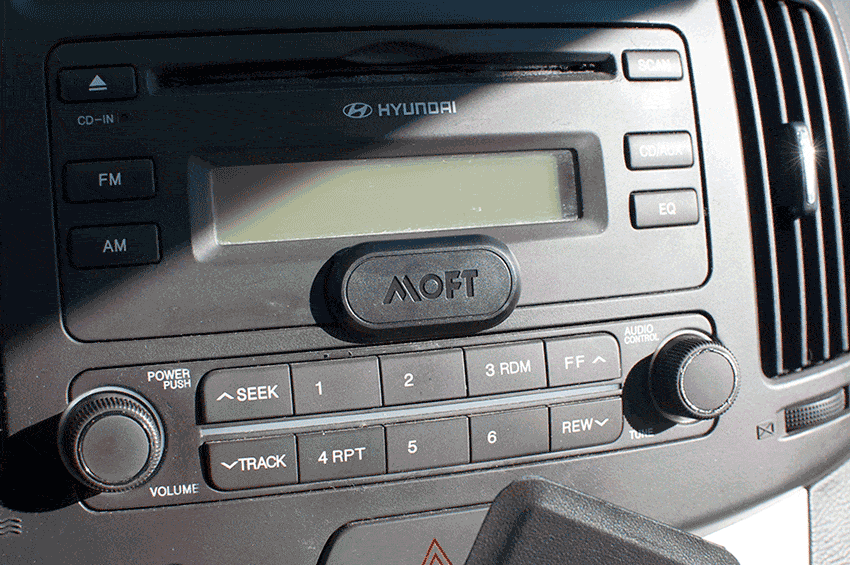 And that segues perfectly into what could be the most important point of the review… how well does the wallet connect to the phone?
While that's going to be subjective for each user, I think the wallet stays in place adequately well. I used the wallet with a case-less phone and with my Apple clear MagSafe case, and it definitely holds better with the case on. I think it's because of the extra magnets in the case itself, and the texture of the case being a bit more grippy than the smooth iPhone.
Even with the case on the phone, the wallet can be knocked off with moderate force. Personally, I can't think of an instance where the wallet fell off the phone completely. Though there were a few times when I fished my phone out of my pocket only to realize that the wallet wasn't attached, it was still in my pocket. That might also be affected by the size of your pockets and tightness of your pants.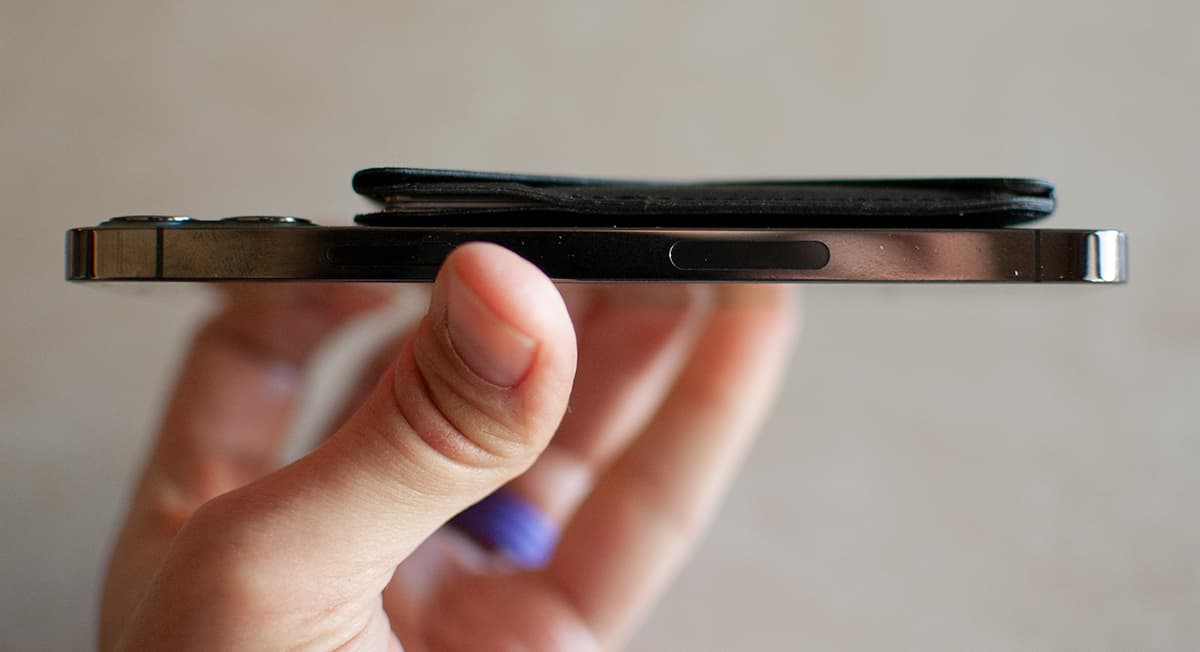 I carry my phone in my front pocket and wear loose jeans, for the most part, and when I place my hand in my pocket to retrieve my phone, I naturally tend to cradle the entire back of the phone and grip it at the sides, effectively covering the wallet on the back of the phone.
Lastly, since I have one of Apple's MagSafe Wallets, I can do a quick comparison. Both the Apple and MOFT wallets hold a max of 3 cards, though the cards are a lot harder to get out of the Apple wallet. The magnetic back is a bit more secure with Apple's, especially when used with the case. There is lot more drift with the "bottom" edge of the MOFT Wallet, while the Apple Wallet seems to stay locked in the middle of the phone.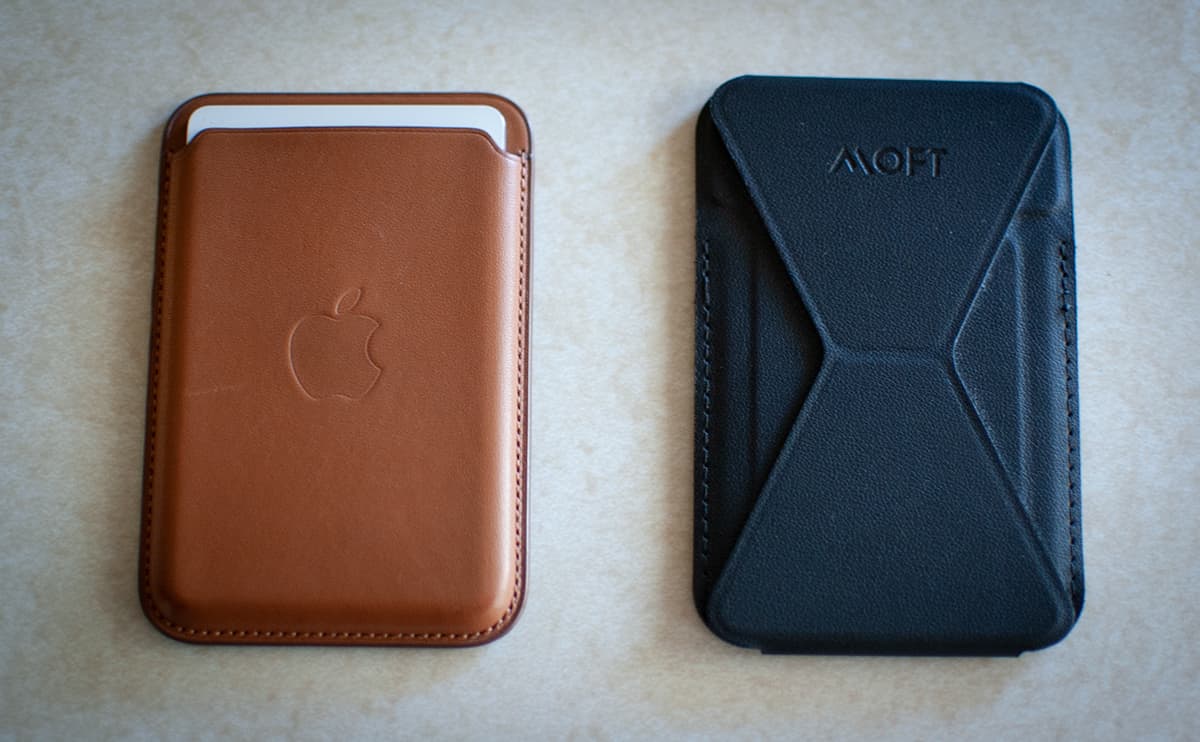 But Apple's Wallet has no stand, is a bit more rigid and difficult to slide cards in and out of, and is more than twice as expensive as MOFT's wallet, which is really something to take into consideration before trying out a phone case wallet.
Also, it's worth noting that Apple's Wallet doesn't stick to MOFT's magnetic sticky pads. They have a very mild attraction but it's nowhere near enough to keep the phone in place.
What I like
Inexpensive, all-in-one solution
Built-in stand is great
Vegan leather is a nice option vs Apple's leather
What needs to be improved
Magnetic back is a little weaker than I'd like
Fold-down stand sticks out a bit with a full wallet and gets caught on pockets
Final thoughts
Overall, I really like the MOFT Snap-on Wallet. It offers an easy-to-remove phone/wallet solution and pares down the number of things I have to remember to carry. All I have to do is grab my phone and the wallet's right there. If you're at all interested to see if you'd like it, the low entry fee to find out is well worth it.
Price: $29.99
Where to buy:  moft.us (don't forget to nab a Magnetic Sticky Pad for your car) and Amazon
Source: The sample of this product was provided by MOFT.