We use affiliate links. If you buy something through the links on this page, we may earn a commission at no cost to you. Learn more.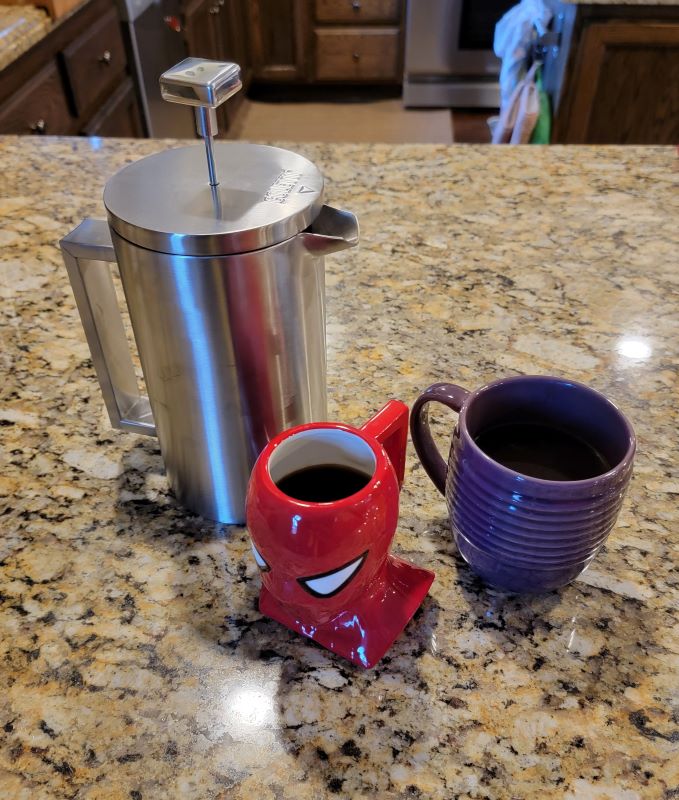 CROWDFUNDING REVIEW – Life made me give up so many fun vices that I've really embraced the few I have left, one of which is coffee (the other is gambling, but we'll save that for another review).  I have tried all sorts of coffee pots over the years but the one I keep coming back to is the French press.  It's pretty simple technology that makes a good, strong cup, but many pots have drawbacks:  glass ones don't keep your coffee hot, most don't make a very big pot and the worst ones leave space between the plunger and grounds which can lead to bitterness.  The Coletti Boulder Camping French Press seeks to solve these problems with a pot that lends itself to camping but could also be your go-to for daily use.
What is it:
A stainless steel, vacuum insulated, 42-ounce French press coffee pot designed for camping.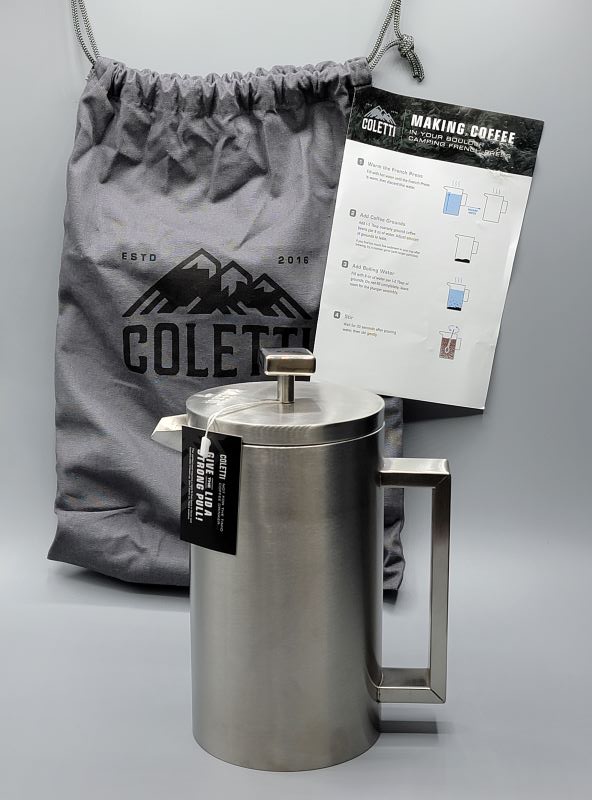 What's in the box:
An instruction sheet on how to make coffee
A nifty storage bag
The coffee pot
Design and Features:
What attracted me to this pot was the vacuum insulation.  There is nothing that is more frustrating to me than my coffee getting cold in the pot before I can finish it.  I don't want to chug my coffee in the morning.  I want to sit and enjoy my "me time" while I wake up enough to cordially interact with other humans.  This pot is says it will keep your coffee hot for over 4 hours.  I'm all about science, so I ran some tests.
It should be noted that to accomplish this task, you are supposed to pre-heat the pot for a few minutes with just hot water.  At home this might not seem like a big deal, because theoretically you could just use some really hot tap water, but if you are camping, this might be more of a hassle.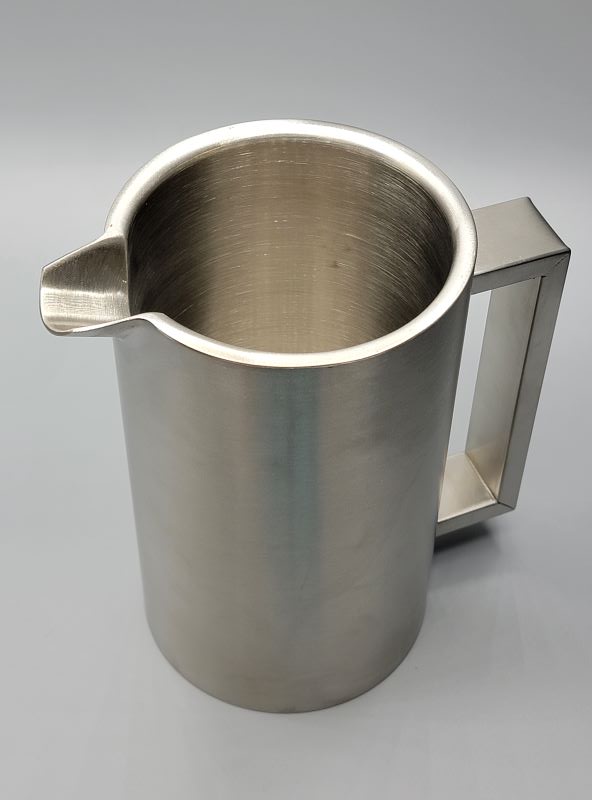 I should also note that this pot weighs almost 3 pounds.  It isn't your "grab your backpack and hike a million miles" coffee pot.  It's more of a car camping/motorhome/tent camping kind of deal.  That said, it will not dent.  The steel walls are 1.5mm thick (with the same 14-gauge steel used for building construction).  I'm pretty sure I could drive my car over it and nothing would happen, but if it did, it comes with a lifetime replacement guarantee.   It is also spillproof.  The lid is air tight, which is another reason the coffee stays hot and it also keeps it from spilling if you have a mishap around the campfire.  There is a hole in the lid that rotates around for pouring.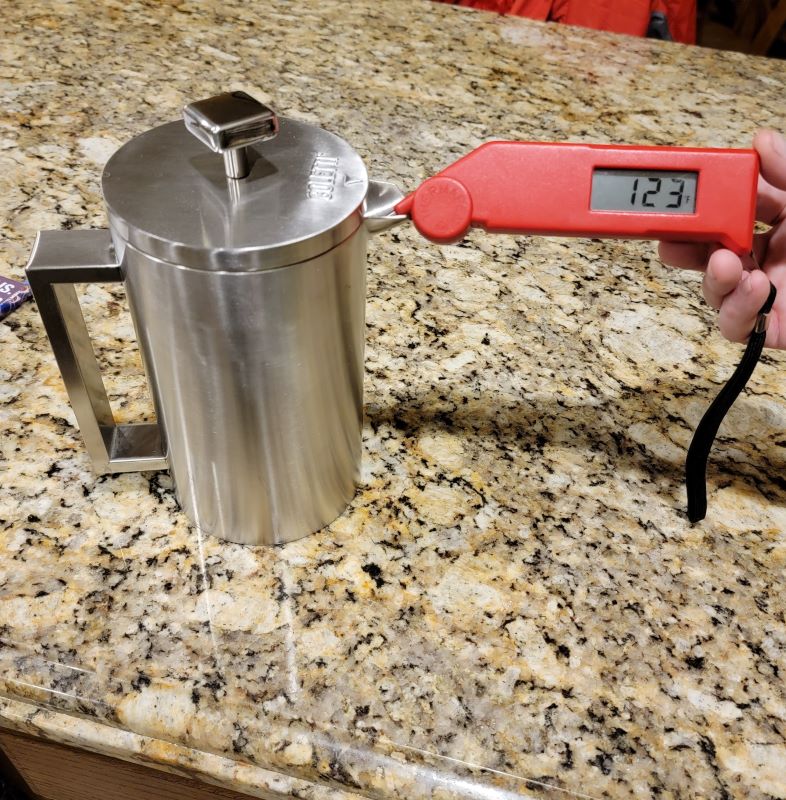 Since I'm at home and I'm running these tests, I used water that was at a rolling boil  to pre-heat the pot for a few mintues minutes before emptying and filling it again with more boiling water.  Four hours later, the water was at a very drinkable 123 degrees.  Ideally I like my coffee a smidge hotter, and it's not going to warm up a cold cup, but I would say it does live up to its claim because it is still pretty warm.   I also ran tests without pre-heating the pot, just in case you're in a rush for your morning cup.  After two hours, the pot was at a piping 147 degrees.  So either way, your coffee will stay at a drinkable temperature for a long time!
On to the next feature:  it holds 42 oz of coffee.  This is enough for my husband and I to have two cups of coffee each with our jumbo mugs.  No one should have more than two jumbo mugs of French press.  I'm no doctor, but I am pretty sure you could die from that (or want to because you may never sleep again).  If you were at a campsite with regular cups there would be plenty of coffee to share.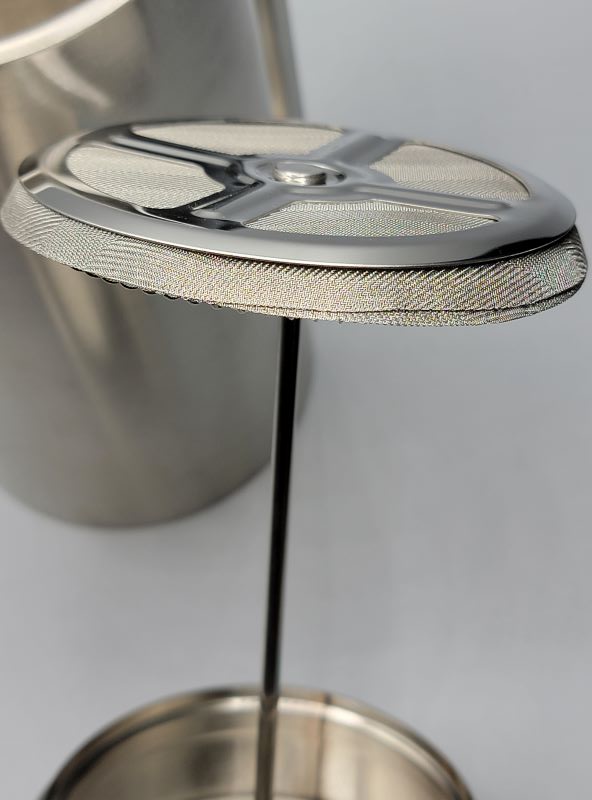 Coletti also says this pot solves the "bitter coffee" problem.  Bitterness comes from over-brewing.  Ideally, your hot water should only be in contact with the beans for about four minutes.  After that, you run the risk of ruining the taste.   Many French presses leave space between the pressing screen and the coffee, so brewing continues after you press. In fact, you're sort of swirling the water over those grounds every time you pour because there is room for those grounds to move down there, extracting more bitterness.  This particular pot has a plunger screen that is two-layers thick (most pots just have a one-layer screen) and it presses all the way to the bottom, effectively squeezing all the water out leaving no room for  the grounds to swirl.   I don't think you'll find a better tasting French press cup than this one makes.  I found my brew very well balanced and strong.  I didn't notice any bitterness, even in the last cup.
The literature also noted that you can also use this pot for making cold brew.  I am not a cold brew kind of gal.  I like my coffee hot and strong (like my husband! ) The husband likes cold coffee, though, so we also tried that.  You just add 6 tbsp. of grounds and let it sit for 14-16 hours.  Pierre said it tasted great.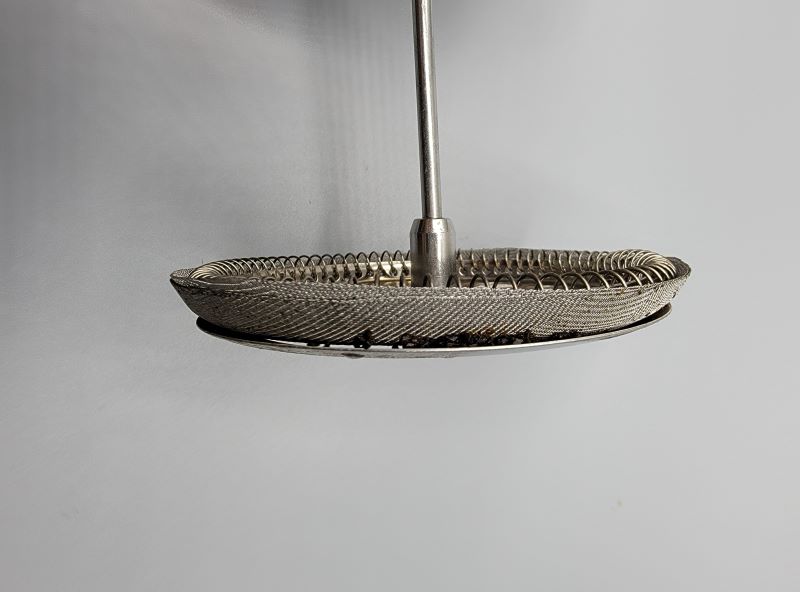 I think the coffee pot is dishwasher safe, but it didn't come with any washing instructions, and that is the one flaw I found, along with the fact that it doesn't disassemble completely.  In other French press pots I've used I've been able to unscrew the plunger to wash the screen and frame separately.  This one doesn't have that feature – the plunger stays intact and can trap grounds.  It has no plastic parts, though, and their media information said it is "built to last a lifetime of dishwasher cycles and mountaintop hikes" so I think that means you can just throw the whole thing in the dishwasher.  If I didn't have their media kit I wouldn't have known that, though.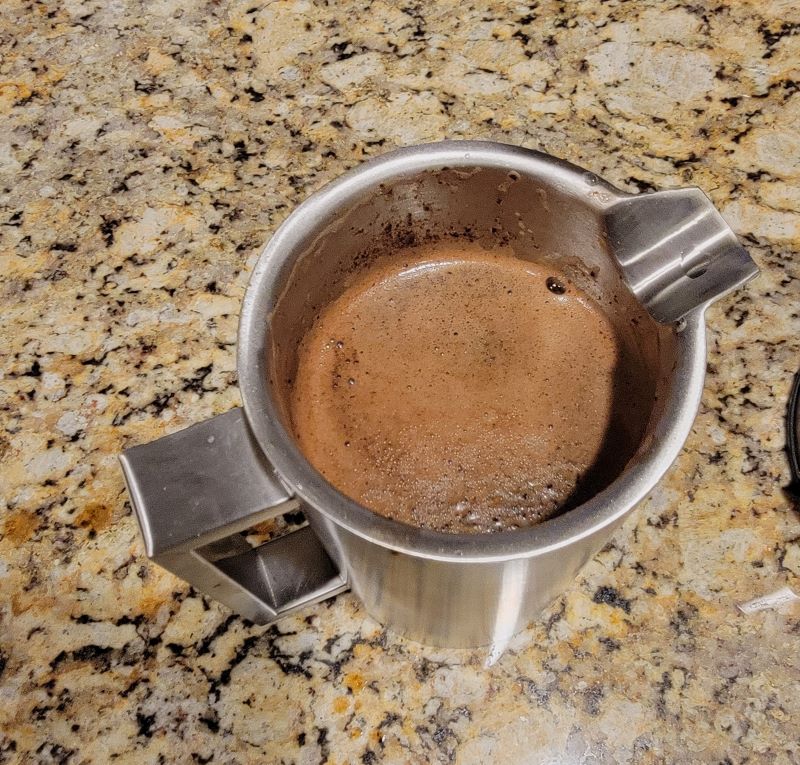 What  I like:
It keeps your coffee hot for a long time
It makes a lot of coffee
The coffee is tasty!
What I'd change:
Include washing instructions
I'd like to be able to take the plunger apart to wash it
Final thoughts:
I really liked the Coletti Boulder Camping French Press coffee pot.  It solves a number of issues that I have with French press coffee, namely making enough in one batch and keeping the coffee hot enough to enjoy it over the course of a morning.  It makes a great cup and it's virtually indestructible.  It's great to buy kitchen stuff that you can pass on to your kids, and I think this is one of those things!
Price: $79.95
Where to buy:  Amazon
Source:  The sample for this review was provided by Coletti.