We use affiliate links. If you buy something through the links on this page, we may earn a commission at no cost to you. Learn more.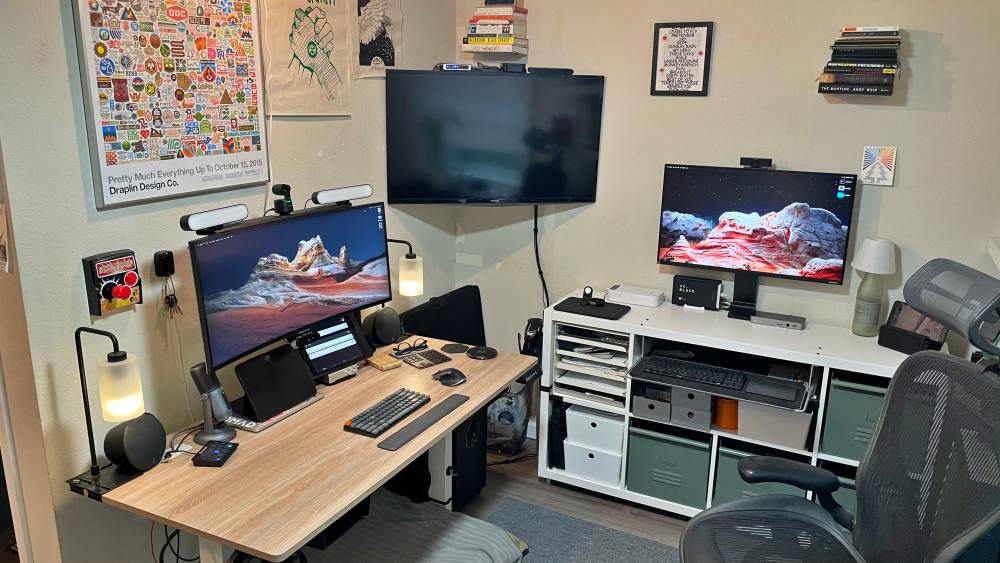 ARTICLE – I was already working from home at the beginning of last year (and had been off and on over the last decade) so there wasn't a big shift as the stay at home recommendations began to roll in. The big shift came in March when I was laid off and my wife's company extended their WFH policy through all of 2020. I immediately gave her my office and I set up a jump station in the living room. My son then had to leave campus and we (like everyone else) had to figure out a way for each of the four of us to be able to be in video meetings without disturbing each other.
Ultimately, my son took over the guest room and I grabbed his small bedroom so I could have an official office that I could set up for efficiency as I took on a new full time gig. Let's dive right in to the fun stuff. In the photo above you can see that I was able to set up a main work desk and a storage shelf on the right that doubles as a work station for my personal laptop, bill paying, etc. The LED TV was repurposed for the 3 Ns; News, Netflix and Nonsense, which has been essential for sanity.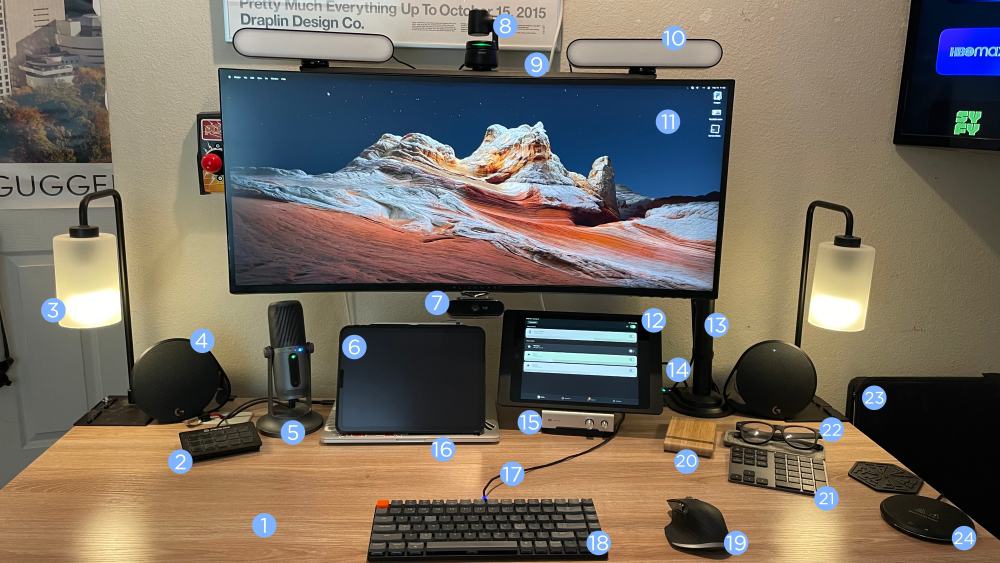 Let's detail this out.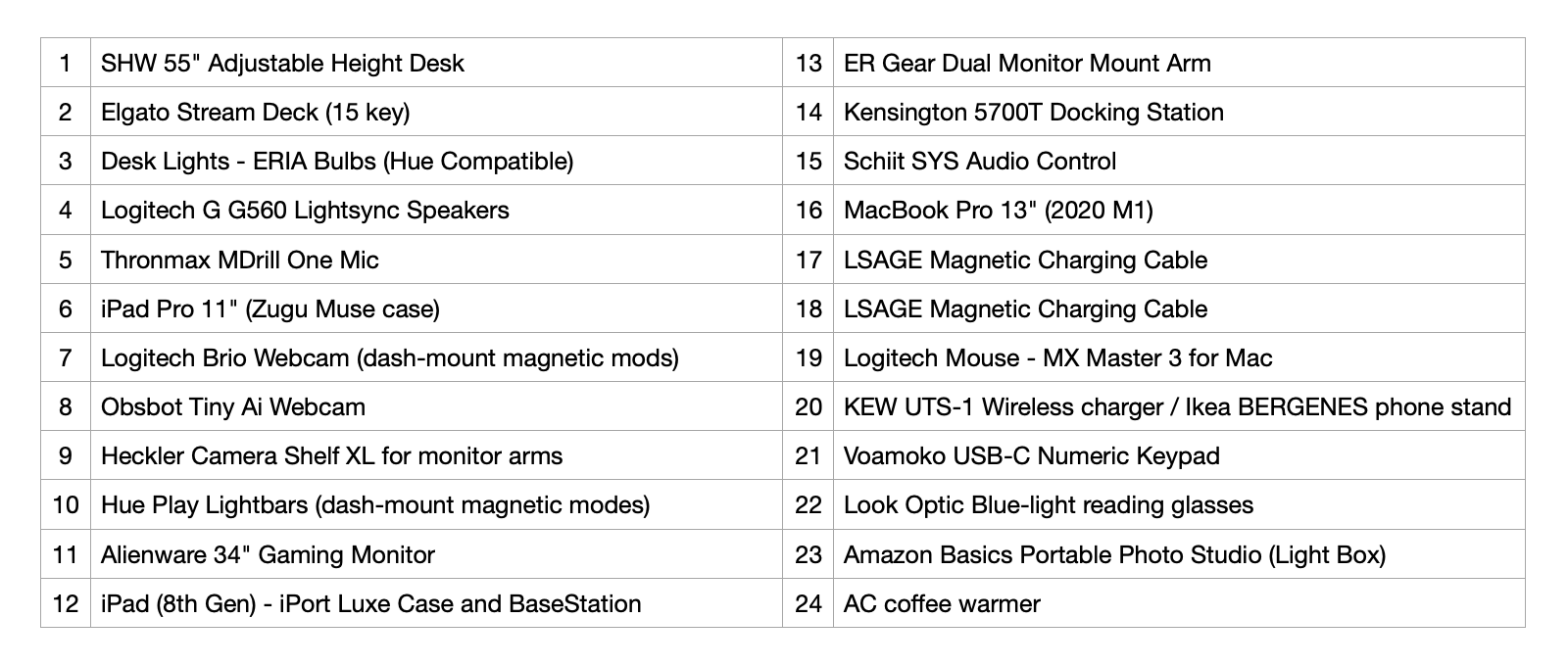 A lot of my setup is self explanatory, but there are a few things I'll call out.
First, the adjustable height desk is critical. Without an office environment where you get up and walk over to a co-worker, I just wasn't standing enough. This model has programmable settings which lets me set up ones for sitting, standing and standing on a FluidStance board to keep my ankles moving. Very handy.
My monitor's a big 34″ gently curved Alienware that I splurged on back in 2019. It's on an ER Gear gas-assist monitor arm which was one of the few strong enough to support the weight of this beast. I opted for the dual mount in case I want to go back to multiple monitors at some point. The M1 MacBook doesn't support that and I currently have enough screen space to not need the laptop open.
You cant see it in the photo but the Heckler XL Camera Shelf attaches to the VESA on the back and provides an almost full width aluminum shelf across the top. I then use car dash magnets and adhesive steel plates to mount cameras and lights so that I can move them around as necessary. The Brio camera mounted lower gives me another angle for times I'm multitasking on calls and concentrating in different areas of the screen.
The Hue Play Lightbars are great for lighting me on video calls and with the color adjustments I can make it look like I'm getting more sun than I am. Those are flanked by the desk lights and an overhead with ERIA bulbs which are Hue compatible. I manage all of those from the dedicated iPad to the right which is either in the Hue or Nest apps where I can watch for deliveries (lots of package thefts these days).
I use the Stream Deck for App launching, camera switching and increasingly more. If you don't have one of these be warned, it's addicting and you'll want to dig in and figure out everything you can control. The Thronmax Mic has been critical for being heard clearly, although the mute button on the mic triggers Spotlight in Big Sur which is very annoying.
The Schiit Audio controller is running sound from my TV into my Logitech desktop speakers so stereo effects are hitting me straight on. It's also really easy to turn the dial to mute for incoming calls as the TV remote doesn't control the audio out volume.
Between the keyboard, mouse, numeric pad and some backup batteries, there's a fair amount of peripherals that need constant charging, but no data. I found the LSAGE magnetic cable bundle on Amazon that comes with multiple connector types, so each of those have a magnetic USB-C, USB-Micro, or Lightning connector that you leave in the device, then I can just move this one cable around to top each of them off as needed. It's a good solution.
The Kew Labs wireless charger I reviewed recently is still working great. I have a cheap Ikea stand that I place over it when I need to have my phone at a viewable angle for a bit, and then I can slide it out of the way to charge through the desk when needed.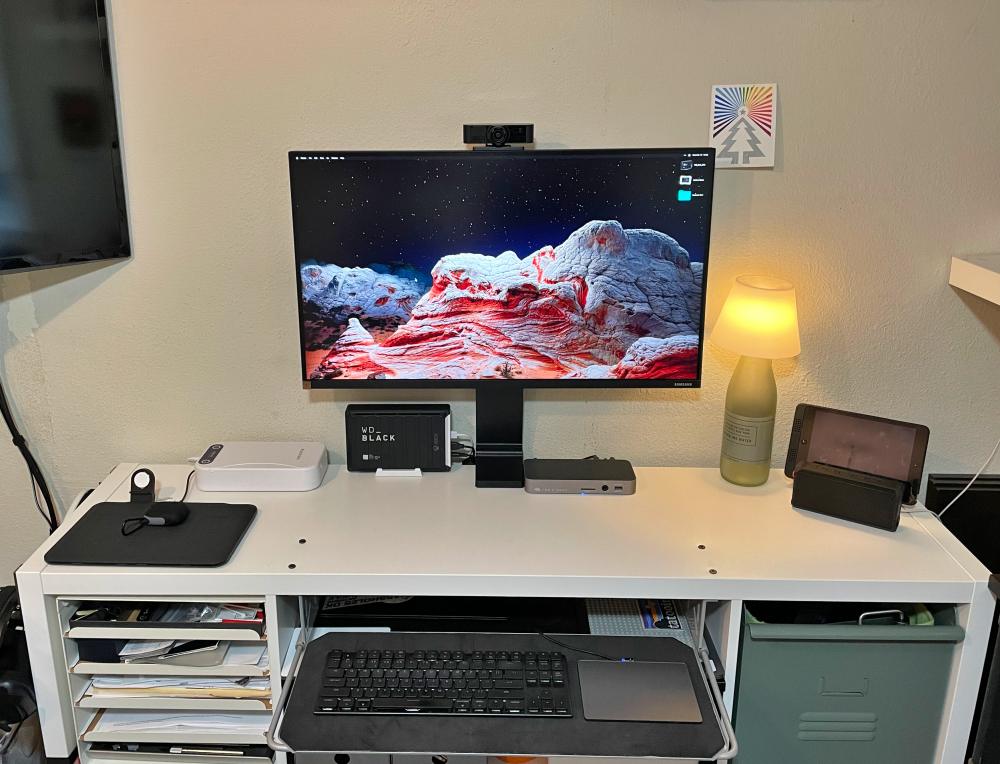 This is the personal workspace. It's an Ikea Kallax unit turned on its side with one 2x cross shelf turned 90º (no cutting) so I could install the Ikea keyboard drawer (those 4 bolts) that's been hanging around my garage for years. The white box sitting behind the Mophie Charging Mat is one of those UV-C sanitizers for zapping germs on my phone and smaller devices. The OWC Thunderbolt 3 Dock has been super stable and lets' me connect everything to my 2017 MacBook Pro 13″ underneath the shelf with one cable.
The monitor is the 32″ Samsung Space that I bought off eBay early last year for the jump station solution. I'm really surprised I haven't seen more of these around as it's super clear and the ability to just pull it down to a low angled position is something I find myself doing regularly.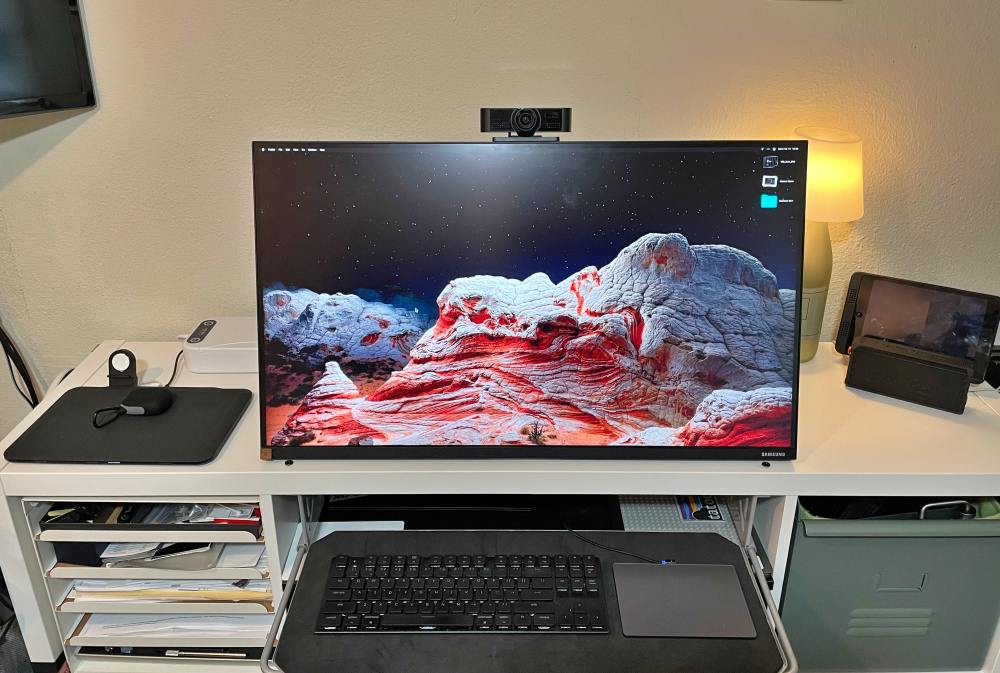 Last thing is my Aeron Task Chair that I bought over 20 years ago. I upgraded the lumbar about 5 years ago, the wheels to inline skate style early last year and most recently added a headrest which I now cannot imagine not having. This thing has been a champ and easily one of my best purchases ever.
I view the workspace as something you should continue to play with and refine as you may just find the smallest of shifts make the biggest differences.
Be sure and check out the other WFH setup articles in this series.