We use affiliate links. If you buy something through the links on this page, we may earn a commission at no cost to you. Learn more.

REVIEW – In pre-pandemic times I traveled quite a bit for work and pleasure with many of those trips being pretty minimalistic in what I took with me. Typically this "just what I need and not much else" travel-style included everything from my tech to my workout gear. I know I'm stating the obvious here, but a pair of size 12/13 dedicated athletic shoes take up a fair amount of volume in your luggage. Well, the folks at Skinners Technologies have been creating travel-friendly, minimalistic footwear for a while now and have recently announced their second generation hybrid footwear for sports and travel, the SKINNERS 2.0. Let's check them out. 
A bit of backstory: Earlier this year, Skinners Technologies started a Kickstarter campaign to fund the SKINNERS 2.0 product line with a pledge goal of $40,000. Well, at the conclusion of their campaign they had raised over a million dollars and had nearly 14,000 backers…impressive.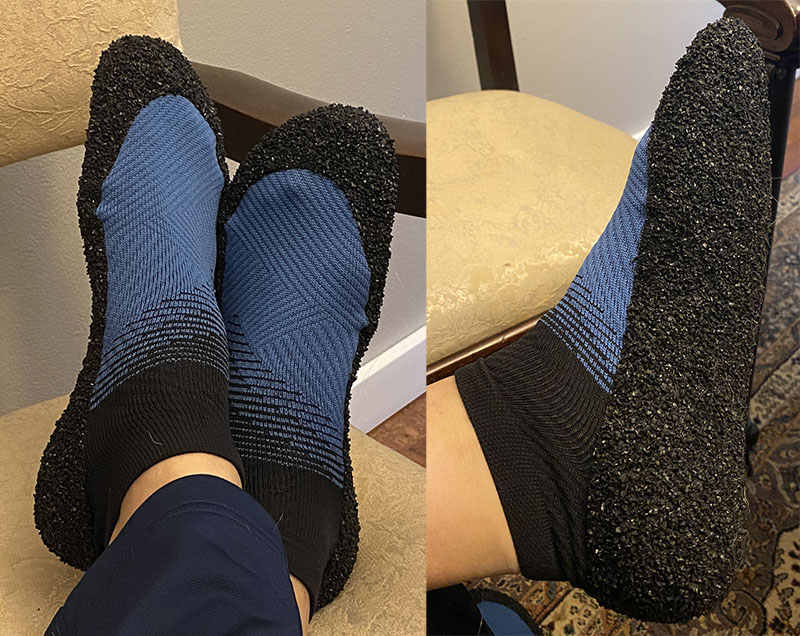 What is it?
SKINNERS 2.0 are a pair of lightweight, ultraportable 4-in-1 footwear that "combines the comfort of socks with the protection of shoes". These shoe-socks (or sock-shoes if you prefer) are minimalistic in design but engineered to withstand and protect your feet during epic workouts, hikes, drives, runs, etc. They are meant to toss in your bag and go as hardcore as you do.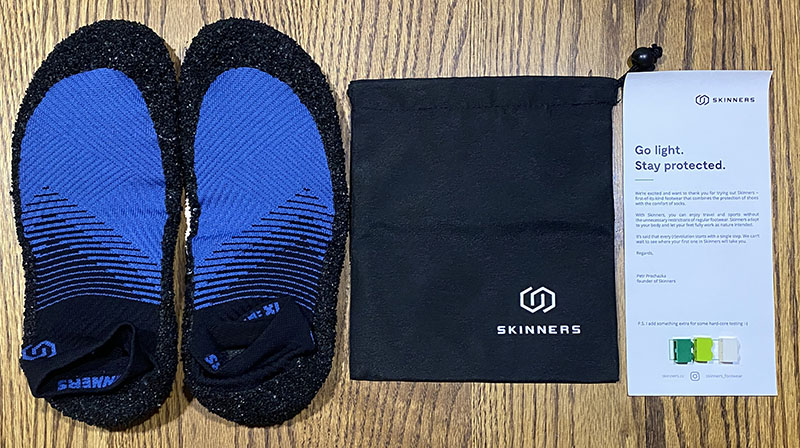 What's in the box?
A pair of Skinners
Nylon travel bag
3 x Legos (you know…for testing purposes)
Design and features
The SKINNERS 2.0 is "footwear that is easy to use, transport, and maintain without sacrificing comfort, functionality, fit, or safety".  They are not intended to replace all your workout, hiking, or other outdoor shoes…they're meant to augment what you already have and can sub in while on travel or just want to be more connected to the ground while hiking thru the woods or lifting weights in the gym. Now I wouldn't run a marathon in these but I can totally see wearing them while working out in a hotel or on a hike/swim in the ocean while on vacation.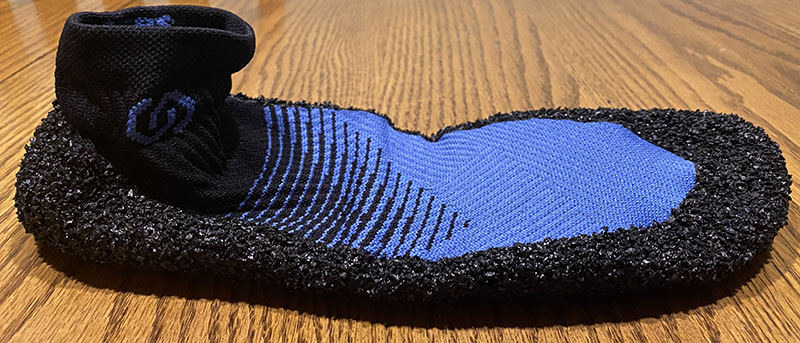 The SKINNERS 2.0 are a lightweight, durable yet comfortable hybrid footwear. Engineered to rollup and toss in your backpack, pound out a few miles, swim in the ocean, wear on an international flight, etc.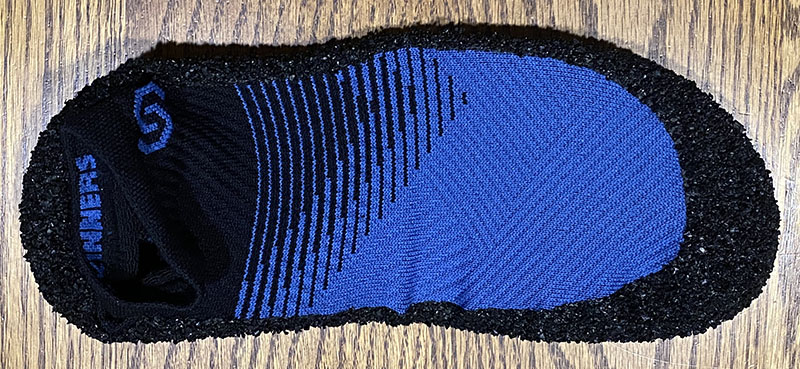 The SKINNERS 2.0 have a perforated, breathable insole with a wide toe-box. The StretchKnit insole sock material is triple layered and antimicrobial. They are supposed to resist odor and are washable and thus hopefully not get smelly or become a nasty science experiment.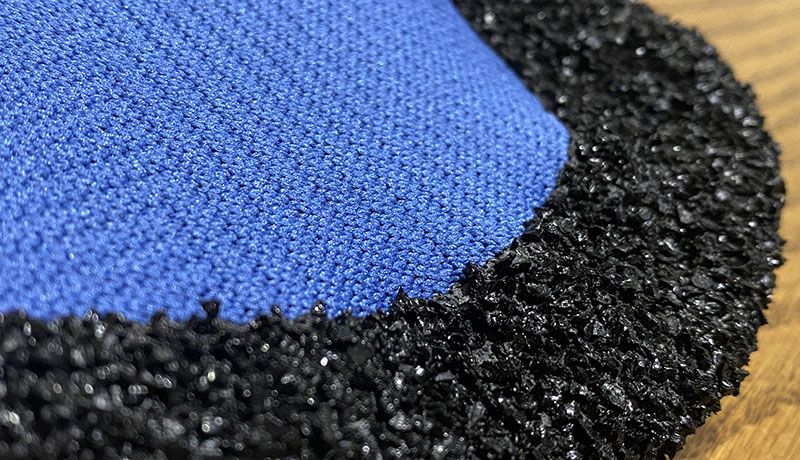 The SKINNERS 2.0 soles are made from hard-wearing Swedish polymers that is bonded to the StretchKnit sock insole.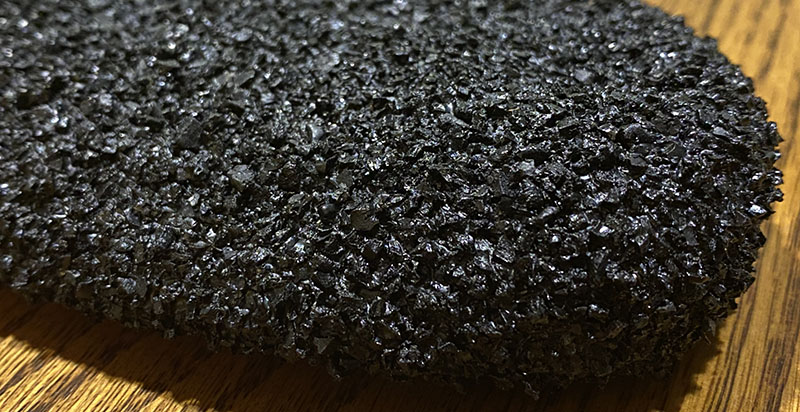 The sole is three millimeters thick and is engineered to not crumble off with time. The rubber polymer is non-marring and does not squeak on any surface I have worn them on.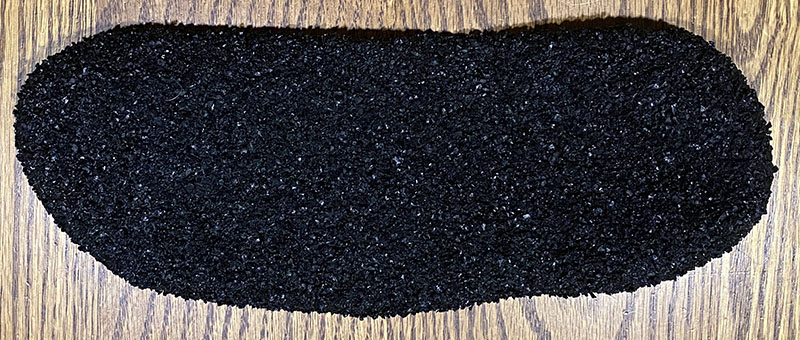 The outer soles are slip- and cut-resistant and give you an excellent grip. According to their Kickstarter page, the SKINNERS 2.0 are expected to last 800km/500mi of wear. This is fair because I expect about the same or a little less from a high quality pair of running shoes.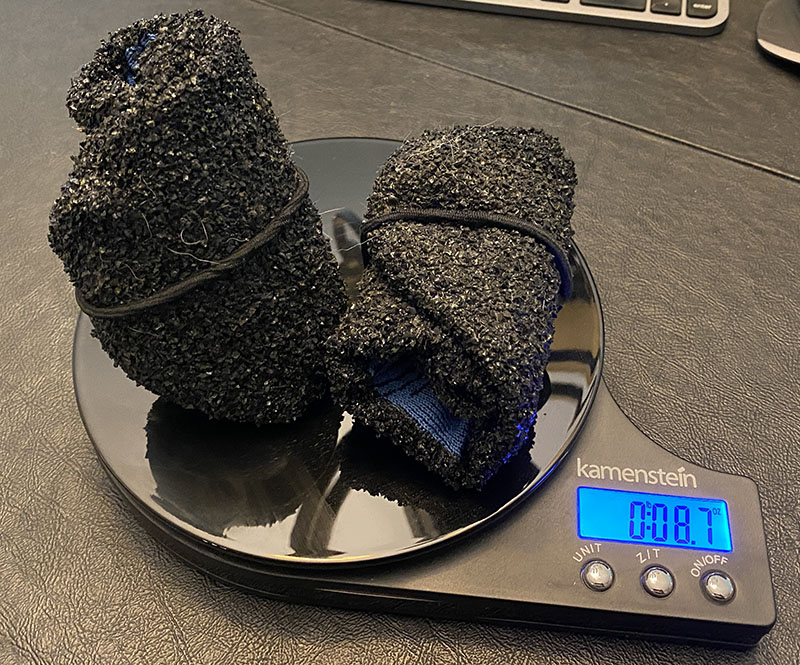 Along with being engineered to be tough, minimalistic, and comfortable, the SKINNERS 2.0 are lightweight. I typically wear a men's 12.5 running shoe and my XL SKINNERS come in at just over a half a pound…much lighter and less volume than my normal boats. Rolled up the SKINNERS is similar in weight and volume to a pair of thick wool socks. 
Performance
The SKINNERS 2.0 are comfortable, fit well, and hold their shape. I have been using them for the past few weeks, having put in about 20 miles on walks/light runs with 4-5 hours on the elliptical machine and a bit of weightlifting. I've also puttered around working on a few small projects around our place. All of which, the SKINNERS have done a great job protecting my feet while getting all that done. Tho they provide little to no protection from stuff falling/dropping on your feet or running into something.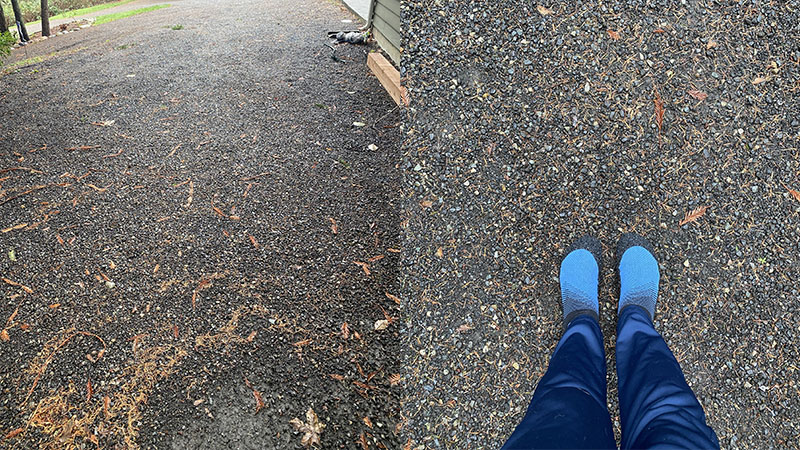 Our driveway and many of my running/walking routes have this type of gravel surface. The gravel you see here is pointed and you definitely know when you walk on it barefoot. That said, I've had zero discomfort while walking outside with the SKINNERS 2.0 on my feet. Though I do have to say being December when I tested this footwear, it provided little to no thermal or wetness protection (aka my feet got cold on a few walks). 
Now I have not had these shoe-socks for long enough to give you a true assessment of their durability or how long they'll last with real-world use. Though what I can tell you is, with 20+ hours of wear over the span of several weeks the SKINNERS 2.0 still looks brand new. They don't smell or stink yet and best I can tell none of the soles has crumbled off in any noticeable way.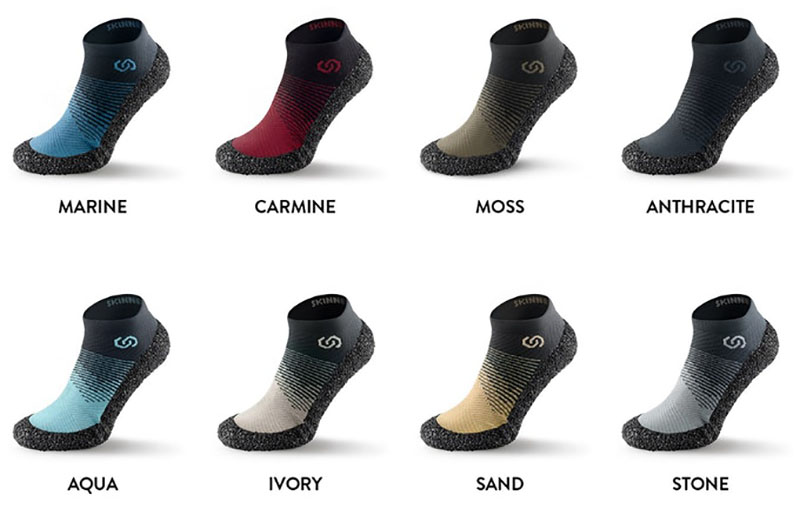 Even though the Kickstarter campaign has ended, you can still order the SKINNERS 2.0 via their Indiegogo webpage. They are available in eight colors and seven sizes from a woman's size 5 to a men's size 14. 
What I like
Well made with premium materials
Lightweight, minimalistic design
Durable
Comfortable
Thick polymer sole
Antimicrobial
Washable
What needs to be improved
Final thoughts
I have zero doubt that once travel is a regular thing again my SKINNERS 2.0 will be in my bag. This hybrid footwear's simple, lightweight, comfortable design is ideal for hitting the hotel workout room, swim in the pool, hike, run, etc. While they're durable, protective, and get the job done…they won't be replacing any of my shoes but are an excellent all-purpose, minimalistic travel companion that easily fits in your carry-on or backpack when space is at a premium. 
Price: Approximately $96
Where to buy: SKINNERS Indiegogo INDEMAND and Amazon (first version)
Source: The sample of this product was provided by Skinners Technology.