We use affiliate links. If you buy something through the links on this page, we may earn a commission at no cost to you. Learn more.

REVIEW – I remember years ago when Blu-Ray players were new. In fact, I remember when Blu-Ray and HD DVD were battling it out in the marketplace, do you?  Oh, the good ole days. I also remember how expensive they were. Holy smokes, the first players were like $1,000 each, and this was almost 15 years ago. So alas, a Blu-Ray was never in my living room. Fast forward to today, and holy smokes indeed, you can pick one up for probably the cash in your wallet. You could even make an argument that streaming content is going to kill off DVD and Blu-Ray players altogether, sooner rather than later, and they may be giving them away as free toys in the McDonald's Happy Meals soon. But nonetheless, I have a large collection of regular DVDs and a small collection of Blu-Rays, so I need to be able to play them. My regular DVD player died years ago, and the 1 laptop that I had which had a Blu-Ray drive in it died last year, so I have been looking for a replacement. So let's review the new Blu-Ray player from Tojock.
What is it?
An entry-level budget 1080p Blu-Ray Player that can also play standard DVDs and content you have on a USB thumb drive.
What's in the box?
1X Blu Ray DVD Player
1X Remote Control (without battery)
1X 5ft HDMI Cable
1X 5ft AV Cable
1X User Manual
Specs:
Inputs:  HDMI, AV, USB 2.0
Output: coaxial digital
Dimensions: 7.5 inches deep, 10.25 inches wide, and 1.75 inches thick
Weight: 3 lbs.
Supports Dolby and DTS sound effects
Supported DVD formats:
BD: Blu-ray Disc
BD-R: Blu-ray Disc – Recordable
BD-RE: Blu-ray Disc Re-Erasable
DVD-R/RW: DVD – Recordable
DVD+R/RW: DVD + Recordable
DVD-Video: Digital Video Disk-Video
VCD: Video Compact Disc
CD: Compact disc CD; CD-R/RW
DVD Recordable/ Read Write
Built-in 2.0 USB-A port can be used to play the following content:
Video: WMV, AVCHD, VOB, MOV, AVI, MKV, 3GP,ASF MPEG,MP4.TS
Audio: MP3, WMA, MPEG1
Image: JPG / JPEG
NOTE: The player can only support USB 2.0 drives up to 128G and playing video files up to 1080P.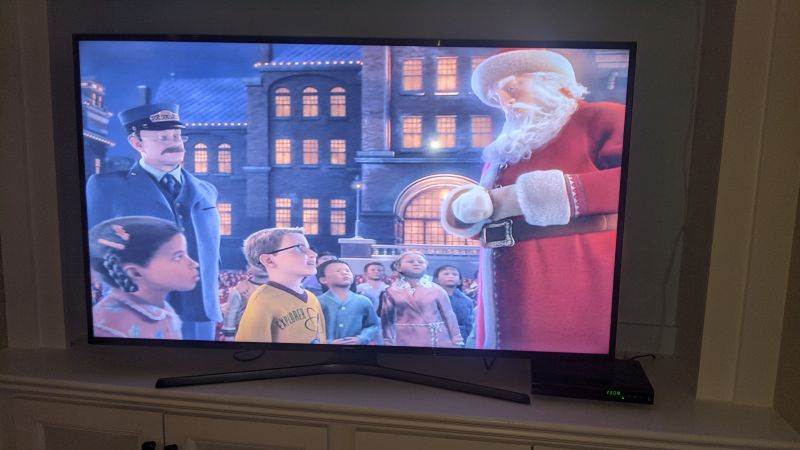 Features and performance
This is an entry-level budget Blu-Ray player that is priced competitively in this space, in my opinion. I have been looking for a Blu-Ray player for some time and I have researched these budget players till my eyes are crossed. And I really am finding a mixed bag at this price point. The Tojock, at $89.99, sits in this space as one of the cheapest players out there, by maybe $10 or $20. But there are some features missing, for example, built-in wifi to enable you to view streaming content.  Some players will have apps for Hulu, Netflix, and others, so if your TV isn't a smart TV and you plan on keeping it for a while, then you might benefit from a player that has this feature, although dealing with wifi connections isn't always a walk in the park, right?  I didn't need that since all the TVs in my home are smart TVs. Some players also have an Ethernet connection to connect to a wired network.  Again, I don't need that feature.  So the Tojock met all my requirements of playing regular DVDs, Blu-Rays, video disks that I have created, and video/audio files on USB thumb drives.
The size of the player itself is 7.5 inches deep, 10.25 inches wide, and 1.75 inches thick. That is a pretty small footprint compared to other players I have looked at.  On the back, you'll find the connections for HDMI, AV, and coax. And on the front of the player, you'll find the power button, play button, eject button, and the USB-A port for playing content from your USB thumb drives.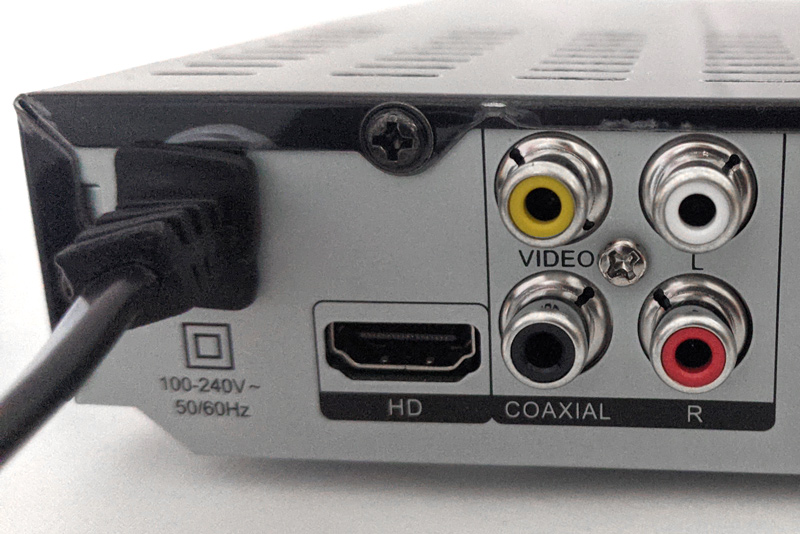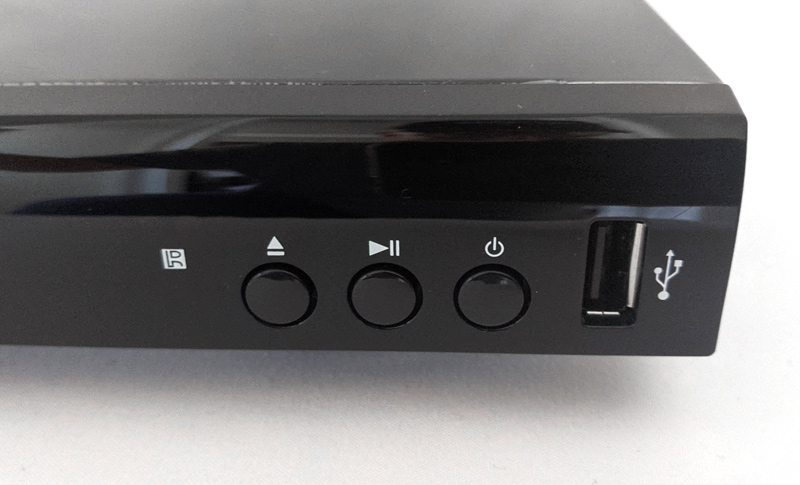 Without getting too nerdy about it, it is important to mention that this player won't play every single DVD or Blu-Ray in the world.  Some of you reading this are much more familiar with this issue than I am and could school me, but in case you aren't familiar, let me briefly describe something important to keep in mind. When DVDs and Blu-Rays are created there are licensing and legal issues why a piece of content (like a movie) may not be able to be played in certain countries or 'regions' of the world. For example, a studio may release a movie on DVD here in the US but it is getting ready to be released to theaters in Europe, so they restrict the DVD so it can't play on players sold in Europe. And while some content creators will code their discs as being 'Region-free' and you won't have to worry about this, some content creators do code their discs so that they only play in certain areas of the world. So when purchasing DVDs, Blu-Ray discs, and players, it is important to understand this so that you don't purchase a product that you can't play.  So the Tojock can play any regular DVD, regardless of region. This is called 'region free', obviously.  But in case you were curious about what the DVD regions are around the world, here you go:
Region 1: U.S., U.S. Territories, Canada, and Bermuda
Region 2: Japan, Europe, South Africa, and the Middle East, including Egypt
Region 3: Southeast Asia, East Asia, including Hong Kong
Region 4: Australia, New Zealand, Pacific Islands, Central America, South America, and the Caribbean
Region 5: Eastern Europe, Baltic States, Russia, Central and South Asia, Indian subcontinent, Africa, North Korea, and Mongolia
Region 6: China
When it comes to Blu-Ray discs, however, the Tojock can only play discs that are coded as 'Region A/1' or if they are coded as 'region free'.  And in case you wondered about the Blu-Ray regions around the world, here you go:
Region A/1: North America, Central America, South America, Japan, North Korea, South Korea, Taiwan, Hong Kong and Southeast Asia
Region B/2: Europe, Greenland, French territories, Middle East, Africa, Australia and New Zealand
Region C/3: India, Nepal, Mainland China, Russia, Central and South Asia
Something I like about the Tojock is that it uses progressive scanning instead of interlaced scanning, which provides a smoother picture, in my opinion.  Tojock also says the player has anti-skip technology, and I can say that I haven't experienced any skipping or flickering when watching videos. I also like that it plays discs very quickly when you insert them. You won't have to wait minutes for the player to spin up and get you to the content quickly. The "Resolution" button on the remote allows you to cycle through different resolutions so you can make sure that the video looks best on your TV.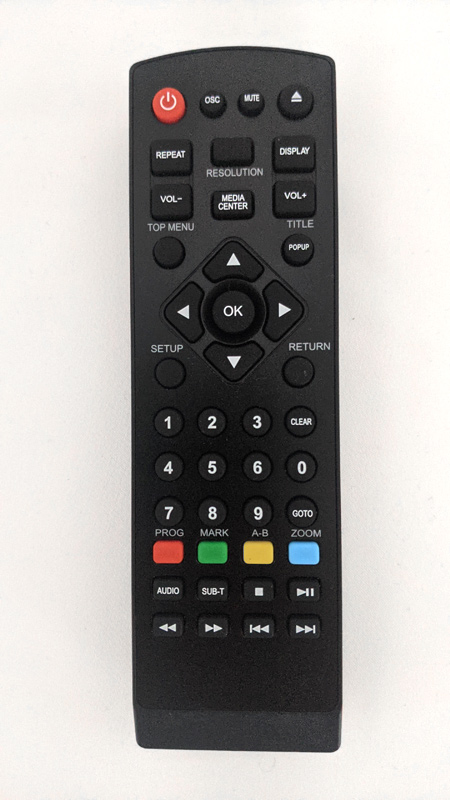 I utilize the HDMI connection with my TV, and that provides me the quality that I want.  The remote has a ton of buttons to accomplish what you want, but I do wish the letters were a bit bigger for my middle-aged eyes! Having said that, you'll most likely need to read the instructions on the remote since there are so many things you can do with it.
I also found out, quite by accident, that when you are watching a disc and in the middle of the content you just turn off the player to go do something else, when you turn the player back on it will prompt you if you want to pick up the content from where you left off.  Pretty cool.  I don't remember any other DVD players that I have owned having that feature. Perhaps other new players also have this feature, but I have never experienced that before and it is pretty handy. Here is a picture of the prompt of this: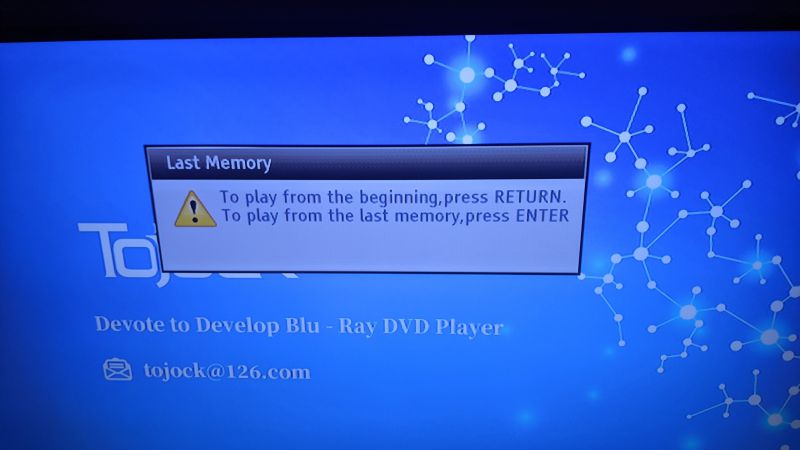 Finally, I only have 1 complaint.  There is an indicator light on the front of the player that shows you when the player is off (red) and when it is turned on (green).  The annoying thing for me is that when you turn the player off the red light is too bright.  And there is no way to get rid of that red light except to unplug it from the power source. So if you plan on having this player in your bedroom and you don't want a bright red light shining all night, then rethink putting it in your bedroom, or come up with a solution for disconnecting it from power when you are done using it. The player is in our living room, so it doesn't keep me up at night, but it is still annoying looking at it when I am watching TV. So I just move it behind everything so I can't see it unless I am using it. Not quite elegant, but it works for me.
What I like
The player picks back up where you left off, even after a restart.
Fast response when playing discs.
Good price point
What I would change
No way to turn off the annoying red light
Final thoughts
If you need a player that has built-in wifi then this player isn't for you.  But if you need a solid DVD/Blu-Ray player with an HDMI connection that can also play content from your USB thumb drives, then this player is an affordable solution that has a decently small footprint at a price that is really good. Just keep that little red light in mind!
Price: $89.99
Where to buy: Amazon (Save 20% with coupon code: BLURAYDVD (expires 06/30/202111:59PM PST))
Source: The sample of this product was provided by Tojock.