We use affiliate links. If you buy something through the links on this page, we may earn a commission at no cost to you. Learn more.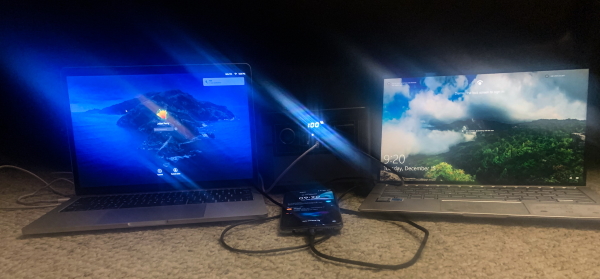 REVIEW – It is the time of the year when the winter season is ramping up in the North East of the United States. I live near the ocean and power outages are par for the course. Having endured the outages for over 2 decades, I know the value of having a few powerful/capable Power Stations ready to go so that all of my mobile devices and other smaller items that I need will be available at least during outages that only last a few hours. The Goal Zero Yeti 200X Portable Power Station should be another great addition to my collection. Let's see!
What is it?
The Goal Zero Yeti 200X Portable Power Station is the most lightweight power station in its lineup. It delivers 187 Watt-Hours of lithium power and the latest fast-charging technology in a compact, ultra-portable design. The features include 2 USB-A ports, 1 USB=C port, 1 USB-C 60W Power Delivery port, 1 AC Inverter port, 1 6mm port, and 1 12V Car Port.
What's in the box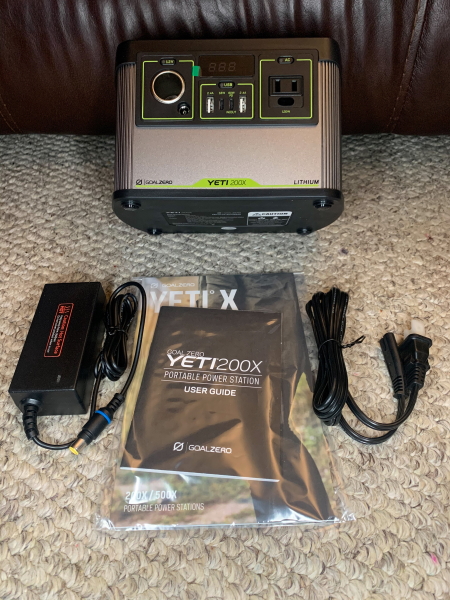 1 x Goal Zero Yeti 200X Portable Power Station
1 x AC Adapter
1 x User Guide
1 x Product Brochure
Design and features
FEATURES
Compact, Lightweight Power Station: The Yeti 200X Power Station delivers high-quality lithium power you can rely on, housed in an ultra-portable design made to take anywhere. Yeti 200X is one of the most lightweight power stations on the market and the lightest Goal Zero Yeti to date.
High-Speed Charging Solution: Equipped with the latest charging technology, including a high-speed Power Delivery port capable of charging USB-C laptops, tablets, mirrorless cameras, and phones in a fraction of the time. High-Speed Charging Solution
Equipped with the latest charging technology, including a high-speed Power Delivery port capable of charging USB-C laptops, tablets, mirrorless cameras, and phones in a fraction of the time.
Solar Ready: Charge the Yeti 200X from the sun with our portable solar panels while away from the grid and keep it topped off from a wall outlet when you're home.
Three ways to charge the Yeti 200X
From the sun: Recharge from the sun by connecting a compatible solar panel.
From the wall: Plug it into the wall. Fully recharges in 4 hours using the included 60W power supply, or plugin with the Yeti X 120W Power Supply

to halve that charge time.

From the car: Plug into your vehicle's 12V outlet using the Goal Zero Yeti Lithium 12V Car Charging Cable

.
NOTE: Do not attempt to charge your Yeti Lithium from a 12V source using any other cable. Doing so may cause damage to the unit.
SPECIFICATIONS
CHARGE TIMES
Maximum input: 2 Hours
Wall Charger (60W): 4 Hours
Wall Charger (120W): 2 Hours
Nomad 20: 12-24 Hours
Nomad 50: 5-10 Hours
Boulder 50: 5-10 Hours
Nomad 100: 2.5-5 Hours
PORTS
USB-A port (output): 5V, up to 2.4A (12W max), regulated
USB-C port (output): 5-12V, up to 3A (18W max), regulated
USB PD port (input/output): 5-20V, up to 3A (60W max), regulated
6mm port (output): 12V, up to 10A (120W max)
12V car port (output): 12V, up to 10A (120W max) regulated
AC Inverter (output, modified sine wave): 120VAC, 60hZ, 1A (120W, 200W surge)
Charging port (input,8mm): 13-22V, up to 7A (100W max), regulated
BATTERY DETAILS
Cell Chemistry: Li-ion NMC
Peak Capacity: 187Wh (14.4V, up to 13Ah)
Lifecycles: 500 cycles to 80% (discharge rate: 1C, full charge/discharge, Temp 25C)
Shelf-life: Keep plugged in, or charge every 3-6 months
Management system: MPPT charge controller, low battery protection
GENERAL
Chainable: No
Simultaneous Recharge & Discharge: Yes
Weight: 5 lbs (2.27 kg)
Dimensions: 7.9 x 5.1 x 5.1 in (20 x 13 x 13 cm)
Operating Usage Temp: 32-104F (0-40C)
Warranty: 24 Months
RUN TIME
Recharges:
Smart Phone (12 Wh): 16
Tablet (30 Wh): 6
Laptop (50 Wh): 4
POV Camera (5 Wh): 38
DSLR Camera (18 Wh): 11
Head Lamp (5 Wh): 38
Hours of Runtime:
GZ Light (4.5 Wh): 42
Light Bulb (11 Wh): 17
Portable Fridge (25 Wh): 8
The Power Station is made up of what seems like ABS plastic and possibly some metal. On the front, there are all of the power supply ports, and on the rear, there is the port to charge the device. There is also an interactive LED display on the front.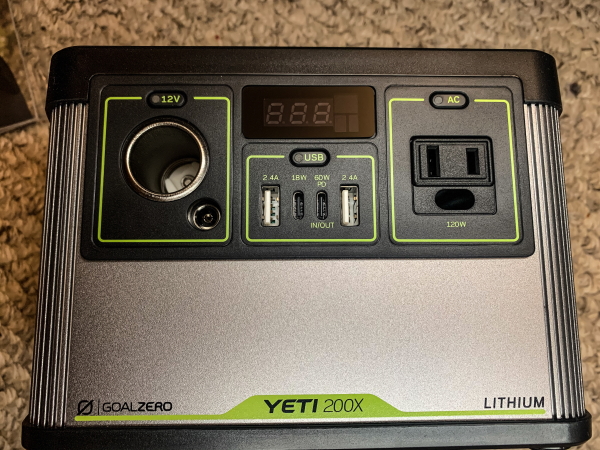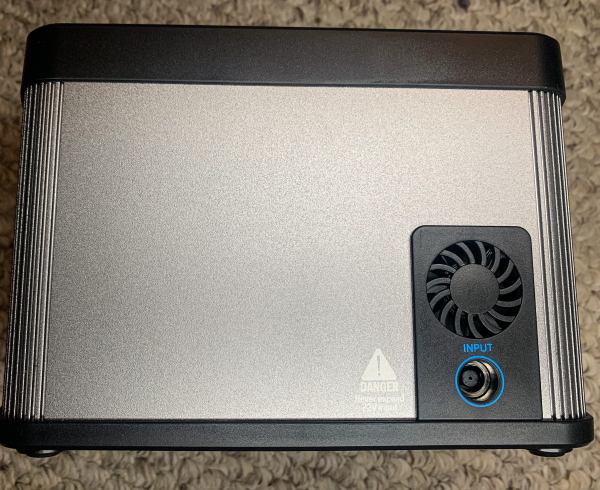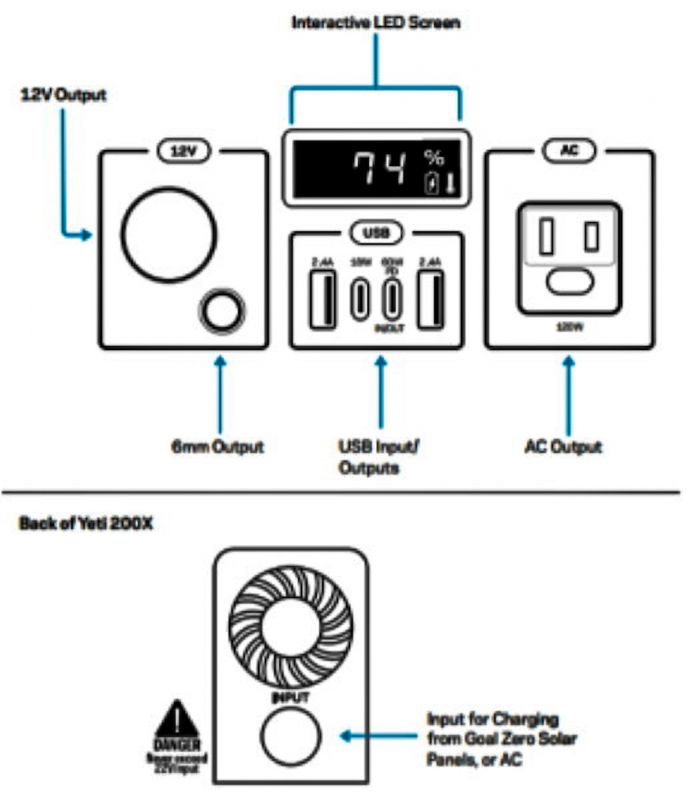 On top of the Power Station, there is a solid built-in handle and underneath the station, there are 4 rubber feet.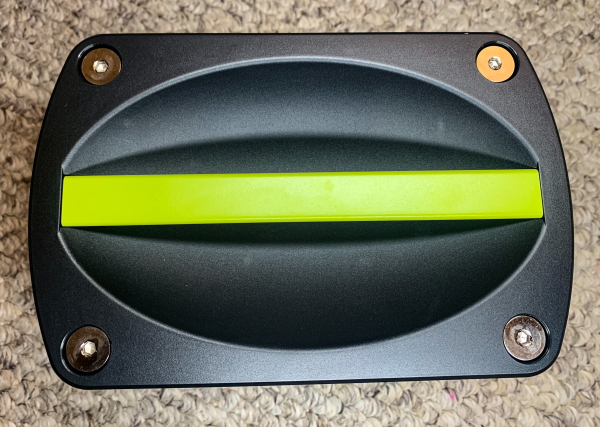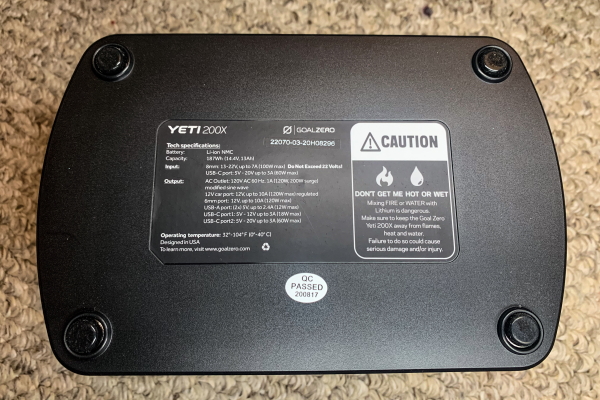 Performance
This Goal Zero Yeti 200X is very simple to start using. The first thing that I did with it right out of the box was to plug it in and charge it fully. Once fully charged, the LED display shows too%. Then it is just left for me to pug in my devices. I very rarely let any of my devices get to a zero charge level, so I tested this device by charging some while powering others.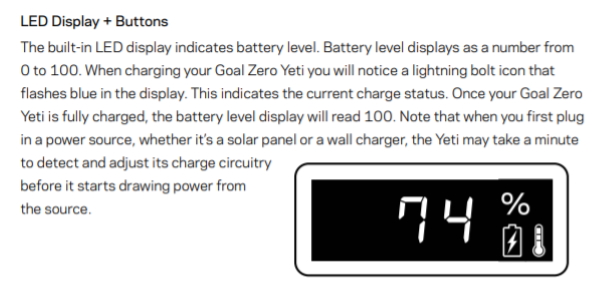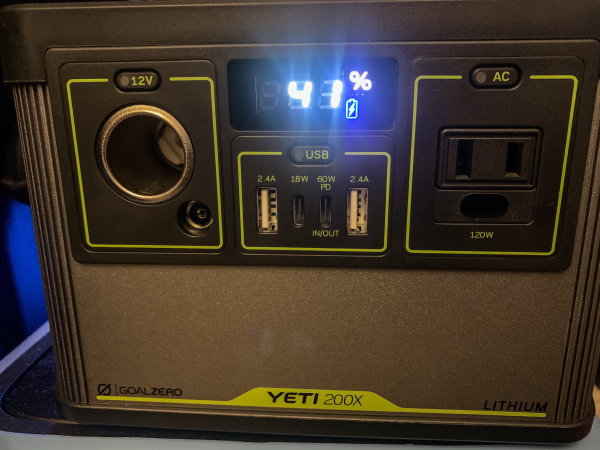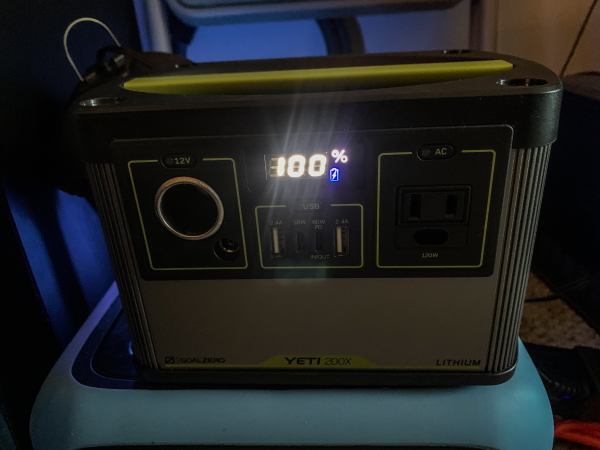 The Yeti 200 X does not seem to get more than slightly warm even with several devices connected and it is very quiet. The following photo shows me charging /powering some of my devices with this Goal Zero Yeti 200X: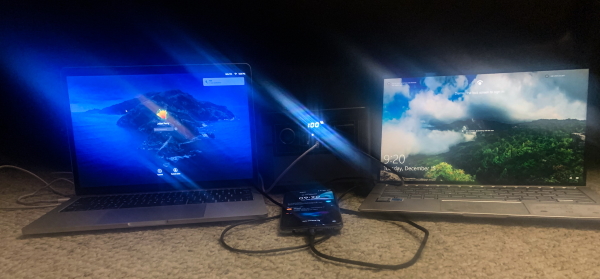 What I like
The solid build quality
The versatility of the ports
The options to charge the Power Station
The power supply/charging/recharging options
The Power Delivery port
What I'd change
It does what it is designed to do
Final thoughts
Out of all of the several power stations that I own, I rank this one in the top two. It is well built, provides an adequate number and type of ports, is portable, and durable enough to rough it outdoors. Goal Zero is known for making solid, functional, and reliable power stations, and this one lives up to their standards. Well done!!
Price: $299.95
Where to buy: Goal Zero website and Amazon
Source: The sample for this review was provided by Goal Zero