We use affiliate links. If you buy something through the links on this page, we may earn a commission at no cost to you. Learn more.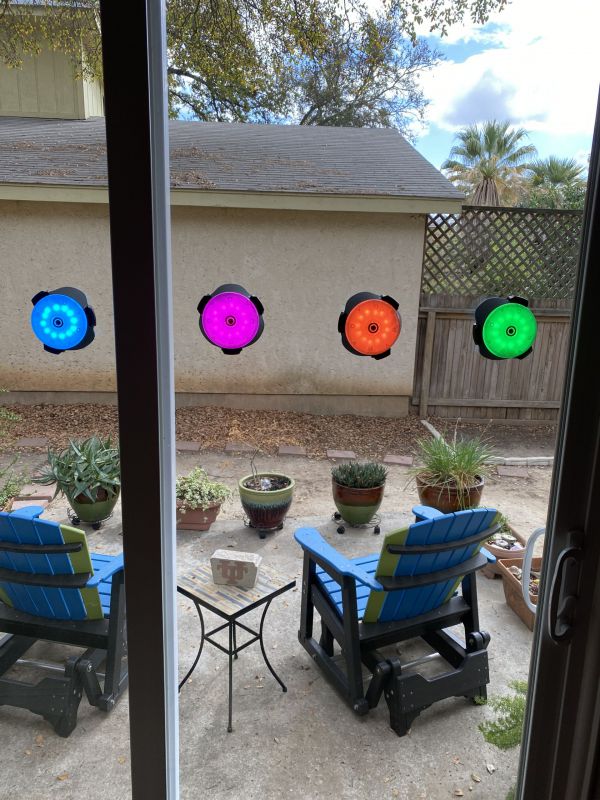 REVIEW – I am always looking for a way to improve my fitness.  I love it, even more, when the item in question involves technology.  An even bigger bonus is when the device makes exercise fun.  The Blaze Pods seem to offer all of these things.  I got a chance to review these and see how well they work.  Read on to see what I think.
What is it?
Blaze Pods are electronically lit 'pods' that direct the user to tap them with a body part in order to make a score.  They are controlled via an app in either IOs or Android.  You can run anywhere from 1 to 6 pods in a challenge.  You place the pods in various locations and tap them when the color you are assigned shows up.  This can be taking place while you are in a plank position or running up and down stairs.  They can literally be anywhere if you buy the adapters.
What's in the box?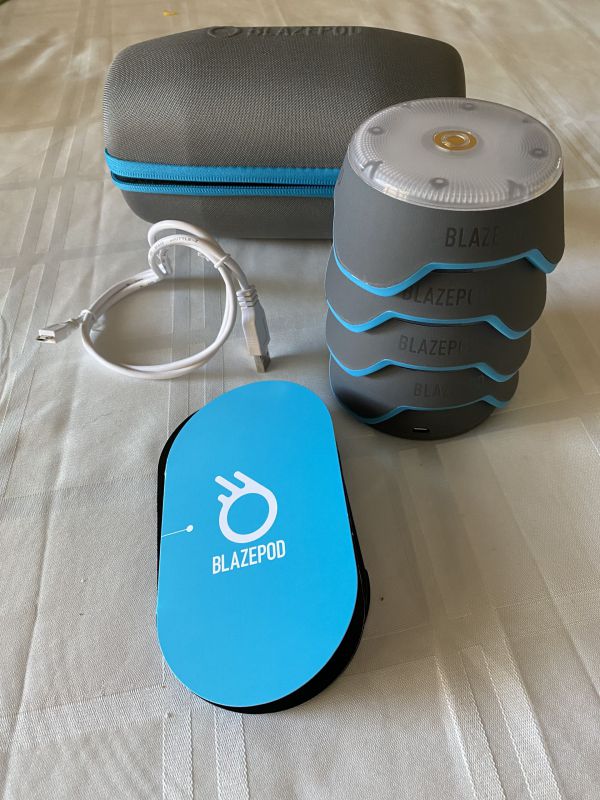 I received three boxes from Blaze Pod.  The first included a standard set.  That box had:
Blaze Pod carrying case
micro USB charging cable – no plug in adapter was provided
four Blaze Pods and a charging base
A collection of cards that has the following:

what is in your kit
regulatory information
join the BlazePod community information
recommendations on how to use the case and charging info – 5 hours to fully charge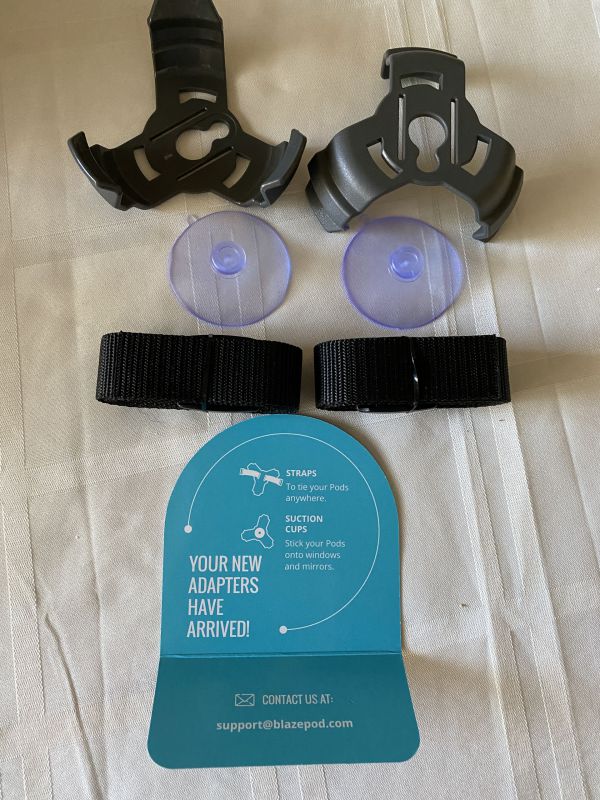 The other two boxes were adapter sets.  Each box had two adapters for two pods.  Each adapter included the bracket that goes around the pod, suction cups, and straps.
Design and features
The Blaze Pods can all be charged at the same time stacked up on the charging base.  The picture below shows the charging base at the top and the four Blaze Pods below.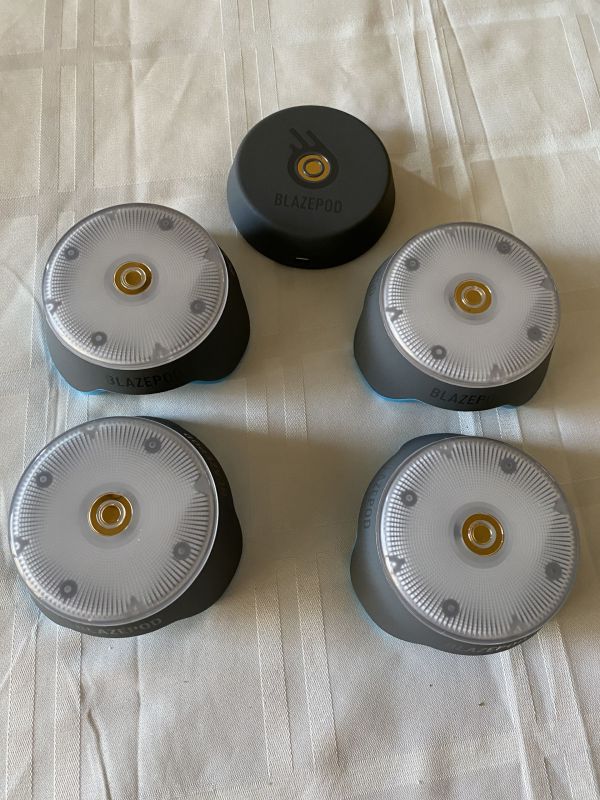 This is a closeup picture of the top of the charging base.  The middle circle is metal and is designed to have the metal prongs of a Pod sitting on top of it.  The rest of the base is covered with a rubberized material.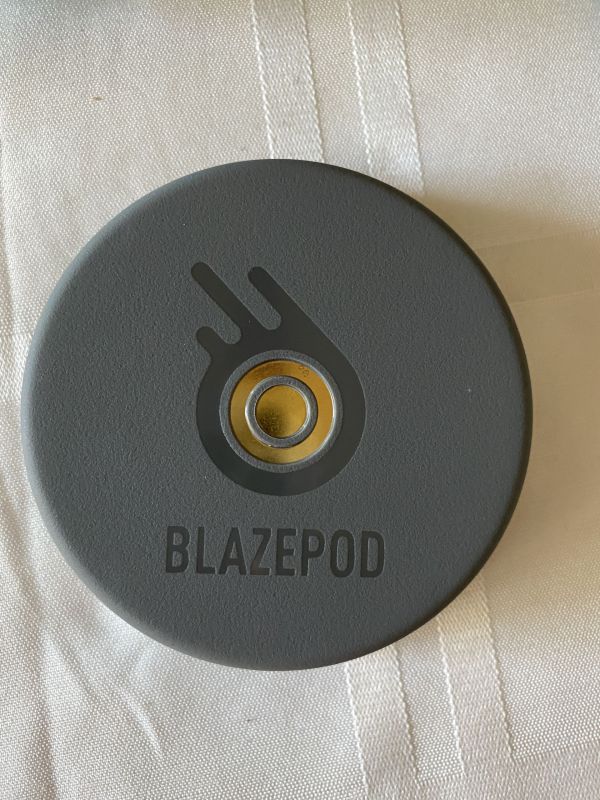 This is the side of the charging base with the Micro USB port for the charging cable.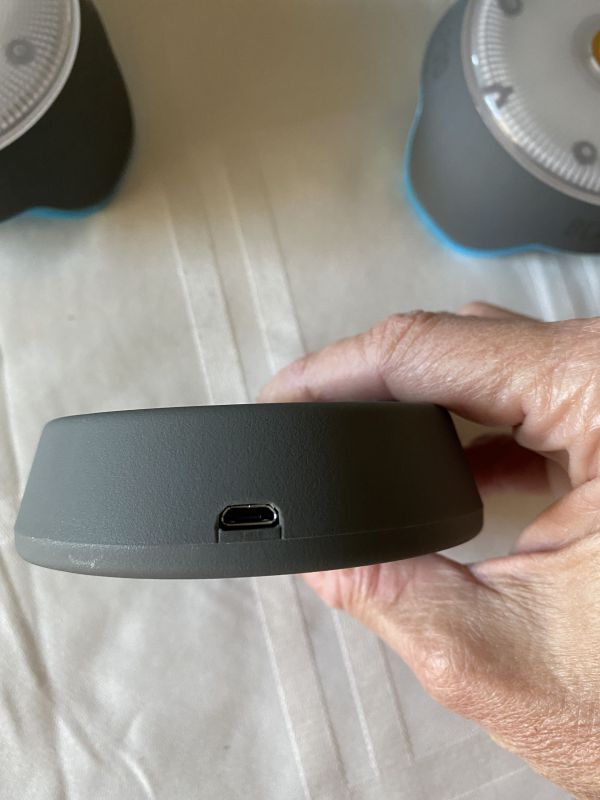 This is the bottom of the charging base.  There are four rubberized feet covering the screw holes to the bottom of the base.  It is very solid and since it is all covered by rubber it is quite to move around and place pods onto it.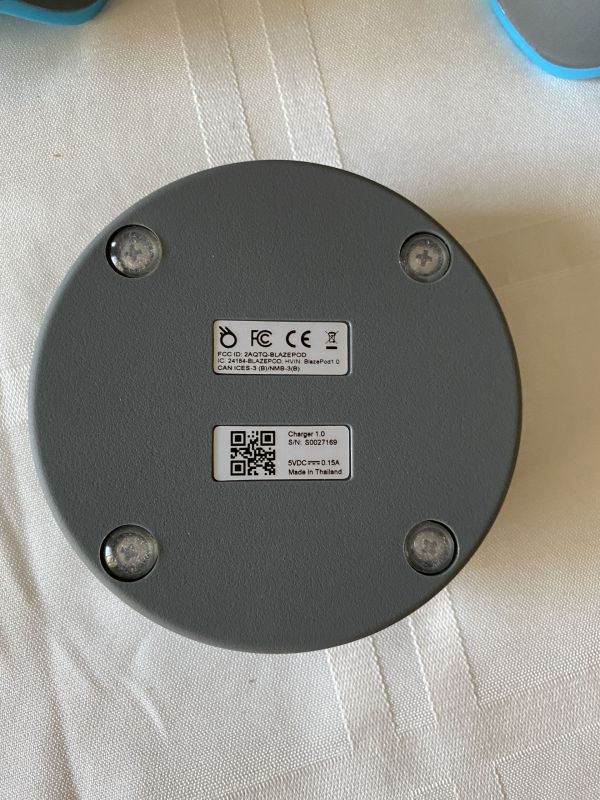 This picture shows you the bottom of a pod.  You can see the two metal prongs that would be on the charging base.  If you look back at the picture above and see the top of the actual pod, you will notice a metal circle just like the charging base.  This is what allows you to stack the pods on each other and charge them.  The blue color is all rubberized, so stacking pods is easy and not noisy.  If you place the pod on a cement or slippery floor, it will not slide around.  That is perfect because a lot of challenges have you running up to tap them or you may be tapping them with a foot.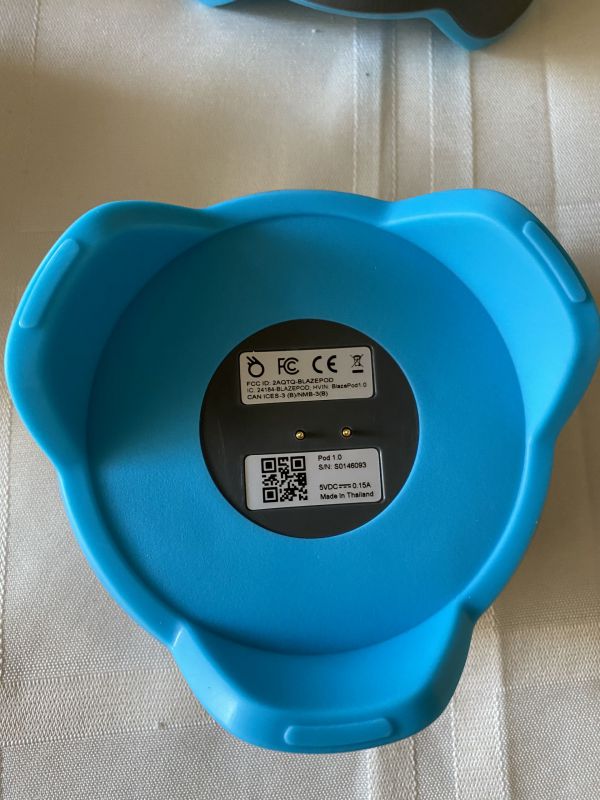 The picture below shows the inside of the carrying case.  It is a nice sturdy case, but it is only designed to hold four pods at a time plus the charging base and cable.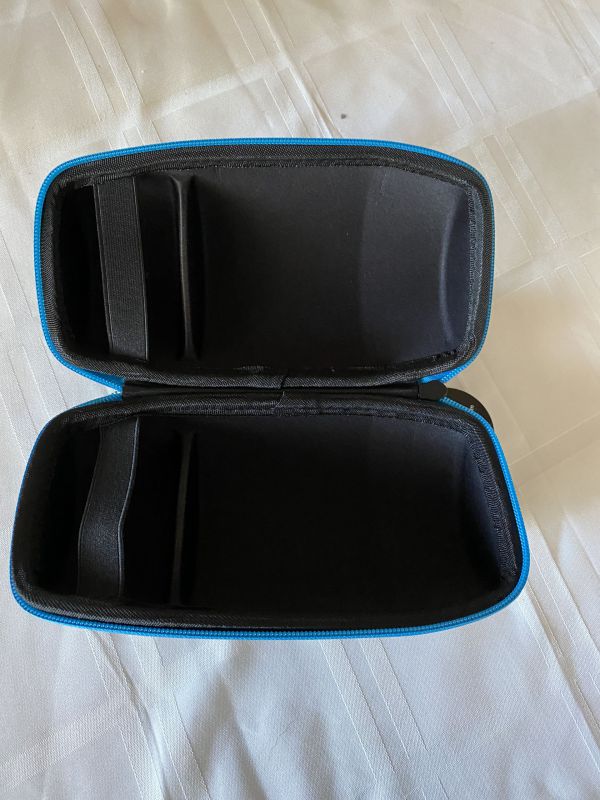 I placed everything inside so you can see how it sits.  If you own adapters, those will have to be carried in another bag.  A case that would let you carry everything would have been nice.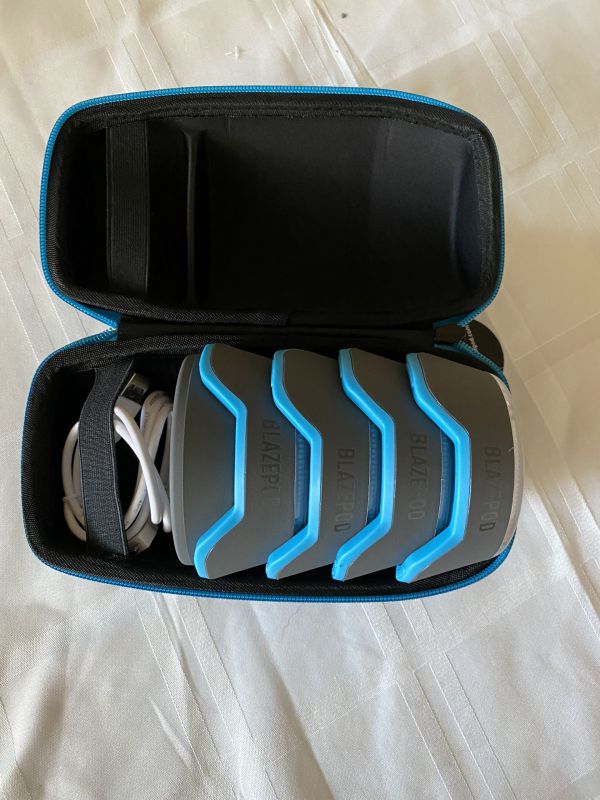 Setup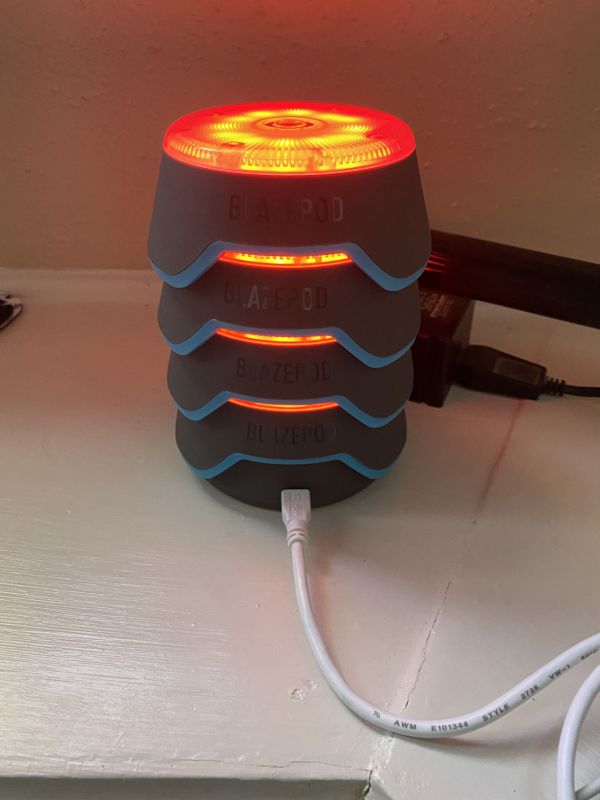 The first thing I did was to stack the pods on the charging base and plug it in.  You can see all four pod lights are red to show they are currently charging.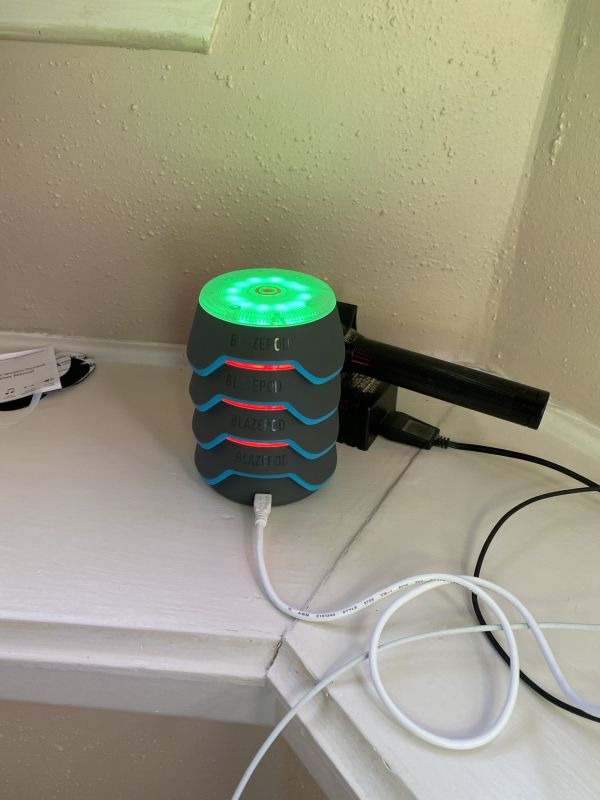 As the pods become completely charged, they turn green.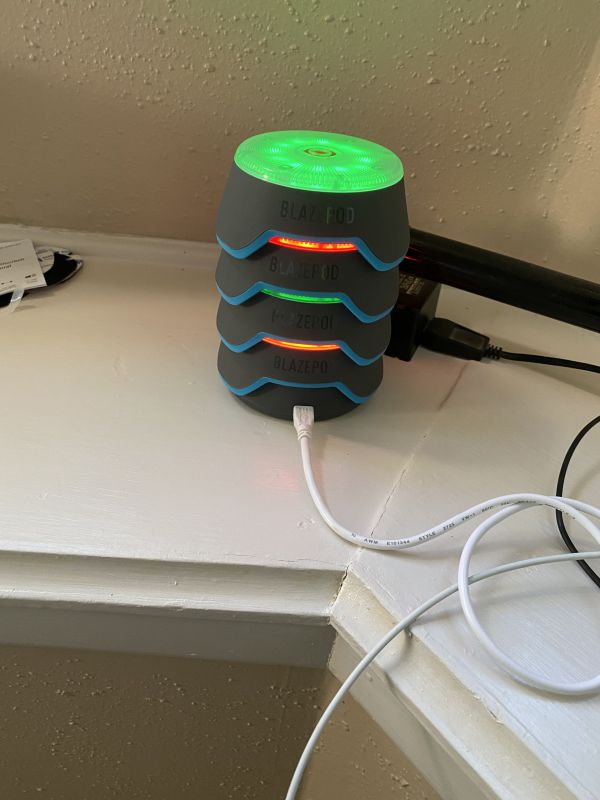 You will notice they do not necessarily charge from the bottom up or top down.  They were all at varying levels of charge so I assume the ones with the most charge turned green first.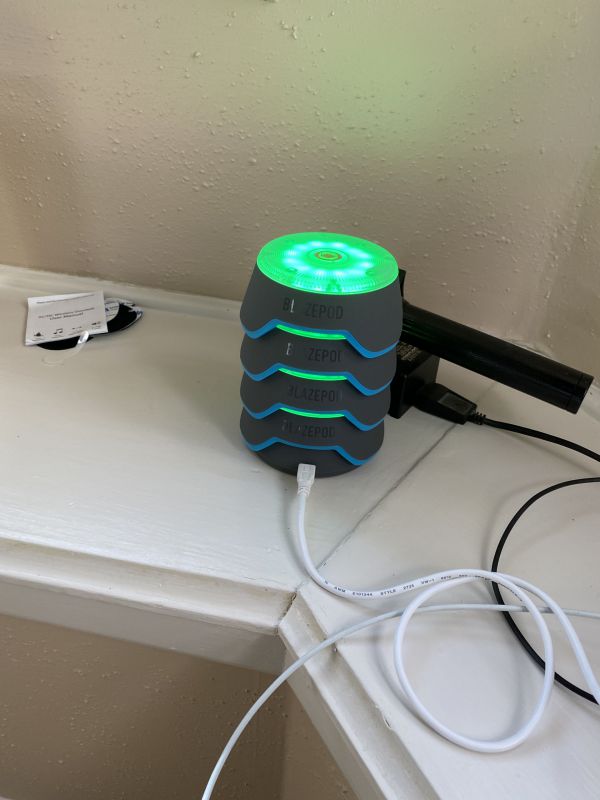 Here they are all showing green finally.  I experienced a pod turning green, coming back a few hours later and that same pod would be red.  It took well over 5 hours in my case for all four pods to be showing green at the same time.  What is nice as you will see below is the app can show you the battery status on each pod.  If one becomes to low, you can place it singly in the charger.  I am sure it would charge faster by itself.  Otherwise, if you want to charge them all at the same time, I recommend an overnight charge.
App Setup
Blaze Pods provides some really nice video tutorials on how to set up the Blaze Pods.  The one below is talking about the App setup in Android or Apple IOs.
You can create an account with Google, Facebook, Apple (if you are on IOs) or with your email.  I chose my personal email.  You put in information about yourself and a profile picture.  I am not sure why you need info on body weight, height and sex, because the app does not appear to be doing anything with those statistics.  The app then asks you some preferences about why you want to work out.  For myself, I picked Fitness, Fitness enthusiast, and General Fitness.  You can then pick three other interest if you would like.  All of those are used to generate suggested workouts on the main screen.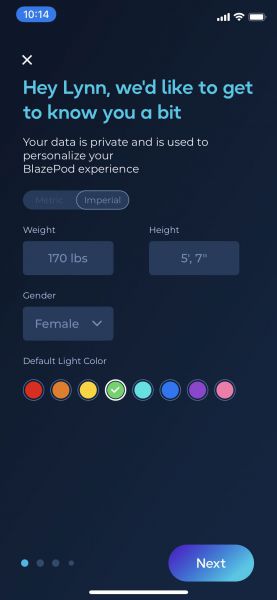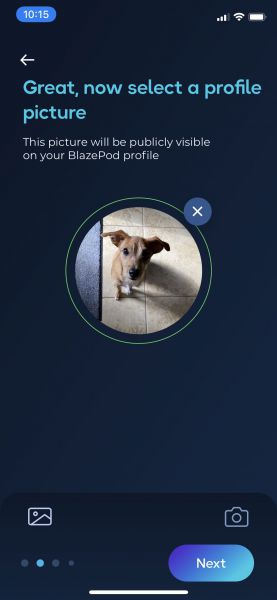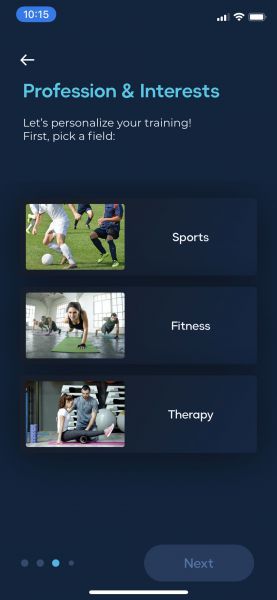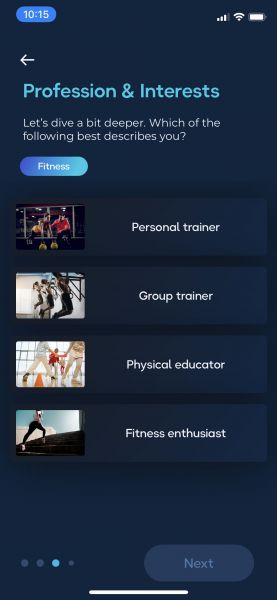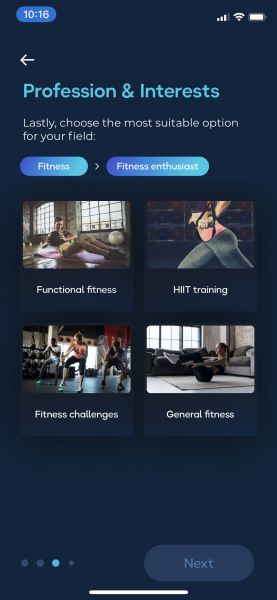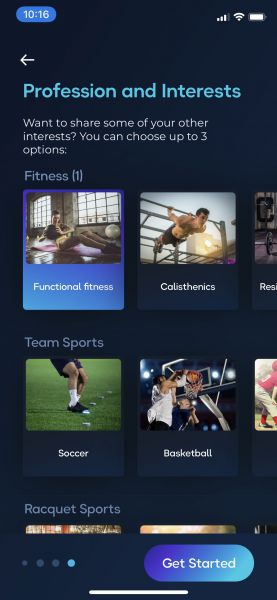 I attached a video for starting training with the Blaze Pods.
I also attached a video on how to create your own activity.
Performance
Here are some screenshots showing what is on the home screen of the app.  The help in the app was quite extensive.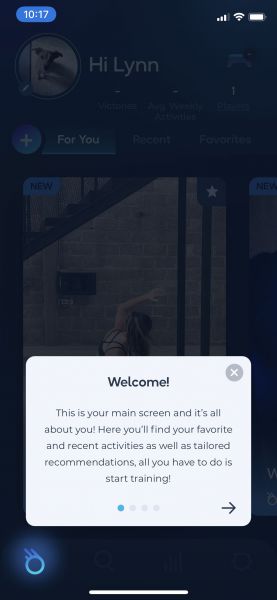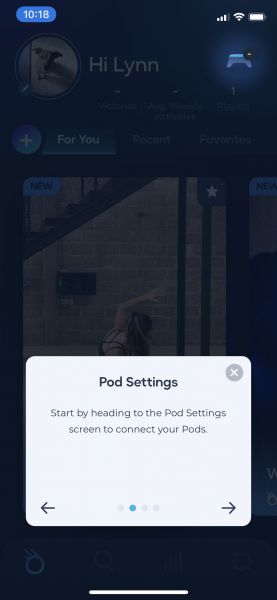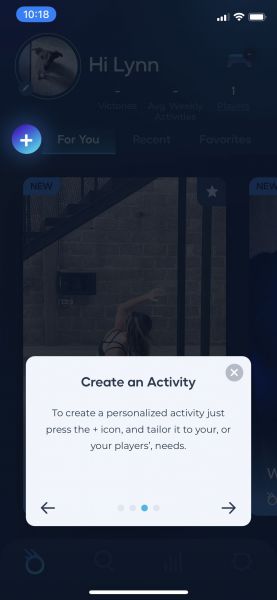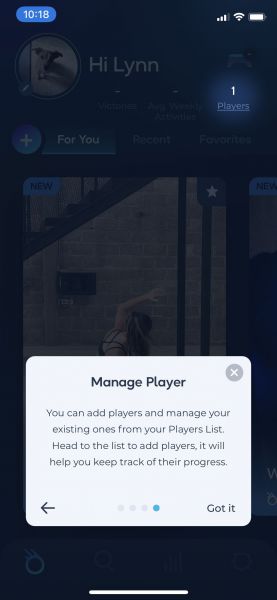 Next up is connecting your pods to the app.  I have included a video of how this is done from the Blaze Pods site and a screenshot of my app showing the pods connected.  To connect them, you simply tap the icon with the letter A and the arrow going around it.  The app randomly picks a pod and connects it.  It was super simple and required no extra work on my part.  I like that you can see the charge status of each pod.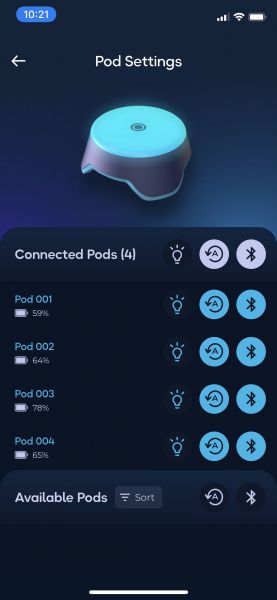 Performance
Let me start off by saying that the Blaze Pods quickly made me realize that I have a loooooong way to go in my fitness routine when it comes to core body workouts.  I will admit that I have been neglecting my core since we sold our house and moved into a rental home.  There is a lot less space in this rental home and I am using that as my excuse!  That being said, I don't have any actual video of me performing the routines.  I wanted to show how well these pods work and not ruin it with my poor performance.  I tried two different routines.  One was called the 'Plank Focus' which is a lot like the Plank Challenge video I have below.  The only difference is that I was looking for my color light to tap and not just tapping on a pod that is lit up.  The pictures below show the screens used to set up and run the challenge.  Every challenge has a full description and running video of the game at the top to show you how it is played.  I had it set up for one player where my focus color was green.  I love that you have the ability to customize the game.  For myself, I would lengthen the amount of time to perform a Hit.  One point five seconds is surprisingly fast when you are trying to keep yourself in a plank position.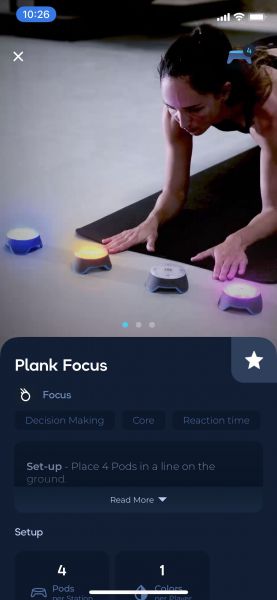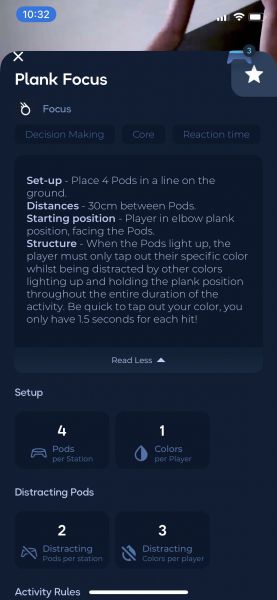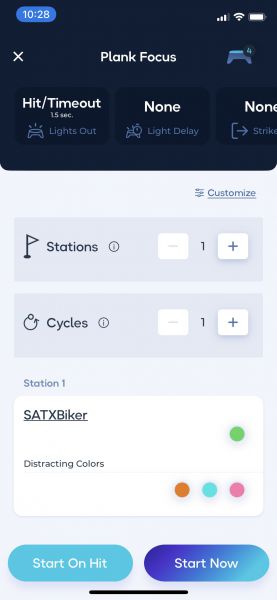 Next here are pictures showing the pods sitting in the ready position where they are all green.  Yes, my dog was wanting to try it out for himself!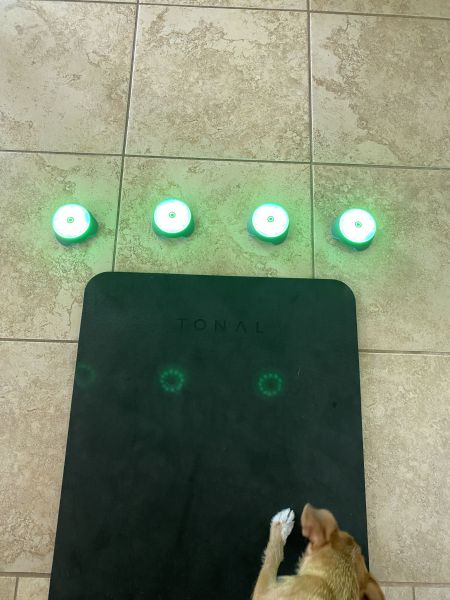 Finally, here they are lit up in the middle of the game.  Notice how only one is green.  That is the one I would have to tap to win.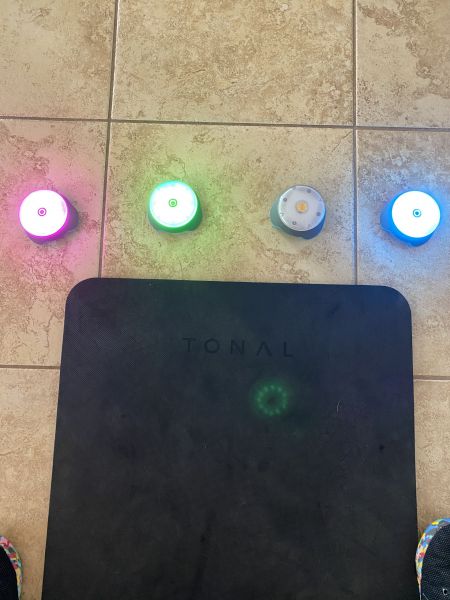 Here is a video of what I would someday hope to achieve when playing this game.
Exhausted from the plank challenge, I decided to try a reflex based game called Focus Reactions.  In this game, you are standing and having to tap the pod that is the correct color.  It is almost like wack-a-mole, but you are tapping vertically.  The setup for the game shows the pods in four corners to make a square.  I set them up in a line to try it out.  That is one thing that makes these really nice.  You can set them up however you wish.  In the case of this game, I got to use the functional adapters that were provided.  I attached the provided suction cups to the back of the adapters and put them on the window of my sliding glass door.  I am happy to say they never once fell off.  As a matter of fact, I really had to work to get them off.  They left no marks on the window at all.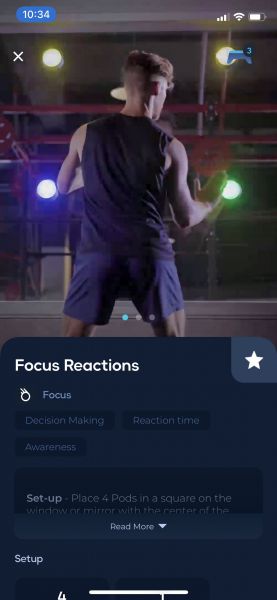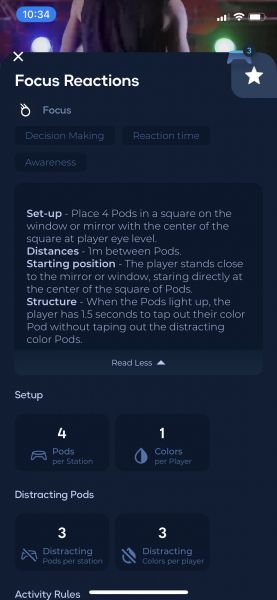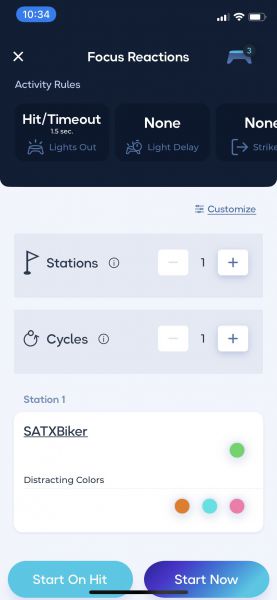 Here is a picture of the pods in the ready mode where they are all green.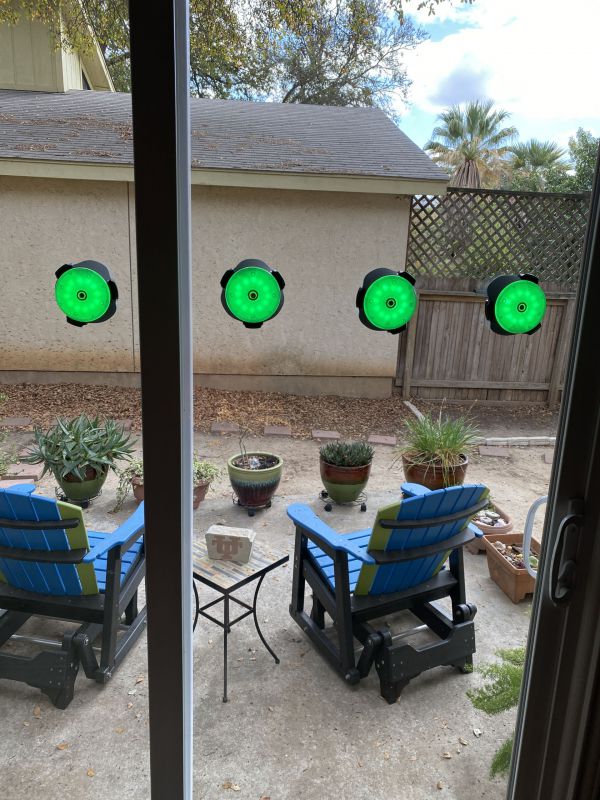 Here is a picture where they are all lit up and in the middle of game play.  In this case, I would want to tap the far right green one to get a 'hit' in the challenge.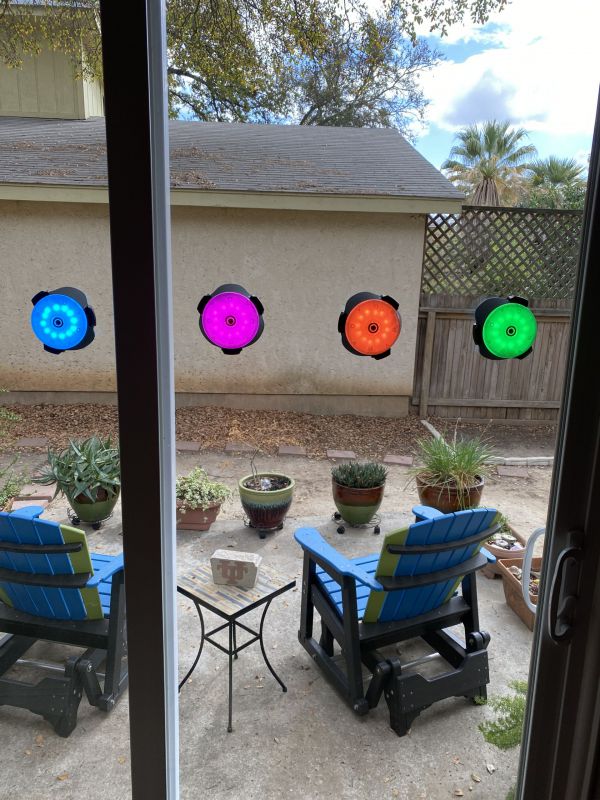 What I like
Super easy to set up.  Pods are recognized the moment the app loads after initial setup.  There is no turning on the Pod.  They come on automatically when you choose a game to play.
Lots of challenges to pick from.  Sports specific to functional fitness
Great carrying case.
You can create your own challenges.
You can play alone or with others if you have enough pods.
What needs to be improved
I wish there was a case to hold the pods and adapters together.
The pods take a while to charge when stacked.
It should have a USB-C charger.
Final thoughts
I think this is the perfect tool for any student-athlete to train with.  It would also be perfect for any super fitness enthusiast.  There are so many challenges/games to pick from.  The adapters allow you to place the pods in almost any position imaginable and they are very responsive.  I remember seeing several challenges where the pods were high and you had to kick to get a hit.  That sort of thing would be perfect for someone who is into kickboxing or some form of martial arts.  I highly recommend these as a good addition to any athletic training regimen.
Price: $299 for the standard kit with 4 pods.  $19 for the adapter kit for two pods.  They are having a substantial Black Friday sale.
Where to buy: Blaze Pod and Amazon
Source: The sample of this product was provided by Blaze Pod.