The Gadgeteer is supported by readers like you! If you buy something through links on our site, we may earn an affiliate commission at no cost to you. Thank you! Learn more.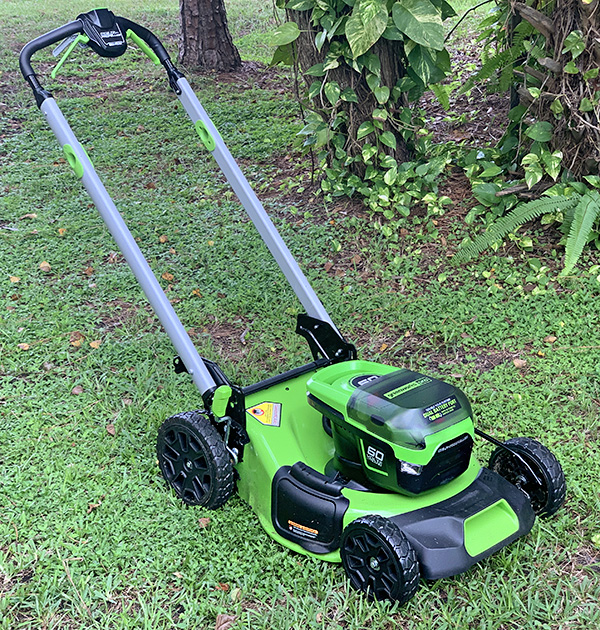 REVIEW – One of the newest innovations in yard work is the switch from gas-powered tools to battery-powered. The benefits are numerous: No fumes, no maintenance, no gas, no power. Wait, scratch that last item—battery-powered tools finally have all the power of gas making them a viable replacement to those smelly gas monsters in your garage or shed. One of the better-known brands of battery-powered tools is Greenworks—who sent me their Pro 60V Cordless 21″ Self-Propelled Brushless Lawn Mower W/ 5.0 AH Battery. The name may be a mouthful, but the mower can handle almost anything thrown at it.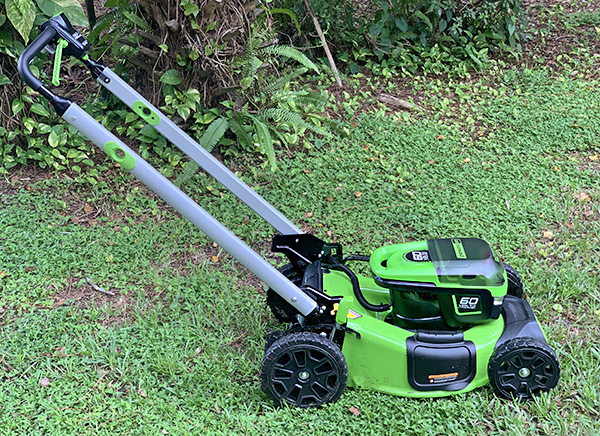 What is it?
The lime-green GreenWorks Pro 60V Cordless 21″ is a self-propelled brushless mower best used for small to medium yards. It has variable speed, ergonomic design, one-step height adjustment, 3-way grass discharge, and other features I'll go over in the review.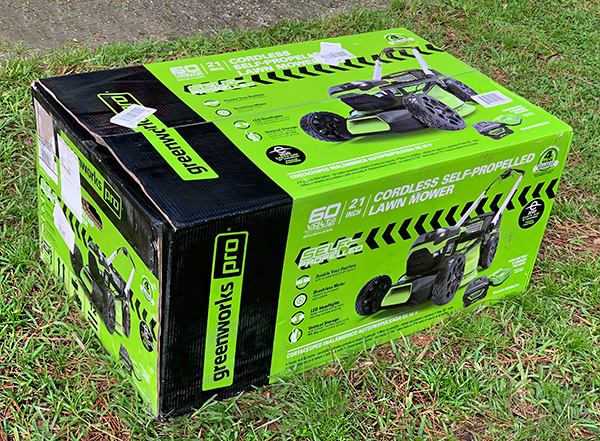 Specs
Deck size: 21 Inch
Deck material: Steel
Cutting heights: 7 Position
Front wheels: 8 inch
Rear wheels: 10 Inch
Vertical storage: Yes
Smart cut technology: Yes
Discharge features: 3-in-1
Tool warranty: 3 Year
Battery warranty: 4 year
Battery capacity: 5.0 Ah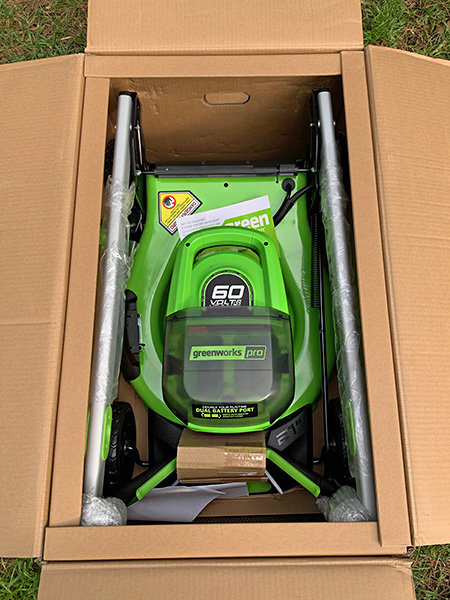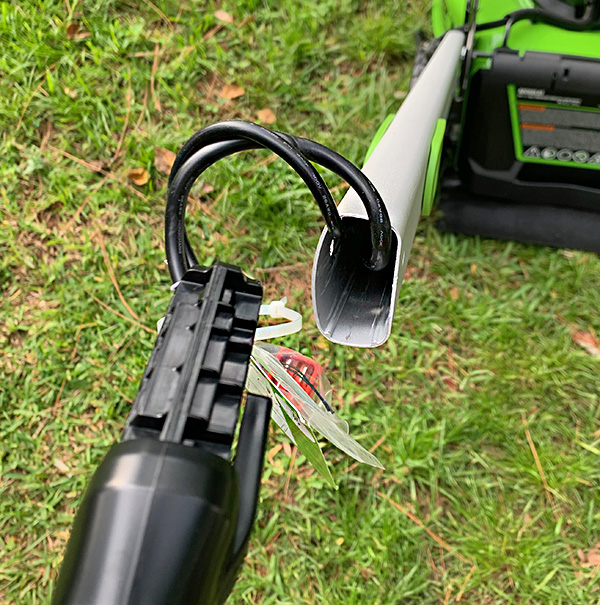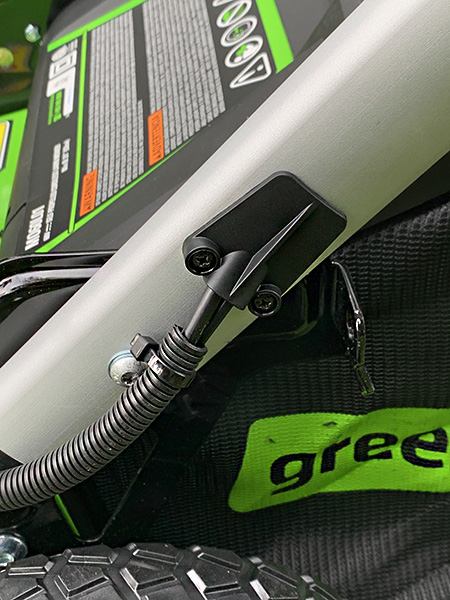 Design and features
When you unbox the GreenWorks Pro 60V Cordless 21″ mower, you're greeted with some immediate good news. Except for two screws to attach the handle, there is no assembly. Once the handle is in place, you're good to go. A note about the handle: Greeworks placed all the wiring inside the hollow handle, not zip-tied to the outside like so many other mowers. This protects the wiring from all kinds of hazards.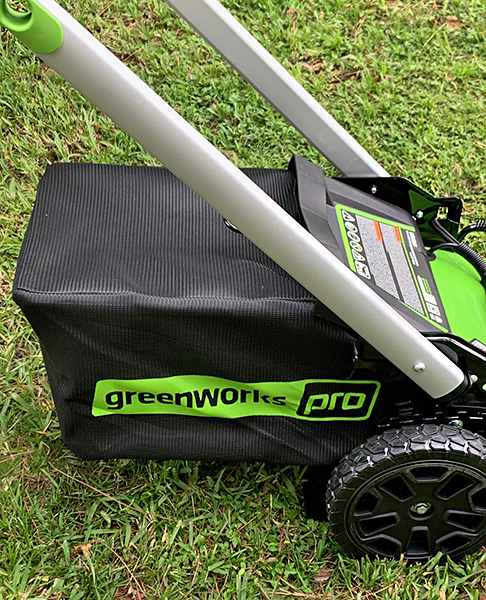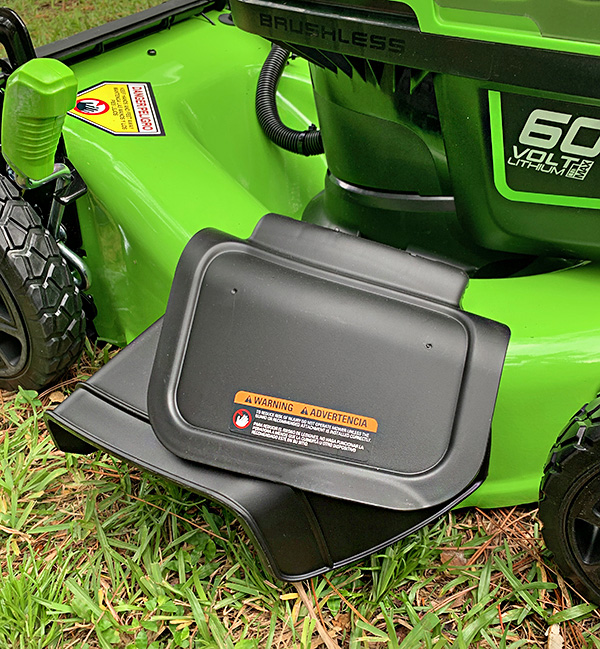 There are three grass discharge choices: Side, bag, or mulch. With rare exception, I mulch when I mow, meaning there's no bag or side discharge. Mulching chops up the grass more as it revolves inside the mower deck at incredible speed. I do bag about once a season to help keep any grass build-up in check. I have never used side-discharge, but it's there for those who might prefer it.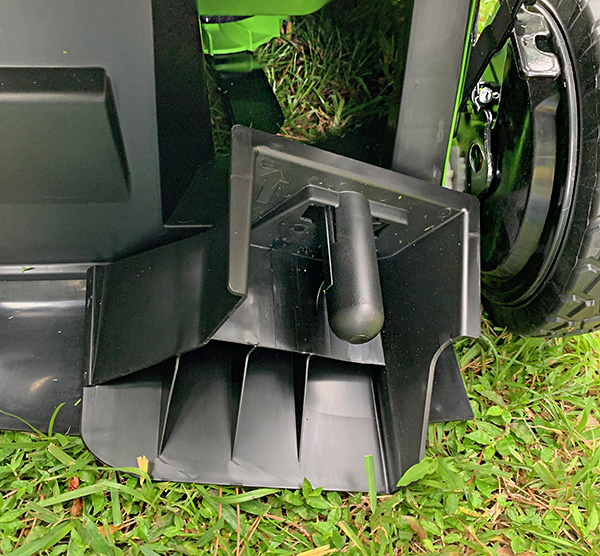 If you decide to mulch, there's a safety plug that goes where the bag catches grass at the rear of the deck. Bagging requires that this plug be removed and the bag be inserted under a large lift-up door—much like every other mower available today.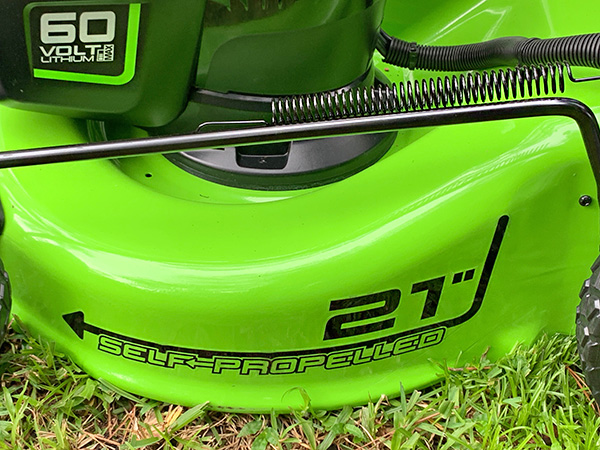 Speaking of the deck, the Greenworks mower has a 21-inch steel deck. 21 inches is a good size for a battery-powered mower (but it's not even Greenwork's largest). Also, the blade cuts up to the edge of the deck, making it easy to track your mowing. While the steel deck is strong, its weight may cut into battery life vs. a plastic-decked mower.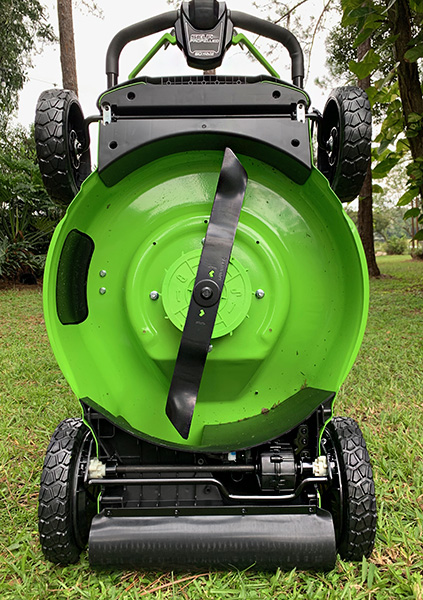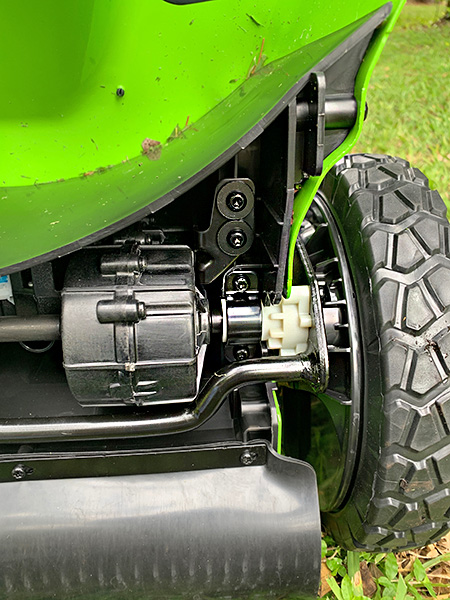 The wheels on the mower are plastic, but with good tread for digging into grass, especially since the rear wheels are 10 in. vs. 7 in. on the front.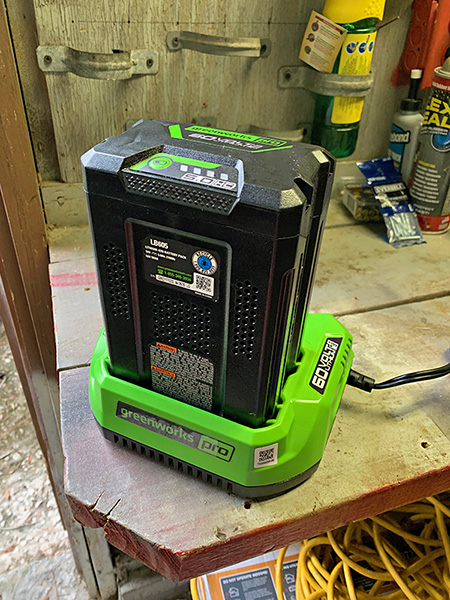 The mower comes with a single battery and a charger. The battery takes about 45 min. – one hour to fully charge. That's about average for batteries of this type.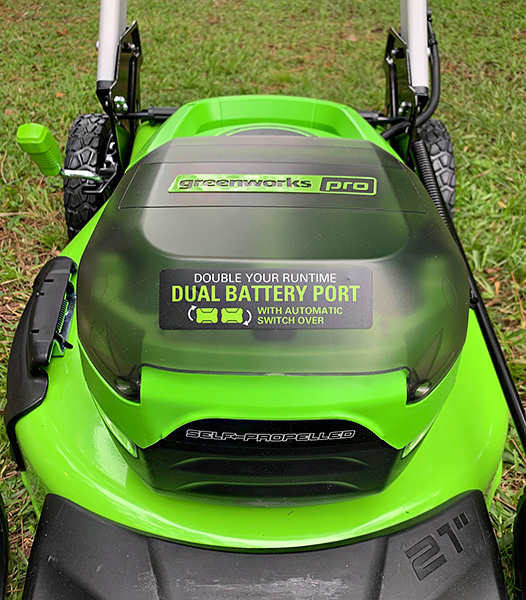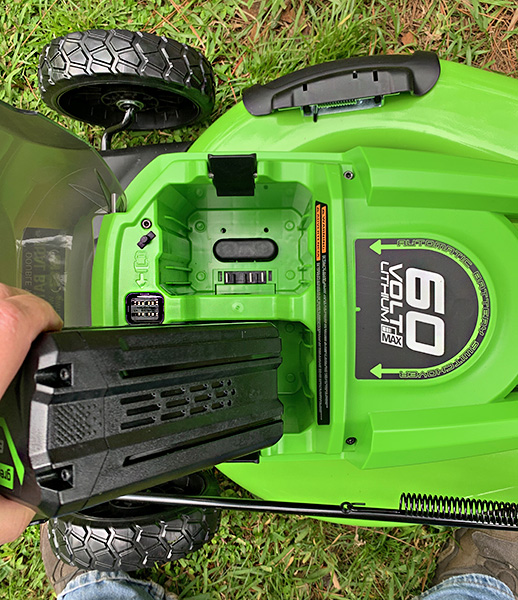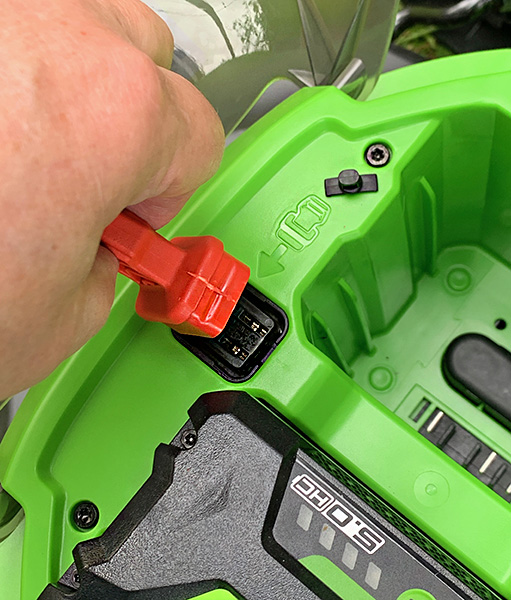 Batteries go into the top of the mower motor under a lift-up lid. There are two battery compartments that can hold any Greenworks battery, no matter the size or power rating. There are two added features with Greenwork's battery compartment: The lid is a soft-close design that doesn't require any snapping into place. Just let it drop and it gently closes. Also, Greenworks supplies a safety key that must be inserted for the mower to work. That's a huge safety feature if you need to change the blade without worrying about accidentally powering the mower. The downside is, "Do not lose that key if you want to use your mower!"
The one thing that bugs me about battery-powered tools, is that there are no generic one-design-fits-all batteries. Each company has its own proprietary battery designs, so once you buy that first tool, you are locked into that brand if you wish to swap batteries. 
Note: The mower only ships with one 60V 5.0 Ah battery. This can be misleading when comparing this mower to other mowers such as the EGO 21″ Self-Propelled Peak Power electric lawnmower, which ships with two 56V 5.0 Ah batteries. The EGO mower sells for $750 vs the Greenworks $500 price. The price difference is substantial, but a single Greenworks 60V 5.0 Ah battery goes for $200, so the price discrepancy is only $50 if a second battery is added.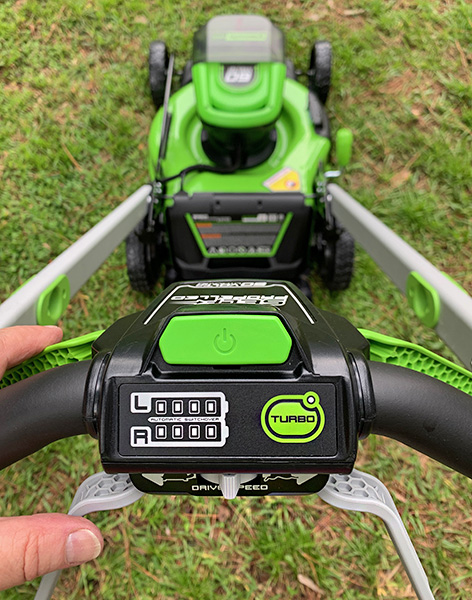 Start-up of the mower is so, so simple. Many battery-powered mowers require a two-step process of pressing the on button followed by the blade starter handle—in that order. The GreenWorks setup is also two-step, but it doesn't matter in what order it's done. It's not a big thing, but it is one less thing to think about.
While simple, the starting process has both good and not-so-good features. There are left and right blade and self-propelled levers on both sides of the handle. This is good for both left or right-handed people, but if one side lever is squeezed, the other lever also moves. If the other hand is just holding onto the handle under the lever (easy to do), it will be squeezed by the handle. It doesn't hurt when that happens, but it is a bit awkward.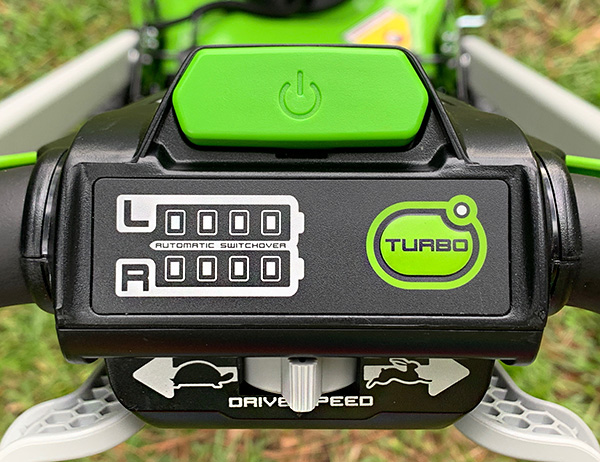 The handle houses a "Turbo-Mode" button, self-propelled drive-speed lever, and a battery life indicator so you'll always know how much battery life is left. If you're using two batteries, the mower will completely deplete one and then automatically switch to the other rather than use both simultaneously.
The drive-speed lever goes from turtle (slow) to hare (fast). I had the lever moved about 3/4 the way to hare and the self-propelled walking speed was too slow for me—and I'm a leisurely mower. Yet the full-on hare setting was too fast resulting in a small selection range between too slow and too fast. Keep in mind that mowing speed is a personal thing, so YMMV.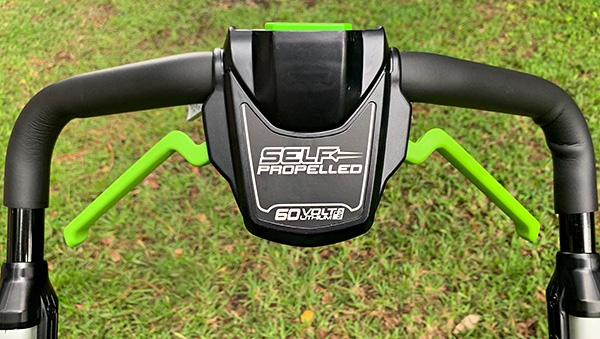 Turbo-Mode speeds up the blade motor for a faster, more substantial cut—at the expense of battery life—and should be reserved for tall, thick grass areas only. Despite the Turbo-Mode, the motor is geared to use energy savings when it detects an easier to cut grass area potentially extending battery life. For the record, battery life with the 60V 5.0 Ah for me was exactly 36 minutes on a full charge. That's with a normal cut using self-propelled for the entire mowing. This makes the mower good for smaller to medium-sized lawns. Two batteries will yield over an hour of mowing—perfect for medium to larger yards. My backyard is almost an acre (with many trees) and I was able to cut half of it before the battery died.
While mowing, I noticed a bothersome (for me) trait while using self-propelled. If you need to back up, you have to wait for a second or two fully stopped before self-propelled mode will turn itself off. Otherwise, the wheels lock up and you find yourself having to drag the mower backward. I'm impatient, so giving the mower that extra second or two is something I am still dealing with. 
I really appreciate the battery-life indicator on the handle. Many yard tool batteries have the power rating on the battery itself. With my eyesight (and closer handle), it's much easier to see how much power remains.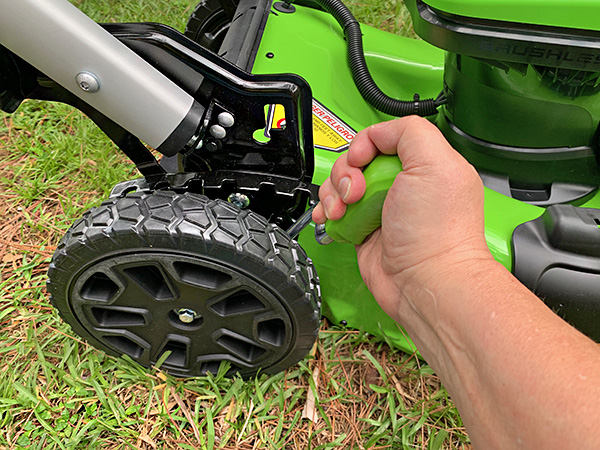 The mower can be set to 7 mowing heights—all using one easy-grip handle. After years of futzing around with separate wheel adjustments with my gas Honda, I've grown spoiled by these easy-to-use improvements.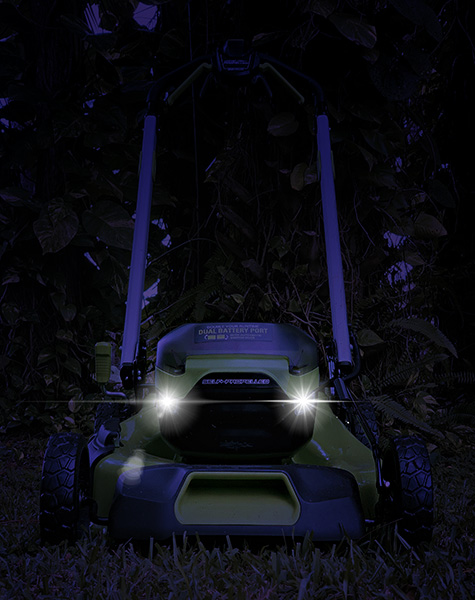 Greenworks was thoughtful enough to include headlights on the Pro 60V Lawn Mower—headlights! The LED lights are bright and can allow extra minutes at dusk to finish mowing a lawn. The lights are bright enough (and the mower is quiet enough) to mow in the dark if you want without disturbing anyone. But that's not recommended in bug-infested Florida, so I don't. Note that the lights are always on—there is no on/off switch.
So, how does it cut? My backyard is mostly St. Augustine grass—popular in Florida. It's deep green, thick, and grows fast, requiring weekly mowing. The mower breezed through the grass with the motor increasing in speed (and noise) only where the grass was thicker. But it never stalled—even in the damp parts. Keep in mind that the still new blade helps. 😉 
Due to its larger rear wheels, easy start and quiet motor, the Greenworks Pro 60V Cordless 21″ Self-Propelled Brushless Lawn Mower is a joy to use, despite a couple of quirks mentioned earlier. I expect the steel deck to hold up under punishing use for years. Now I just have to purchase an extra battery to handle my large backyard.
What I like
No gas
Steel deck
Relatively quiet
3 ways to handle clippings
Easy to maneuver
One-handle height adjustment
Safety key
Easy to read battery indicator
Turbo Mode
What I'd change
Should come with two batteries
Improve backing up mower while in self-propelled mode
Needs a broader range of speeds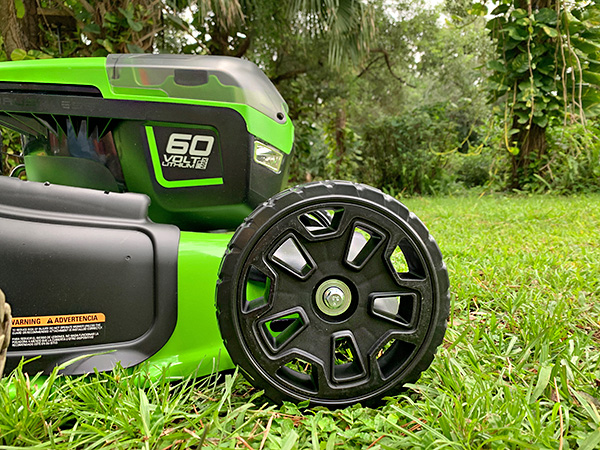 Final Thoughts
Once you begin investing in battery-powered tools, you begin to accumulate batteries which can greatly extend the use time of any tool. The worst mistake you can make is buying different brands of battery-powered tools. It's important to choose what brand you will use before buying that first tool to get the benefit of switching batteries among all the tools.
Think of charged batteries as refilling the tank after the tool runs out of fuel. Except there's no fuel or fumes or maintenance or practically anything else to worry about. It's a new world regarding yard work and I'm all in.
Price: $499.99 US
Where to buy: Lowes
Source: The sample of this product was provided by Greenworks.