We use affiliate links. If you buy something through the links on this page, we may earn a commission at no cost to you. Learn more.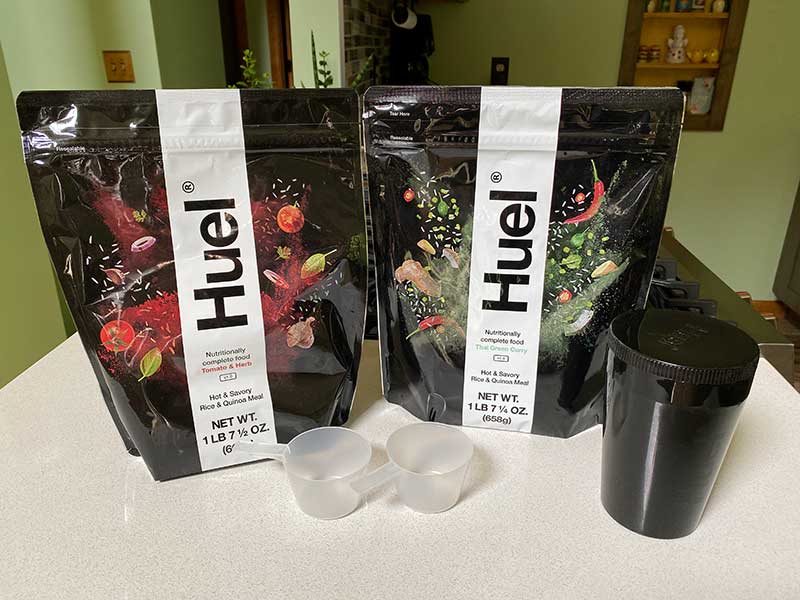 NEWS – I like to eat but I'm lazy and am also focused on eating relatively healthy foods. That means that cinnamon sugar pop tarts followed by some Doritos isn't my idea of a well-balanced lunch. Or at least it's not anymore… it used to be years and years ago, but that's a story for another time.
If you're a regular reader of the Gadgeteer, you may remember some of my meal replacement posts and reviews including a review of the Huel meal replacement shakes that I posted last year. Huel started out with powdered drink mixes, then added pre-packaged shakes, and snack bars. Now they've added a new product that's different than any other brand of meal replacements on the market. They've added Hot & Savory mixes.
Huel's Hot & Savory mixes let you make a nutritionally complete meal with 27 essential vitamins and minerals in about 5 minutes for $3.29 per meal. Each meal contains 24 grams of plant-based protein and is made with whole foods and natural 100% vegan ingredients such as quinoa, rice, and lentils. The mixes contain no soy, eggs, dairy, meat, or animal products. Right now, Huel is offering two flavors. There's spicy Thai Green Curry and the other flavor is tasty Tomato and Herb.
Each Hot & Savory pouch lets you create seven meals based on 400 calorie servings, but it's possible to customize each meal so that they are smaller with fewer calories.
Huel Founder, Julian Hearn, commented:
"Our goal is to make nutritious food more accessible and more appealing to the masses, and Huel Hot & Savory achieves this. Targeting lunchtime, we're providing our customers with more options to consume 100% complete nutrition without having to count calories and read food labels. Huel makes meal times easy as the nutrition has all been done for you. It's made with nutrient-dense quality whole food ingredients, so it's designed to keep you feeling full with all the good stuff you need to stay healthy."
Head over to huel.com for more info and to order. Be aware that there's a 3 bag minimum order, but if you opt to subscribe, you can save 10% which works out to $69 for 3 bags. That sounds expensive, but that's enough for 21 400 calorie meals, so the price doesn't sound bad at all when you think of it that way.
Update 11/18/20
Huel has added a brand new flavor to their line of Hot & Savory meals. The new flavor is just in time for cold fall days. It's Mexican Chili! This meal mix features a smoky blend of peppers, beans, quinoa, and rice. Packed with all the fiery flavors of chili and ready in minutes.