We use affiliate links. If you buy something through the links on this page, we may earn a commission at no cost to you. Learn more.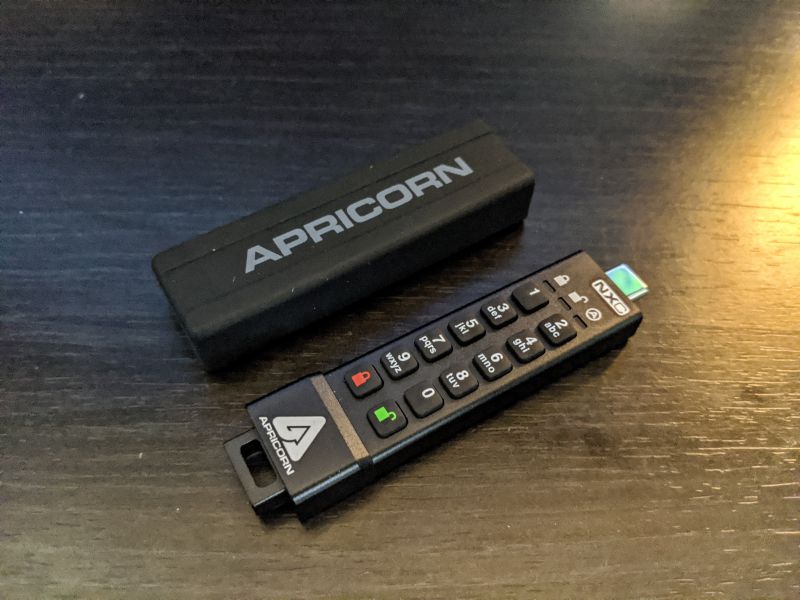 REVIEW – I work for a software company that is obsessed with security. The training sessions, emails, and reminders are endless, and with very good reason. Security, particularly the cyber variety, is a huge headache for everyone from national governments all the way down to corner bodegas and regular people like me. According to a 2018 report, the U.S. government estimated that malicious cyber activity cost the U.S. economy between $57 billion and $109 billion in 2016 alone. Statistics like that keep me up at night. Since security is always on the forefront of my mind, I was more than happy to check out the Apricorn Aegis Secure Key 3NXC. This USB-C drive has more tricks up its sleeve to thwart would-be cyber criminals than its small size would suggest. At $179 for the 128gb version I tested, the feature-rich Aegis is a great deal, especially when compared to other higher priced encrypted storage devices in its class.
What is it?
The Apricorn Aegis Secure Key 3NXC is a 256-bit hardware-encrypted USB 3.2 Type C Flash Drive. The drive comes in six sizes ranging from 4gb to 128gb.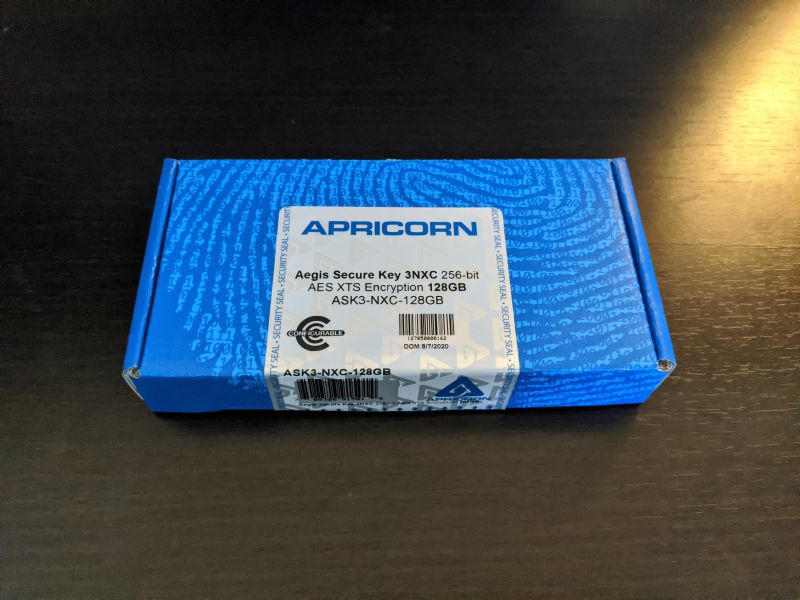 The Aegis 3NXC arrives in discreet, no-nonsense packaging with all the goods secured firmly in foam.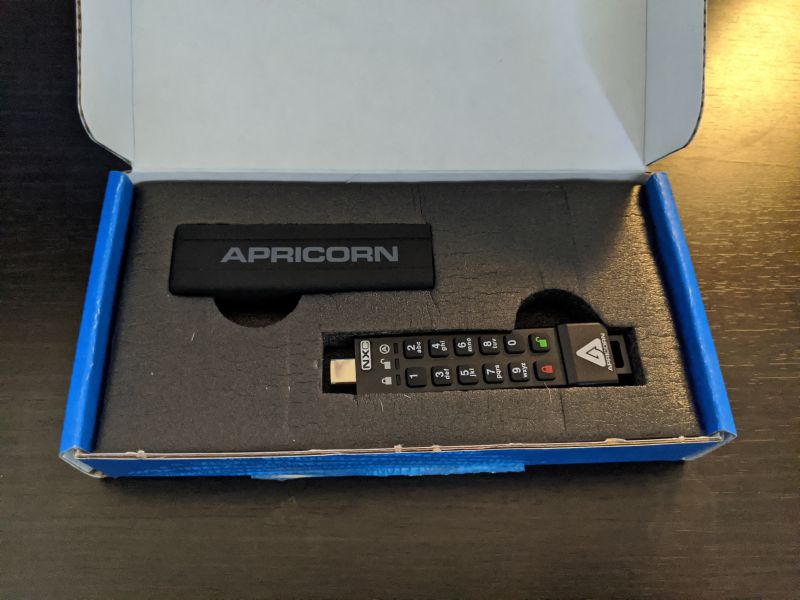 What's in the box?
Apricorn Aegis Secure Key 3NXC
Silcone Cover
Quick Start Guide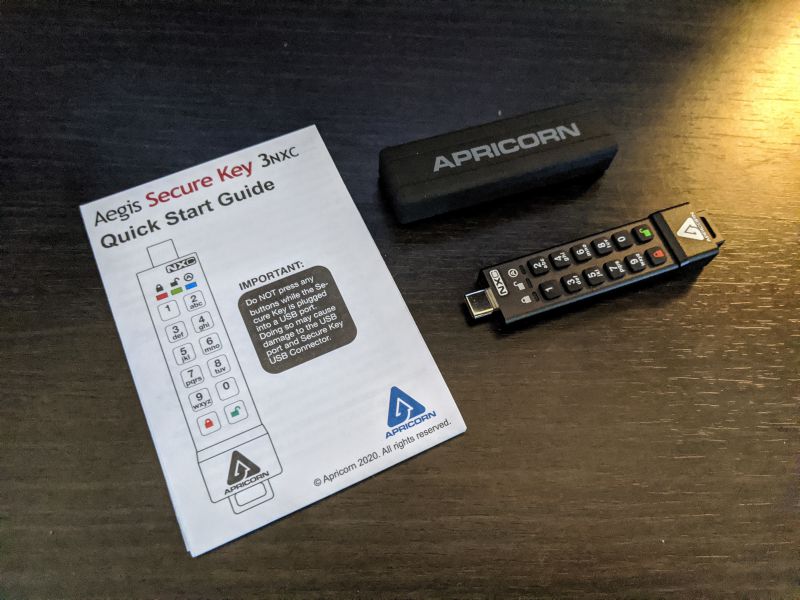 Hardware specs
Data Transfer Rate: USB 3.0 – up to 5 Gbps
Power Supply: USB Port / Internal 3.7 Li-Polymer Rechargeable Battery
Interface: USB 3.2 type C
Dimensions: 3.18 in x .72 in x .37 in / 81 mm x 18.4 mm x 9.5 mm
Weight: .78 oz / 22 g
Warranty: 3 year limited
Sizes: 4gb, 8gb, 16 gb, 32gb, 64gb, 128gb
Encryption Algorithm: AES-XTS 256-bit
International Protection Rating: IP-68
Security Requirement Level: FIPS 140-2 Level 3 Validation Pending
System Requirements: Windows, Mac, Linux, Android and Symbian systems, or any powered USB OS with a storage file system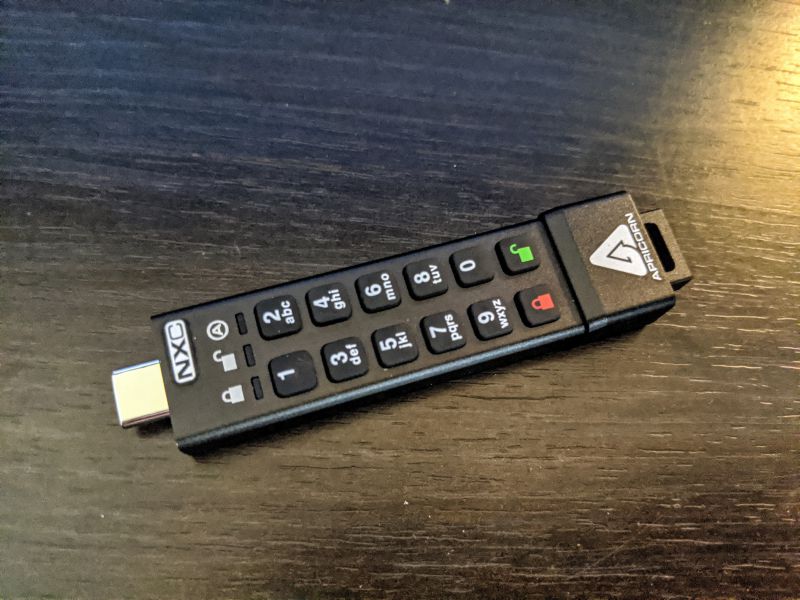 Design and features
The Aegis 3NXC feels great in your hand and the heft of its matte aluminum casing just exudes security.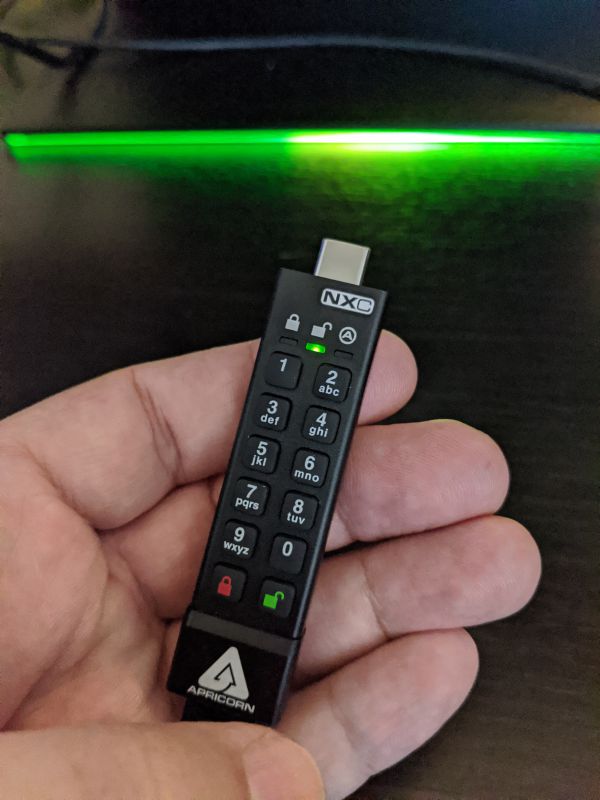 The rubberized keypad is very responsive and provides a satisfying click with every keypress. The keypad, along with the entire unit itself, has a water and dust rating of IP-68, the highest resistance rating possible. The keys even have a special polymer coating designed to obscure frequently pressed buttons.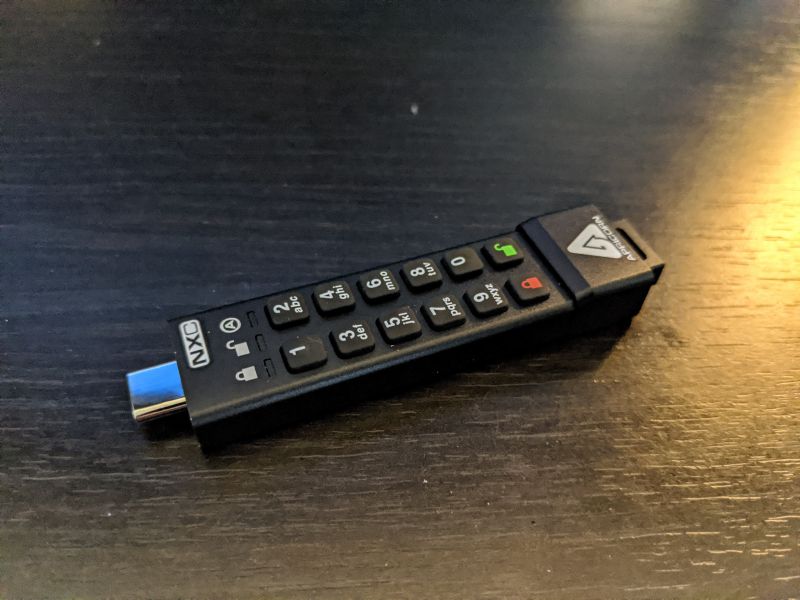 The 3NXC has a USB-C connector on one end and a built-in keychain loop on the other.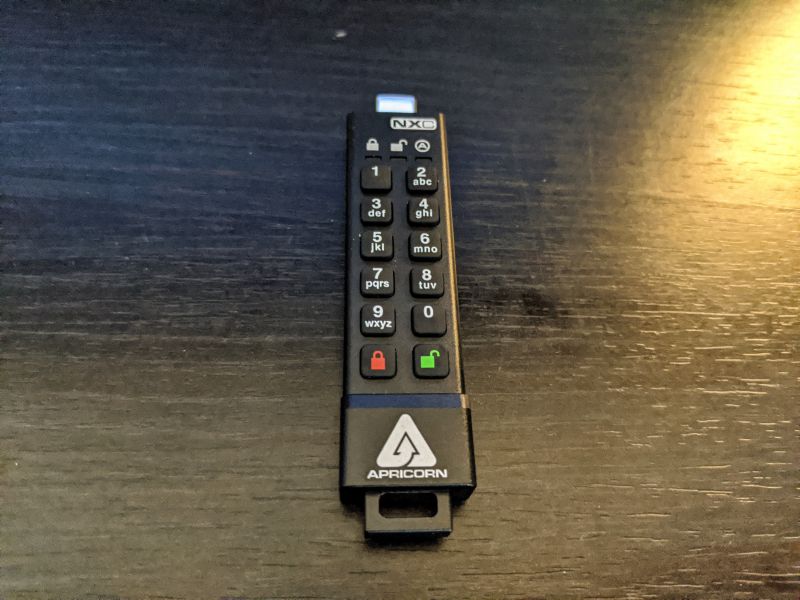 This Aegis 3NXC is the first encrypted flash drive with a built-in USB-C connector, allowing it to connect to the popular port without the use of a USB-A to C adapter.
At first I was a little concerned about the small USB-C connector being exposed when not in use.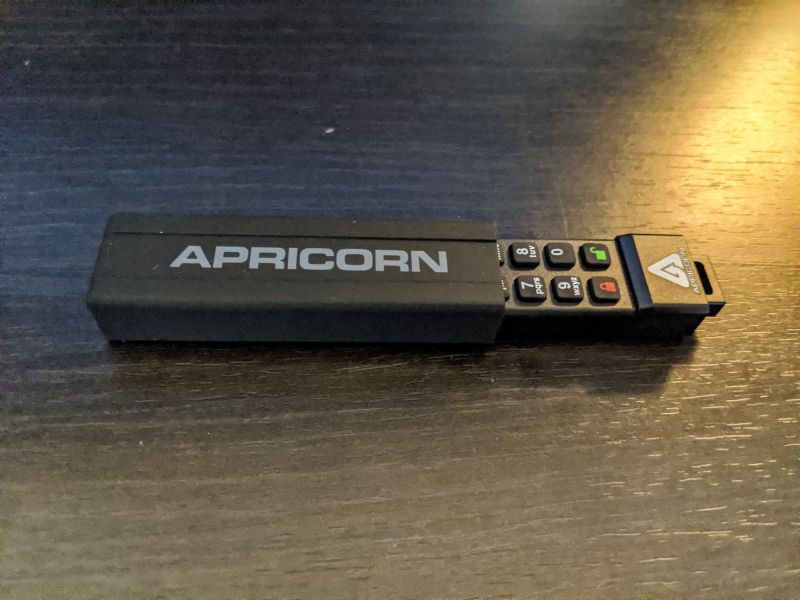 Luckily, Apricorn provides a silicone cover that fits snugly over the whole unit for transit or when not in use.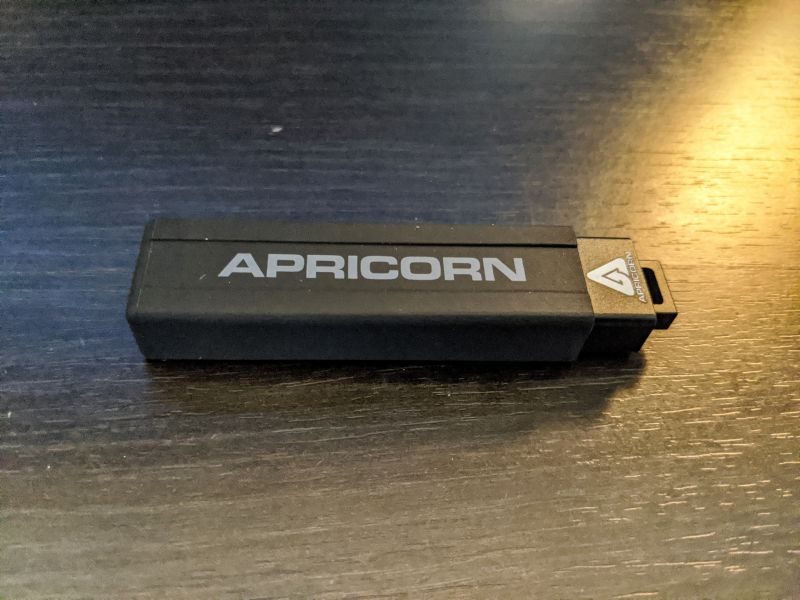 The case fits tightly enough to alleviate any of my concerns about it coming loose in my backpack or pocket.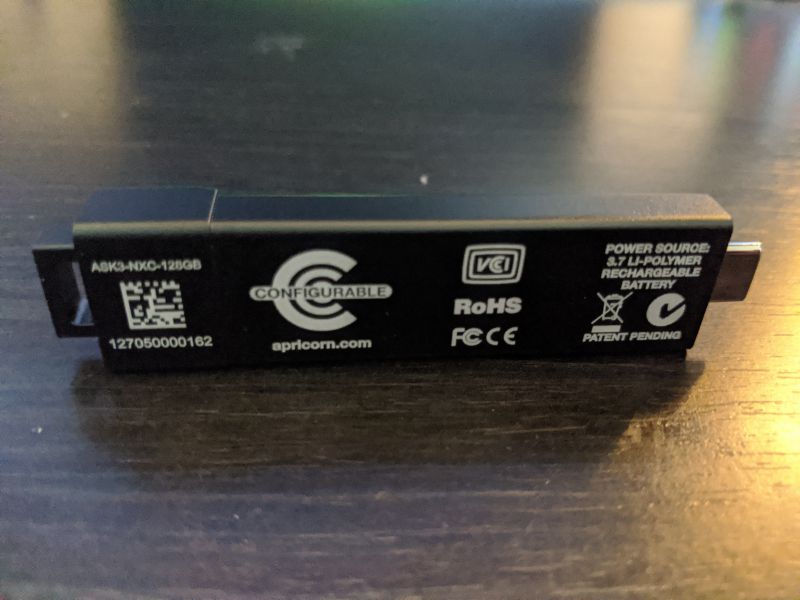 The back of the Aegis 3NXC  details its various certifications and other useful information like the model number.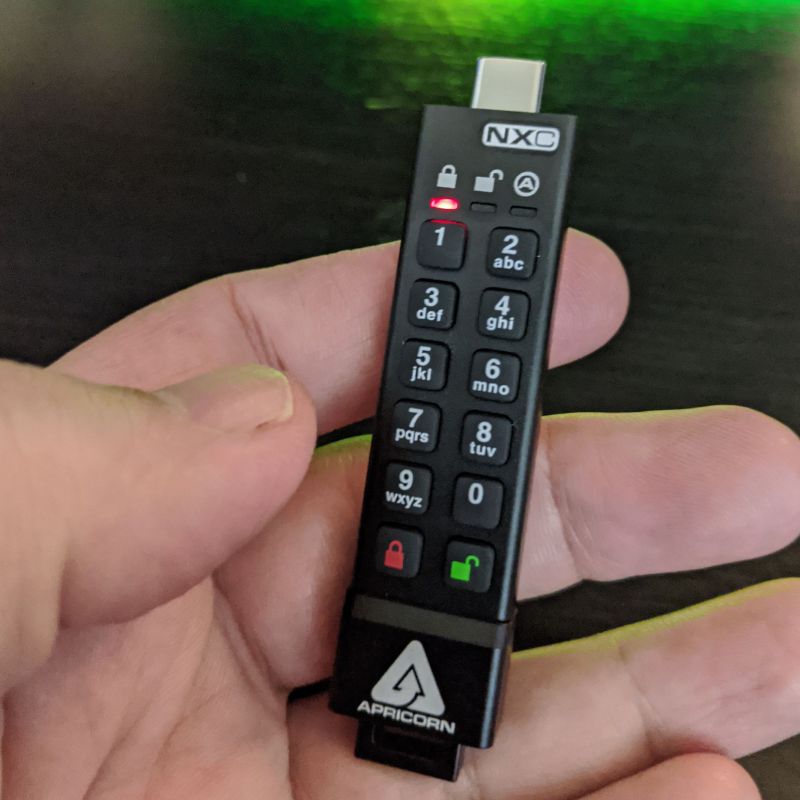 A lot of the best features of the Aegis 3NXC are hidden, like the interior layer of hardened epoxy that protects it from physical tampering. Or its built-in diagnostic mode which verifies keypad function and troubleshoots issues. Or the ability to configure it as either a fixed disk or as removable media. Further under the hood, the 3NXC utilizes a hardware-based AES-XTS 256-bit algorithm for encryption, which meets the NIST FIPS 140 cryptography standard required by the U.S. government for protection of sensitive data.
Another hidden feature of the 3NXC is its Brute Force Protection. Once enabled, if the device comes under a physical brute force attack meant to unlock it, it will delete its own encryption key and destroy the ability to decrypt any stored data.
Many more of the Aegis' features become accessible during the setup procedure, so let's check those out next.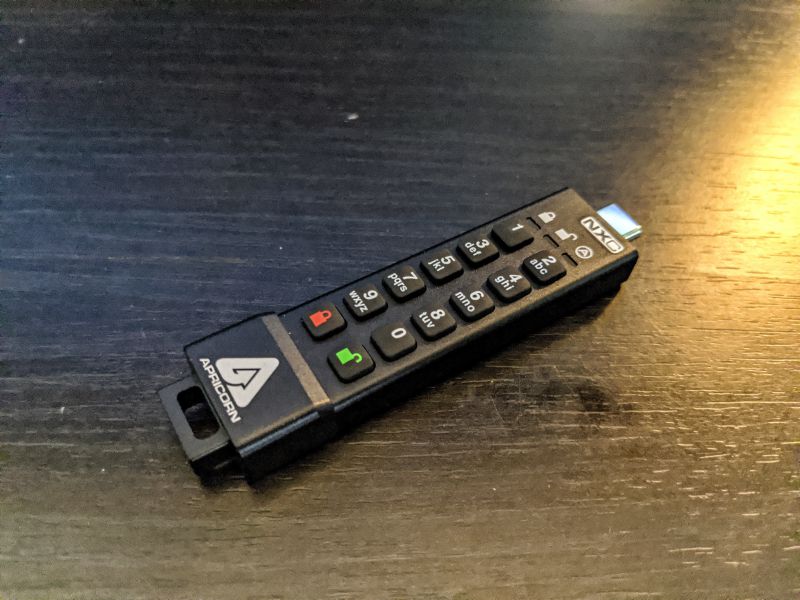 Because the Aegis 3NXC has hardware-based encryption, there are no drivers or software packages to install. I love this. In addition to simplifying the setup, this allows the 3NXC to work on almost any operating system, as well as making it incredibly secure and resistant to software hacking attempts. The 3NXC is powered by an internal rechargeable battery, so on first use it's wise to leave it plugged in for about 80 minutes to fully charge the battery. It's also important to mention that you should never input codes or use the keypad while the unit is plugged into a computer, that's a great way to damage the USB-C port or the plug on the end of the Aegis.
The quickest way to set up the Aegis 3NXC is to follow the Quick Start Guide to create an Admin PIN. After that, locking and unlocking the unit is as simple as hitting the lock button to activate the unit, inputting your PIN, and then hitting the unlock button. The unit will respond with a green light to let you know it's unlocked or a red to tell you the PIN didn't work. All setup and configuration is done via the keypad and feedback is received via the LED lights.
After following the simple Admin PIN setup, if there's only one user for the device, this is enough to get going and once the PIN is created you can plug it in and start using it. But, the 3NXC can do so much more!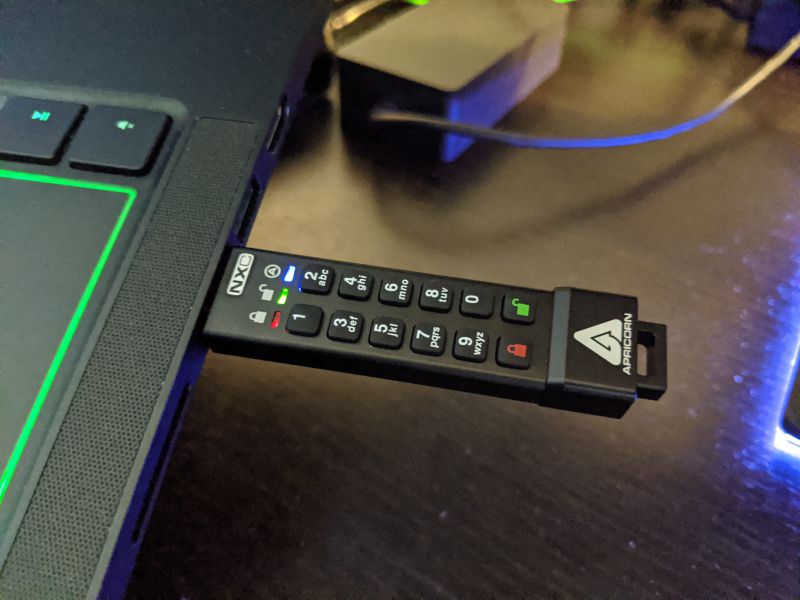 Once an Admin PIN is created, you can enter Admin Mode again to create a User PIN. Creating a User PIN allows you to set up access for a User without giving them permissions to the Admin Setup Options. The User will have limited functionality and no Admin rights to the unit, but they can still access data, change their PIN, and set the unit to Read Only or Read / Write mode.
Admin Mode allows you to configure a number of other great features of the 3NXC. From Admin Mode you can set up One-Time-Use Recovery PINs in case a User PIN is ever forgotten. Or, you can set the device to Read-Only if needed. You're also able to set the minimum PIN length from Admin Mode, further increasing the security of the 3NXC. There's an Unattended Auto-Lock feature too, which can lock the unit after a predetermined period of inactivity to protect against unauthorized access if it's left unlocked. But, the coolest feature you can activate from Admin Mode is the Self-Destruct PIN. This feature allows you to set a separate PIN which, when used, will erase the contents of the unit and make it look as if there was never any data written to it at all. It's all very James Bond-esque.
Performance
I put the Aegis to work using my 2017 Razer Blade Pro. While the Razer does have a Thunderbolt USB-C port, I was never able to see the suggested data speeds of 5Gbps.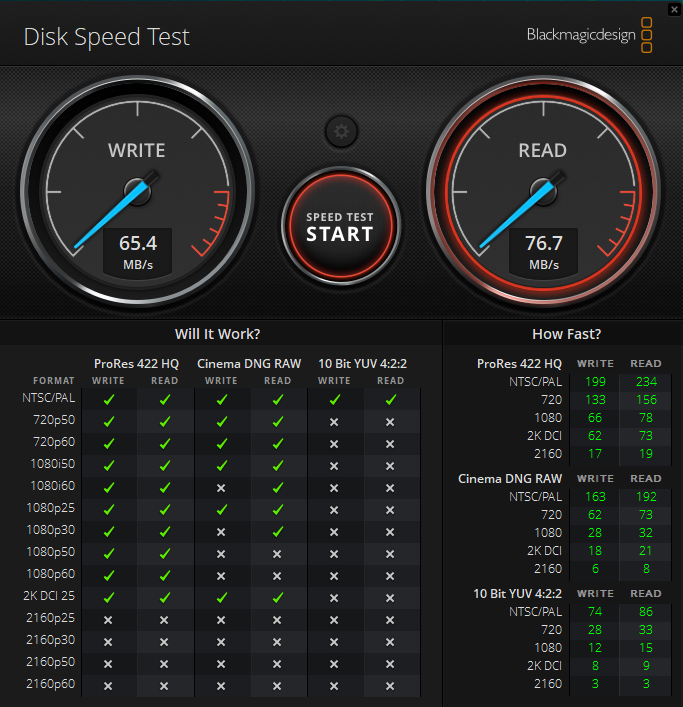 I tested the Aegis with a few different benchmark programs including BlackMagic's Disk Speed Test and CrystalDiskMark. The results were about as typical as most of my other USB-A flash drives. but nothing stellar.  Overall, I was able to move large amounts of data off and onto the 3NXC without any inconvenience.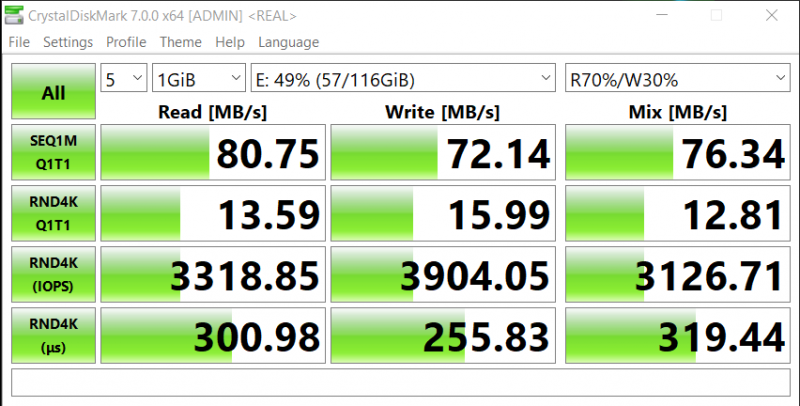 I did copy some random large video files to the Aegis to test it, but the majority of data I'll be storing on the unit will be spreadsheets containing important passwords, account numbers, and financial data, so I am ultimately not too concerned with the read/write speeds. Also, taking into account all of the on-the-fly encryption and decryption that was happening, I was pretty impressed with the Aegis' speed.
All throughout my testing, the 3NXC dutifully stayed unlocked and active while connected to my laptop and immediately locked itself if the laptop shut down or if the disk was ejected, properly or not. I wasn't brave enough to test the Self-Destruct Feature just yet, but I trust that it will work should a villain ever take me hostage and demand the PIN to access my measly Bitcoin holdings.
Imaginary Bond villains notwithstanding, the Aegis 3NXC will be part of my EDC for a long time to come.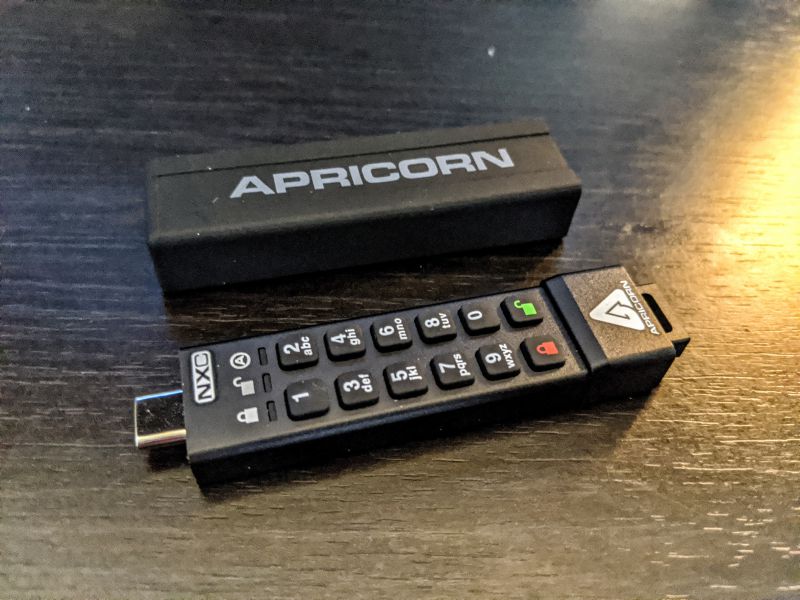 What I like
Easy software-free set up
Tons of features – Works on any operating system
Reasonably priced
What needs to be improved
A detailed battery life indicator would be great
Final thoughts
The Aegis Secure Key 3NXC is a great piece of hardware and it has become an important part of my cyber security setup. This tiny USB drive is perfect for many of today's remote working scenarios, whether you're an industry professional looking to expand on your security strategy or a home user hoping to add an extra layer of protection. At $179, the 3NXC is competitively priced and loaded with useful features.
Price: $179.00
Where to buy: Apricorn or Amazon
Source: The sample of this product was provided by Apricorn.