The Gadgeteer is supported by readers like you! If you buy something through links on our site, we may earn an affiliate commission. Thank you! Learn more.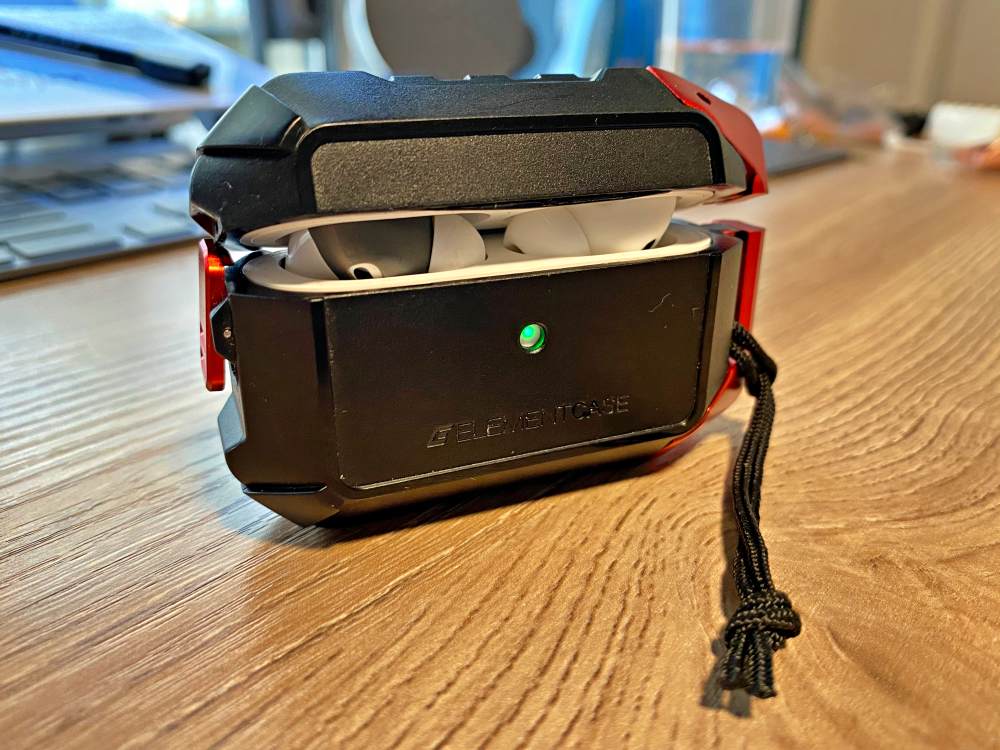 REVIEW – AirPods might be polarizing for people, but there certainly are a lot of them out there in daily use. The introduction of AirPod Pros changed the game for me because they finally fit in my ears. And while the idea of a case for your AirPods case will rankle some users, there are some significant functional benefits depending on how you use your AirPods daily. Element Case's Black Ops AirPods Case fits that bill for me.
What is it?
Black Ops is a naming structure that Element Case has used for quite some time to describe their dark tactical themed products. In this instance, it is a robust cover for AirPods Pro that's designed to protect the the charging case along with the AirPods inside. It's also available for the standard AirPods.
What's in the box?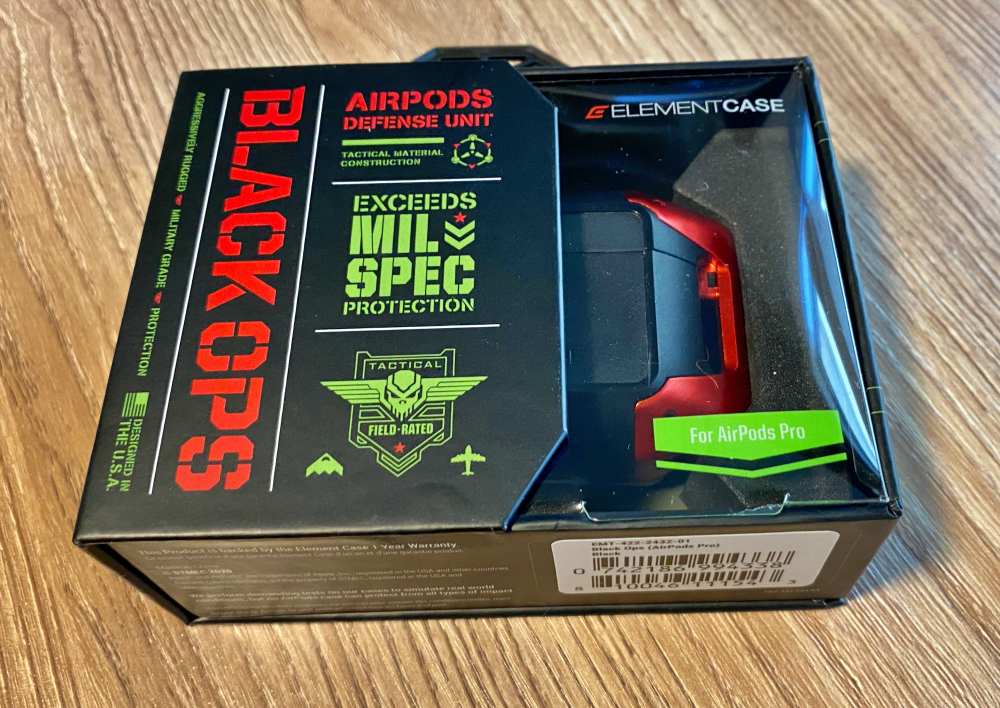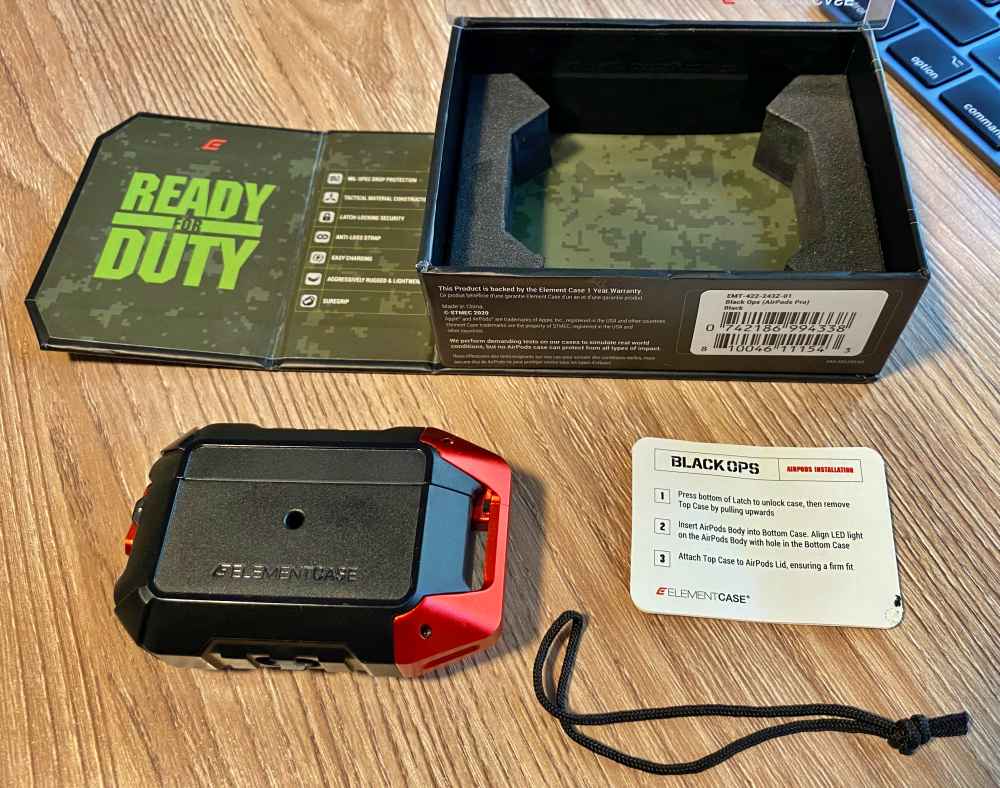 Black Ops Case top
Black Ops Case bottom
Info Card
Cord Tether
Hardware specs
Aesthetic: Aggressively rugged design
Protection: Exceeds MilSpec standard 810H
Materials:
• Anodized aluminum locking latch and retention bar
• Polycarbonate body for top and bottom
• Silicone lining for friction and impact absorption
Dimensions: H 4.94 x W 7.5 x D 2.6 cm
Design and features
On first look, the most striking features are the aggressive styling with angles/edges throughout and the anodized red aluminum on either side.

A locking latch prevents the AirPods case from opening unintentionally while the opposite side has what I'll call a hangbar that can be used for the included cord tether or your own narrow carabiner.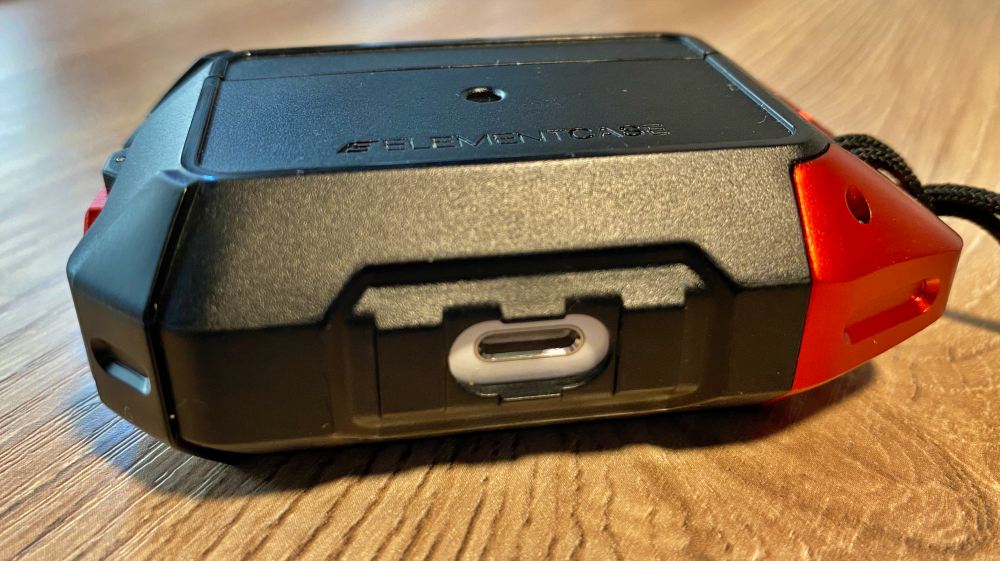 The charging port has good clearance, as does the charging indicator making it easy to see as you position on a charging pad.
Setup
The Black Ops AirPods Case looks like a single unit in the packaging, but quickly becomes a separate top and bottom shell as you extract it.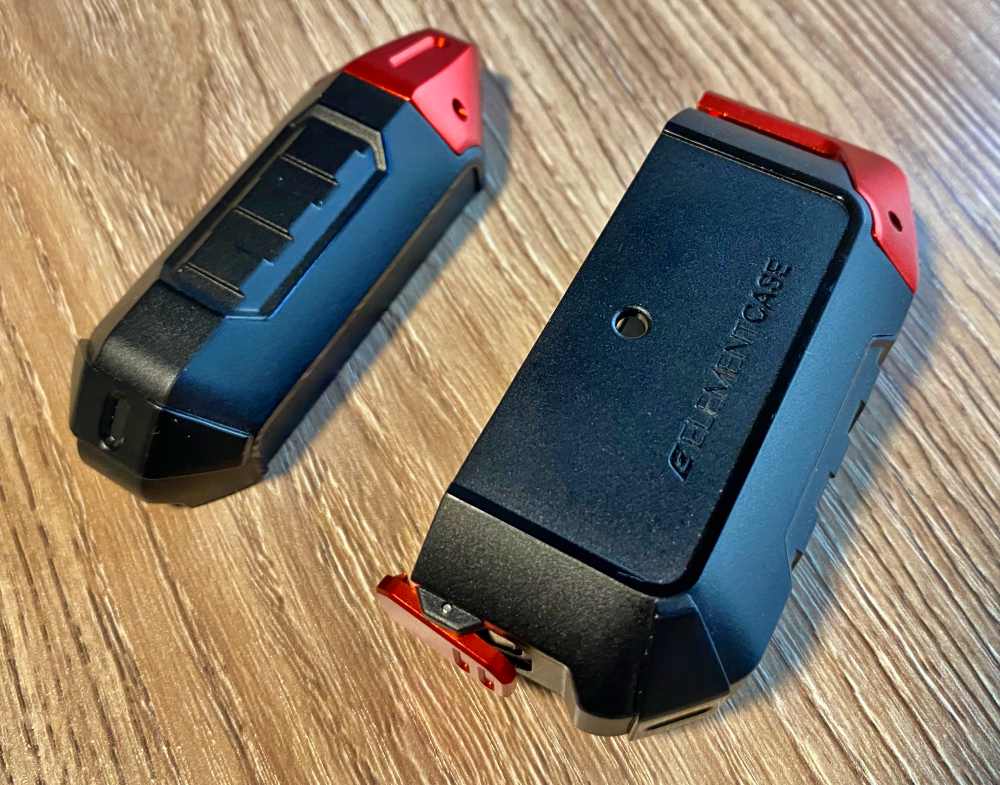 Insert your AirPods charging case into the bottom shell making sure to orient the hinge toward the cutout side and the LED light towards the hole provided for it. Push it down until fully seated.

With the charging case lid closed, push the Black Ops case lid onto the top again aligning correctly, this time so that the hangbar lines up. You'll notice that for the top to fully seat you'll need to allow the red aluminum latch on the left side to open and then lock into place.

Now that the AirPods charging case is inside, the locking latch has something to work against, and you'll need to press the latch each time you want to open the case.
Performance
For me there are three key performance features of this case that are meaningful.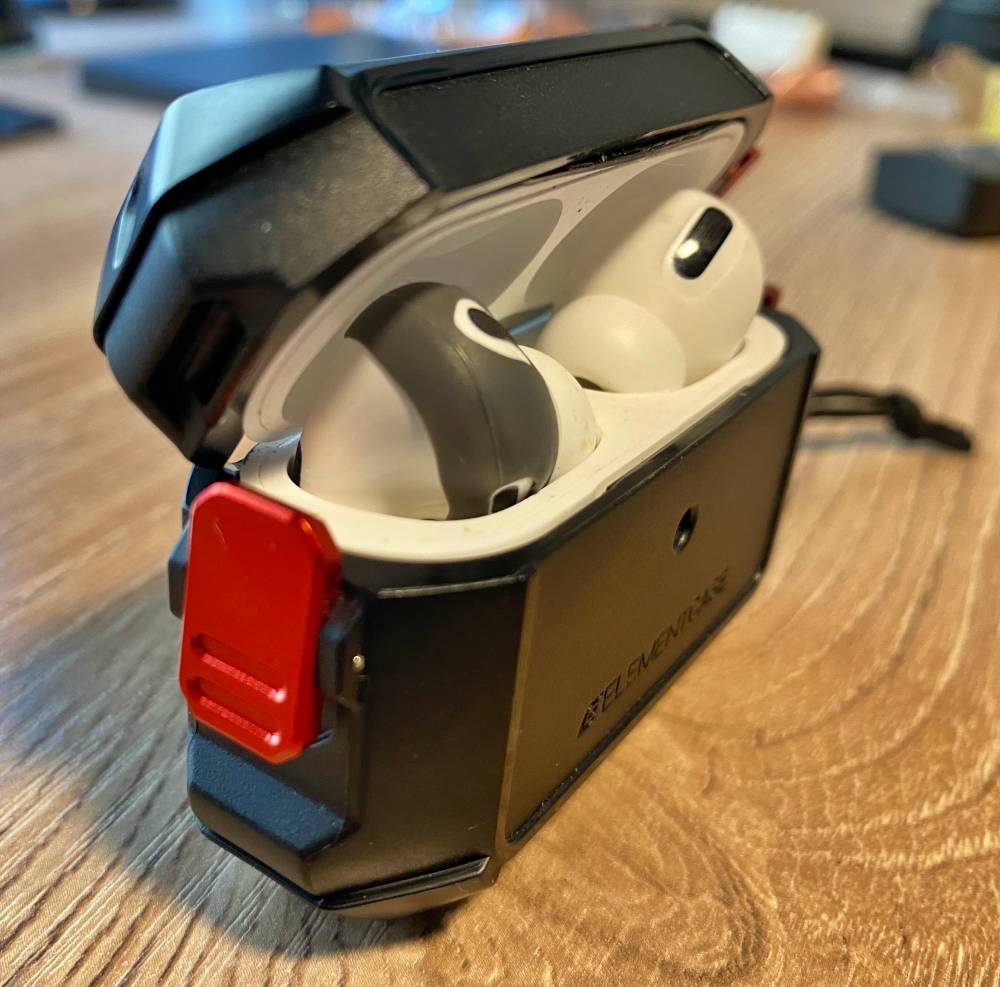 One: The locking latch. The lid on my AirPods stays closed until I want it open.
Two: Shape/Texture. The AirPods charging case is slippery and this isn't. I'm less likely to fumble it.
Three: Drop Protection. It's going to easy survive a drop, and the latch will keep it closed during a tumble.
It's a little larger than the charging case by itself, but the added security and protection is worth it in my book. It still fits in my front pocket and if I chose to hang it from a backpack or keys with a small carabiner, I know it will stay closed.
A little less obvious of a benefit for me is that it now has a front and back that are detectable by both feel and vision so really easy to open them up quickly when that unexpected call is coming in.
If you have AirPods then you know that the hinged lid is basically a fidget toy already. This case adds an additional latch which is either going to curb that behavior or just give you a second action to fiddle with, either of which could be a good or bad thing.
I think the biggest complaint will be anyone that doesn't like the aesthetic as it's not something you can overlook.
What I like
The looks; yes it's aggressive, but I like it
The locking latch; this is a great feature and it works really well
Durability; AirPods aren't cheap, and this can help to keep them inside your case during if dropped
What I'd change
Would love to see an all blacked out version
The string tether is useless. I'd like to see that hangbar be a carabiner
Final thoughts
Do you need a case for your AirPods? No. Might it be helpful? Definitely. For me, being able to latch the lid closed is great, especially if I were to clip it to the outside of a bag or a shoulder strap. The tactility and drop protection are added bonuses as is an aesthetic that makes them instantly identifiable as mine. $50 isn't cheap, but it's less than a single AirPod replacement ($89).
Price: $49.95
Where to buy: Amazon
Source: The sample of this product was provided by Element Case
Support The Gadgeteer
:
The Gadgeteer is supported by readers like you! If you buy something through the links on our site, we may earn a small affiliate commission. Thank you! Learn more.