We use affiliate links. If you buy something through the links on this page, we may earn a commission at no cost to you. Learn more.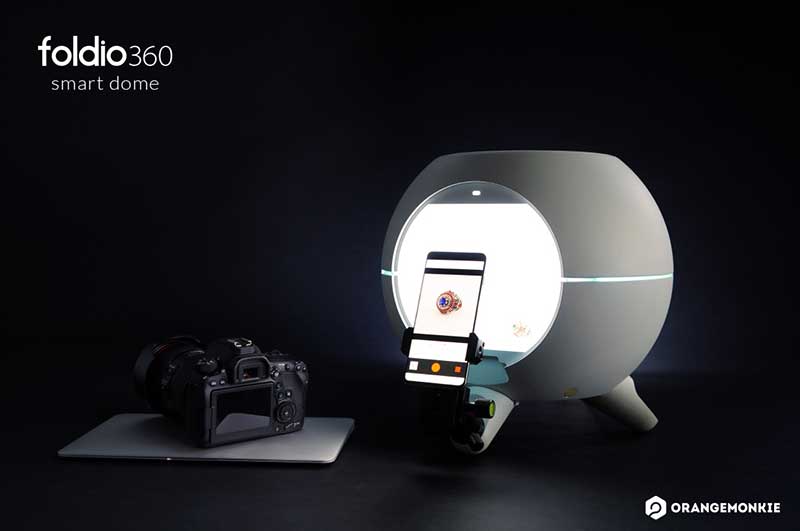 CROWDFUNDING NEWS – Photography ranks right up there with writing about gadgets on my list of favorite activities. For me, photography and reviewing gadgets go hand in hand because reviews need to have great product images. For that reason, I've tried different tabletop photo studios including the Orangemonkie Foldio2 foldable photo studio that I reviewed 5 years ago. Since then, Orangemonkie released a much larger Foldio3 photo studio and the Foldio360 smart turntable and now they have a Kickstarter campaign for their newest product, the Foldio360 Smart Dome.
What is it?
The Foldio360 Smart Dome is an all-in-one globe-shaped photo studio with a built-in 360 motorized turntable that allows you to create 360-degree images and videos with a push of a button on your smartphone or PC.
Why do I like it?
The square shape of Orangemonkie's other Foldio photo studios may be convenient for storing them when they aren't being used, but the circular shape of the Foldio360 Smart Dome maximizes lighting efficiency and uniformity so there are fewer shadows in your images.
The LED lighting inside the Foldio360 Smart Dome also has variable brightness and color temperature settings (2300K – 5600K) so you can get just the right look that you're going for with your photos.
What to consider before pledging
Orangemonkie makes great photo studios, so I have no issue recommending them and their products. The concern that I have with the Foldio360 Smart Dome is that it's not as easy to store it when you aren't using it compared to their original foldable photo studios. Also, the interior of the Smart Dome is pretty small, so the optimal object size needs to be a maximum of 6 x 6 x 6 inches. That's not very big unless all you plan to photograph are small objects like jewelry, watches, coins, etc.
Where can I find more info?
The Foldio360 Smart Dome campaign ends on 11/19/20 and they have already met their funding goal of $100,000. You can pre-order a Foldio360 Smart Dome starting at $320. After the Foldio360 Smart Dome campaign ends, rewards are estimated to start shipping in March 2021. Visit their Kickstarter page for all the details.