We use affiliate links. If you buy something through the links on this page, we may earn a commission at no cost to you. Learn more.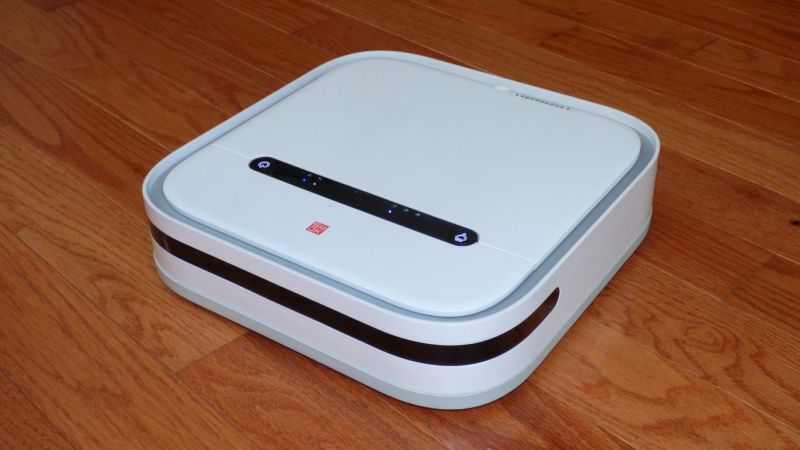 CROWDFUNDING REVIEW – Ok, I admit it – I'm a neat freak. I like my house clean, and strive to keep it that way. SWDK's Handy-Mopper Robot which is currently seeking funding on Indiegogo, is one of these products that I just couldn't pass up! Let's see if Indiegogo's claim of "The most efficient deep cleaning mopping robot" lives up to the hype!
What is it?
The SWDK Handy-Mopper Robot is a wireless device that uses water pumped from an internal tank to autonomously cleans and mops solid floor surfaces.
Hardware Specs:
Navigation: Camera and gyroscopic sensor
App: TuyaSmart
Noise level: 71db
Battery capacity: 2500mA, 2 hour work time between charges
Tank capacity: .24 liters, 8.12 fluid ounces
Weight: 4.8 kilograms, 10 pounds 9 ounces
Dimensions: 32 x 32 x 8 centimeters, 12.6 x 12.6 x 3.15 inches
Incline maximum: 15°, 1.5 centimeters, .59 inches
Power Supply:100-240 volts, 1 Amp
What's in the Box?
Mopping robot
Charging base
Power supply
Washable cloth mopping pad set
Two disposable mopping pad sets
Water cup
Instruction manual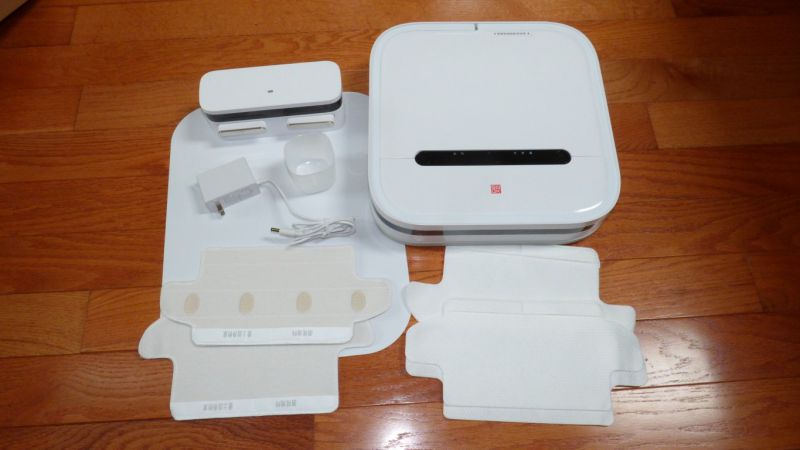 Design and Features:
The Handy-mopper arrived safely packaged in its sarcophagus of cardboard and lightweight foam.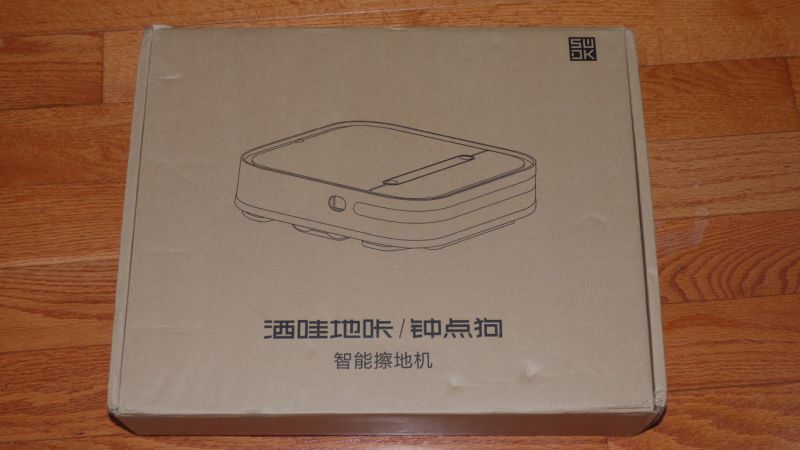 As is my habit, wanting to learn all of the functions of a new gadget, I pulled the manual out and… found it's exclusively in Mandarin. Because this is a crowd-sourced device and I was able to get one early for this review, I suspect it will be released with added language support, but only time will tell.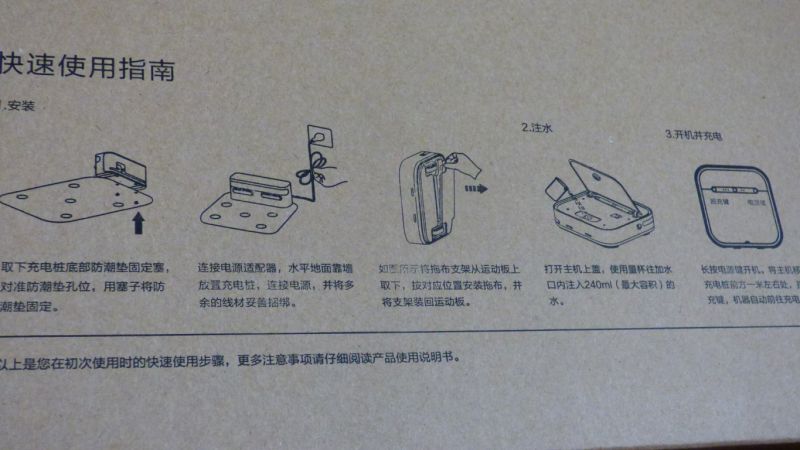 I spent the next few hours going through the manual with added help from Google Translate.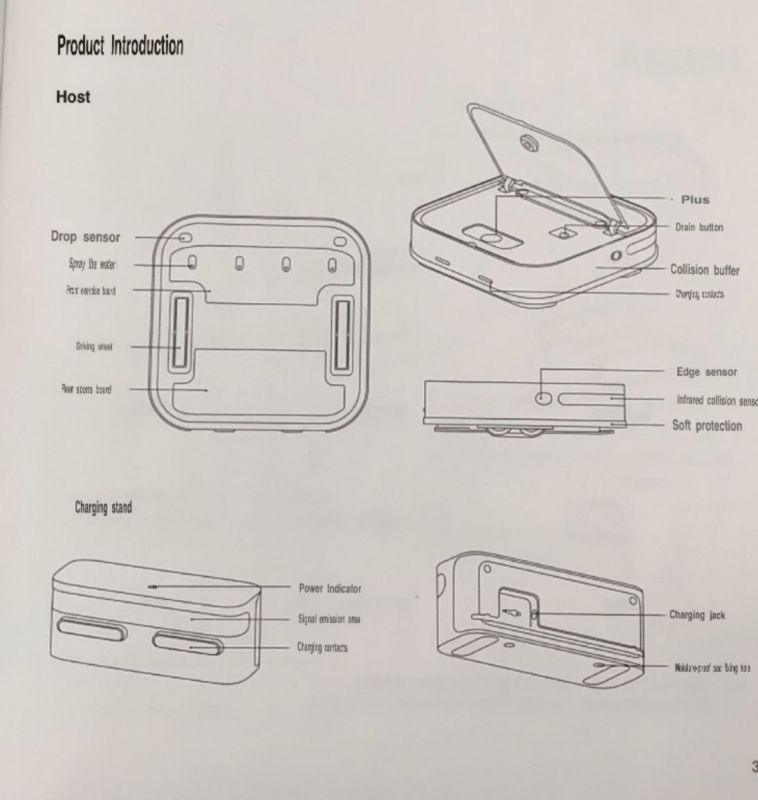 Plugging in the vacuum, I was surprised to hear voice prompts, also in Mandarin, again, not such a big deal. I was able to translate "such phrases as "beginning charge," "returning to base," "please clean and tap the collision buffer," and "start configuring the network" to name a few.
After loading TuyaSmart, which in English, was able to connect the Handy-Mop to my home network with no difficulties.
TuyaSmart is compatible with several third-party apps for easy home automation integration.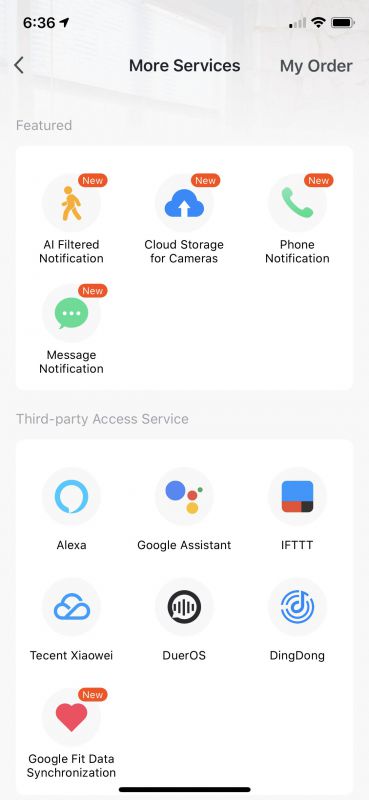 If you are familiar with Samsung's "SmartThings" or Apple's "Home Kit," Tuya's app should not come as a surprise. It incorporates dozens of devices into a single control platform and should allow integration of gadgetry. In my case, I just wanted to get the Handy-Mopper to work so I chose to concentrate on its functions exclusively.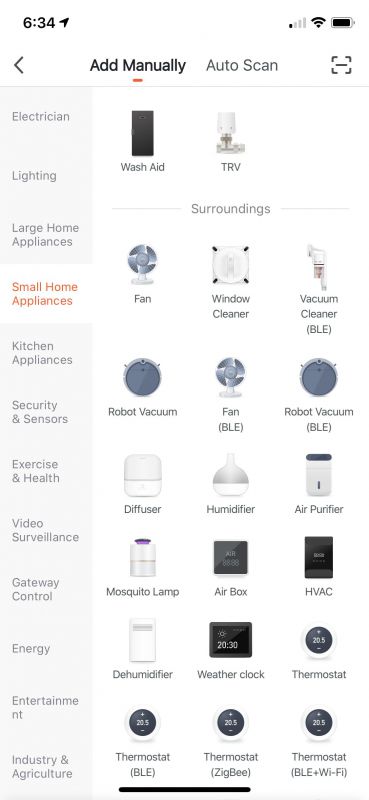 The app shows cleaning time, battery capacity, and a map of the area that has been cleaned, as well as giving cleaning options such as, "wall follow," "spiral," and manual control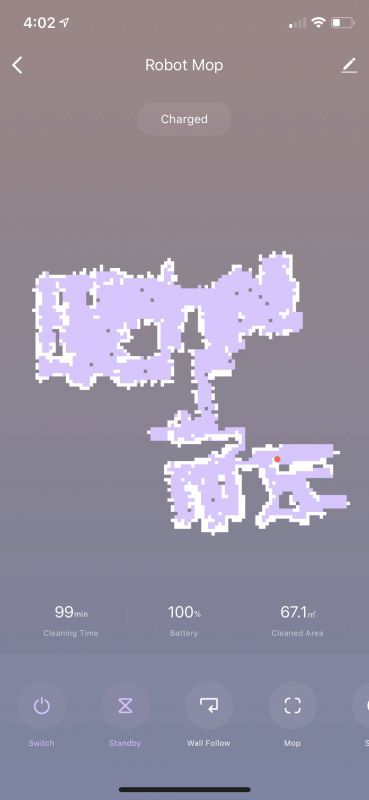 The power supply is a "wall wart" style.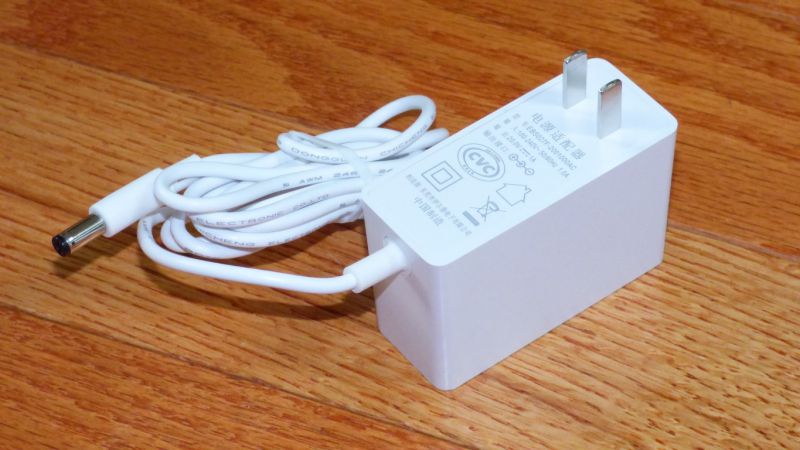 I placed the robot on the charging base to allow it to sip juice after its long trip from Hong Kong. Charging was complete in about 2-1/2 hours.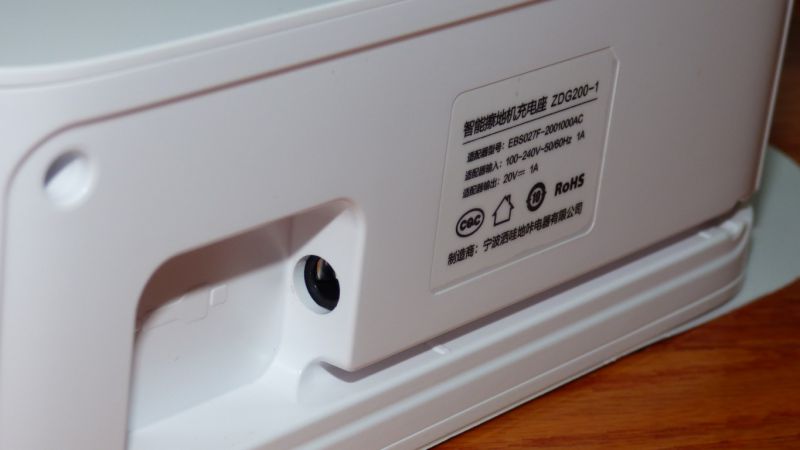 Included are two sets of the disposable cleaning pads and one washable set.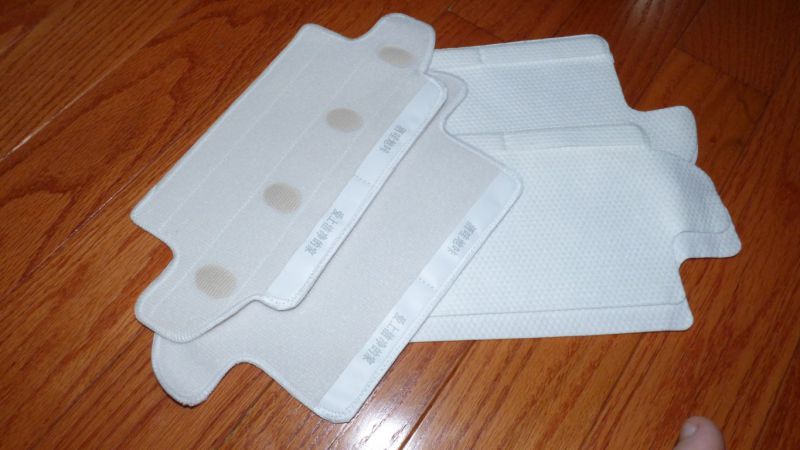 The robot's control panel includes indicators for Wi-Fi connection, reservoir capacity (full, medium, and low), wet or dry wiping, a manual start/stop button, and a charging indicator.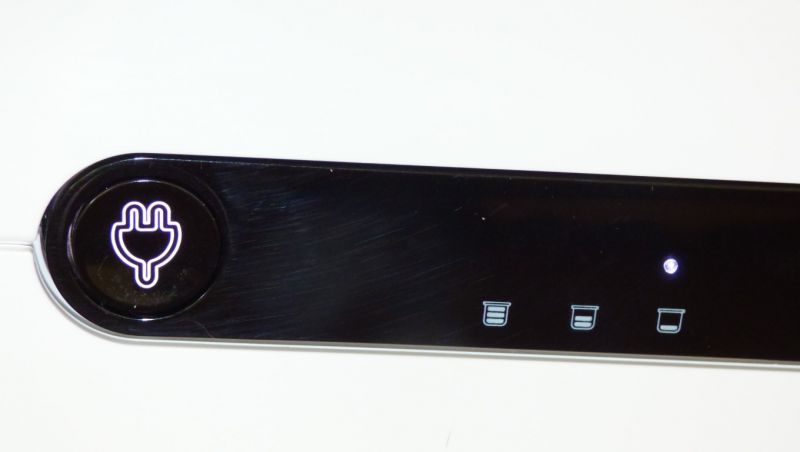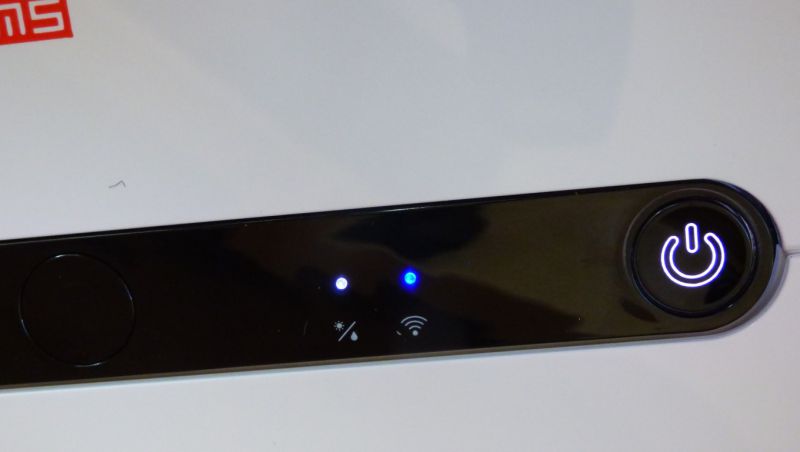 I filled the water reservoir using the included measuring cup…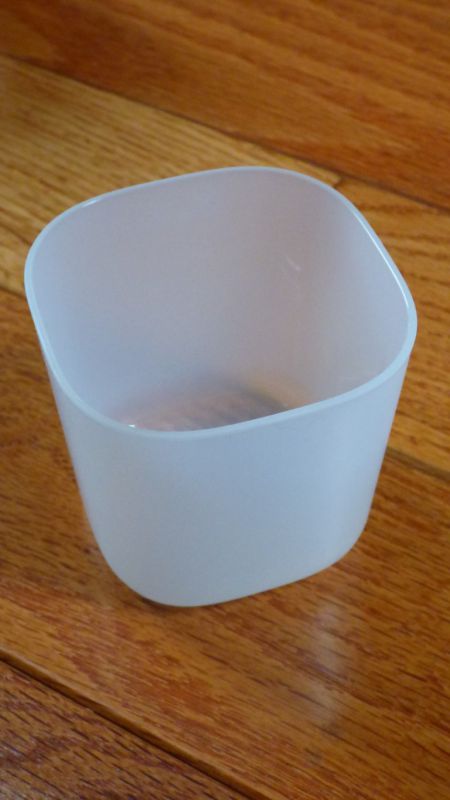 There is a rubbery red indicator inside the reservoir indicating the tank is full.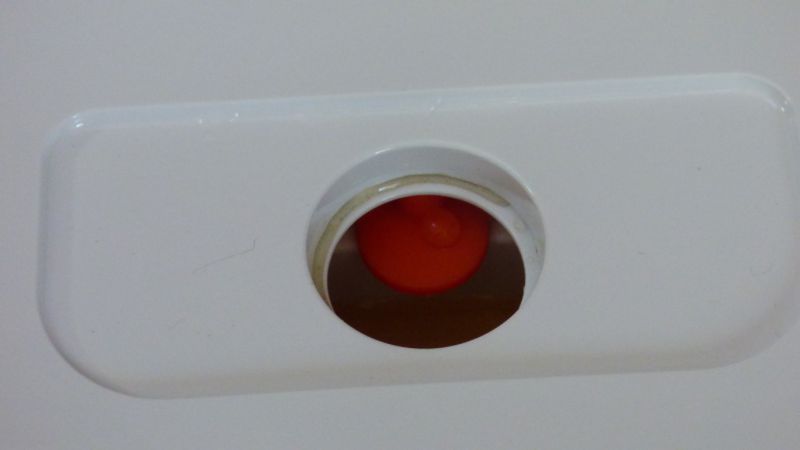 …and flipped the robot over to see if it would leak. I was pleasantly surprised to find the rubber stopper prevented a spill.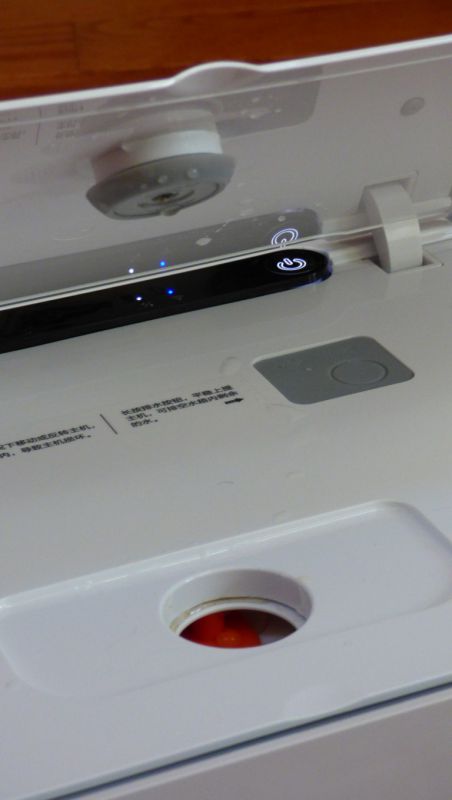 As the Handy-Mopper cleans, water is dispensed through nozzles in the base.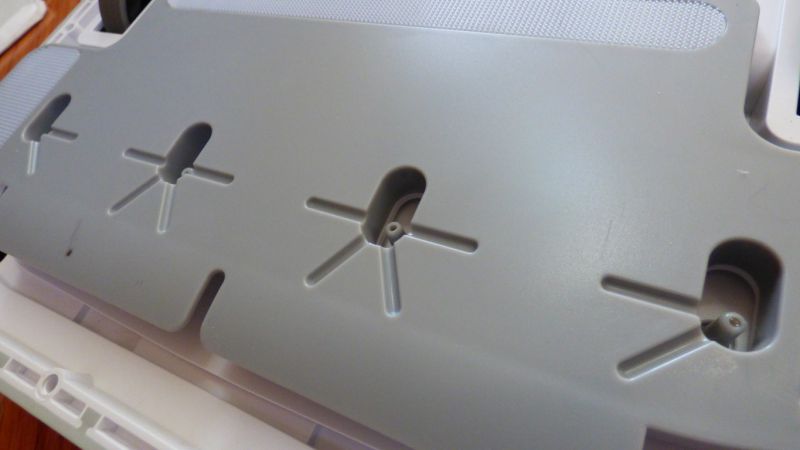 Before use, SWDK recommends "babyproofing" your floors. This means vacuuming up the heavy debris, picking up carpets, cords, lost socks, and cheese puffs that might be in the way. I have a pet-peeve that if it doesn't have wheels, legs, or feet, it doesn't belong on the floor so I didn't have any problems clearing the path so the Handy-Mopper could work.
Heavy tank treads send the mop scooting about with relative ease. It had no problems negotiating all my floors and scaling the minor mountain thresholds between my hardwood and tile floors.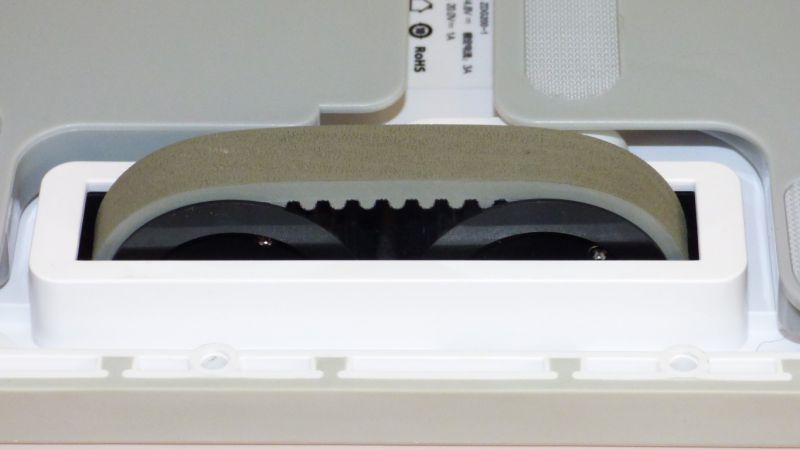 Sending the robot off on its maiden voyage, I chose the "wall follow" mode. It nimbly and gently bumped its way around the entire perimeter of my home in about 40 minutes. At no time did it get stuck, fall down the stairs, chew up something it wasn't supposed to, or stop. Good job Handy-Mopper!
When it returned to the place it started, I was expecting it to move out a bit, gradually working its way inward to complete cleaning the entire floor, but I found "wall follow" will make another cycle around the same path again. Eventually, after making the circuit twice, it will find its way back to the charging base.
"Mop" mode sequentially moves around the room from side to side. "Spiral" starts in the robot's current position and works outward until it encounters an object that it cannot move around, then automatically switches back to "Mop" mode. Once it makes its journey around the available area, or if the battery runs low, it heads back to the base for charging.
The gray plates on the Handy-Mopper's base oscillate forward and back several times a second. With all that cleaning surface on the floor, it's a remarkably rigorous scrub! Noise levels are very low.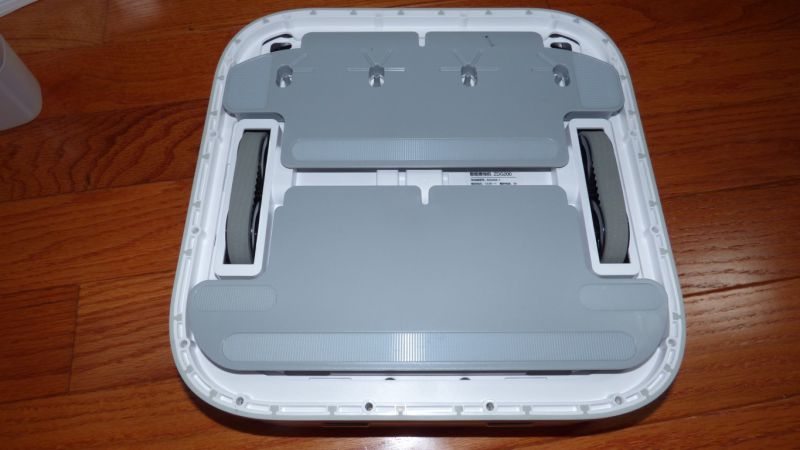 Speaking of the charging base, there is a plastic plate that attaches to the base to prevent the wet mopping surfaces from staying in contact with the floor and causing damage.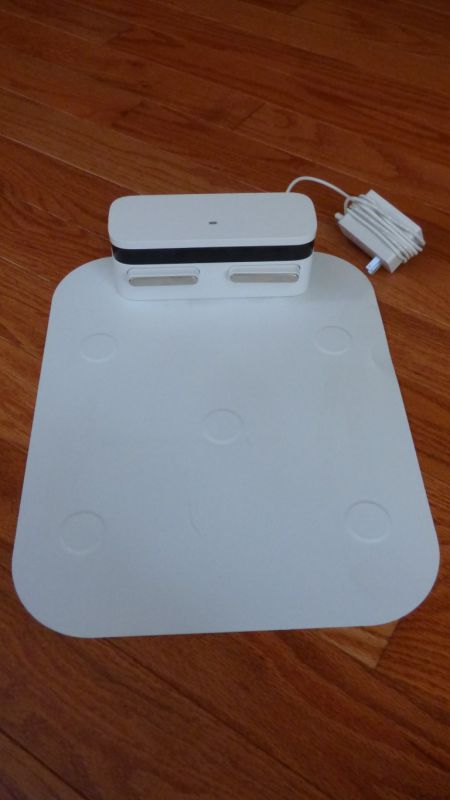 The back of the charging base must be placed squarely against a wall or other hard surface. With such good traction, the Handy-Mopper is strong enough to push against the base and raise the base off the floor, breaking the connection with the charging contacts.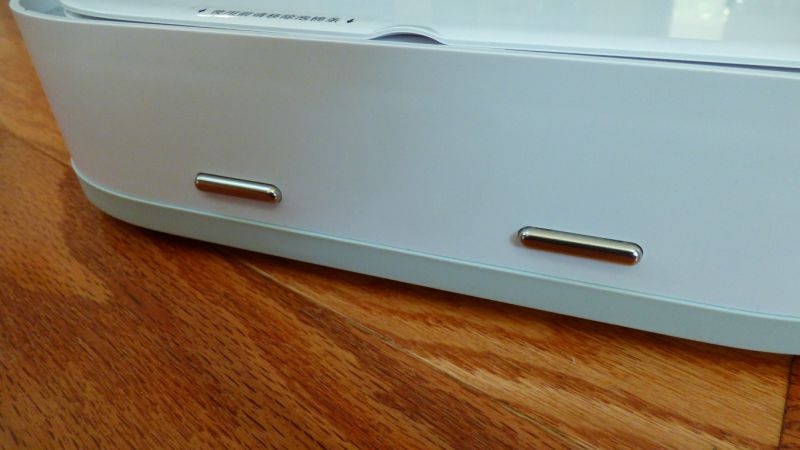 If you are a fan of radio-controlled cars, piloting the Handy-Mopper around using the app's manual mode is fun! Sure, it's not as fast as your average toy car, but at least its puttering about to clean your floors.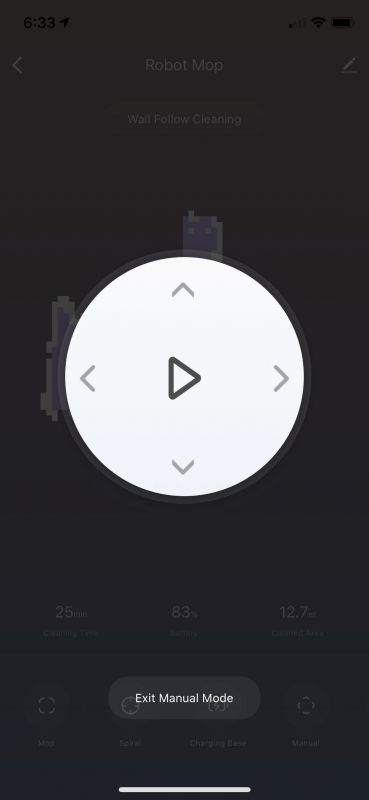 My home's hardwood and tile comprise about 1000 square feet which took about 2 hours and used less than 8-ounces of water. I was pleased that there was not a large amount of water remaining after mopping.
The Handy-Mopper needs to have the mop pads cleaned and dried (or replaced) after use. The manual states that if it is not cleaned, the remaining moisture may cause the pads to mold or mildew.
Should there be liquid remaining in the reservoir, a button labeled "reset" (possibly something lost in translation?) can be pressed to pump out the remaining fluid. Just be sure to hold the robot over a sink or basin before using, because it dispenses a lot of water very rapidly!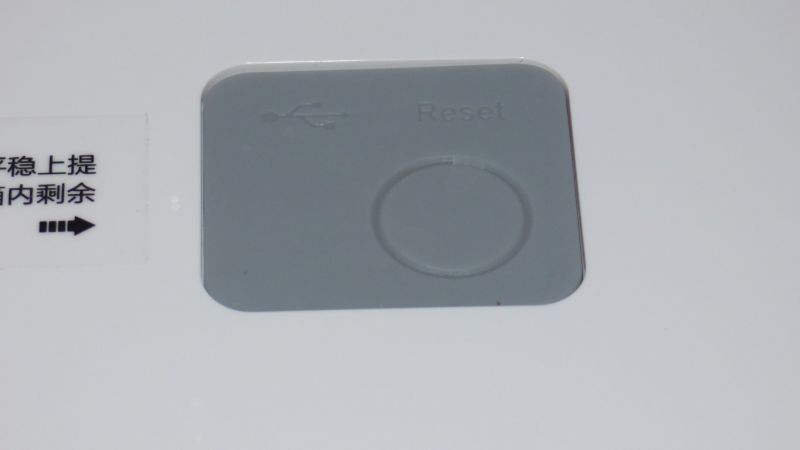 Now, as with all reviews, "the proof is in the pudding" and the drumroll is sounding to indicate the final results. Before evaluating the Handy-Mopper, I was skeptical that it would find my floors very dirty because I vacuum three times a week, mop once or twice and month, and don't wear my shoes in the house (a habit I picked up living in Japan for about 3 years). After finishing, I was utterly shocked at the condition of the pads.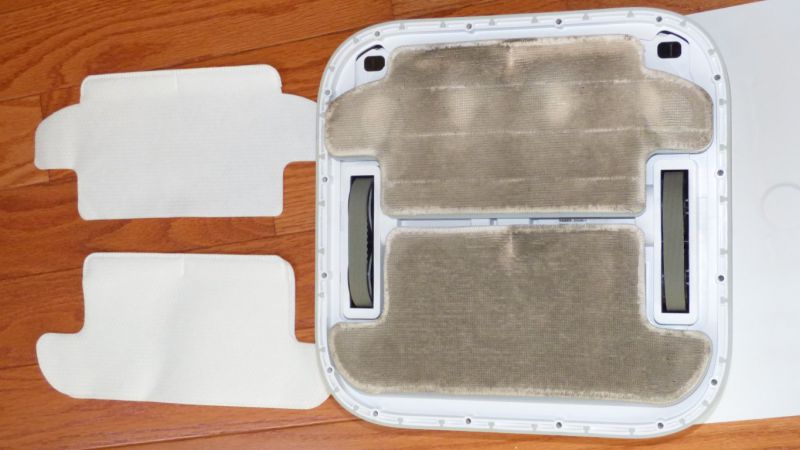 Clearly, the Handy-Mopper has challenged my neat-freak status and I've been humbled a peg or two… or three… or seven…
  What I Like:
Long battery life
Great mop results
Easy to use
What I Would Change:
The ability to change the languages
More availability of replacement pads (I suspect this will be alleviated after the official release)
Final Thoughts:
The mopping action from this unit is quite aggressive and I'm thrilled with the results! It gives the floors a good scrub and does a great job at a fair price! No one ever said a neat-freak couldn't get some robotic help, right?
Price: Currently $199 on Indiegogo (estimated shipping in December 2020)
Where to buy: Indiegogo
Source: The sample for this review was provided by SWDK