We use affiliate links. If you buy something through the links on this page, we may earn a commission at no cost to you. Learn more.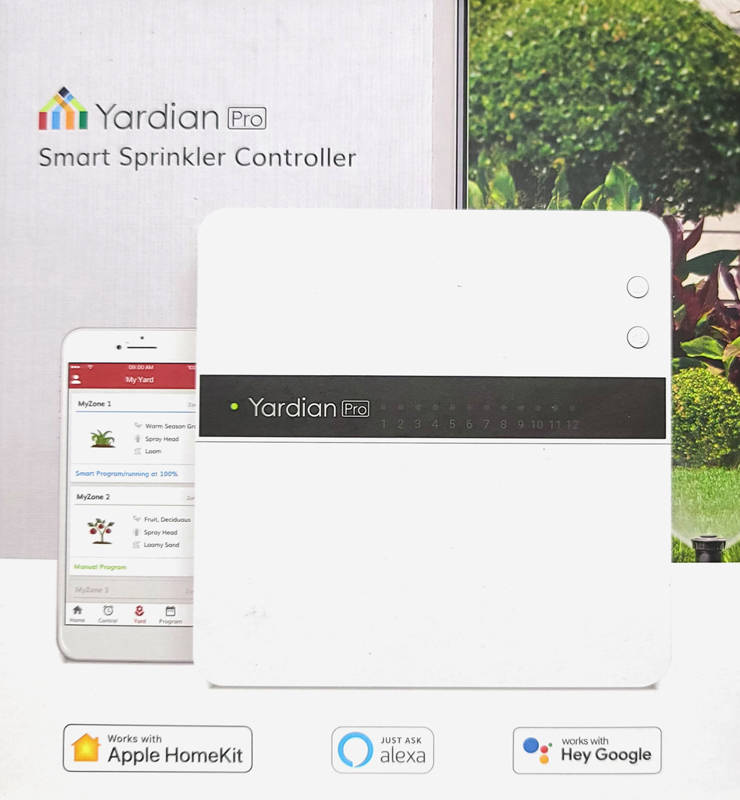 REVIEW – If you're a regular reader of The Gadgeteer, and have suffered through some of my previous reviews, you'll already know that I hate mundane tasks, like anything related to home maintenance. Watering the lawn falls into that category, so I was thrilled when I had the opportunity to review the Yardian smart sprinkler controller back in April 2019. That model also came with a built-in HD security camera and has been installed in my garage ever since.
The folks at Aeon Matrix are at it again and have released the Yardian Pro smart sprinkler controller.  I'm a fan of bigger, better, faster, stronger. Does the Pro model of the Yardian fall into that category, or is the update all wet?
What is it?
The Yardian Pro is a smart sprinkler controller, available in 8-zone and 12-zone models.  I was sent the 8-zone model.  It is designed for indoor use but a weatherproof housing will be available at a later date.  It works with Alexa, Google Assistant/Home, Apple Homekit, and IFTTT (If This Then That) as well as via an IOS or Android app and a web-based interface.
The changes and improvements versus the original Yardian are:
Internal Wi-Fi module with four times signal strength and improved range vs competitors
Addition of an RJ45 port for direct Ethernet connection or other devices like 4G router, etc
 Support for Apple HomeKit
On-device buttons for zone status detection and instant watering control
You can run a zone diagnosis after installation without the need to use a phone to know if all the wires are connected properly or if there are faulty valves
You can run any zone with a specified duration from 1 to 12 minutes without using your phone
Full-range (100AC – 240VAC) power supply with Level VI power efficiency required by DoE
Dedicated master zone and 24VAC output terminal blocks
Supports two rain sensors
USB port for future accessories, like LoRa (long-range wireless) dongle, etc
Indoor design with an optional outdoor enclosure (will be available later)
Status LEDs showing the on/off status of all zones
Higher operating temperature to 140°F
What's in the box?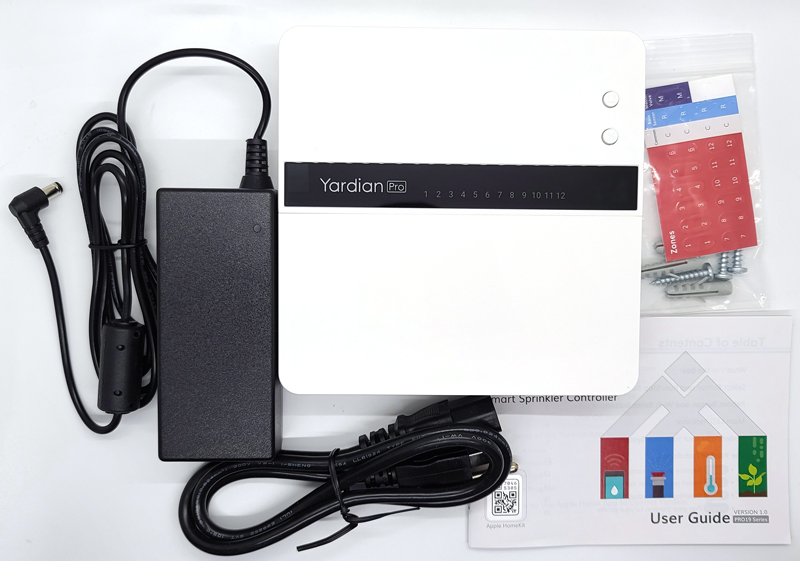 8-zone Yardian Pro controller
Power cord
Power adapter
Installation kit with wall anchors and wire labels
User guide
Specs
EPA WaterSense certified
Control: iOS 9.0+ and Android™ 5.0 Lollipop®+
Web control available: https://webapp.yardian.com
Interfaces

8-zone/12-zone with surge and overcurrent/short protection
On-device buttons for zone status detection and instant watering control
RJ45 port and USB port
Dedicated master valve/pump
Dedicated 24VAC output port
Two rain sensor ports
Wire range: 14AWG – 22AWG

Dimensions: 6" L x 6" W x 1.38" H (15cm x 15cm x 3.5cm)
Weight: 1lbs (0.45Kg)
Controller power: Yardian must be connected to the power adapter included

Input: 36VDC, 1.66A
Output: 24VAC, max.1A

External power Adapter

Input: 100 – 240VAC, 50 – 60Hz, Level VI efficiency
Output: 36VDC, 1.66A

Rain Sensor Support: Programmable to Normally Closed (NC) or Normally Open (NO)
Flow Sensor Support: Pulse output sensor
Operating Temperature: -22°F to 140°F (-30°C to 60°C)
Warranty: 2-year limited warranty
Location: Indoor installation
Internet Connection: Built-in Wi-Fi 2.4G, 802.11 b/g/n
Smart integrations: Works with Apple HomeKit, Amazon Alexa, Google Assistant, IFTTT
Future integrations: Over-The-Air software updates
Design and features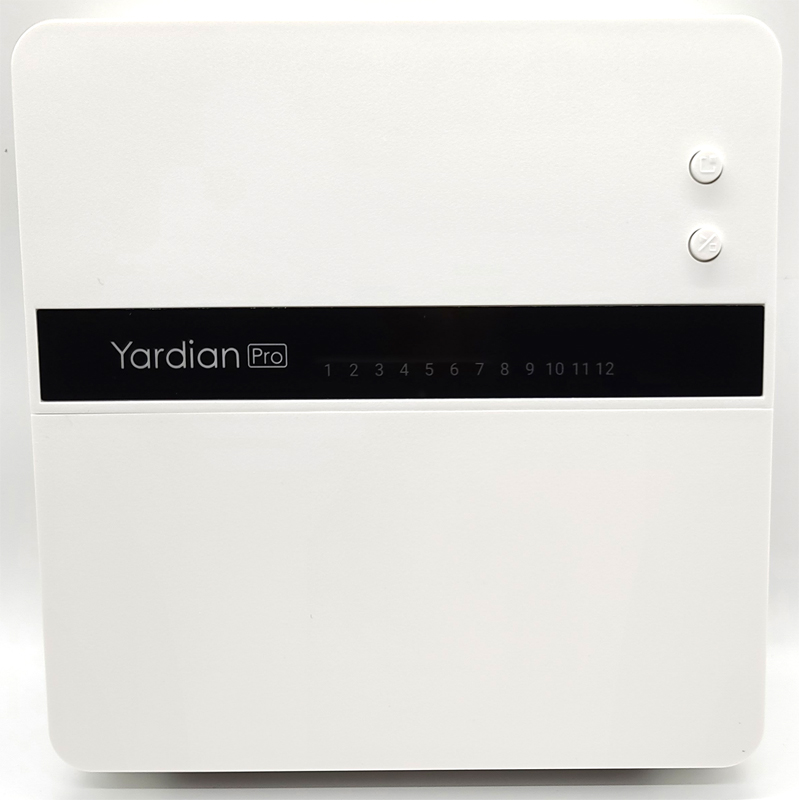 Yardian Pro has a clean design in white plastic with rounded corners.  The black stripe contains status LEDs – more on that below.
Below the stripe, you can see the line at the top of the removable connection door. Popping that door off reveals the connection block, buttons for WiFi and reset, and power connection.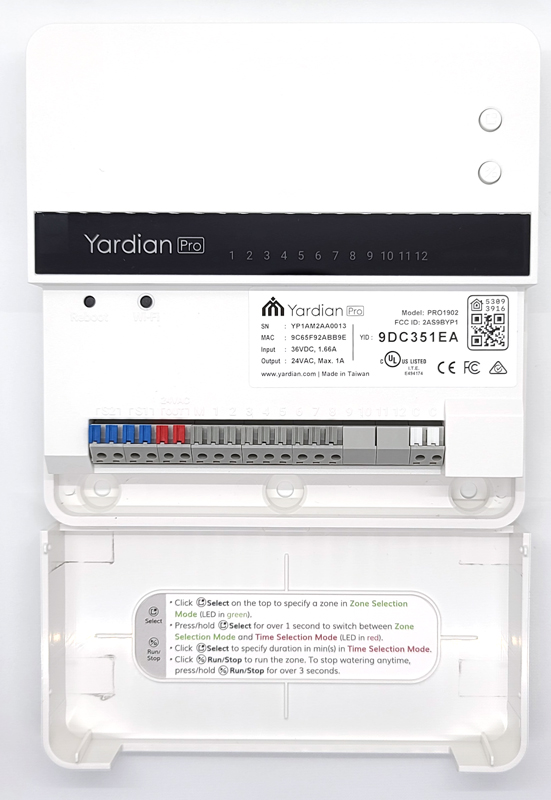 At the bottom of the Pro, we see the holes for inserting the zone and sensor wires and the power connection port. The red, blue, gray, and white buttons open the holes so you can insert the wires, and then pinch the wires when released, creating the electrical contact.

The Wi-Fi button is slightly raised.  It is used for manually initiating Wi-Fi pairing or resetting the connection.  I did not have to use it during my installation. The reboot button is recessed. Pressing it will reboot the Pro.  Holding it down for several seconds will perform a factory reset.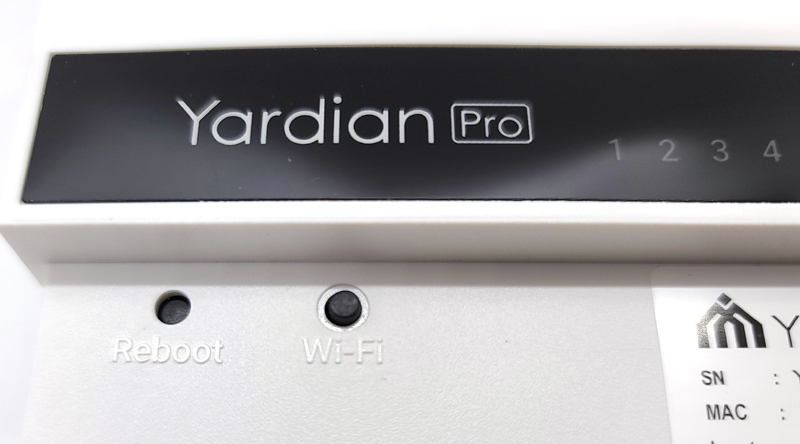 On the face of the Pro, we find one of the biggest improvements – the addition of buttons to run zones without using the app.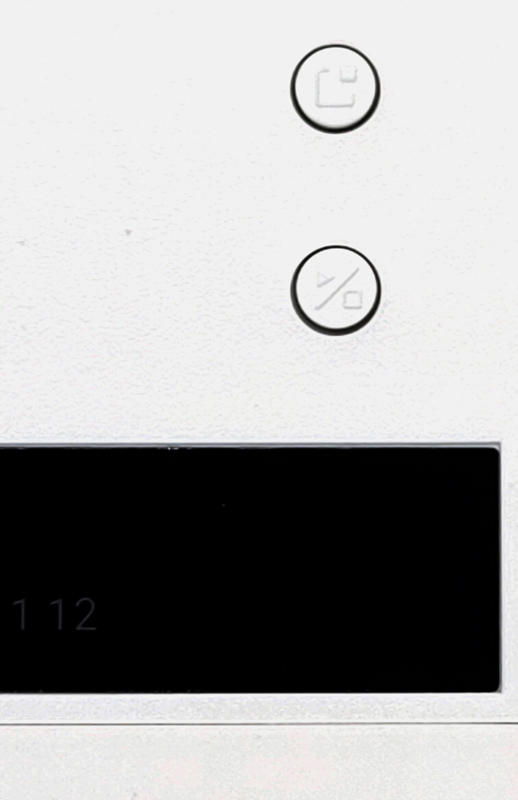 On the left side, we see the USB port and another new feature – an Ethernet port. If you can't reach the Pro with Wi-Fi and can run Ethernet to your installation location, you can now plug the Pro into your router.

Setup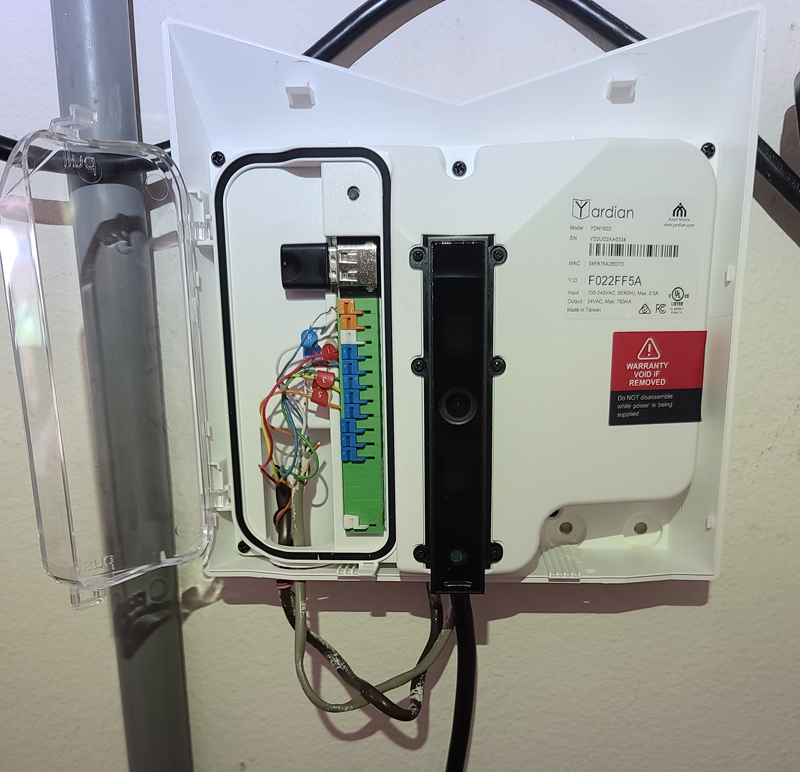 Setup starts with labeling the wires on your existing controller with the handle labels supplied in the box.  I didn't have to do that as I labeled them all last year when I installed the original Yardian shown above.  After disconnecting the wires and taking down the Yardian, I put up the Yardian Pro and installed the wires.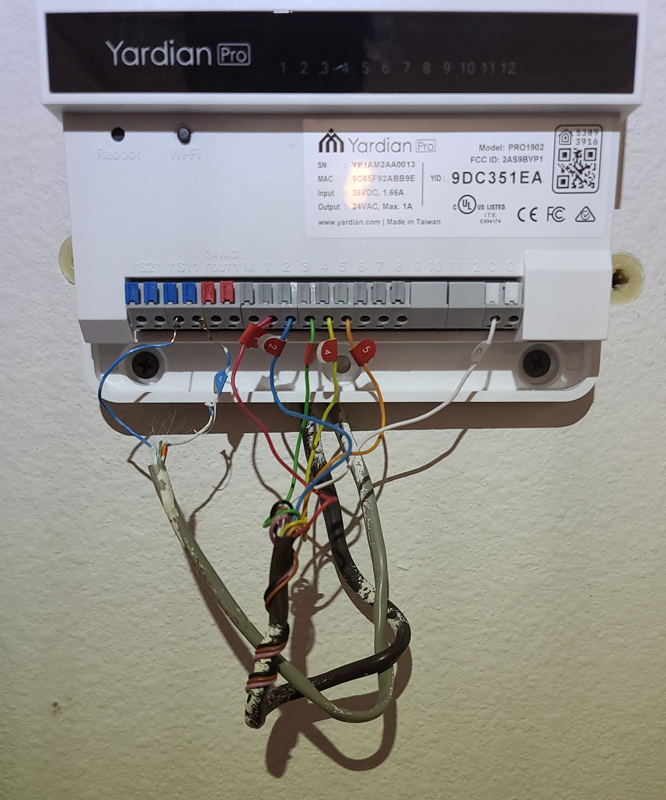 There isn't much room to hide the wires, so the installation looks a little sloppy.  It's in the garage, so not a big deal, but the old Yardian hid the wires a little better.
Snap the cover back on and we're installed.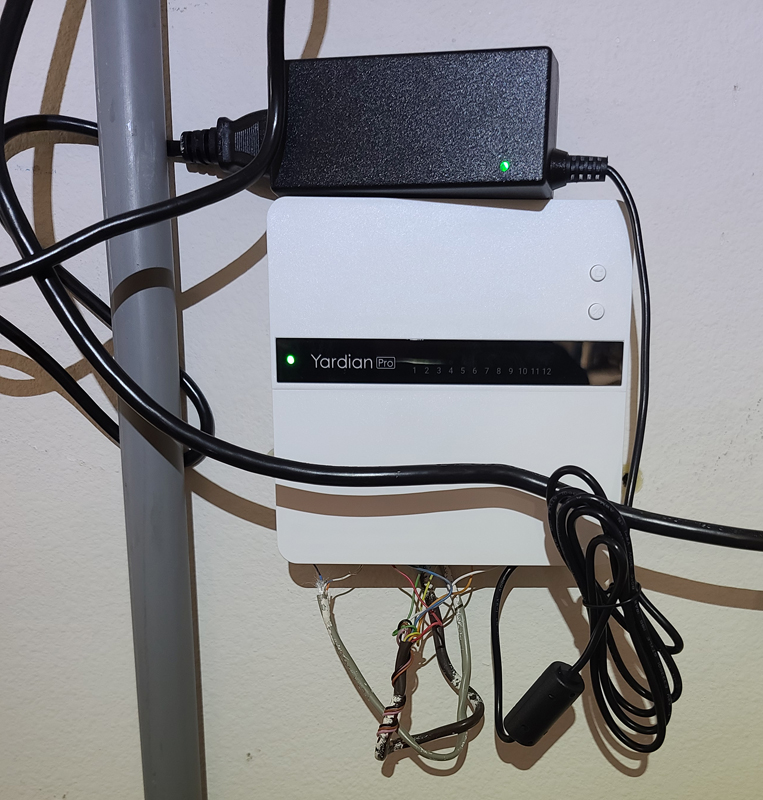 The power brick is new with the Pro.  It adds installation flexibility as it supports 100V to 240V input, but it's a bit big and needs to go somewhere.  Note that the power cord right in front of the Pro goes to something else in my garage.
At this point, you would install the Yardian app and set up an account.  Again, since this is an upgrade, that was done already.
Next, plug it in and start the pairing process.  This pointed out an improvement in the Pro.  The original Yardian would not onboard to my Wi-Fi.  I had to contact support and do an alternate process with a USB drive.  This time, the Pro onboarded perfectly.  Nice! Note that you need a 2.4GHz Wi-Fi network as Yardian Pro doesn't support 5GHz.
In a new installation, at this point, you'd run the automatic scan to detect your valves and then configure zones.  Since this was an upgrade, all that info was already in the app, so after firing up each zone to make sure I had them all plugged in correctly, my installation was done.
Performance
The performance of the Yardian products is directly impacted by the information you provide. After you get up and running, you have to tell Yardian about your zones.  Also, you have to give Yardian some insight into your local weather.  Yardian uses the PWSWeather network of weather stations to get hyperlocal weather information.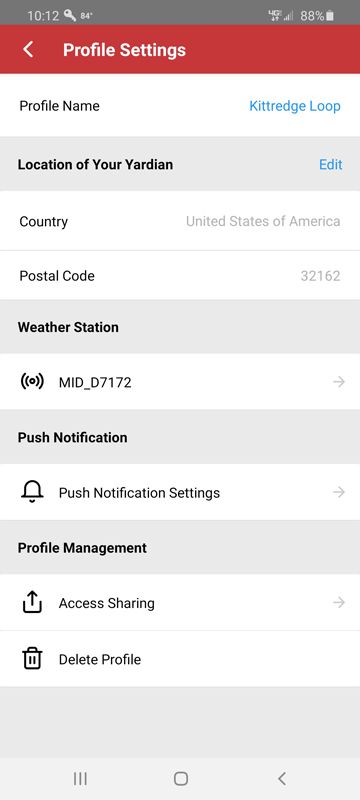 You can see above that I selected weather station MID-D7172 for my weather source. While I have a weather station in my back yard (doesn't every Gadgeteer?), the brand I have doesn't report to PWS, so I can't use it.  It might get replaced soon…
Yardian uses heating, sunshine, precipitation, humidity, and other weather factors to determine how much to water.  It also factors in the size of a zone, relative slope, soil composition, grass type, sprinkler type, and the number of heads to determine the frequency and duration of watering events.  That last part is important because it is up to you to provide that information.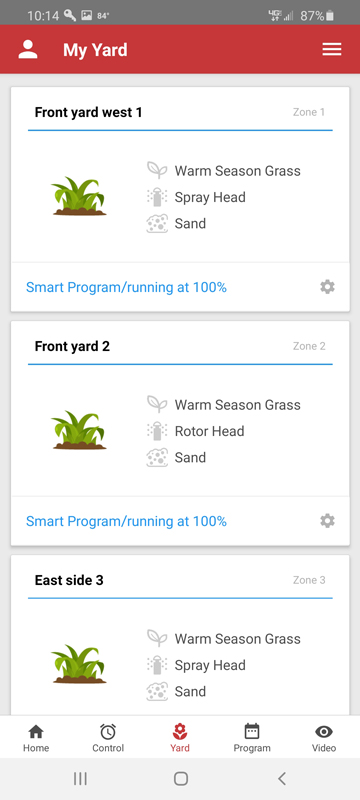 I used Google Maps distance/area function to trace out the different zones in my yard to get a basic measure of the area in each zone.
You can set up seasonal watering adjustments to allow for the particulars of your climate.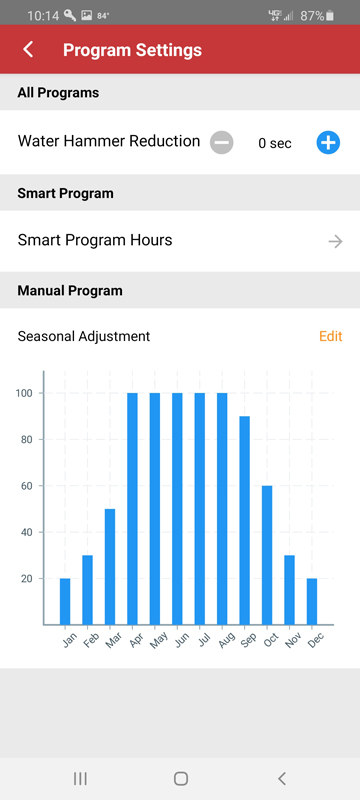 I have been running Yardian on fully automatic smart programming for over a year with great results.  The Pro uses the same programming logic, so I expect more excellent performance.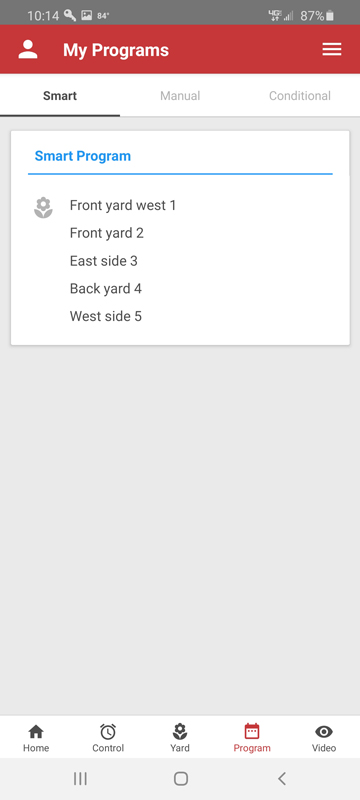 The home page shows recent watering activity, messages, and a link to your local watering restrictions. That little bit of watering on 7/27 was me testing the zones after I installed the Pro.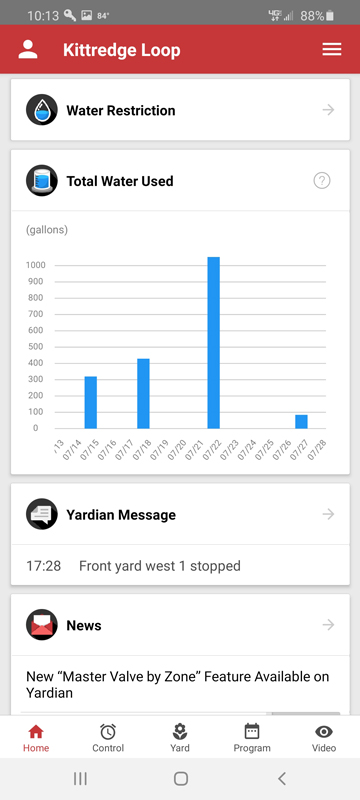 You can also drill down by zone to see how long each zone gets run.
You define the type of rain sensor you have installed, set up the watering schedule, skip rules, and such in the app.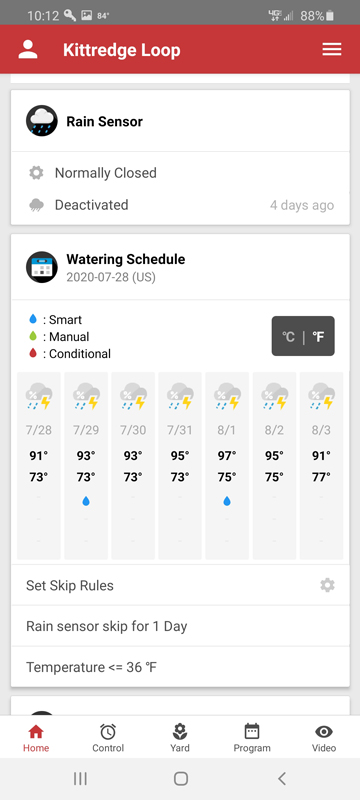 Note that the schedule shows that smart watering is scheduled for Wednesday and Saturday to coincide with my allowed watering days per our local watering restrictions.  That gets handled automatically by Yardian.  Pretty cool.
The app allows you to set up skip rules based on the chance of rain, manually skipping a day, actual rain sensor input, and low temperatures.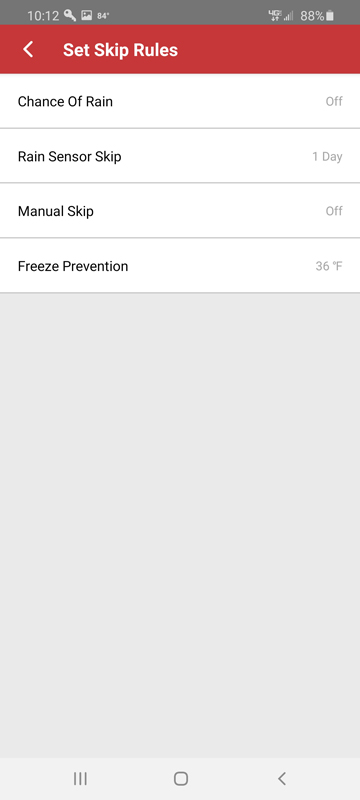 Since we got rain the day after I installed the Pro, I was able to confirm that I had the rain sensor set up correctly.

Once the sensor tripped, the skip rule I had set kicked in to skip all watering activity for one day. The skip rule extends until the sensor resets. It reset later that afternoon once it dried out from the 1.25″ of rain we got.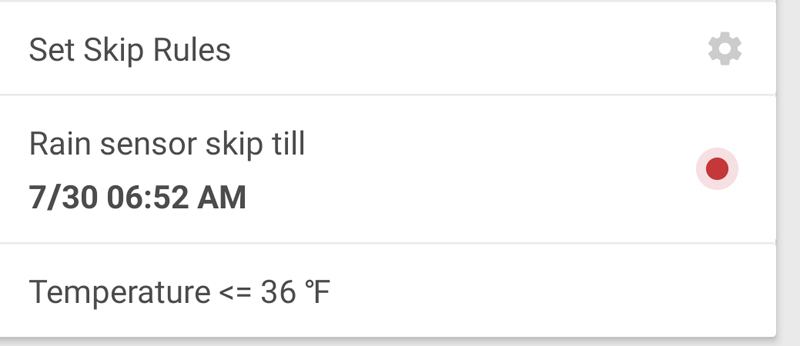 You can define which events will provide an app notification.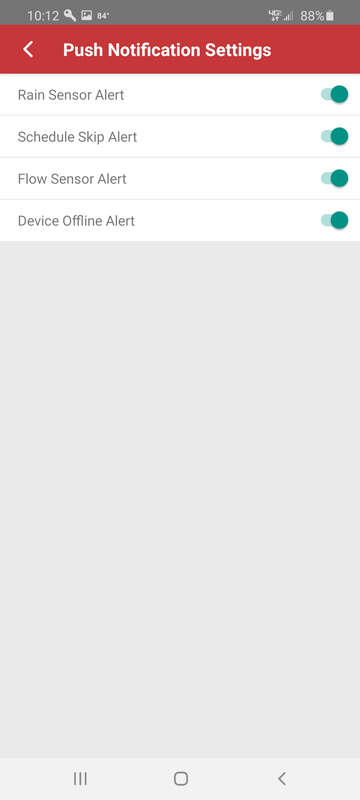 Running zones manually is simple in the app.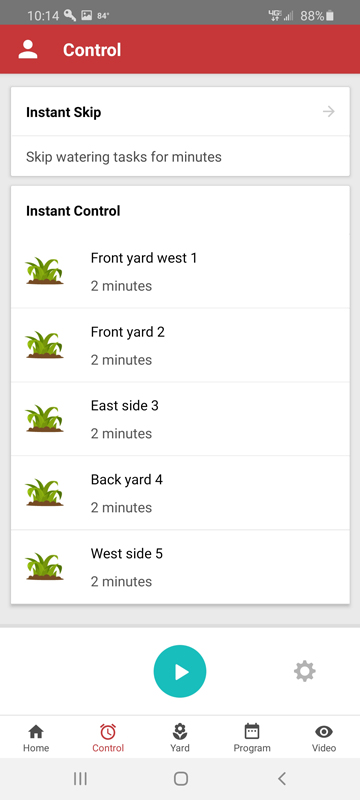 You set up each zone's time and hit run.
The big visible change with the Pro is the addition of buttons on the controller that allow you to do that without your phone.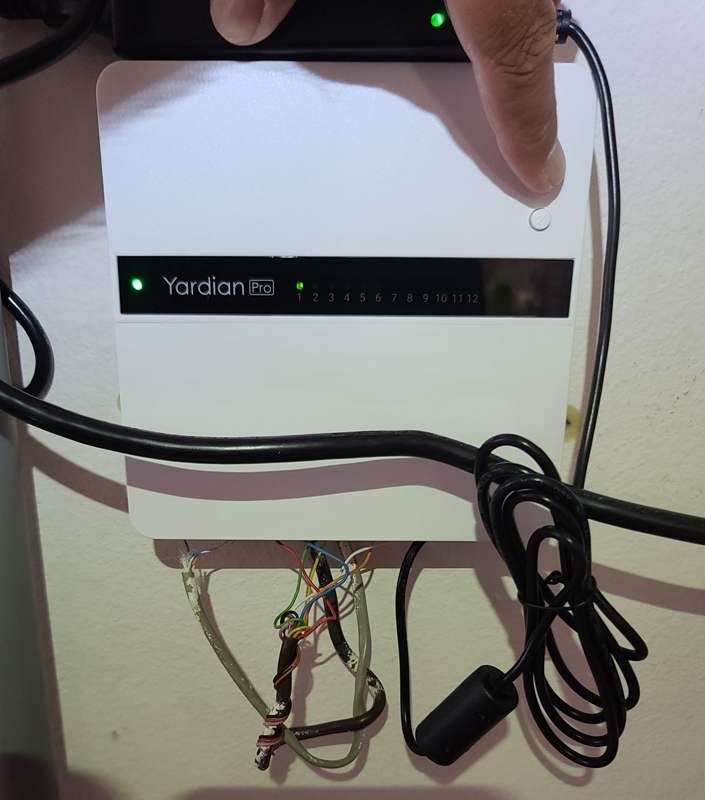 Press the zone button to select a zone.

Then, hold the zone button.  The LEDs turn red to indicate minutes.  Press it to change the number of minutes.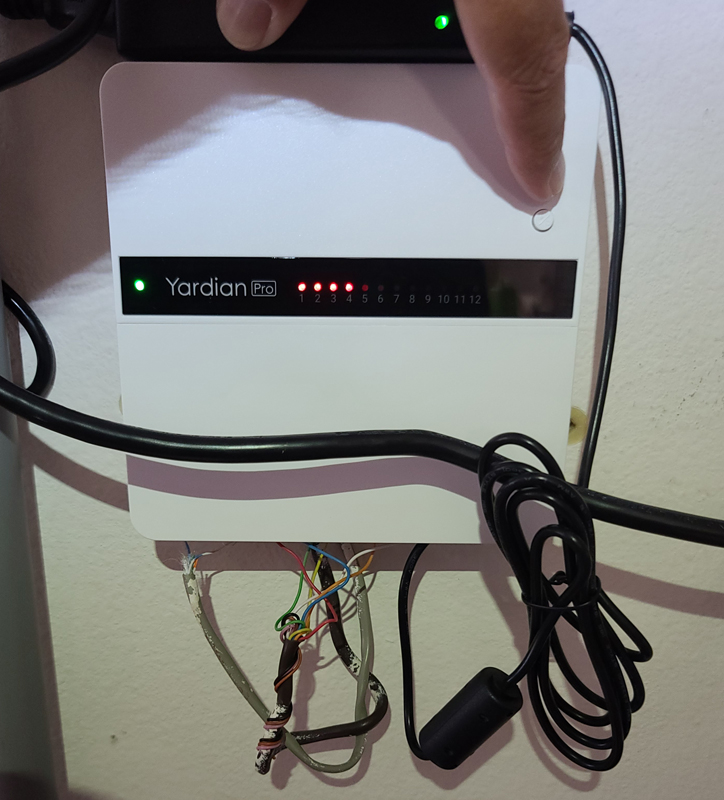 Press the run/stop button to start watering.  It does come in handy if you need to run a zone and your phone is inside.
Since the weather gathering and watering logic remains the same as the original Yardian, the Pro's performance should be identical.
The Pro also eliminates the security camera function from the original Yardian.  I was never impressed with that feature in the first place, so as far as I'm concerned, that is no loss at all.
As an upgraded user, rather than a new user, my setup couldn't have been more simple as all my zone setup and programming remained intact.  That was a nice touch.
One thing I can note about Yardian – they are constantly improving the product.  I've received several firmware updates and software updates over the past 15 months.  They added the ability to support a master valve for sprinkler systems that use that feature.  They improved the acquisition of weather stations over that time as well.  I will also note that their customer support has been outstanding.  Whenever I had a question, they responded in less than 24 hours and were very helpful, professional, and polite every time.
What I like
Improved Wi-Fi pairing
Addition of manual buttons on the controller
Continuous app and feature improvement
Great customer support
What I'd change
Make it slightly larger with more room to hide the wires
While it adds 100V-240V support, I'm not a fan of the new power connection as the power brick must be dealt with in the installation, where the old Yardian just had a power plug
Final thoughts
One of the big improvements in the Yardian Pro over the Yardian is the improvement in the Wi-Fi module.  I didn't realize many benefits from that as I have a very strong Wi-Fi signal where I have the Pro installed.  But, for someone that has their sprinkler controller installed some distance from their Wi-Fi router, this could be a huge product differentiator.
Their app remains solid and feature-rich.  Over the last year, they have made it better with new features and stability improvements. I expect that trend to continue.
So, is it bigger, better, faster, stronger?
Bigger – no. It is physically smaller. Unless you consider the power cord and brick that is bigger.
Better – yes and no. Since the functionality is all in the app, nothing has changed. But, the addition of physical buttons is a definite improvement.
Faster – yes, in terms of setup.  The Wi-Fi onboarded is much faster.
Stronger – yes.  The Wi-Fi radio in improved and will help folks with a weak signal.
Overall, the Pro is a nice update to the original Yardian.  The app remains terrific.  With the Pro's improved Wi-Fi setup and connectivity, plus the addition of a hard-wired Ethernet connection, you should be able to get a good signal regardless of your situation.  With over-the-air updates and a USB port for future upgrades, it should be relatively future-proof.  I can recommend the Yardian Pro as a great, full-featured smart sprinkler controller.
Price: $149.99 (8 zone), $169.99 (12 zone)
Where to buy: Direct from Yardian and Amazon
Source: The sample of this product was provided by Aeon Matrix.