We use affiliate links. If you buy something through the links on this page, we may earn a commission at no cost to you. Learn more.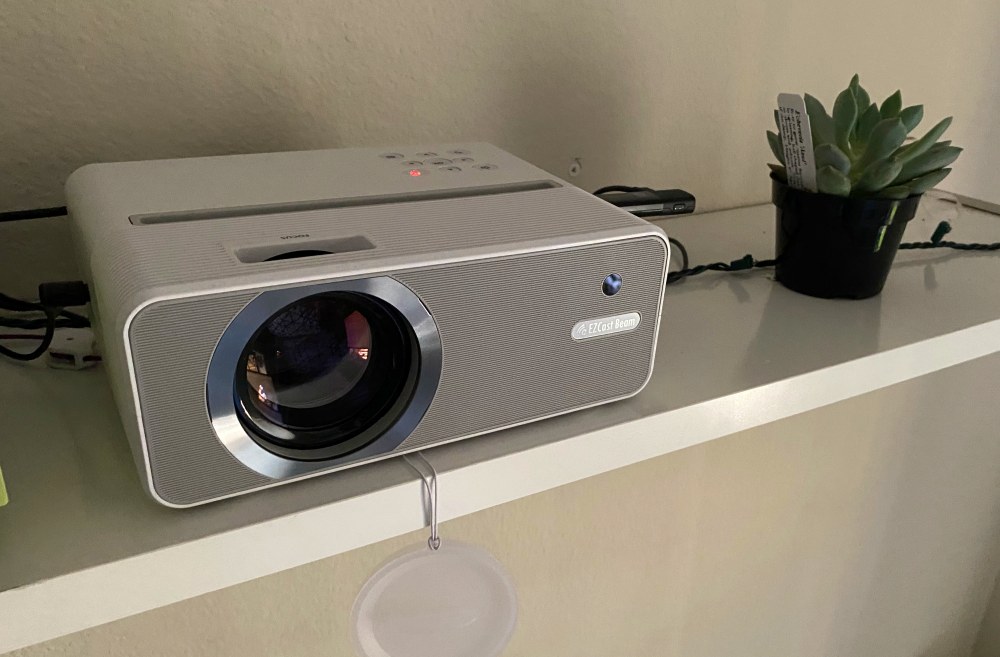 REVIEW – Projectors have always seemed magical to me. Maybe it's the size of the image, or hanging the bedsheet at a sleepover for a late night viewing. Classrooms were always set up to cover windows and dim the lights, whereas getting a projector set up at home always tended to bring out the flaws in your plan. Technology has come a long way and projectors have gotten smaller. EZCast has a new model called Beam V3. Could this be one that rekindles that magic I remember?
What is it?
The Beam V3 is a wifi-enabled projector designed to work with a variety of sources supporting ceiling and even portrait projection all within a reasonable budget. (Update: I had previously mentioned this was a short throw projector and have been corrected. The projection ratio is 1.5:1 meaning for every 1 foot of image width, the projector needs a distance of 1.5 feet.)
What's in the box?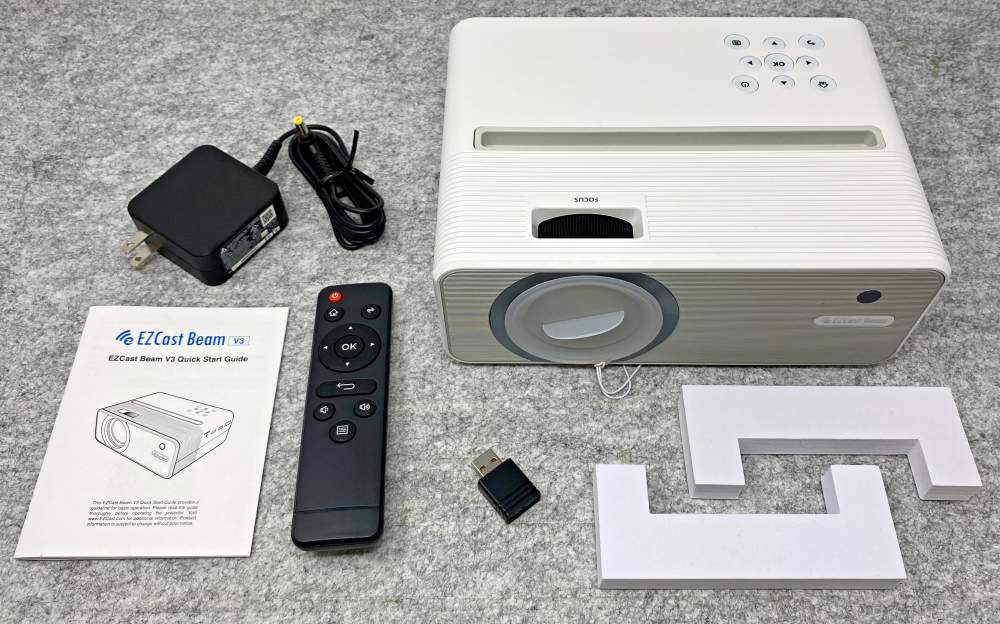 Beam V3 Projector
Power adapter
Remote control
USB Wifi adapter
Instruction manual
Foam stands
Hardware specs
Projection Info: LCD technology w/ 200 lumens, 1000:1 contrast
I/O: Input – 1080p | Output – 1280×720
Throw: 1.5-2m (1.5:1 ratio)
Focus: Manual only
Screen size: 32-176″ 16:9 aspect ratio
Physical Inputs: USB 2.0, HDMI, MicroSD
Wifi: Included 2.4/5G USB Wifi adapter
Audio: 5w Speaker, 3.5mm audio out jack, BT 4.1
Dimensions: 230 x 169 x 90mm | 1200g
Design and features
The Beam V3 from EZCast has the look of a traditional projector with a large lens and a corresponding massive lens cap for keeping dust off when not in use.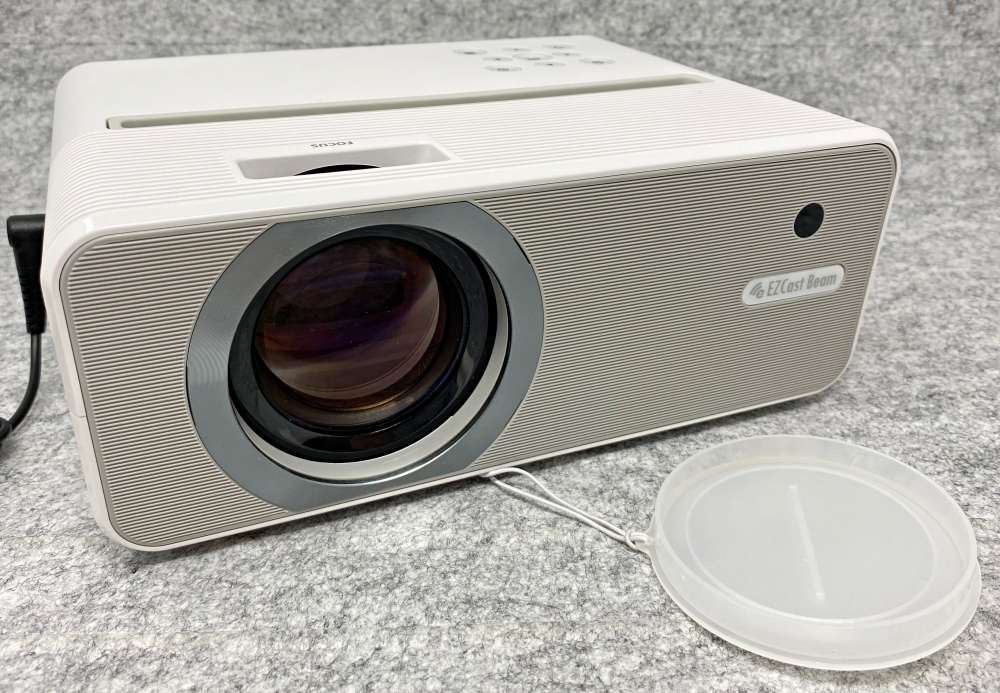 The lens is focused manually which I appreciate to really be able to dial it in.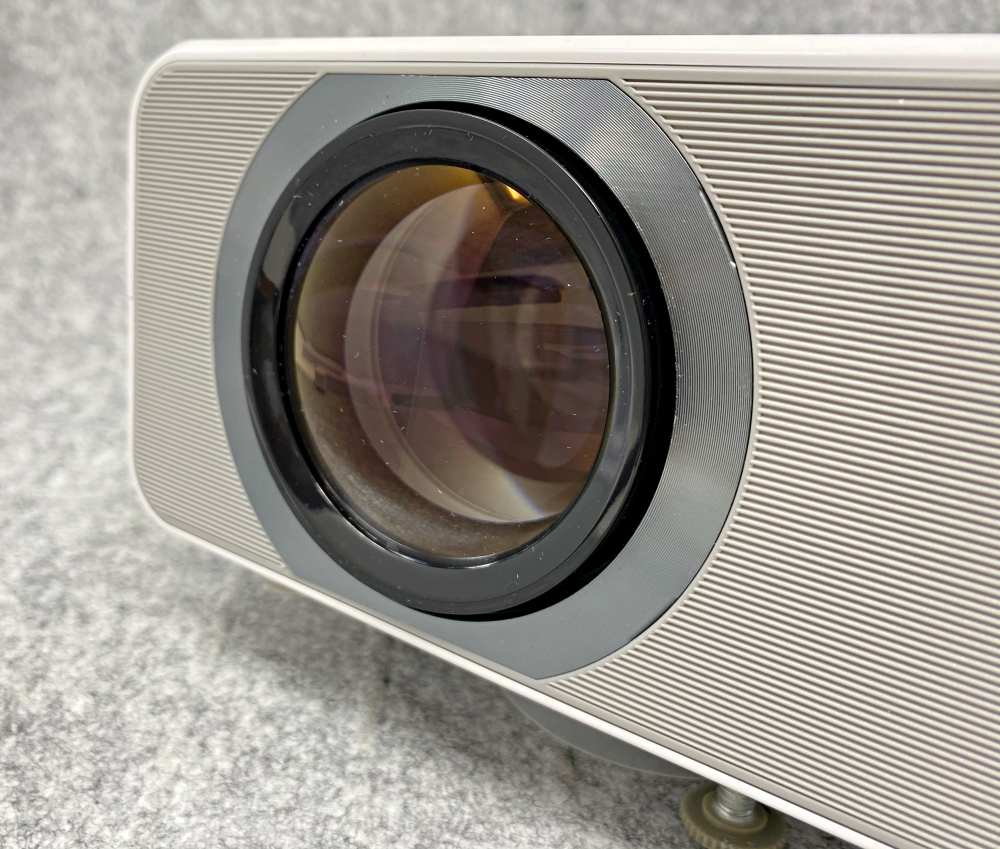 From the top view you can see all the manual controls for powering on, navigation, and focusing the image. You can also see the full width slot, which is useful for phones and tablets you may want to connect with a USB cable.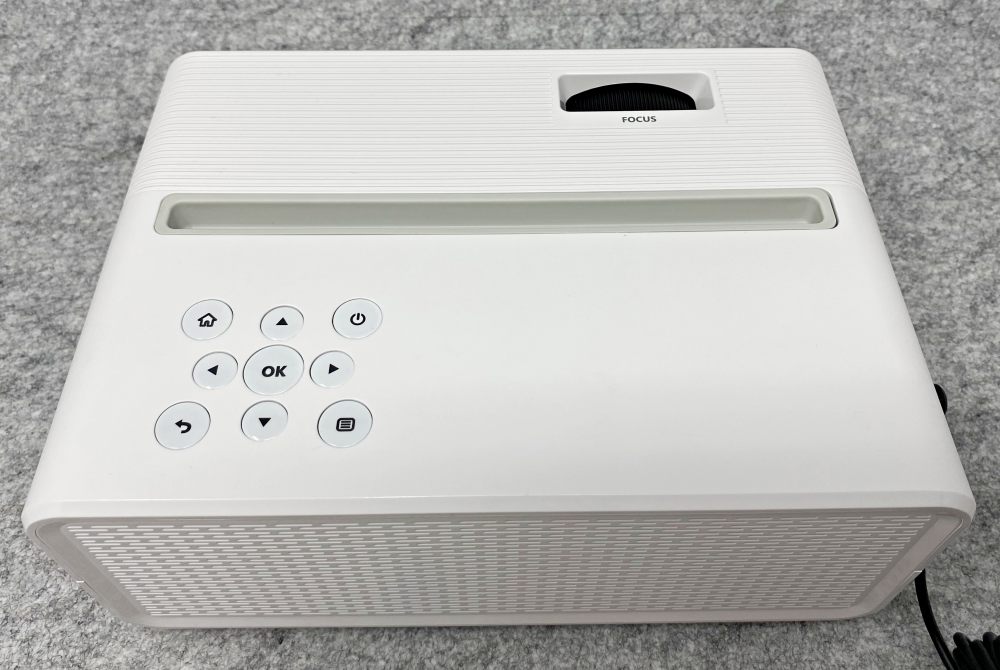 Here's what an older full size iPad looks like in a vertical orientation (Note that it will not fit in landscape mode, but an iPad mini would).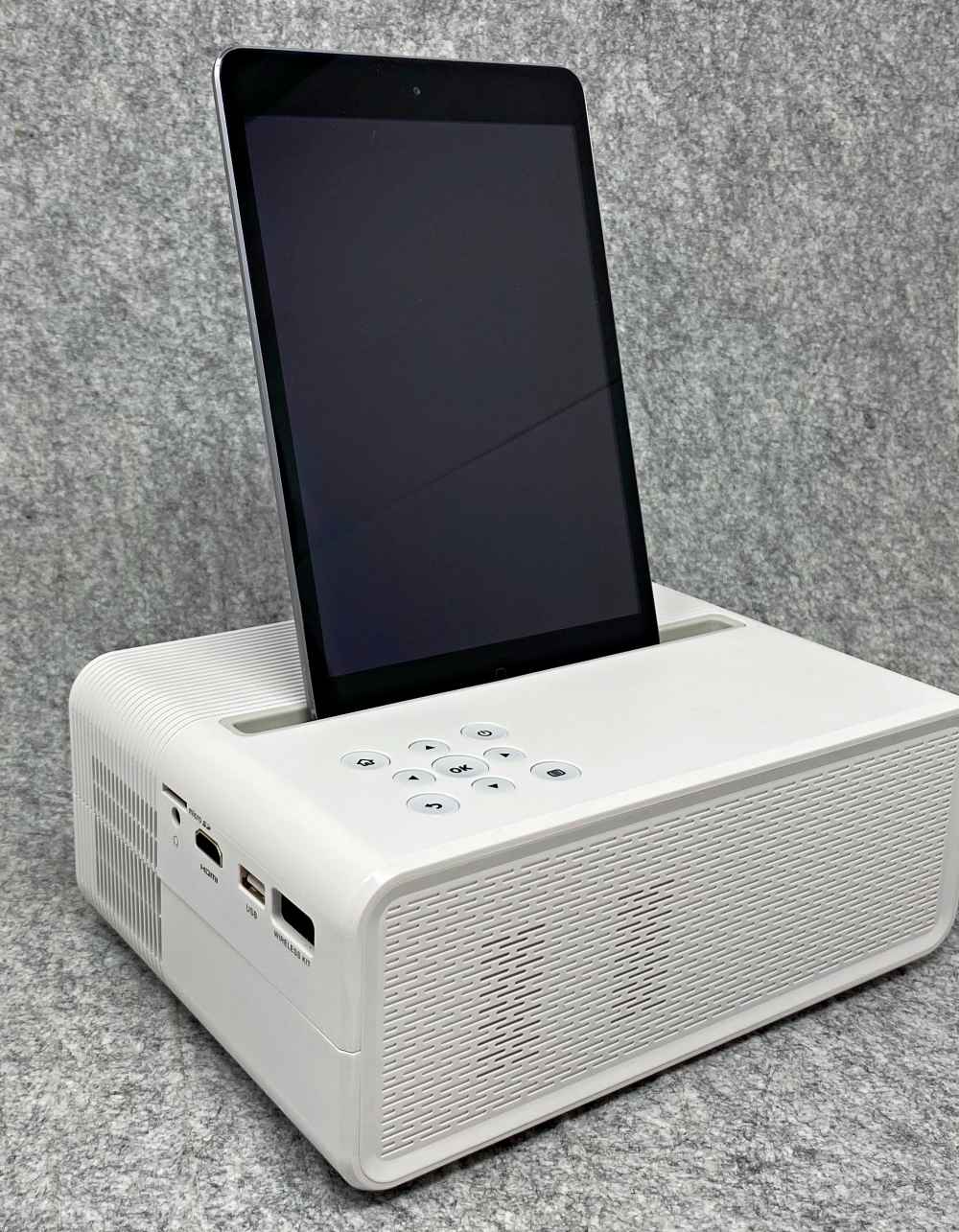 On the bottom there are four rubber feet if you're lucky enough to be able to tilt the platform you set the projector on. Otherwise there's the manual screw foot to lift up the front. You'll also spot a circular vent and all the certification markings.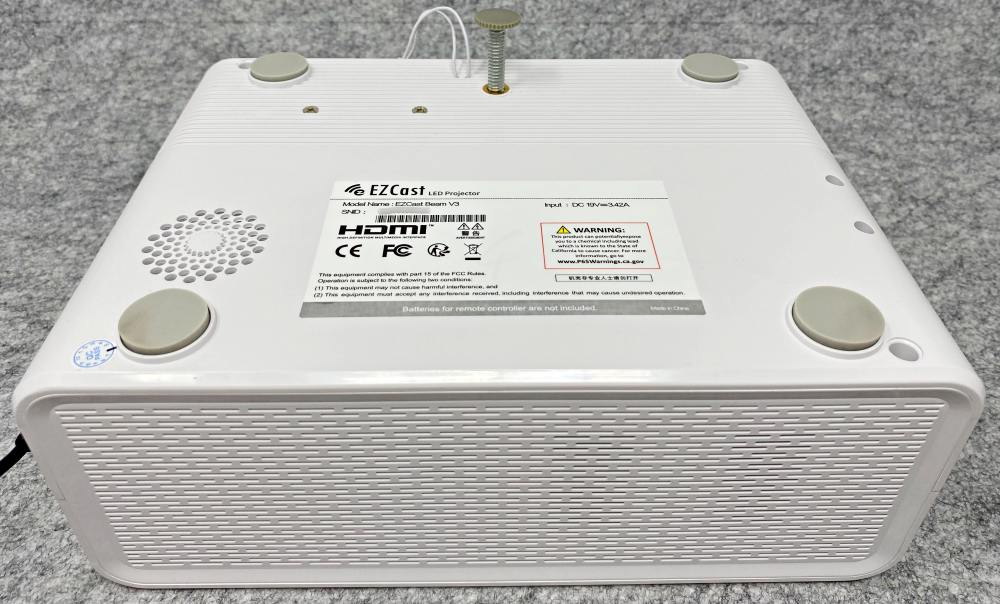 This is the included Wifi adapter.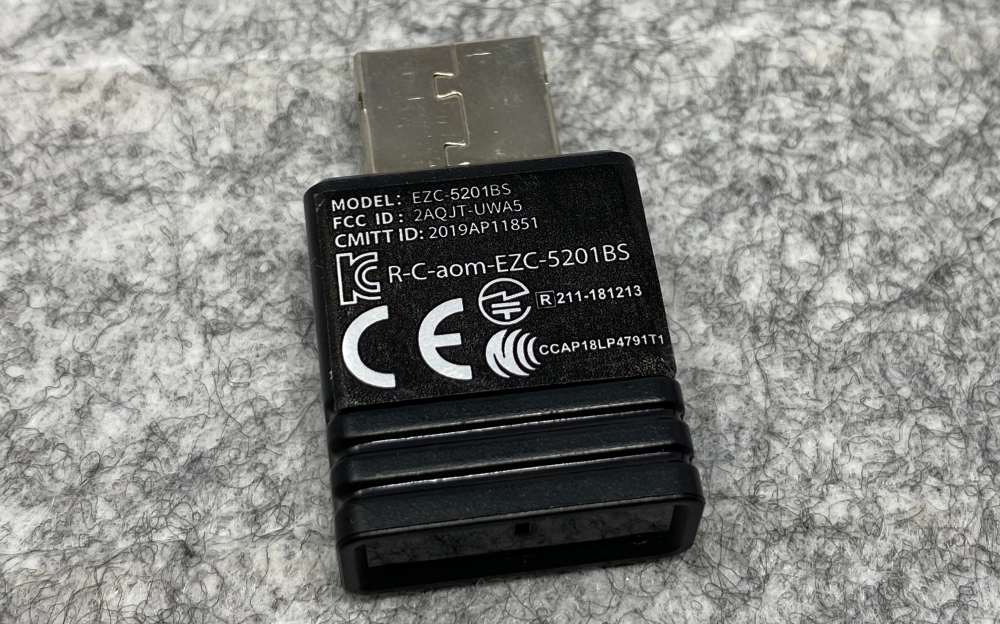 It gets inserted into this back port, where it almost completely disappears.

If you were wondering what the tetris-looking foam stands were in the unboxing photo, well here's your answer. They are used to place the projector into a ceiling mode and allow for ventilation under the unit).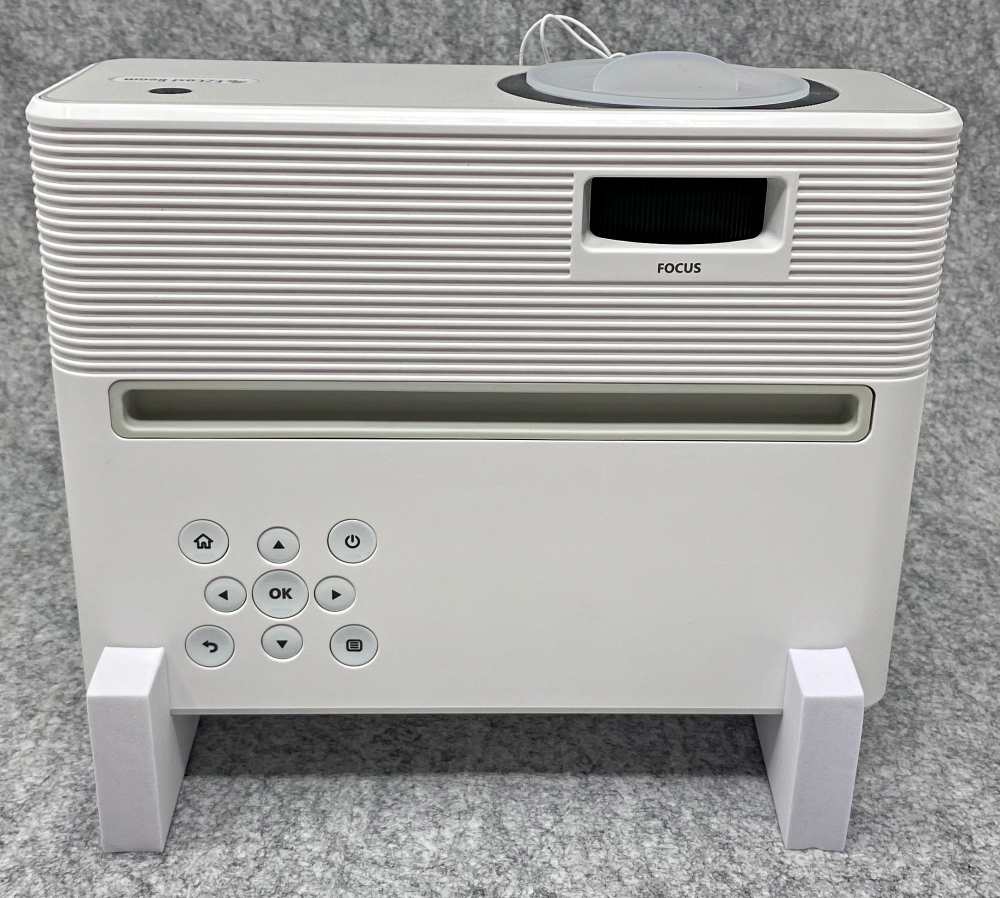 Or in portrait mode for all that vertical video content you may have that I'll refrain from commenting on.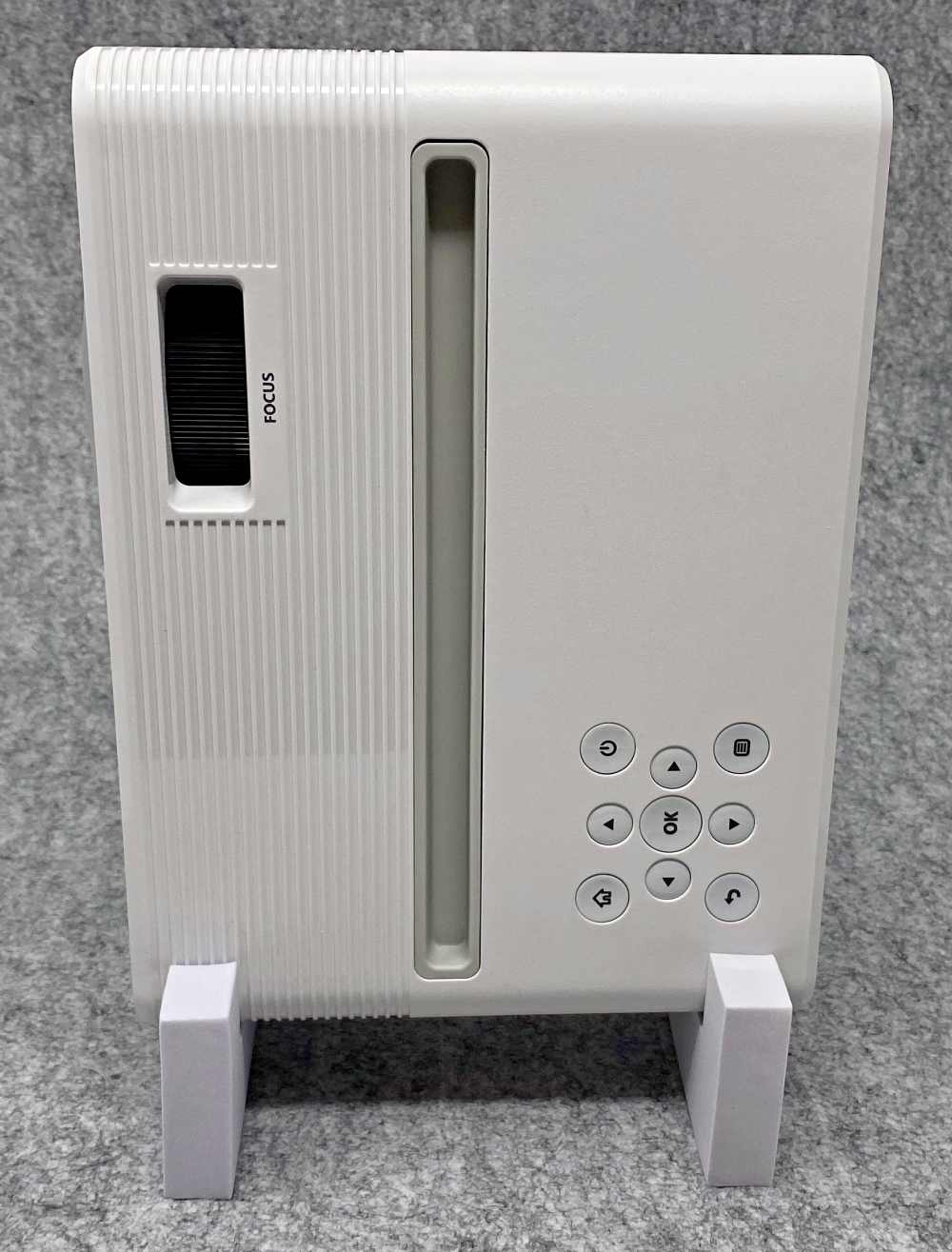 There is of course a handy remote so you can never touch the controls on the top of the projector again.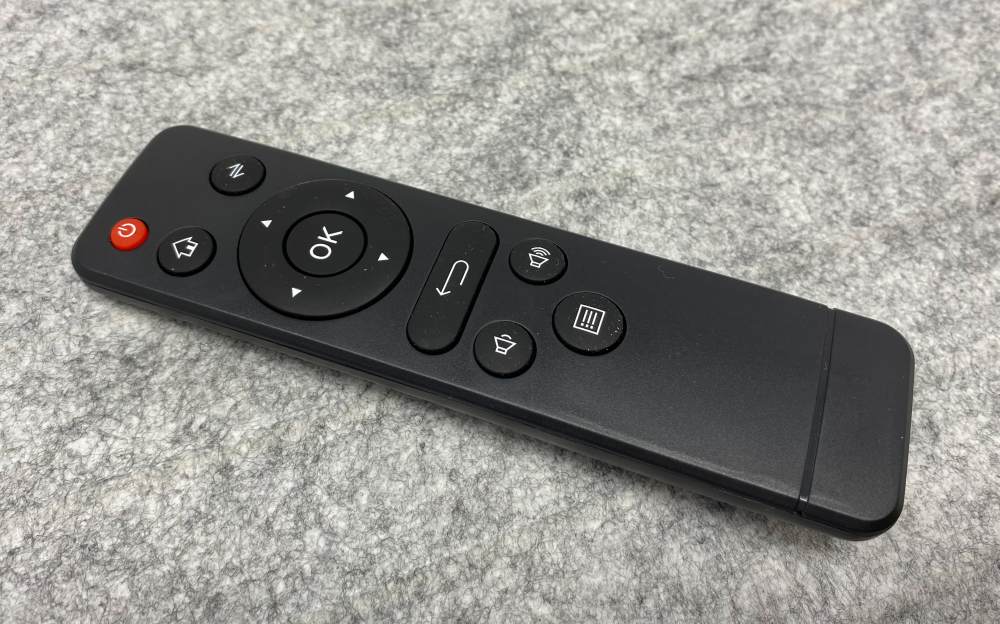 Setup
When it comes to setting up a projector, every situation is going to need some tweaking. Unless you are replacing an existing projector, you're going to want to experiment because there are a lot of variables to consider.
We set the Beam V3 up in a small bedroom where we needed a pretty short throw of less than 8 feet. The projector sits on a shelf a little over 5′ off the ground and projects onto the opposite wall. We recently added a motorize drop screen for a more reflective background and to allow for art on the wall when not projecting.
The set up steps are as you would expect.
Place the projector
Connect the power adapter
Connect any additional input sources

The Wifi adapter (if desired, and enter your wifi info)
Roku Stick+ (in our case)

Power on
Adjust image settings
This is what the projection looks like after adjusting for distance, size, focus, keystone and color settings. For us it was helpful to jump into Netflix and get a movie on the screen to adjust for color as all the adjustment screens are pretty monotone. Speed Racer is a great movie for that as far as insane color composition.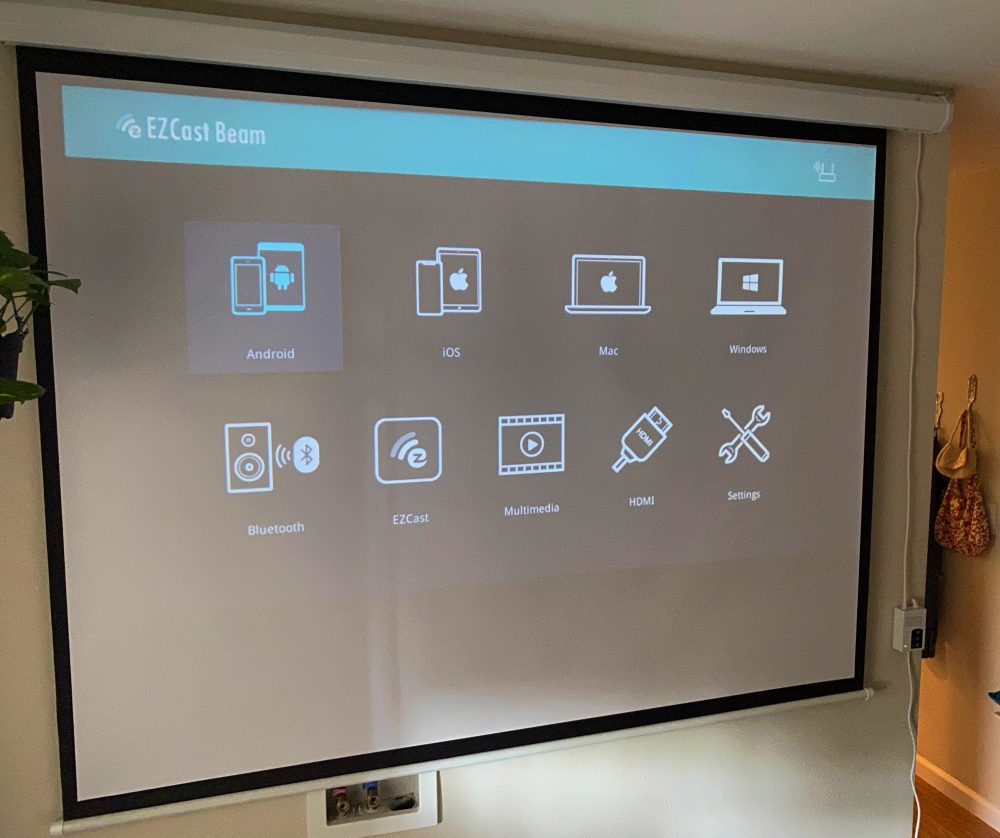 As you can see above there are menu options for selecting the settings and which source you want to use. For a visual reference, this next shot shows the one window of the room (shade half drawn) directly to the left. Photo was taken around 3:30pm in the afternoon on a pretty bright day.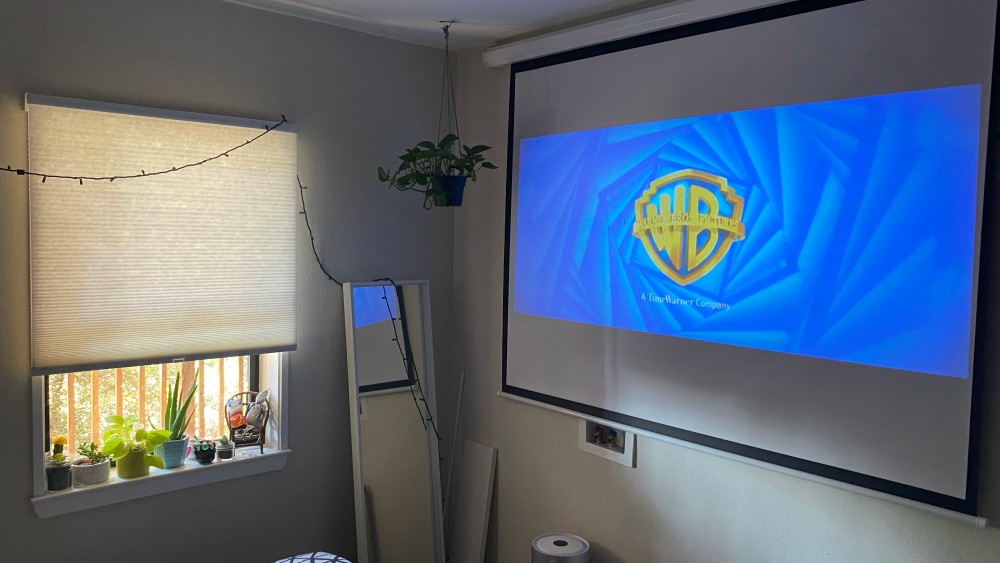 Performance
As you might have guessed we had already been using a projector in that room. The short distance between the walls had resulted in not being able to get the image as small as we wanted and the focus was almost right, but not quite.
Out of the gate the Beam V3 was really easy to set up, and adjust for a perfect fit including the throw and focus. The only tweak (due to the height of the shelf it's resting on) is we had to slightly lift the back of the projector to aim it down further.
The built in speaker goes plenty loud, but you'll likely want some more depth not to mention audio separation because it's a single speaker. We used an aux cable and connected it to a sweet old school Speck speaker built for 30-pin connector iPods.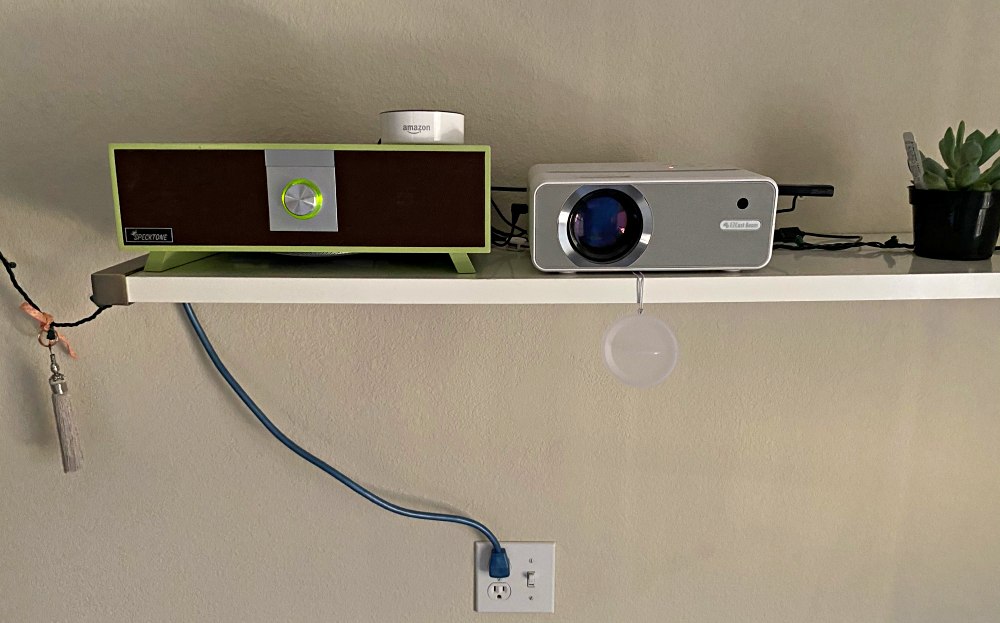 That improved the sound right away, but if you're used to your sound coming from the same direction as your image, having the sound behind you can be weird to get used to.
There's a Bluetooth audio icon on the settings page that got me excited to be able to connect the projector to a bluetooth speaker. That was short lived excitement as the feature allows you to connect a phone and play audio through the projector's speaker or aux-connected speaker. In fact, it automatically kills the projected image. Bluetooth to a speaker would have been a great addition.
Selecting either HDMI or USB from the inputs works as you would expect. Choosing from Android, iOS, Mac or Windows prompts you to connect to the EZCast through wifi for mirroring your display.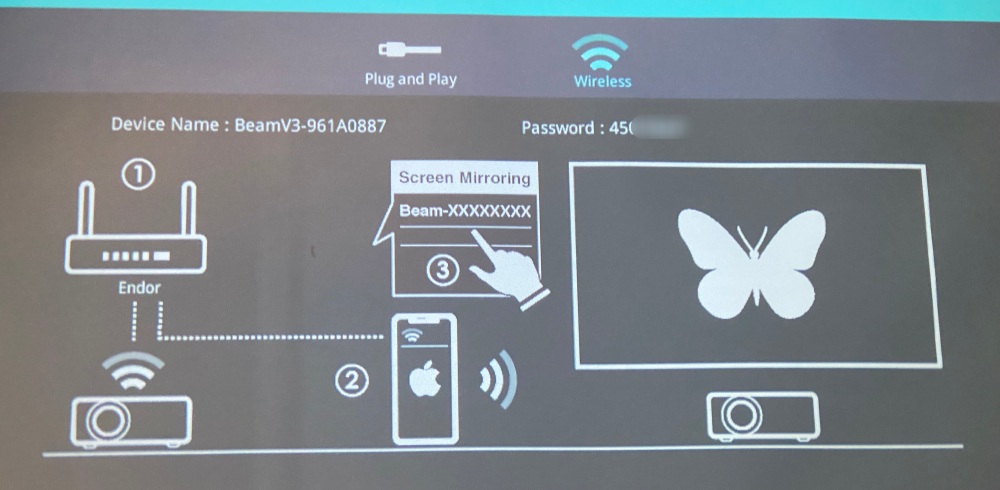 I'm not sure where the data throughput falls short in mirroring mode from my iPhone, but I could not get video to stream without stuttering. It did work great for browsing photos though.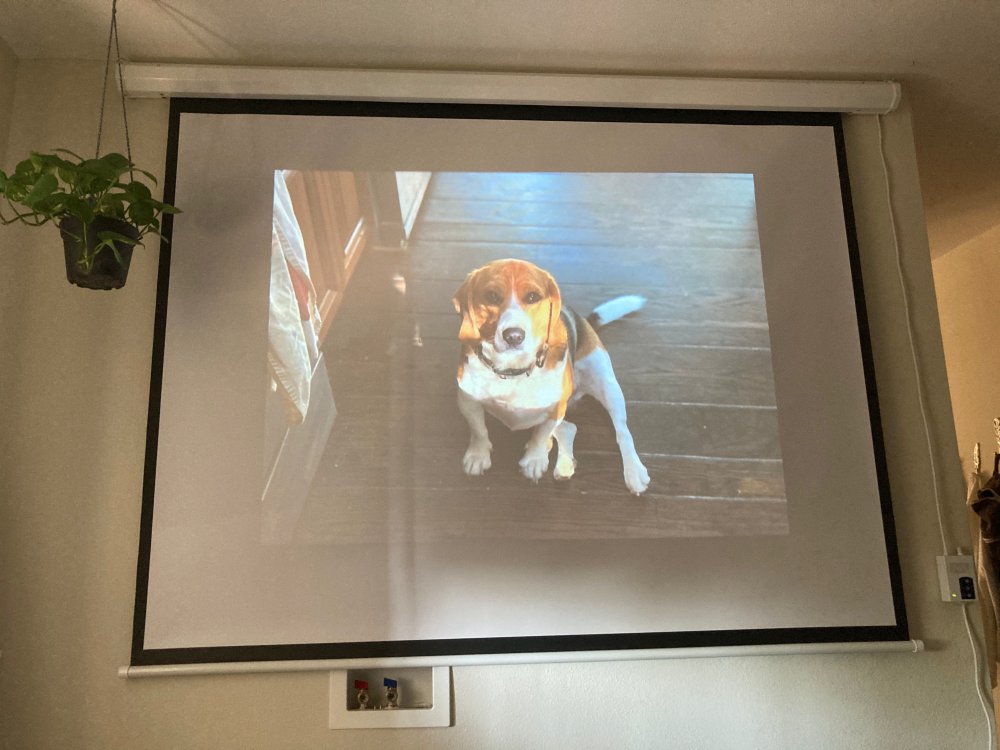 Selecting EZCast gives you the following screen with a QR code to download the Line Cast app for iOS. I stopped right there. On my Mac, the web's link told me it could not be downloaded securely so I abandoned that attempt as well.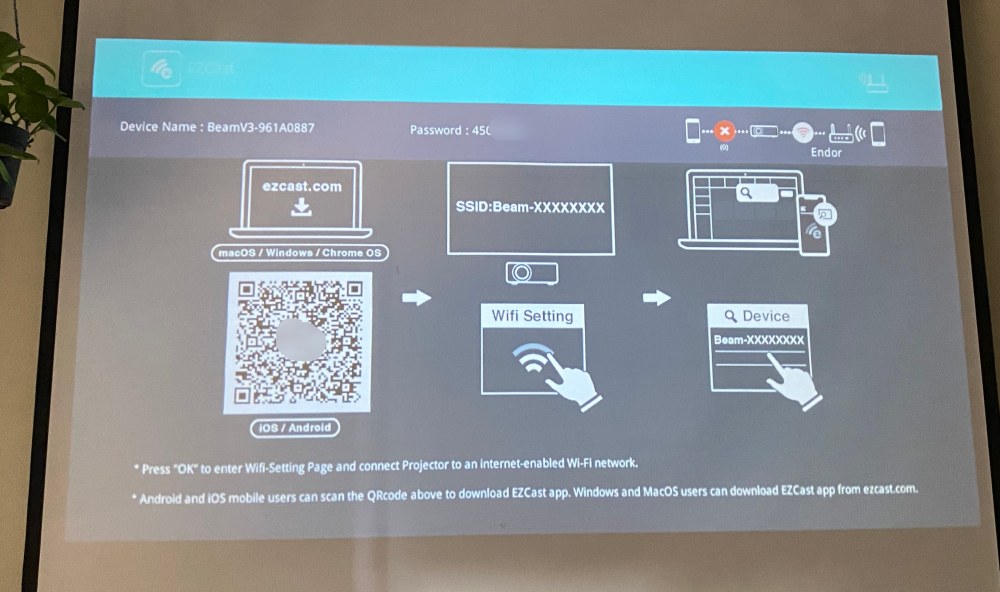 I can mirror my screen with their other input options already, and have a Roku connected to the projector and both Airplay and even Chromecast should I need it. I don't want yet another app with permissions to monitor what we watch.
So what about portrait mode? Well I busted out the foam stands that feel like those pedicure toe separators and set the projector in vertical mode.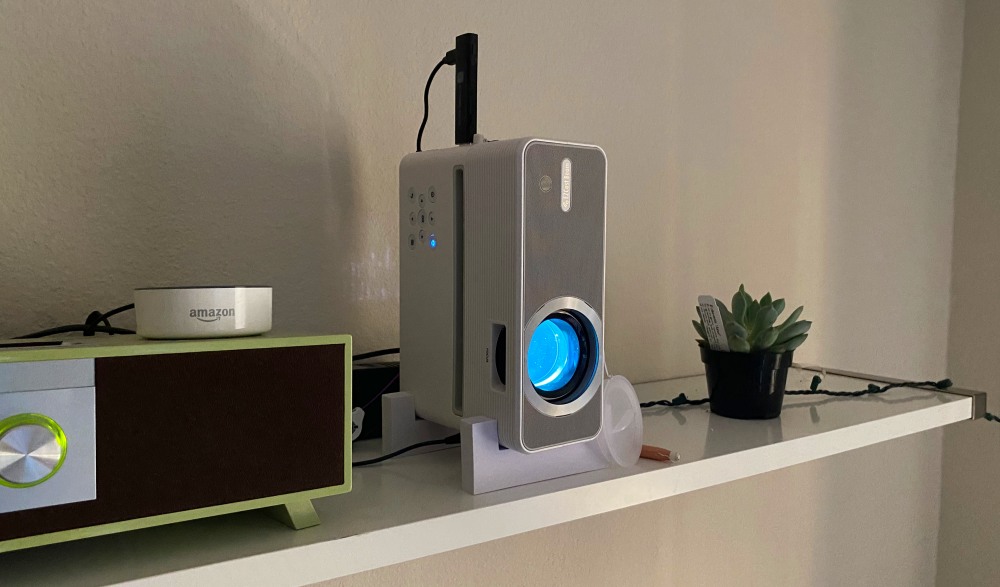 It turns out, you can't do it in this orientation. The big lens should be sitting on the top. The image settings will not even let you flip the image to make it work. That makes sense, but I'd need to find the HDMI extension cable to keep the Roku connected. Regardless, once flipped around, here's the result.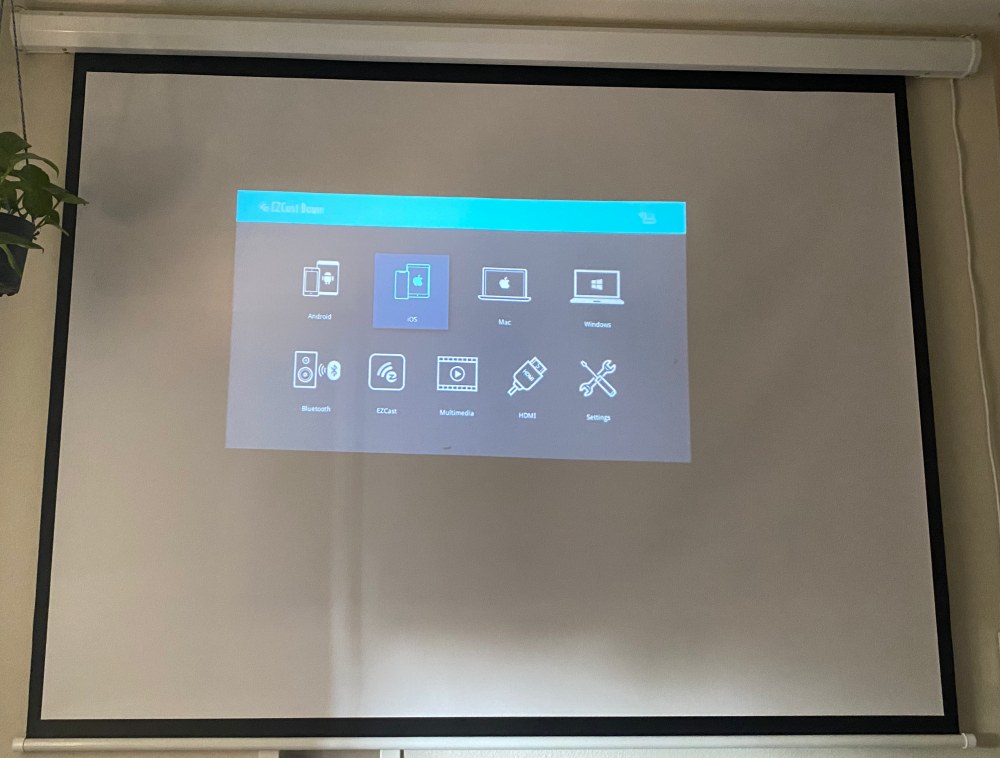 That tiny image is the biggest it will go without moving the projector further away from the screen (which can't happen in our room). Also, as soon as you activate portrait mode in the settings, all keystone and orientation controls get greyed out. I can't see why you would want this orientation to begin with, let alone when all image control is removed.
However, the Beam V3 also works in ceiling mode which works like a charm and is a very real scenario. Grab your pillows…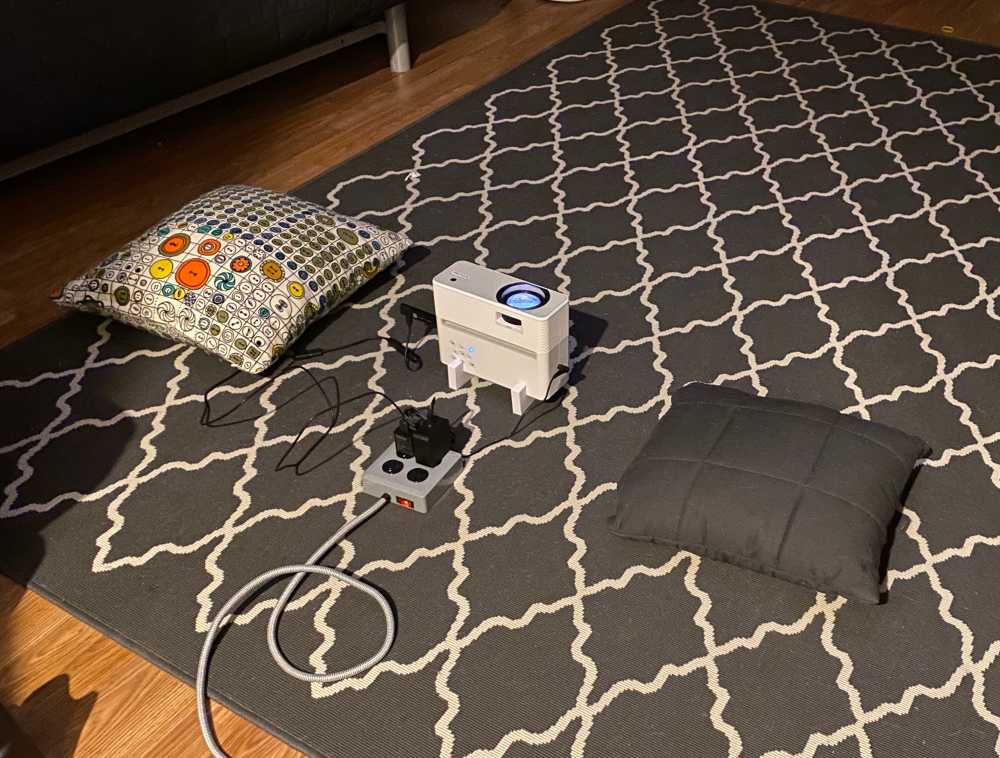 Looks like this with a hall light on.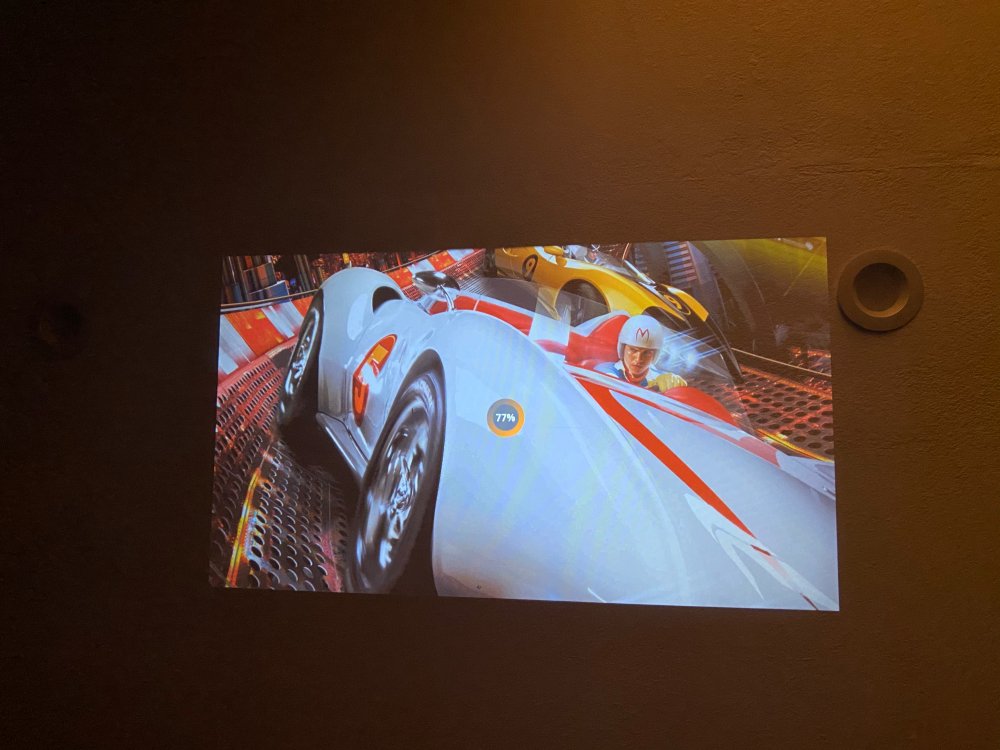 And with the lights out it really shines.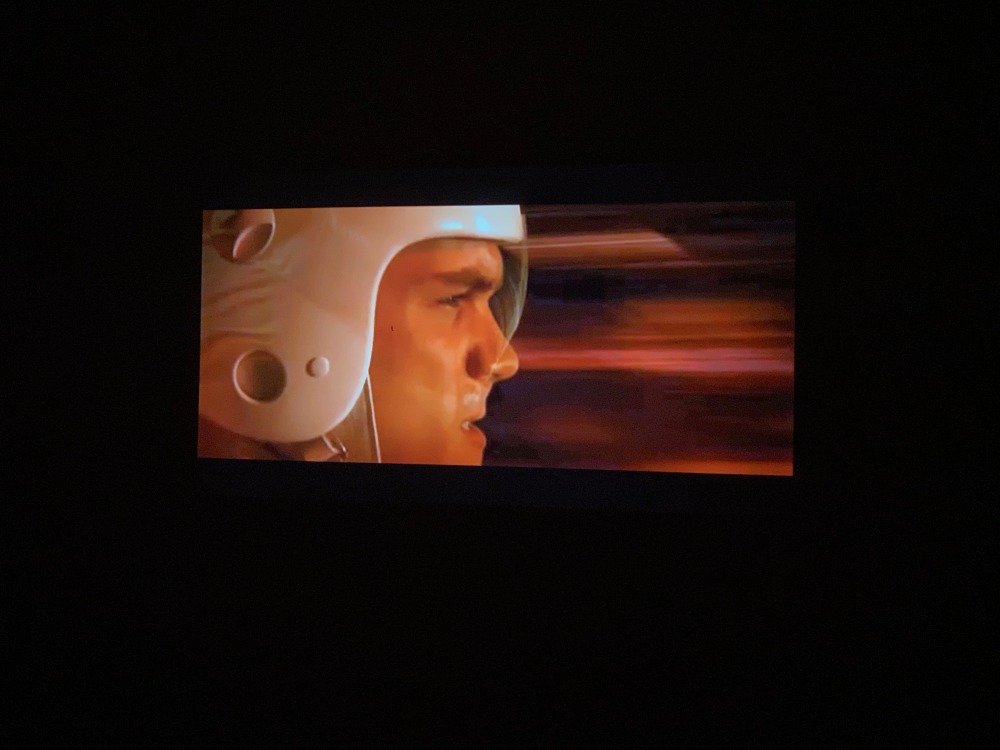 For comparison, here's a shot from roughly 3:30 in the afternoon. Pretty darn watchable.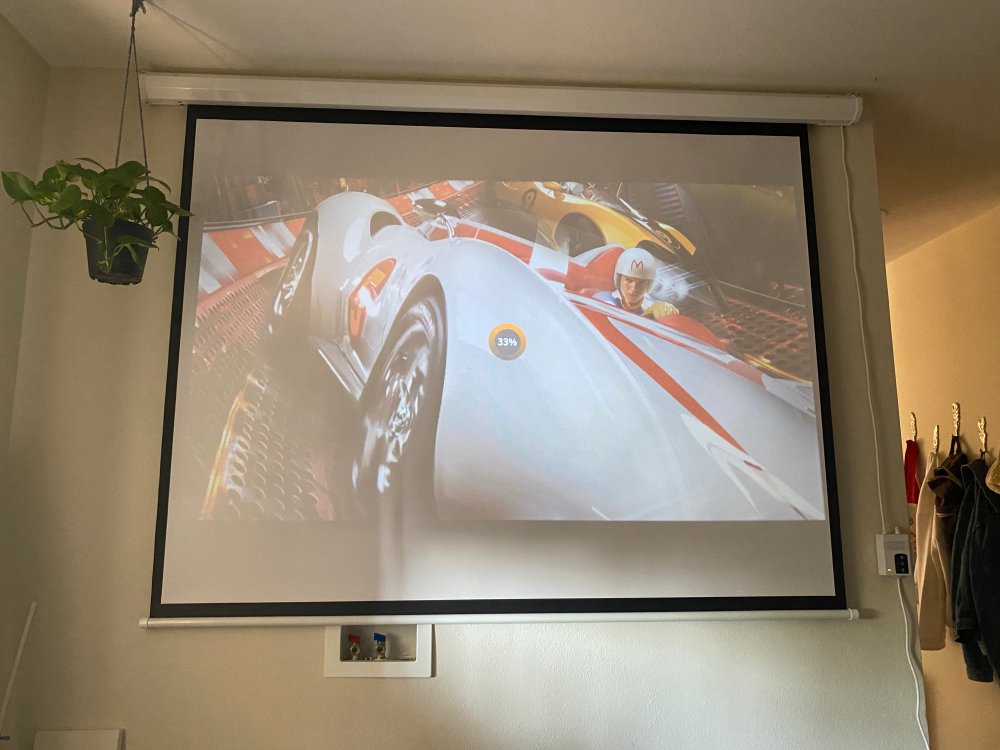 And then the same image at 9pm when it's obviously a lot darker.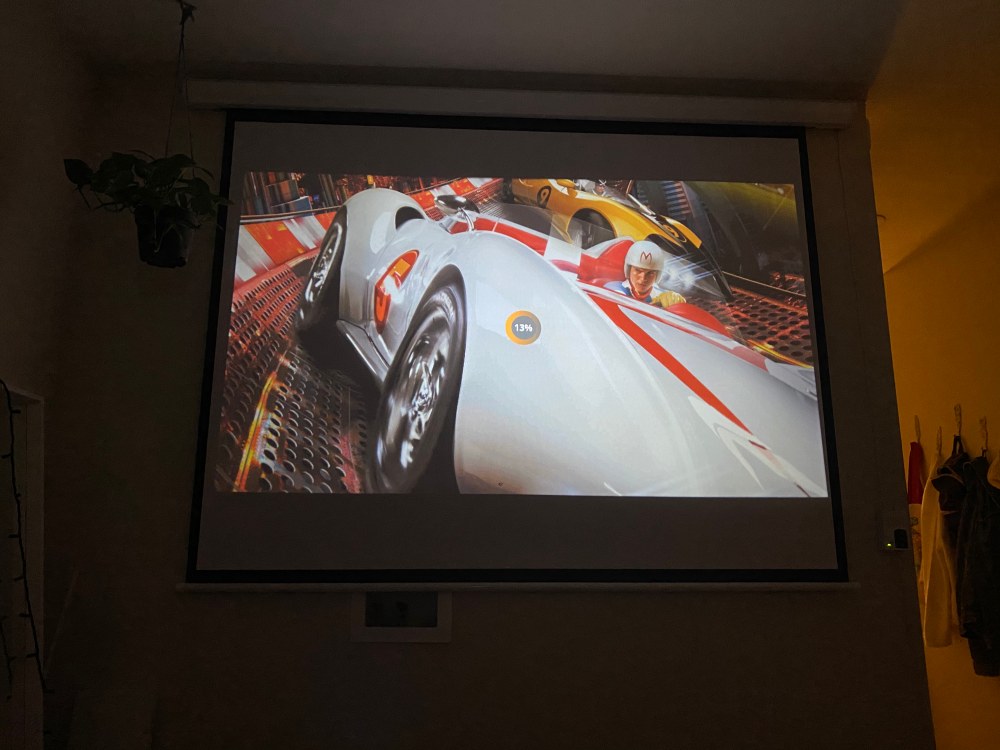 Lastly, here's a quick video so you can see and hear the projector in action.
Final thing to note is that we had a piece of lint or dust inside the lens that can't be polished off. With any projector, make sure you open it up plug it in and test for anything that might prompt a return before you dispose of any packaging. I'll be reaching out to EZCast soon on this issue.
What I like
Affordable projector with a great performance
1.5:1 projection ratio for small rooms (or low ceilings)
Low operation noise
What I'd change
A foot design that supports normal, ceiling and portrait modes without foam stands
I'd lose the "kitchen sink" approach of ways to connect anything you can think of
Portrait mode feels like a last minute gimmick, with no image adjustment
Final thoughts
I'm going to choose to focus on the fact that the EZCast Beam V3 is a great projector with a projection ratio that works well in small spaces. The HDMI functionality is great for a connected device like a Roku or a laptop. The speaker is plenty loud to watch a movie and it's easy to connect better speakers with the 3.5mm aux connector. There's a bunch of other features that miss the mark and lean toward gimmicks, but the core functionality is solid and being able to watch a projected screen in the middle of a sunny day or on a ceiling at night brings a bit of that magic back for me.
Price: $149.99
Where to buy: Amazon
Source: The sample of this product was provided by EZCast