We use affiliate links. If you buy something through the links on this page, we may earn a commission at no cost to you. Learn more.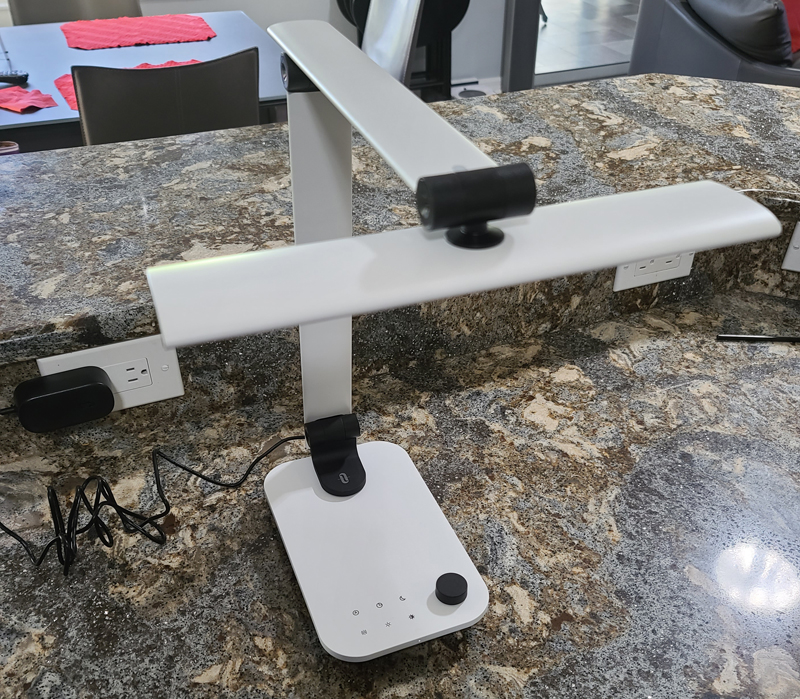 REVIEW – Desk lamps were a necessary evil for most workplaces.  Back in the day, desk lamps used either incandescent or fluorescent bulbs.  These typically produced poor quality, glare inducing, and potentially flickering light that created eye strain and could cause headaches.  With the advent of LED lighting, the quality of the light produced has improved.  TaoTronics has just released a new LED desk lamp that brings a whole lot of physical and electronic adjustability that should make this lamp appropriate for just about any desktop lighting situation.  Let's see if it is a bright idea, or if it is lights out as a solution.
What is it?
The TaoTronics TT-DL092 is a task-oriented desk lamp. It features automatic brightness control based on ambient lighting, variable brightness, variable color temperature, variable lighting direction, and significant physical adjustability.
What's in the box?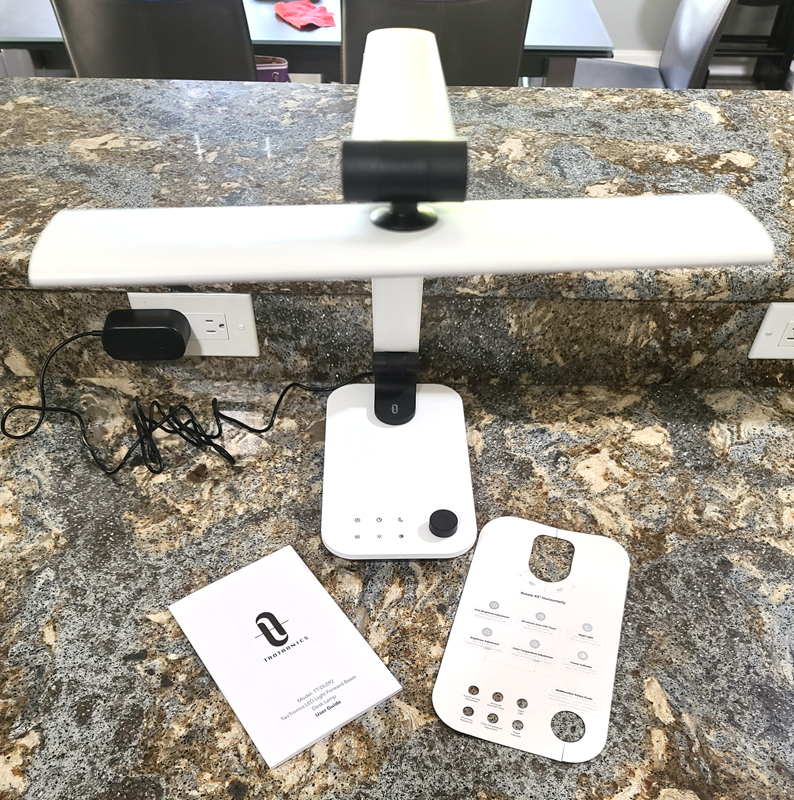 TT-DL092 LED desk lamp
Power cord
Quick reference card
User guide
Hardware specs
Operation voltage: DC 12V/2A
Input voltage: AC 100V – 240V
Power cord: 6 feet
Power (for LED panel): 12W (Max)
USB output: 5V/2.1A
LED quantity: 96
Output lumens: 950 lm
Color rendering index (CRI): ≧96 out of 100
Dimmable: Yes – 20% – 100%
Color temperature range: 2700K – 6400K
Material: Aluminum alloy + ABS + PC
Net Weight: 5.5lbs / 2.5kg
Nominal operating height at horizontal: about 15″ above desk surface, adjustable
Design and features
The lamp has a very modern design with a combination of touch and push/rotary controls.  It is finished in white aluminum with black plastic accents.
Setup
The only setup required is plugging the wall wart power puck into the wall and connecting it to the lamp.  Once powered-up, the lamp is ready to use.
Design
As I mentioned, this lamp has a clean, modern appearance.  The lamp is highly adjustable to deliver light where you need it.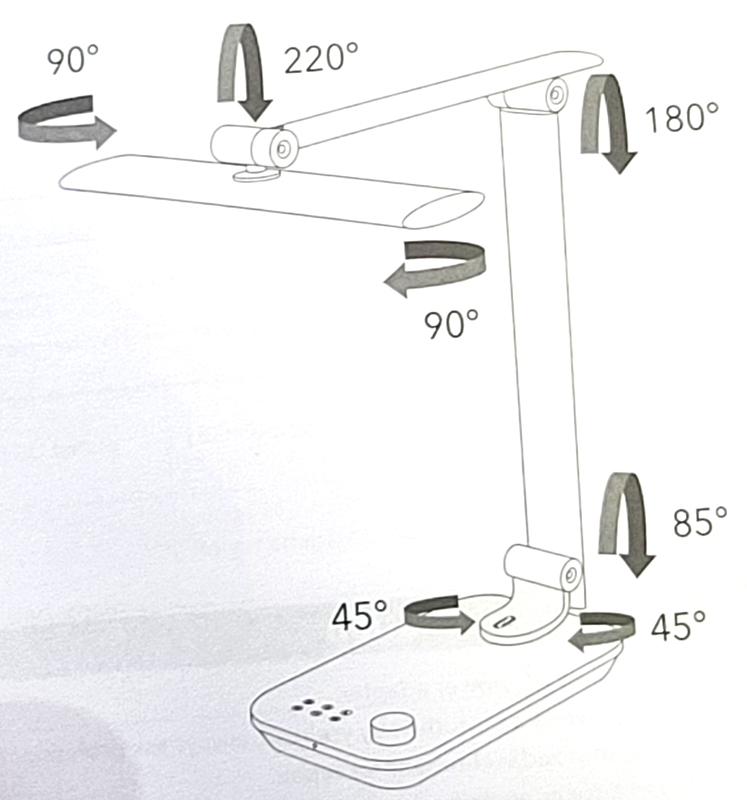 The base measures about 15.5″ x 9.25″.  The vertical arm is about 15″ long. The second arm, typically in used horizontally is about 12″ long.  The lamp head is roughly 11″ wide and 2.5″ deep. When the vertical arm is straight up and the second arm is horizontal, the lamp head is roughly 15.5 inches above the desk surface.
Above the lamp head, near the upper swivel, we find the ambient light sensor used for adjusting automatic brightness. As ambient light increases, the automatic lighting control will dim the lamp's output since the ambient lighting will sufficiently illuminate the work area.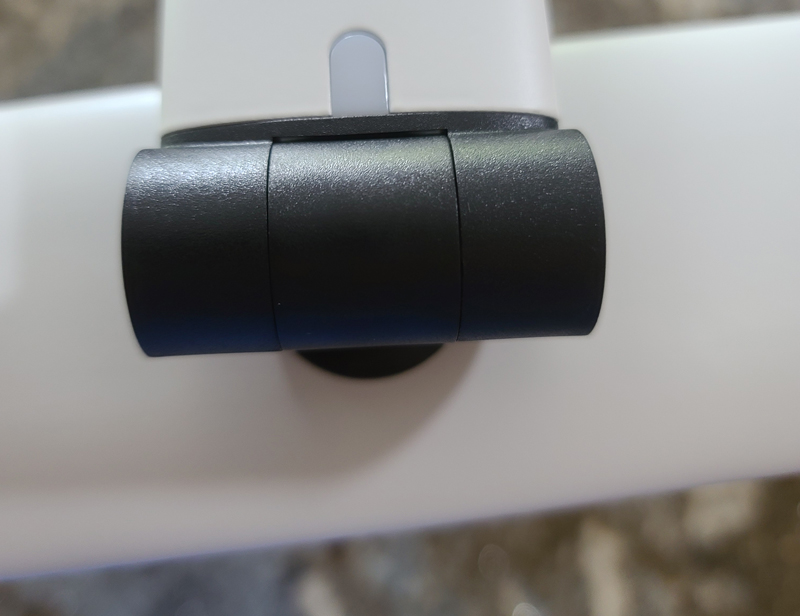 The controls are a combination of touch-sensitive pads and a rotary knob that is also a push-button on/off control.
.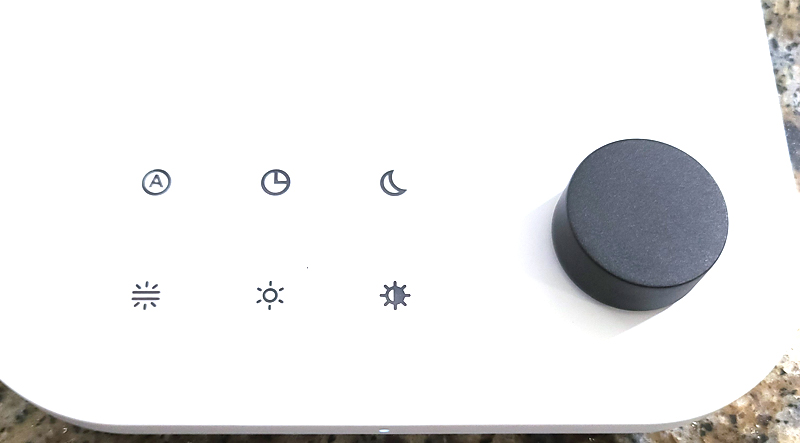 From upper left to lower right, we see:
Automatic brightness
One-hour auto-shutoff timer
Nightlight
Directional control
Brightness control
Color temperature control
When a specific control is active, it lights up.  Here, we see the nightlight mode activated.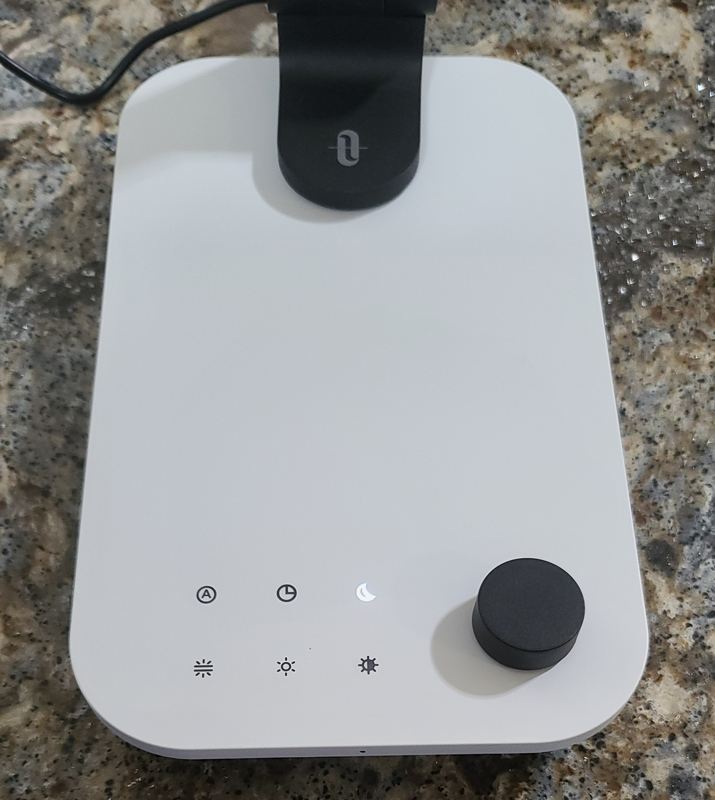 The black knob rotates to adjust brightness/color temp/light direction and pushes to turn the lamp on and off.
On the very front of the base is a small power indicator that lights when the lamp has power but is turned off.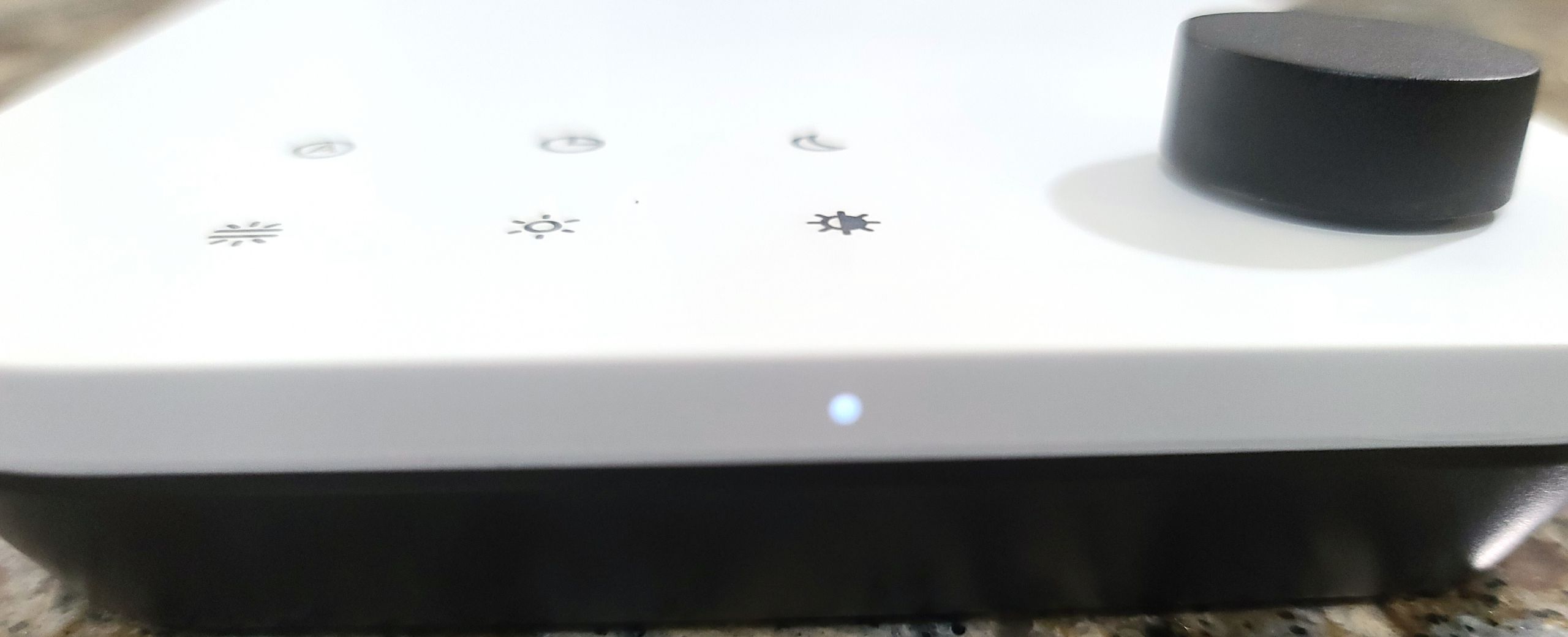 On the back, we find the power input port and a 2.1A USB-A port.

The bottom has four non-slip rubber feet.
Performance
This lamp is highly physically adjustable.
Here, we see the lamp in a typical desktop configuration.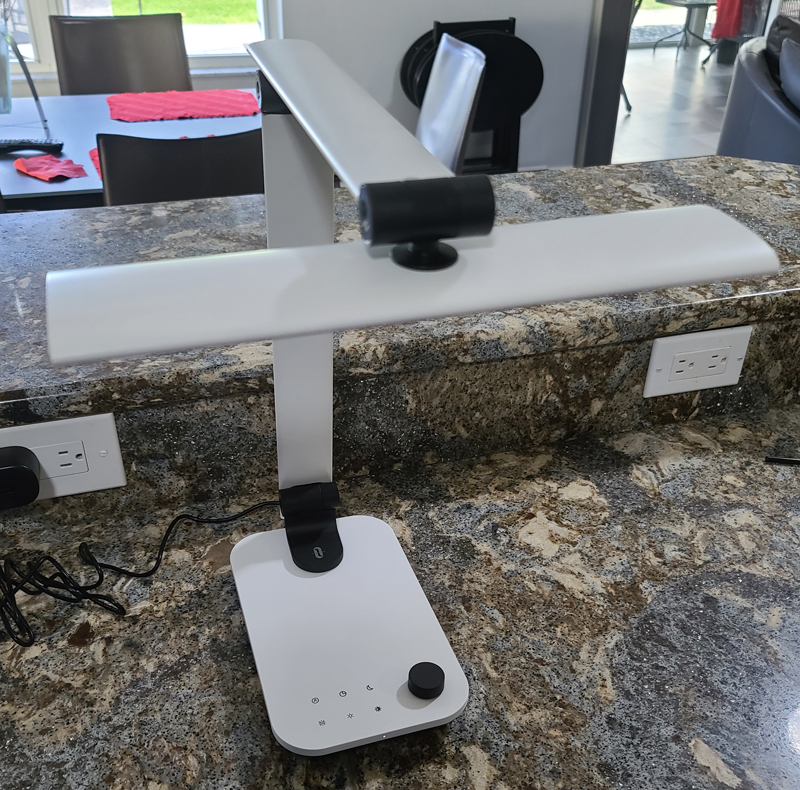 At its maximum height, it can serve to illuminate items on a wall.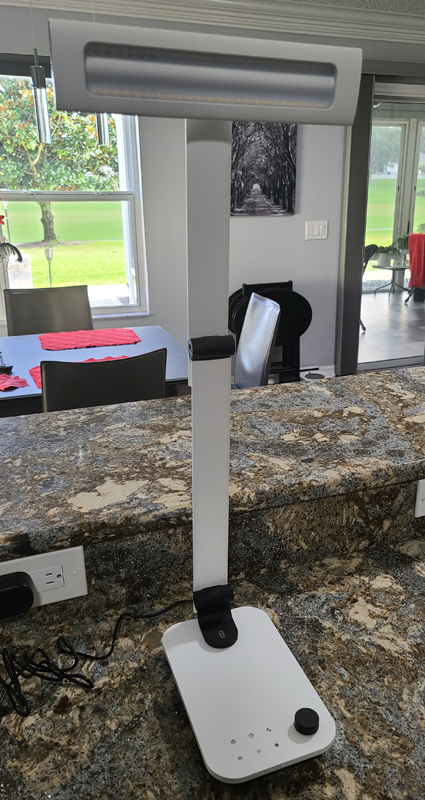 Going the other way, the lamp head is just a couple inches off the desktop.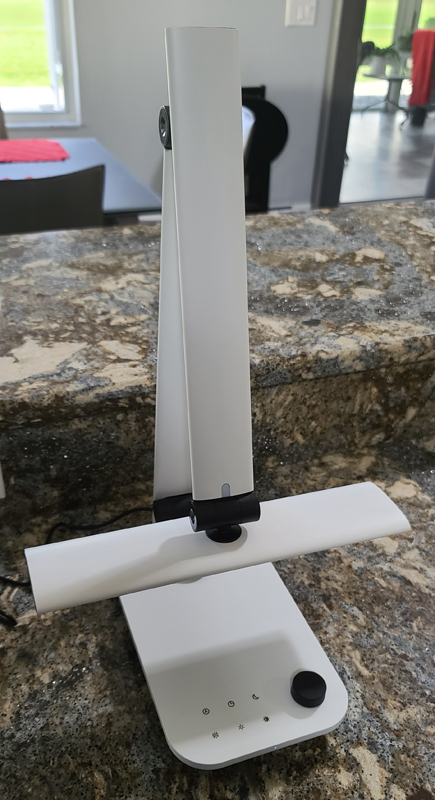 It can also be extended out and away from the base. Rotating the arm in the configuration makes the lamp a little tippy.  A heavier base would rectify this.  Sometimes, the base would slide when adjusting the arm configuration.  Again, a heavier base would help.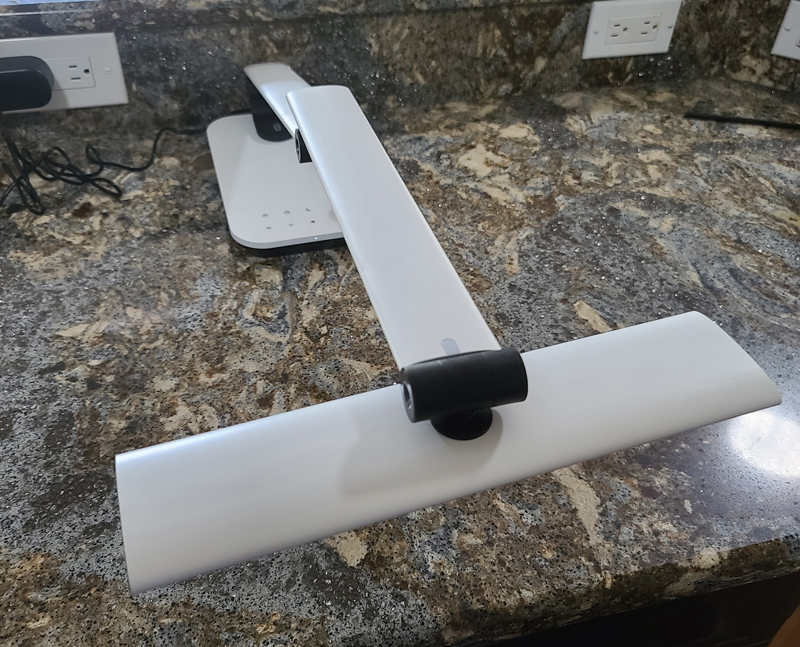 The whole arm can be adjusted 45-degrees left or right.  The head also fips up and down and rotates to the left or right.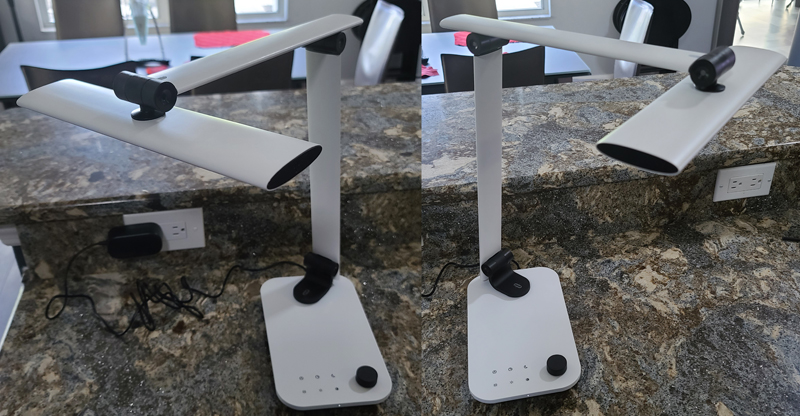 Looking at how the lamp's light adjustments work, first, here is a comparison of the lamp at 20% brightness on the left and 100% brightness on the right.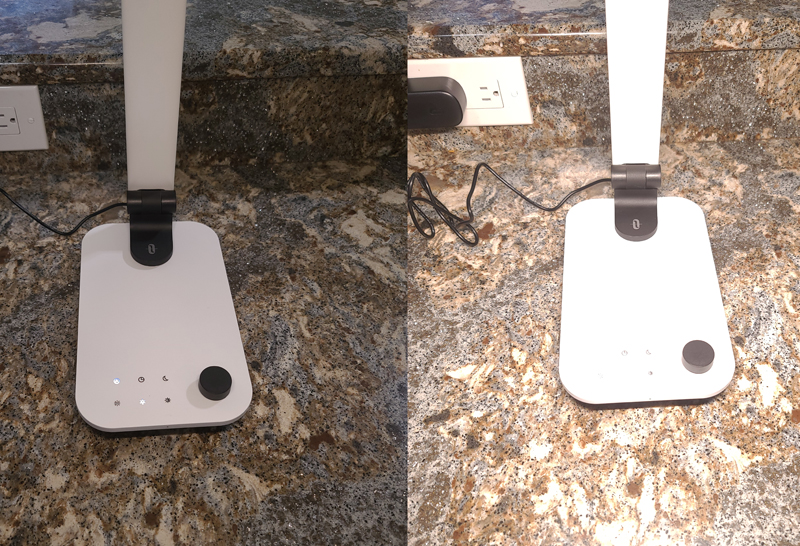 At full brightness, this lamp provides plenty of light for whatever task you make be working on.
Here is a comparison of light direction control.  On the left, the lamp is configured to throw its light more forward.  Of the right, the lamp is set to throw its light more rearward.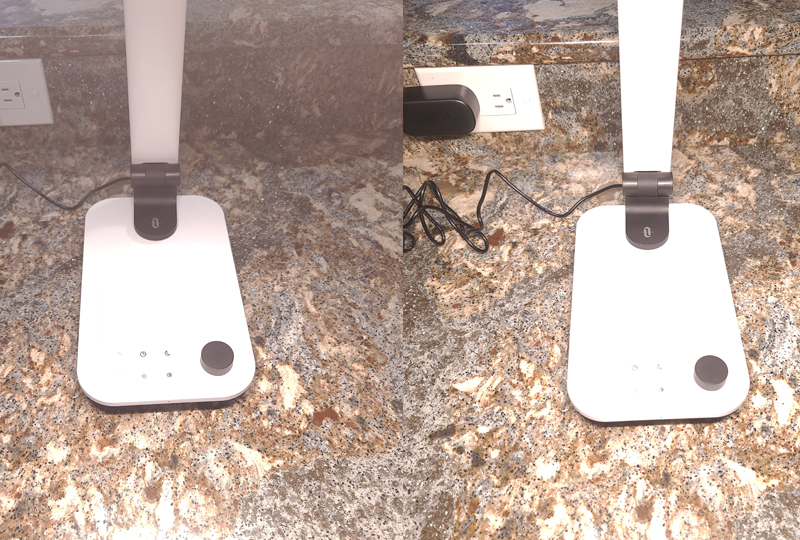 The direction is controlled by variably lighting the two banks of LEDs.  Here is a photo showing the front LEDs fully on and the back LEDs fully off (top) and then the reverse (bottom).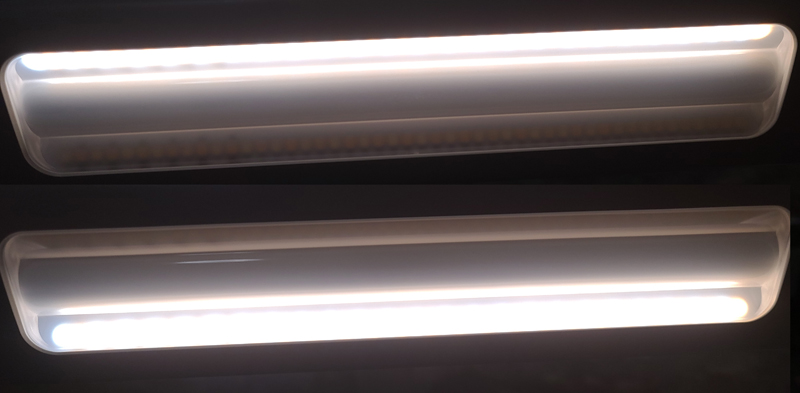 Color temperature is adjusted by varying which LEDs are illuminated.  Each bank of LEDs contains two sets of LEDs in different color temperatures.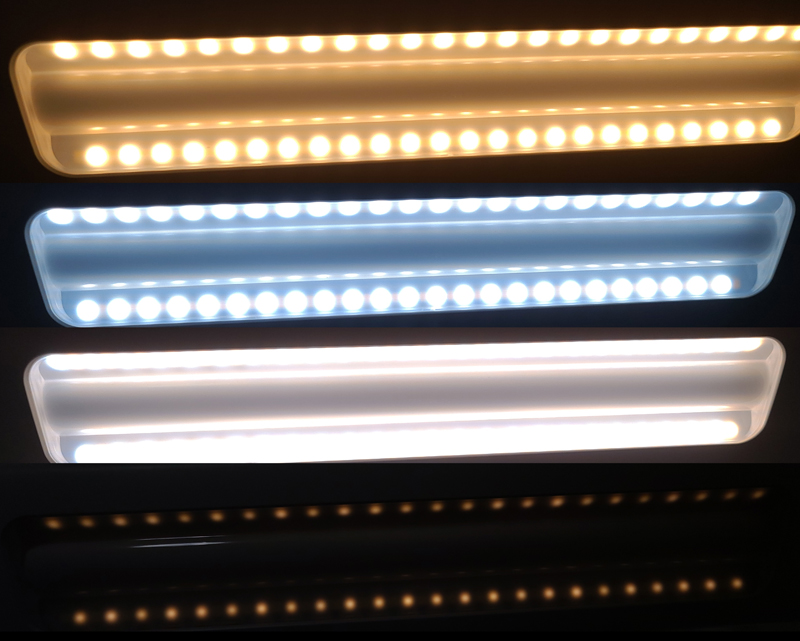 On the top, we see the warm LEDs lit, followed top to bottom by the cool LEDs, both sets of LEDs illuminated, and finally, the LEDs in nightlight mode on the bottom.
The difference between cool and warm lighting is dramatic.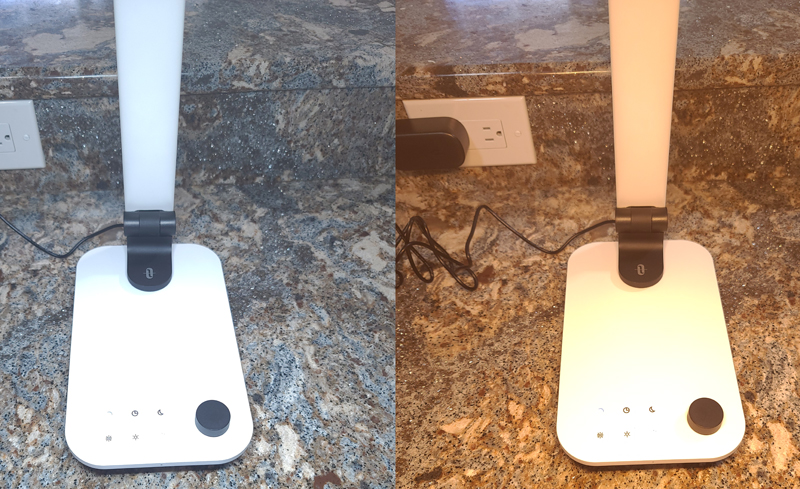 The light is in fully cool mode on the left and warm mode on the right.
The individual controls work as follows:
Brightness

Tap to select

Turn the knob to adjust brightness from 20% to 100%

Hold for 1.5 seconds to select max brightness

Color temperature

Tap to select
Turn the knob to adjust from cool to warm
Hold for 1.5 seconds to select default color temperature (approx 4500K-5000K)

60-minute auto-off timer

Tap to turn on or off
Works in both normal and nightlight mode

Nightlight mode

Tap to turn on or off
Push the rotary knob to return to normal  lighting mode
Color temperature and brightness adjustments are disabled

Lighting direction

Tap to turn on
Rotate the knob to move from forward to rearward lighting

Automatic brightness control

Tap to turn on or off
Hold for 1.5 seconds to choose default 1000 lux brightness

Turning the power off/on retains the current settings
I'm impressed with all the variability this lamp offers.  You can go from energetic cool blue/white light for intense tasks to warm, easy-on-the-eyes yellow light for reading or other paperwork-based tasks.  If you're into precise task-based work, you can shift the light from front to back without physically moving the lamp.  But, if you want to move the lamp, you can adjust it to throw the light wherever you need it.  If you work in varying light conditions, like near a window, the lamp's automatic brightness control can keep your work appropriately illuminated, regardless of the ambient light in the room.
What I like
Good looks
Great physical adjustability
Nice range of color temperature, lighting directing, and brightness adjustments
Nightlight and timer/off features are nice touches
What I'd change
The base could be just a little heavier to ensure it doesn't move when physically adjusting the lamp
Final thoughts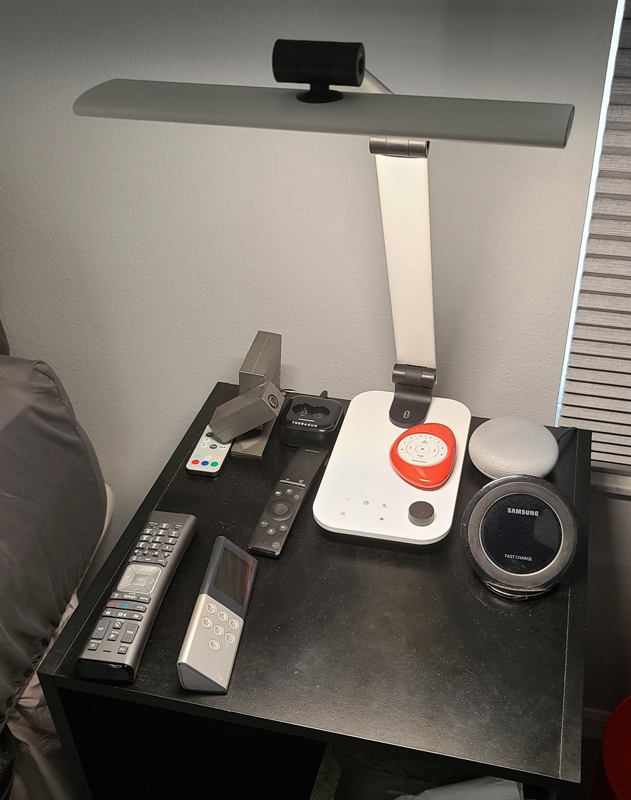 I like this lamp.  With its good looks and terrific physical and lighting adjustability, it would be a great addition to anyone's desk. If I was still a working stiff, I'd love to have a lamp like this on my desk.  Instead, I put this on my nightstand, where it will serve as a terrific bedside lamp. 
Price: $69.99
Where to buy: Amazon
Source: The sample of this product was provided by TaoTronics.