We use affiliate links. If you buy something through the links on this page, we may earn a commission at no cost to you. Learn more.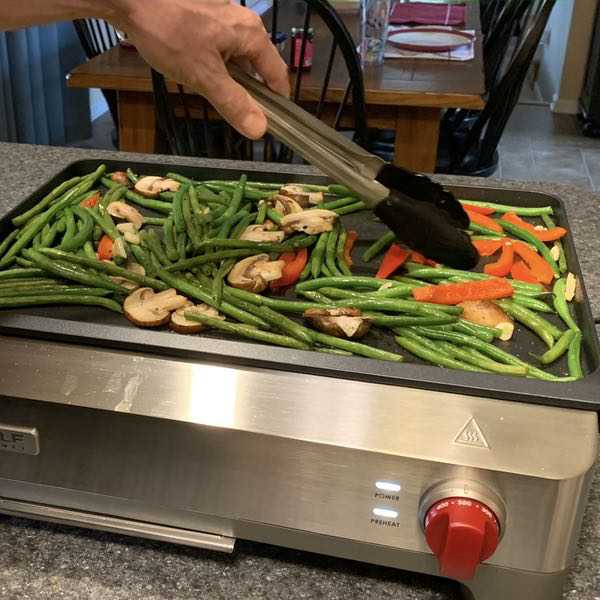 REVIEW – Step into Bob's test kitchen! We're testing the Wolf Precision Electric Griddle, a premium-level appliance that does all the griddly things. Grilling, searing, sauteeing, steaming… pick your method! Read on for more, my friends. Tonight we feast! To the review!
Hardware specs
17″ by 17.63″ by 8″
21 pounds
12″ by 17″ cooking surface (204 square inches)
Vented lid (1.85″ depth)
Temperature range from 150 to 450 degrees
Nonstick surface
Integrated chord wrap
Design and features
The Wolf Gourmet Precision Electric Griddle is beautiful piece of gear that's meant to find a permanent home on your kitchen counter. The stainless steel finish just looks gorgeous (Mmmmmm… shiny!). It's built for heavy-duty extended use, with a burly build that measures in at 21 pounds.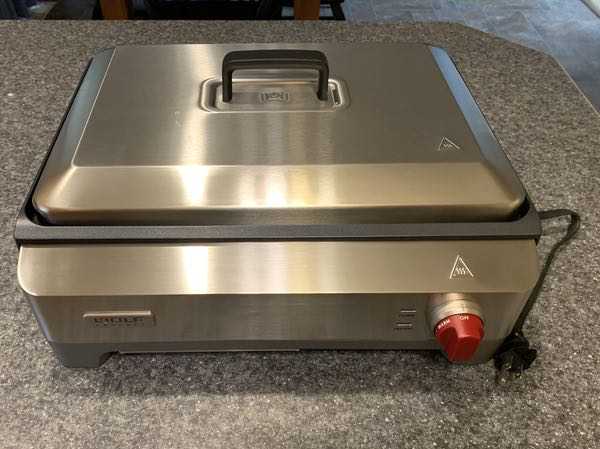 What does that heavy-build entail? It starts with a thick cast aluminum 12″ by 17″ cooking surface. Wolf Gourmet states that, as opposed to many other electric griddles, the heating elements are cast directly into the surface here for consistent and even heating.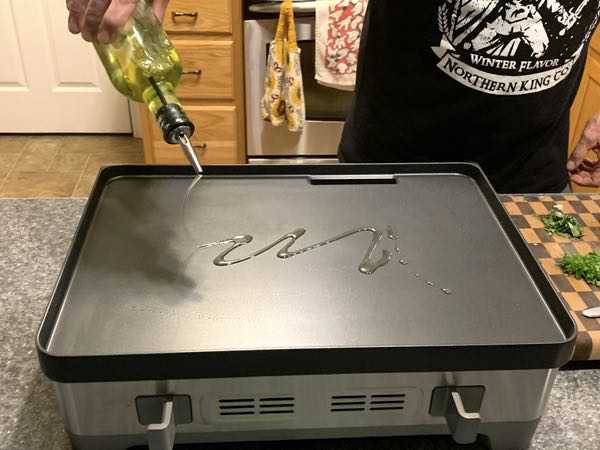 You've got one big, friendly temperature dial that's easy to read and manipulate. The cooking surface can be dialed in to any temp between 150 and 450 degrees, depending on what you're planning to cook. The "power" light comes on when the heat is engaged. The "preheat" light  remains on until you hit your target temperature.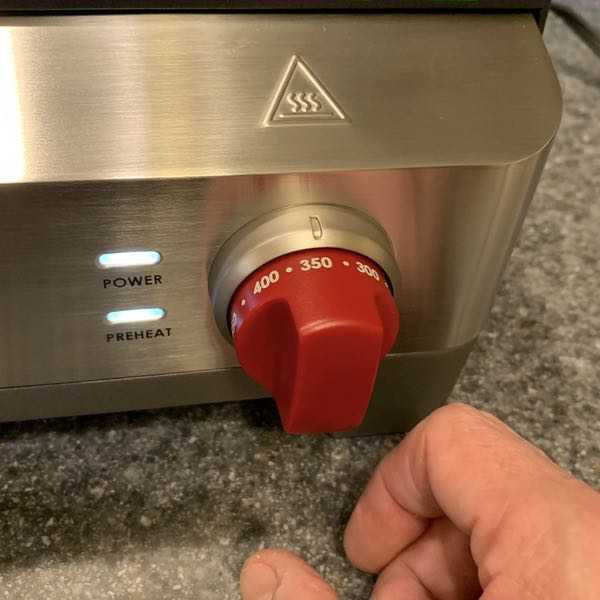 A solid base with rubber-grip legs keeps the unit where you put it. This beast isn't going to slide around on you, or accidentally tip/spill.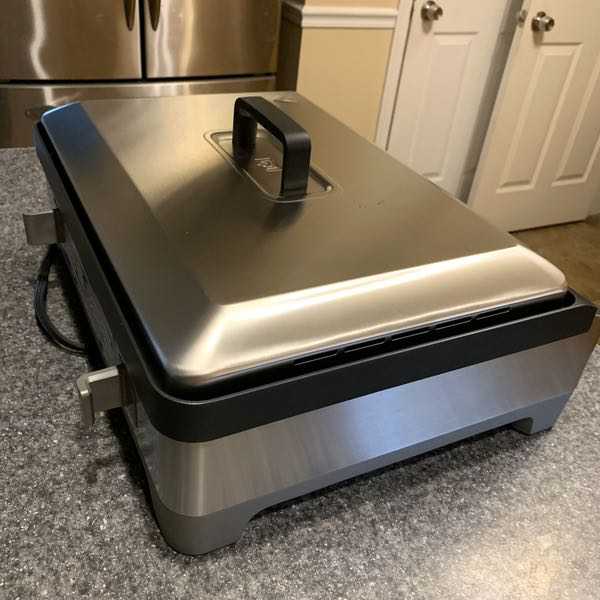 The lid is nice and thick, designed for a tight fit on the cooking surface. Vent slots are cut into the sides so that you can grab the handle without burning yourself on steam escaping from under the lid.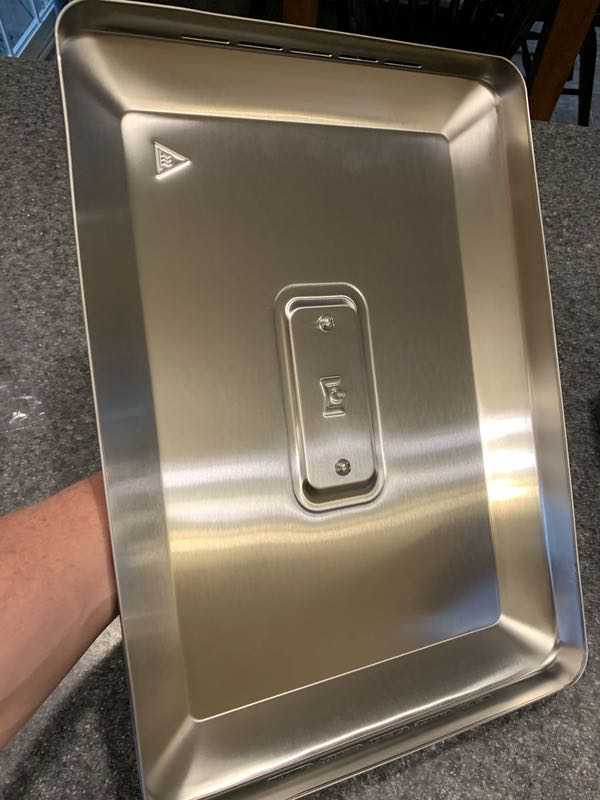 It's also got a really nice drip pan that's more than just an afterthought. Made from thick cast aluminum, the drip pan both wide and deep. A ribbed grip panel allows for maneuvering without risking burning your fingers on hot grease.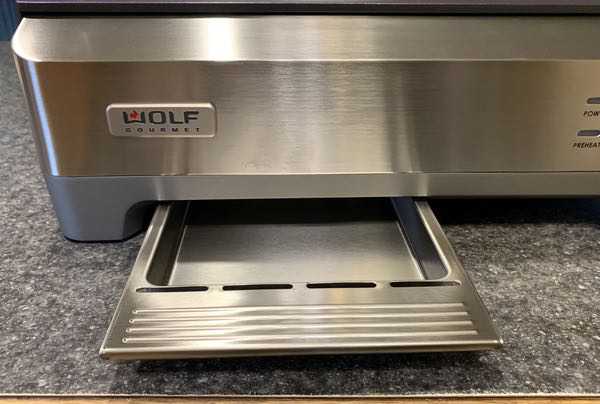 You also get an integrated cord wrap that helps with storage.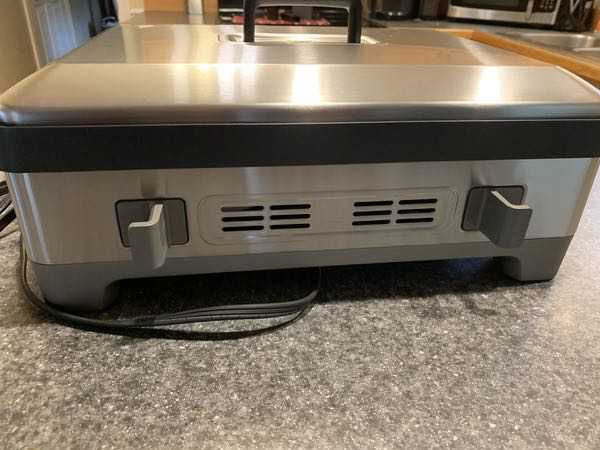 It feels like commercial grade stuff, and I'm impressed with how Wolf Gourmet has considered all the details to add solid usability to the whole package. Let's go cook some stuff!
Performance
For my testing, I decided to run the Wolf Precision Electric Griddle through several different cooking techniques and ingredients starting with vegetables and fish.
The griddle works great for my favorite green bean cooking method. I start by steaming, followed by a saute with all the extra goodies. Here I've spread out the beans on a preheated surface (350 degrees), then I add a generous dose of chicken stock.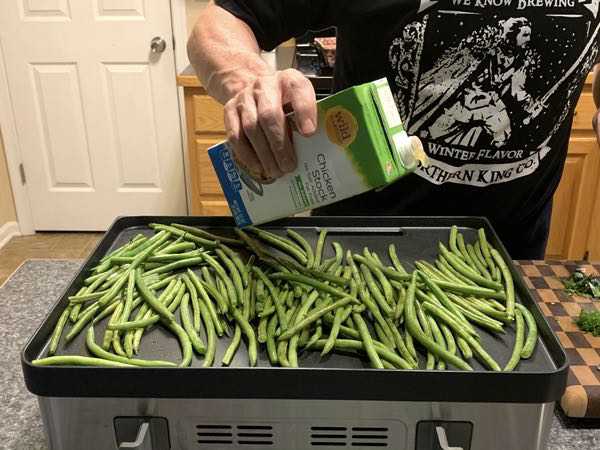 I place the cover on the griddle and let those beans steam for 5 minutes. The tight seal and heavy lid are perfect for steaming. I also really like that the steam vents are on the sides of the cover, which means that I can grab that big ol' handle without searing my precious digits.
I then finish the dish by tossing in garlic, mushrooms, peppers, and some herbs for a saute. The heavy cooking surface and heating mechanism shines here, showing no odd hotspots or inconsistencies.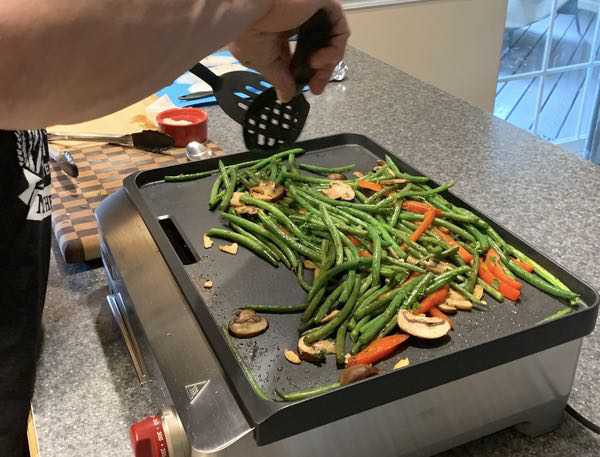 Now we do fish. First a quick wipe down of the surface with a paper towel. That slot shown towards the back of this pic is where you'll collect drippings and stuff that flows into the tray below the unit. It makes clean up super easy.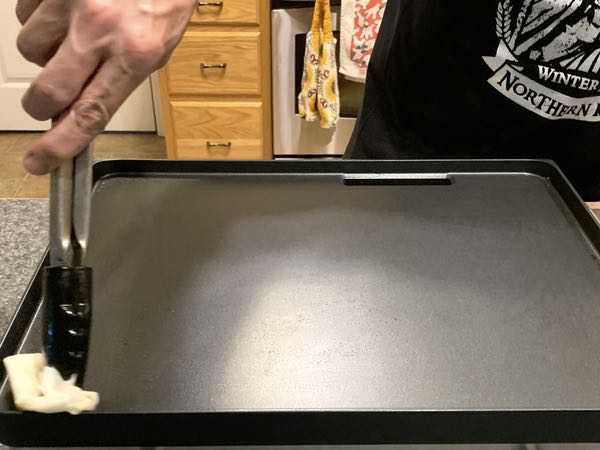 I hit the surface with a bit more oil, crank the heat up to 400 degrees, and drop the fish for a quick sear. Here's a shot of me flipping the fish. Check out the even searing, and no fishy bits stuck to the surface!  I could do 8-10 fillets on the griddle at once with plenty of room to spare. The temperature control is excellent, so a quick high-heat sear is easy to obtain for crispy fish fillets.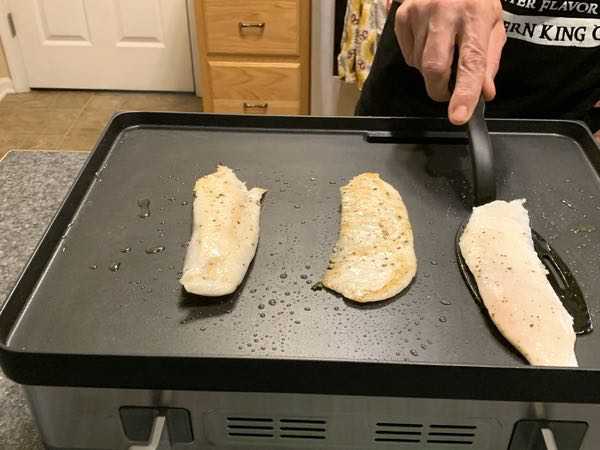 I topped the fish with a mix of grated parm cheese and basil, and dropped the cover on the griddle for a minute to let it melt a bit. My Chef de Cuisine is observing the proceedings, waiting for a sample. She's VERY patient…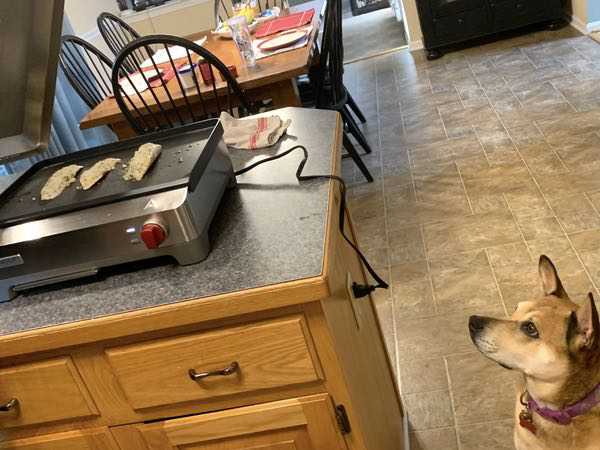 The finished dish put together. Two dishes. One device. No pots and pans to wash.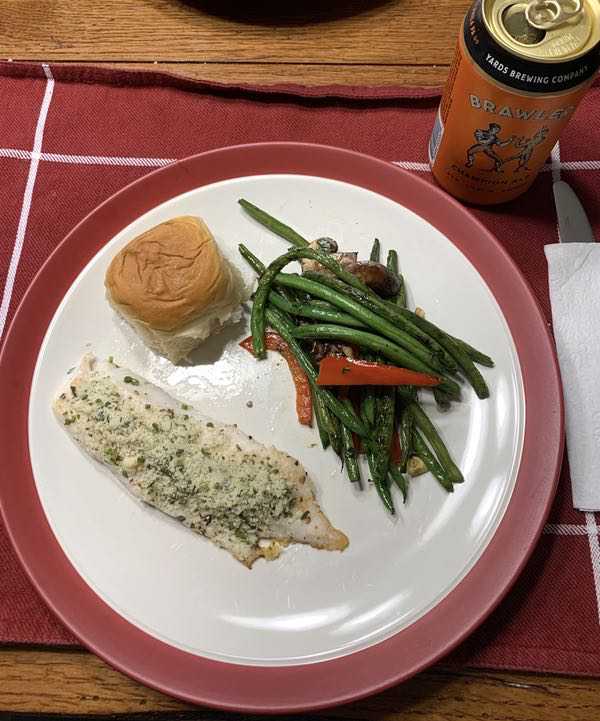 Want bacon? Here you go! This is a pack of turkey bacon I crisped up on the griddle. Once again, I am super impressed with the even heating on the cooking surface. Every piece is getting consistent browning. I did these at 325 degrees because turkey bacon is pre-cooked. I'm looking for a slower crisp here without burning the product. 7-10 minutes, and we're ready to serve.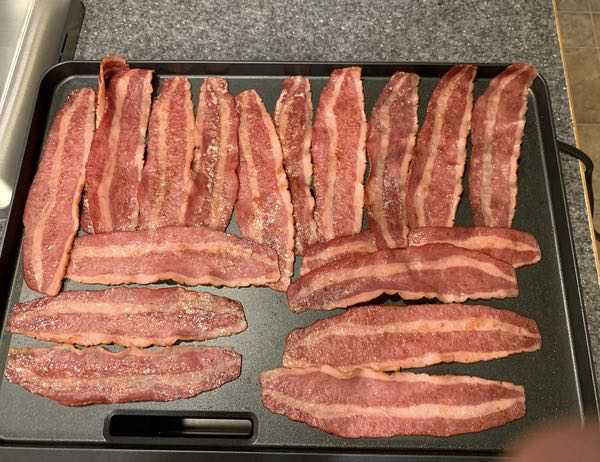 I decided to test eggs next using a trick for making omelets for a crowd. I started by cooking up some peppers, onions, and mushrooms. I whipped up 10 eggs and buttered the cooking surface. I then slowly pour the egg mixture across the cooktop at 375 degrees…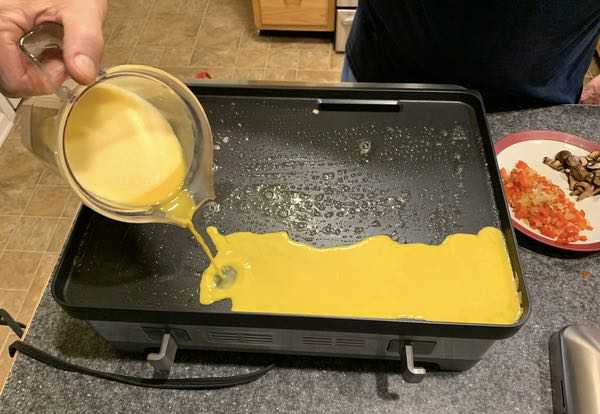 I put the lid back on for a minute to help the eggs set, then I add the omelet fillings. I like mushrooms on mine, but I'm the only one.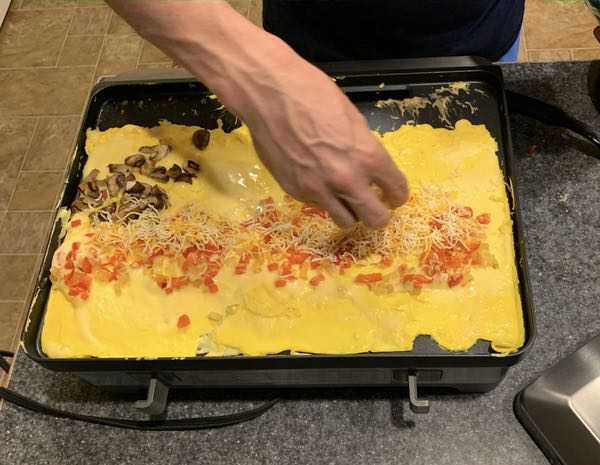 I then slice the eggs into three segments using a plastic spatula, folding them over as I go. Eggs just slide off of the no-stick surface. You can also see the nice even browning I'm getting on the back side.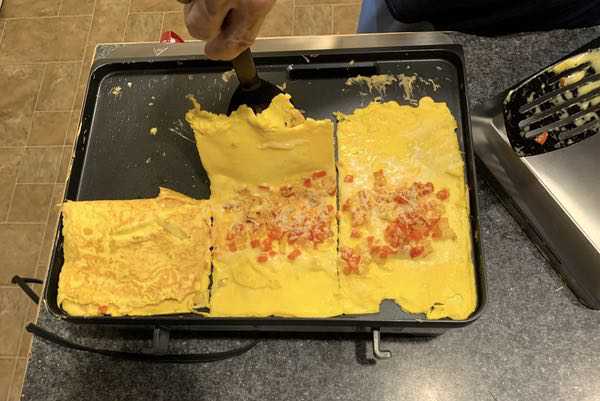 And here's dinner for three. My kitchen isn't filled with dirty pans. Everyone wins.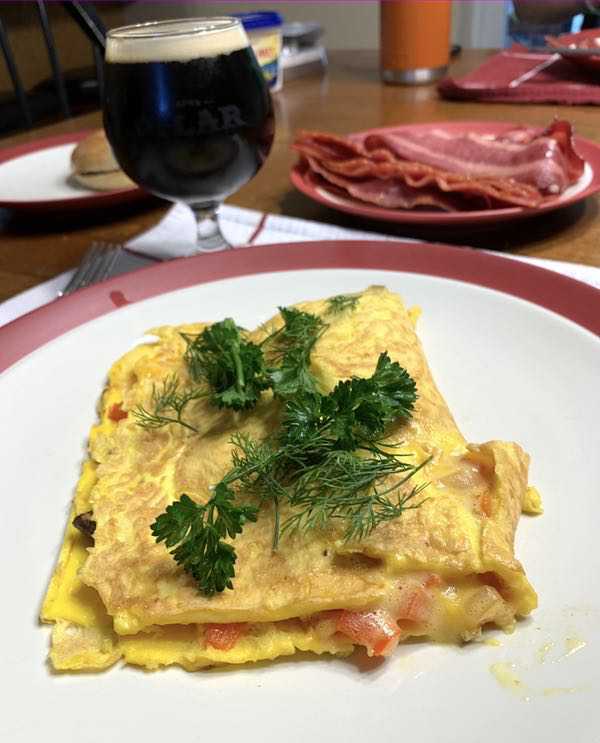 I'm seeing equally excellent results for all kinds of vegetables and proteins (I should note that I haven't tried searing steaks or making pancakes yet, but I've seen positive feedback from other reviews. They're on my "to do" list.).  Usability is simple and straightforward. It does take a few minutes to get up to temperature, but it stays where you put it once it gets there. The streamlined design is also super easy to clean. The biggest challenge is that it is a big & hefty piece of hardware, so you'll need to think about where you plan on keeping it when not in use.
There is, however, the issue of the price point. And it's not a small issue… this unit sells for a whopping $450! If you're buying an electric griddles for occasional use, you may not see the long term value. And yea, I get the argument that you could buy numerous cheaper griddles for the price of this one and just toss 'em when they get nasty. I do believe that Wolf Gourmet Precision Griddle is priced fairly for the quality you're getting, however. It just may not be everyone's thing. We'll see how it does in long-term testing, but I expect this to be a mainstay in my kitchen for a very long time.
What I like
Super-burly construction
Excellent heat control with even heating across the entire surface
Easy to clean
Simple, effective usability
What needs to be improved
Big and heavy; you'll want to think about where you'll keep this monster when it's not in use
Final thoughts
I've owned many electric griddles over the years and I'm really hard pressed to find any complaints about the Wolf Gourmet Precision Griddle. Just about every cheap electric griddle I've bought has some issues: uneven heating, hard to clean, unstable, tiny little drip trays, parts subject to failure, etc. They also tend to have a short lifespan if you use them regularly. The Wolf solves all of those problems, and solves them well. Usability is excellent, it's easy to clean, and demonstrates consistent heat distribution at all levels. I'll keep you updated as I put it to some long-term testing.
Price: $549.95
Where to buy: Amazon.
Source: The sample of this product was provided by Wolf Gourmet.