We use affiliate links. If you buy something through the links on this page, we may earn a commission at no cost to you. Learn more.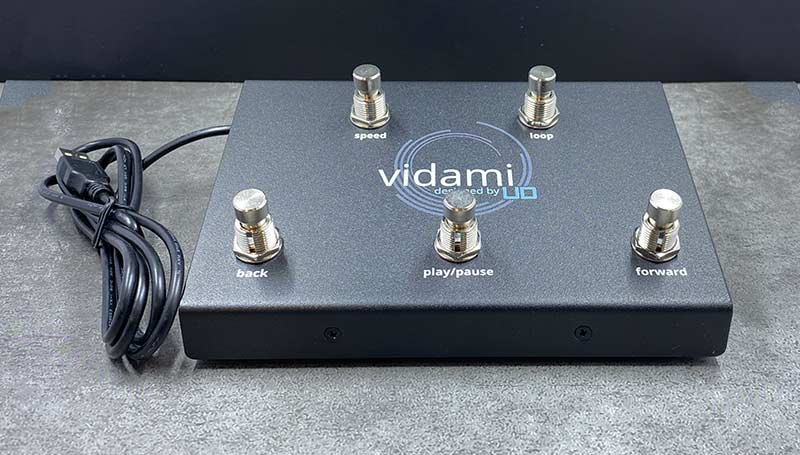 REVIEW – I like to use YouTube to learn new songs on my ukulele, but it can be a pain to take my hands off my uke to rewind a video to see a certain section again. That's where something like the Vidami Video Looper Pedal comes in so handy. It lets you control Youtube videos with your foot! And since we're all stuck at home right now and can't get out to go to one on one lessons, taking advantage of free tutorials on the web for musical instruments and more is a great way to occupy your time. Let's check it out.
What is it?
Vidami is a video looper pedal that connects to your computer via a browser extension and allows you to pause, rewind, fast-forward, loop, and even slow down YouTube and a select group of other online video streaming services (YouTube, Vimeo, MartyMusic, GuitarZoom, GuitarLessons365, GuitarZero2Hero, MusicIsWin, GuitarTricks, JustinGuitar, LinkedinLearning) all with a tap of your foot. A tool like this one is perfect for improving the learning process by keeping your hands off the computer mouse and on whatever instrument or tool you are trying to learn, such as a guitar, piano, painting, knitting, etc.
Design and features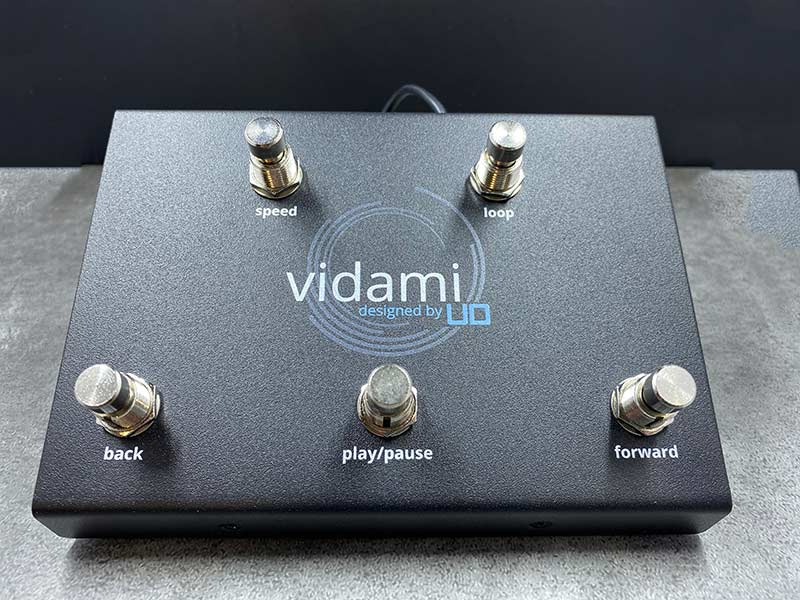 The Vidami unit is very well made. It has a metal enclosure with a black powder-coat and 5 buttons on top that are clearly labeled.
Play/Pause
Back – rewinds 5 seconds with each tap, press and hold to jump to the beginning of the video or a loop
Forward – fast forwards 5 seconds with each tap, press and hold to scrub forward
Speed – changes play speed from 100% down to 20% in 5 increments
Loop – press once to set the start point and press again to set the end point and then the video will continue looping until you press the loop button again which clears the loop.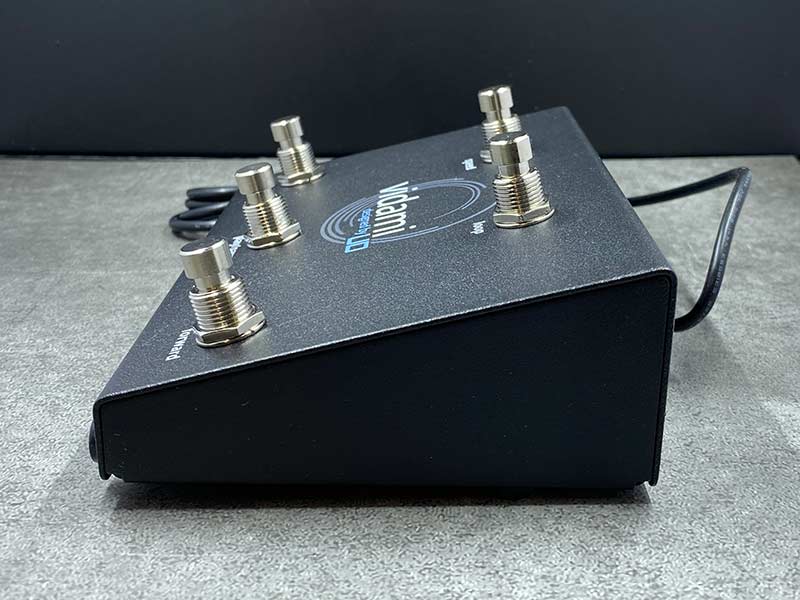 The box is wedge-shaped to make it easy to press the buttons with your foot and there is a 60 inch long USB cable that you plug into your computer.
Installation
To use the pedal, you just have to launch your Chrome or Safari browser on your Mac or PC, plug the USB cable into your computer and then add the Vidami browser extension. That's it. Simple!
Then you just load up one of the supported video services like YouTube and start enjoying the ability, slow down, play/pause, rewind, fast forward, and loop video all with the press of your foot.
Using Vidami
Here's a video that shows how the looping feature works.
Another feature is called QuickSearch and with it, you can press and hold the 'forward' button for a full second to scroll forward and stop wherever you like by tapping the 'play/pause' button. This feature will help you quickly navigate to any section of a video more easily, to help streamline the learning process.
The only issue I had was that I would sometimes accidentally press one of the lower buttons when I was trying to press the two upper buttons. I think that it might be better if there were 5 buttons in one long row instead of 2 rows. Or maybe my feet are just too big! 😉
What I like
Simple hands-free video rewind, fast forward, searching, and looping
Works with your browser
Doesn't require a separate power cable
What I'd change
Takes some muscle memory to remember the button locations
Final thoughts
If you've ever tried to learn to play a song by watching a YouTube video, you know how frustrating it can be to play for a few seconds, and then need to take your hands off the instrument in order to use a mouse or your finger (if you're using a tablet) to rewind the video. With the Vidami pedal, the power to control the instructional video is in the power of your foot.
Price: $149.99
Where to buy: Vidami
Source: The sample for this review was provided by Vidami.