We use affiliate links. If you buy something through the links on this page, we may earn a commission at no cost to you. Learn more.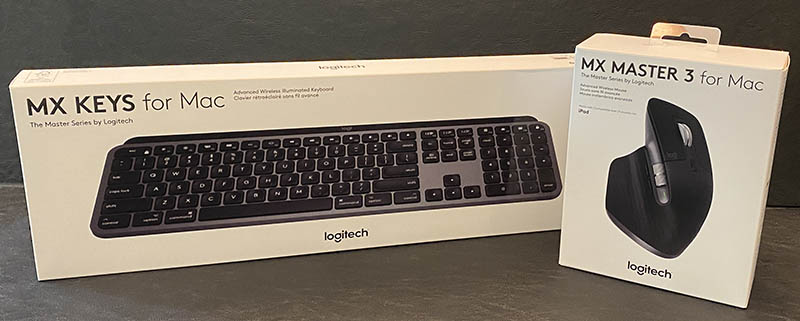 REVIEW – Late last year Julie reviewed the Logitech MX Keys and Master 3 that she liked so much, she continues to use both to this day. Recently Logitech has released new variants to the MX Series, a Keys keyboard and Master 3 mouse specifically designed for Mac users. So, in this review not only will I be looking at the Keys and Master 3 overall but what makes them so Mac-centric that Logitech calls it out by name. 
I have been using Apple's original Magic Keyboard and trackpad for nearly a decade. And I have to say, using the MX Series for Mac has been a very refreshing and enjoyable change. Both the MX Keys and Master 3 for Mac are more ergonomic, adds greater functionality, and (color) match my Apple ecosystem perfectly. 

What is it?
The Logitech MX Keys keyboard and the MX Master 3 mouse for Mac are designed specifically for those in "the macOS and iPadOS ecosystems, and creative workflows". They are Logitech's latest versions of their premium input devices meant to be paired with your Mac, Mac Pro, MacBook, MacBook Pro, iPad etc via Bluetooth or the included USB receiver.
What's in the MX Keys for Mac box?

MX Keys keyboard
USB-C charging cable
USB receiver
MX Keys for Mac Hardware specs
Connection types: Logitech Unifying 2.4GHz wireless technology or Bluetooth Low Energy technology
Battery: 10 days on a full charge / up to 5 months with backlighting turned off
Power: Rechargeable with USB type C cable (included)
Size: (H) 0.81 in (20.5 mm) x (W) 16.94 in (430.2 mm) x (D) 5.18 in (131.63 mm)
Weight: 28.57 oz (810 g)
MX Keys for Mac Design and features

The MX Keys for Mac is Logitech's latest wireless keyboard specifically designed for Apple users. This keyboard is nearly identical to the original MX Keys from a form, features, and function standpoint. But the MX Keys for Mac is colored Space Gray with keycaps to match your Apple tech/ecosystem. Like many of Logitech's keyboards, the MX Keys for Mac can be paired with up to three devices via bluetooth or included 2.4GHz USB receiver. The keyboard can seamlessly switch between devices with the press of one of three dedicated buttons.
While constructed of plastic, this keyboard is well made with an excellent quality feel to it. It is heavy and substantial, very different from my Apple keyboard.

The bottom of the MX Keys for Mac has 6 rubber non-skid pads to keep the keyboard from sliding around your desk.

The keyboard is angled down approximately 15 degrees for a more comfortable typing experience. Though I am considering palm rest of some kind to see if enhances the experience even more. 
Typing on the MX Keys is wonderful. The concave keys are perfectly sized with great feel and travel. While I am not the best typist by a long shot, this keyboard is one of the best I have used even when compared to the latest iteration of Apple's Magic keyboards. Plus it's full/expanded array of keys is welcome over the MacBook Pro's TouchBar or lack of function keys on the iPad Pro's Magic Keyboard.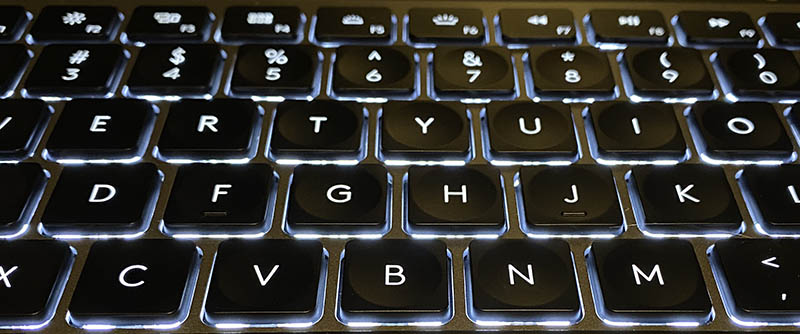 The MX Keys for Mac has excellent backlighting that adjusts its luminosity automatically based on ambient lighting conditions or can be set manually via the function keys. The keyboard automatically illuminates when your hands approach it, which I find a nice touch.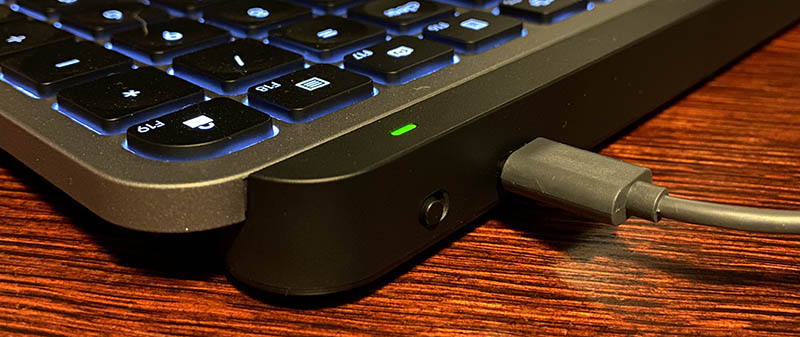 The back of the MX Keys for Mac has a physical on/off switch and USB-C port for recharging the keyboard's internal battery. The MX Keys can operate 10 days on a full charge or up to 5 months with backlighting turned off.
What's in the MX Master 3 for Mac box?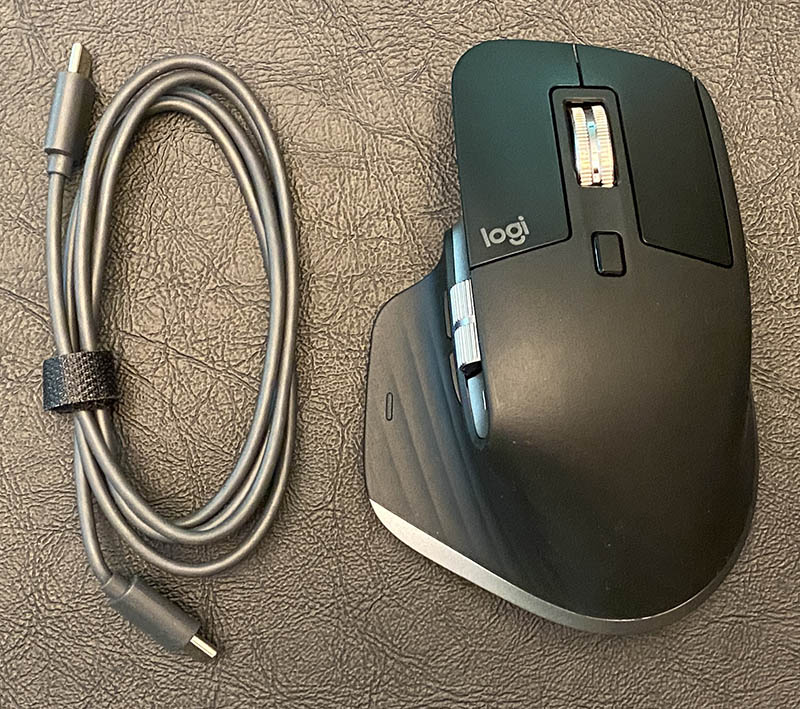 MX Master 3 mouse
USB-C charging cable
MX Master 3 for Mac Hardware specs
Sensor: DPI (Minimal and maximal value): 200 to 4000 dpi (can be set in increments of 50 dpi)
7 buttons (Left/Right-click, Back/Forward, App-Switch, Wheel mode-shift, Middle click)
Rechargeable Li-Po (500 mAh) battery
Size: (H) 2.01 in (51 mm) x (W) 3.32 in (84.3 mm) x (D) 4.92 in (124.9 mm)
Weight: 4.97 oz (141 g)

MX Master 3 for Mac Design and features
MX MASTER 3 for Mac is an extremely comfortable ergonomic, programmable smart-mouse specifically designed to work seamlessly on your Mac and iPad. In addition to being highly precise and responsive, its buttons function changes based on the application/app you're using at the time. Like the MX Keys, the Master 3 can be paired with up to 3 devices and be switch between them with the touch of a button.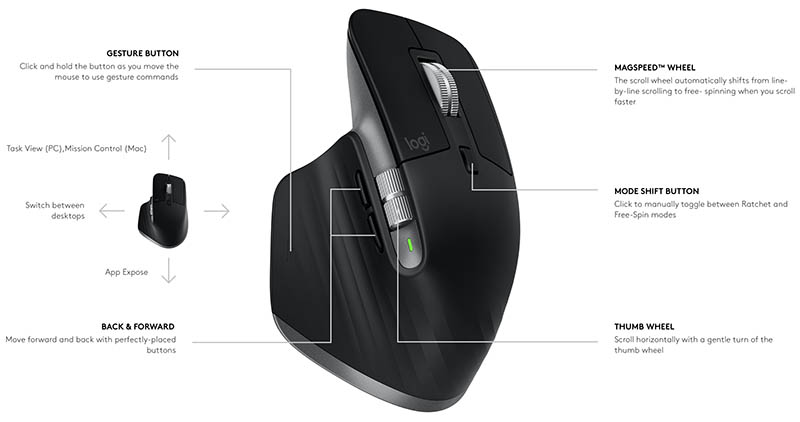 The Master 3 has 7 buttons that include: left/right-click, back/forward, app-switch, wheel mode-shift, and middle-click along with the scroll wheel with auto-shift, a thumbwheel, and a gesture button.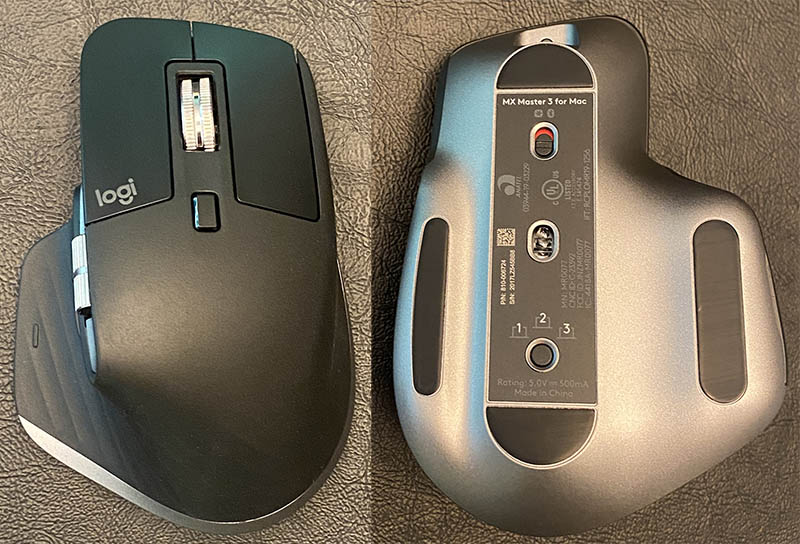 The top of the MX Master 3 has classic right and left buttons found on nearly every modern mouse. The magnetic scroll wheel sits between the main buttons and can be controlled via the small black wheel mode button below the wheel. The MagSpeed Electromagnetic scroll wheel is extremely precise and more or less silent. It is made from machined steel, giving it a premium weight and feel. The wheel mode button enables you to switch between measured scrolling to (very fast) free spinning. 
The bottom of the mouse has the power switch, laser, and device selector button.

Hidden under the main two buttons is the USB-C charging port. The left side of the mouse has the horizontal scroll wheel, forward and back buttons, and finally the gesture button on the palm-wing.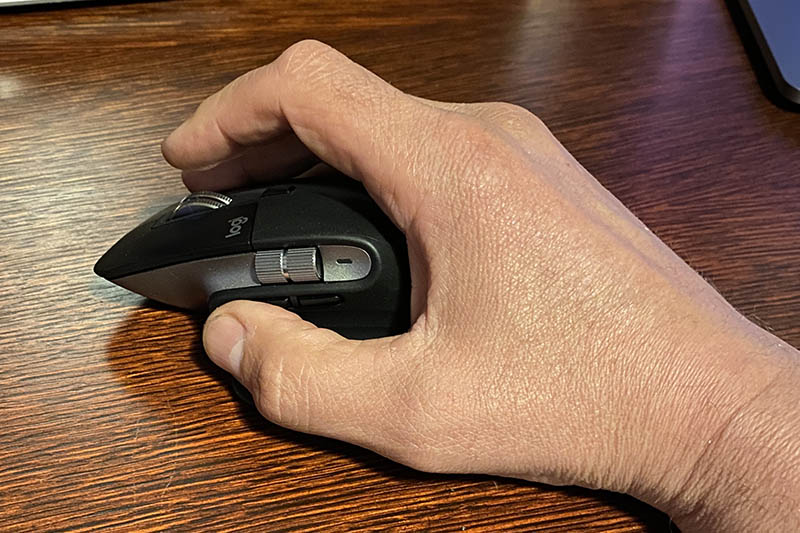 Like I said above, I've used a trackpad 99% of the time on my desktops and laptops alike. So, the MX Master 3 for the Mac was a nice change of pace from not only the added functionality, but a comfort standpoint as well. The MX Master 3 is very ergonomic, comfortable and slides around my desk easily. All of the buttons and wheels are well positioned and easy to click/spin. 
Setup
Whether connecting via the receiver or bluetooth, setting up the MX Keys and Master 3 for Mac was quick and simple. The 2.4GHz receiver that came with keyboard works with the Master 3 as well, providing a single connection solution.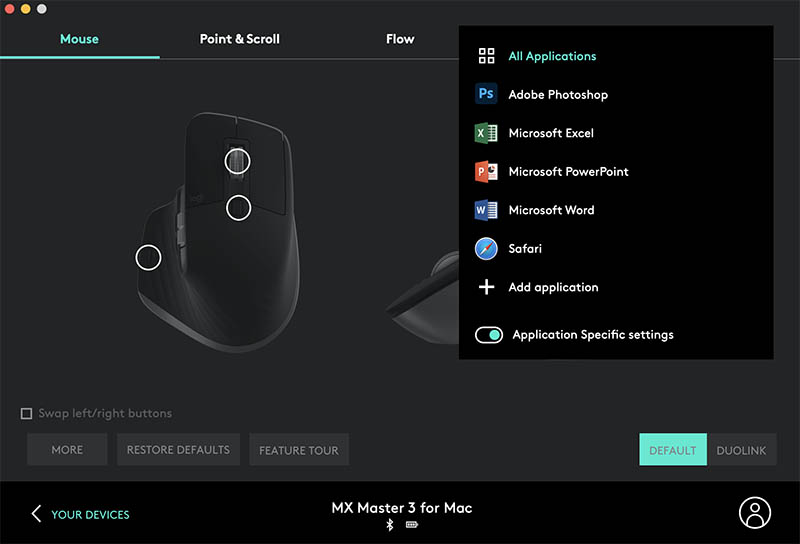 Logitech provides an application (Logi Options) that enables you to program what each of the Master 3's buttons do. And also differentiates the button layout/functionality depending on what applications you're using. Application specific settings includes PhotoShop, Microsoft Office, Safari, Final Cut Pro, etc… 
Performance
Both the MX Keys and Master 3 for Mac work very well with everything from my 16″ MacBook Pro to my iPad Pro, zero lag and excellent response. I've even connected them up to my 2010 Mac Mini via the 2.4GHz receiver and other than a few laggy moments here and there it works well enough but considering how old it is…to be expected. The keyboard function buttons and morphing application specific mouse buttons definitely add efficiencies to my workflow.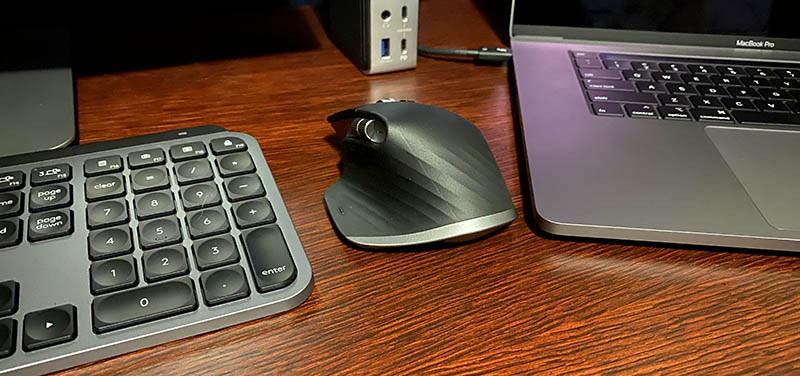 The real differential…
Other than the coloring of the plastics, the only real difference between the original MX series and the MX devices for Mac…

…are the keys on the MX Keys for Mac keyboard have Apple specific labels on them. Where on the original MX Keys had both PC and Mac labeling on the lower row. Lastly, the original Master 3 included its own 2.4GHz receiver where the "…for Mac" version does not (probably cause most Apple products don't have USB-A ports anymore).
What I like
MX Series — Well made with a high quality look and feel
MX Series — Can seamlessly switch between 3 devices
MX Series — Can connect via dongle/receiver or bluetooth
MX Series — Space gray coloring and Mac layout/optimized
MX Series — Well done application (Logi Options)
MX Series — Logitech Flow between devices
MX Keys — Excellent typing experience, well sized/shaped keys with solid feel and key travel
MX Keys — Function and numbers keys
MX Keys — 5 month battery life with backlight off
MX Keys — Bright backlight
MX Master 3 — Great feel and button layout
MX Master 3 — Very precise and responsive
MX Master 3 — Application specific, programmable buttons
What needs to be improved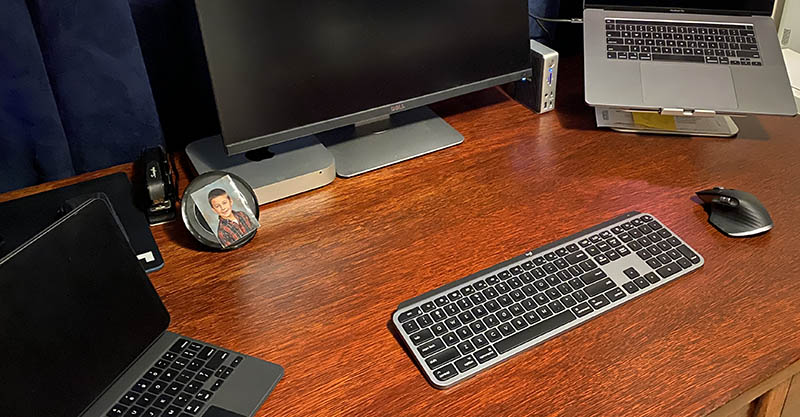 Final thoughts
Alright, let's face it…many of us have been spending a lot of time at home lately, most likely working a fair amount in your home office. The ability to use one keyboard and mouse across multiple computers and tablets is clutch these days. The Logitech MX Keys and Master 3 are an excellent option for anyone. The "…for Mac" versions you see in this review are what I would recommend for those on Team Apple who want to upgrade from what Tim and crew offer. The Logitech MX Keys and Master 3 for Mac are very well made and provide excellent features, function, and optimize workflow across all my systems and many of the applications I use.
Price: $99 each
Where to buy: Both of these products are available directly from Logitech or can be found at Amazon.
Source: The samples for this review were provided by Logitech.